10 Best Campgrounds in Telluride, CO
Surrounded by the San Juan Mountains — some of the most dramatic in the Colorado Rockies — the best campgrounds in Telluride get you off the grid and deep into the mountainous heart of western Colorado.
Telluride camping is for the adventurous, where the majority of campgrounds are light on amenities but big on dramatic views.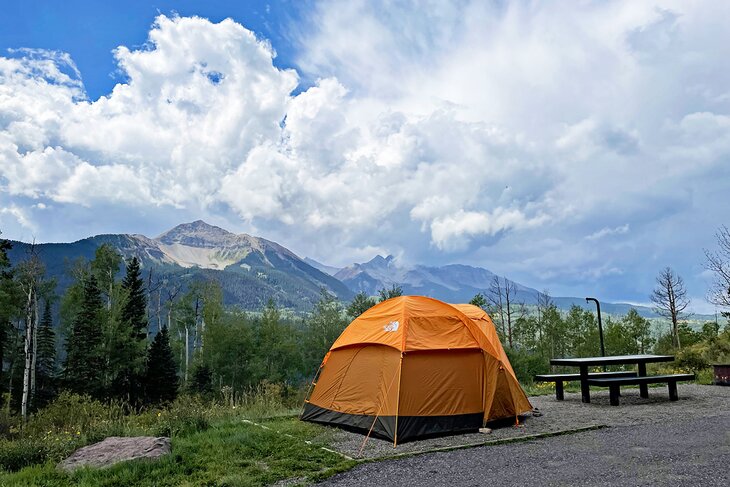 Other scenic aspects of Telluride include gushing waterfalls, alpine meadows strewn with wildflowers, and historic mining towns that have been turned into 21st-century vacation hot spots. Telluride is known for its world-class skiing, hiking, scenic drives, restaurants, and — of course — the opportunity for camping.
The campgrounds in Telluride are truly some of the most beautiful, and dressed down, in Colorado, where the backdrop of the mountains does all the showing off. Many of the campgrounds near Telluride are free, as well, which presents a welcome way to stay in one of the most expensive mountain towns in Colorado.
Discover the many campgrounds along Highway 145, otherwise known as the San Juan Skyway. These campgrounds aren't known for their glitzy amenities. Instead, you'll find perfectly maintained campgrounds, with little more than toilets and potable water. But what they lack in amenities, they make up for in spectacular scenery.
Of course, campers who crave a little more pampering will be able to find a campground or two to fit the bill, like the town center campground or the KOA site in nearby Ouray. Still, what you're coming to Telluride for is to get lost in the scenic majesty, and that's exactly what the best campgrounds in Telluride offer.
1. Telluride Town Park Campground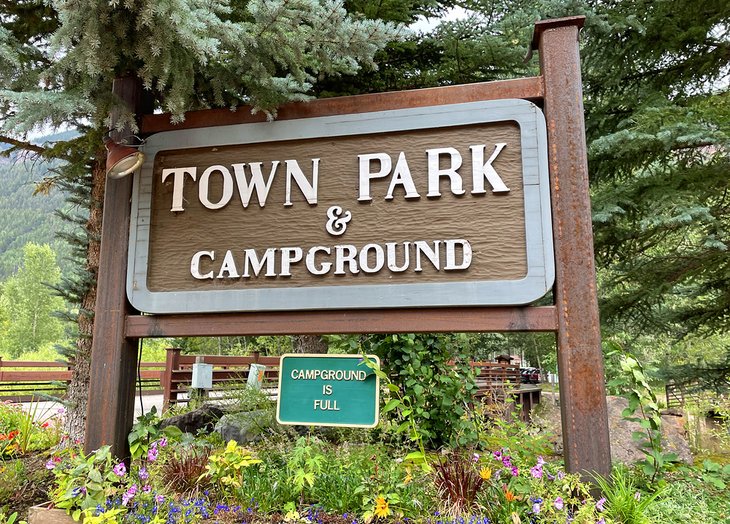 You cannot find a more convenient campground than the Telluride Town Park Campground. The campsite is literally right in the heart of the historic downtown. You'll find the campsites directly within the town park, which is the venue for so many of Telluride's events and activities.
Located between the San Miguel River and Bear Creek, the park is open for camping from May to October and is one of the only spots in Telluride that can host RVs overnight within the town limits. Keep in mind that RVs can be a maximum of 30 feet, and the park doesn't have any electrical hookups or dump stations.
What the park does have, however, in terms of amenities are showers, bathrooms, a pool, parking, tennis courts, a pond, and easy access to the activity and excitement of historic Telluride.
Reservations are released by group depending on the booking window. Group 1 allows for reservations from opening day through early June. Group 2 is from mid-June through early August. Group 3 is from mid-August through mid-September, and Group 4 is from mid-September to closing. Blackout dates include the Bluegrass Festival, Jazz Festival, and Blues and Brews Festival.
2. Sunshine Campground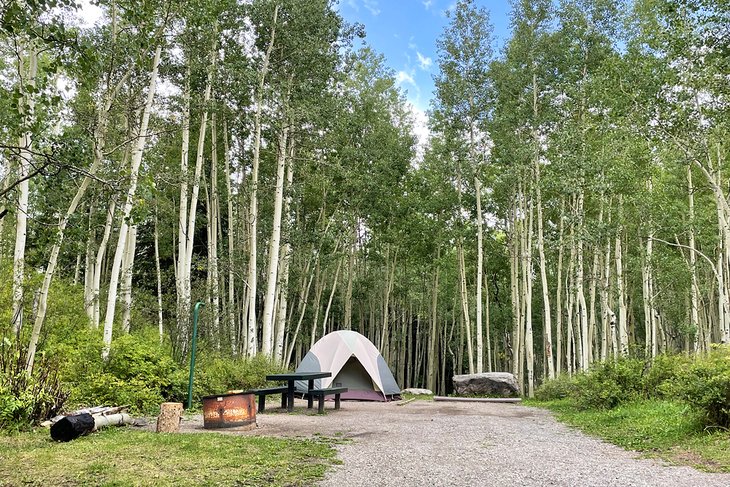 Outside of Telluride, Highway 145 is a scenic drive amid the San Juan Mountains. Along the picturesque highway are several turnouts that lead to equally impressive campgrounds, surrounded by towering mountains.
Sunshine Campground is a loop campground with a paved road that has 15 campsites that sit among the flickering aspen groves overlooking an alpine lake. To say it is one of the more beautiful campgrounds in Telluride is an understatement — especially if you opt for one of the campgrounds on the ridge that overlook the misty mountains, and Sunshine Peak in particular, which towers at nearly 13,000 feet. For those, you'll want sites 11, 12, 13, and 14 — just keep in mind that these exposed sites can be quite windy.
Sunshine Campground's sites are first-come, first-served and are open from June through October. Portable toilets are available, as well as potable, pressurized water.
Address: 7676 CO-145, Telluride, Colorado
3. Alta Lakes Campground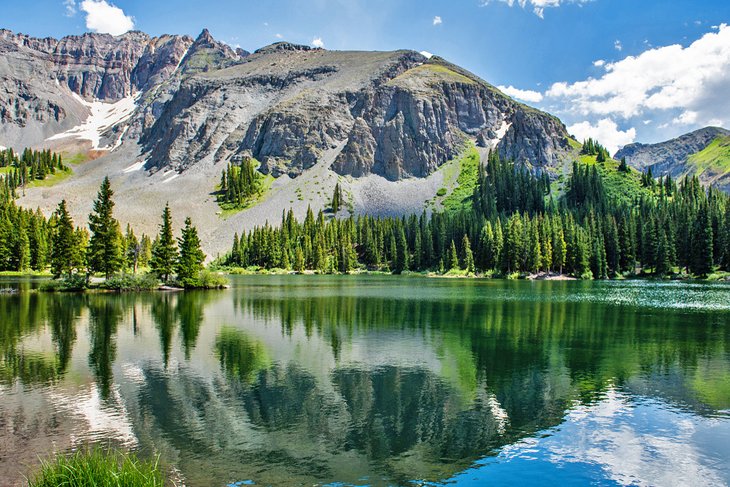 Things get more rugged and adventurous when you decide to make camp at Alta Lakes Campground. The campground sits along Alta Lakes Road, which is a rough, rocky dirt road off Highway 145. Keep in mind that the road is closed during the winter, and when it isn't closed, a high-clearance vehicle is necessary. It would be a good idea to leave the trailer or RV at home.
For those who are able to make the climb, the campground is simply stunning. Alta Lakes is named for the abandoned mining town of Alta, and the three alpine lakes that are nearby.
The dispersed camping area has 20 designated campsites that are as rustic as they come. The campground is free and does not take reservations. All campsites are first-come, first-served. Alta Lakes is only open during the summer, as the road closes in the winter. As for services, it does not offer much except for portable toilets.
What it lacks in amenities, though, it makes up for in dramatic views over the San Juan Mountains, plus the opportunity to explore an abandoned mining town.
4. Matterhorn Campground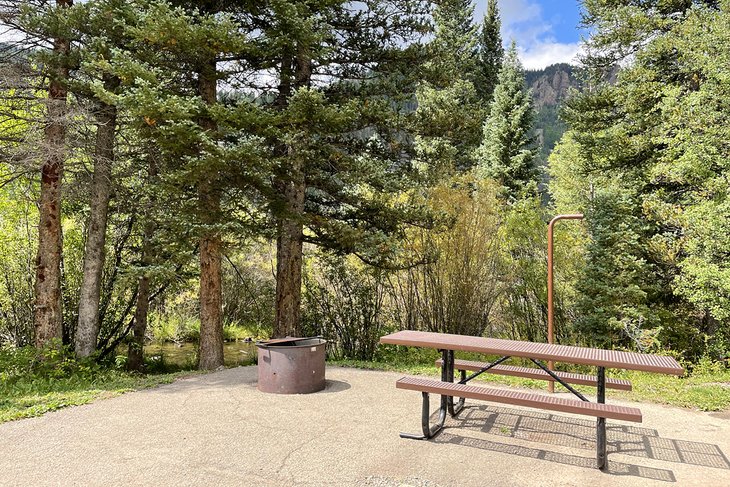 Telluride's Highway 145, also known as the San Juan Skyway, is the hotbed for gorgeous campgrounds in and around Telluride. Matterhorn Campground is yet another wonderful option for those looking to camp in and around Telluride.
Matterhorn features 28 campsites, four of which are ready for RV hookups for electricity and septic and have a maximum of 45 feet.
The inner loop of the campground has sites that are more exposed, while those on the outer side of the loop have more woodsy protection. All sites have lovely views, and the walk-in tent sites are the most noted for their views of the mountains.
Guests of the campground, as well as day visitors, have access to showers. All sites are equipped with picnic tables, fire rings and grills, and lantern poles.
Some sites are first-come, first-served, but reservations can be made. The campground is open from June to early October. The campground has a maximum consecutive stay limit of up to seven nights. It has a two-day weekend minimum.
5. Priest Lake Campground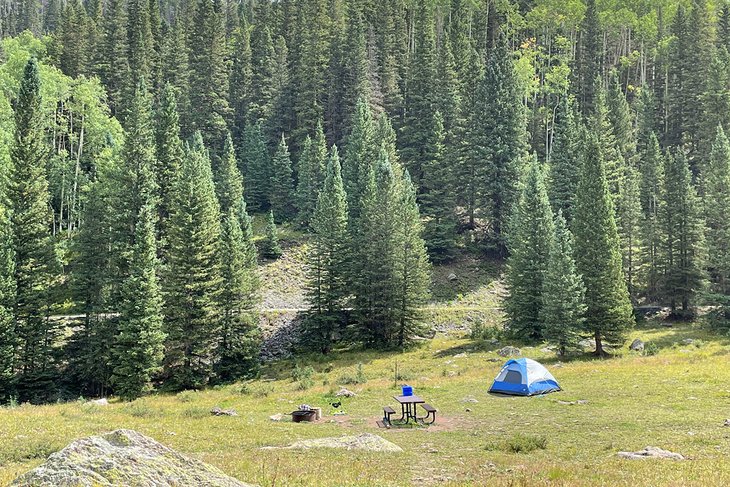 A 20-minute drive out of Telluride, up near the Lizard Head Wilderness area, sits the very small Priest Lake Campground. In fact, this is one of the only free camping options, which helps to open up the town of Telluride to those who are truly on a budget.
But saving on nightly accommodations doesn't mean you skimp on views. The campgrounds have beautiful views of the lake and the surrounding mountains — all at a short distance to town and to plenty of nearby trailheads. Priest Lake itself is a manmade lake surrounded by gorgeous pine and aspen forests. It is also at 10,000 feet elevation, which is important to keep in mind when sleeping outside — warm clothes are a must.
The campsites here are not numbered because it is dispersed camping, but the bones of fire rings will let you know where people have camped in the past. You may want to visit the small, historic cabin that is scrawled with carvings from guests over the years. Because of the lack of parking, trailers are not allowed here.
The only amenity at Priest Lake is a vault toilet. No reservations are required, and space is available first-come, first-served.
Address: Priest Lake Road, Telluride, Colorado
6. Amphitheater Campground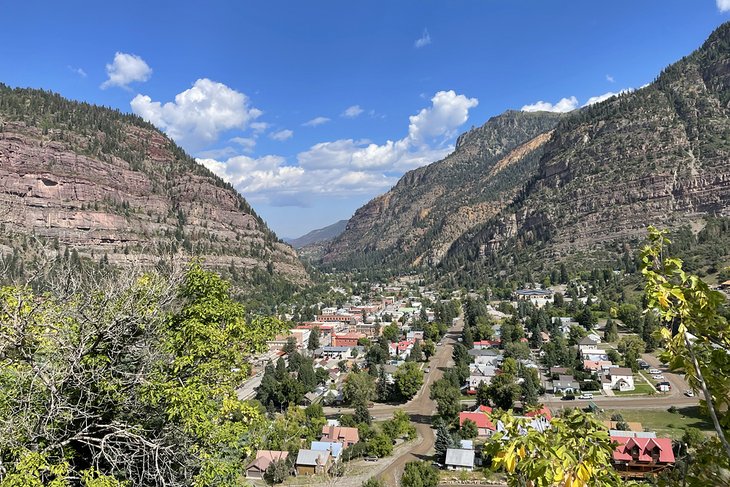 While you're visiting Telluride, it is certainly worth a visit to the small town of Ouray. Ouray happens to be another jumping-off point from which to explore more remote destinations in the San Miguel Mountains, like Silverton. Camping options abound near Ouray, too, which is only about an hour from Telluride.
Amphitheater Campground is one of the most scenic campgrounds in this part of Colorado. Located on the side of a mountain, just outside downtown, the campground features 35 camping spurs spread out among a heavily wooded area. From the campground, you have a beautiful view down into the valley of Ouray.
Some of the sites are first-come, first-served, but for other reservations, you can visit recreation.gov. Other amenities include a vault toilet and drinking water. The campground is open from June to October.
While you're in Ouray, take a trip over to the hot springs, which are among the most popular attractions in town.
7. Ouray KOA Holiday
The only KOA option near Telluride is actually in Ridgway, Colorado, not far from Ouray. Still, the campground is less than an hour's drive from Telluride and is completely hooked up with all the amenities you could possibly envision.
Unlike other campgrounds in the area, the Ouray KOA Holiday is open year-round. Surrounded by the San Juan Mountains, the campground has camping and deluxe cabins, both pull-through and back-in RV sites, and tent sites. RV sites are available with full hookups and either 30 or 30/50 amps.
Deluxe cabins are available with full bathrooms and showers, but guests can also book teepees and camping cabins, which do not have bathrooms. Tent sites are basic, but some do have water and electric hookups.
But one of the main reasons to book the Ouray KOA is all the amenities it offers. In fact, it is one of the more elaborate KOAs in Colorado, complete with a dump station, coffee bar, jeep rentals, Direct TV, hot tub and sauna, restaurant, laundry room, pool table, and dog walk. Be sure to stay in the summer, when live music is often hosted at the restaurant patio.
Address: 225 Co Road 23, Ridgway, Colorado
8. Lizard Head Pass
Lizard Head Pass is one of the many peaks within the San Juan Mountains that surround Telluride, Colorado. On the border of Dolores and San Miguel counties, the pass is one of the more popular areas near Telluride for dispersed camping.
Undoubtedly one of the prettiest spots near Telluride, the pass sits at 10,000 feet above sea level and is surrounded by rolling meadows that pop with wildflowers. On the fringes are thick aspen forests, while magnificent peaks tower in the distance.
Apart from the many campgrounds in the area, dispersed camping is allowed on the eastern side of the pass. The best time for camping is mid-July to early August, as the San Juan Skyway drive that winds through the mountain ranges is at its most spectacular. Lizard Head Pass is found along CO 145 and provides access to trails within the 41,492-acre area. In fact, if you're hiking the trails in the area, Lizard Head Pass is probably where you're going to want to lay your head for the night.
The camping is free, but the only amenity you'll find is a pit toilet. For the rugged campers, however, the views and spectacularly peaceful scenery are all the amenities needed.
9. Mary E Campground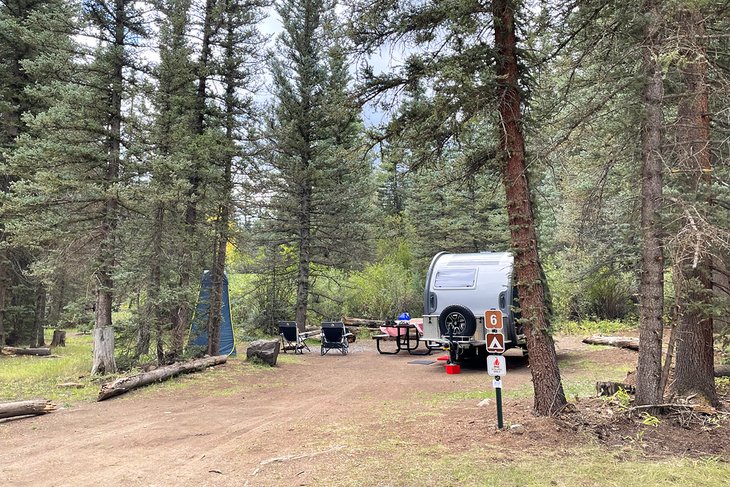 Mary E Campground, located in the Uncompahgre National Forest, is a popular campground for visitors to Telluride — not as remote as some of the other campgrounds off Highway 145, but not as centrally located as the campground within the town of Telluride itself.
Mary E has 20 designated campsites, each with a fire ring and picnic table. The campground can support trailers and RVs, but they may not be more than 22 feet long. The campground is shrouded in trees, with plenty of shady groves and even access to the San Miguel River.
If you forgot any of the essentials, it's a fast trip into Telluride, or you can stop at the Conoco gas station just down Highway 145. Walk along the San Miguel River Road, which is one of the best things to do in Telluride, and is very close to the campground, as well.
The campground itself sits nestled in a little valley, which has some of the most jaw-dropping views in Telluride — you'll notice from the highway as you make your way to the county road where the campground is located.
Address: County Road 63L, Telluride, Colorado
10. Woods Lake Campground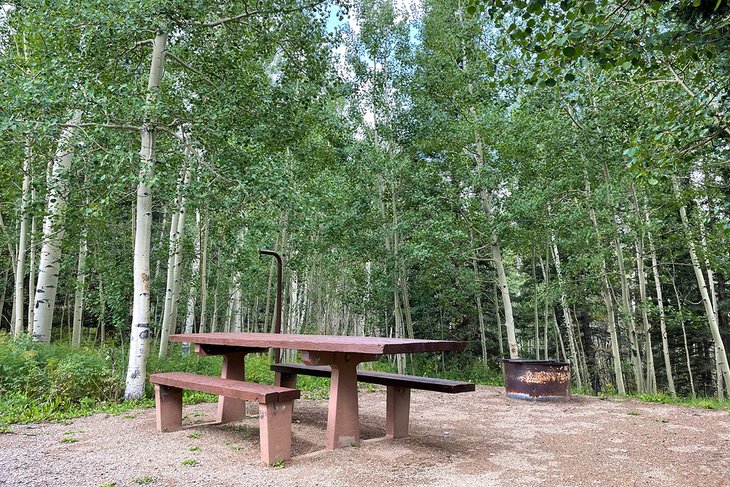 Named for the lake on which it sits, Woods Lake Campground is tucked within a thick aspen forest, featuring three loops that have 41 campsites. The campground is a great base camp for both hikers and horseback riders, as it provides easy access to the Lizard Head Wilderness along the Lone Cone Trail or Woods Lake Trail.
In fact, the campsite is ideal for horseback riders because it has five sites along its horse loop, as well as five paddocks, two hay racks, and water troughs. The main loop has a group site, four double sites, and pull-through sites. If you're a mountain biker or a motorcyclist, the Wilson Mesa Trail is just half a mile from the campground.
Woods Lake Campground does not take any reservations — all the sites are on a first-come, first-served basis. The campground is open from mid-June until the end of September and has four vault toilets.
Map of Campgrounds in Telluride, CO
Best Time to Go Camping in Telluride
Telluride is beautiful in any season, but not necessarily for sleeping outdoors. Most of Telluride's campgrounds are open between May and October, but the best time to camp in Telluride is between June and August. That's because you'll have the warmest weather, even at such high altitudes.
Keep in mind that certain dispersed campgrounds may be above 10,000 feet, and these campgrounds will hold snow into June, and maybe even beyond. The fall months are beautiful during the day, especially for the colorful visuals, but the nights get quite cold as early as September.