5 Top-Rated Ski Resorts in North Carolina, 2023
The mountains of North Carolina offer some unexpected treats for skiers and boarders. Far enough south to dodge the extreme cold temperatures that often accompany the ski resorts in the northern states, and high enough to deliver some serious vertical, the ski resorts in North Carolina are a tempting destination.
The ski resorts in North Carolina emphasize family skiing, with a mix of beginner runs to get the budding Olympians interested in the sport, and more adventuresome trails for mom and dad to cruise like they did before the children arrived.
Snowmaking capabilities at these mountains are outstanding and allow for a constant supply of fresh snow and endless days of great conditions. Lift ticket prices are extremely good value, and families in particular will find these resorts have everything they're looking for.
Quaint mountain towns set in the scenic Blue Ridge Mountains add to the experience, and come with ample après-ski opportunities and a full range of lodging options. Two of North Carolina's best ski resorts are located within 10 to 15 minutes of the small town of Banner Elk, just a little over two hours from Charlotte. This is a perfect base for skiers wanting to spend more than just a day on the slopes.
For a complete look at the best places to ski and where to stay, see our list of top ski resorts in North Carolina.
1. Sugar Mountain Ski Resort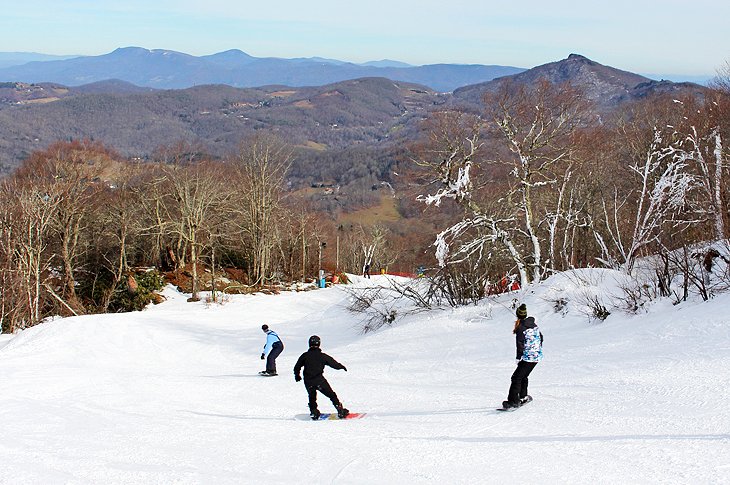 Offering the largest ski area in North Carolina, the most diverse range of runs, and the most vertical (1,200-foot vertical drop), it's hard to beat a day of skiing at Sugar mountain.
The Mountain
If you are looking for a mountain to accommodate everyone from beginners to experts, this is the place to come. Unlike some other ski resorts in the state, here you can find steep runs and challenging sections, as well as plenty of greens and blues for beginners and intermediate skiers on Sugar's 21 runs.
Although the runs aren't overly long, with night skiing as an option, you'll still be able to crank up some serious vertical in a big session. Sugar Mountain has 125 acres of skiable terrain and eight lifts, including six-passenger and four-passenger high-speed versions.
New in 2022/23 is a high-speed detachable quad lift, which replaces the old Oma's Meadow chair and cuts the ride time from nine minutes to only two! Uphill capacity has also increased dramatically; now 2,400 skiers can get to the top and start accumulating some serious vertical. The days of long lift lines at Sugar Mountain are gone!
Other on-hill improvements include new snowmaking equipment on the Upper Flying Mile, Sugar Oma's Meadow trails, and upgrades to the Magic Carpet conveyer lift. The base lodge has also seen improvements, with new electronic lockers.
Off the slopes, the lodge with a large outdoor deck and indoor sitting area, is a wonderful place to relax in the sun, have lunch, and watch the action on the slopes. If your legs need a break from skiing, you can check out the resort's tubing park and skating rink, or even go snowshoeing.
Nearby Towns and Where to Stay
The main town in the area is Banner Elk, just 10 minutes from Sugar Mountain Resort. Staying here is your best option, and it also allows you to easily access nearby Beech Mountain ski resort. If you are staying a few nights, you can ski both mountains.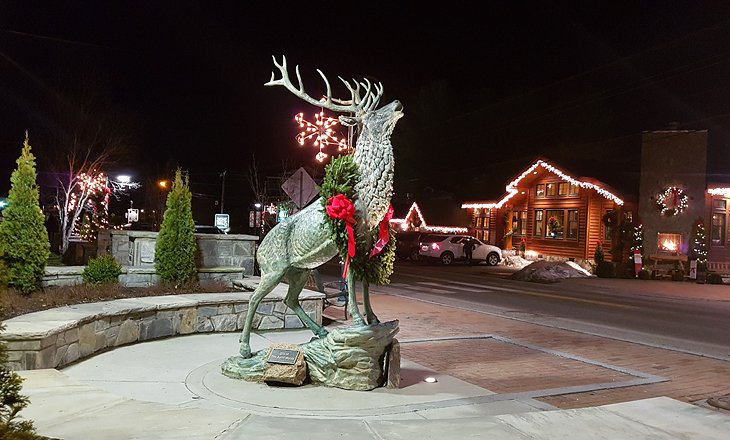 The population of Banner Elk is only 1,100 people, but it is well set up for visitors. You can find a selection of B&Bs and small inns, as well as reliable larger hotels like the Best Western Mountain Lodge at Banner Elk, which offers regular rooms and two-room suites, perfect for families.
When it comes to dining, you can find some exceptional meals in this town. Two popular restaurant choices are the upscale Sorrento's Italian Bistro, or the more casual and cozy Banner Elk Cafe and Lodge.
Official site: www.skisugar.com
2. Beech Mountain Ski Resort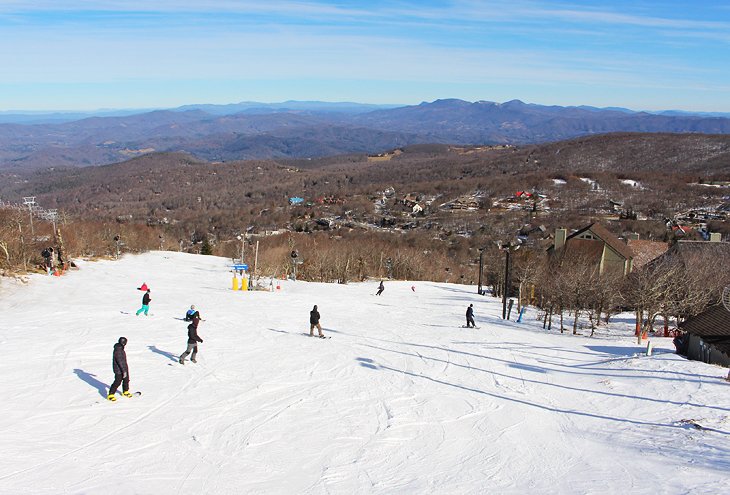 When you ask locals about their favorite ski hills in North Carolina, Beech Mountain is always a strong contender. With a peak elevation of 5,506 feet, Beech is known for being the highest ski area in the eastern USA, but it also has its own unique and fun vibe, which sets it apart.
The Mountain
Eight lifts service the mountain's 17 runs, spread across 95 skiable acres. Total vertical drop is 830 feet. In 2022/23, Beech Mountain will be replacing the Lift #1 double chair with a brand-new fixed grip quad. The new lift will double the number of skiers able to make it to the top in a timely manner.
The existing terrain park is being demolished and moved to a new location in the Powder Bowl. Expect a much-improved park with all the latest humps, bumps, rails, and other fun features to test your skills. The progression park will be located in the Meadows. The area where the old terrain park used to be will be converted to a beginners' trail called Golden Child and will have its own surface lift.
The tubing park is getting its own specialized snowmaking system. On the main hill, 10 new snowmaking guns are being deployed to ensure a consistent carpet of white wonderfulness. With night skiing, keeners can stay on the slopes until 9pm, seven days a week during the main ski season.
At the base is a Bavarian-style lodge and restaurant with a sunny and inviting deck, as well as indoor space, looking out over the runs. At the top of the mountain is an outdoor deck serving beverages, where you'll find chairs and picnic tables, and incredible views over the Blue Ridge Mountains. If you aren't a hardcore skier or boarder looking to ski from opening until closing, spending some time relaxing at either of these places makes the day much more enjoyable.
Beech Mountain hosts a number of fun events throughout the ski season and one of the most popular (and colorful!) is the Retro 80s weekend that takes place near the end of February each year. For this crazy weekend, the slopes are filled with skiers dressed in the neon-colored ski outfits that have been hanging in the back of their closets. With prizes and all kinds of kooky contests and 80s bands, this is considered "the" social event of the winter.
At the base of the mountain are a skating rink and tubing park. If you have members in your group who aren't interested in skiing, these are good options.
Nearby Towns and Where to Stay
If you are only planning on skiing at Beech Mountain, you may want to stay in the town of Beech Mountain, just a few minutes from the ski hill. Keep in mind, it is set at an elevation of approximately 5,500 feet and is the highest town in North Carolina. If you are coming from a coastal area, you will likely feel some of the effects of the altitude. The town has a population of just over 300 but does offer a selection of hotels and restaurants catering to the ski crowd. A good option up here is the Beech Alpen Inn.
Alternatively, you may want to make Banner Elk your base, which is set at a much lower elevation (3,700 feet), offers a wider selection of amenities, and is the obvious choice if you are skiing both Beech Mountain and Sugar Mountain Resorts.
Official Site: www.beechmountainresort.com
3. Appalachian Ski Mountain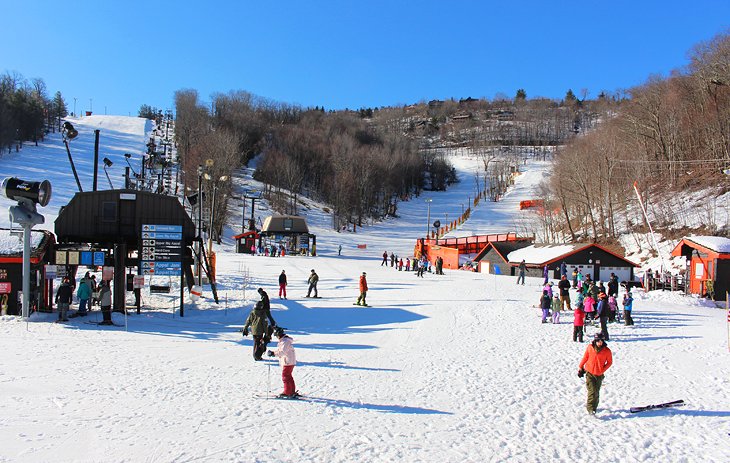 Appalachian is a family-focused, old school ski resort, but for most skiers and boarders, App, as it is mostly commonly known, is all about the terrain parks.
The Mountain
Appalachian's three terrain parks are what differentiate it from the rest of the North Carolina ski resorts. That said, this is also a great resort for beginners and families, with non-threatening slopes and groomed runs, perfect for new or intermediate level skiers.
The large lodge at the base, with a huge deck overlooking the slopes and a stone fireplace inside, is a throwback to the earlier days of skiing.
Apps terrain parks are what draw most serious riders to this resort. To ride the upper level terrain parks, everyone is required to first pass a test, which can be taken online or on-site, to obtain a Park Pass. This is a safety requirement and one that is appreciated by most riders.
Another unique feature at App is the lift ticket system. Flex tickets are good for eight consecutive hours, meaning if you arrive in the afternoon, you can still get in a solid eight hours of skiing or boarding, as the resort offers night skiing until 10pm weeknights and until midnight on the weekends.
Nearby Towns and Where to Stay
The closest town to Appalachian Ski Mountain is Blowing Rock, one of the best small towns in North Carolina. Here you'll find a decent selection of hotels and restaurants to suit every budget and taste. About 15 minutes from the hill is Boone, a more lively college town of about 19,000 people, with a full range of hotels, restaurants, shops, and a lovely downtown.
Some of the best hotel options in Boone are the Hampton Inn & Suites, if you are looking for a higher end property, and the Sleep Inn, for both comfort and great value. For some tasty Indian food, head to the Mint Cuisine of India for either a dine-in or take-out meal.
Official site: www.appskimtn.com
4. Cataloochee Ski Area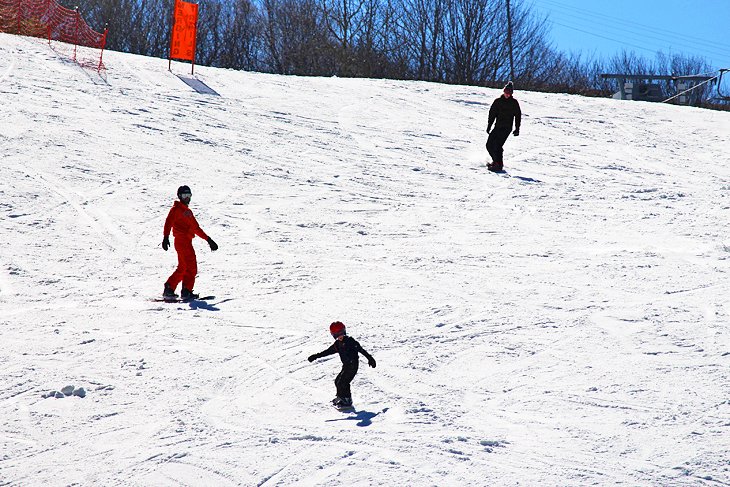 Farther east than the other ski resorts in the state and set on the edge of the Smoky Mountains, Cataloochee is the oldest ski area in North Carolina, having opened a year earlier than Appalachian.
The Mountain
Five lifts service 18 runs and one terrain park, targeted largely to beginner and intermediate skiers and boarders. This is a wonderful hill for new skiers or beginners looking to advance their skill level. Cataloochee Ski Area offers night skiing seven days a week throughout the main season.
At the base of the hill is a rustic lodge with a patio, serving decent food. The road up is steep and curving, so be prepared if the conditions are snowy.
Nearby Towns and Where to Stay
The closest place to base yourself for skiing at Cataloochee Ski Area is in Maggie Valley, just a few miles from the hill. Hotels range from mid-range to budget. Good options include the Best Western Mountainbrook Inn or the more economical A Holiday Motel.
Alternatively, Asheville is less than an hour from Cataloochee, and commuting is definitely an option.
Cataloochee is part of the Indy Pass program.
Official site: https://cataloochee.com
5. Wolf Ridge Ski Resort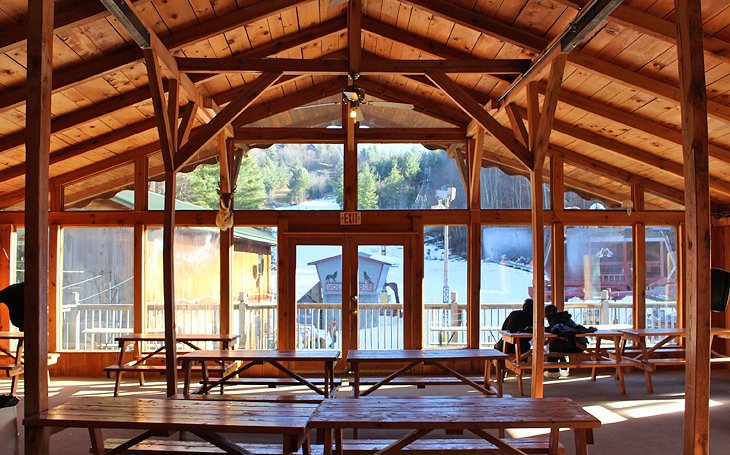 Wolf Ridge is a small but charming ski resort about 40 minutes north of Asheville.
The Mountain
The top elevation is 4,700 feet and the total vertical drop is 700 feet. The 14 runs, serviced by four lifts (including two magic carpets), are mainly for beginner and intermediate level skiers and boarders, and perfect for families. Wolf Ridge also offers night skiing and snowboarding.
The impressive lodge, with a charming rustic decor, features three huge stone fireplaces, where you can pull up a wooden rocking chair and settle in next to a roaring fire. Huge windows on two levels look out to the base of the runs.
The drive up to the resort is easy. Before you reach the ski area, you'll come to a manned gate where you'll be given a pass. Parking is free.
Nearby Towns and Where to Stay
Wolf Ridge offers a limited amount of accommodation for large groups looking to rent a townhome. You can contact them through their website. The next best options are to stay in Erwin, TN at the Mountain Inn & Suites, or at the Comfort Inn in Mars Hill, NC. Asheville, which has a full range of hotel options, is 30 minutes away.
Official site: https://skiwolfridgenc.com
Accommodation: Top-Rated Resorts in Asheville, NC
North Carolina's Ski Season
North Carolina's ski season is shorter than areas to the north. This varies by year but generally, resorts are open by mid- to late November. With the exception of Wolf Ridge, which may open later, they are almost always open in time for Thanksgiving. Be prepared for deteriorating conditions between Thanksgiving and Christmas, when temperatures can warm up and melt the snow.
In general, you won't need to bring a whole lot of cold weather gear to ski in North Carolina. The mountains are relatively low, and daytime temperatures are usually just a bit below freezing. Late February and into March is when the skiing is at its best. The days start to get longer, are usually warm with the sun regaining some of its strength, and the snowpack base at its deepest.
The season wraps up near the end of March, although Wolf Ridge tends to close earlier in March.
Map of Ski Resorts in North Carolina
More Related Articles on PlanetWare.com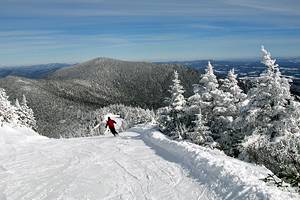 Ski the East: Just over the border in Virginia, you can find even more great skiing. If you are looking for new ideas, see our article on the best ski resorts in Virginia. And a bit farther north in West Virginia, you'll also find ski resorts with impressive vertical and very good facilities.
For additional ideas on where to ski in the eastern USA, turn to our lists of the best ski resorts in New Hampshire, and Vermont, and our complete overview of the Best Ski Resorts on the East Coast.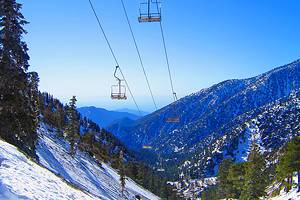 Ski the West: The West opens up a whole new range of possibilities, particularly for skiers who are interested in skiing powder or finding more challenging terrain. Have a look at everything from famous resorts like Vail to lesser known mountains like Silverton with our Best Ski Resorts in Colorado. In neighboring Utah, you'll also find an impressive selection of places to choose from. Navigate your way with our Top-Rated Ski Resorts in Utah. And don't miss our pieces on the best ski resorts in California and Washington state.