12 Top-Rated Ski Resorts in Montana, 2023
No matter the time of year, Montana delivers on adventure. Come winter, residents and visitors often trade hiking boots and trekking poles for skis and snowboards to shred down some mountain slopes. Ski resorts in Montana are mainly in the western half of the state, with a few excellent places to go skiing also near the southern state lines.
From world-renowned resorts and the big acreage found at places like Big Sky and Whitefish Mountain Resort to family-owned operations like Bridger Bowl and Lost Trail, every level of skier and snowboarder finds something to suit their ability. And groomers, glades, chutes, and stunning northern Rocky Mountain scenery should be expected on any ski trip in Montana.
Find the top slopes with our list of the best ski resorts in Montana.
1. Big Sky Resort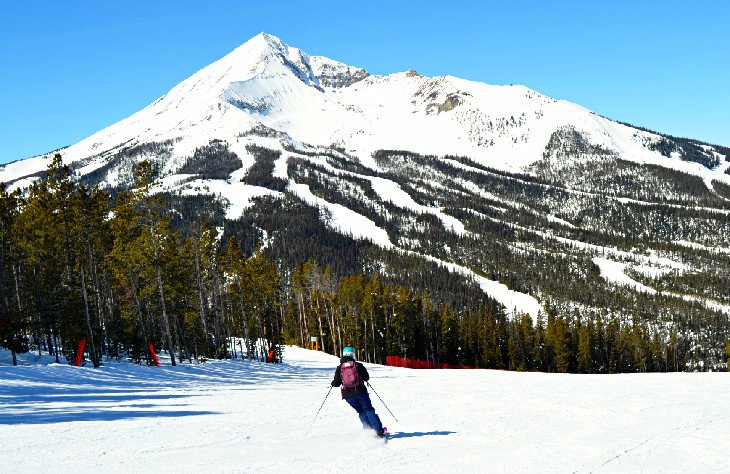 With over 5,800 skiable acres accessed by 39 lifts, Big Sky Resort is known for providing the "Biggest Skiing in America." This abundant space and plethora of high-speed lifts lend to little or no lift lines, despite the crowds of people that come to make turns every day of the week.
With snowfall averaging over 400 inches annually and projected season dates spanning more than 4.5 months, it takes multiple seasons to explore all that Big Sky and Lone Mountain have to offer. It's an absolute skiing destination of the northern Rockies, and while beginners find suitable runs, intermediate and expert skiers have no shortage of big terrain.
For a unique Montana ski experience, visitors to Big Sky can take the Lone Peak Tram to the 11,166-foot summit for 300 degrees of skiable terrain. This incredibly scenic tram ride leads to several black-diamond runs from the mountain's apex. You are not required to ski these runs to experience the tram, as down-rides are available.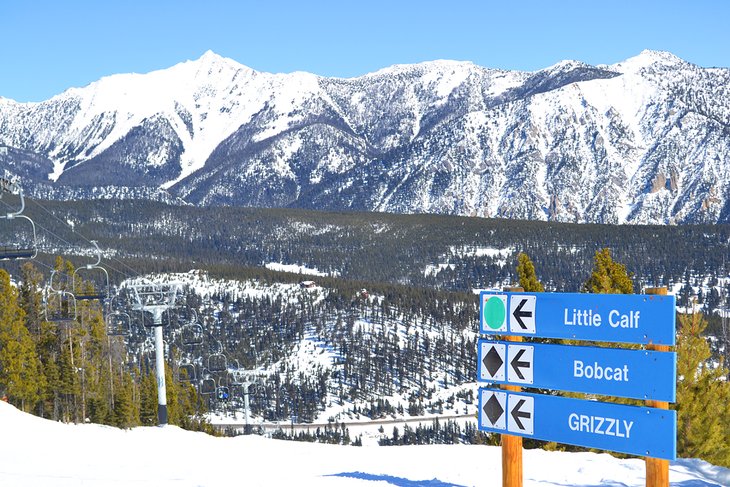 Big Sky is an hour south of Bozeman and equidistant north of Yellowstone National Park. Many visitors utilize the airport in Bozeman to fly into for a ski vacation. The university city is also an excellent place to find more affordable hotel offerings.
Big Sky is also home to some of the most technologically advanced chairlifts in the industry. The resort's Swift Current 6, for example, transports over 3,000 skiers per hour, with heated seats and weather domes. This newly installed (2021) and speedy chairlift gains 1,200 feet of elevation per minute.
Off-the-mountain amenities at Big Sky include restaurants, lodges, and other resort accommodations. Live music events also fill the winter season calendar. Other non-skiing attractions at the resort include guided dogsledding adventures, sleigh rides, and an adventure zipline.
Address: 50 Big Sky Resort Road, Big Sky, Montana
Official site: https://bigskyresort.com/
2. Whitefish Mountain Resort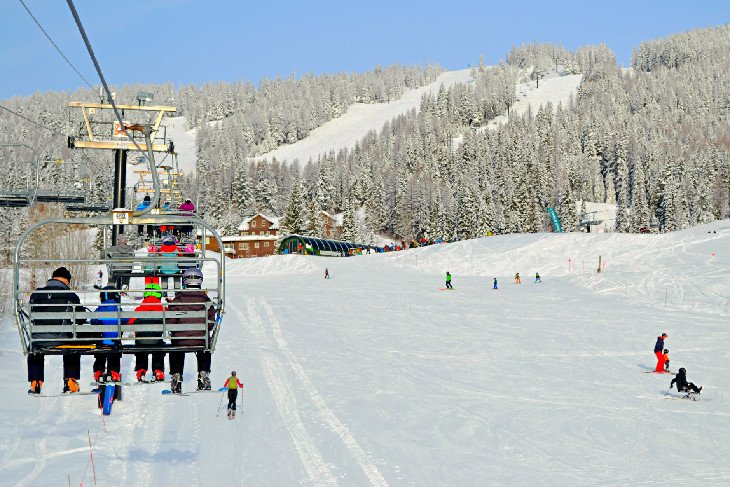 Whitefish Mountain Resort, also known as Big Mountain, borders Glacier National Park in northwest Montana. Eleven chairlifts and two T-bars lend access to over 3,000 acres of skiable terrain at the resort. This ample downhill space includes 111 named trails, touring a variety of glades, groomers, and powder stashes.
The resort has four terrain parks for rail sliders and those who like to get a little airborne. Minnow Park is a good place to start for those new to terrain parks. A skier/boardercross course is also accessible from lift 7. The Flower Point area of Whitefish is a recommended route for those looking to avoid crowds. It's on the backside of the mountain and often has shorter lift lines.
Though Whitefish is sometimes socked in by the winter weather that produces 300-plus inches of snow each year, on clear days, the views of Glacier National Park and the northern Rockies from Big Mountain add a real scenic appeal to the slopes.
A wide variety of events and live music comprise the resort's activity calendar throughout the winter. The neighboring resort town of Whitefish is filled with charm and plenty of places to grab a bite to eat. The celebrated Whitefish Winter Carnival takes place the first weekend of February, offering activities and events in downtown and on the mountain.
Whitefish also has several great places to spend the night, like the celebrated Lodge at Whitefish Lake. Visitors can take a scenic Amtrak ride to access Whitefish, with ski packages available.
Address: 1015 Glades Drive, Whitefish, Montana
Official site: https://skiwhitefish.com/
3. Bridger Bowl Ski Area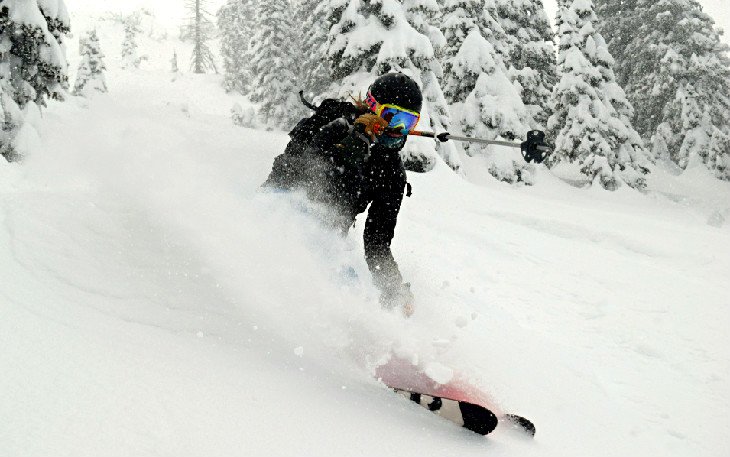 Bridger Bowl is a top skiing spot with over 2,000 acres and a wide variety of terrain. The resort receives skiers and snowboarders from across the world, but its base crowd comprises Montana State University students and Bozeman community members.
The resort offers open runs, glades, gullies, chutes, and bowls, providing something for every level of skier or snowboarder. Other terrain at the resort includes highly technical, steep landscapes for advanced skiers only.
The eight chairlifts at Bridger easily handle the crowds that congregate on the weekends. Still, expect short lift lines packed with students and families enjoying the 300-plus inches of snowfall each season. Weekdays are still busy but provide less crowded skiing.
The ski and snowboard school at Bridger is great for beginners, and the on-site daycare facility lets parents hit the slopes solo throughout the day. Two lodges at the base of the mountain feature other skier amenities like rentals, a cafeteria, and Johnny B's restaurant.
Address: 15795 Bridger Canyon Road, Bozeman, Montana
Official site: https://www.bridgerbowl.com/
4. Discovery Ski Area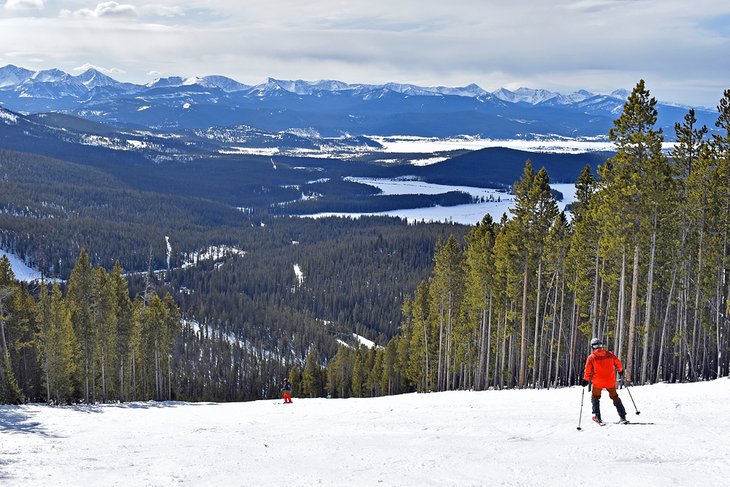 Skiers and snowboarders from across the state travel to "Ski Disco", an hour west of Butte in Phillipsburg. All three faces of this Rocky Mountain resort provide terrain for all abilities to enjoy. The front-facing slopes at Discovery include beginner, intermediate, and expert groomed runs and tree routes. And the backside features exclusively black and double-black diamond routes that test the legs.
The resort has over 2,220 acres of patrolled terrain to explore. It's a true choose-your-own-adventure upon departing the chairlifts, with several degrees of difficulty to choose from. The longest run, Winning Ridge, spans more than a 1.5 miles with a mellow grade.
The lodge at Ski Disco offers a quintessential ski club ambience. Head inside to warm up and eat a packed lunch or purchase on-site concessions. The fresh-baked chocolate chip cookies are worth the travel to the mountain alone. Visitors can also sit outside on the large back deck and watch skiers make their way down the mountain.
Discovery Ski Area also features nearly 20 miles of cross-country ski trails. This winding collection of groomed trails navigates through a winter forest near the shores of Echo and Georgetown Lakes. The resort also features two inbounds terrain parks.
Address: 180 Discovery Basin Road, Anaconda, Montana
Official site: https://www.skidiscovery.com/
5. Montana Snowbowl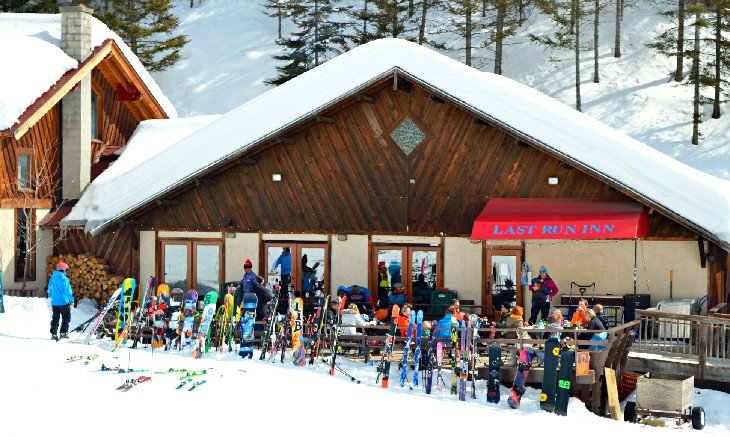 Just outside the university city of Missoula, this local ski and snowboard area has a laid-back atmosphere with big mountain terrain. It's best suited for intermediate and advanced skiers and snowboarders, with steep routes and more technical and longer runs than your average resort. This challenging atmosphere often lends to less crowded conditions on the slopes.
The fun doesn't stop on the ski slopes at Snowbowl. This local-favorite ski resort is as well known for its many sidewinding tree routes as it is for its poutine and other après-ski menu items. Head to the Last Run Inn at the resort for a fun gathering of people toward the end of the day.
The resort opened a new chairlift on TV Mountain in January 2020, which dramatically added to Snowbowl's skiable acres. The resort offers a shuttle bus for the 2022/2023 season, departing from near Grant Creek on Saturdays and Sundays between January and March.
Address: 1700 Snow Bowl Road, Missoula, Montana
Official site: https://www.montanasnowbowl.com/
6. Lookout Pass Ski & Recreation Area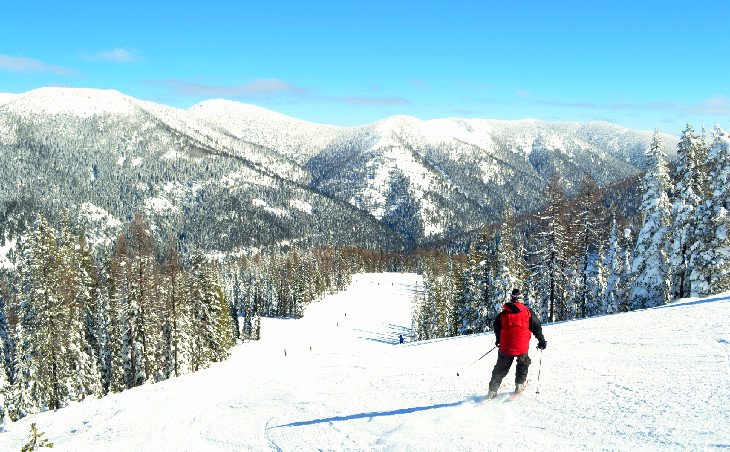 On the Montana/Idaho border, off Interstate 90, Lookout Pass often receives the most amount of snow of any resort in Montana. It features ski and snowboard slopes in both Montana and Idaho and has garnered a great reputation as a family-friendly place to ski with affordable lift tickets.
The terrain features varying route difficulties for different abilities of skiers. This includes open groomers for beginners and several tree routes for those with solid stopping and turning skills. The resort is also well known for its unique "famous FREE Ski School" for kids.
Two terrain parks at Lookout Pass cater towards those looking for big air and those hitting a rail for the first time, and a separate natural feature terrain park features a 1,000-foot-long quarter pipe.
Lookout also has a quintessential ski lodge with a comfortable and family-friendly atmosphere. The lodge, alongside selling hot food and beverages, spans state lines and time zones. Two clocks on the wall, an hour apart, denote this fun fact.
Address: I-90 Exit 0, Mullan, Idaho
Official site: https://skilookout.com
7. Lost Trail Powder Mountain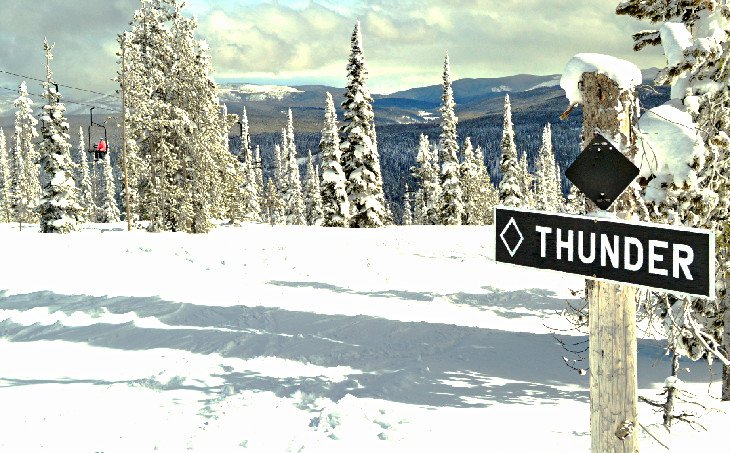 Family-owned and operated since 1938, Lost Trail Powder Mountain is near the Montana/Idaho border, off Highway 93. With affordable lift tickets and some of the most abundant snowfall in the state, a ski weekend at Lost Trail is a longtime tradition for many families in Montana.
The resort is open four days a week, Thursday through Sunday. If any snow accumulates during the three consecutive non-operating days of the week (Mon. Tues. Wed.), winter enthusiasts can expect to find abundant fluffy snow at Lost Trail on "Powder Thursdays"
The lodge at Lost Trail is a fun place to warm up and grab a bite to eat. Lava rocks and a large fire pit keep things cozy near the back patio, where it's fun to soak in the sun during some spring skiing.
Address: 9485 US-93, Sula, Montana
Official site: https://www.losttrail.com/
8. Great Divide Ski Area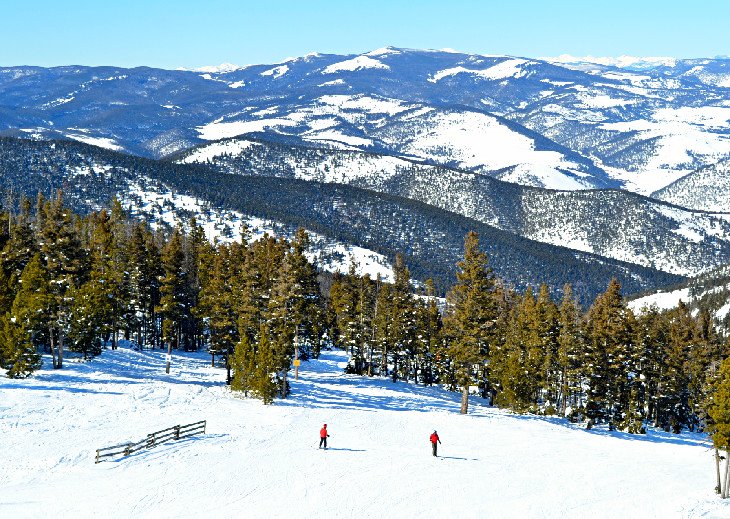 Great Divide is less than 20 miles from the state capital of Helena. This locally owned mountain and ski area features a wide variety of terrain and a well-reputed ski and snowboard school for beginners. It also offers some of the most affordable lift tickets in Montana and over 1,600 acres to explore, making Great Divide an unbeatable value for family ski trips or impromptu weekend getaways.
While the Mount Belmont chairlift might be the most popular to ride, the Wild West chairlift accesses numerous blue and black diamond routes, often with fewer crowds. After hitting the slopes, head to the family-friendly lodge at the base of the mountain for hot food and a place to warm up.
Address: 7385 Belmont Drive, Marysville, Montana
Official site: https://skigd.com/
9. Showdown Montana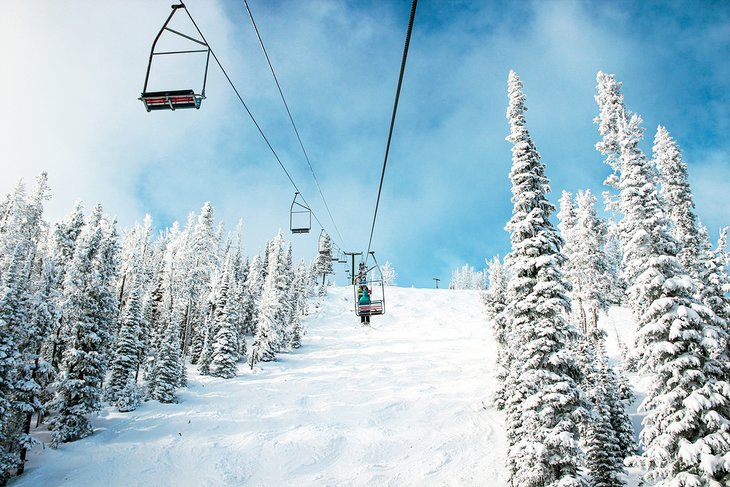 Showdown Montana is one of the oldest ski areas in the state and continues to be a family favorite for locals and out-of-town visitors alike. It's approximately 30 miles north of White Sulphur Springs and 70 miles south of Great Falls.
The resort is open Wednesday through Sunday throughout the peak winter season, typically between mid-December and early April. The resort is popular on the weekends. Wednesdays are an excellent time to go for fewer crowds. Wednesdays also offer stellar conditions, especially if it has been snowing the previous two non-operating days.
Showdown has three chairlifts and a magic carpet conveyor. The 8,200-foot summit provides access to over 35 runs varying in difficulty down to the 6,800-foot base. While every skier finds something fun at Showdown, it's a great spot for beginners to practice on less challenging terrain.
Address: 2850 US-89, Neihart, Montana
Official site: http://www.showdownmontana.com/
10. Blacktail Mountain Ski Area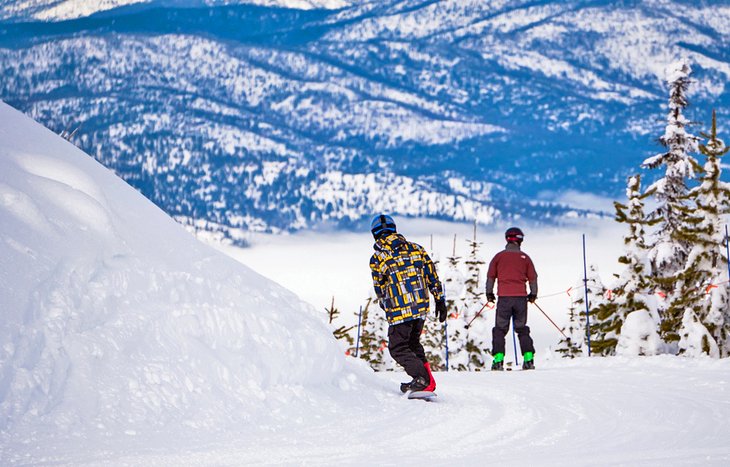 Near the western shore of Flathead Lake in northern Montana, Blacktail Mountain provides access to over 1,000 skiable acres within the Flathead National Forest. Featuring a more local feel, alongside a comfortable and less crowded atmosphere, Blacktail Mountain Ski Area also provides great views on clear days and plenty of untouched powder stashes throughout the tree-lined routes.
For après-ski, the Blacktail Lodge provides affordable on-site dining options and fireplaces to warm up between runs.
Address: 13990 Blacktail Road, Lakeside, Montana
Official site: http://www.blacktailmountain.com
11. Red Lodge Mountain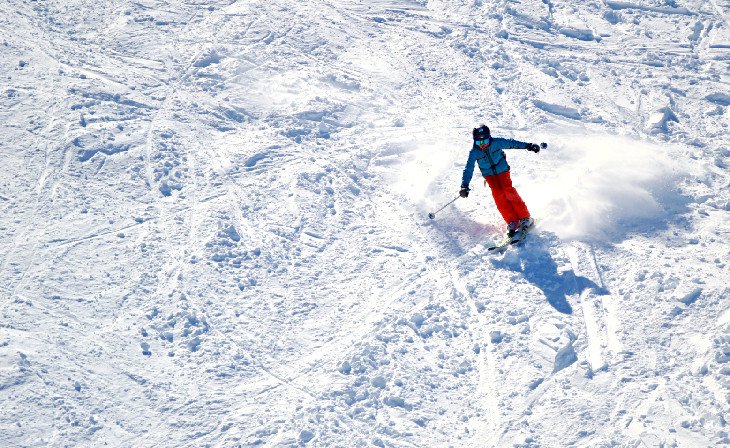 In south central Montana, near the Wyoming border and Yellowstone National Park, Red Lodge Mountain features beginner-friendly prices and big mountain terrain. The area encompasses over 1,600 acres, and longtime skiers and snowboarders at Red Lodge Mountain appreciate the laid-back atmosphere and small lines at the six chairlifts.
Visitors from across the state often enjoy the average 250 inches of annual snow. The mountain caters primarily to intermediate and advanced skiers, but beginners at Red Lodge can find low-angle runs near the base of the mountain.
Address: 305 Ski Run Road, Red Lodge, Montana
Official site: https://www.redlodgemountain.com
12. Maverick Mountain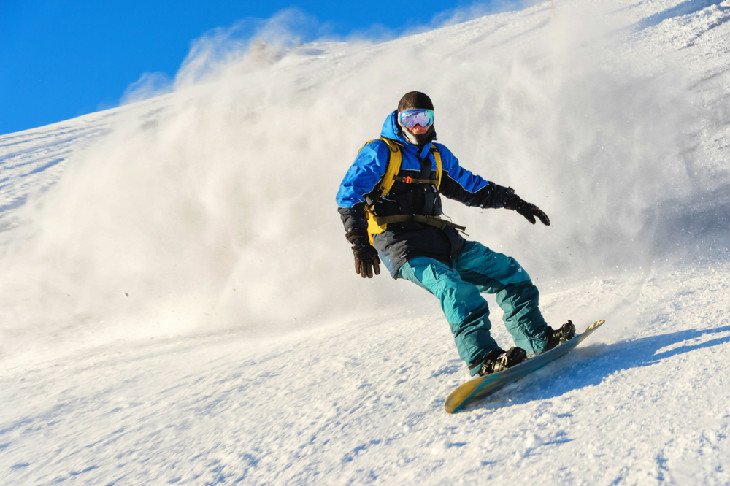 Maverick Mountain is a mom-and-pop ski area in Southwestern Montana, encompassing 450 acres within the Beaverhead-Deerlodge National Forest. Friendly rates and virtually non-existent lift lines keep Maverick popular throughout the season, especially for those living or visiting Dillon 40 miles away.
It's really the views at Maverick Mountain that make this local ski resort stand out, though, and on clear days from all 24 named routes, the jagged Pioneer Mountains landscape makes for reason enough to visit.
Address: 1600 Maverick Mountain Road, Polaris, Montana
Official site: http://www.skimaverick.com/
Map of Ski Resorts in Montana
More Related Articles on PlanetWare.com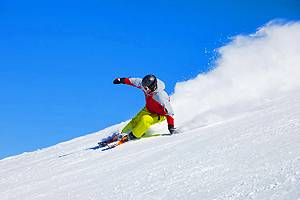 More Ski Resorts in the West: For great skiing in the United States, Montana is just the tip of the iceberg. Some of the best ski resorts in Colorado really earn their international appeal, as do the top-rated ski resorts in Utah. For some Pacific Northwest appeal, the best ski resorts in Washington deliver with abundant snow throughout the winter.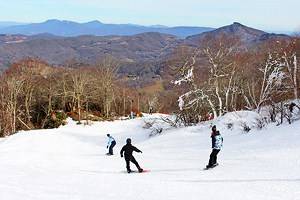 Ski Resorts across the Country: If you are trying to search out a budget-friendly ski destination, be sure to check out our article on Cheap Ski Resorts in North America. For skiing in the East, see our articles on the best ski resorts in Vermont, New Hampshire, and even the sunny slopes in the mountains of North Carolina.