11 Top-Rated Attractions & Things to Do in Park City, UT
This former mining town has reinvented itself to become one of North America's top resort destinations. Spectacular skiing at two top ski resorts in winter, fantastic mountain biking and hiking in the summer, various tourist attractions, and great dining and accommodation year-round make Park City a wonderful place to visit.
Park City has a great selection of restaurants, serving the trendiest fare, and many luxury hotels to choose from. Shopping options range from eclectic boutiques on Main Street to outlet shopping on the edge of town.
Getting to Park City is easy - it's less than an hour's drive from Salt Lake City airport on Interstate Highways. You can leave New York in the morning and still catch a few runs at Deer Valley in the late afternoon. To discover more things to see and do, have a read through our list of top attractions in Park City.
1. Ski Deer Valley Resort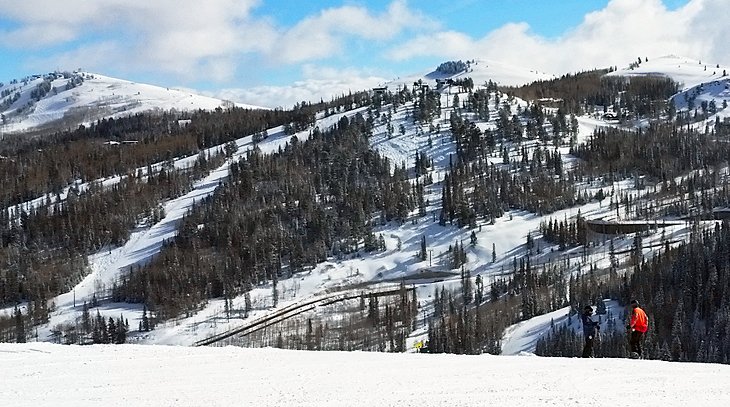 Deer Valley is known for offering the most luxurious amenities and incredible customer service, but the skiing here is also outstanding. The mountain is only open to skiers (no snowboards allowed). Plus, the resort limits the number of skiers to a maximum of 7,500 per day, meaning the hill is never overcrowded, even at peak holiday times, and you'll always be sure to get maximum vertical.
The terrain stretches across four mountains and has something to suit all levels of skiers. The resort targets beginners and intermediate skiers, however, that doesn't mean there isn't challenging terrain. Advanced skiers will want to head over to Lady Morgan Mountain to find great powder stashes and untracked glade runs. The base elevation is 6,570 feet.
Great dining, first-class day lodges, friendly employees, and small touches like free ski storage make for a relaxing day at Deer Valley.
During the 2002 Olympics, Deer Valley was the venue for slalom, giant slalom, freestyle, and snowboard events.
Deer Valley is part of the IKON pass program.
Official site: http://www.deervalley.com/
2. Ski Park City Mountain Resort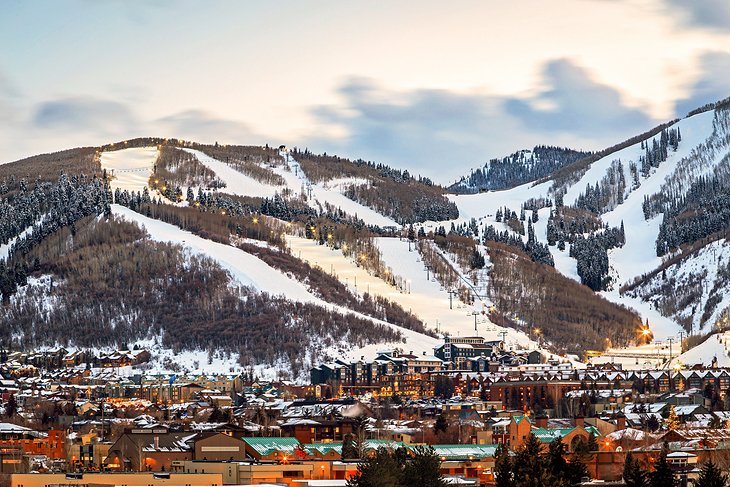 Park City Mountain Resort is a massive ski hill with a practically endless assortment of runs. You'll run out of energy before you ever run out of places to ski. The resort is spread out over 17 peaks, has over 330 runs, and tops out at an elevation of 10,026 feet.
The resort is targeted at families and includes a strong selection of intermediate and beginner runs. And although you'll find gentle greens and wide-open blue groomers, you can also find black diamonds to get your heart racing.
Park City Mountain amalgamated with what was formerly Canyons Ski Resort, and although they are now one, the resort has two main base areas. The first area is just outside of town and has the largest parking area, the second is right in town, which is more for those staying in nearby hotels. Parking is very limited here, so arrive early if you want to get a spot on busy days. Park City Mountain Resort is owned by Vail Resorts and is part of the Epic Pass program.
During the summer months, you can take a ride on a gondola to appreciate the view, ride the mountain coaster, or enjoy hiking or mountain biking and other types of entertainment, including the summer concert series.
Official site: http://www.parkcitymountain.com/
3. Shop Historic Main Street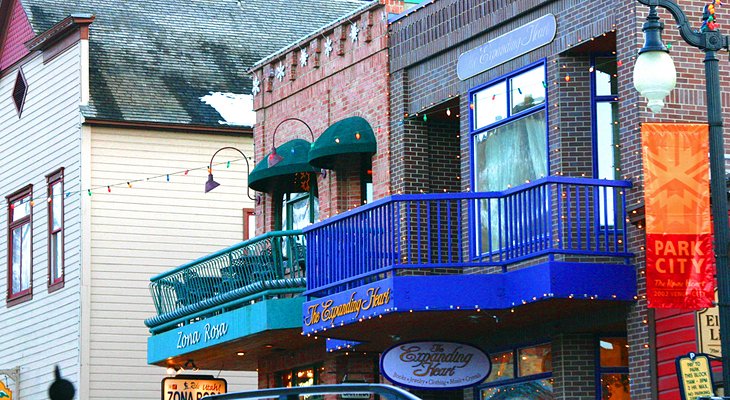 If you come to Park City and do nothing else except stroll up and down Main Street, you'll still feel the trip was worthwhile. Main Street is full of shops selling everything from souvenirs right through to high quality jewelry, and some of Utah's best and most innovative restaurants.
Art lovers can browse the many galleries showcasing local and international artists. Every Friday from July through to December the Last Friday Gallery stroll takes place from 6 to 9pm, when galleries stay open late and feature special exhibitions and offer light refreshments.
If you are here on a Sunday in the summer, be sure to check out the Park Silly Sunday Market, an open-air farmers market and street festival. This is a bit of an off-the-wall experience that takes up the entire Main Street, with more than 150 buskers and musicians, 115 farmers, 14 main street merchants, and 115 non-profit groups and child-friendly activity spaces.
The best way to experience Main Street is to park your car in the China Bridge parking structure at the base of Main Street and then walk up one side and down the other. Another alternative is to park farther out and take bus. All transit in Park City is free, including the Main Street Trolley.
4. Soak up Some History at the Park City Museum
The Park City Museum and Territorial Jail is housed in the original Park City Hall, which was built in 1884. It may not look like much from the street, but the museum occupies several floors spread over 12,000 square feet, and the collection is extensive.
The museum features many hands-on displays on topics related to the history of Park City and the surrounding area. Special exhibits feature mining, where you can trigger an explosion and try riding in an old elevator. Other experiences, perfect for family fun, include a trip down into the original dark and dank territorial jail and then a visit to the Smith and Brim grocery store. An overview of the development of downhill skiing is also presented.
A fun program for children is the "Park City History Detectives." Children of all ages partake in the challenge of finding clues that lead to certain displays of Park City's history.
Address: 528 Main Street, Park City, Utah
Official site: http://parkcityhistory.org/
5. Experience Utah Olympic Park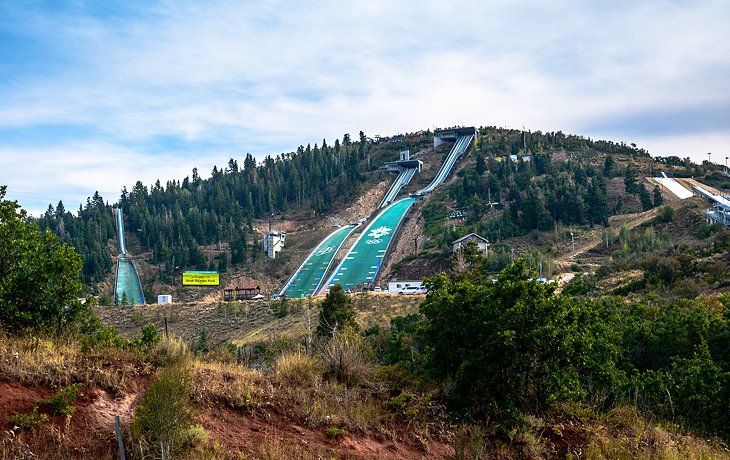 Utah hosted the 2002 Winter Olympic Games, and the Utah Olympic Park is one of the legacies. The facility, located four miles north of Park City, was used during the games for bobsled, luge, ski jumping, and Nordic events. Today the park is open to the public for a variety of activities and to athletes as a training facility.
One of the popular things to do here is take a ride down the Comet Bobsled Ride. The professional driver takes visitors three at a time, hurtling down the 1335-meter course featuring 15 intense turns and a drop of 103 feet.
In summer, the ice is swapped out for wheels. Also on the site are massive ziplines; a tubing area; and an area called the Discovery Zone full of ropes, nets, and suspended wires.
For those not interested in adrenaline rushes, the Alf Engen Ski Museum is another option here. This free attraction is full of displays and memorabilia showcasing the history of downhill skiing in the area. A special section is dedicated to the 2002 Winter Games where you'll be able to see the dazzling costumes and portions of the floats used in the opening ceremony.
Address: 3419 Olympic Parkway, Park City, Utah
Official site: http://utaholympiclegacy.org/
6. Spot Celebrities at the Sundance Film Festival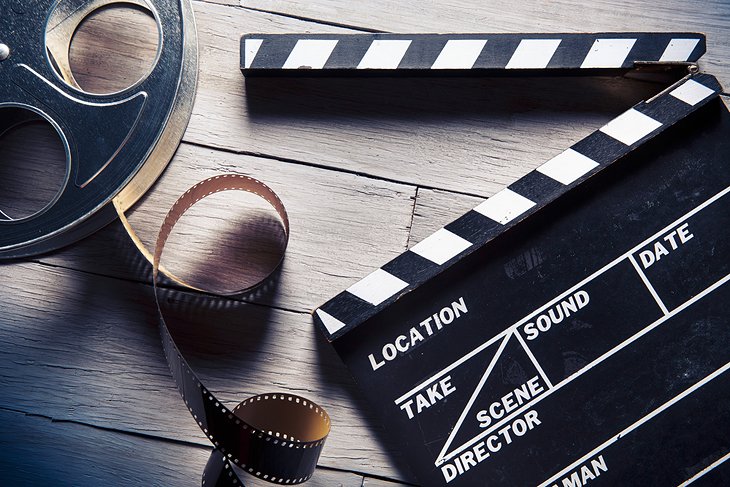 The world-famous Sundance Film Festival takes place in Park City during the last 10 days of January each year. This is your chance to spot celebrities. The town is full of energy and activity during the festival and a fun place to be. Films are screened at the famous Egyptian Theater along with other venues around town.
Although accommodation can be scarce and expensive during the festival, remember that Salt Lake City is only 45 minutes away, and the festival offers free shuttle buses running from the various parking locations.
In fact, a great time to ski at Park City Resort and Deer Valley Resort is during the Sundance Film Festival. The thought of crowds and parking in town tends to deter visitors from coming to ski during the festival. You'll likely find great snow and often no line ups. You might even see a celebrity schussing down the slopes or on a chairlift beside you.
Official site: http://www.sundance.org/festivals/sundance-film-festival
7. Catch a Show at the Egyptian Theatre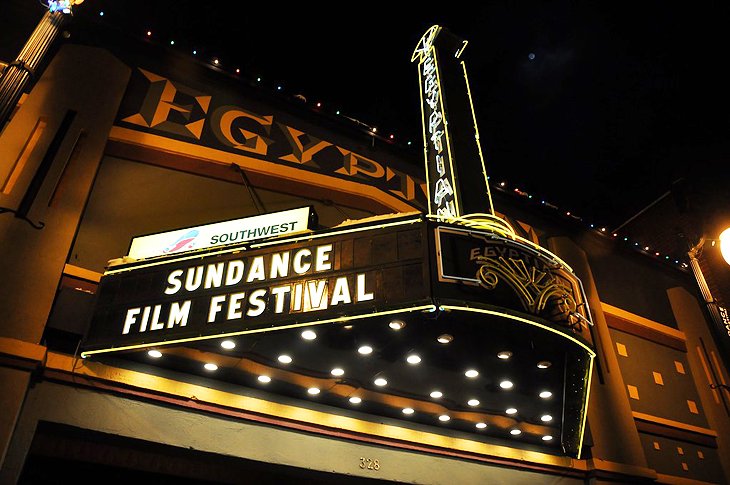 Fans of the arts will want to stop in for a film, musical performance, comedy act, or a play at the famous Egyptian Theatre. This is also the theater where the Sundance Film Festival had its first screenings.
The theater is over 100 years old and has been refurbished to its original glory. It is located on Main Street and hard to miss, just look for the marquee with its neon lights and the bright red doors below. Performances take place throughout the year.
Address: 328 Main Street, Park City, Utah
Official site: https://www.egyptiantheatrecompany.org/
8. Take a Scenic Drive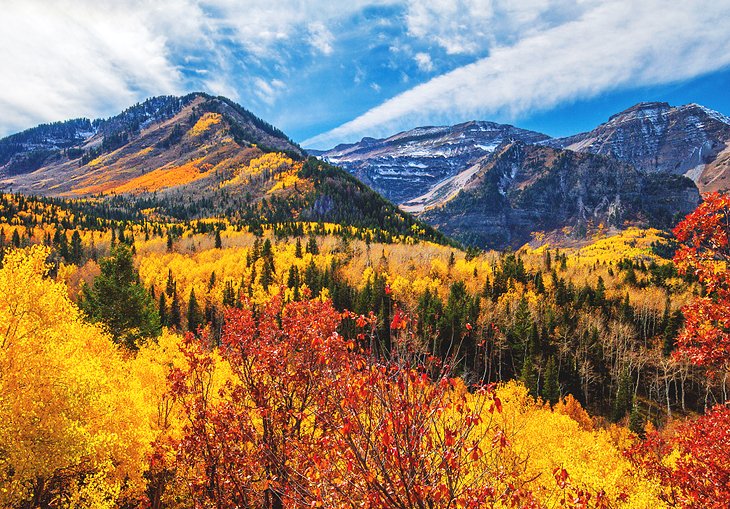 If you've had your fill of great dining, shopping, and nightlife, and want to see some of the spectacular alpine scenery surrounding Park City, you are in luck. Three scenic drives nearby will take you into some wonderful mountain territory.
Guardsman Pass Scenic Byway starts fourteen miles from Park City. It winds its way up to the summit area of Big Cottonwood Canyon. You can often see wildlife, and in the summer keep an eye out for the carpets of wildflowers in the meadows
Provo Canyon Scenic Byway starts 20 minutes from Park City. One of the highlights here is the 607-foot-high Bridal Veil Falls. The winds frequently howl through the Deer Creek Reservoir, and in the summer, you'll see the kiteboarders and their colorful kites racing along the water and performing aerial tricks. Provo Canyon Scenic Byway can be combined with the Alpine Loop Scenic Byway below.
For a full day outing on what is considered one of Utah's most stunning scenic drives, head to the Alpine Loop Scenic Byway. This route is only a little more than 20 miles long but plan on taking your time and stopping along the way.
Some of the highlights along this route are Sundance Resort, owned by Robert Redford, and Timpanogos Cave National Park, featuring fascinating underground caverns.
9. Ride the Mountain Biking Trails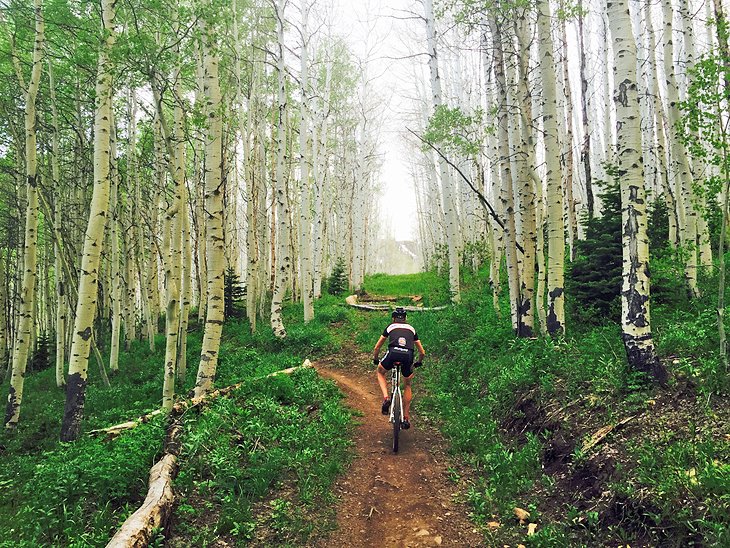 Over the past number of years, Park City has become a hot spot for mountain biking. Over 450 well-maintained trails lead through spectacular scenery in the high alpine. Choices range from family cruisers across mountain meadows to heart-pounding climbs up to panoramic viewpoints.
The chairlifts are equipped to carry your mountain bike, so if you hate doing climbs and just want to cruse or race downhill, this is the place to do it.
One of the most popular and scenic rides is the Mid Mountain Trail leaving from Silver Lake Lodge at Deer Valley and ending at Canyons Village. Or, if that is too tame for you, get geared up with protective equipment and try downhill mountain biking on one of the advanced courses.
Bike rentals and bike trailers along with expert advice is available at a number of shops. Note that the trails all begin around 6,500 feet in elevation. If you are visiting from lower elevations, be prepared to be out of breath quickly.
10. Tour the Kimball Art Center
As of October 2021, Kimball Art Center can be found in a three-year temporary home in a rejuvenated and reimagined 9,000-square-foot warehouse. Improvements at the new location include more teaching areas, better access for those with disabilities, and a new 2,500-square-foot ceramics studio.
The Kimball Art Center in Park City was founded by Bill Kimball in 1976 as a non-profit organization dedicated to local artists. The galleries at the new location will feature changing exhibits throughout the year. Admission is always free.
The Kimbell Art Center also offers an extensive selection of art classes for young and old. If you'd like to try making something out of clay, swing by on Fridays for Wheel Try. A nominal fee is charged for the supplies, but you get instruction, firing, glazing, and professional instruction to create two of your own masterpieces.
The Kimball also hosts the Park City Kimball Arts Festival, Utah's longest running visual arts festival. It attracts tens of thousands of people from all over the country.
Address: 638 Park Avenue, Park City, Utah until October 2021, then 1401 Kearns Blvd, Park City, Utah
Official site: http://www.kimballartcenter.org/
11. Get Out on the Water at Jordanelle Reservoir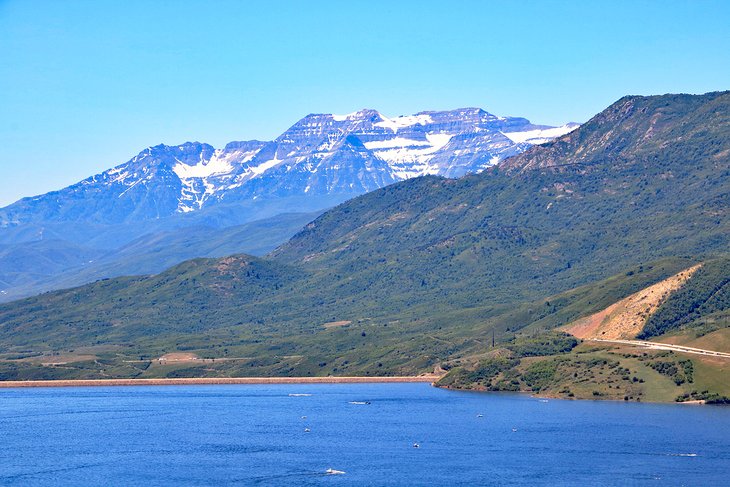 Just a short drive from Park City is the beautiful Jordanelle Reservoir, one of Utah's best lakes. This large lake, home to some of the summer Olympic events, is ideal for sailing and all kinds of fun water sports.
A large beach is backed by picnic tables, restrooms, spots to escape the sun, and open areas perfect for an impromptu game of football. The lake is at an elevation of just over 6,000 feet, so the water in the lake is refreshing to say the least, rarely getting above the mid 70s Fahrenheit. Each summer, swim structures are anchored offshore.
If you are on a budget and want to explore Park City in the summer, consider camping here at one of the two well equipped campgrounds.
Where to Stay in Park City
Luxury Hotels:
Park City has an exceptional array of luxury accommodations that range from smaller boutique properties to full-scale resorts. One of the top choices is the Washington School House

Hotel

. This boutique hotel is housed in a masterfully restored 1889 school, and only 12 rooms and suites are available.
Located right at the Deer Valley Resort and ideally placed for skiers is the Stein Eriksen

Lodge

. Having recently undergone a 14-million-dollar renovation, this 5-star resort is the epitome of luxury.
The Hotel Park

City

is an all-suite hotel nestled on a golf course about 1.5 miles from Main Street. The large suites, all with fireplaces, full kitchens, and balconies, are perfect for families.
Mid-Range Hotels:
Park City has an extensive collection of fine mid-range hotels, most of which are located near I80 and Park City Outlets (formerly Tanger Outlets). The Best Western Plus Landmark

Inn

is a good option, with an indoor pool and hot tub to soak away the sore muscles. The hotel also offers a free shuttle to the ski areas and Main Street.
Newpark Resort and

Hotel

is another quality hotel in this same area. Accommodation options include rooms and townhomes, the latter, with full kitchens, are ideal for families.
Located close to downtown is the Park City Peaks

Hotel

. The rooms and hotel are done up in trendy mid-century modern décor.
Budget Hotels:
Budget accommodation in Park City is challenging. You can stay at the Park City

Hostel

in a private room or a dorm room with bunk beds sleeping six.
A great alternative to staying in Park City if you are watching your pennies is to stay in Salt Lake City, only a 45-minute drive away.
See our article on where to stay in Salt Lake City. You can find quality hotels at often a fraction of the price of hotels in Park City, depending on the time of year.
More Related Articles on PlanetWare.com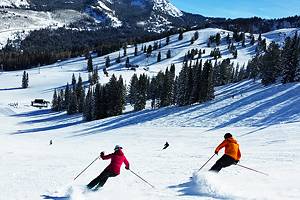 Skiing in Utah: The ski resorts in Utah are some of the best in the United States. Many of the best mountains are not far from Park City and Salt Lake City. Other good options in the area include Snowbird, Alta, and Solitude. For a complete look, see our article on the Best Ski Resorts in Utah.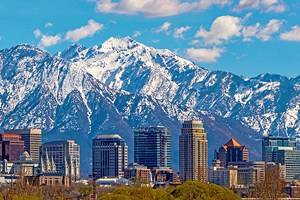 Salt Lake City: Many people fly into Salt Lake City before heading up to Park City. If you plan on spending some time here, be sure to see our articles on Top Attractions in Salt Lake City, and also our guide to Where to Stay in Salt Lake City: Best Areas & Hotels.