11 Best Campgrounds near Boise, ID
In Southwest Idaho, Boise is a capital city brimming with adventure. The Boise Foothills join the east side of the city, providing grounds for several great hiking trails. Above the foothills, the expansive Boise National Forest offers endless options for spending the night. Home to some of the best campgrounds near Boise, this national forest is a top spot for RV and tent camping.
A typical route into Boise National Forest from the city heads north on Highway 21, also known as the Ponderosa Pine Scenic Route. The highway is indeed scenic, and many of the best Boise campgrounds branch off this tree-lined route. Many of these campgrounds are easily accessible off the highway, and each makes it easy to explore the natural surroundings.
U.S. Forest Service campgrounds are the most abundant camping options near Boise. Many of these campgrounds cater to both tent and RV camping, though few come with any hookups. Some Forest Service campgrounds are reservable ahead of time.
A few beautiful state park campgrounds are also within a two-hour drive of Boise. State park campgrounds have more amenities, including flushing toilets and showers. Hot springs, sand dunes, and breathtaking mountains are explorable in state parks close to Boise. Consider booking in advance.
Find your next favorite camping spot with these best campgrounds near Boise.
1. Bruneau Dunes State Park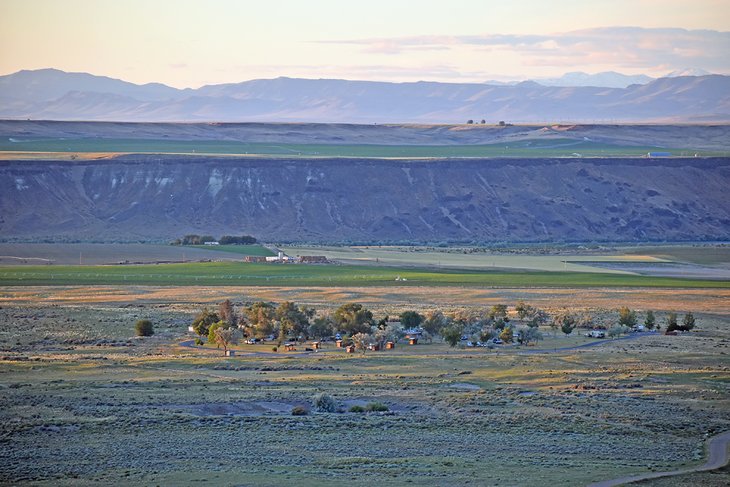 One of the best state parks in Idaho is Bruneau Dunes, home to the tallest freestanding sand dune in North America. This shifting spectacle and place to camp is only an hour's drive from Boise. The state park has over 120 campsites spread throughout two campgrounds: Broken Wheel and Eagle Cove. Equestrian sites are also available.
The towering sand dunes at Bruneau are within a short commute from both Broken Wheel and Eagle Cove Campgrounds. Both campgrounds have standard campsites and RV spots with water and electricity. The campgrounds also have bathhouses with flushing toilets and showers. Tent campsites at Broken Wheel have shade structures built around a picnic table.
The adjacent dunes provide all-day activity and beyond for all ages of campers. Sandboards are available to rent from the park's visitor center. The sunsets are also picturesque come the golden hour. The night sky at Bruneau offers another eye-catching spectacle after sunset, as the Milky Way blooms across the campground.
Address: 27608 Bruneau Sand Dunes Road, Bruneau, Idaho
2. Shafer Butte Campground, Boise National Forest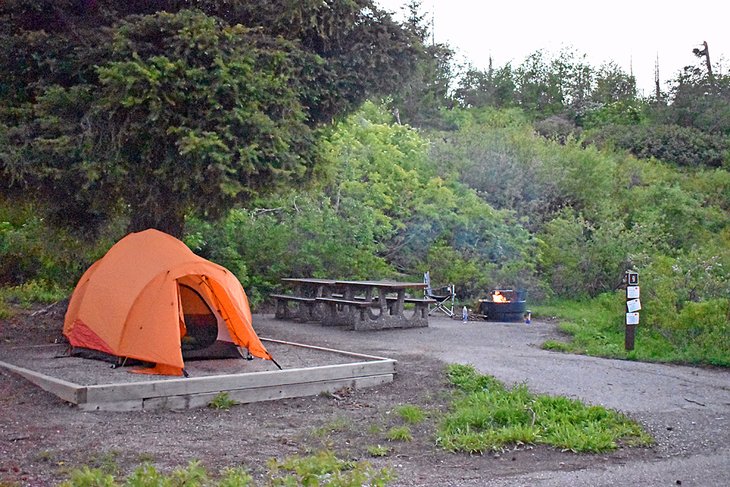 Shafer Butte Campground is a place to pitch a tent high above Boise. This compact campground is at the very top of Bogus Basin Road, adjacent to Bogus Basin Mountain Recreation Area. Alongside seven campsites, the surrounding recreation area also has two day-use areas and a group picnic site.
Two of the best hiking trails near Boise are accessible by foot from the campground. The Mores Mountain Interpretive Loop and the Around the Mountain Trail offer inspiring views of the Treasure Valley. Shafer Butte Campground, atop the Boise Ridge Mountains, also has a great view itself.
It's a short walk from the parking area to the campsites. The sites at Shafer Butte are close together and only suitable for tent camping. Sites #13 and #14 are near each other, but otherwise are the most secluded. No water is available at the campground. A pit toilet is near the parking area.
Address: Boise National Forest, Forest Road 374E, Boise, Idaho
3. Ten Mile Campground, Boise National Forest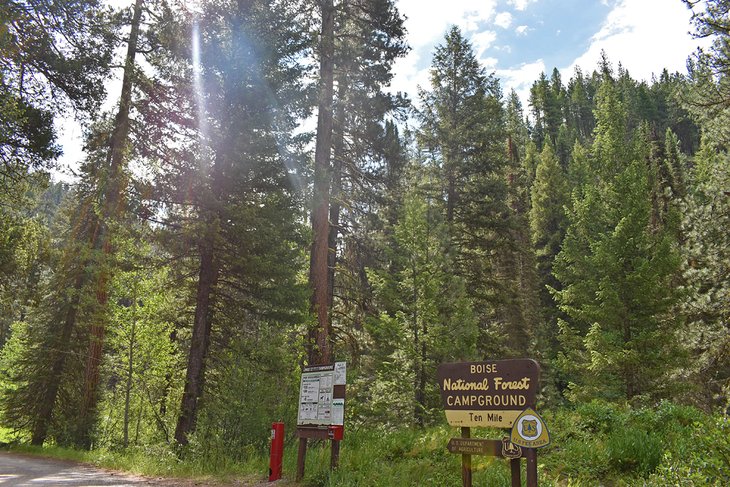 Ten Mile Campground is within Boise National Forest, 40 miles north of Boise on the Ponderosa Pine Scenic Route. The campground is on either side of Highway 21 and is easy to access. Sixteen sites are available at Ten Mile Campground, all of which accommodate medium-size RVs or tent camping.
While some sites are close to the highway, the overwhelming nature of the area generally keeps things quiet. A hand-pumped well provides potable water, and two renovated vault toilets are within the campground. No hookups are available. Twelve of the sites at Ten Mile Campground are reservable online.
Ten Mile isn't the only campground on this stretch of Highway 21, 10 miles north of Idaho City. Bad Bear Campground is less than a mile up the road and provides six sites with a little more solitude. The Hayfork Group Campground is also within the vicinity of Ten Mile. Hayfork has one single reservable group site that accommodates up to 50 people.
Address: Boise National Forest, Forest Road 025I, Idaho City, Idaho
4. Kirkham Campground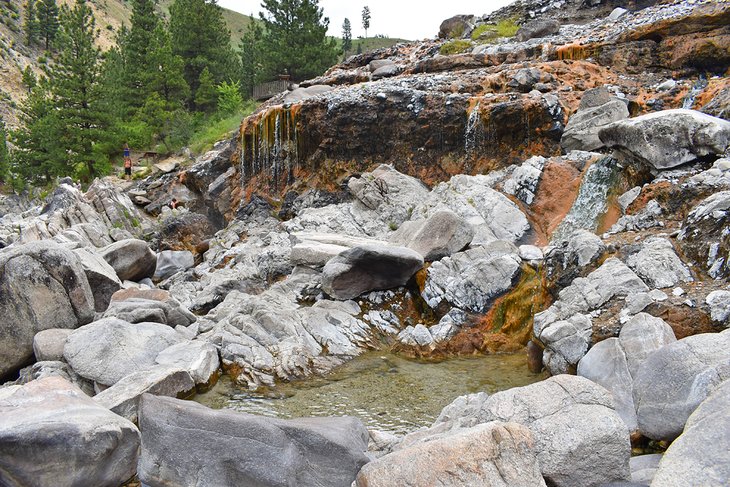 Less than two hours from Boise, this campground within the Boise National Forest has a steamy appeal. The campground is directly adjacent to the popular Kirkham Hot Springs along the South Fork Payette River. With several scenic pools and spaces to spread out, Kirkham easily ranks high as one of Idaho's best hot springs.
Kirkham Campground has 16 sites, all of which tend to be in high demand. The campground caters best to tent camping and medium-size trailers or RVs. Vault toilets and potable water are near each campsite. No hookups are available. The few ponderosa trees at the campground provide little shade, and sites tend to get a bit toasty during summer days.
Various hot springs line the roadside on this part of the Ponderosa Pine Scenic Route. Twenty miles east of Lowman, Bonneville Campground offers another campground connected to a hot spring. West of Lowman, towards Garden Valley, Pine Flats Campground is also a notable hot spring destination.
Address: 7359 ID-21, Lowman, Idaho
5. Grayback Campground, Boise National Forest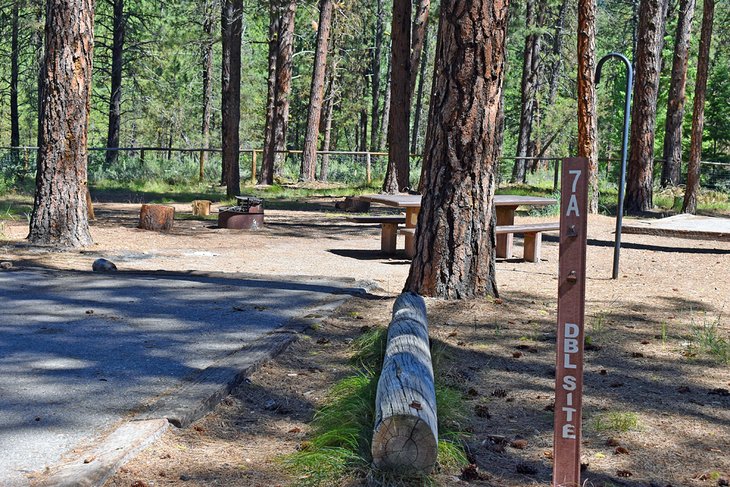 Grayback Campground is 32 miles north on the Ponderosa Pine Scenic Route from Boise. This location makes it one of the closest Forest Service campgrounds to the city. And with towering trees and an unmistakable aroma of pine needles, the campground offers a tranquil escape from downtown.
Fishing in the adjacent Mores Creek is a popular activity at the campground. Sitting back and enjoying the scenery is also a staple of many visits.
The historic town of Idaho City is three miles up the road from Grayback Campground. A once-bustling city busted after the Gold Rush, Idaho City is now a day trip destination with hiking trails and hot springs.
The campground has fewer than 20 sites, all of which cater to RV or tent camping. No hookups are available. Reservations can be made online for many of the campsites at Grayback. A few campsites are first-come, first-serve. Pit toilets are available throughout the campground.
Address: Boise National Forest, Forest Rd 347A, Boise, Idaho
6. Macks Creek Park, Boise National Forest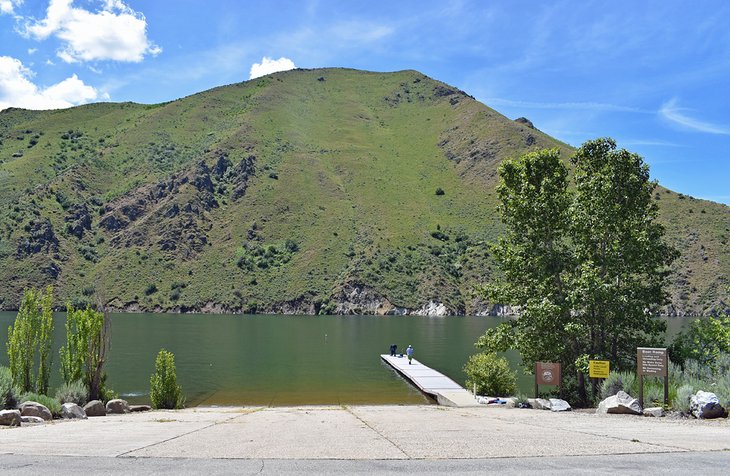 Macks Creek Park is the most accessible campground on Lucky Peak Lake. This lakefront campground and day-use area is in the foothills of Southeast Boise, and a 40-minute drive from downtown. The campground is on the Boise River Arm of the reservoir and a mile past the Spring Shores Marina. Visitors take the Ponderosa Pine Scenic Route much of the way there.
Macks Creek Park has both RV and tent sites, though no hookups are available. Some of the campsites sit right on the shore of the lake and provide a spectacular view.
Overnight and day users have access to the boat ramp at the campground and a kid-friendly swimming cove. The nearby Spring Shores Marina, operated by Lucky Peak State Park, also accesses the water with amenities like boat docks and boat rentals.
The 15 sites at Macks Creek Park are available on a first-come, first-served basis. The campground often fills up on any warm-weather weekend. Vault toilets are available at the campground. The campground operates between May 15th and September 15th.
Address: 400 Arrow Rock Road, Boise, Idaho
7. Lake Cascade State Park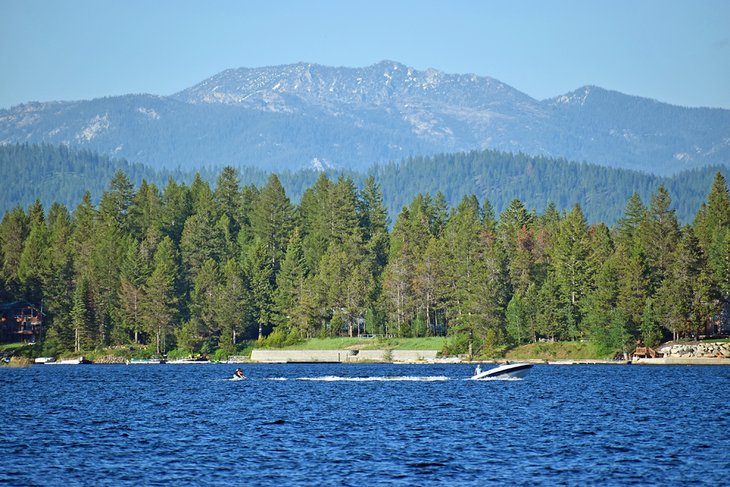 Less than two hours from Boise, Lake Cascade State Park has over 200 campsites close to the water. This abundance of space to pitch a tent or park an RV makes Lake Cascade one of the best places to camp in Idaho. And with campsites spread across 12 campgrounds, it's easy to have a new experience with every visit.
Campgrounds are on the southeast and northwest shores of the massive Lake Cascade. Several campgrounds have public boat ramps, including Sugarloaf Campground, the largest campground at Lake Cascade. Flushing restroom and shower facilities are within each campground, and each overnight space has excellent views of the water and surrounding North Fork Mountains.
Motorized boating is one of the biggest draws to spend the night at Lake Cascade. Campers also enjoy fishing, kayaking, and hiking nearby trails. Sunsets from either side of the lake also tend to make memorable moments.
Address: 100 Kelly's Parkway, Cascade, Idaho
8. Black Rock Campground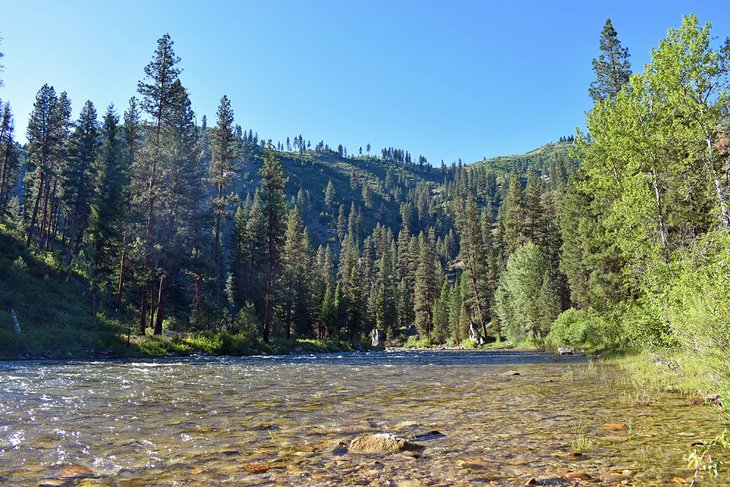 Several reasons make Boise National Forest one of the best national forests in Idaho. Wild rivers, rugged mountains, and abundant hot springs make this public land highly visited throughout the year. Boise National Forest also has several places to camp, including the coveted Black Rock Campground.
Adjacent to the North Fork Boise River and surrounded by towering pines, Black Rock Campground has 11 individual sites. All sites are spacious and spread out. The campground accommodates medium RVs and trailers, though no hookups are available. All campsites have close access to the river, where it feels good to dip your feet in the water.
It's a 60-mile drive to Black Rock Campground from Boise. Expect about two hours of travel, though, because the route follows a dirt road for the last 20 miles leading from Idaho City. This gravel travel adds to the solitude and feeling of getting away at Black Rock. A hand-pumped well is available at the campground for potable water.
9. Pine Flats Campground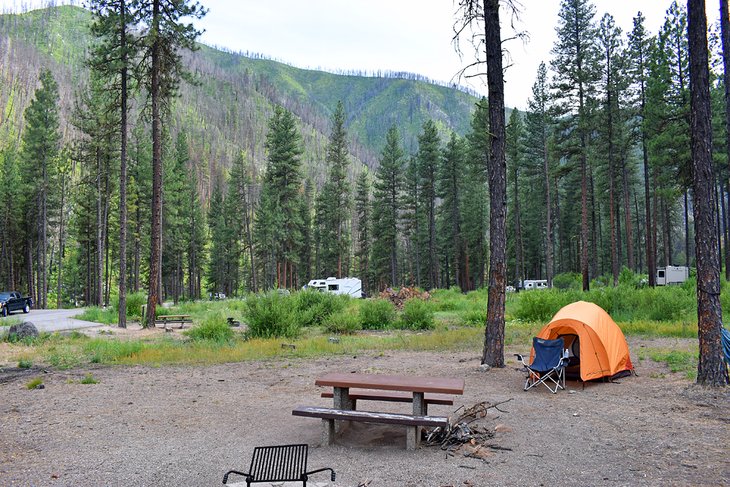 Pine Flats is another hot spring close to Boise. It's between Lowman and Garden Valley on the Wildlife Canyon Scenic Byway, otherwise known as the Banks-Lowman Highway. The campground has 26 sites that accommodate tent and nonelectric RV camping. Potable water is available to all campers, as well as vault toilets.
A big appeal of this campground is its proximity to Pine Flats Hot Springs. With a short hike along the South Fork Payette River next to the campground, visitors enjoy soaking in beautiful hot pools along the bank. Pine Flats Hot Spring is frequented by day-users, too, and staying at the campground enables some early-morning solo soaks.
Address: Banks Lowman Road, Garden Valley, Idaho
10. Glacier View Campground, Sawtooth Mountain National Recreation Area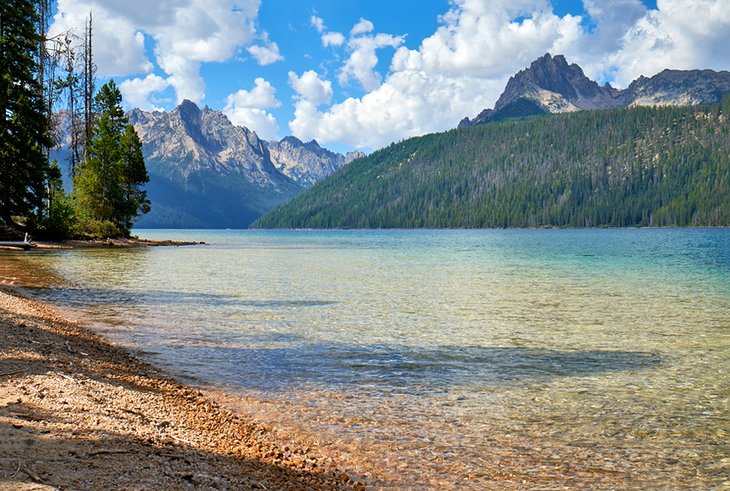 Sawtooth Mountain National Recreation Area is less than a three-hour drive from Boise. This vast expanse of high mountain peaks is well worth the trip and a long weekend. The recreation area has hundreds of designated and dispersed campsites throughout its 756,000 acres. The campgrounds surrounding Redfish Lake are some of the most coveted.
It's the fantastic views overlooking Redfish Lake that make these campgrounds hard to come by. Spanning the entire shoreline are craggy peaks that lend credence to their designation as Sawtooths. The largest campground on Redfish Lake, Glacier View Campground, is on the lake's northern end.
Glacier View is a family campground with playgrounds and a kid-friendly swimming area. For those looking to put a boat onto the lake, the campground is within a mile drive of the Sandy Beach boat launch. The Redfish Lake Visitor Center is also nearby and provides detailed exhibits about the area.
Glacier View has 64 nonelectric campsites that accommodate tents and RVs. Alongside great views of the lake, the majestic Mount Heyburn is also within sight. No showers are available at Glacier View, but the campground has flushing toilets and potable water.
Campsites are reservable at Glacier View Campground up to six months in advance. Summer campsites are often booked the moment they become available. The other two reservable campgrounds at Redfish Lake are Point Campground and Outlet Campground. First-come, first-served campsites are available at Sockeye Campground and Mt. Heyburn Campground.
11. Boise / Meridian KOA
West of Boise, the Boise / Meridian KOA is a popular spot for RV drivers. Well regarded for its dependable service, the Boise / Meridian KOA goes beyond most campgrounds with resort-like amenities.
Extra special features of the KOA include a swimming pool, laundry room, and a full-service clubhouse. Wireless internet is also available throughout the property.
RV sites at KOA are either back-in or pull-thru parking. All sites have full hookups that should accommodate any recreational vehicle. Discounts are available for more extended stays.
The location of the KOA lends excellent access to beautiful natural surroundings and the city of Boise.