8 Best Ski Resorts in Idaho
Idaho has the appearance on a map of being carved out of western Montana. Perhaps the folks who created the state lines were skiers because they carved out some of the best terrain from Montana and called it their own.
Skiing in Idaho is a low-key affair that takes place primarily in the western portion of the state. The ski resorts are grouped in two main areas: one of those areas is in the far northwest, the other is in the central southern region. This makes visiting more than one resort an easy undertaking. A few smaller resorts are found in the east.
Idaho resorts fly below the radar, and perhaps locals like it that way. When you look at their average seasonal snowfall, it's on par with what you'll find at resorts farther south, in Colorado. Why go where all the crowds are when you can ski right here and have virtually the same conditions?
Idaho's resorts are at a lower elevation than nearby Colorado, so the unpleasant effects of high altitude won't slow you down.
The snow here is lighter than on the coast, and it falls in copious quantities. Many resorts get nearly 20 feet of snow a year, and lift lines are a rare sight, even at the most popular resorts. So, pack up your gear and get on the road to Idaho.
Decide where you want to go on your next ski trip with our list of the best ski resorts in Idaho.
1. Sun Valley Resort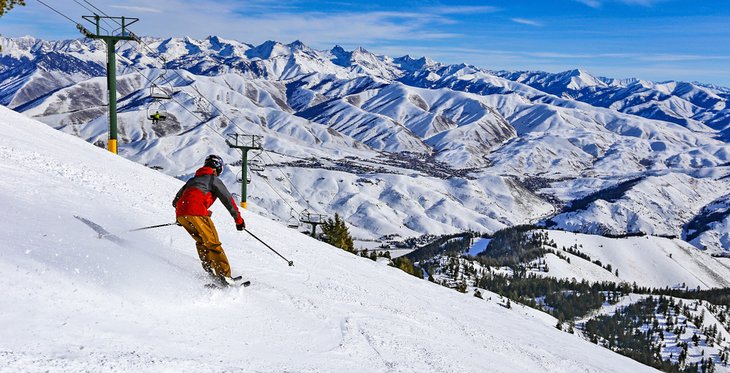 Sun Valley is the most famous resort in Idaho and is known around the world as the home of the very first chairlift.
Sun Valley is appropriately named. Of the 150 skiable days at the resort, on average, 120 of them are sunny. The quick calculation on those numbers means that you'll have an 80 percent chance of soaking up the sun as you glide down the hill.
The resort has two major mountains: Bald Mountain and Dollar Mountain. Bald Mountain is targeted towards the intermediate through to the expert skier, with long cruisers, steep chutes, and extensive glades. Dollar Mountain, on the other hand, is perfectly suited to families, beginners, and those just learning to ski.
On average, just over 18 feet of snow falls each season at Sun Valley. The resort has recently increased their snowmaking guns total to 600. Now they cover 78 percent of the groomable runs, ensuring the season starts early and finishes late.
You'll have more than 3,400 feet of vertical drop and 121 named runs to carve up all that white stuff. Once you reach the bottom, any one of 18 lifts, including a gondola, will whisk you back up to the top.
Boarders and freestylers will find something to enjoy as they explore the 12 terrain parks.
Sun Valley has recently undertaken a massive new expansion, adding 380 acres of new terrain known as the Sunrise zone. The new area is a mix of open bowls, glades, and steep chutes. The area is mostly targeted to the strong intermediate to expert skier and was once only known by locals, now the word is out!
Another massive improvement to the resort is the retirement of the former Cold Springs chair. This workhorse double was the oldest on the mountain, and it has now been decommissioned and sold to another resort in California to serve out its remaining years. In its place arrives the new Broadway chair. This new lift is a high-speed detachable quad chair and will provide easy access from the base to the best parts of the mountain.
Official site: https://www.sunvalley.com/
2. Schweitzer Mountain Resort
Schweitzer has been drawing skiers from northern Idaho and Washington since 1963. The resort gets an impressive 25 feet of snow each season and, with small crowds, you'll be carving long S turns through the pow long after the storm has come and gone.
Schweitzer is Idaho's largest ski resort with over 2,900 skiable acres, so you'll rarely have to share a run with very many other skiers. The resort has 92 named runs plus wide-open bowls where you can chart your own course down. If you are brave enough to venture into the glades, Schweitzer is renowned for its amazing tree skiing.
All this great terrain is serviced by 10 lifts, including Idaho's only six-passenger chairlift, affectionally known as Stella. The vertical drop is 2,400 feet, and the top of the mountain is at 6,400 feet. The resort installed two new chairlifts in 2019.
In addition to all the great ski runs, Schweitzer has three terrain parks complete with all the latest humps, bumps, rails, and other fun features.
Night Skiing: Every Friday and Saturday night, along with select Sunday nights, from January through to March, the runs are lit up off the Basin Express and Musical Chairs double lifts. The Stomping Grounds terrain park is also open for night riding as is Herbert's Hollow tubing park.
If you've done it all and still want more, consider going CAT skiing or heli-skiing, both options are available with Selkirk Powder Guides.
If all that skiing creates an appetite or your legs just need a rest, the resort has multiple restaurants, including The Nest and The Red Hawk, just calling your name.
Although the resort is in a remote area of the state, air access is easy from nearby Spokane, WA. Accommodation is available slope-side in the base village area or in the cute town of Sandpoint, just 30 minutes away.
New for 2022/23 is the boutique hotel Humbird. This small and cozy place has only 31 rooms and is perfectly located slope-side. Just step out the front door in your ski boots, and away you go! Contrary to popular belief, the hotel is not named after a hummingbird but after the Humbird Lumber Company, which operated in the area for many years in the early 20th century.
Alternatively, those who own RVs and have them winterized are welcome to camp out in the resort's parking lot for free. Although it can get cold at night, you can have a fire (off the ground), and you'll be one of the first to hit the corduroy in the morning or if it dumps, dive into the fluffy powder from one of Schweitzer's legendary storms.
Although it's tempting to set up home base here in your RV for the season, a three-night maximum is the rule, but if you ask nicely, they may allow you to stay a little longer.
Schweitzer is part of the IKON pass program.
Official site: https://www.schweitzer.com/
3. Brundage Mountain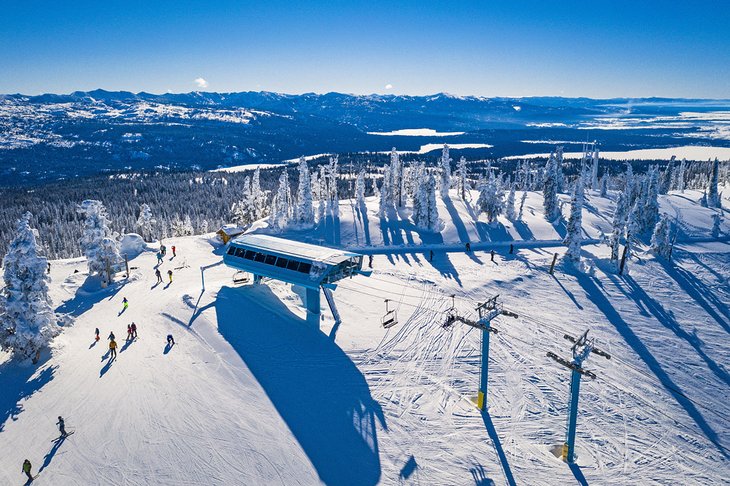 Brundage Mountain is a ski resort for adventurers and explorers. Ideally positioned to catch storms that arrive from the north and the south, the resort is constantly showered with light, fluffy snow. Brundage receives on average an incredible 26 feet of snow each season, so untouched secret snow stashes are easy to find.
Although the resort has a modest 51 runs, it's the areas where the runs aren't that draws powder hounds from far and wide. The resort is renowned for its tree skiing and lift-serviced backcountry bowls. If you don't mind hiking to create your own fresh tracks, this is the place for you. That said, if you just want to cruise on super-wide intermediate runs, there's plenty of room to ride here. Snowboarders and freestylers will find two terrain parks with rails, boxes, jibes, and rollers.
The mountain has six lifts, one of which is a high-speed quad, the rest are a mix of old school triples and a conveyer for beginners.
The vertical drop is just shy of 2,000 feet. If you want more vertical than that, consider signing up for CAT skiing, this will open the door to 18,000 acres of untouched snow. The CATs will take you to one of three mountains: Granite; Slab Butte; and #76, approximately 30 minutes from the resort.
Official site: https://brundage.com/
4. Bogus Basin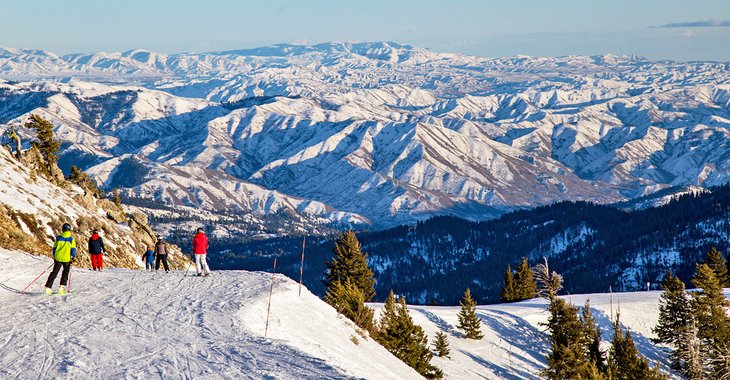 Easily reached in 40 minutes from Boise, Bogus Basin is a great place to secretly steal away to on a sunny mid-week afternoon. Or, if you are looking for a super affordable ski vacation, make this your destination of choice. The ski resort is run as a non-profit organization, and every extra dollar goes back into the operations in an effort to keep lift ticket prices low.
True penny pinchers can stay at a hotel in Boise and take the public bus to/from the mountain. Another alternative is to camp at the base area and be first in line for the big dumps or morning corduroy.
With close to 27 feet of snow a year, the ski hill provides endless hours of skiing or boarding. You'll have your choice of more than 91 named runs and, depending on your skill level, you'll find yourself on the different areas of the mountain. The front area is more suited to beginners and intermediate skiers, the backside skews toward more advanced skiers and riders.
Bogus Basin has 11 lifts, including four high-speed quad detachable chairs, and uphill capacity is nearly 10,000 skiers. The vertical drop here is decent at 1,800 feet. Bogus Basin, is the largest ski resort in Southern Idaho, and with all this terrain, you'll rarely have trouble finding great spots to carve out your own line. Also, if you are a true vertical hog, the resort has night skiing across 175 acres, allowing you to ski all day and late into the evening.
You may be surprised to learn that 11 dining options exist on the mountain. These range from the Pioneer Lodge with its expansive views, to The Beach, a Hawaiian-themed yurt, through to the Smokehouse serving some of the best BBQ in the state.
Bogus Basin isn't all about downhill skiing. A tubing area is also available, complete with its own lift. A separate ticket and reservation are required. Also, a winter roller coaster called the Glade Runner descends over 4,000 feet along a twisting track. You control the brakes, so you can go as fast, or as slow as you'd like. A separate ticket is required.
Nordic skiing (cross-country) and snowshoeing are also on offer with extensive combined and separate trail networks.
No need to schlep your ski gear to and from the parking lot at Bogus Basin, three of the seven parking lots are ski-in/ski-out.
Official site: https://bogusbasin.org/
5. Silver Mountain Resort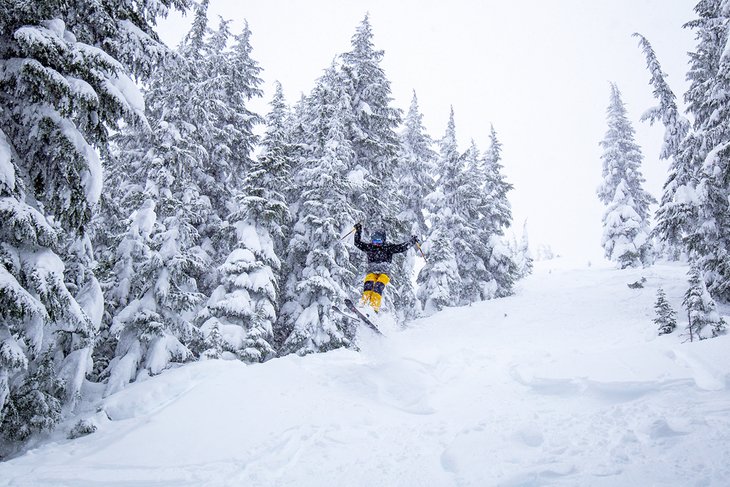 If you are looking for a smaller, more intimate resort with great snow, virtually no crowds, and a friendly atmosphere, Silver Mountain is the place for you.
Located in the far northern area of the Idaho panhandle, Silver Mountain gets over 28 feet of snow, on average, each season. Silver Mountain is one of the smallest resorts in Idaho to have a gondola. It's via this gondola that you are transported high to the mountainside and where you'll find another six lifts.
Runs are spread out across two mountains: Kellogg Peak and Wardner Peak. The resort has two terrain parks along with a snow tubing park.
Silver Mountain is an ideal family ski destination, with a great ski school and easy runs for the smallest members of the group. As an added bonus, if you stay with Silver Mountain Lodging, access to the on-site water park, complete with waterslides, and a Flowrider wave machine, is included in your lift ticket.
Access is easy, the resort is just off Interstate 90, about an hour from Spokane, Washington. Coeur d'Alene is about 30 minutes away; here, you'll find all kinds of accommodation and dining options.
Silver Mountain is part of the INDY Pass program.
Official site: https://www.silvermt.com/
6. Lookout Pass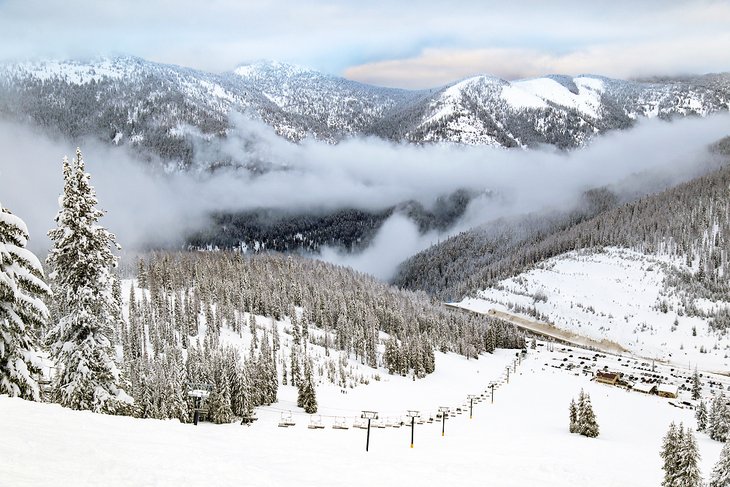 If you are on a quest for the resort that receives the most snow in Idaho, look no further than Lookout Pass. Over 33 feet of snow falls here on average each season, guaranteeing amazing conditions.
Lookout Pass has three lifts, servicing 35 named runs. For those who prefer to ski in the trees, the glades at Lookout Pass are legendary.
For the 2022/23 season, a new 3.5-million-dollar fixed-grip quad chairlift has been installed that will open up brand new terrain and approximately 15 new runs. This new chair, nearly a mile in length, will service an area higher than the rest of the mountain. It's expected that the snow up here will be light, fluffy, and awesome. Up until this point, this area of the mountain was only accessible via a Snowcat.
Two terrain parks, Huckleberry Jam and Rolling Thunder, will keep boarders and freestylers shredding all day long. One of the main features of Rolling Thunder is a 1,111-foot quarter pipe.
Lookout Pass offers free lessons to children aged 6-17. This incredible program is available to all, but pre-registration is required, and spots fill up fast, registration is via the resort's website. Lessons for beginners last one hour; intermediates run for an hour and a half. Lessons run for nine weeks with a graduation ceremony in March.
The resort has been operating continuously since 1935 and retains its old-time charm. In fact, the resort claims the day lodge at the base is the 2nd oldest lodge in the northwest.
Official site: https://skilookout.com/
7. Soldier Mountain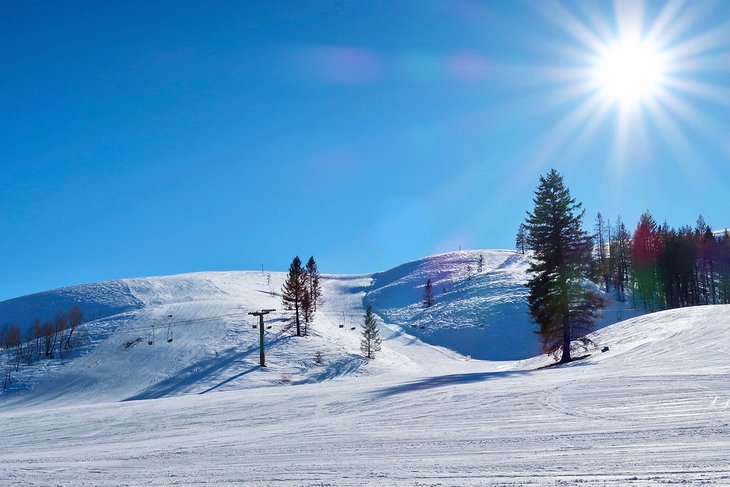 Soldier Mountain is a small ski hill with two chairlifts and a surface lift. Located near Kellogg, the ski hill services the local community. However, just because it's a local hill, don't let that dissuade you. This place gets heaps of snow, comparable to the 26 feet at nearby Silver Mountain.
The resort is small and independently owned, which gives it an old-school feel, where everyone knows everyone else. The terrain is slanted towards beginners and intermediate skiers.
Silver Mountain is an affordable place to ski, with low rates for lifts and lessons. The terrain park is located next to the High Trail Express chair and features the standard assortment of humps, bumps, jumps, and rails. Snowboarders and freestylers of all ages will have no trouble launching and (attempting to) land some big air here.
If you want to go up and beyond the lift-serviced terrain, sign up for Snow Cat skiing. These incredible machines will take you and your group up to the area near the top of Smoky Dome, capping out at an elevation of 10,095 feet. Up here, you'll find acres and acres of untouched snow, allowing you hoot and holler as you lay down perfect S curves with your buddies.
Official site: https://soldiermountain.com/
8. Tamarack Resort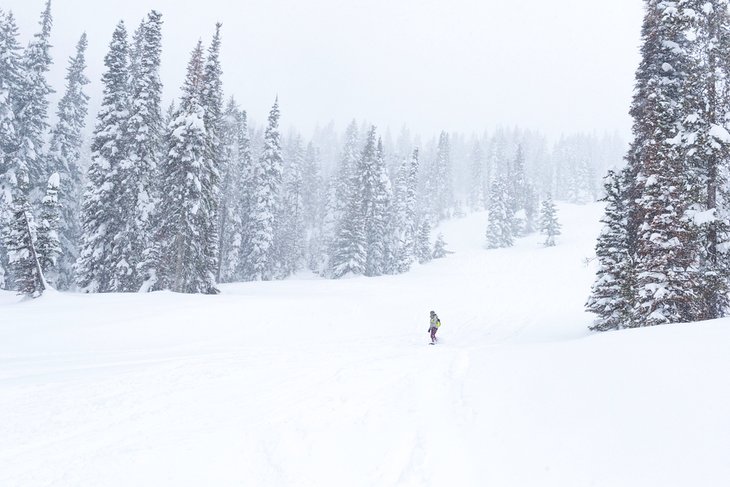 Tamarack Resort is located in the Payette River Mountains, about a 1.5-hour drive from Boise. Here, you'll find 50 runs serviced by seven lifts. The hill also faces east, so this protects you from the prevailing westerly winds.
Beginner and intermediate runs, including long cruisers, are accessed off the Tamarack Express lift. Those craving more adventure or tree skiing should head over to the Wildwood Express lift and head into "The Grove."
Tamarack has big plans for expansion that include six new lifts, including a gondola. In addition to the massive increase in lift capacity, the mountain is also proposing a new all season facility where the proposed gondola would unload. These improvements will make the resort a major player in the Idaho ski scene. Stay tuned to see when shovels actually get in the ground.
In addition to the skiing, Tamarack has three terrain parks with innovative features for all skill levels. Ski-in, ski-out accommodation is available at the base area or in one of the nearby towns.
Official site: https://tamarackidaho.com/
Map of Ski Resorts in Idaho
Other Ski Resorts in Idaho to Consider
If you find yourself in Idaho Falls, two ski hills are worth checking out. Kelly Canyon, northeast of Idaho Falls, is a good spot for snowboarders, with its half pipe and four terrain parks. Night skiing is also available on two thirds of the runs. Pebble Creek is south of Idaho Falls, and this ski hill has 54 named runs and gets close to 19 feet of snow each year.
Just a 1.5-hour drive from Idaho Falls, and just over the border in Wyoming is Grand Targhee Resort. This resort gets an incredible 42 feet (12.8 meters) of snow each season and has 97 runs.
For a small ski hill, ideal for families, consider Magic Mountain. This affordable destination has 11 runs and three lifts. It's about a one-hour drive from Twin Falls.