12 Top-Rated Tourist Attractions in Idaho
Combining a rich heritage, friendly communities, and a taste of the American West, Idaho tops the charts as a culturally inspiring state worth exploring. From the glacial lakes in the panhandle to the lunar-like landscapes on the southern border, much of what defines Idaho are the adventures found within its boundaries.
The mountains are home to a number of Idaho's great ski resorts, although Sun Valley is the most well-know. In summer, the hiking trails draw outdoor lovers to the scenic terrain. Hell's Canyon invites exploration, and the massive outcroppings at City of Rocks are worth a pause in your travels.
For more ideas on the best places to visit in the Gem State, read our list of the top attractions in Idaho.
1. Sun Valley Resort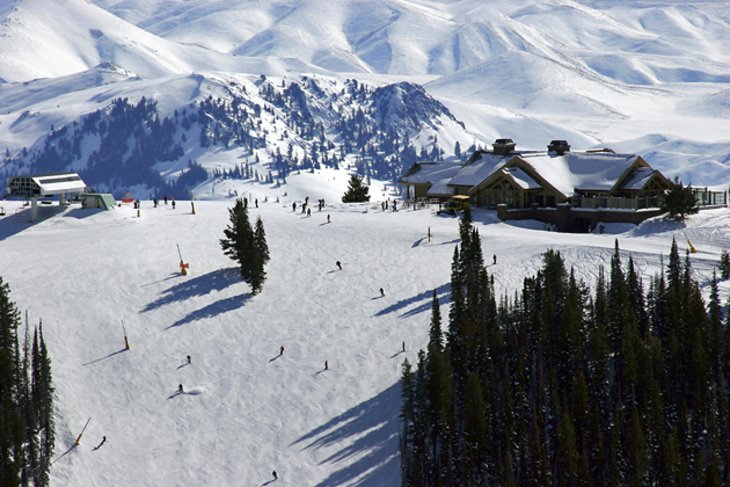 Sun Valley in southern Idaho attracts skiing enthusiasts from all over with its magnificent facilities for winter sports and its excellent tourist infrastructure. Bald Mountain and Dollar Mountain offer downhill skiing for all levels of ability. Thirteen chairlifts, including a gondola, service the 2,000 acres of skiable terrain at Sun Valley Resort, including 65 named runs.
There is also a Nordic Center for cross-country skiers and snowshoers. Heli Skiing is another popular activity in Sun Valley. During the summer months, the resort caters to hikers, mountain bikers, and other outdoor adventurers.
The Sun Valley Lodge is a fun, historic place to stay and an old haunt of Ernest Hemingway.
Address: 1 Sun Valley Road, Sun Valley, Idaho
Official site: https://www.sunvalley.com/
Accommodation: Where to Stay in Sun Valley
2. Craters of the Moon National Monument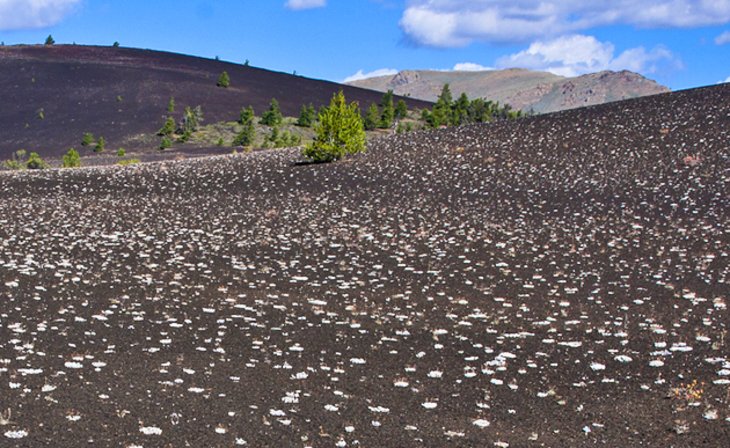 South of Arco, in southeastern Idaho, is a lunar-like landscape created by volcanic eruptions between 15,000 and 2,000 years ago. This region of lava flows can be explored on signposted circular routes. Although it has not erupted in the last two millennia, this area is still geologically active. Detailed information and exhibits regarding the landscape are at the park's visitor center.
This unique National Monument also contains five caves to explore, which serve as a stark contrast to the sometimes searing temperatures above ground. Free permits are required to explore the caves and can be obtained at the Monument entrance station.
Official site: http://www.nps.gov/crmo/index.htm
Accommodation: Where to Stay near Craters of the Moon National Monument
3. Sawtooth National Recreation Area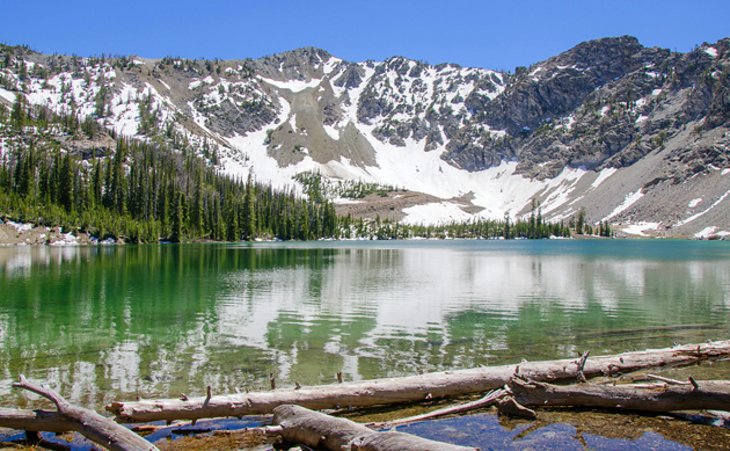 The Sawtooth National Recreation Area consists of 756,000 wildland acres within the Sawtooth National Forest of central Idaho. The National Recreation Area provides more than 700 miles of hiking and equestrian trails, 40 peaks rising over 10,000 feet, and enough alpine lakes to visit a new one nearly every day of the year.
With close to 50 established campgrounds to choose from, not including the dispersed camping that is available, finding a place to spend the night in the Sawtooths is relatively easy to do. Other popular forms of recreation include mountain biking and fishing during the warmer months and cross-country skiing and snowmobiling throughout the winter.
Official site: https://www.fs.usda.gov/recarea/sawtooth/recarea/?recid=5842
Accommodation: Where to Stay near Sawtooth National Forest
4. Lake Coeur d'Alene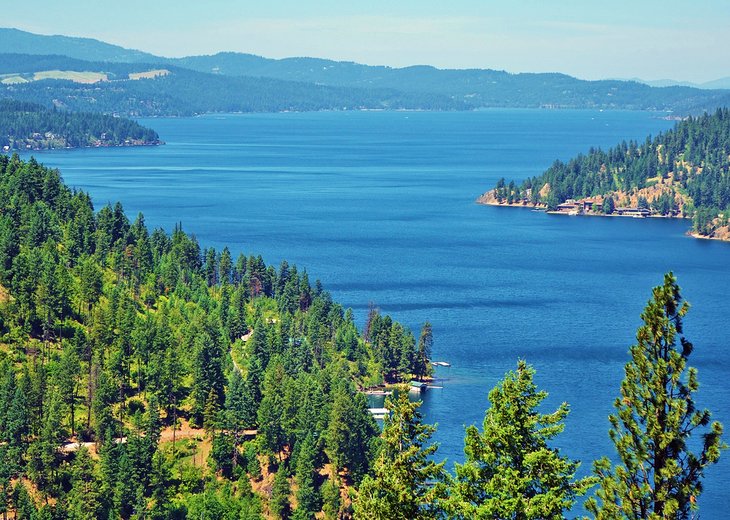 Steamboat traffic began on Lake Coeur d'Alene in 1889, when local lakes and rivers were used to move supplies to mining and lumber camps. The lake itself was created well before then, and its creation can be geologically traced back to glacial deposits from the last Ice Age.
The overall aesthetics of this mountain-ringed lake in Northern Idaho is readily apparent with just one visit. The lake is 25 miles long and is surrounded by a forest filled with hiking trails. Boating, sailing, and fishing are popular during the summer months.
5. Hell's Canyon National Recreation Area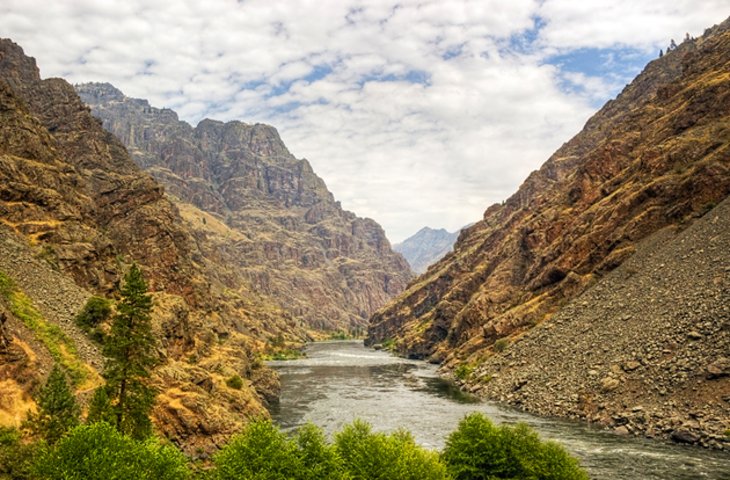 Located within the Wallowa-Whitman National Forest of northern Idaho, Hell's Canyon is the deepest river gorge in North America. It has been carved out by the Wild and Scenic Snake River for a distance of 95 miles along the border with Washington and Oregon.
Popular ways to enjoy Hell's Canyon include hiking and horseback trails, developed and primitive campgrounds, and taking a raft trip down the white-water rapids of the Snake River (permit required). During the winter months, Hell's Canyon and the surrounding National Forest become a haven for skiers and snowmobilers.
Official site: http://www.fs.usda.gov/detail/wallowa-whitman/recreation/?cid=stelprdb5238987
Accommodation: Where to Stay near Hell's Canyon
6. Shoshone Falls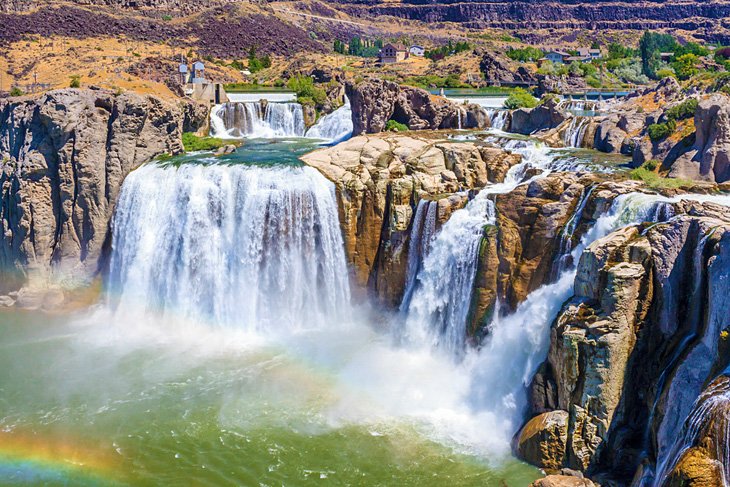 Also known as the "Niagara of the West," the 212-foot-tall Shoshone Falls can be found on the northeast edge of the city of Twin Falls. Created by the turbulent force of the Snake River, this massive block waterfall spans more than 900 feet and flows year-round with a surge season between April and July.
The area surrounding the falls, including the adjacent Dierks Lake, is full of hiking trails, swimming spots, and scenic overlooks. One of the most popular things to do at Shoshone Falls is packing a lunch and using the picnic areas in view of the falls.
Address: Shoshone Falls Grade Road, Twin Falls, Idaho
Accommodation: Where to Stay near Shoshone Indian Ice Caves
7. Boise River Greenbelt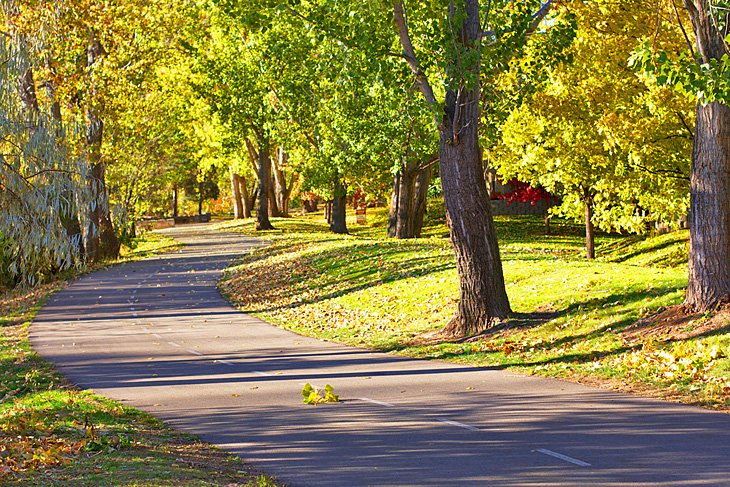 The Boise River Greenbelt is an urban pathway that makes its way through the heart of Boise, linking together all the best riverside city parks. The 25-mile, non-motorized pathway was a city innovation in the 1960s to address growing riverbank pollution, and now the Greenbelt showcases the rich natural environment via a tree-lined route.
Used for both daily commutes and quick escapes into nature, the Boise River Greenbelt accesses many of Boise's top tourist attractions, including Julia Davis Park, the Anne Frank Human Rights Memorial, and the campus of Boise State University.
Accommodation: Where to Stay in Boise
8. Salmon River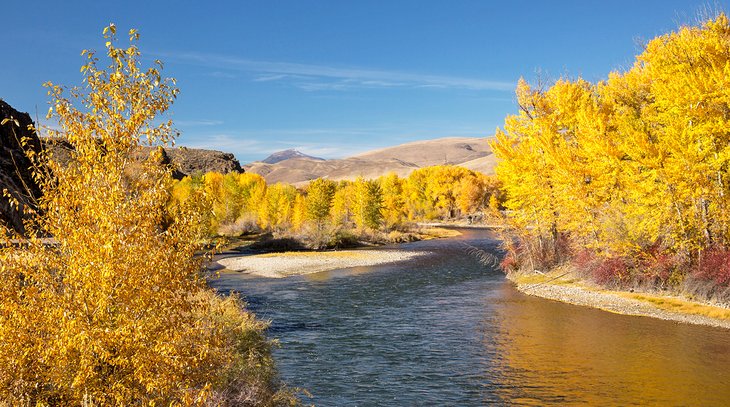 The Salmon River, also known as the "River of No Return," is one of many beautiful rivers that run through Idaho. Much of this Wild and Scenic River cuts through the expansive Frank Church-River of No Return Wilderness.
Guided and self-sustained rafting trips through this jaw-dropping landscape are adventures of a lifetime.
The Salmon is just one of the best rivers in Idaho. The state is lined with rugged waterways that define the landscape and surrounding communities. In southern Idaho, the Snake River is another such waterway with significant historical and cultural attributes.
9. City of Rocks National Reserve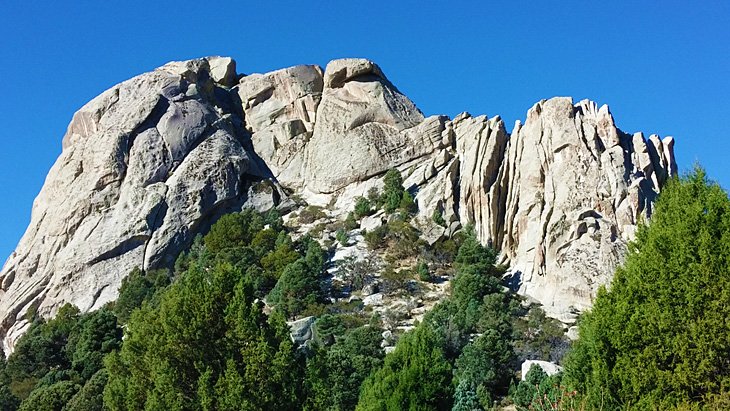 Internationally renowned within the climbing community today, the vast outcroppings of granite in southern Idaho known as City of Rocks has a long history of attracting visitors. Emigrants along the historic California Trail took note of the features, and the Shoshone made camp among the massive boulders and spires.
Alongside rock climbers, City of Rocks is popular today among hikers, mountain bikers, birders, and photographers. City of Rocks also provides a campground for visitors, including 64 campsites with access to clean water and vault toilets.
Official site: https://www.nps.gov/ciro/index.htm
10. Bruneau Dunes State Park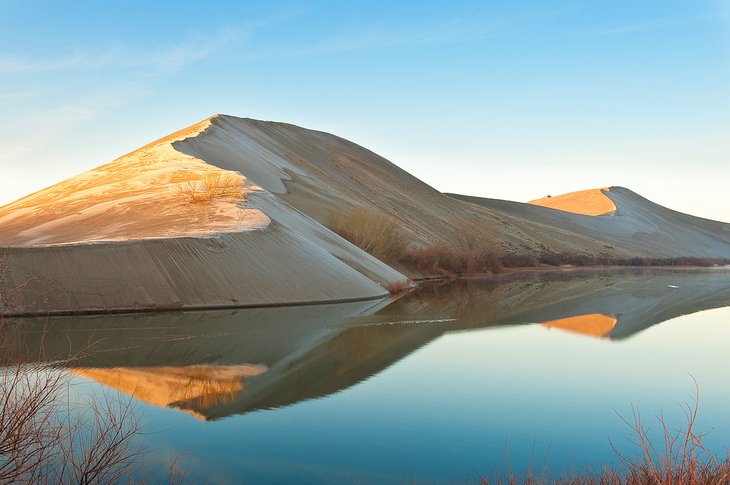 Bruneau Dunes is one of the best state parks in Idaho and one of the most unique. Situated an hour southeast of Boise, this state park is home to one of the largest freestanding sand dunes in North America. This intriguing landscape is best experienced by foot, sandboard, or from the comfort of a campsite.
A six-mile interpretive trail extends from the visitor center and traverses across the sand dune. This hike is best avoided on hot days, when the sand becomes unbearable to touch. The state park has over 80 campsites spread across two campgrounds, accommodating both tents and RVs.
Address: 27608 Bruneau Sand Dunes Road, Bruneau, Idaho
Official site: https://parksandrecreation.idaho.gov/parks/bruneau-dunes
11. Old Idaho Penitentiary State Historic Site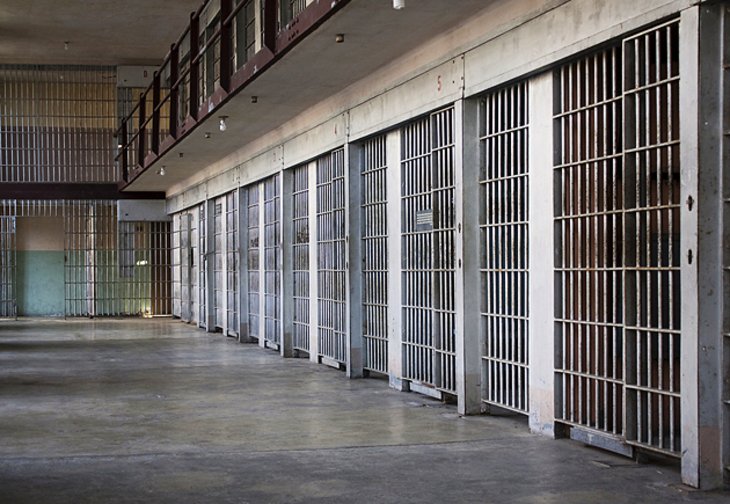 The Old Idaho Penitentiary, or "Old Pen," housed inmates from 1872 to 1973 and currently is a museum showcasing that century-long prison history. The Old Pen housed some of Idaho's most notorious criminals, and visitors today can see the cell blocks, Solitary Confinement, and the Gallows of the complex.
Local rumors suggest the facility might be haunted, which could be spurred on by different events put on by the museum, including paranormal investigations and the annual Frightened Felons October bash.
Address: 2445 Old Penitentiary Road, Boise, Idaho
Official site: https://history.idaho.gov/oldpen
12. Kirkham Hot Springs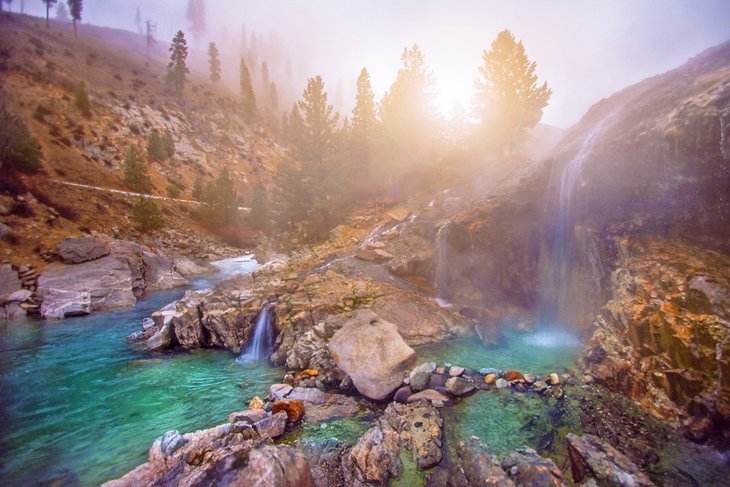 Idaho has more hot springs than almost any other state. Some of these natural soaking spots require quite the hike to get to, while others are accessible via roadside parking. One of the most popular hot springs in Idaho is Kirkham, situated two hours from Boise.
Kirkham is accessible via the Ponderosa Pine Scenic Byway within the Boise National Forest. Large pools accommodate the big crowds that tend to gather on the weekend, and an adjacent campground offers spots to spend the night. Kirkham is just one of several hot springs in the immediate area.