10 Top-Rated Attractions & Things to Do in Twin Falls, ID
Author Brad Lane has enjoyed a few trips to Twin Falls for PlanetWare.
Twin Falls, in south-central Idaho, is bordered to the north by the beautiful Snake River Canyon. The city lends access to this magnificent natural attraction, and many surrounding hiking trails, viewpoints, and scenic waterfalls.
Tourists from across the world come to marvel at the impressive Perrine Memorial Bridge, which spans the canyon and connects the city, as well as the site where Evel Knievel tried to launch his steam-powered Skycycle across the quarter-mile canyon.
The Snake River Canyon is one of the most scenic canyons in the country, and many fun things to do in Twin Falls center around the canyon walls. These attractions include waterfront parks; canyon-bottom golf courses; and Shoshone Falls, also known as the "Niagara of the West."
And Twin Falls is a hub for other Idaho adventures. Within a short drive, attractions like Craters of the Moon and the Sawtooth National Forest add even more outstanding landscapes to discover. Plan your sightseeing adventures with our list of places to visit and things to do in Twin Falls, Idaho.
1. Shoshone Falls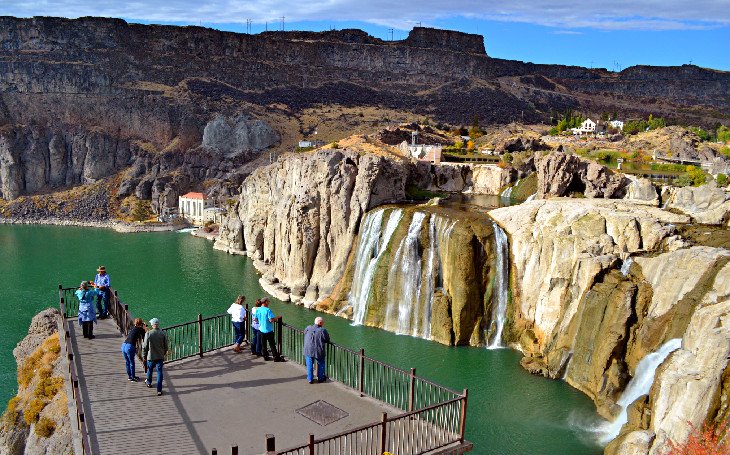 Highlights: Iconic Idaho waterfall with spacious viewing platforms
Shoshone Falls is a centerpiece natural attraction for the city and one of the most dramatic features on the Snake River. It plunges over 200 feet to create a spectacular display of moving water. Visitors to Shoshone Falls are afforded multiple viewpoints of this natural basalt spectacle, including a constructed platform that extends over the water for an impressive view.
The falls are at their fullest between April and July, though this segmented waterfall, which is higher than Niagara Falls, is impressive to witness at any time of the year. With surrounding lawn and green space providing views of the falls, Shoshone Falls Park is a great place to pack a lunch and enjoy the scenery.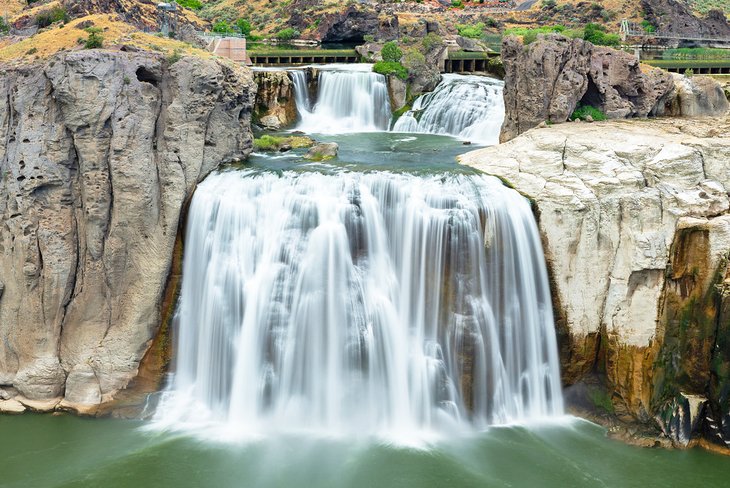 Other amenities at Shoshone Falls Park include playground equipment, a boat ramp, and a swimming area. There's an entry fee per vehicle during the peak season between March 1st and September 30th. RV parking spaces are available, and the closest parking space is less than 75 feet from the observation point.
2. Snake River Canyon Rim Trail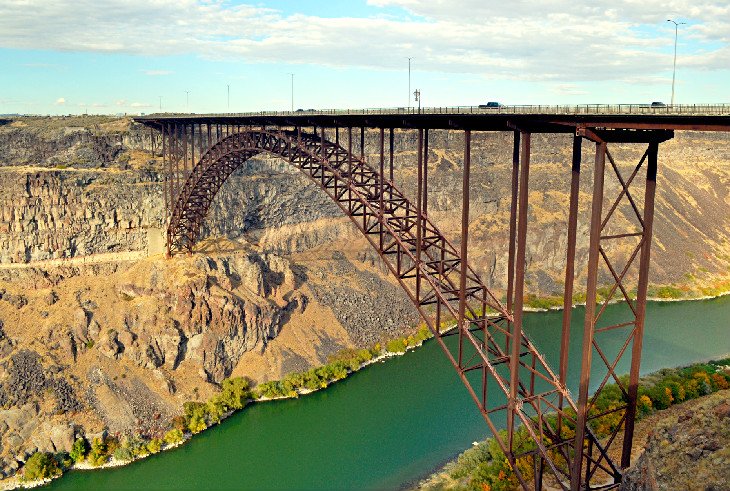 Highlight: Popular bike path on the south canyon of the Snake River with incredible views
Over 10 miles of pedestrian trails line the south canyon of the Snake River, enabling all-encompassing views of the stunning environment. The Twin Falls Visitors Center near the Magic Valley Mall is a great place to begin exploring the paved trail heading in either direction along the canyon's edge.
A close view of the impressive Perrine Memorial Bridge is afforded from the visitor center. The view is intense and comparable to peering over the edge of the Grand Canyon. Some local athletes use the elevation for BASE jumping endeavors. For those looking for less adrenaline, simply walking the trail is breathtaking enough.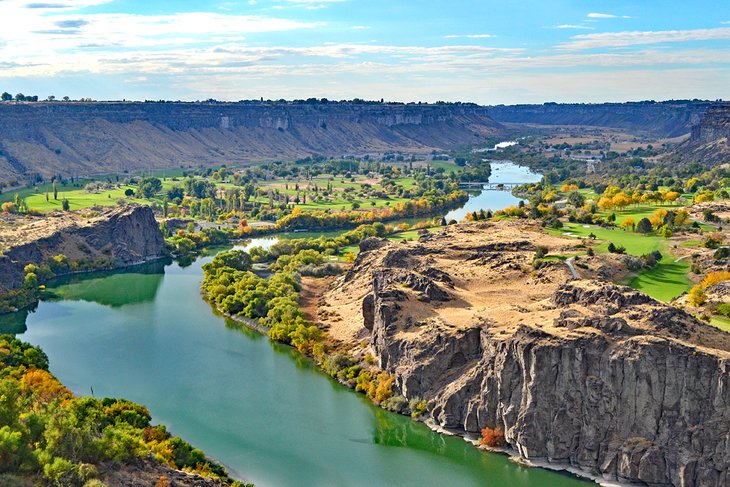 Alongside continuous views of the eye-catching canyon, other popular tourist attractions along the trail include the Evel Knievel Jump Site and the Twin Falls Love Lock Fence. Bookending either end of this scenic city trail, Centennial Waterfront Park is to the west, and Shoshone Falls is to the east.
3. Centennial Waterfront Park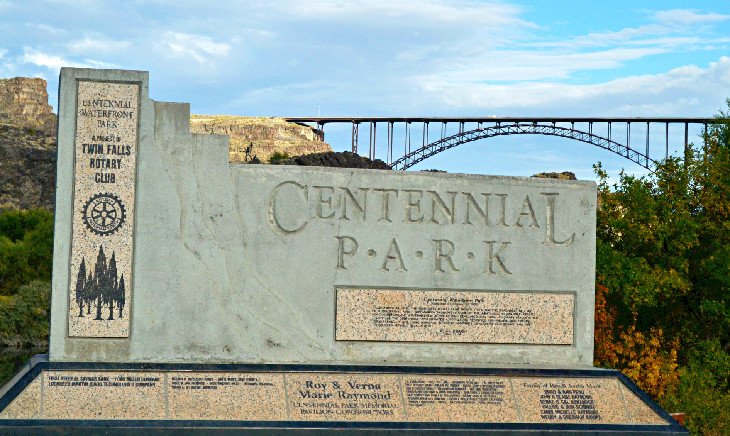 Highlights: Public space with hiking, golf, waterfalls, picnicking, and Snake River access
Downriver from Shoshone Falls and the Perrine Memorial Bridge, Centennial Waterfront Park is a central recreation spot within the Snake River Canyon. Opportunities for hiking, rock climbing, and picnicking line the acreage of the park, and separate motorized and non-motorized boat launches allow easy access to the water.
The local AWOL Adventure Sports company operates seasonal kayak and stand up paddleboard rentals. This recreation company also operates a nearby zipline course, which provides exciting views of the area. Guided river trips are also offered from the park through local concessionaires.
For some of the most scenic 18 holes you'll ever play, Centennial Waterfront Park is also adjacent to the beautiful Canyon Springs Golf Course. This canyon course includes gorgeous views of the Snake River on every hole.
4. Rock Creek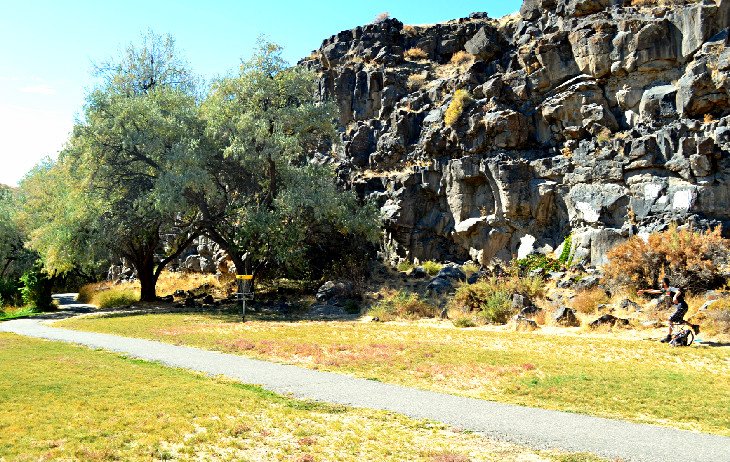 Highlights: Water-lined public park with hiking trails, picnic spots, and disc golf
Accessed via Highway 30 and a steep driveway, Rock Creek is a county park reclaimed from what used to be a junkyard. None of the landfill past is on display at Rock Creek in current times, and this canyon county park presents a beautiful riparian habitat lined with walking trails, picnic pavilions, and playground equipment.
A professional 18-hole disc golf course also stretches throughout the 12-acre park and includes tee-boxes with elevated vantage points of the lush canyon surroundings. Hiking and bike riding are two other popular activities seen throughout the park.
On the southeast end of the park, the Rock Creek R.V. Park provides a great place to park an RV, with 25 pull-through sites available. No tent camping is allowed at the RV Park.
5. The Herrett Center for Arts and Science
Highlights: Free museum on the College of Southern Idaho campus with a planetarium
The Herrett Center is a non-profit museum aiming to enrich educational pursuits for the Southern Idaho community. It's on the campus of the College of Southern Idaho. The Center's collection primarily relates to natural history, astronomy, and art and is spread out over seven galleries. The facility also houses an extensive archive.
Admission to this family-friendly museum is always free, and this education space is often popular for field trips and visiting tourists. The museum is open Tuesday through Saturday, with extended evening hours on Tuesdays and Fridays.
As part of the Herrett Center, the Earl & Hazel Faulkner Planetarium also adds to community interest with the largest planetarium theater in Idaho. The planetarium runs educational-based films daily, with rotating titles throughout the year. Planetarium admission is sold separately.
Address: 315 Falls Avenue, Twin Falls, Idaho
6. Sawtooth National Forest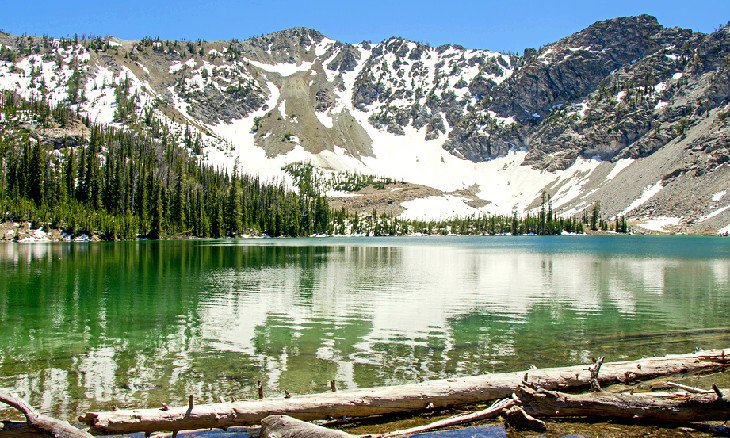 Highlights: Massive national forest with endless hiking, camping, and outdoor opportunities
Encompassing over two million acres and accessed from Twin Falls with a two-hour drive, Sawtooth National Forest is a place of constant natural beauty. Wild waterways like the Salmon River carve their way between sharp mountain peaks, and every season adds a new palette of color to the landscape.
Numerous recreational opportunities are available throughout the year, including backpacking, mountain biking, and staying at one of 80 developed campgrounds during the warm-weather season. Within the forest, the Sawtooth National Recreation Area is the most developed, with several designated campgrounds and hiking trails.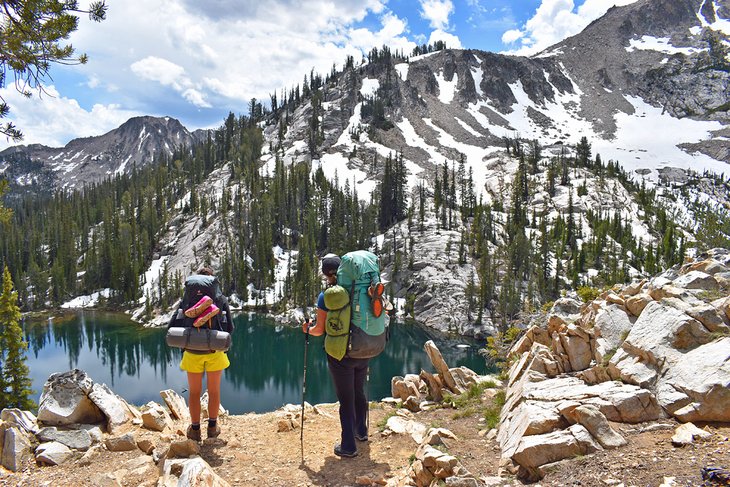 Come winter, the national forest hosts four winter sports areas including the world-renowned ski and snowboarding destination of Sun Valley Resort. Cross-country skiing, snowshoeing, and ski touring are also popular winter outlets.
Read More: Best State and National Parks in Idaho
7. Dierkes Lake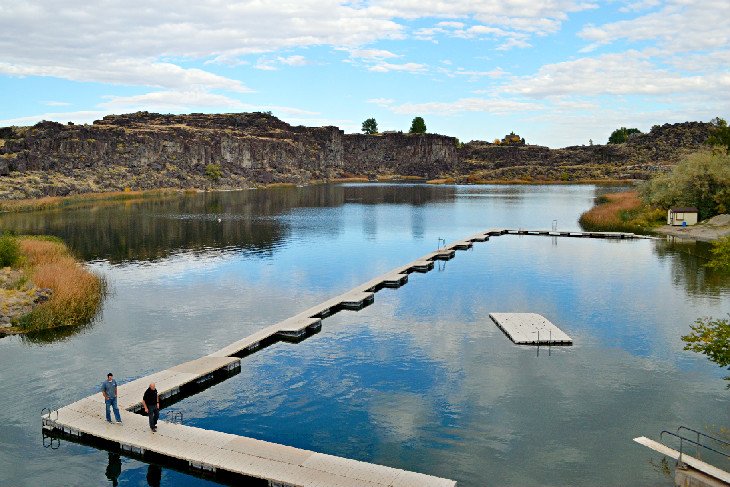 Highlights: Lake next to Shoshone Falls popular for fishing, sunbathing, and picnicking
Accessible from the same entrance road as Shoshone Falls Park along the Snake River, Dierkes Lake is a popular recreation spot to swim, sunbathe, and take in the scenic environment. With abundant green space and a dirt trail that circumnavigates the lake, the area is also popular for picnicking, nature walks, and lawn activities.
It's also well known as a great beginner's fishing hole, and anglers of all ages aim to land bluegill, bass, and trout from the large dock that floats atop the water. For more adventurous activities, scuba divers plunge into the depths of Dierkes Lake, and rock climbers are often seen scaling the surrounding lakeside cliffs.
8. Canyon Springs Golf Course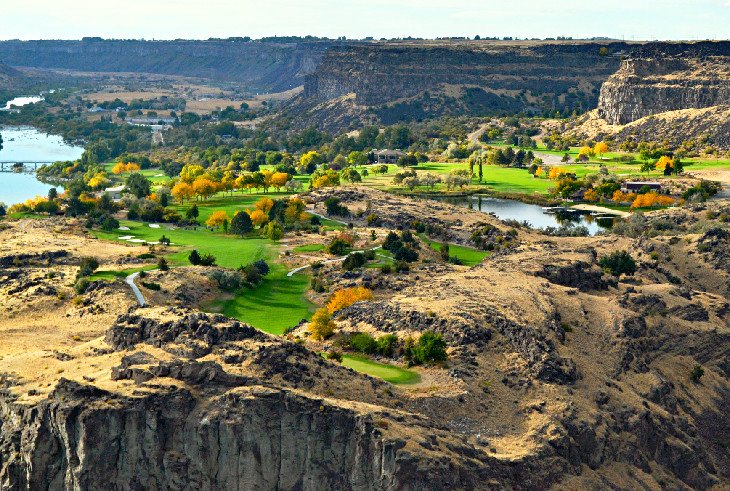 Highlights: Unique golf course next to the Snake River and Centennial Waterfront Park
On the southern bank of the Snake River, adjacent to Centennial Waterfront Park, Canyon Springs is perhaps one of the most scenic public golf courses in Idaho. Surrounded by canyon walls and an environment of waterfalls, rock faces, and a winding river, this 18-hole golf course guarantees a fun time no matter how well you play.
Canyon Springs Golf Course is open to the public, and visitors can make tee times online. It's been a local favorite for over 40 years. Across the river, Blue Lake Country Club also offers a challenging 18-hole private course with similar aesthetics.
Address: 199 Canyon Springs Road, Twin Falls, Idaho
9. Craters of the Moon National Monument and Preserve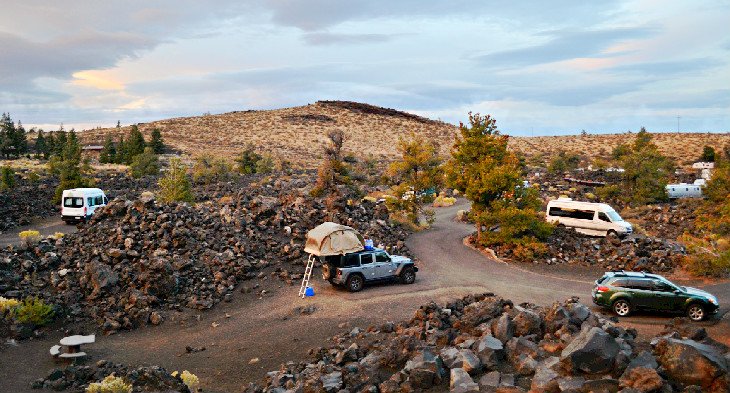 Highlights: Caving, hiking, and camping atop a massive volcanic flow
Craters of the Moon National Monument is a volcanic-strewn environment less than a three-hour drive from Twin Falls. It features lava tubes, an extensive wilderness, and one of the best campgrounds in Idaho. The area offers a landscape that warrants its name and is incredibly fun to explore.
Caving within the lava tubes of Craters of the Moon requires a permit from the Ranger Station. Visitors should expect screening for past exposure to White Nose Syndrome to protect the resident bat population. Alongside these different lava tubes, several hiking trails wind above ground, including routes traversing the 40,000 acres of the park's designated wilderness.
The Lava Flow Campground within the national monument is one of the most unique in the region, and tent campers and small recreation vehicles are invited to spend the night amid a stark landscape comprised of lava rocks. Campsites at Lava Flow are available on a first-come, first-served basis, and often fill up by early afternoon.
10. Harmon Park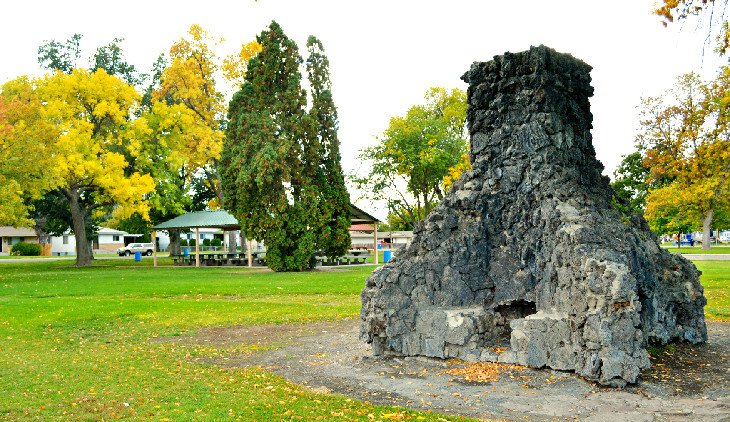 Highlight: Family-favorite park with playground, picnic tables, sports courts, and skatepark
Harmon Park is a popular place to visit for family celebrations, skating sessions, and enjoying nice weather on the south side of the city. It's the size of 15 city blocks and features several sports accommodations. A few favorite sports venues include basketball and tennis courts, lighted baseball and softball fields, and a large volleyball pit.
Outside of intramural and impromptu sporting events, Harmon Park is also a great place for a picnic, with large pavilions available and abundant green space for yard games and activities. A playground set is popular for young children, and skateboards, rollerblades, and scooters often use the 10,000-square-foot skatepark adjacent to the parking lot.
Address: Harmon Park Avenue, Twin Falls, Idaho
Map of Attractions & Things to Do in Twin Falls, ID
Twin Falls, ID - Climate Chart
Average minimum and maximum temperatures for Twin Falls, ID in °C
J
F
M
A
M
J
J
A
S
O
N
D

3

-7

6

-5

11

-2

16

2

21

6

26

11

31

13

31

12

25

7

18

2

9

-3

3

-7

PlanetWare.com
Average monthly precipitation totals for Twin Falls, ID in mm.

27

19

26

21

26

20

6

8

11

19

28

27
Average minimum and maximum temperatures for Twin Falls, ID in °F
J
F
M
A
M
J
J
A
S
O
N
D

37

20

43

23

52

29

61

35

70

43

79

51

88

56

87

54

77

45

65

36

48

27

38

20

PlanetWare.com
Average monthly precipitation totals for Twin Falls, ID in inches.

1.1

0.8

1.0

0.8

1.0

0.8

0.2

0.3

0.5

0.8

1.1

1.1
The summer is the best time to visit Twin Falls, including June, July, and August. The area experiences the warmest weather this time of year, with the longest days for exploring outside. Highs average in the mid-80s during the peak of summer, offering t-shirt weather and comfortable evening temperatures.
Spring is also a good time to visit Twin Falls, especially for those interested in seeing the area's waterfalls at peak flow. Shoshone Falls begins to engorge in March from early-season snowmelt, and by May it's at full force and quite the sight to see. Temperatures in May are also comfortable, with daytime highs averaging in the 60s.
Summer extends into September in Twin Falls and begins to cool off at the end of the month. The fall season continues from mid-September into October, but reaches colder temperatures by the end of the month. This is a good time of year to visit outside of the busy summer months.
More Related Articles on PlanetWare.com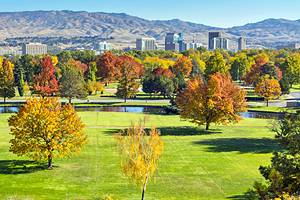 More to Explore in Idaho: Between the many top-rated attractions in Idaho and the best resorts in the state, it's easy to keep your Idaho vacation itinerary packed to the brim. For other fun cities to explore, Coeur d'Alene provides a scenic backdrop, Idaho Falls also displays the scenic Snake River, and Boise has some real capital appeal.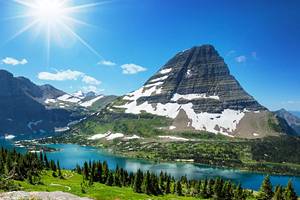 Montana Excursions: The neighboring state of Montana has plenty of top-attractions worth checking out, from glacier peaks to underground caverns. Cities that really enable adventure in Montana include Missoula, Bozeman, and the state capital of Helena. For an awesome overnight experience in the state, the top-rated resorts in Montana can treat you right.