10 Top-Rated Attractions & Things to Do in Bozeman, MT
We may earn a commission from affiliate links ()
Surrounded by the Rocky Mountains in southern Montana, Bozeman is best known for its quick access to the outdoors. Residents and visitors to Bozeman enjoy world-class fishing, hiking, hot springs, and skiing depending on the time of year.
The city is also home to Montana State University, which gives the streets a charming academic appeal. The university offers other cultural and athletic resources to explore, including the Museum of the Rockies and Bobcat football games.
Staying active is one of the easiest things to do in Bozeman. From hiking the "M" trail to diving into the surrounding Custer Gallatin National Forest, Bozeman is much like a postcard waiting to be explored.
It's also the community in Bozeman, best represented on Main Street, that makes this Rocky Mountain city a fun place to visit. Between smiling faces in local storefronts and friendly people you'll meet on hiking trails, Bozeman does well to represent the inviting nature of Montana.
Choose the best places to visit on your next trip to Montana with our list of the top things to do in Bozeman.
See also: Where to Stay in Bozeman
Note: Some businesses may be temporarily closed due to recent global health and safety issues.
1. College "M" Hiking Trail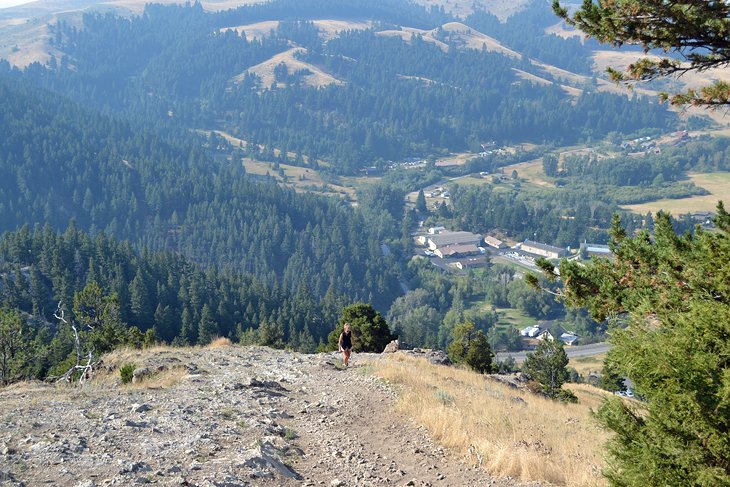 In Bozeman, it's hard to miss the collegiate "M" posted high onto the ridgeline of Bridger Canyon. This 250-foot white-rock letter was built piece by piece by students of Montana State University in 1915 and has since served as a pride point for the University and a symbol for the city.
This decorative door hanger at the mouth of Bridger Canyon is more than just aesthetically pleasing though, and two short hiking trails encourage visitors to hike up and enjoy the view.
Two hiking trails lead up to the "M" and adjacent sitting benches. At the trailhead, the steeper half-mile trail forks to the right, and the 1.5-mile switchback trail heads left. Both trails gain 850 feet to reach the "M", which provides straining legs for most average hikers.
The "M" is just an introduction to Bozeman hiking endeavors. Alongside many other natural areas in the region, the "M" trail is just the beginning of the 20-mile Bridger Foothills National Scenic Trail.
2. Museum of the Rockies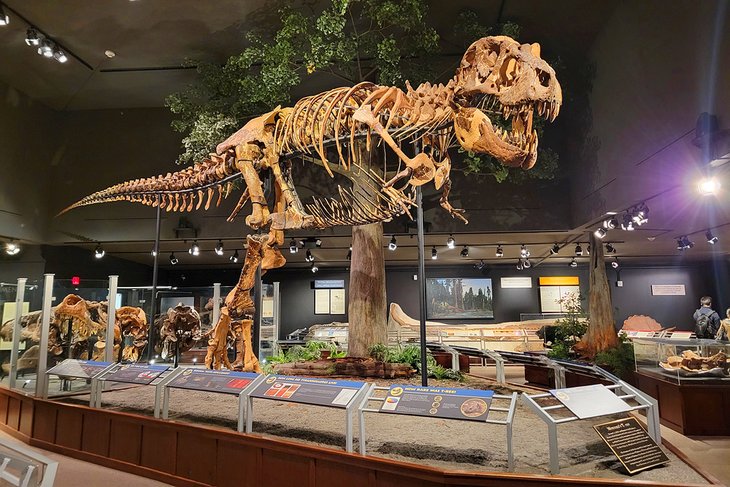 Best known for an extensive collection of dinosaur fossils, the Museum of the Rockies (MOR) unearths a wide range of scientific insight on the Rocky Mountain region.
Affiliated with both Montana State University and the Smithsonian Institute, some of the permanent exhibits at this attraction include the Siebel Dinosaur Complex, the Paugh History Hall, and the Martin Children's Discovery Center. All admission tickets to the museum are good for a two-day span.
At MOR, you can see one of the most complete Tyrannosaurus rex skeletons ever recovered, Big Al, in the aptly named Hall of Giants. You can also glimpse the native cultures of the region in the Welcome to Yellowstone Country exhibit.
The museum also offers teen summer camps, adult lecture series, and planetarium shows at the Taylor Planetarium. The museum is open everyday of the year except major holidays, with extended hours between May and September.
Address: 600 W Kagy Blvd, Bozeman, Montana
Official site: https://www.museumoftherockies.org/
3. Main Street, Downtown Bozeman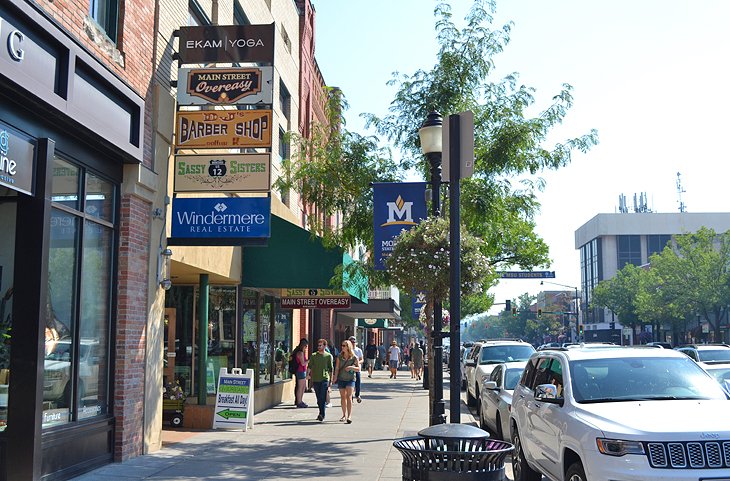 With shops, boutiques, eateries, and art to explore, downtown Main Street exemplifies the Bozeman culture. It's not just the storefronts that keep the sidewalks busy, it's also the fun Old West culture mixed with a college atmosphere that makes Main Street fun to explore. Live events often take over the street, including the popular "Music on Main" every Thursday during the summer.
Among the many recommended places to eat in Bozeman, the Nova Cafe serves up some of the best breakfasts in town. And the Mackenzie River Pizza Company provides specialty pizzas that warrant a visit or two.
For unique, local specialty shops on Main Street, places like The Last Wind-Up offer new and vintage timepieces. The homegrown Montana Honey Bee Company provides locally sourced sweetness and beekeeping supplies.
4. Custer Gallatin National Forest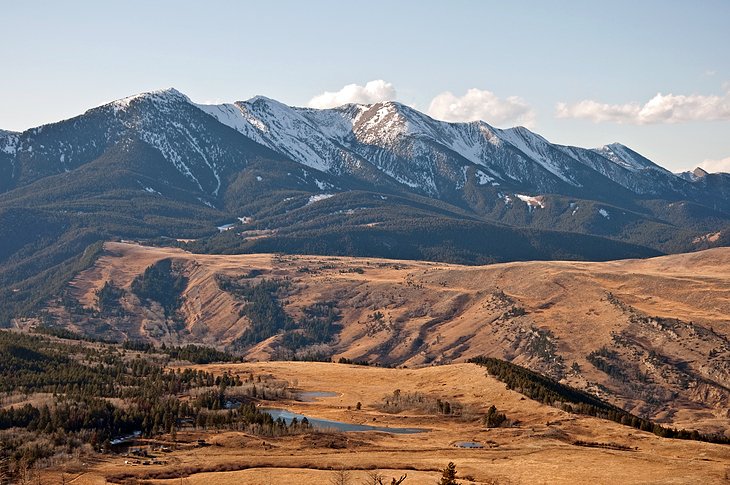 The seven different ranger districts of the Custer Gallatin National Forest surround the city of Bozeman. Together, they provide over three million acres of forest to explore throughout the year.
Whether it's backpacking, fly-fishing, day hiking, ski touring, or simply enjoying a scenic drive, the national forest offers backdoor adventures from Bozeman. In this way, Custer Gallatin National Forest helps define the vibe of Bozeman, adding luscious scenery to the city and an adventurous mantra for the community.
Remote areas within Custer Gallatin, like the Absaroka-Beartooth Wilderness, are a favorite to explore. For a quintessential hike close to Bozeman, Storm Castle Peak delivers on big views. And the Palisades Falls Picnic Area is another great spot for a day trip.
Custer Gallatin National Forest also connects easily with another national treasure, Yellowstone National Park, whose North Entrance and Roosevelt Arch are just over an hour's drive south from Bozeman.
5. American Computer & Robotics Museum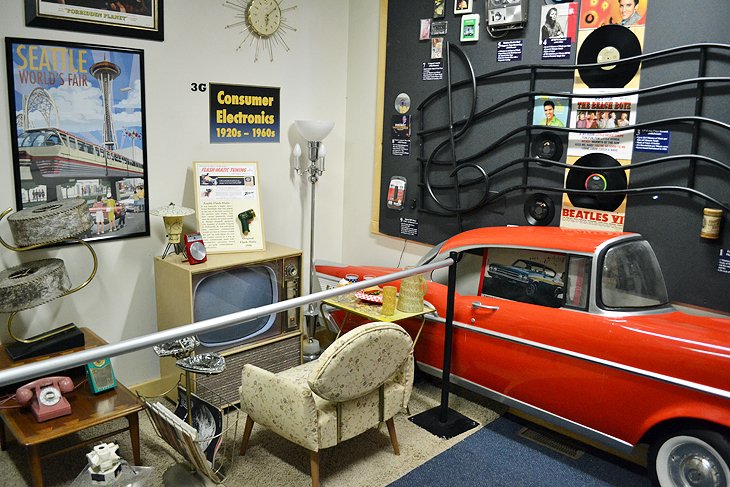 Spanning from the first clay tablet created by chisel to the future of artificial consciousness, the American Computer & Robotics Museum has a wide range of displays detailing the evolution of technology.
Near Montana State University's Bobcat Stadium, the American Computer Museum is divided between multiple rooms and distinct eras of applied science. Each room contains elaborate and informational displays alongside significant artifacts. Some of the artifacts on display include Alan Turing papers, a Gutenberg Press, and an original Apple 1 Computer signed by Steve Wozniak.
Great for the scientifically inclined and interested observer alike, the American Computer & Robotics Museum offers free admission. Donations are encouraged when visiting. The museum is open seven days a week in the summer and is only closed on Mondays throughout the winter.
Address: 2023 Stadium Dr #1A, Bozeman, Montana
Official site: http://www.compustory.com/
6. Big Sky Resort & Bridger Bowl Ski Area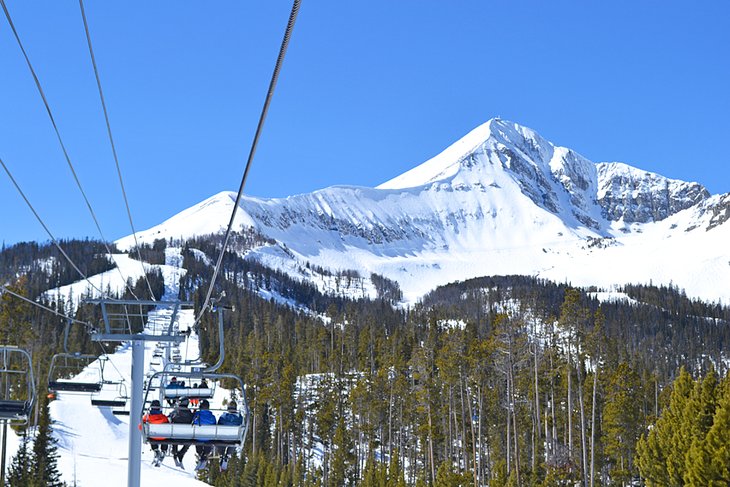 Winter alpine pursuits are a big part of the Bozeman culture, much in thanks to the proximity of two powder-infused winter resorts. Located just an hour south of Bozeman, Big Sky Resort offers internationally acclaimed downhill skiing and snowboarding spread across four mountains and nearly 6,000 acres of rideable terrain.
With consistent snowfall throughout the long winter, and plenty of cold-weather events to celebrate the season, Big Sky ranks high as one of the best ski resorts in Montana. For a more local flavor and shorter commute from Bozeman, another top ski resort in the state can be found just north of the city at the Bridger Bowl Ski Area.
Spawned from grassroot, community driven beginnings, Bridger Bowl provides approximately 2,000 skiable acres to explore for everyone from beginners to experts. Featuring eight chair lifts, two lodges that provide hot meals, and always a host of Montana State University students and Bozeman community members, Bridger Bowl Ski Area is where the locals go to ride.
Big Sky Resort
Address: 50 Big Sky Resort Road, Big Sky, Montana
Bridger Bowl Ski Area
Address: 15795 Bridger Canyon Road, Bozeman, Montana
7. Gallatin History Museum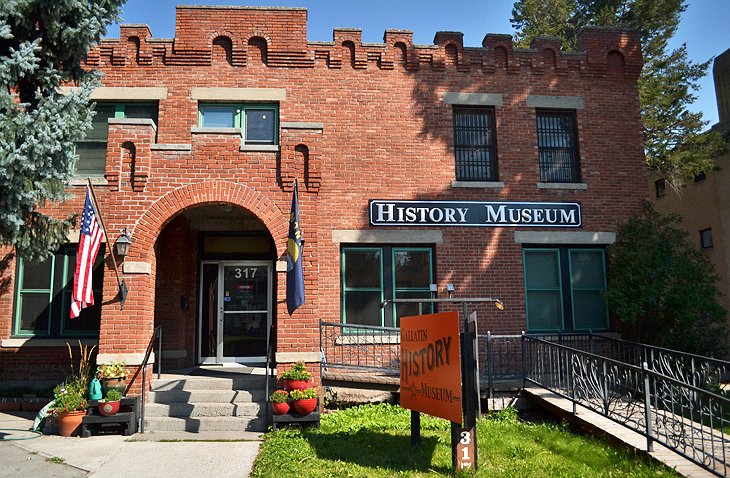 Housed in a historic and long-since renovated county jail building, the Gallatin History Museum brings the region's pioneer history to the forefront of Main Street. Featuring permanent and rotating exhibits, the Gallatin History Museum provides the clearest picture of southwest Montana's rugged past.
Permanent exhibits at the Gallatin History Museum include American Indian artifacts, a model of the 1867-established Fort Ellis, and an adolescent's porcelain doll brought to Bozeman by wagon in 1864.
Throughout the museum are artifacts, information panels, and an impressive archive of historical images. Guided tours, family passes, and special events are also available. The museum is open to the public Tuesday through Saturday throughout the year. Accompanied children receive free admission to the museum.
Address: 317 W. Main Street, Bozeman, Montana
Official site: http://www.gallatinhistorymuseum.org/
8. Montana Grizzly Encounter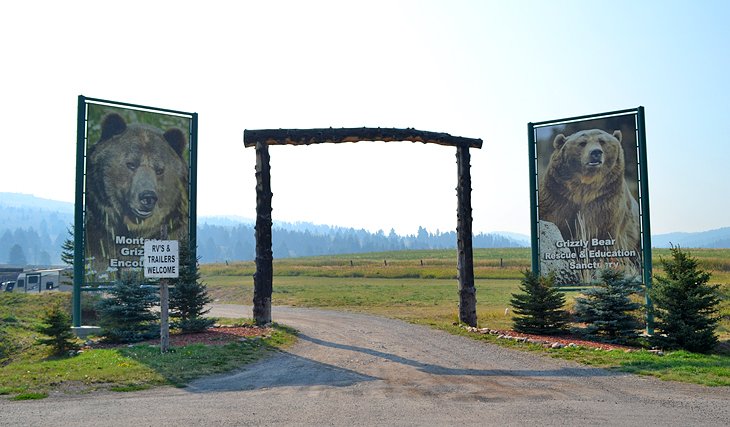 Montana Grizzly Encounter adopts bears who were born into captivity, who would not survive the wild, and provides for them a safe habitat to grow happy and healthy. Montana Grizzly Encounter first began in 2002, when Casey Anderson, National Geographic Wildlife Naturalist, adopted Brutus from an overcrowded wildlife park. At the time, Brutus was a grizzly bear cub the size of a squirrel.
Fast forward 15 years and 900 pounds later, and Brutus stands at seven feet tall, with six other grizzly bears adopted into the park besides him.
Besides maintaining a quality of the life for its bears, Montana Grizzly Encounter also strives to provide public education about cohabitating with Montana's resident wildlife. Through demonstrations, education, and an ability to view the sanctuary's denizens up close with no bars or constructions, Montana Grizzly Encounter encourages a respect for the grizzly bear's role in wildlife systems.
Montana Grizzly Encounter is free to all school groups who call ahead. Admission tickets are reasonably priced for the general public. This Grizzly Bear Rescue and Education Sanctuary operates daily throughout much of the year, with limited hours during the winter (November 1st - May 1st).
Address: 80 Bozeman Hill Road, Bozeman, Montana
Official site: http://www.grizzlyencounter.org/
9. Bozeman Hot Springs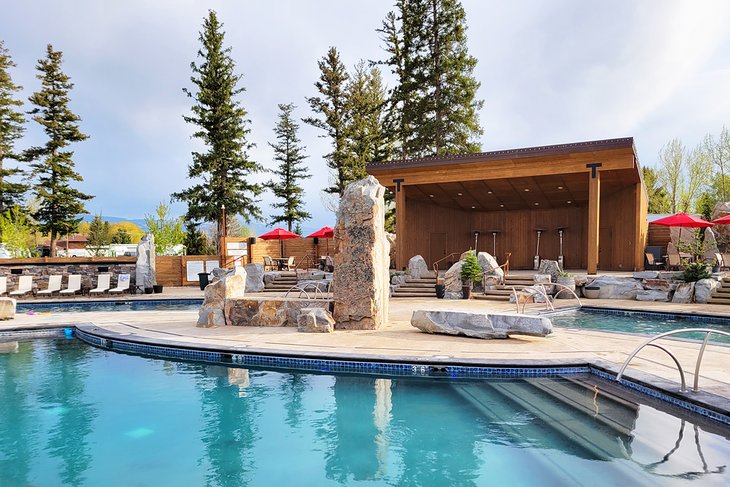 Located southwest of the city with easy access to Gallatin Canyon, Bozeman Hot Springs is a public resort and one of the best hot springs in Montana. Bozeman Hot Springs offers several reasons to visit including a full fitness facility and 12 different pools to soak in.
Family-friendly and perfect for large group events, Bozeman Hot Springs is also well known for hosting a wide variety of events. Special events at Bozeman Hot Springs include live music, group fitness classes, and community charity drives.
For the ultimate hot springs experience, as well as quick access to the surrounding adventurous environments, Bozeman Hot Springs also maintains a campground within its facilities. This provides an excellent overnight option to your soaking experience.
Address: 81123 Gallatin Road, Bozeman, Montana
Official site: http://bozemanhotsprings.co/
10. Yellowstone National Park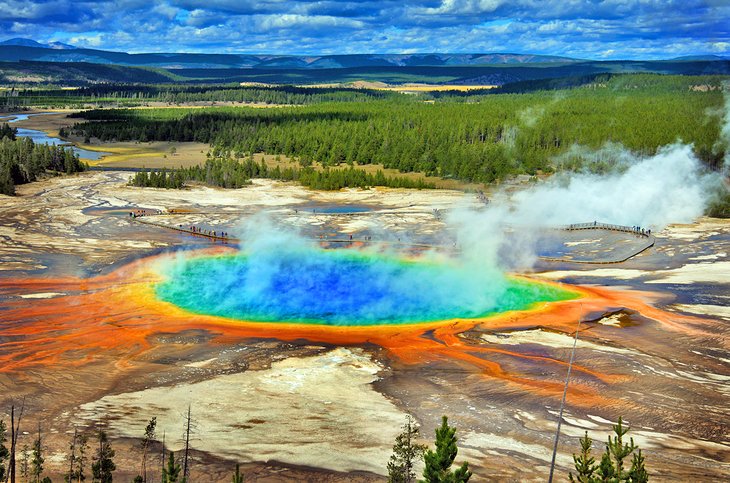 The first designated national park in the United States, and one of the largest, Yellowstone National Park is an 80-mile drive from Bozeman. Visitors from across the world fly into Bozeman to experience the spectacles of Yellowstone, including the several hydrothermal features that are incredibly dense and unique in the region.
Iconic spots like Old Faithful and Grand Prismatic Spring comprise only a fraction of the best places to visit in Yellowstone. Hikers will want to hit the hiking trails. Some of these are just short walks and suitable for anyone. And with over two million acres to explore, there's something new to discover with each visit.
The closest access point to Yellowstone from Bozeman is the park's North Entrance. This entrance near the Gardiner River offers easy access to the Mammoth Hot Springs region of the park. Alongside one of the best campgrounds in Yellowstone, Mammoth Hot Springs features eye-catching travertine terraces and the popular Boiling River roadside attraction.
Yellowstone can be enjoyed on a day trip from Bozeman. It is highly recommended, however, to mark a week off the calendar to fully explore the nation's first national park.
You can visit the park at any time of year but some seasons are better than others. See our guide to the best time to visit Yellowstone for more information.
Official site: https://www.nps.gov/yell/index.htm
Where to Stay in Bozeman for Sightseeing
Luxury Hotels: For the most decadent overnight stay in Bozeman, the Element

Bozeman

is reputed to be the best hotel in town and provides a modern décor with spacious rooms and suites in the heart of the city.

Located nine miles up the road, the Hilton Garden Inn

Bozeman

provides an upscale experience alongside an attached restaurant, indoor pool, and cozy rooms and suites.

Further north and on the outskirts of Bozeman, the Gallatin River

Lodge

provides luxurious accommodations with a lakeside view, and a romance package for a special occasion.
Mid-Range Hotels: To find that median between money spent and services offered, places like the Western Heritage

Inn

are a good choice. Located near many of the top attractions of the city, the Heritage Inn is known for their spacious rooms and well-maintained facilities.

North of downtown, the Country Inn & Suites By

Carlson

also provides a comfortable hotel option with a complimentary breakfast buffet.

Across the street from the Country Inn, the Comfort Suites

Bozeman

couples affordable rates and spacious rooms with an indoor pool, spa, and exercise facility, making for a comfortable overnight stay.
Budget Hotels: To stretch your vacation dollars elsewhere in Bozeman, the Super 8

Bozeman

provides unbeatable rates alongside a long reputation of well-maintained rooms and facilities.

Just a few blocks from the Super 8, a few minutes north of downtown Bozeman, the Microtel Inn & Suites by Wyndham

Bozeman

provides stellar value with clean and cozy rooms.

Closer to the shops and restaurants of downtown, the Royal 7 Budget

Inn

makes for an affordable stay close to the top attractions of Bozeman.
More Related Articles on PlanetWare.com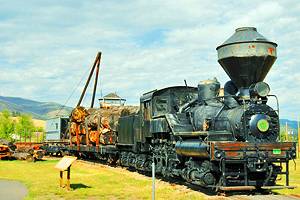 Other Cities in Montana: For another university city to explore in Montana, the city of Missoula is home to the University of Montana and is surrounded by seven national forests to explore. North of Missoula and near the entrance of Glacier National Park, the resort city of Whitefish also provides endless adventure throughout the year. The state capital of Montana, Helena also provides its own unique slice of culture and historic appeal.