12 Top-Rated Attractions & Things to Do in Whitefish, MT
Whitefish, in Flathead County of Northwest Montana, is one of the top spots I recommend for people visiting from out of state, no matter the time of year. The summer offers all sorts of quintessential Montana adventures, including day and overnight trips to iconic spots like Flathead Lake and Glacier National Park. Winter also reigns supreme in Whitefish, with one of Montana's best ski resorts, Whitefish Mountain Resort, right at its backdoor.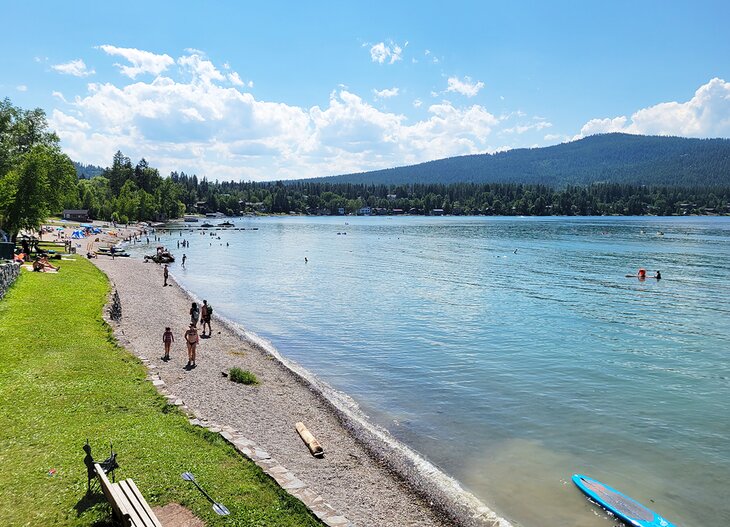 The town itself is a destination ripped right from a Montana postcard (available at one of the souvenir shops or bookstores lining the downtown district). Rocky Mountain spirit emanates from the town's core, perhaps most concentrated at Depot Park and the adjacent Amtrak Station. Standing here, with big landscapes all around and the sound of the train departing the station, I feel like any adventure is possible (especially when the sun is out).
And it's the outdoor experiences, big and small, that bring me back to Whitefish. From hiking Lion's Head to skiing Big Mountain, there's plenty to explore within a short bike ride or free shuttle trip. And with its undeniable Western charm, it's also my ideal choice as a basecamp for bigger adventures in the nearby Glacier National Park and Flathead National Forest.
For more ideas on how to spend your time, see our list of the top things to do in Whitefish.
1. Whitefish Mountain Resort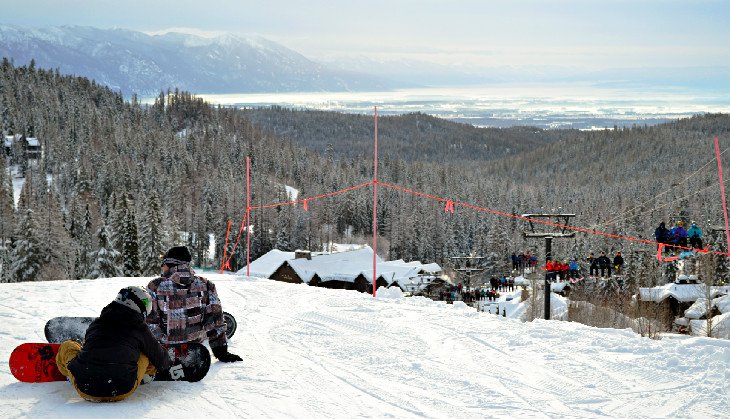 Whitefish Mountain Resort, formerly known as Big Mountain Resort, is hard to miss when visiting Whitefish. The resort encompasses over 3,000 acres and comprises the contoured backdrop of the city. Over 100 named routes and nearly a dozen chairlifts define much of its winter season, while the summer brings hiking, mountain biking, and elevated alpine experiences.
Skiing at Whitefish is busy by Montana standards but relatively uncrowded compared to the big resorts of Colorado, Washington, and Oregon. (I've never waited more than 25 minutes for a lift). Still, the mountain is open daily throughout the winter season, and it's best to visit on a weekday to avoid the biggest crowds. Once you ascend above the mainstay of the traffic at the Base Lodge or the Village, look east to enjoy views of Glacier National Park.
If you're coming from out of town and planning to spend the night, shop around the hotels and online listings for ski-and-stay packages – I had an easy time finding a good deal without looking too hard. The Shuttle Network of Whitefish, also known as the SNOW Bus, provides free and easy transportation from the city to the slopes throughout the winter.
The summer is equally as fun in Whitefish. I trade out my skis for hiking shoes this time of year and have yet to partake in the lift-enabled downhill mountain biking offered, but I want to. Four chairlifts operate throughout the summer, transporting hikers and bikers up the mountain. Return service is available on Chairlift 1 for a scenic ride that doesn't require excessive hiking.
The mountain's base offers several summer attractions for those traveling with children, including alpine slides, zipline tours, and a popular contraption called Spider Monkey Mountain.
Address: 1015 Glades Drive, Whitefish, Montana
2. Whitefish City Beach, Whitefish Lake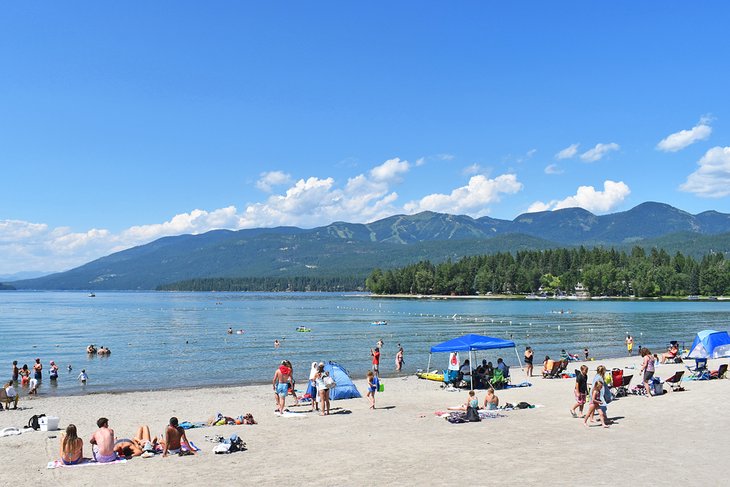 The scenic shoreline of Whitefish Lake was one of my favorite discoveries of the city. It stretches seven miles from the northwest edge of the town, yet it took me a couple of trips to go check it out. And now, I try to include some time at Whitefish City Beach during any visit to enjoy the massive body of water.
Whitefish City Beach is one mile west of the Whitefish Depot and near the outflow of the lake, the equally scenic Whitefish River. The beach is a large sandy area with a designated swimming area. Parking near City Beach can be a real scramble throughout the summer, as the beach is near a residential neighborhood. The town's expansive bike path network leads to the beach for an alternative path.
Non-motorized boat rentals and a public boat launch are available throughout the warm-weather season (May through September). Once on the water, anglers troll the depths for lake trout, and other explorers head down the current of the Whitefish River. Still, the most prevalent activity at the beach, or at least the reason I visit, is lying out on the sand and occasionally taking a dip in the water.
Whitefish Lake State Park is another popular spot to access the water farther up the western shore. It offers camping opportunities for tents and RVs with its lakeside location. The state park is just north of Whitefish Lake Golf Club, approximately three miles from downtown.
Address: 70 Lakeside Boulevard, Whitefish, Montana
3. Explore Downtown Whitefish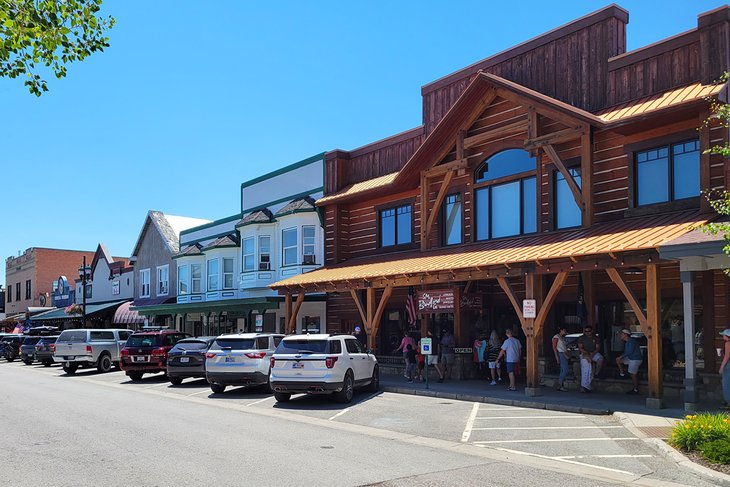 It's all local in downtown Whitefish. The charming streets have plenty of tourist traffic, but no big-box retail chains line the streets. And stemming in all directions from the iconic downtown clock tower are unique shops that carry the air of mountain culture. And if visiting on a summer weekend, expect a constant flow of foot traffic with swirls of people strolling in and out of doors.
The range of shopping in downtown Whitefish includes handmade jewelry, used bookstores, several clothing boutiques, home décor stores, and gift shops. Art is also on display at places like the Going-to-the-Sun Gallery. I always stop into Bookworks of Whitefish when visiting, often leaving with a new, used book.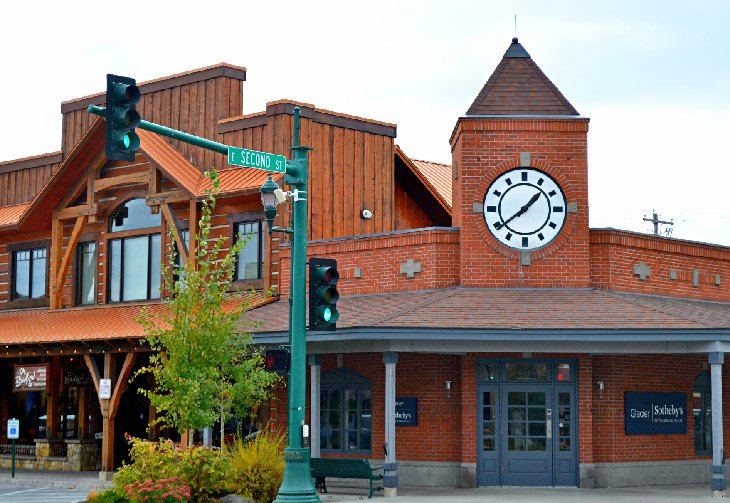 For downtown dining, Loula's Cafe is great for breakfast, and Tupelo Grille provides fine dining in the evening. Amazing Crepes is another popular spot for breakfast or late lunch. Downtown is a pedestrian-friendly district, though with the constant presence of cars looking for parking spots on the weekend. If you have difficulty deciding where to eat, I'd recommend strolling around until finding a menu that catches your eye.
4. Visit Glacier National Park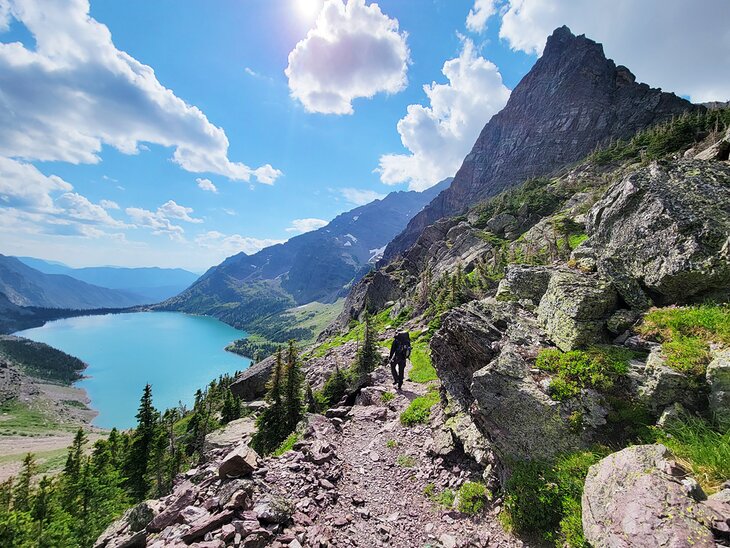 Glacier National Park is the place that first enticed me to move to Montana. I have since discovered several other life-changing landscapes throughout the state, but still, nothing else compares. Each trip to Glacier provides another view that I can't believe outdid the last, and the further I follow its many hiking trails, zig-zagging beneath massive mountain peaks, the more it becomes clear why the park earns its nickname as the Crown of the Continent.
Whitefish is less than a 30-mile commute from the park's main entrance, the West Glacier Entrance, which provides immediate access to Apgar Village and Lake McDonald. It's a typical entry point into the park for a first-time visit, including my own, and the shimmering expanse of Lake McDonald with its craggy mountain backdrop does well as an introduction.
Between hiking trails, paddleboard rentals, and picnic spots, an entire day is easily spent near the shores of Lake McDonald. Restaurants, essential supplies, and souvenirs are available in Apgar Village and the West Glacier community outside the park gates. Camping is also available in Apgar Village, although after policy changes following the 2020/21 season, almost all sites at Apgar are available by reservation only through Recreation.gov.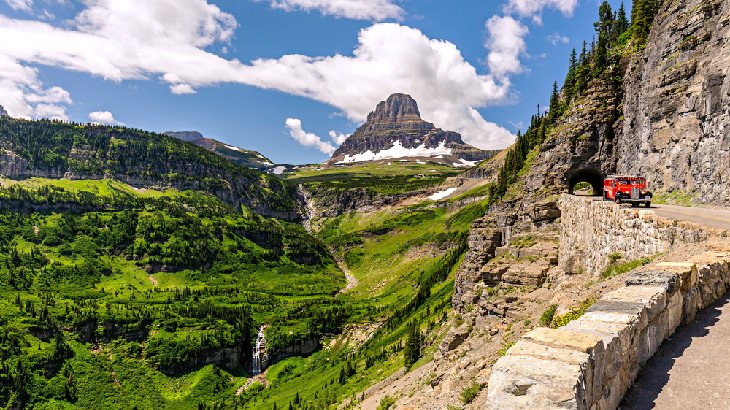 Going-to-the-Sun Road
After spending the day at Lake McDonald, it may be hard to believe that it's only a fraction of the alpine beauty within the park. The landmark Going-to-the-Sun Road parallels the lakeshore and continues east, spanning 50 miles to the park's east side, crossing the Continental Divide at Logan Pass and connecting several of Glacier's top attractions along the way.
The Going-to-the-Sun Road is one of those modern marvels everyone should experience in a lifetime. The winding mountain route represents an achievement in civil engineering, and perhaps more importantly, as far as I'm concerned, the views of Glacier's peaks and valleys are drool-worthy and eye-opening in so many ways.
The Going-to-the-Sun Road is typically snow-free between June and October, when most of the park's annual three million visitors share the roadway. In 2021, the park established a Vehicle Reservation System to drive this busy thoroughfare during the summer, which is still in effect today. The park does offer a free shuttle service across the Going-to-the-Sun Road that works around the need for a vehicle pass.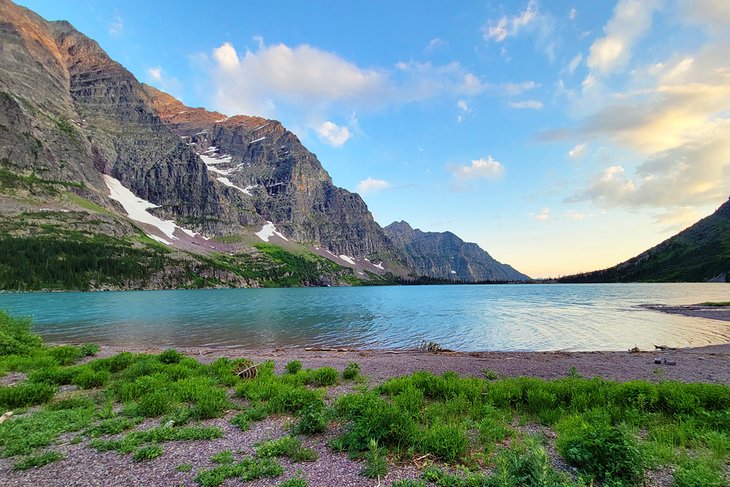 Hiking and Camping
Glacier opens up when you put on some hiking shoes, and its vast network of hiking trails is at the core of what brings me back for day trips and backpacking adventures. The park's west side, closest to Whitefish, is home to some of my favorite hikes, like Sperry Chalet, and other family favorites, like Trail of the Cedars.
I'd recommend checking out the Many Glacier region if I had to give up my favorite hiking area in the park. This area is accessible from the park's east side but not off the Going-to-the-Sun Road. It's still a popular area, and rightfully so, with iconic trailheads leading to places like Grinnell Lake and the Ptarmigan Tunnel. Many Glacier is also home to the iconic Swiftcurrent Motor Inn.
The good thing about hiking in Glacier is you won't be disappointed with where you end up. Check out my article covering the Best Hikes in Glacier to find the right route to match your hiking wants and needs.
Similarly, if you're considering turning a day trip into an overnight adventure, check out my Best Glacier Campgrounds article to help navigate the reservation hurdles and headaches.
5. Explore Flathead National Forest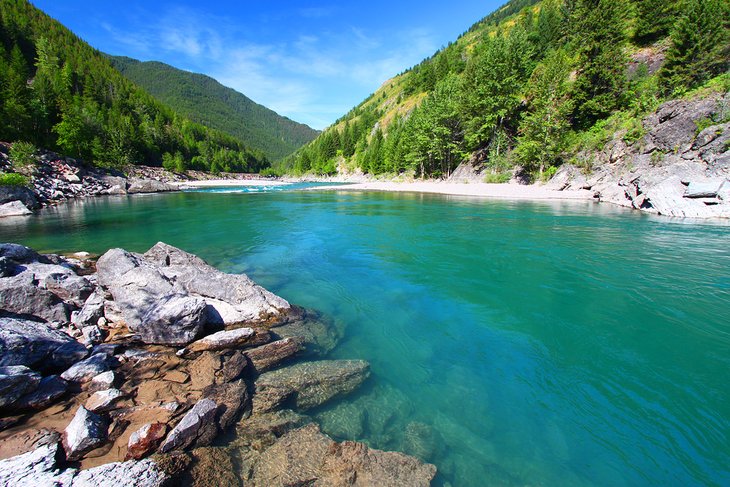 The expansive Flathead National Forest encompasses over two million acres and surrounds Whitefish. The forest shares much of the same stunning scenery as Glacier National Park, which shares a border but sees only a fraction of the crowds. It's one of Montana's best national forests and one of my favorites to explore.
Wildlife is abundant throughout the natural space, and the forest is home to grizzly bears, wolverines, and bighorn sheep. Recreation is also plentiful, with backpacking, white-water rafting, and fishing defining some of the summer fun, and snowmobiling, snowshoeing, and every type of skiing top the list for winter activities.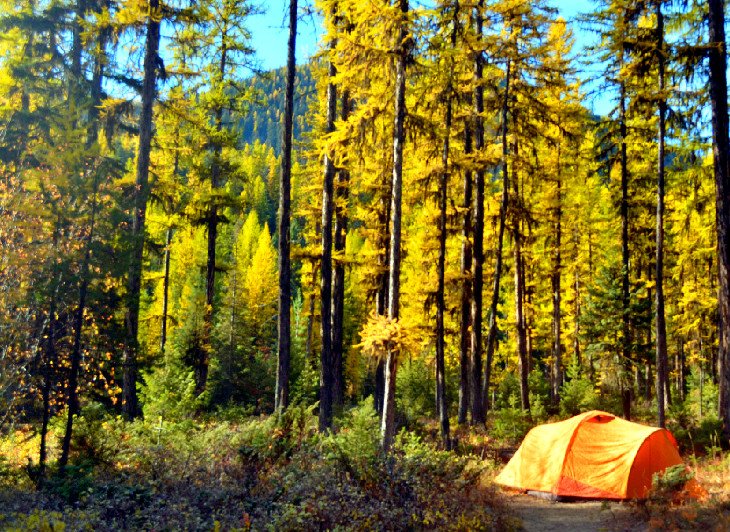 The Danny On National Recreation Trail, one of the most popular hiking trails of the entire national forest, is located on Big Mountain on the northern edge of Whitefish. The popular trail climbs to the summit of Big Mountain and provides views of the city and Flathead Valley. At the top of the trail, the Summit House is home to the popular Summit Nature Center. Visitors can use a chairlift to mitigate some of the up-and-down travel.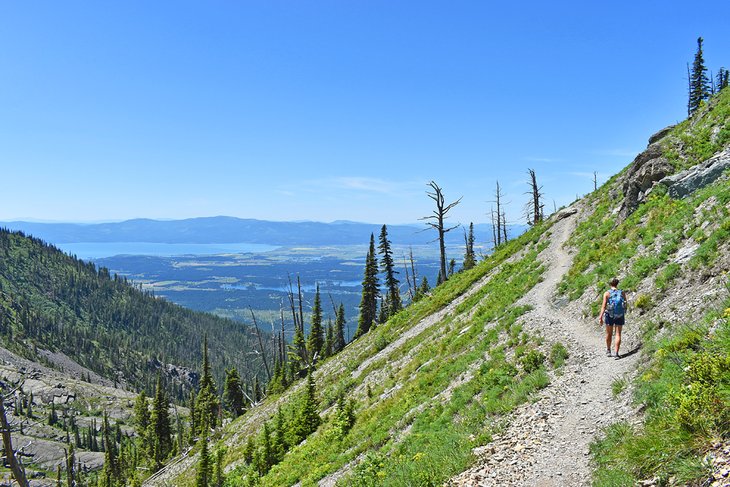 My favorite place to visit, and the one I recommend to any hikers visiting the region, is the Jewel Basin Hiking Area. This hiking-only destination is approximately an hour's drive from Whitefish and offers an alpine wonderland full of amazing views and mountain goats. Having a high-clearance vehicle helps reach the most popular trailhead, the inaptly named Camp Misery Trailhead.
6. Great Northern Railway Depot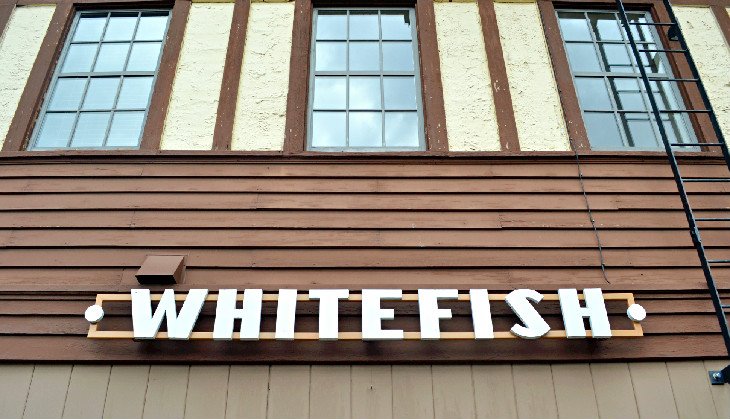 Also known as the Whitefish Depot, this historic station and still-operating Amtrak stop has attracted visitors and industry for over 100 years. This notable train stop has retained much of its historic chalet-inspired design, including a backdrop of stunning mountain peaks. And it remains one of the busiest depots between Seattle and Minneapolis.
Traveling to Whitefish on Amtrak is an excellent way to go, especially if you live on or have access to the train's Empire Builder line, spanning Portland and Seattle to Chicago. Passengers can bring bicycles onto the train for easy transportation upon arrival, and several in-town shuttle services offer rides to places like the Whitefish Mountain Resort and Glacier National Park.
Neighboring the facility, Depot Park provides ample green space to stretch out stiff legs. This charming park is home to the Whitefish Farmers Market on Tuesday evenings throughout the extended summer. The park is also adjacent to downtown, offering an excellent spot to sit down and find some shade when exploring the central part of the city.
The Stumptown Historical Museum is within the Depot and offers multimedia information about its legacy and the town built beside it. This small museum is well worth the 15-30 minutes it takes to wander its artifacts and exhibits, offering interesting insights into Whitefish dynamics today. And it's quite the value with free admission.
Address: 500 Depot Street, Whitefish, Montana
7. The Whitefish Trail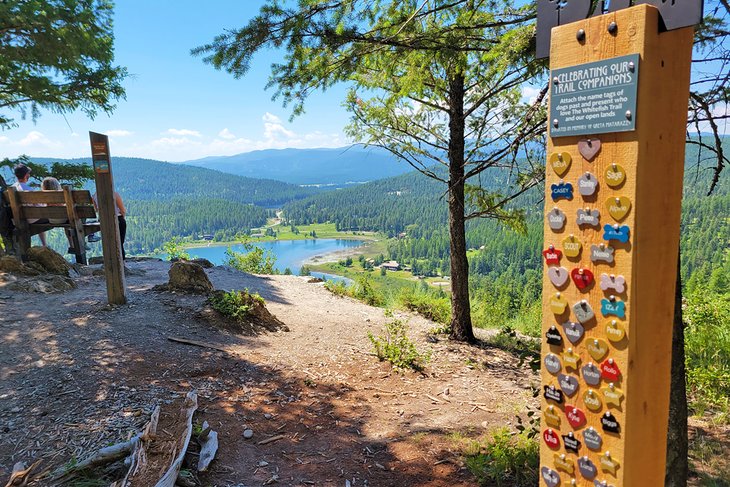 The Whitefish Trail is a community-driven trail system that snakes through the city's forests and natural spaces. The trail comprises over 40 miles of natural surface walkways and a dozen trailheads. The trail system is increasingly popular among families thanks to convenient access and easy navigation. Although with plenty of long routes to ditch the crowds, it's also possible to find some solitude as a mountain biker or trail runner.
I'd recommended Lion Mountain for the first time exploring The Whitefish Trail. It offers a three-mile loop trail with variable distances and a trailhead less than three miles west of downtown on Highway 93. The route is well-signed and climbs through a lush and shaded forest. At the top of the trail, a bench and overlook of Skyles Lake offer a nice rest before heading back down.
8. Flathead Lake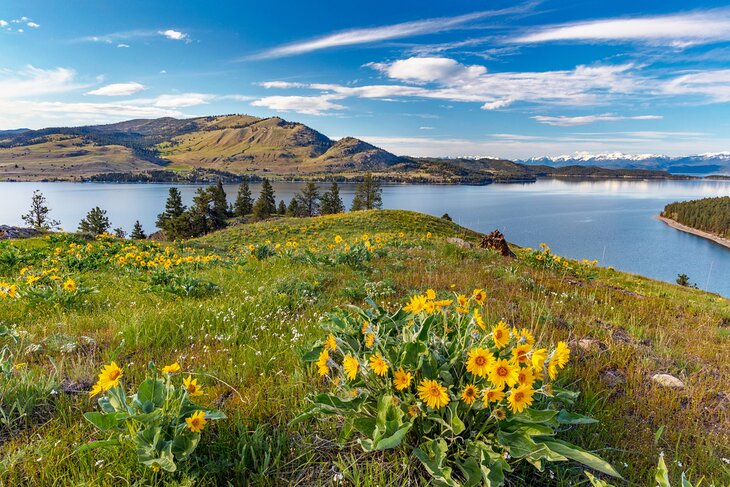 Flathead Lake is the largest natural freshwater lake in the western U.S. outside of Alaska, and it is quite a sight to experience. Small towns, scenic viewpoints, and food stands selling locally grown cherries surround this nearly 200-square-mile lake with mountains flanking all sides. Visitors from Whitefish can access the northern tip of Flathead Lake within a 30-minute drive.
Montana Fish, Wildlife & Parks maintains five mainland units on either side of the lake and an additional unit on Wild Horse Island, the largest island in the lake, still home to a pack of wild horses. I've only spent a few hours at each mainland unit, but I noted that each had campsites available for future adventures. Big Arm, on the western shore, has the most sites available.
Wild Horse Island is an excellent bucket-list day trip for those looking for a good adventure. The island is only accessible by boat, which I don't own, so I utilized the ferry service from Boat Rentals and Rides in Big Arm. I also looked into the tours offered by Sea Me Paddle for my visit, but the logistics didn't work out right. The island's sprawling trail network kept me exploring all day before catching a ride back in the late afternoon.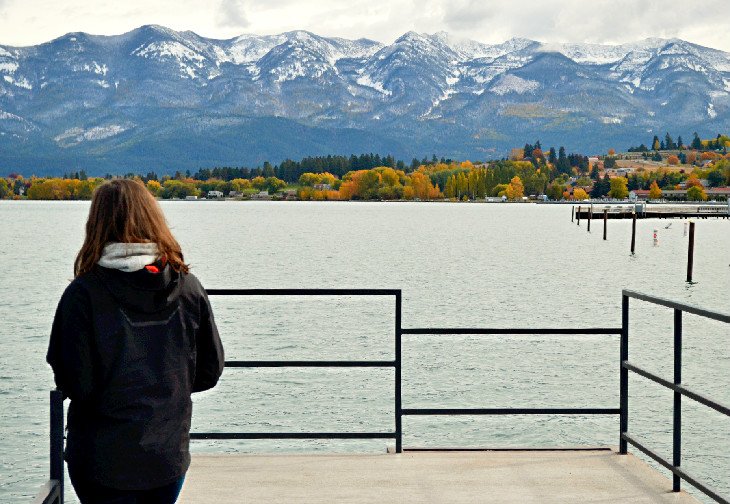 Shoreline exploring and island hopping are just a fraction of all the things to do on Flathead Lake. Its biggest claim to fame is its glass-smooth water, popular for all types of boating, from kayaks to powerboats, and especially fishing rigs. Boat rentals are available in Whitefish and from the several other smaller communities surrounding the water, including Polson and Big Fork.
9. Stroll through Downtown Kalispell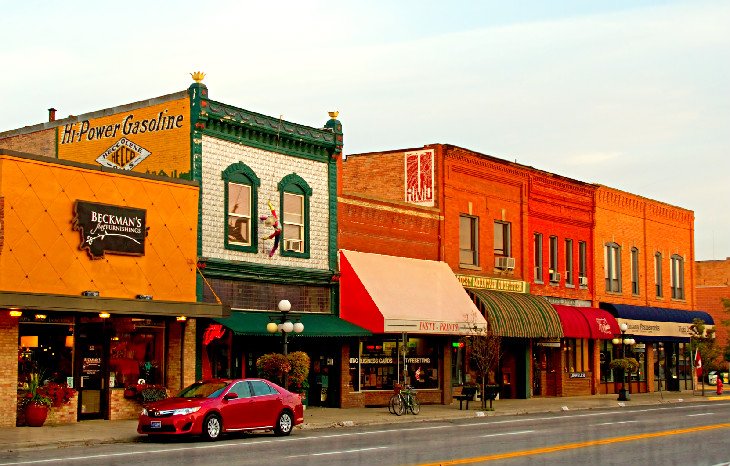 Kalispell is the largest town in the Flathead Valley and another common gateway in the region. It's 15 miles south of Whitefish and closer to the shores of Flathead Lake. History runs deep throughout the community, as seen with the 19th-century architecture that still adorns Main Street.
The Conrad Mansion Museum is a center for much of the historical appeal of Kalispell, and visitors can take guided tours of this 19th-century residence, including its original furnishings. Other attractions in Kalispell include the Hockaday Museum of Art, the Buffalo Hill Golf Club, and Woodland Water Park. Outdoor attraction is also accessed from all directions in Kalispell, including the famous Lone Pine State Park.
I like to use Kalispell as a base camp for Flathead Valley adventures, especially when devoting more time to Flathead Lake. While summer prices are inflated like everywhere else, Kalispell has a broader range of hotel and lodging options than Whitefish, including more affordable places to stay. The downtown district is also home to several appetizing restaurants and local storefronts.
10. Baker Park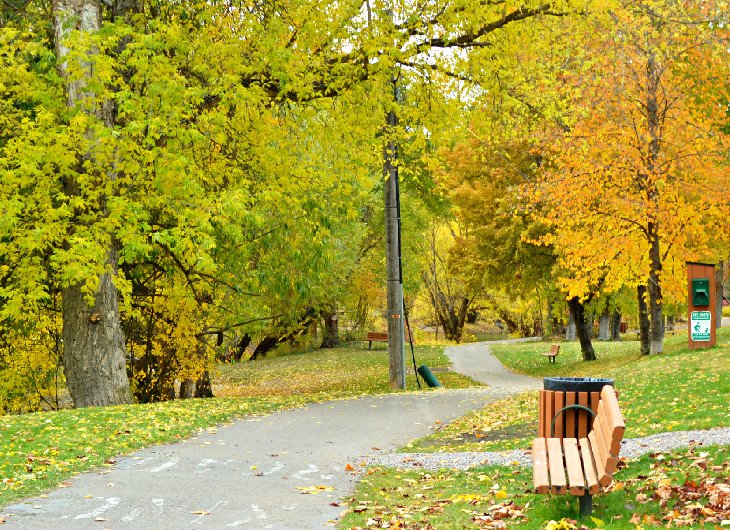 Baker Park is an easily accessible natural space near downtown and part of a larger network of city parks that allows visitors to easily enjoy the surrounding environment. Baker Park connects to Riverside Park by a paved trail system and provides a large playground and an abundance of picnic space, including a gazebo and tables.
With access to the Whitefish River, launching a canoe or fishing from the floating dock is also popular at this city park. Three public tennis courts and a Whitefish River pedestrian bridge are also onsite, connecting the two parks with a popular route for bicyclists and stroller pushers.
11. Whitefish Theatre Company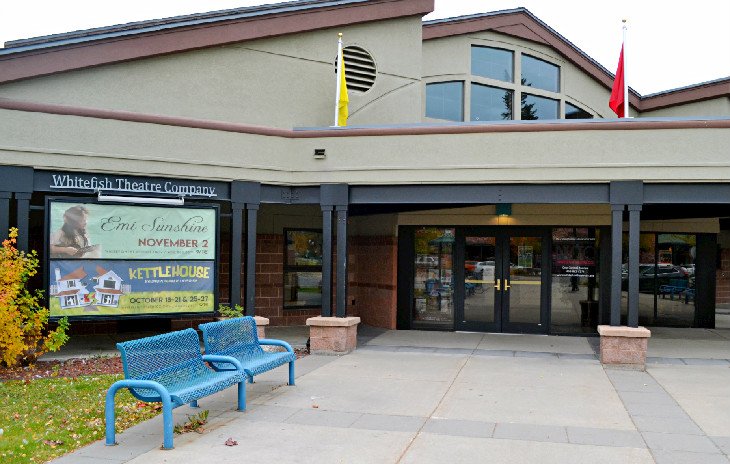 For some added community attraction, the Whitefish Theatre Company has been putting on culturally relevant shows for over 40 years. Today, this non-profit theater company calls the fully accessible O'Shaughnessy Center home, including a 328-seat thrust theater. Alongside plays and musical theater, the company and stage host reader's theater, nationally touring music acts, and special events.
For even more cultural attraction, the nearby Whitefish Performing Arts Center (PAC) also hosts yearly performances, including large productions courtesy of the internationally renowned Alpine Theatre Project.
Address: 1 Central Avenue, Whitefish, Montana
12. Hungry Horse Dam & Hungry Horse Reservoir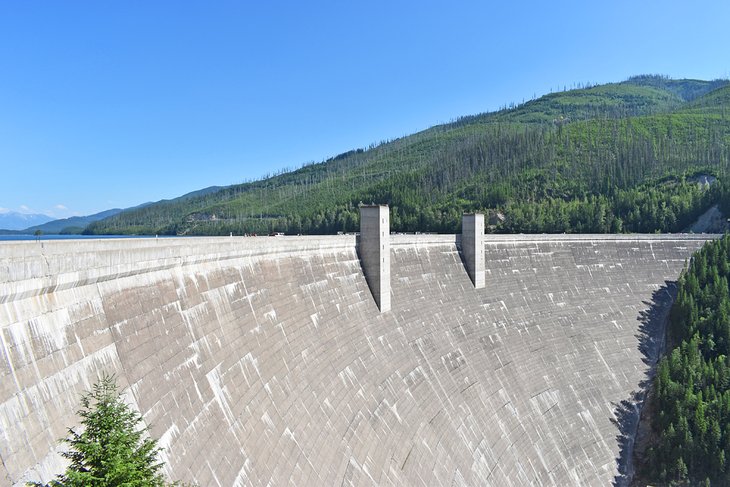 Despite being over 34 miles long, the Hungry Horse Reservoir is still a hidden gem of the region. This massive water source results from the 564-foot Hungry Horse Dam, one of the country's tallest, impounding the Flathead River's South Fork. And for those visiting Whitefish, it's less than a half-hour drive to enjoy the watery expanse.
Hungry Horse Reservoir is within Flathead National Forest, surrounded by several pointed Rocky Mountain peaks. Primarily gravel roads surround the entire lake, lending access to several Forest Service campgrounds and hiking trails.
A visitor center at the dam provides insight into the structure, including how it got its unique name. The visitor center also provides guided tours of the dam's crest, which visitors drive over to reach the rest of the lake. Nearby, a morning-glory spillway also draws attention, especially when lake levels rise to spill water over its lip.
Map of Attractions & Things to Do in Whitefish, MT
Whitefish, MT - Climate Chart
Average minimum and maximum temperatures for Whitefish, MT in °C
J
F
M
A
M
J
J
A
S
O
N
D

-2

-11

2

-9

7

-6

13

-2

18

3

22

7

27

9

27

9

21

3

13

-1

3

-5

-1

-9

PlanetWare.com
Average monthly precipitation totals for Whitefish, MT in mm.

48

37

31

36

63

73

50

38

31

26

51

53
More Related Articles on PlanetWare.com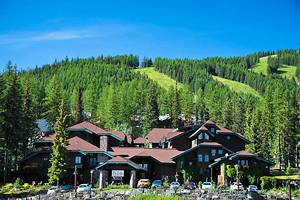 More Adventures in Montana: The many top-rated attractions of Montana outshine one another with natural and cultural appeal. A couple of hours south of Whitefish, the collegiate city of Missoula also offers plenty of natural attractions. Bozeman is another popular city in Montana and home to Montana State University and a variety of fun things to do. The state capital of Helena also delivers on attractions, including access to scenic and wild environments. For an overnight experience that delivers on comfort, the top-rated resorts of Montana feature scenic backdrops and friendly service.