12 Top-Rated Things to Do in Kalispell, MT
Situated between Flathead Lake and Glacier National Park, Kalispell is the largest city in Northwest Montana. This prime location lends to unforgettable adventures throughout the year. From high alpine hiking trails to wild rivers teeming with trout, gorgeous Rocky Mountain landscapes surround all sides of the city. These intrepid areas lend to a long list of quintessential Montana adventures.
A top reason to visit Kalispell is to ditch the crowds and get outdoors. One of the reasons for repeat visits, however, is the friendly community. All down Main Street, places like local restaurants and mansion museums provide other fun things to do between adventures.
Find your next reason to move to Montana with our list of the top tourist attractions and things to do in Kalispell.
1. Drive the Going-to-the-Sun Road in Glacier National Park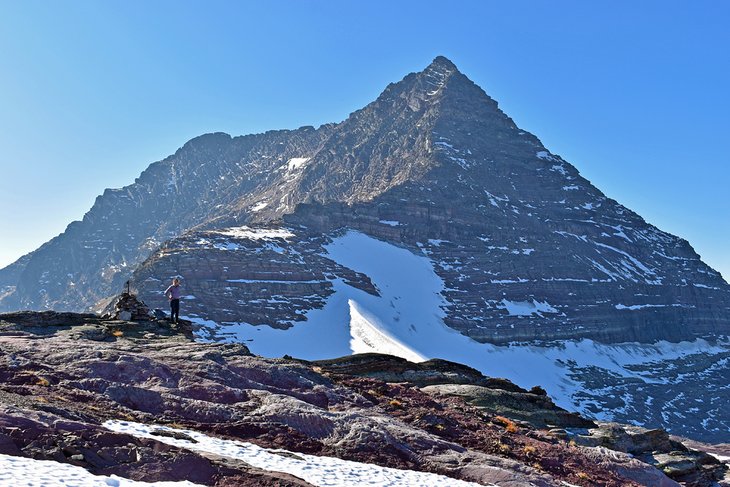 The Crown of the Continent is right at the backdoor of Kalispell. Glacier National Park's West Entrance is less than an hour's drive away. This proximity enables easy day trips to the park or makes the city a perfect basecamp before or after a big trip.
Exploring every lake, hiking trail, and campground at Glacier would take a well-spent lifetime. The West Entrance leads to mountain splendor right away at Apgar Village and Lake McDonald. This small area of the park can take up an entire visit with popular activities like hiking, boating, and marveling at the impressive Lake McDonald Lodge.
But it pays to continue from Lake McDonald once inside the park. Glacier's main thoroughfare is the 50-mile Going-to-the-Sun Road, which is the only paved route connecting both sides of the park. The road is a true marvel of engineering, as it crosses the Continental Divide at Apgar Pass. And the roadway reveals stunning landscapes as the route overlooks snow-crusted peaks and outstanding scenery.
Several of Glacier's best hiking trails stem from the Going-to-the-Sun Road. In the summer, big crowds lend to traffic jams on the skinny roadway and limited parking spots at Apgar Pass. It's recommended to check out the park's Going-to-the-Sun Road shuttle service to alleviate traffic concerns.
Official site: https://www.nps.gov/glac/index.htm
2. Ski at Whitefish Mountain Resort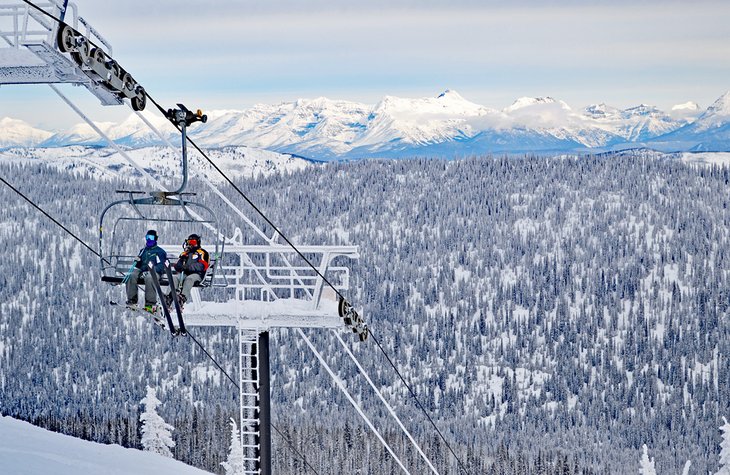 Great adventure destinations surround all sides of Kalispell. Come winter, Whitefish Mountain Resort, also known as Big Mountain, is one of the top places to visit. As one of Montana's best ski resorts, Whitefish delivers over 3,000 acres and an average of 320 inches of snow every season.
Discovering new runs at Whitefish can take up the entire day. And night skiing on the weekends lends to after-dark exploring. Among the 100-plus named routes on the mountain, the terrain also encompasses several glades and tree runs, often hiding a powder stash. Eleven chairlifts service the mountain and keep the generous crowds spread out.
While Whitefish Mountain Resort is the central destination for winter fun, Kalispell enables all types of adventure in the cold season. Several groomed cross-country ski and snowmobile trails meander the surrounding Flathead National Forest. Dogsledding is also popular in the neighboring community of Bigfork at Base Camp Bigfork.
Official site: https://skiwhitefish.com/
3. Stand in Awe at Flathead Lake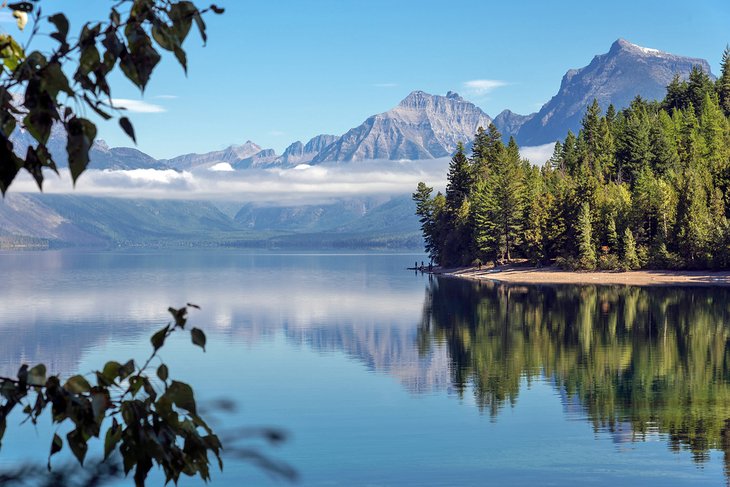 The largest natural freshwater lake west of the Mississippi River is less than a 15-minute drive south of Kalispell. And at nearly 30 miles in length with 185 miles of shoreline, Flathead Lake offers all sorts of ways to spend the day. A popular first reaction to seeing so much water is simply saying "wow" to the lake's enormity.
The southern half of the lake is on land owned by the Confederated Salish and Kootenai Tribes Flathead Reservation. Recreationists here need to purchase a tribal recreation pass. Montana Fish & Wildlife maintains 13 sites on the other half of the lake. Some areas, like Yellowbay, feature tent camping.
Popular activities at Flathead Lake include boating, fishing, and swimming. Places like Glacier Outdoor Rentals in Kalispell have pontoon boats available to rent. Like Big Fork and Polson, other communities with quaint shops and places to eat make great stops while driving around the lake.
4. Hike into Jewel Basin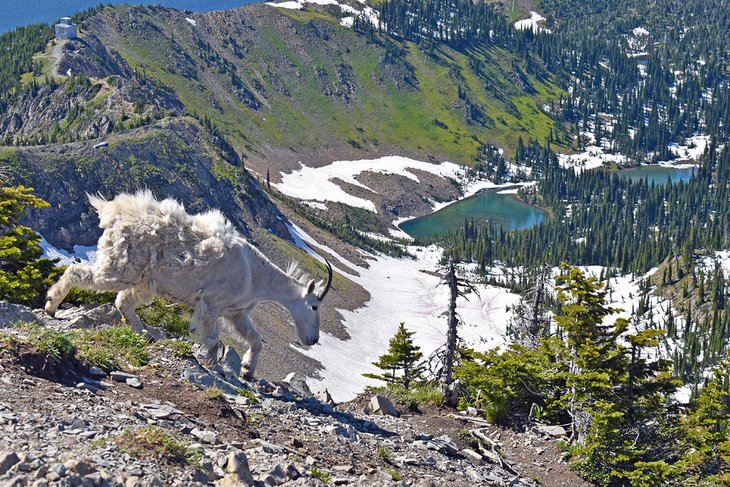 Jewel Basin is a premier hiking destination a half-hour drive from Kalispell. This hiking-and-backpacking-only area encompasses over 15,000 acres within Flathead National Forest. Prime time to hike in this high-alpine environment is July and August when the trail is mostly free of snow. These summer months are also the time to expect moderate crowds on the trail.
One of the most popular spots to start exploring Jewel Basin is the Camp Misery Trailhead. A high-clearance vehicle helps access this high-elevation parking area. From Camp Misery, one of Montana's best hiking trails heads down to Birch Lake. The route circumnavigates this stunning alpine lake lined with potential spots to camp and excellent views.
Alternatively, from the Camp Misery Trailhead, hikers can head up to the summit of Mt. Aeneas (7,528 feet). This exciting climb reveals excellent views of the Flathead Valley and surrounding Swan Mountains. The hike also typically passes through mountain goat habitat, where these alpine animals pose for a zoom lens.
Official site: https://www.fs.usda.gov/recarea/flathead/recarea/?recid=77671
5. Stroll along Main Street Kalispell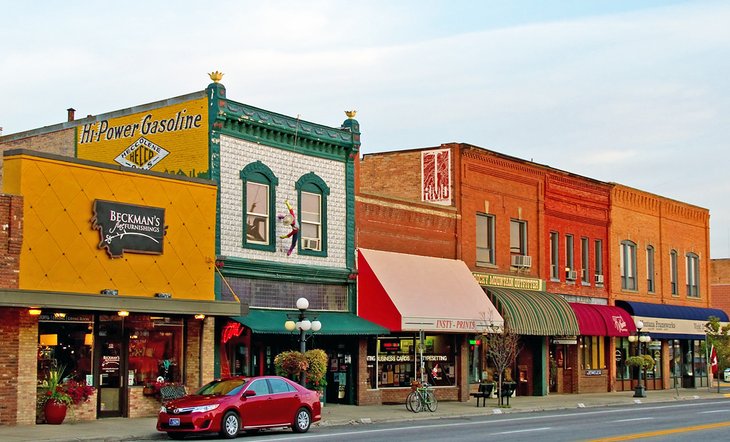 Kalispell is the largest city in Northwest Montana and a hub of the local economy. While big adventures await outside city limits, more than one day is well spent exploring downtown surrounding Main Street.
Many colorful facades from the town's founding in the 1890s remain today. However, several storefronts house more modern establishments, including boutique shops, galleries, and local restaurants. And on sunny summer weekends, this pedestrian-friendly area is crawling with foot traffic.
Hops Downtown Grill on South Main Street, and The Desota Grill nearby, are two of the most popular restaurants for a sit-down dinner. For dessert, Sweet Peaks in Kalispell is a regional favorite for homemade ice cream. On the opposite end of the day, Sykes Diner and The Knead Cafe are hot spots for breakfast entrees.
6. Tour the Conrad Mansion Museum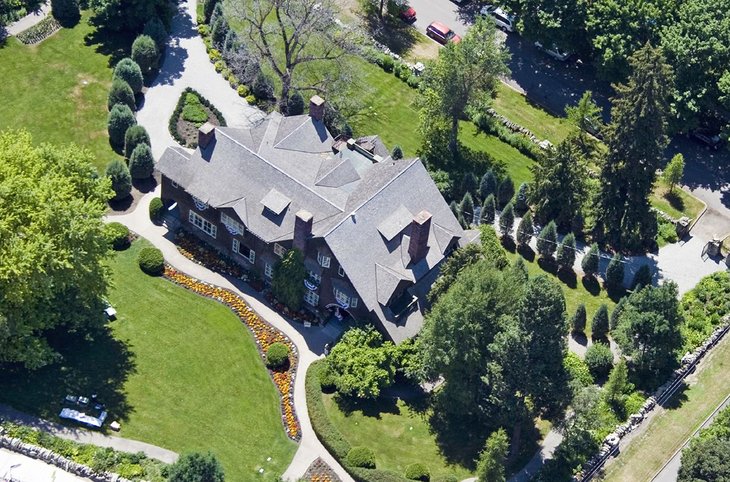 Visitors take a step back in time when visiting the Conrad Mansion Museum near Woodland Park. This 13,000-square-foot Norman-style mansion once belonged to the family of Kalispell's founder, Charles Conrad, and has operated as a museum since 1974.
The mansion today resembles what it looked like when the Conrad family originally furnished the home in 1895. This antique decoration allows visitors to get a glimpse into the lifestyle of one of Montana's most pioneering families.
Guided tours are the only way to see the elegant interior of the mansion. Sightseeing tours are available Tuesday through Sunday between May and October. Tours in the off-season are by appointment only.
The mansion encompasses three acres of immaculately kept grounds. Alongside the interior tour, guests are encouraged to explore the gardens that surround the property. Conrad Mansion Museum also hosts special events throughout the year, including a Christmas Carol Radio Broadcast in December.
Official site: https://conradmansion.com/
7. Take a Day Trip to Lone Pine State Park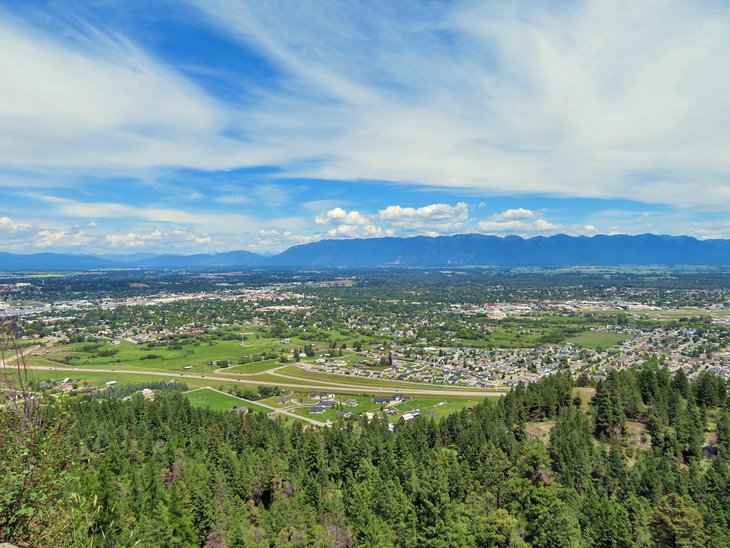 Lone Pine State Park provides an easy day trip from Kalispell within a five-mile drive. This 270-acre state park sits on the city's southwest edge and offers great views, picnic areas, and an engaging visitor center. Lone Pine is also home to over seven miles of multi-use trails that overlook Flathead Lake and the Flathead Valley.
Hikers, mountain bikers, and horse riders all find room to explore at Lone Pine. Beginning around May, wildflowers take over the routes for a brilliant display. The summer season warms up at Lone Pine, and the verdant countryside invites all-day exploration. The trail system caters to snowshoers in winter, and snowshoes are available to rent from the state park.
The newly constructed visitor center includes interpretive displays about the local flora and fauna at the park. This educational facility also features ample meeting rooms where adult workshops and children's field trips take place.
Official site: http://stateparks.mt.gov/lone-pine/
8. White Water Raft the Middle Fork of the Flathead River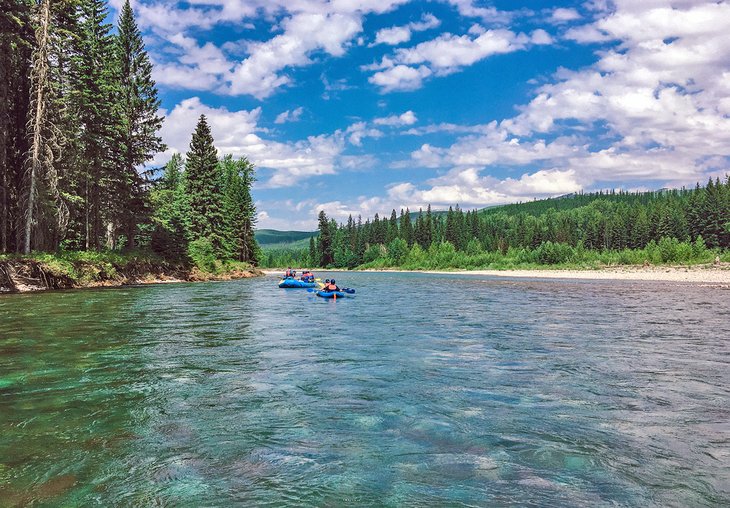 The Middle Fork and North Fork of the Flathead River flow along the southern and western border of Glacier National Park. They also offer some of Montana's best white water rafting. With no rafting allowed inside park boundaries, these two wild waterways offer the best view of Glacier from inside a raft.
White water rafting from Kalispell makes for a great day trip. Most guided trips depart from West Glacier, 30 miles northeast of the city near the park's entrance. Companies like Glacier Guides and Glacier Raft Company offer half- and full-day trips. Both companies also feature exhilarating multi-day trips with nights camped under the stars.
9. Take Some Time in a Kalispell Museum
Kalispell has three prominent museums within a few blocks of each other. These educational institutions offer a fun rainy-day activity or break between adventures.
The Northwest Montana History Museum, on 2nd Avenue, tells the comprehensive cultural history of the Flathead Valley region. Permanent exhibits at the museum range from honoring early residents to the booming logging industry. The museum also displays information about the indigenous culture that has and continues to call the region home.
A block to the south, the Hockaday Museum of Art encourages other cultural exploration. This family-friendly museum displays a rotating collection of local, national, and international artists. The museum also features a permanent Crown of the Continent Glacier National Park Gallery with works capturing the park's natural beauty.
Four blocks to the east, the Conrad Mansion Museum offers a walk-through of Kalispell's early pioneer days. All three museums offer a full day of exploring or a fun impromptu way to spend the afternoon.
10. Hit the Greens at Buffalo Hill Golf Club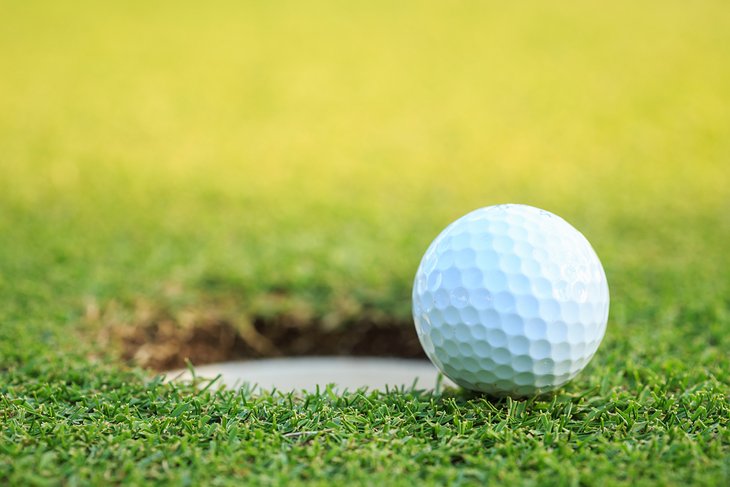 The Flathead Valley isn't only known for its significant alpine surroundings and massive lakes. The area is also a hot spot for beautiful golf courses with mountain views.
On the northern edge of Kalispell, Buffalo Hill Golf Club ranks consistently as one of the region's must-play courses. This famous club offers public tee-times and 27 holes of signature golf. The club's original nine holes, the Cameron Course, features narrow fairways and challenging play. And the 18-hole championship course comes with postcard views from every tee box.
Northern Pines Golf Club and Village Greens are two other popular public courses in Kalispell. And almost every community nearby has a signature course of their own. Some other notable favorites include Whitefish Lake Golf Course, Polson Bay Golf Course, and Meadow Lake Golf Course in Columbia Falls.
Official site: https://www.golfbuffalohill.com/
11. Get a Great View at Herron Park
Beyond Lone Pine State Park on the southwest edge of town, Herron Park provides another easily accessible network of trails. The parkland is popular with locals and attracts hikers, mountain bikers, and horseback riders. The area is also well visited for cross-country skiing come winter.
The trails at Herron Park accommodate all levels of outdoor ability. During the summer, the park's signature viewpoint is atop Foy's Overlook, accessible by various routes. An excellent view of the Flathead Valley awaits hikers who make it to the top.
The trail system extends beyond the 440 acres managed by Flathead County. Longer trails in the area venture into private property where non-motorized usage agreements are in place. Trail users are asked to respect private property markers and to share the trails with all other users.
For an extended adventure, the Foy's to Blacktail Trail extends 15.5 miles south from Herron Park to Blacktail Mountain. In the winter, alongside groomed ski routes, Herron Park is also popular for sledding.
12. Splash around at Woodland Water Park
Woodland Water Park is a favorite spot for locals to cool off during the summer season. It's the only outdoor water park in Kalispell and operates only during the summer. The park features two three-story slides, a lazy river, and a six-lane lap swimming pool. The pool also hosts evening events, including family nights and doggie days.
The neighboring Woodland Park features abundant green space to check out after swimming. The park is a prime area for picnicking and laying a blanket out on the grass. The park also features a playground, flushing restrooms, and a skateboard park.
Official site: https://www.kalispell.com/248/Woodland-Water-Park