10 Best Campgrounds near Missoula, MT
Author Brad Lane, an avid outdoorsman, lived in Missoula between 2018 and 2021 and enjoyed many camping trips in the area.
Missoula is an adventure-packed city in Western Montana and an excellent base camp to explore the state's great outdoors. Rocky Mountain peaks and Lolo National Forest surround this university city in every direction, and the town becomes a particular hot spot come summer. During this time of year, campgrounds, hotel rooms, and places to stay become valuable commodities.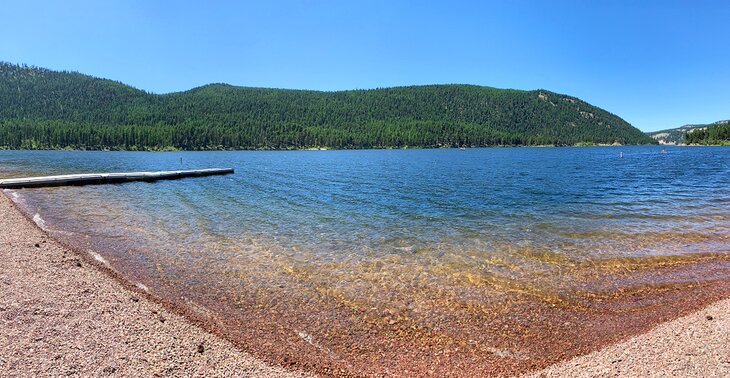 Missoula has a few private campgrounds close to the city, like the Missoula KOA near Reserve Street. However, most of the camping opportunities surround the town and are within a short drive. These places to pitch a tent or park an RV include Forest Service campgrounds and hot spring resorts and are excellent jumping-off points for memorable Montana adventures.
Every developed campground comes with standard amenities like a parking space, fire ring, and picnic table. Other developed sites include electricity, Wi-Fi, and shower houses. Dispersed camping is also an abundant option in the national forest, with no fees and no amenities.
Unless a campground is all first-come, first-served, it's advisable to look into reservations in advance for National Forest Service campgrounds. You can also book reservations online at state parks.
Find your next best place to spend the night with our list of the top campgrounds near Missoula.
1. Missoula KOA Holiday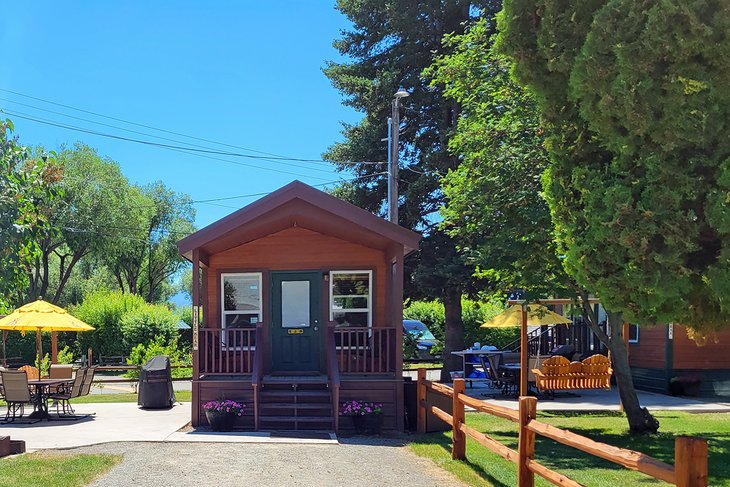 The Missoula KOA is the closest campground to the town's center. It's conveniently tucked between North Reserve and Broadway Streets, close to Interstate-90. This excellent location lends privacy in an otherwise busy area of town. It also lends easy access to Missoula adventures and beyond.
The KOA offers a variety of campsites for RVs and tents. All RV sites include full electric hookups, and some include sewer drops and water connections. Tent accommodations range from non-electric individual sites to tent villages with electricity. The KOA also features various camping cabins and shelters, including a luxury teepee with two beds and electricity.
Its several unique amenities and community feel are a real bonus of the KOA Holiday. Outside of the standard picnic tables and fire rings, the KOA also has a seasonal outdoor pool, snack bar, and miniature golf. Other notable amenities include laundry facilities, fenced dog walks, and an adult-only hot tub.
Address: 3450 Tina Avenue, Missoula, Montana
2. Jim & Mary's RV Park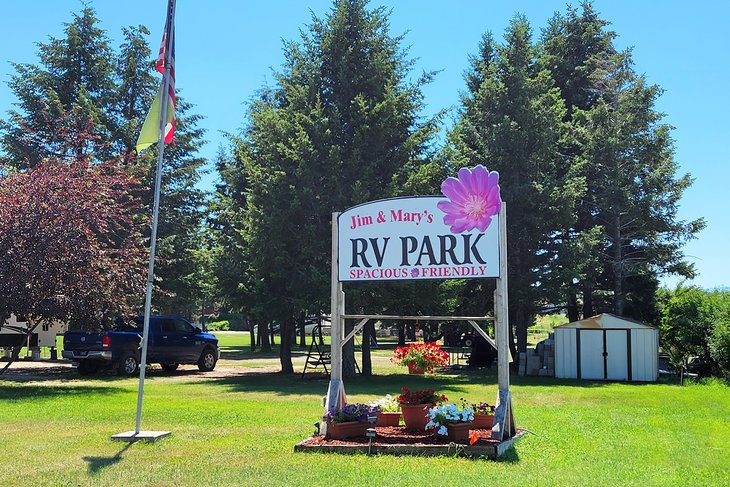 Jim & Mary's RV Park is a popular RV campground close to town. It's on Highway 93, just off Interstate-90, 10 miles northwest of downtown. The campground caters only to RVs, with every site offering 30- or 50-amp electrical hookups. All sites also come with water connections, and most have sewer drops. Other amenities include cable and Wi-Fi.
The location of Jim and Mary's RV Park is ideal. It's right off the Highway 93 exit on Interstate-90, which is the main route to Flathead Lake and West Glacier from Missoula. It's approximately a 130-mile drive to Glacier from the RV Park. Destinations surrounding Flathead Lake, like the tourist-friendly Polson, are accessible from the RV Park in less than an hour's drive.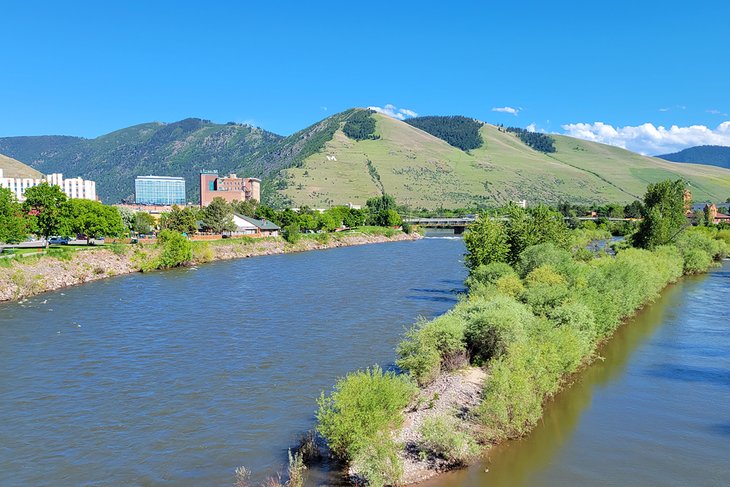 The campground is also within a 15-minute drive of downtown Missoula. This proximity allows campers to stop in for summer events, Missoula attractions, and a wide selection of grocery stores. And being so close to Interstate-90, other Montana adventures stem east and west of the campground.
What makes Jim & Mary's a special place to stay is the community that camps each night. The summer is an especially fun and festive time to visit, when live music and other social events occur throughout the week. The affordable price also makes it a popular place to bring an RV.
Address: 9800 US-93 N, Missoula, Montana
3. Big Larch Campground, Seeley Lake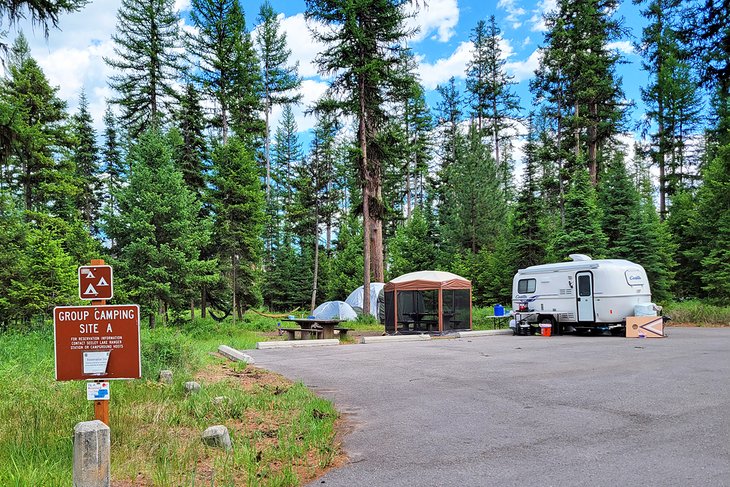 This Forest Service campground is approximately an hour's drive northeast of Missoula on the eastern shoreline of Seeley Lake. The campground has 48 popular sites, available on a first-come, first-served basis. For those looking to nab a spot in the summer, plan to arrive early at the campground.
The campground caters to RVs and tents, but no hookups are available. Each site comes with a picnic table, fire ring, and access to vault toilets. Potable water is also available during the peak operating season: Memorial Day through Labor Day (May through September). The campground also features picnic areas and a paved boat launch to access the water.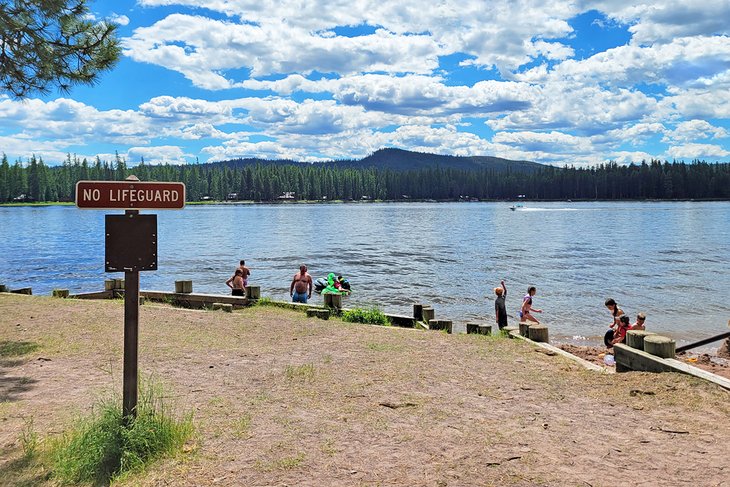 Big Larch isn't the only campground on Seeley Lake. On the western shoreline, River Point and Seeley Lake Campgrounds both have spots available. Seeley Lake Campground is particularly popular with motorized boaters looking to get onto the water. And River Point caters more to non-motorized watercraft endeavors.
4. Harry's Flat Campground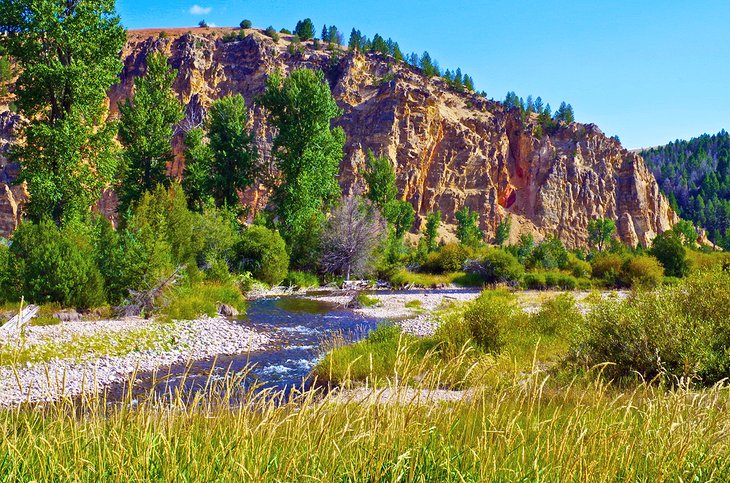 Harry's Flat Campground is one of several first-come, first-served campgrounds near Rock Creek east of Missoula. As one of the best places to fly fish in Montana, anglers from near and far covet these campsites next to this famous fishing corridor.
Harry's Flat is accessible from Missoula by heading east on Interstate-90 and turning onto Rock Creek Road. Expect slower travel time on the gravel Rock Creek Road. The campground is primitive, with no resources available. This lack of amenities means campers need to supply their own fresh water and pack out all their trash. Picnic tables, fire rings, and vault toilets are available.
Visitors pass two other campgrounds with similar accommodations en route to Harry's Flat. The first, Norton Campground, has 13 sites available, followed by Dalles Campground with 10 sites. Again, expect moderate crowds during the fishing season. Grizzly Campground is an alternative place to stay nearby, within the adjacent Ranch Creek drainage.
5. Beavertail Hill State Park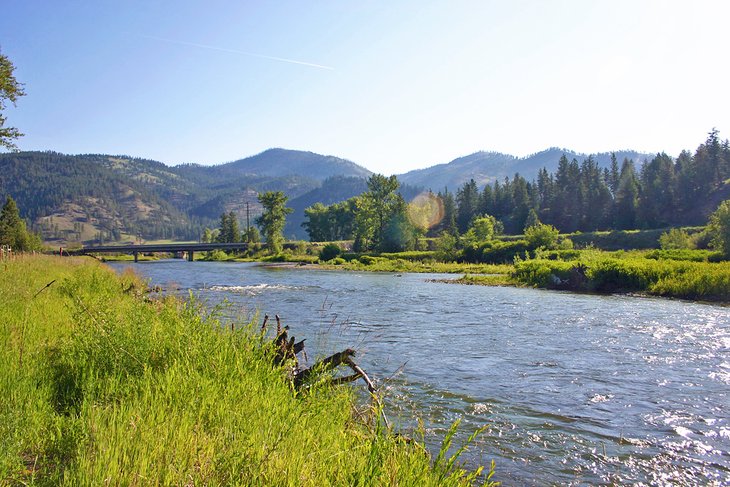 Beavertail Hill State Park offers a family-friendly camping experience less than 30 minutes east of town. The site is on the Old Milwaukee Railroad line, and the iconic Clark Fork River cuts through a mainstay of the park. This proximity to the water lends to swimming, fishing, and boating as the most prevalent activities.
The state park has 24 campsites available on a first-come, first-served basis. These sites accommodate tents and small recreation vehicles up to 28 feet long. Every site has access to vault toilets, picnic tables, and fire rings. The campground also has two Sioux-style tipis available to rent, with capacities to sleep up to six people.
A swimming beach is popular at the campground, especially throughout the summer months. It's a short distance from the parking area for those looking to launch a non-motorized vessel into the water. The campground is also home to a developed nature trail that wanders through a scenic grove of cottonwood trees.
6. Salmon Lake State Park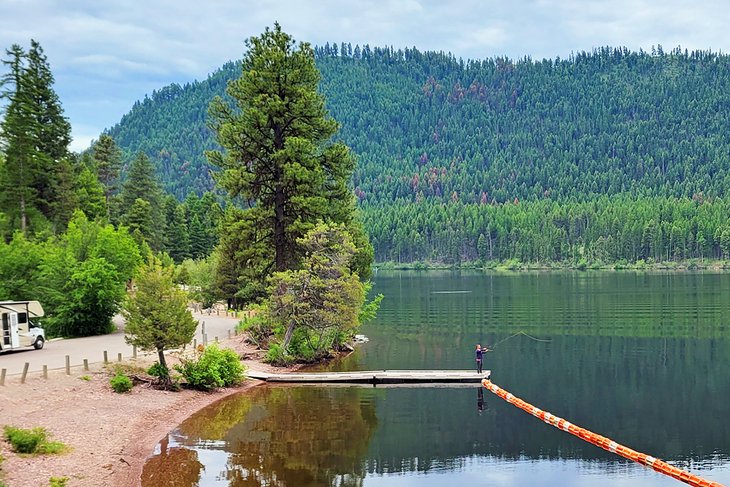 Salmon Lake is 45 minutes northeast of Missoula, at the southern end of the Clearwater chain of lakes on Highway 83. And it offers a stunning place to spend the night. The Mission and Swan Mountains sandwich the lake at an elevation of just under 4,000 feet. This alpine backdrop and fair-weather altitude offer postcard landscapes throughout the summer.
The state park's campground has 24 sites available. All sites accommodate tents or RVs, and 15 sites have electric hookups. All overnight guests have access to potable water and pit toilets. Reservations are available six months in advance. The campground also features a nice hiker/biker site for those traveling by human-powered transportation.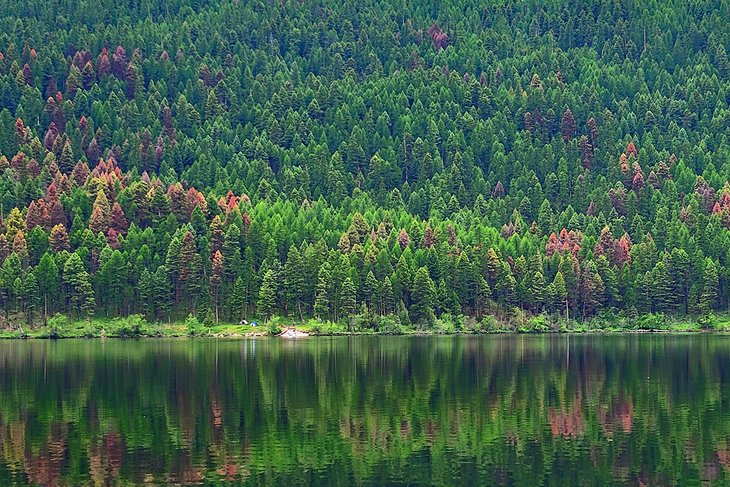 The most popular activities at the state park center around the lake. A boat launch makes getting on the water easy. Fishing is also popular, with several species teeming in the water. A few fish to cast a line for include kokanee salmon, yellow perch, northern pike, and various trout.
Address: 2329 MT-83, Seeley Lake, Montana
7. Lolo Hot Springs Campground
Lolo Hot Springs, one of Montana's best hot springs, is a 45-minute drive south of Missoula on Highway 12. Alongside an indoor hot pool, the facility offers several visitor experiences on its 125-acre property. Horseback riding, frisbee golf, and snowmobiling are some other things to do at the resort.
Lolo Hot Springs also hosts a popular campground with approximately 50 RV sites and 30 tent sites. Heated cabins are also available. RV sites have water and electric hookups, and every overnight guest has access to heated bathrooms and shower houses.
Guests tend to gravitate toward the Lolo Hot Spring restaurant next to the campground. This friendly and local eatery has menu items for all three meals of the day. It's also a place to check email, with free Wi-Fi available. And throughout the summer, this venue hosts live music every Saturday night.
For more of a night in nature in the same area, Lee Creek Campground is less than two miles south. This Forest Service campground only has basic amenities, including picnic tables, fire rings, and vault toilets. But with nearby creeks comprising the soundtrack at the campground, it's a great spot to connect with nature. All 22 sites are available on a first-come, first-served basis.
All 22 sites are available on a first-come, first-served basis.
Address: 38500 US-12, Lolo, Montana
8. Quartz Flat Campground
Quartz Flat is the first Forest Service campground along a scenic stretch of Interstate-90 heading west from Missoula. It's directly off the interstate, approximately 50 miles west of town. Despite the occasional traffic noise and proximity to the pavement, the campground has a nice woodsy appeal thanks to the surrounding Lolo National Forest.
The entrance to Quartz Flat Campground is an official interstate rest area. Overnight visitors pass through the parking lot to access the campground. This ease of access from the roadway makes Quartz Flat a popular quick stop when passing through town. A few of the 78 sites are available for reservation, while a majority are first-come, first-served.
The campground accommodates tents and RVs with standard nonelectric sites. Potable water and vault toilets are accessible from each campsite.
Several more Forest Service campgrounds line the interstate further west toward the Idaho border. A few miles up the road, Trout Creek Campground offers a more secluded spot to camp with a gravel road approach. This creekside campground has 12 sites available on a first-come, first-served basis.
9. Square Dance Center & Campground
This unique campground and dance center is south of Missoula in the beautiful Bitterroot Valley. It's approximately a 20-minute drive from downtown. It's been operating as a square and round dance center since 1978, and today, it features a campground with several full hookup and electric RV sites. Dry camping and tent camping is also available.
While dancers and callers often occupy the sites, anyone is welcome to spend the night. The campground sits on 27 acres of pine and fir forest, with Lolo Creek running through the property. A few adventures stemming from the campground include hiking trails, fishing, and a stimulating Wiffle Ball course.
Outside of the stunning scenery, the primary draw to the campground is the Maplewood dance floor and air-conditioned dance hall. The campground hosts nightly evening square and round dances with a rotating cast of callers. Many of the weekday programs include workshops and clinics to hone some skills. skills. Be sure to check ahead to ensure the campground isn't rented out for special groups or square dance events.
Address: 9955 US-12, Lolo, Montana
10. Primitive and Dispersed Camping near Missoula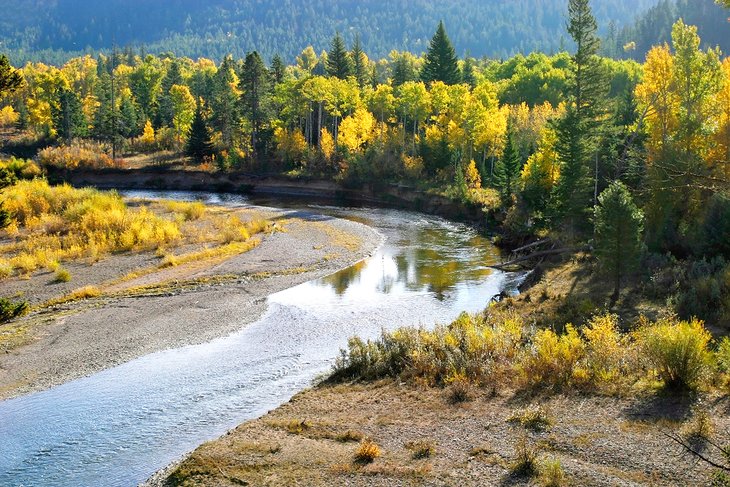 Dispersed camping is always a viable option for pitching a tent near Missoula with Lolo National Forest on all sides. Dispersed camping, also known as primitive camping, consists of setting up camp outside a designated campground in the national forest.
Primitive camping is free and requires packing in all necessary equipment, including water and bathroom supplies. Dispersed camping typically takes place on the side of a gravel Forest Service road. Campers should look for previously used spots to set up camp and ensure adequate distance from the road and water sources. Some spots in the national forest, such as designated Recreation Areas, may have some restrictions on dispersed camping.
Locating a primitive place to camp can require some patience while driving along gravel roads. However, the five district offices for Lolo National Forest, including the Missoula Ranger Office at Fort Missoula, can provide information on areas to check out. Alternatively, local fishing guides and camping gear stores in Missoula may be able to point campers in the right direction.
Several fishing access sites surrounding the city also maintain minimal campgrounds. The Blackfoot River, for example, has several sites with campgrounds operated by Montana Fish, Wildlife & Parks.
Map of Campgrounds near Missoula, MT
Best Time to Go Camping in Missoula
Camping is available in Missoula throughout the year, but arguably the best time to visit is the summer, specifically July and August. This time of year has the warmest weather and longest days. Expect sunny forecasts and temperatures averaging in the 80s Fahrenheit. It can become stifling hot this time of year, but it stays fairly dry with cool evening temperatures.
May and June are also excellent times to visit Missoula for camping. Expect a bit more precipitation but cooler temperatures. Some may even say this time of year is best, thanks to late-spring wildflowers and a lack of crowds. Skiing occurs at the nearby Snowbowl through March. Spring in Missoula starts closer to April, with decreasing rain as it proceeds to May.
September and October are also ideal times to visit Missoula for camping. September is increasingly part of the summer season in Missoula, transitioning to new colors by the end of the month. October offers spectacular autumn foliage throughout much of the state, with the end of the month usually marking the end of the camping season.