11 Best Hot Springs in Montana
In a state known for rugged landscapes and a long winter, hot springs in Montana are one of the best ways to soak in the beauty of Big Sky country. Many commercial facilities in the western half of the state offer natural hot spring pools with lodging and food options. Places like Quinn's Hot Springs, for example, offer fine dining and comfortable lodge rooms to enjoy after soaking in their many pools.
Other hot spring resorts in Montana include Elkhorn Hot Springs, Norris Hot Springs, and Chico Hot Springs. The biggest cities in western Montana, including Missoula, Helena, and Bozeman, have commercial hot springs nearby. Places like Bozeman Hot Springs often host celebrated parties and events. Montana hot springs are just a part of a great Montana experience.
Hot springs in Montana lend easy access to recreation options like skiing, hiking, and exploring Yellowstone National Park. Find the best places to take a relaxing dip with our list of the top hot springs in Montana.
1. Quinn's Hot Spring Resort, Plains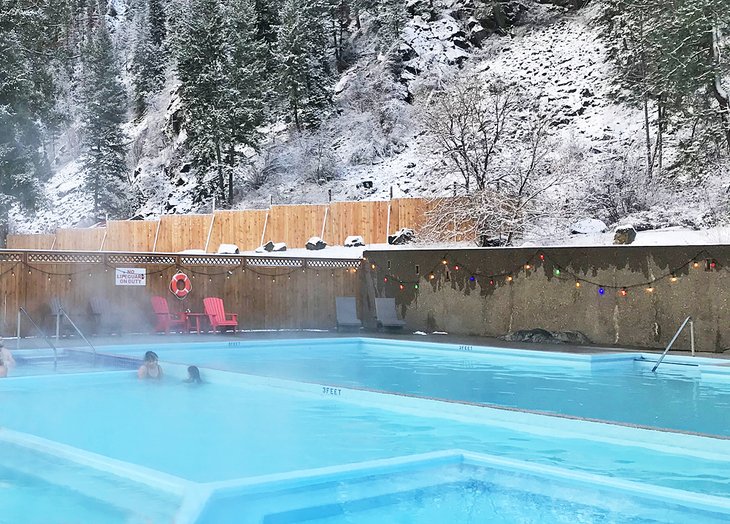 Regarded as one of the best hot spring resorts in the state, Quinn's is a popular destination in western Montana to soak the day away. Quinn's features a variety of pools, with the highest soaking temperature reaching around 106 degrees. Quinn's also features an ice pool, which helps improve circulation when users rotate between hot and cold soaks.
Alongside a charming pool area, Quinn's also features a variety of lodging options. Many of the rooms in the two different lodges at Quinn's feature views of the adjacent Clark Fork River. Several of the 25 riverside and canyon cabins feature private accommodations with similar views.
Dining options at Quinn's include the Hardwood House Restaurant, with fine-dining options for breakfast, lunch, and dinner. Quinn's Tavern features more casual bites to eat and is a fun place to socialize late into the night. Many events and special packages are offered at Quinn's throughout the year.
All overnight guests at the resort have unlimited access to the pools. Those looking to visit just for the day need to call ahead to reserve their three-hour window.
Address: 195 Quinn's Canyon Road Route 135, Plains, Montana
Official site: https://www.quinnshotsprings.com/
2. Norris Hot Springs, Norris
With live music, a fresh garden, and a 30-by-40-foot pool, Norris Hot Springs is one of the most popular hot springs in Montana. Just south of Three Forks in southwest Montana, and an hour's drive from Big Sky, Norris Hot Springs is drained every night and cleaned without the use of chemicals. It takes about eight hours for the natural and heated mineral water to fill the pool.
The pool is a big appeal of Norris Hot Springs, as is the live music that occurs every Friday, Saturday, and Sunday. The stage is located adjacent to the pool so the music can be enjoyed while taking a soak. All performances are family-friendly and typically end before midnight.
Norris Hot Springs features a campground that accommodates RV and tent camping. Reservations are recommended throughout the summer.
The facility also features the 50 Mile Snackbar and 50 Mile Grill. The snack bar and grill feature organic items and gluten-free fare, as well as food that is grown on-site in the Norris Hot Springs garden.
Address: 52 MT-84, Norris, Montana
Official site: https://norrishotsprings.com/
3. Chico Hot Springs, Pray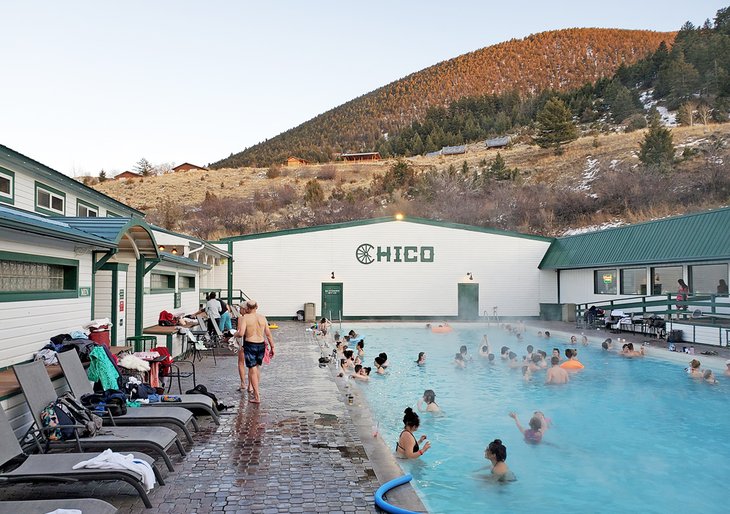 Established in 1900, Chico Hot Springs today features two open-air mineral pools and a long list of amenities. Alongside the chemical-free soaking at Chico, this commercial facility features a day spa, luxury lodging, and a historic dining room for fine dining. Chico also features a poolside grill.
Spa services at Chico include massages and body wraps. Overnight accommodations at Chico include rooms in the Historic Main Lodge and the nearby Fisherman's Lodge. Cabins are also available at Chico Hot Springs and range from luxury cabins with personal spa tubs to rustic cabins with private decks. All cabins feature private bathrooms. Chico also offers unique places to stay, including a renovated train caboose and glamping in a custom-built covered wagon.
Located 30 minutes south of Livingston, Chico is a popular basecamp for Montana vacations. Chico is also located less than an hour north from the Gardiner, Montana entrance of Yellowstone National Park.
Activities in the immediate region include hiking, bicycling, fly fishing, and river rafting in the summer. Popular winter activities include cross-country skiing, snowshoeing, and guided horse rides from the Chico Horse Barn.
Address: 163 Chico Road, Pray, Montana
Official site: https://www.chicohotsprings.com/
4. Elkhorn Hot Springs, Polaris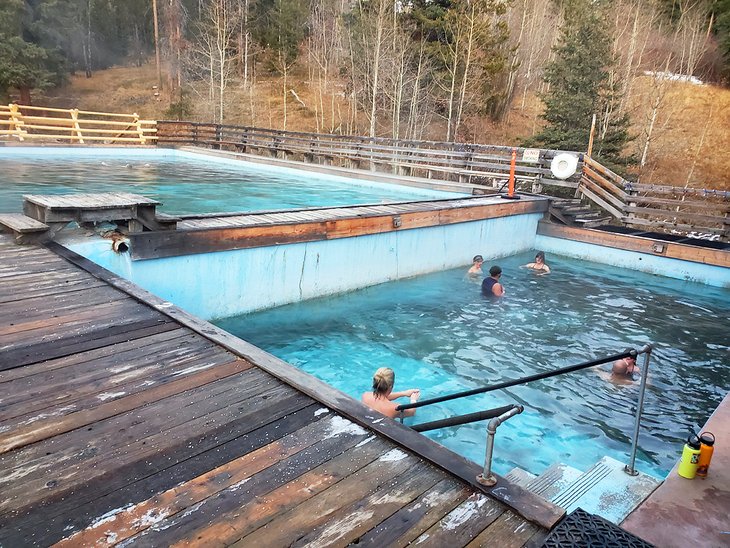 Elkhorn Hot Springs is on the Pioneer Mountains Scenic Byway in southwest Montana. The natural hot springs at Elkhorn were first built in 1918 and today consist of two large pool areas. Water is pumped from underground into the pools and moves with enough current that no chemicals are needed to treat the water. Pool temperatures range from 92 to 102 degrees, and the facility also features an indoor wet sauna that reaches up to 106 degrees.
Alongside the popular hot springs, Elkhorn also features cabins and lodges to spend the night. Dating over a century old, the lodge features a rustic decor with dormitory-style rooms and shared bathrooms. The cabins have a similar rustic appeal and can sleep anywhere between two and 10 people. Cabins at Elkhorn have electricity, a wood-burning stove, and outhouse lavatories located a short walk away.
Recreation surrounds the hot springs resort. Hundreds of miles of cross-country ski trails stem from the property into the Beaverhead-Deerlodge National Forest. Numerous snowmobile trails can also be accessed from Elkhorn Hot Springs. One of the best ski resorts in Montana, Maverick Mountain, is less than 10 minutes away. Crystal Park is also located just down the road and is a fun place for the family to pan for gemstones.
Location: Polaris, Montana
Official site: https://elkhornhotsprings.com/
5. Bozeman Hot Springs, Bozeman
Located eight miles west of Bozeman, this commercial hot spring facility features 12 different pools to enjoy. Mixed between indoor and outdoor places to soak, the pool temperatures at Bozeman Hot Springs range from 59 to 106 degrees. The indoor area at Bozeman Hot Springs also features a dry sauna. The outdoor area features decorative lighting and rock features that add to the ambience.
A popular place for special events, Bozeman Hot Springs hosts live music every weekend. The facility also hosts special events like student parties for the neighboring Montana State University. Bozeman Hot Springs also offers private swimming lessons and daycare.
Unique to Bozeman Hot Springs, the facility also features a state-of-the-art fitness facility on-site. This allows guests to work out and then take a dip in any one of the 12 pools. Alongside contemporary machines and free weights, the fitness facility at Bozeman Hot Springs offers guided fitness classes and one-on-one training.
Address: 81123 Gallatin Road, Bozeman, Montana
Official site: https://bozemanhotsprings.co/
6. Yellowstone Hot Spring, Gardiner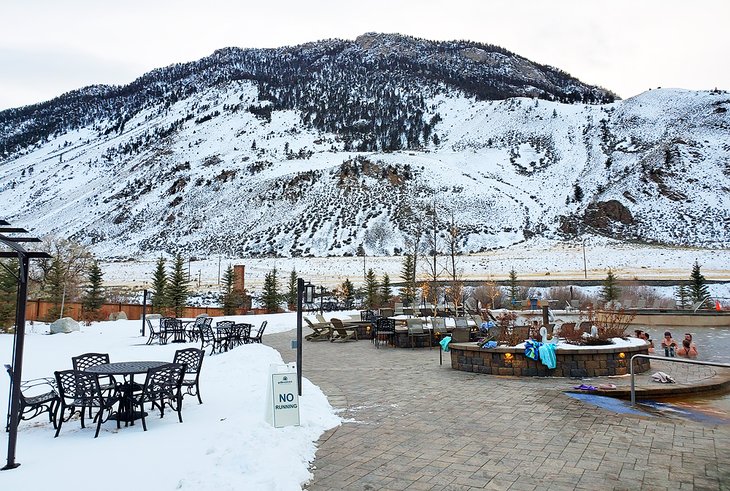 About 10 minutes north of the Gardiner entrance to Yellowstone National Park, this commercial hot spring facility provides one of the most scenic places to soak in the state. Featuring over 4,000 square feet of mineral pools, every spot in the water features beautiful views of the surrounding mountains. Visitors at Yellowstone Hot Spring take advantage of the cold and hot soaks available, which range in temperature from 67 to 104 degrees.
With soaking opportunities throughout the year, Yellowstone Hot Springs operates only on the weekends during the winter. Lodging options and a campground are across the street from Yellowstone Hot Spring at Yellowstone Destinations. Yellowstone Hot Springs is an alcohol and smoke-free facility.
Another unique soaking opportunity is found in Yellowstone National Park nearby. The Boiling River of Yellowstone National Park is one of the few places that visitors can soak in a hydrothermal attraction of the park. The Boiling River is located just past the Gardiner entrance to the park.
Address: 24 E Gate Road, Gardiner, Montana
Official site: https://yellowstonehotspringsmt.com/
7. Lolo Hot Springs, Lolo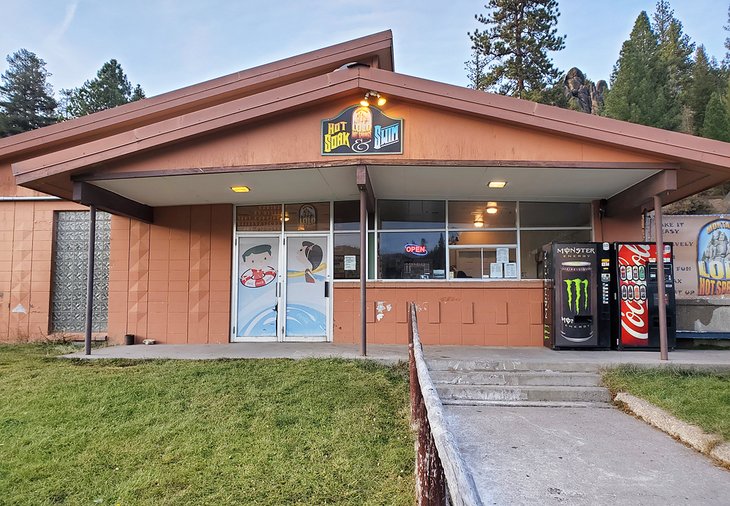 Less than 40 miles southwest of Missoula, Lolo Hot Springs is a central hub for outdoor activity. Surrounded by the Lolo National Forest, on 125 acres of private property, this commercial facility has an indoor heated mineral pool and a large outdoor pool area. The indoor mineral pool reaches up to 106 degrees Fahrenheit. Alongside a great place to soak, Lolo Hot Springs also features lodging, recreation activities, and a restaurant.
A campground and a variety of cabins are available at Lolo Hot Springs. The Lodge at Lolo Hot Springs offers breakfast, lunch, and dinner. The lodge is also a central spot for activities and events. The resort regularly hosts live music on the weekends. Horseback riding, frisbee golf, and numerous hiking trails stem out from the property for summer enjoyment. The area is also popular for snowmobiling throughout the winter.
Address: 38600 US-12, Lolo, Montana
Official site: https://www.lolohotsprings.com/
8. Symes Hot Springs Hotel, Hot Springs
A historic resort hotel located in Hot Springs, Montana, Symes Hot Springs Hotel is a blast from the past with modern amenities. Three pools are available at Symes ranging from a 95-degree swimming pool to a 107-degree soaking tub. The hotel features over 30 rooms to choose from with various mattress choices. Some rooms include a claw-foot bathtub or personal Jacuzzi.
The Symes Bathhouse Grill & Cantina features a large dinner menu with steak, seafood, and chicken entrees. The Grill also features a lunch menu and a daily breakfast buffet with hot items like biscuits and gravy. Special events like the Symes Hot Springs Blues Festival occur throughout the year at Symes Hot Springs Hotel and in the surrounding town of Hot Springs.
Address: 209 N Wall Street, Hot Springs, Montana
Official site: http://symeshotsprings.com/
9. Broadwater Hot Springs
One of the best hot springs near Helena, Broadwater features a spring pool, cold plunge, and recreational swimming pool. All soaking areas are filled with natural hot spring water, and the spring pool is kept to approximately 102 degrees. The cold plunge pool is between 60 and 70 degrees, and many guests enjoy taking a cold dip and working their way up to the warmest water.
The Spring's Taproom and Grill at Broadwater features an extensive lunch and dinner menu. A newly remodeled fitness space at Broadwater encourages workout routines before taking a dip. Water fitness classes like water aerobics are also offered at Broadwater.
Address: 4920 W, US-12, Helena, Montana
Official site: http://broadwatermt.com/
10. Jackson Hot Springs
In southwest Montana near the Idaho border, Jackson Hot Springs features a cozy western appeal. The family-friendly and outdoor pool at Jackson is open year-round and provides a great place to soak throughout the cold months of winter. The pool and surrounding facilities are only open Thursday through Sunday.
The Hot Springs Grill features breakfast, lunch, and dinner, as well as finger fare like onion rings and nachos. Overnight accommodations at Jackson Hot Springs include lodge rooms and cozy camper cabins. Pet-friendly accommodations are available at Jackson Hot Springs. Some of the rooms also feature private fireplaces.
Address: 108 Jardine Avenue, Jackson, Montana
Official site: https://jacksonhotspringslodge.com/
11. Lost Trail Hot Springs, Sula
The closest hot springs to Chief Joseph Pass and Lost Trail Powder Mountain, Lost Trail Hot Springs is a rustic and charming spot to take a soak. Surrounded by the Salmon-Challis National Forest, Lost Trail features a large 20-by-70-foot pool that averages between 92 and 96 degrees. A large greenhouse covers the pool during the winter and shoulder seasons. This maintains a comfortable above-water temperature during the coldest months of the year.
Lost Trail Hot Springs also features an indoor hot tub that reaches above 100 degrees. Lodging options at this commercial facility include cabins, lodge rooms, and RV parking spots.
Lost Trail also features the Sacajawea Lodge, which can accommodate up to 42 people. During the winter, the on-site restaurant at Lost Trail Hot Springs features New York-style thin-crust pizza.
Address: 283 Lost Trail Hotsprings Road, Sula, Montana
Official site: https://www.losttrailhotsprings.com/
More Related Articles on PlanetWare.com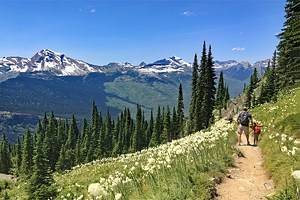 More Outdoor Adventure in Montana: Taking visitors to ice caves, mountain peaks, and scenic alpine lakes, the best hiking trails in Montana highlight the rugged beauty of the state. For overnight adventures, the top-rated campgrounds in Montana feature great places to pitch a tent or park an RV. To explore the Crown of the Continent and the crown jewel of Montana, our guide to Glacier National Park is a great place to start planning a Montana vacation.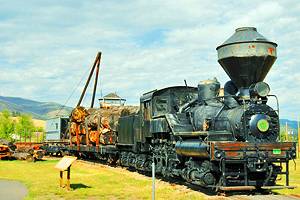 Cities to Visit in Montana: The state capital of Helena offers a look into the state's rugged past. For a combination of hiking trails, ski resorts, and mountain culture, the city of Bozeman is often a first place to visit when traveling to Montana. Farther west, the city of Missoula also has a state university and college campus appeal, as well as numerous ways to enjoy the surrounding mountains.