13 Top Things to Do in Montana in Winter
Author Brad Lane lived in Missoula for nearly three years and has many fond winter memories, though snowy hot springs stand out most in his mind.
Winter is a special time in the state of Montana. Montana's national forests and mountains get a new coat of snowy appeal throughout the colder months of the year. And the dropping temperatures usher in a whole new category of attractions and things to do within these snowbound landscapes.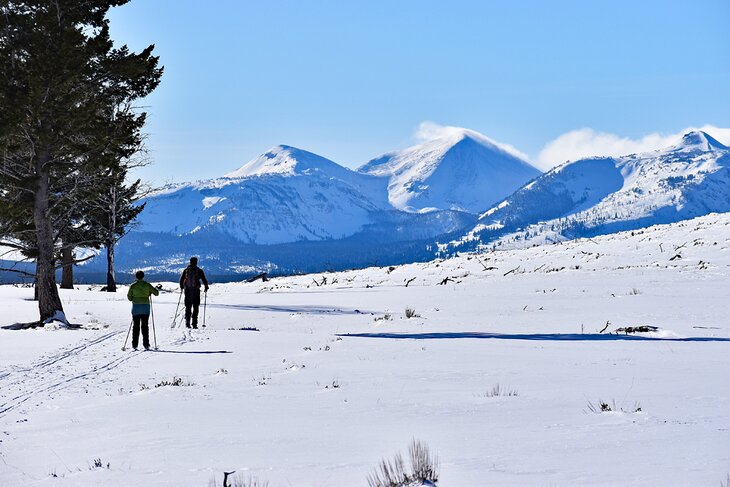 The ski and snowboard slopes in Montana are some of the best in the country. Alongside thousands of acres of skiable terrain, Montana ski resorts offer short lift lines and jaw-dropping terrain. Many of the best ski resorts in Montana are in the more mountainous western half of the state.
But the entire state delivers a variety of great outdoor things to do in winter. Other common winter adventures include cross-country skiing, snowmobiling, or soaking in a commercial hot spring. The 10 different national forests that cover the state of Montana support all these adventures and more.
Glacier and Yellowstone National Parks offer memorable winter visits. These bucket-list Montana destinations have far fewer crowds in winter due to the extra effort involved in visiting, including the use of snowcoach tours. Plan your winter trip accordingly, though, and these national parks in Montana sparkle under the winter snow.
Pack your parka and plan your next Montana adventure with these things to do in Montana in winter:
1. Ski or Snowboard at Whitefish Mountain Resort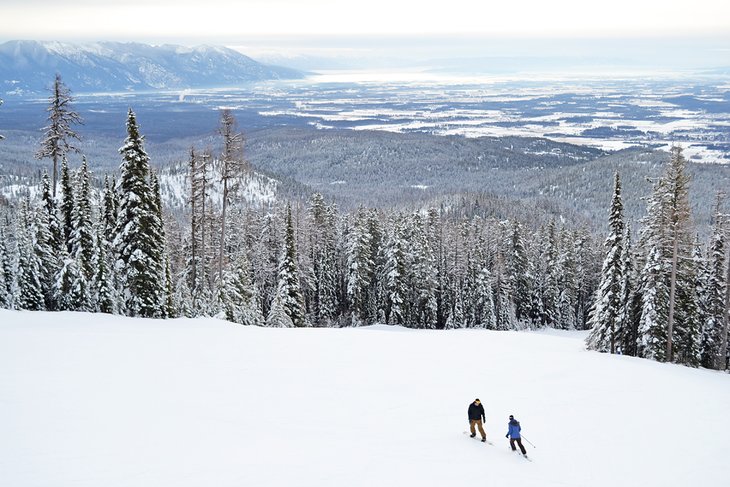 In northwest Montana and accessible by Amtrak, Whitefish is one of the number one places to visit in winter in Montana. Much of the wintertime excitement comes from the slopes of Whitefish Mountain Resort right at the backdoor.
With over 3,000 acres of accessible terrain, skiing at the "Big Mountain" behind Whitefish offers endless new tracks to make. And eleven chairlifts at the resort make it easy to get around. On bright days, great views of Glacier National Park and the surrounding Flathead National Forest stand out from the slopes.
It's not just downhill pursuits that make Whitefish a winter destination. Resort amenities on the mountain include restaurants, shopping, and a lodge. The resort also operates cozy places to stay, like slope-side condos and four-bedroom vacation homes.
The city of Whitefish also caters to winter vacations. Hotels, heated art galleries, and lively nightlife options add plenty of boot prints to the snow-laden sidewalks of downtown. And in February, the city hosts the acclaimed Whitefish Winter Carnival — one of the largest winter celebrations in the state.
And Whitefish is just one of the best ski resorts in Montana. The largest ski resort in the state, Big Sky Resort, offers unparalleled winter adventure and a summit journey on the Lone Peak Tram. Other local ski resorts, like Bridger Bowl and Snowbowl, are favorites for the university cities of Bozeman and Missoula.
Address: 1015 Glades Drive, Whitefish, Montana
2. Cross-Country Ski in Yellowstone National Park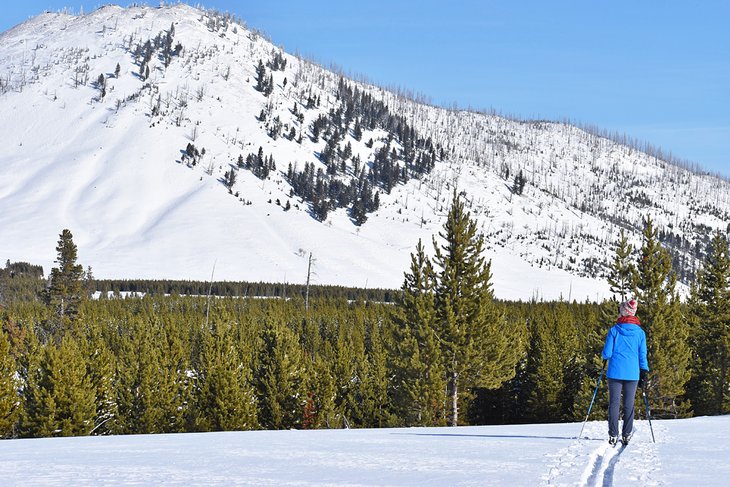 While much of Yellowstone National Park is in Wyoming, the park's two northern entrances are in Montana. The Northeast Entrance of the park is accessible via the summertime favorite Beartooth Highway. This scenic corridor is closed to vehicles in the winter.
The North Entrance, however, near Gardiner, opens the door to the winter wonderland of Yellowstone.
The Gardiner Entrance is 80 miles south of Bozeman through Paradise Valley. This entrance leads to the Mammoth Hot Springs area of the park, first passing by the aptly named Boiling River. At Mammoth Hot Springs, snow-covered boardwalks reveal a world of steaming travertine terraces. These hydrothermal features are even more scenic with melted snow surrounding their edges.
Groomed cross-country trails lace the Mammoth Hot Springs area. Routes like the Upper Terrace Loop are a great introduction to cross-country skiing in Yellowstone. More adventurous winter athletes can charter a ride on a snowcoach to find further-reaching trails in the park.
The town of West Glacier—one of the best small towns in Montana—is also a winter hot spot for cross-country skiing. This festive winter town boasts easy access to the national park's snow-covered roads, as well as premier cross-country ski trails in the adjacent national forest. The Rendezvous Ski Trails offer over 35 kilometers of trails near West Glacier, which are often the center of winter celebrations.
3. Soak at Chico Hot Springs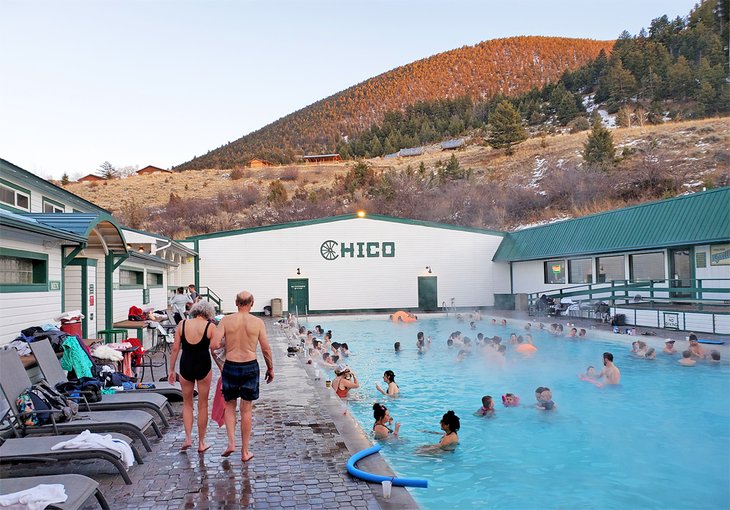 Nothing pairs better with cold weather than some hot water steam. The state of Montana specializes in commercial hot springs perfect for soaking. One such celebrated facility is Chico Hot Springs, located within Paradise Valley near Pray, Montana. This long-standing institution offers much more than a dip in their two open-air pools
Established in 1900, Chico has grown in prominence as a winter destination, without severing its roots. The resort offers several overnight options, including antique-filled rooms in the historic Main Lodge. And the most elegant dining in Montana is also available in the Main Lodge, within the Chico Dining Room.
Yellowstone Hot Springs, another notable hot spring in Montana, is 30 minutes south of Chico Hot Springs. This relatively new commercial hot spring features a beautiful pool with stunning mountain backdrops. Yellowstone Hot Spring is not associated with the neighboring national park.
Address: 163 Chico Road, Pray, Montana
Official site: https://www.chicohotsprings.com/
4. Catch a Live Show in Missoula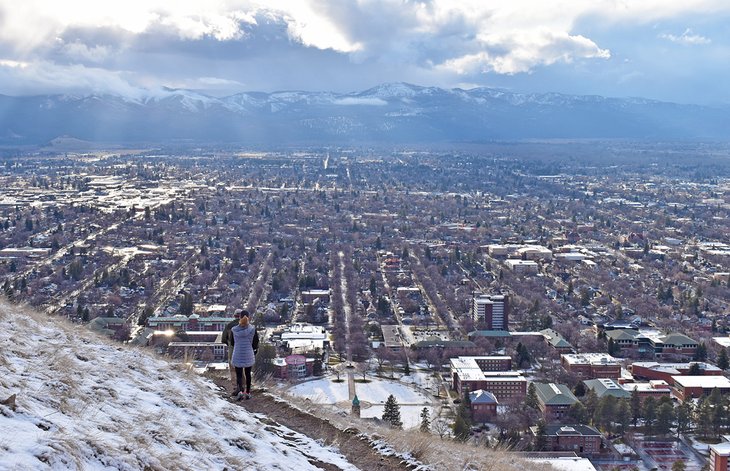 Creative energy keeps Missoulians warm in the winter. The university city brims with cultural attractions throughout the year, and the winter is no exception. From weekly screenings at the Roxy Theater to live storytelling performances at the historic Wilma Theater, the early sunsets of winter aren't a problem in Missoula when it comes to evening entertainment.
Missoula also has a live music scene that outweighs the city's size. Local and regional acts take to the stage in Missoula every week, thanks to the community members and college students who pack the crowds. A few hot spots for live music in Missoula include Top Hat and the Zootown Arts Community Center.
A couple of other winter adventures in Missoula include cross-country skiing in Pattee Canyon and hitting the slopes at the Snowbowl. For a full look at everything Missoula has to offer, check out our things to do in Missoula article.
5. Snowshoe in Glacier National Park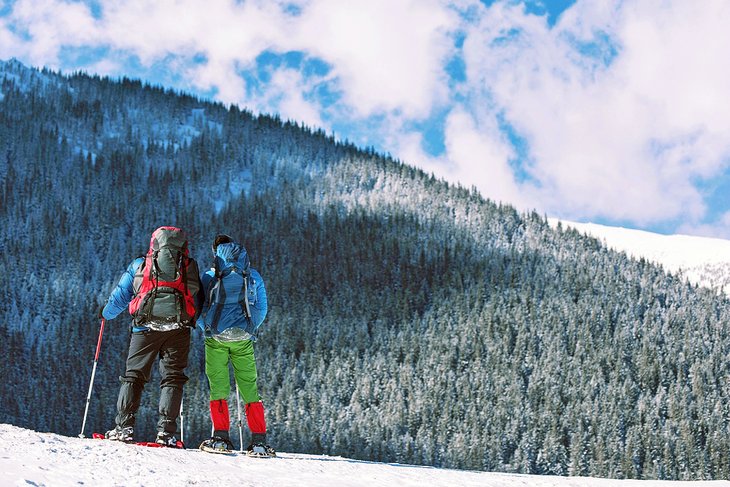 The Crown of the Continent is in northwest Montana. Some may know it as Glacier National Park.
Every year, over three million tourists visit Glacier National Park to lay eyes on its magnificent mountain peaks. Over two million of these visits occur in June, July, and August. Glacier sees a fraction of tourists in the winter, making it an excellent time to go.
Aside from fewer crowds, winter in Glacier is absolutely stunning. It's more challenging to reach this remote part of the country in winter, but make the trek, and this snowy wonderland offers many outlets to stay warm. Several of the park's roads remain unplowed throughout the season. Snowshoes and cross-country skis are the best ways to explore the park.
Winter trails are on both sides of the park. West Glacier features trails at Apgar, Avalanche Creek, and Polebridge. Trails at these iconic locations meander throughout the large, quiet environment of Glacier this time of year. Places on the east side, like Two-Medicine and St. Mary, also have access to the solitude.
No overnight lodging is available within the park during winter. Visitors can camp for free at the Apgar Picnic Area or get a permit to sleep in the backcountry. Several towns on the outskirts of Glacier offer hotel rooms and other heated overnight options.
Accommodation: Best Places to Stay at Glacier National Park
Read More: Top Things to Do in Glacier National Park
6. Dogsled in Big Sky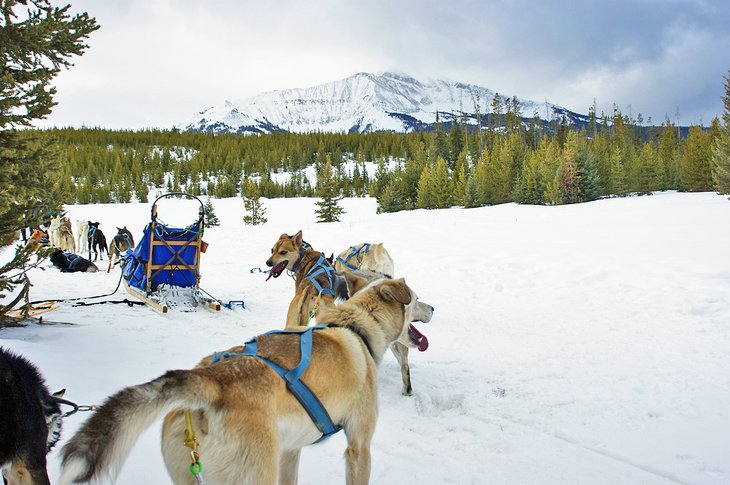 Few other means of winter transportation compare to dogsledding. It's not exactly an easy sport to get into, however, without a team of sled dogs trained and ready to go. Luckily, several commercial dogsledding companies in Montana offer a chance to mush one of their experienced packs.
The adventurous town of Big Sky, home to Big Sky Resort, has two commercial dogsledding outfitters. Yellowstone Dog Sled Adventures and Spirit of the North Dog Sled Adventures offer two-hour trips in the surrounding forestland. It's more than just a ride-along experience with these dogsledding tours — visitors learn to mush a team of sled dogs on their own.
Other dogsled tour companies are in West Yellowstone and Pray, Montana, within Paradise Valley. Northwest Montana also has places to join a dog sledding team in Whitefish and Bigfork. The regular operating season for these dogsledding adventures is typically between late December and April.
7. Go to a Museum in Bozeman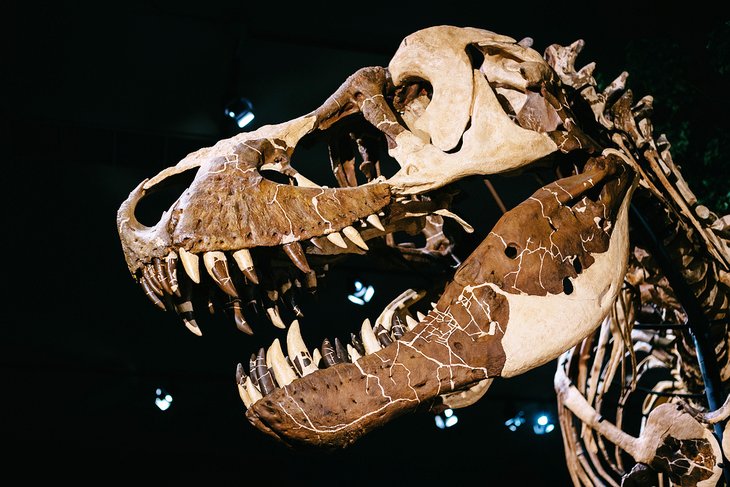 For some indoor winter things to do in Montana, cities like Bozeman have several exciting exhibits and engaging museums. One of the best museums in Bozeman is the acclaimed Museum of the Rockies. This Smithsonian Affiliate museum attracts a lot of attention throughout the year.
The main point of interest at the Museum of the Rockies (MOR) is the Siebel Dinosaur Complex. This award-winning exhibit features one of the largest collections of dinosaur fossils in the world. The collection includes one of a few Tyrannosaurus Rex fossils on display.
The Welcome to Yellowstone Country exhibit also garnishes interest at MOR. This highly detailed permanent exhibit tells the evolving story of settlers in the region and the indigenous people who call it home. The museum also features the Taylor Planetarium, where visitors can watch movies full of stars.
While the Museum of the Rockies is a must-visit, Bozeman also has several other museums worth checking out. The American Computer & Robotics Museum is nearby, with rooms showcasing technological advancement. In downtown, the Gallatin History Museum uncovers more antiquities of the region.
All three of these museums rank as some of the best things to do while visiting Bozeman.
8. Stay in a Forest Service Cabin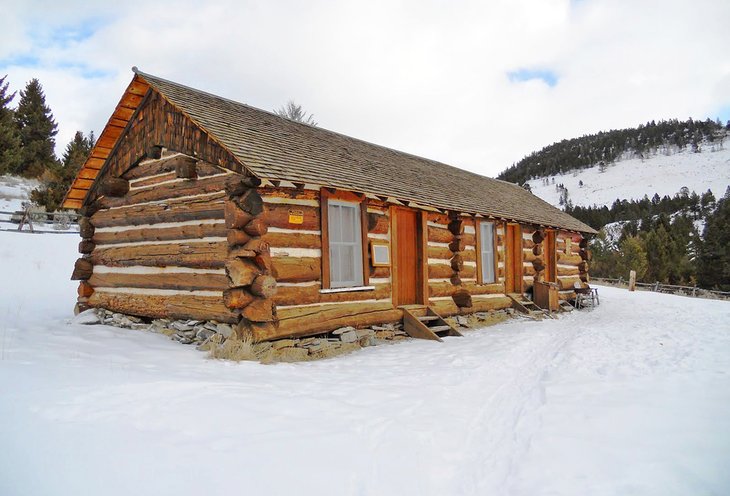 The state of Montana has 10 different national forests within its borders. This remarkable amount of public land doesn't go dormant in the winter. One unique resource spread throughout Montana's national forests are rustic cabins where visitors can spend the night.
Cabins operated by the Forest Service vary in size and structure. Most cabins include a woodfire stove, bunks to lay a sleeping pad, and some lighting (such as kerosene lamps). Not all cabins have electricity, and no cabin has indoor plumbing, though outhouses are always nearby.
Access to Forest Service cabins also varies. Some cabins are accessible via vehicle, while others require visitors to ski or snowshoe. Some of these remote cabins require crossing through avalanche terrain. Visitors should plan accordingly and remain within their comfort zones for travel.
Several Forest Service cabins are also reservable ahead of time. Many cabins tend to book out months in advance. However, winter is an easier time of year to find availability. To check out all the overnight options and to make a reservation, visit www.Recreation.gov.
9. Snowmobile in the Bitterroots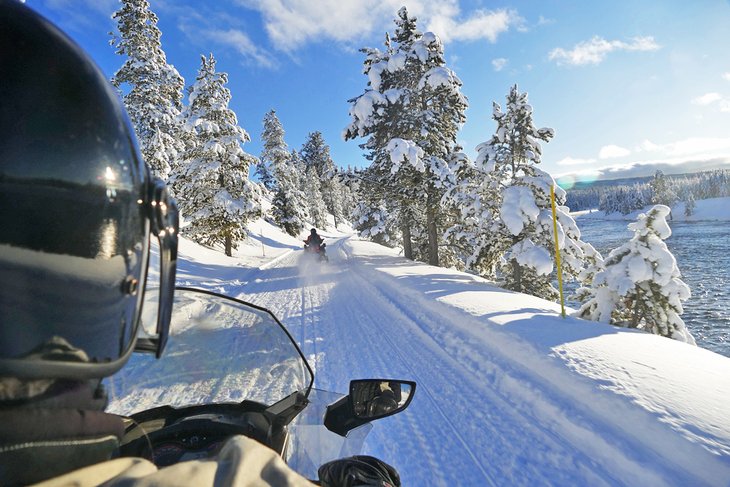 Snowmobile trails lace the state of Montana come winter. The typical snowmobile season spans from December through April, depending on snow conditions. The best riding takes place in Western Montana. For those that don't own a snow machine, several outfitters in this part of the state offer tours and rentals.
Among many other adventures, the Bitterroot Mountains of southwest Montana offer many trails to explore. The Skalkaho Snowpark is one popular place to snowmobile in the Bitterroots, with over 50 miles of groomed trails. Lolo Pass is also a hot spot for snowmobiling nearby, with a staggering 250 miles of interconnected trails.
Small towns in the Bitterroot Valley like Darby have commercial snowmobile outfits that offer guided tours. These outfits also provide half- and full-day snowmobile rentals.
Another popular region for snowmobiling in Montana is West Yellowstone. This welcoming community is next to the West Entrance of Yellowstone National Park. It ranks high as one of the best small towns in Montana. West Yellowstone is also a premiere snowmobile base camp, with approximately 400 miles of trails nearby.
Snowmobiling often takes visitors into avalanche territory. It's important to check local conditions before heading out and to familiarize yourself with proper avalanche safety.
10. Ice Fish near Helena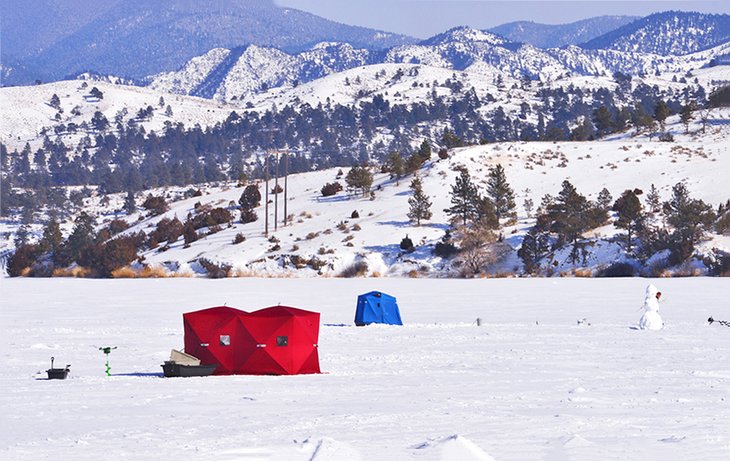 The fishing season doesn't end in winter for some Montana anglers. Lakes and inlets freeze over across the state to provide excellent ice fishing conditions. The many reservoirs and tributaries surrounding Helena in southwest Montana offer several places to drop a line.
A few of the frozen fishing spots near Helena include Holter Lake, Hauser Lake, and Canyon Ferry Lake. Each is within an hour's drive from the capital city. Canyon Ferry Lake is one of the best lakes in Montana. It has rainbow trout and perch biting throughout much of the winter.
Other great ice fishing spots are across the more mountainous western half of the state. Montana's largest lake, Flathead Lake, doesn't freeze over entirely but provides many frozen inlets to drill a hole. Ice depths vary throughout the week, and visitors should check local conditions before stepping foot on a frozen lake.
Read More: Top-Rated Things to Do in Helena
11. Attend the Whitefish Winter Carnival
Several snowy attributes draw visitors to Whitefish throughout the winter season. But it's the annual Whitefish Winter Carnival, culminating on the first weekend of February, which draws the most concentrated crowds. This longstanding winter celebration has donned upon the streets of Whitefish for over seven decades, all the while evolving this time-honored tradition.
Winter Carnival events occur throughout Whitefish beginning in mid-January. But the real festivities take place on the first weekend of February, kicking off with a festive Carnival Gala and Penguin Plunge. The Grand Parade is another signature attraction, taking over the streets of Whitefish in mid-afternoon.
Expect costumed characters and a general sense of merriment the entire weekend. Events occur downtown and at Whitefish Mountain Resort. Much of the fun is free to enjoy. Other activities include ice-sculpting contests, a Kiddie Carnival, and evening fireworks.
12. Go Ice-Skating in Kalispell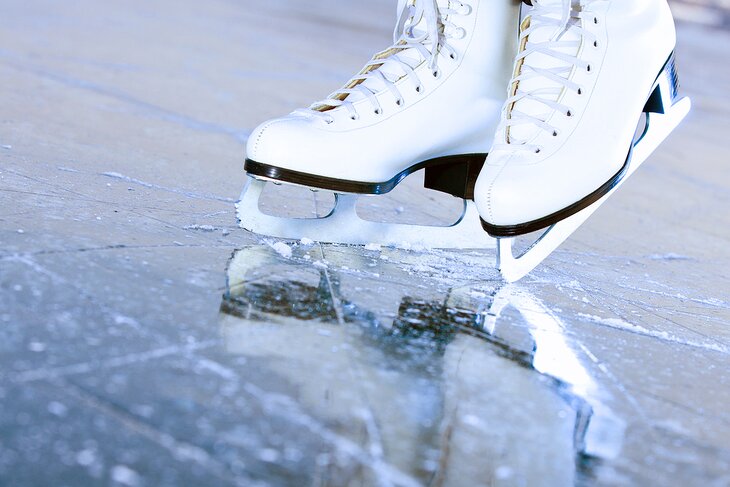 Things to do in Kalispell in winter are almost unlimited. The town, approximately half-way between Whitefish and Flathead Lake in northwest Montana, has an excellent location for all types of winter endeavors.
Downhill and cross-country skiing, snowmobiling, and ice fishing are all within an easy drive of the charming downtown district.
Ice skating and ice hockey are two arteries of winter fun in Kalispell. Flathead Valley Hockey Association owns and operates a community ice rink at Woodland Park on the east side of town. The Woodland Ice Center is open to the public typically between November and February. The facility hosts public skating times, men's and women's adult ice hockey leagues, and youth hockey.
The cold-weather attractions extend well beyond the ice rink in Kalispell. Other winter destinations within a short drive include ski resorts, wilderness trailheads, and the frozen shores of Flathead Lake. And, come evening, the lively downtown district of Kalispell offers other ways to stay warm.
Read More: Top-Rated Things to Do in Kalispell
13. Visit the Residents at ZooMontana in Billings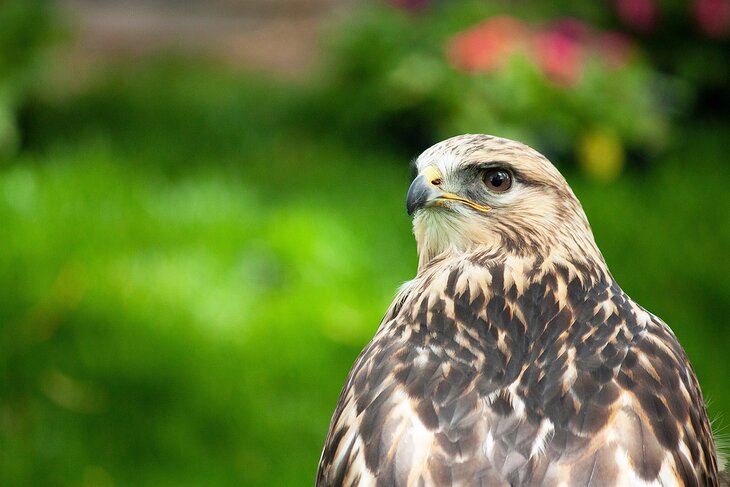 Billings, the largest city in the state and dubbed "Montana's Trailhead," is primed for winter excitement. The standard array of snow sports is right at the city's back door, including cross-country skiing, snowmobiling, and snowshoeing. Things to do in Billings in winter also include downhill skiing at the nearby Red Lodge Mountain.
Billings is also home to the AZA-accredited ZooMontana. And, while visiting the zoo might not be the first consideration on a winter vacation, it's actually one of the best times to visit the facility. Fewer crowds in the winter give you a more personal experience at ZooMontana, and many of the resident animals absolutely love their snow-covered landscapes.
Nearly every animal at ZooMontana is well-adapted to the winter surroundings. And some animals, like wolverines and red pandas, are noticeably more active during this time of year. The zoo is open throughout the entire year, excluding Thanksgiving, Christmas, New Year's Eve, and Easter Sunday.
Read More: Top-Rated Things to Do in Billings