12 Best Campgrounds in Montana
For campsites with a view, the best campgrounds in Montana are within eyesight of glacial lakes, snowy mountains, and trout-filled rivers, nestling into the many state parks, national forests, and special places across the state.
Perhaps the biggest bucket-list place to camp is Glacier National Park, with thirteen campgrounds to choose from. The campgrounds showcase the many glistening features that make Glacier an international camping destination.
Montana campgrounds go well beyond the boundaries of Glacier National Park, especially in the western and more mountainous half of the state. From Bighorn Canyon to the many campgrounds surrounding Flathead Lake, the state of Montana is synonymous with camping and adventure. Other special landscapes to discover from Montana campgrounds include elaborate caverns, well-preserved ghost towns, and historic headwaters.
Dispersed camping is a part of many Montana adventures, and the national forests across the state allow free, primitive camping throughout their wooded acres. The National Forest Service also maintains numerous developed campgrounds, like the Woodbine Campground in Custer Gallatin National Forest, which feature fresh water and pit toilets. State park campgrounds also include pit toilets and potable water and can more easily accommodate recreational vehicles.
Find a scenic spot to pitch your tent with our list of the best campgrounds in Montana.
Note: Some businesses may be temporarily closed due to recent global health and safety issues.
1. Apgar Campground, Glacier National Park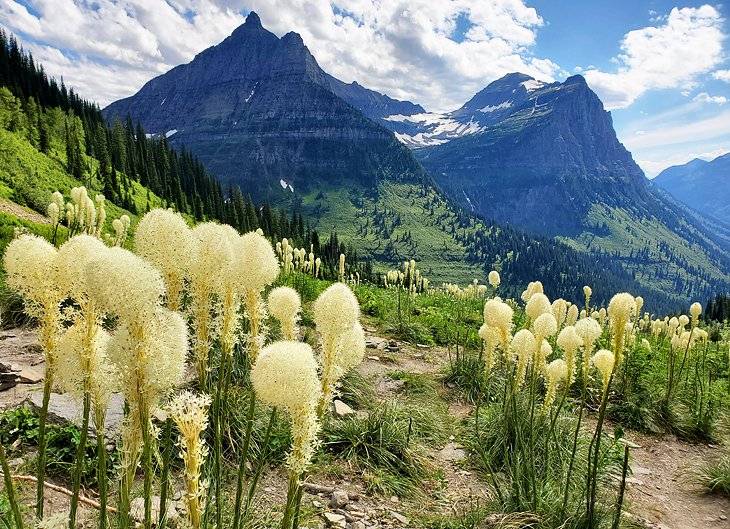 Glacier National Park is known as the Crown of the Continent and a stunning example of glaciated landscapes, and the best campgrounds in Glacier National Park offer a preview to it all.
The largest campground in Glacier, Apgar Campground is also one of the most popular, with all 194 sites filling regularly between June and August. Accommodating both tents and RVs, nearly all sites at Apgar Campground are awarded on a first-come, first-served basis. Five group sites at Apgar Campground can be reserved ahead of time. Apgar Campground is located near Lake McDonald and connected to the west end of the 50-mile Going-to-the-Sun Road that spans the park.
The St. Mary Campground is the largest campground on the east side of the park with nearly 150 sites available. The Many Glacier Campground is also on the east side of the park and is a hub for many of the best hiking trails in Glacier. Less crowded campsites in Glacier can be found at the Bowman Lake Campground and Cut Bank Campground.
Official site: https://www.nps.gov/glac/planyourvisit/camping.htm
2. Big Arm/Flathead Lake State Park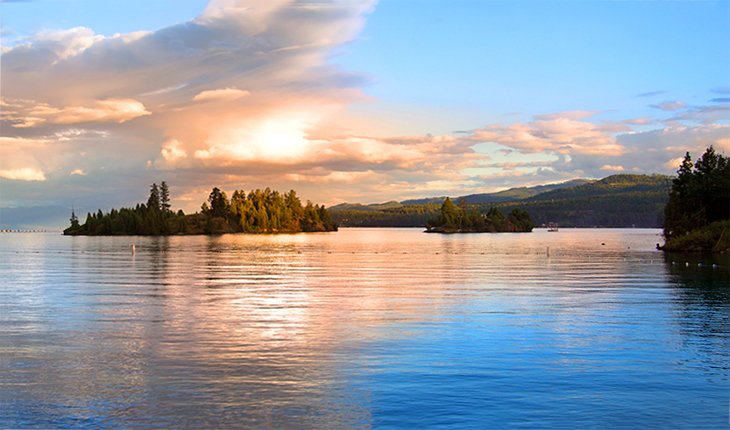 One of the largest freshwater lakes in the country, Flathead Lake has over 150 miles of shoreline and numerous campgrounds on all sides. On the west side of the lake, Big Arm State Park features one of the largest and most popular campgrounds on Flathead Lake, as well as stunning views of the upright Mission and Swan Mountains across the water. Nearly all 40 campsites at the Big Arm Campground can be reserved ahead of time, as well as the unit's three lightly furnished yurts.
Other popular campgrounds surrounding Flathead Lake include Finley Point State Park and Wayfarers Campgrounds, which are both part of Flathead Lake State Park. Alongside access to the surrounding Flathead Valley, Big Arm is also a popular jumping-off point for Wild Horse Island. Only accessible by boat, this 2,000-plus acre unit of Flathead State Park in the middle of the lake is still inhabited by wild horses, and primitive camping is available for those who pack in their own gear.
Address: 28031 Big Arm State Park Road, Big Arm, Montana
Official site: http://stateparks.mt.gov/big-arm/
3. Lewis and Clark Caverns Campground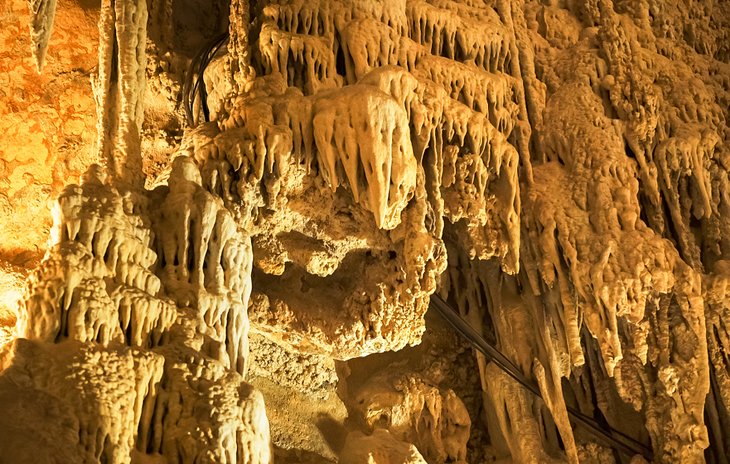 An hour west of Bozeman and conveniently located off Interstate 90, Lewis and Clark Caverns is a common stop on a Montana road trip. It's one of the largest known limestone caverns in the Northwest and Montana's first state park. The only way to see the stalactites and speleothems of Lewis and Clark Caverns is through a guided tour offered by the park (May through September). After spending time underground, the campground at the state park includes over 40 spread out sites.
Accommodating tent and RV camping, the Lewis and Clark Caverns Campground also features three spacious cabins available for rent. All overnight guests at the campground have access to flushing toilets and hot showers.
While the campground operates year-round with discounted rates during the winter, cave tours and facilities like drinking water are only available during the warmer months.
Address: 25 Lewis & Clark Caverns Road, Whitehall, Montana
Official site: http://stateparks.mt.gov/lewis-and-clark-caverns/
4. Holland Lake Campground, Flathead National Forest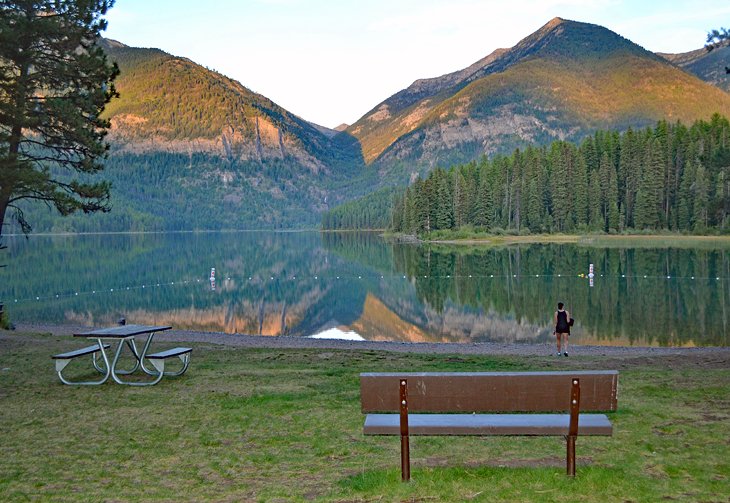 In the scenic Swan Valley of northwestern Montana, Holland Lake Campground provides spacious campsites with easy access to its namesake feature. With 40 campsites for tents and RVs spread throughout two different loops, the campground features flushing restrooms and potable water. No electricity or water hookups are available for recreational vehicles at Holland Lake.
Alongside the 400-acre lake that is popular for boating and fishing, several hiking trails stem from the campground, including the Holland Falls National Recreation Trail.
Numerous other Forest Service campgrounds line Highway 83 south of Holland Lake. Just over 10 miles from Holland Lake, Lake Alva Campground features 39 sites on a first-come, first-served basis. Seeley Lake is also a popular place to stay in the Swan Valley with an expansive day-use area and a campground with 29 sites available. Both Placid Lake and Salmon Lake State Parks are found on the southern end of the Swan Valley and offer over 60 campsites total.
Location: Condon, Montana
Official site: https://www.fs.usda.gov/recarea/flathead/recarea/?recid=66996
5. Woodbine Campground, Custer Gallatin National Forest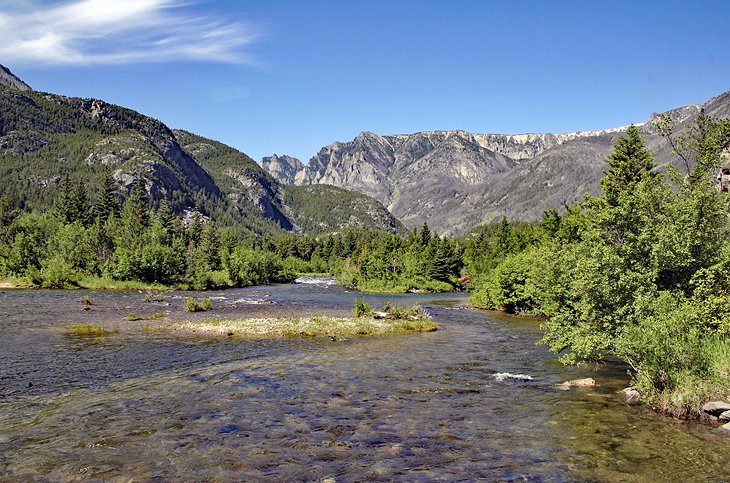 Adjacent to the Absaroka-Beartooth Wilderness, all 44 sites at the Woodbine Campground tend to fill up during the summer season. Reservations are available for this campground southwest of Billings, and all campers have access to potable water and vault toilets.
The Stillwater River and its tributaries run near the campground and are well utilized for trout fishing and hiking next to the banks. Woodbine Falls is a popular hiking destination from the campground, and the scenic Sioux Charley Lake is accessible via a three-mile hiking trail.
Location: Nye, Montana
Official site: https://www.fs.usda.gov/recarea/custergallatin/recarea/?recid=60859
6. Crystal Lake Campground, Lewis and Clark National Forest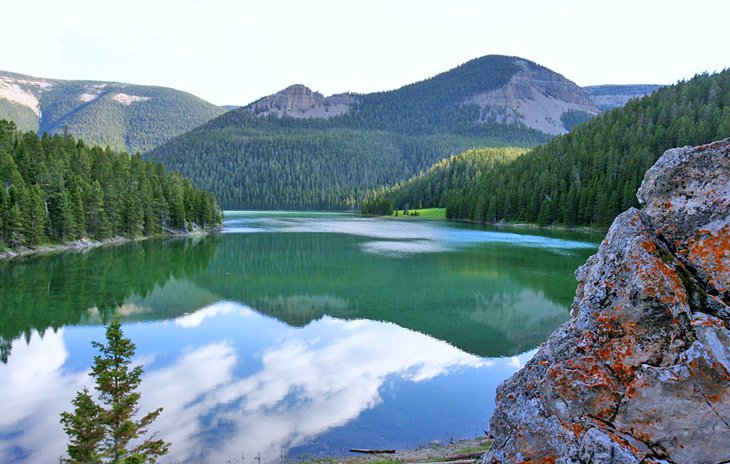 Within the Big Snowy Mountain range of central Montana, 30 miles south of Lewistown, the Crystal Lake Campground is a bit of a secret gem in the state. Near the banks of its namesake body of water, all 28 first-come, first-served campsites at this Forest Service campground lend incredible access to the quiet mountain environment, including numerous trails to explore. A few recommended routes from the campground include the Grand View Trail and the Ice Caves Trail. Potable water and pit toilets are available.
Address: 21970 Crystal Lake Road, Moore, Montana
Official site: https://www.fs.usda.gov/recarea/hlcnf/recarea/?recid=61526
7. Bannack State Park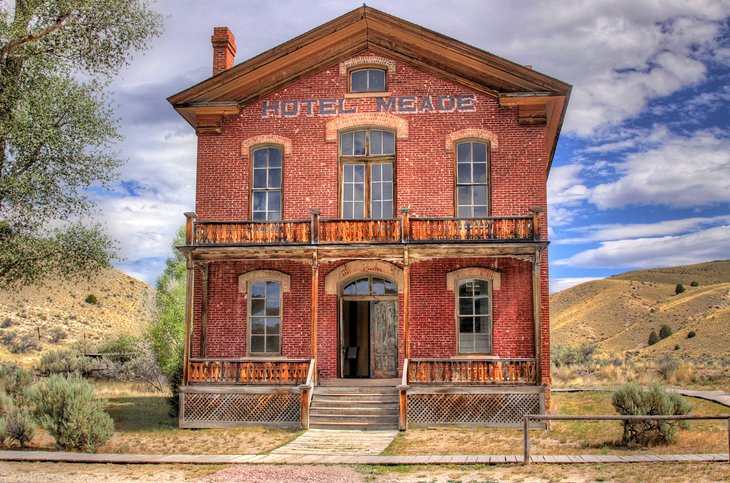 The site of Montana's first major gold discovery in 1862, Bannack State Park preserves the historic ghost town of Bannack. Over 50 structures line the vacant Main Street in Bannack State Park, where visitors can get a true sense of Montana's wild past.
Guided activities like tours and gold panning are available from the visitor center throughout the summer. The annual Bannack Days takes place in late July and features live music, historical re-enactments, and costumed characters bringing the streets to life.
Camping at Bannack State Park is spread between two different campgrounds with 24 total sites available. Campers at either the Vigilante Campground or Road Agent Campground have access to running water and vault toilets, and both campgrounds are located near Main Street and many historic structures.
Located in southwest Montana at an elevation of 5,837 feet, the campground is open throughout the year at Bannack State Park with limited facilities available in the winter.
Address: 4200 Bannack Road, Dillon, Montana
Official site: http://stateparks.mt.gov/bannack/
8. Bad Medicine Campground, Kootenai National Forest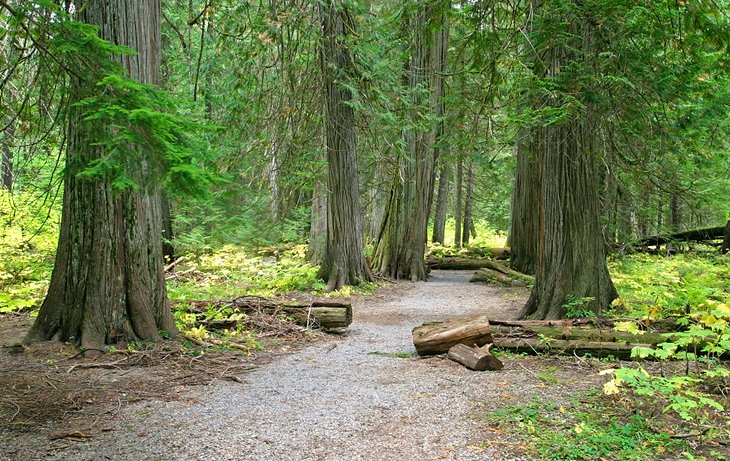 In northwest Montana near the city of Libby, this first-come, first-served campground is on the banks of Bull Lake with 18 sites available. The spacious, wooded campsites that cater to tents and RVs make this primitive campground accommodating, and it's the adjacent Ross Creek Cedars Scenic Area that draws people to visit and spend the night. Containing groves of ancient red cedars, some over 1,000 years old, Bad Medicine is the closest campground to these biggest trees in Montana.
Address: 2395 Bull Lake Road, Troy, Montana
Official site: https://www.fs.usda.gov/recarea/kootenai/recarea/?recid=49913
9. Makoshika State Park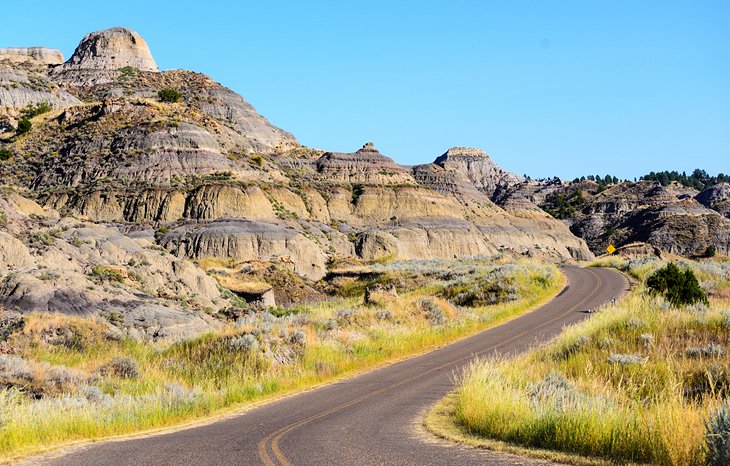 Montana's largest state park, Makoshika State Park is located on the far eastern part of the state near the North Dakota border. Unlike natural areas in the western half of the state, Makoshika encompasses a badlands landscape with stark formations and dinosaur fossil remains.
Camping at Makoshika State Park includes 24 different sites ranging from standard to rustic, and all are spread out for maximum privacy. Alongside easy access to hiking trails and badland formations, each campsite is located near pit toilets.
Address: 1301 Snyder Street, Glendive, Montana
Official site: http://stateparks.mt.gov/makoshika/
10. Missouri Headwaters State Park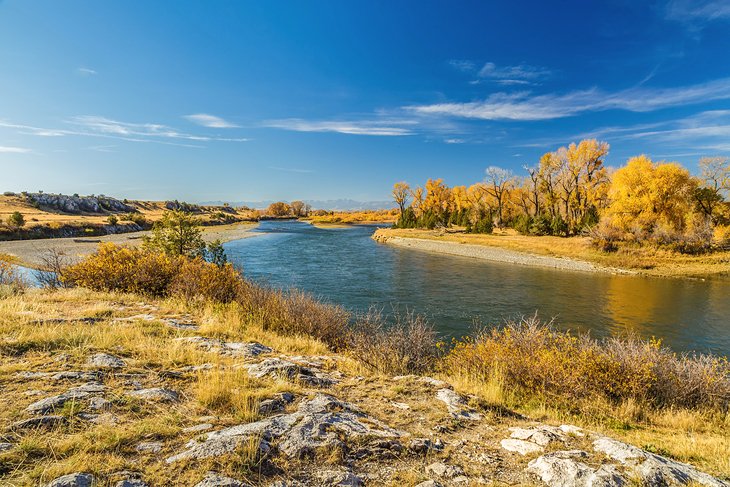 At the confluence of the Jefferson, Madison, and Gallatin Rivers, this National Historic Landmark and state park offers the chance to camp where the Corp of Discoveries spent the night on their travels. Easily accessible from Interstate 90 and the city of Three Forks, Missouri Headwaters State Park features 17 reservable campsites located near hiking trails and numerous water activities, including fishing and swimming. Campers also have access to potable water and pit toilets.
Address: 1585 Trident Road, Three Forks, Montana
Official site: http://stateparks.mt.gov/missouri-headwaters/
11. Afterbay Campground, Bighorn Canyon National Recreation Area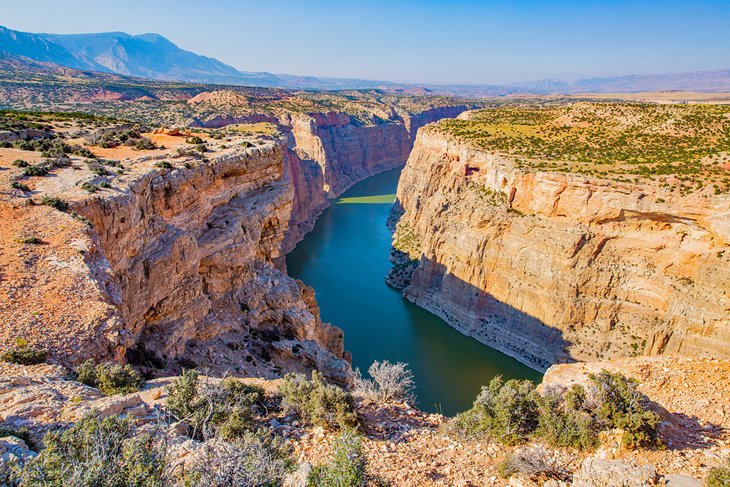 Encompassing over 120,000 acres and straddling the Montana and Wyoming border, Bighorn Canyon National Recreation Area makes a deep impression on anyone that visits. The thousand-foot cliffs of Bighorn Canyon are the main showcase of this stunning geological wonder, and campgrounds surrounding the canyon often come with a great view.
On the northern end of the recreation area, near the banks of Afterbay Lake, the Afterbay Campground features 28 sites for tents and 12 sites for RVs. With easy access to water activities, including boating and fishing, all overnight guests at Afterbay Campground are also near potable water and vault toilets.
Another popular campground within the Montana portion of Bighorn Canyon National Recreation Area is the Trail Creek Campground. Numerous campgrounds line the Wyoming portion of Bighorn Canyon, including Horseshoe Bend Campground, which is the largest with 48 sites available.
Location: Fort Smith, Montana
Official site: https://www.nps.gov/bica/planyourvisit/campgrounds.htm
12. Hell Creek State Park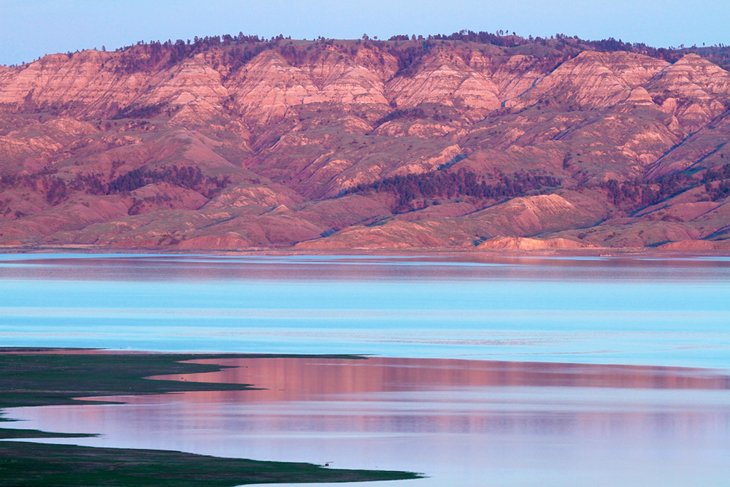 Part of the larger Charles M. Russell National Wildlife Refuge surrounding the Missouri Breaks in central Montana, this lakeside campground and state park is on the Hell Creek Arm of Lake Fort Peck. With 70 tent and RV campsites available, spread throughout five different campgrounds, Hell Creek State Park offers access to running water and vault toilets.
A public boat ramp is adjacent to the campground, and primitive boat-in camping can also be found throughout the Missouri Breaks.
Address: 2456 Hell Creek Road, Jordan, Montana
Official site: http://stateparks.mt.gov/hell-creek/
More Related Articles on PlanetWare.com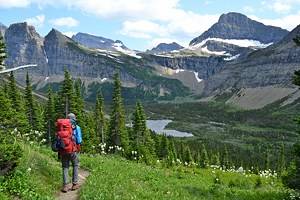 Camping and Hiking in Glacier National Park: Visiting Logan Pass and driving the Going-to-the-Sun Road are among the many top things to do in Glacier National Park. The best way to experience Glacier National Park, however, is to hop on the extensive network of hiking trails that are found in every region of the park; and our guide to the Best Hiking Trails in Glacier is a great launching pad for adventure. For starry skies and multi-day adventures, the best campgrounds in Glacier offer plenty of places to spend the night.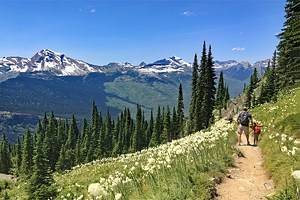 More to Explore in Montana: Alongside the top campgrounds, the best hiking trails in Montana offer some of the best ways to get familiar with the state. For a fun basecamp and university city to explore, the city of Missoula in western Montana is filled with community, culture, and adventure in every direction. Similarly, the collegiate city of Bozeman is a gateway into the Custer-Gallatin National Forest and the adjacent Yellowstone National Park.