10 Best Campgrounds near Bozeman, MT
Author Brad Lane lived in Montana for several years and enjoyed camping around Bozeman.
Bozeman, in Southwest Montana, is a premier adventure and camping destination of the American West. Custer Gallatin National Forest surrounds this university mountain town, offering several iconic Montana landscapes to explore. Just some of these Rocky Mountain environments include wild rivers and high-alpine summits. And among the standout scenery, several campgrounds enable an overnight adventure.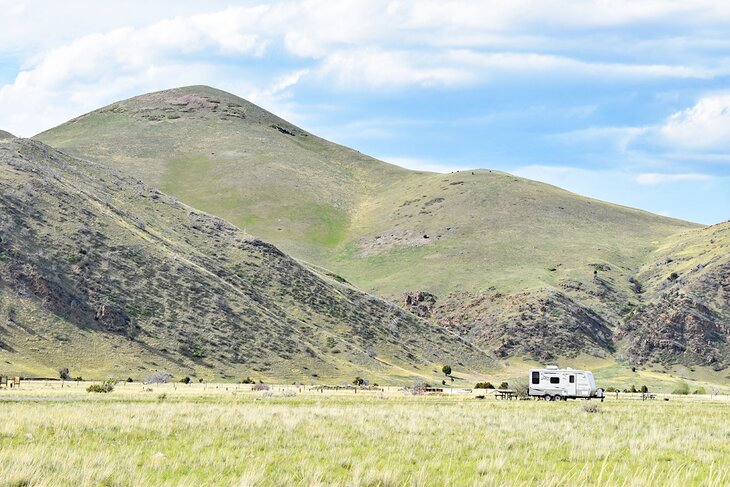 The most prevalent camping near Bozeman takes place in the national forest. Several developed campgrounds line the main routes through places like Gallatin Canyon, Bridger Canyon, and Paradise Valley. These campgrounds are often equipped with vault toilets and potable water, with no hookups available. Reservations for Forest Service campgrounds near Bozeman can be booked online.
Bozeman also has a few commercial campgrounds closer to town. These spots include amenities like showers and laundry facilities. And like Bozeman Hot Springs Campground, on the west side of town near Four Corners, in-town campgrounds also provide more of a social experience.
Find your next spot to spend the night in Montana with our list of the best campgrounds near Bozeman.
1. Spire Rock Campground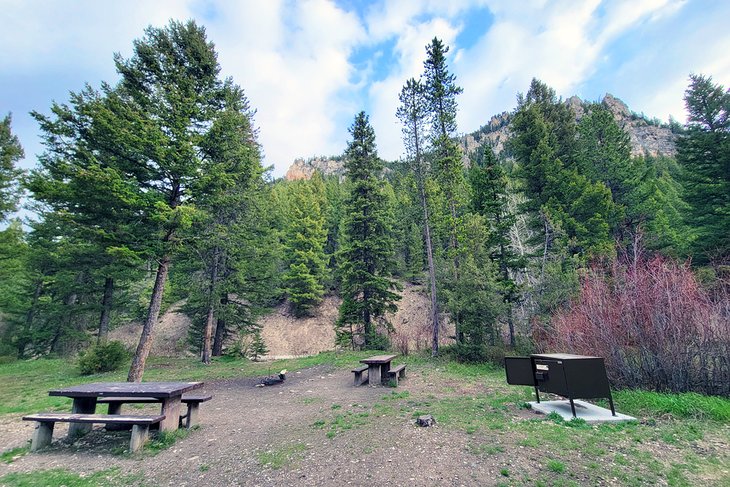 Spire Rock Campground is a Forest Service campground approximately a 40-minute drive south of town on Highway 191. It's within Custer Gallatin National Forest and next to one of the best hiking trails near Bozeman, Storm Castle Peak. Several other hiking opportunities stretch out along the connecting Storm Castle Road.
The campground has 19 sites spaced alongside the winding Storm Castle Creek. This positioning leads to complete privacy at each site. The largest site is 50 feet long, but the campground caters best to car camping or camper vehicles. Each site is equipped with a picnic table, fire ring, and designated parking spot. Vault toilets are also available.
This ease of access to adventure makes Spire Rock a popular campground throughout the season. Reservations are available and recommended. Other than hiking, other frequent activities nearby include fishing, mountain biking, and birdwatching. The campground operates seasonally between mid-May and mid-September.
2. Battle Ridge Campground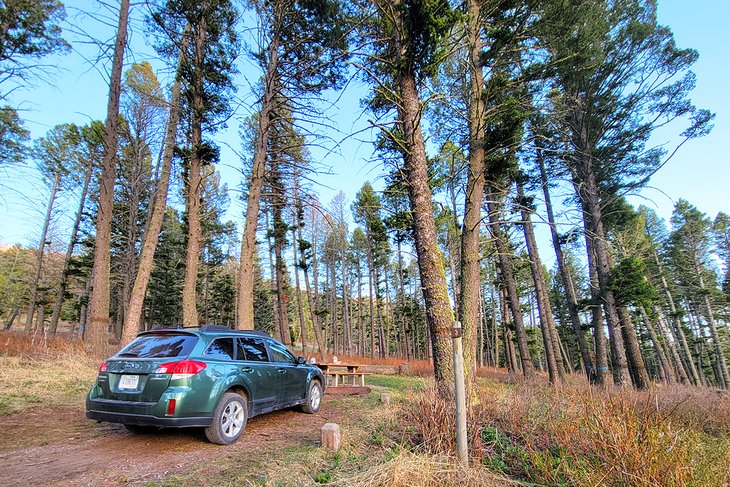 Battle Ridge Campground and Battle Ridge Picnic Area are north of Bozeman in the Custer Gallatin National Forest, accessible with a 30-minute drive. This developed campground is free to use and has primitive amenities like picnic tables, fire rings, and vault toilets. Only 13 sites are available, making each site a hot commodity come summer.
No reservations are available for Battle Ridge Campground, and each site is offered on a first-come, first-served basis. Plan to arrive relatively early in the afternoon to secure a site, especially during the summer. Sometimes the campground is fully occupied throughout the weekends. The largest campsite is 12 by 32 feet, but most sites cater best to pull-up tent camping.
The campground is open seasonally between mid-May and September. The location is prime for exploring this section of the national forest and the Bridger Mountains north of Bozeman. Just across Highway 86 from the campground, the Battle Ridge Trailhead leads to a stunning ridgeline trail perfect for sunsets.
Address: Bridger Canyon Road, Bozeman, Montana
3. Bozeman Hot Springs Campground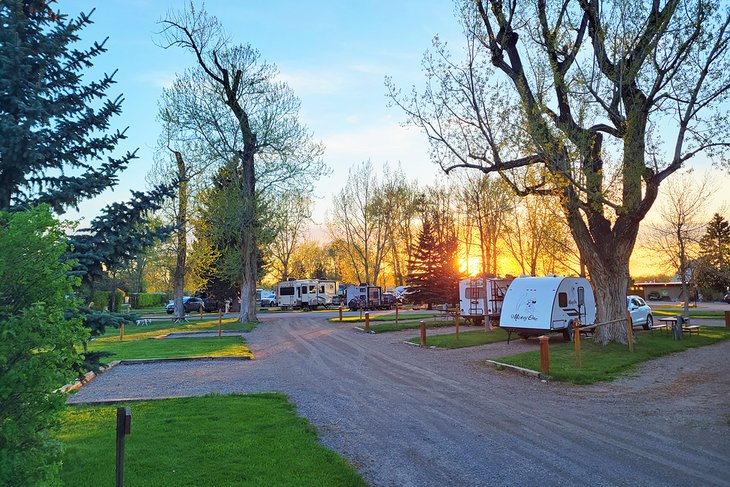 Bozeman Hot Springs is home to several thermal pools and is one of the closest campgrounds to the central part of the town. The campground and hot springs are just south of Four Corners on the city's west side, approximately a 20-minute drive from downtown.
The campground at Bozeman Hot Springs has tent sites and pull-thru RV sites with full hookups. Cabins are also available. The campsites are slightly packed together, but privacy shrubs divide each site. Other amenities for a comfortable stay include laundry and showers and free Wi-Fi throughout the campground.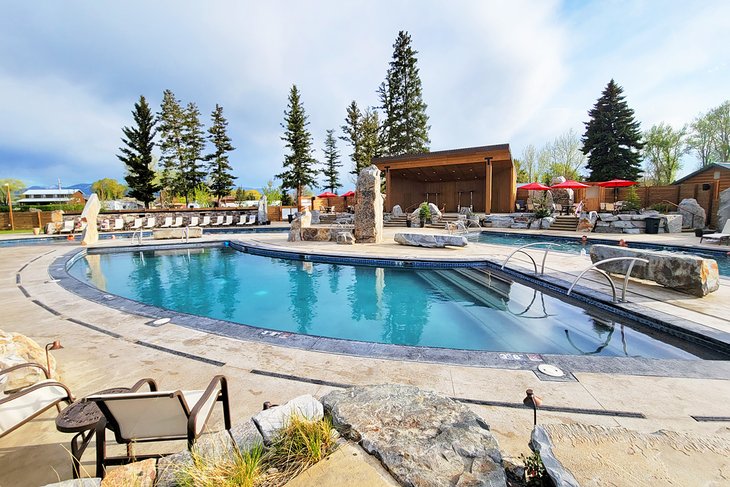 Every overnight guest at the Bozeman Hot Springs Campground receives wristband access to the hot water nearby. With less than a two-minute walk, campers enjoy any one of the dozen pools available, ranging from 59 to 106 degrees Fahrenheit. The hot spring facility regularly hosts weekend events, including live music, especially during the summer.
Address: 81123 Gallatin Road, Bozeman, Montana
4. Langohr Campground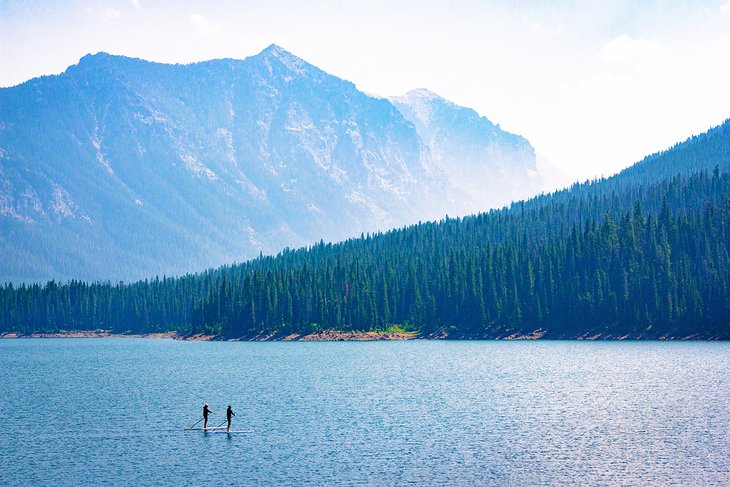 Langohr Campground is a national forest campground in Hyalite Canyon, south of the city. It offers 19 standard sites equipped with fire rings, picnic tables, and access to vault toilets. The main draw to this campground is its stunning natural surroundings, including easy access to the Bozeman District of Custer Gallatin National Forest.
The postcard-worthy Hyalite Creek ambles next to many of the sites at Langohr. This scenic waterway is a hot spot for fishing throughout the warmer months. Hiking is also a popular activity stemming from the campground, with iconic trails like Hyalite Peak nearby.
Hyalite Reservoir offers more to explore just five miles farther down the gravel road, like the Hood Creek Campground, with an additional 25 sites close to the water. Sites at Langohr and Hood Creek are reservable throughout their operating season of mid-May through September.
Langohr is only 12 miles south of downtown. Much of the route to reach the campground follows a gravel road, so plan for at least a half-hour drive. The campground is at an elevation of 6,200 feet and receives ample snowfall throughout the winter. Sites are reservable throughout its operating season of mid-May through September.
5. Red Mountain & Trapper Springs Campgrounds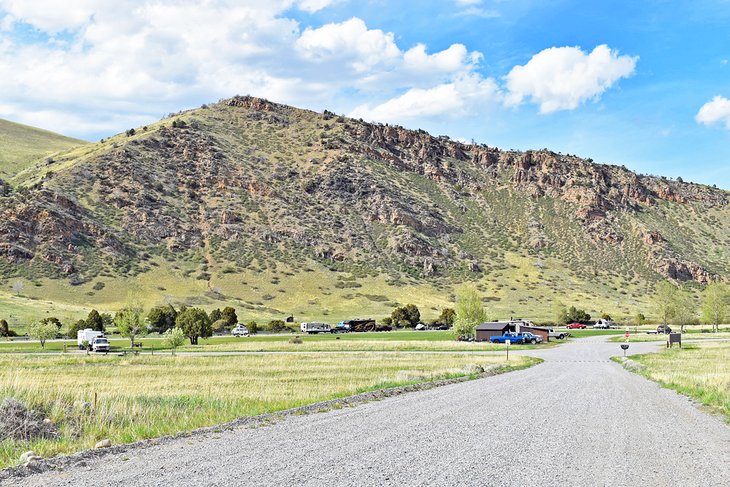 Red Mountain and Trapper Springs are a pair of campgrounds near the shores of the Lower Madison River. They are within a half mile of each other and are both operated by the Bureau of Land Management. In total, 34 sites are available between both campgrounds, and approximately half are reservable. The other half are first-come, first-served, and often fill early on summer weekends.
Both campgrounds support RVs, but no hookups are available. Each site includes a fire ring, picnic table, and access to vault toilets. A camp host occupies a site at either campground throughout the peak season, May 1st through September 15th, and sells firewood. Potable water is also available throughout this peak season.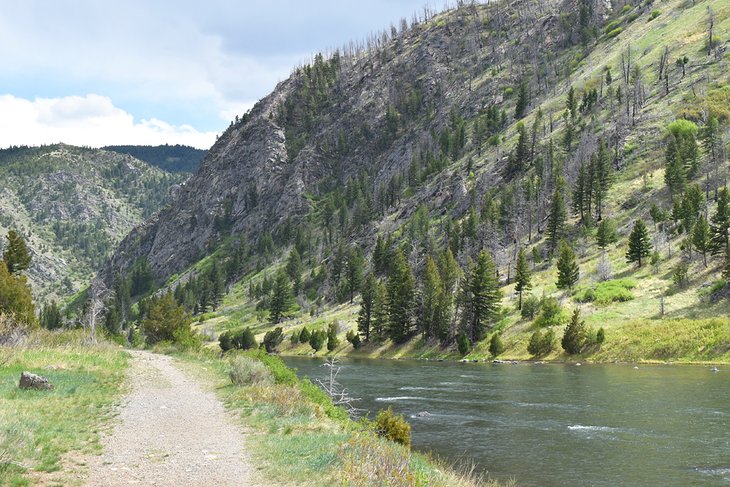 It's approximately a 30-mile drive west of Bozeman on Highway 84 to reach either campground. The sites are especially popular for those looking to enjoy the current of the Lower Madison River. Two of the most popular activities nearby include fly-fishing and floating. The postcard-worthy Bear Trap Canyon National Recreation Trail is also a short drive away.
6. Bear Canyon Campground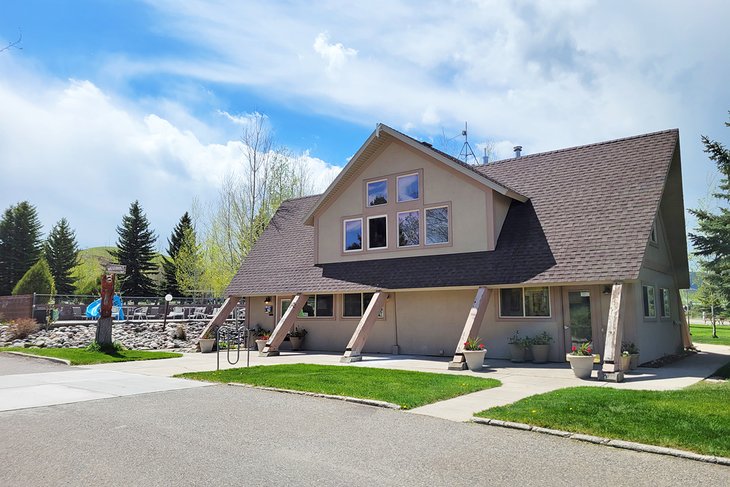 Bear Canyon is a commercial campground east of downtown, directly off Interstate 90. The campground sits atop a raised hill above the interstate, keeping traffic noise down. RVs and tents all find sites at Bear Canyon, and cabins are also on-site. Weekly and monthly rates are available for RV sites and cabins.
Extra amenities beyond the usual campground include an outdoor pool, playground equipment, and a small gift shop with camping supplies. Complimentary Wi-Fi is also available, strong enough to check emails and basic internet browsing. Alongside the weekly and monthly rates, these extra comforts cater to longer-term camping.
The location is also ideal for passing-through travelers and those interested in exploring Bozeman. With a quick exit off the interstate, it's an easy pull-off to enjoy the dependable accommodations of the campground. And the attractions of Bozeman are accessible in less than a 10-minute drive to downtown.
7. Greek Creek Campground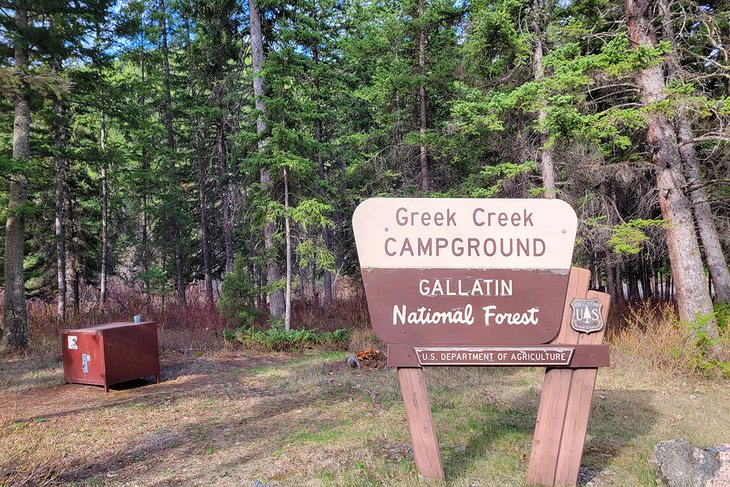 Greek Creek Campground is approximately 30 miles south on Highway 191. It's the first of a small set of Forest Service Campgrounds available off the roadside. Greek Creek itself spans both sides of the highway and has 14 sites available. A few sites at Greek Creek support RVs, with the most extended site measuring 50 feet in length. No hookups are available.
A bit farther south from Greek Creek and a mile down the gravel Swan Creek Road, the Swan Creek Campground offers similar camping accommodations. Seven sites are available at Swan Creek Campground, and because of the gravel road approach, the campsites receive far less traffic noise.
Farther south on Highway 191 still, two miles south of Greek Creek Campground, Moose Creek Flat Campground has 13 sites available. The campground also has a group site that accommodates up to 90 guests. Group sites must be reserved ahead of time.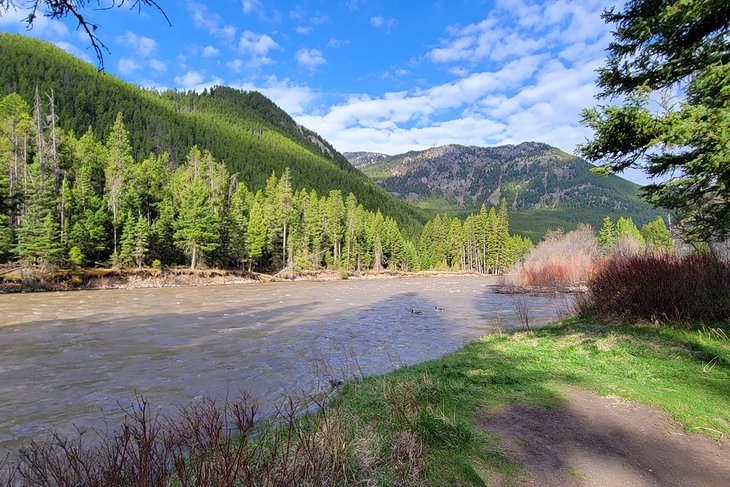 All three campgrounds along this scenic corridor of Highway 191 feature running water and vault toilets, alongside easy access to the Gallatin River. Many might recognize the Gallatin River, one of Montana's best rivers for fly fishing, from its appearance in A River Runs Through It.
Advance reservations are available for select sites at all three campgrounds.
8. Pine Creek Campground
This Forest Service campground is approximately 13 miles south of Livingston and accessible with a 50-minute drive from Bozeman. It's within the West Absaroka Mountains, at the northern end of the aptly named Paradise Valley. On the southern end of Paradise Valley is the friendly mountain town of Gardiner and the northern gateway to Yellowstone National Park.
The campground has 25 standard non-electric sites available. Most of the sites intersperse throughout a lush forest with plenty of shade. And several sites accommodate RVs, with driveways up to 60 feet long. Tent camping is also popular, and all overnight guests have access to individual fire rings and picnic tables. Vault toilets and potable water are also near each site.
Several recreation outlets attract campers to Pine Creek throughout its peak season between Memorial Day and Labor Day. Yellowstone National Park is less than an hour away. Still, plenty of nearby natural wonder keeps campers closer to their site. Two lakes are within hiking distance of the campground, Pine Creek Lake and George Lake, and campers also have easy access to the sprawling Absaroka Beartooth Wilderness.
9. Lewis and Clark Caverns State Park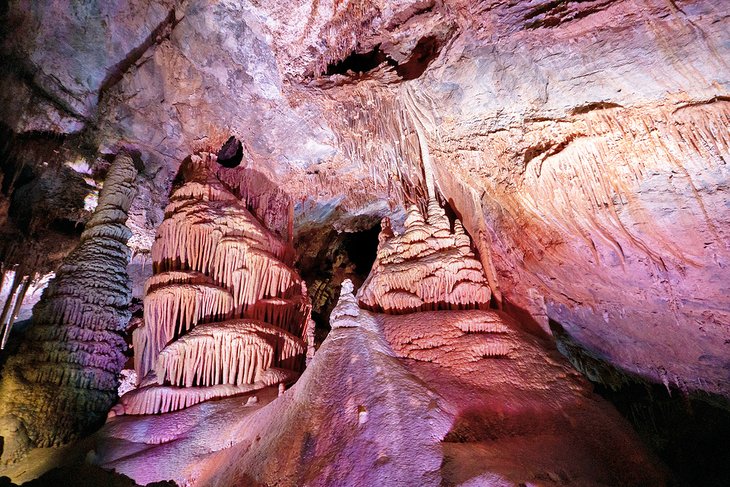 Lewis and Clark Caverns State Park, Montana's first state park, is less than an hour's drive west of Bozeman. It offers an exploration of one of the most complex cave systems in the Northwest. The only way to explore the caverns is through a guided tour, offered from late May through September.
Alongside these guided cave adventures, the state park also offers an above-ground campground with 40 sites available. Campsites are large enough to accommodate larger RVs, and some sites have electrical hookups. Tent camping is also popular, and regardless of camping style, all overnight guests have access to flush toilets and showers. Three cabins and a tipi are also available to rent.
Reservations are available and recommended throughout the peak season of Late May through September, when the caves are open. Guided tours are sold separately from campsite reservations. Two tours are available, including the two-hour Classic Tour, traversing approximately two miles and several concrete stairs.
10. Primitive Camping near Bozeman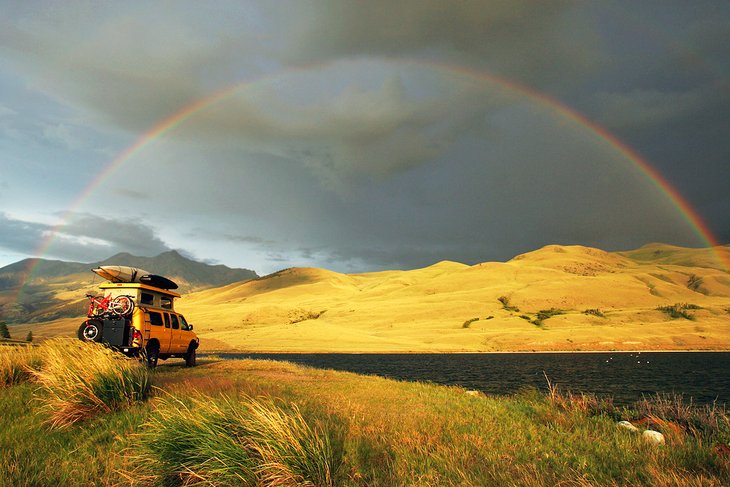 With the sprawling Custer Gallatin National Forest to the north and south, primitive camping is a viable option for spending the night near Bozeman. Primitive camping, or dispersed camping, is camping on public land outside of a developed campground. This type of camping is free and typically involves pulling off the side of a Forest Service gravel road.
Those looking to disperse camp in the national forest surrounding Bozeman need to be self-sufficient in their travels. Often, dispersed camping takes place on remote roads with no amenities like potable water or restrooms and often no cell phone service. Visitors are encouraged to follow Leave No Trace principles when visiting these wild areas.
When choosing a place to pitch a tent or park a small camper van, the general rule is to be at least 100 to 200 feet away from developed roads, water sources, or hiking trails. Try and find a camping spot that has been used before, characterized by a bald patch of dirt. Keep a similar eye out for established fire rings if a fire ban isn't in effect.
Visitors looking to disperse camp near Bozeman should download or bring an official National Forest Service map. But, because these sites are undeveloped, they typically won't appear on official publications. The Bozeman Ranger District Office, on the west side of town, can offer recommendations for places to disperse camp. Community members, including local gear shops, may also point people in the right direction.
Map of Campgrounds near Bozeman, MT
Best Time to Go Camping in Bozeman
Bozeman locals camp throughout the year, but arguably the best time to visit is July and August when the weather is warmest with the longest days. The 80-degree (on average) days encourage all sorts of river and high-alpine activities throughout the state and also typically bring the biggest surge of out-of-town visitors. But with abundant sunshine and space to explore, it's a fun time to be in Montana.
The shoulder seasons also bring memorable Montana adventures with sometimes fewer crowds. Spring creeps into Bozeman and the surrounding landscape in March and officially takes root in April. May and June are beautiful times to visit Bozeman, although expect a few showers in the forecast.
Summer often prolongs itself into September in Bozeman. However, by the end of the month, new colors start to take over. Autumn starts in late September and extends well into October. Fall is another ideal window for visiting, with fewer crowds and a blaze of scenic landscapes. Pack for colder weather, and possibly snow, the later it gets into October.
Average minimum and maximum temperatures for Bozeman, MT in °C
J
F
M
A
M
J
J
A
S
O
N
D

1

-10

4

-8

8

-4

13

-1

18

4

23

8

28

11

28

11

22

6

15

1

6

-6

1

-9

PlanetWare.com
Average monthly precipitation totals for Bozeman, MT in mm.

21

18

36

52

82

72

37

38

46

41

28

20

Average monthly snowfall totals for Bozeman, MT in cm.

35

26

47

35

13

1

0

0

3

13

30

29
Average minimum and maximum temperatures for Bozeman, MT in °F
J
F
M
A
M
J
J
A
S
O
N
D

33

14

39

18

46

24

56

31

64

39

74

46

82

52

82

51

71

42

59

33

42

22

34

15

PlanetWare.com
Average monthly precipitation totals for Bozeman, MT in inches.

0.8

0.7

1.4

2.1

3.2

2.9

1.4

1.5

1.8

1.6

1.1

0.8

Average monthly snowfall totals for Bozeman, MT in inches.

14

10

18

14

5.2

0.4

0

0

1.1

5.1

12

11