Fishing Near Yellowstone National Park: Tips, Techniques & Where to Go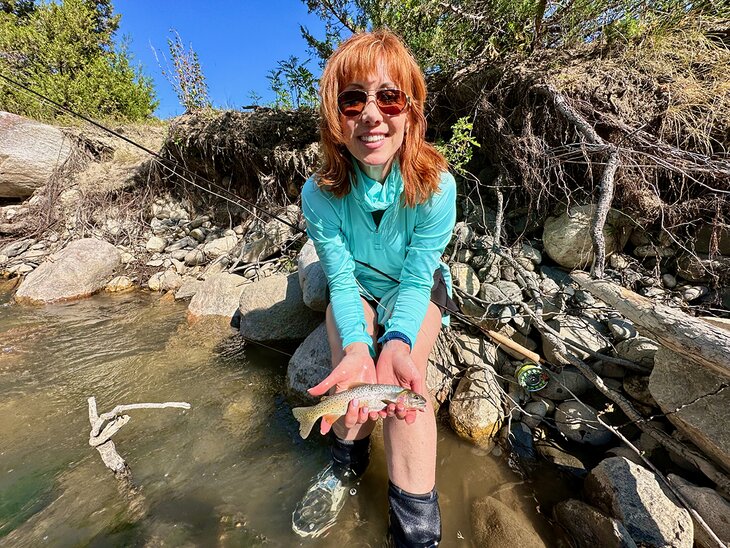 On this Page:
When Ernest Hemingway spent time fishing in the Upper Clarks Fork tributary of the Yellowstone River in Wyoming, he found such inspiration in this section of river that it has become immortalized in stories about the author's life and within the pages of his own writings. This tributary is one of the most stunning spots for fishing near Yellowstone National Park, so as an avid angler, I wanted to experience for myself some of the best fly fishing waters in Wyoming that are in this region and served as inspiration for one of America's most prolific writers.
The tributaries of the Clarks Fork are renowned because they are some of the waters where anglers can fish for native cutthroat trout. While cutthroat trout are found in many waters in and around Yellowstone, their populations have been threatened by non-native species for decades and they are just starting to hold their own again. The Clarks Fork waters are also desired by anglers because of the unique topography surrounding them with high mountain peaks and deep valley gorges all in one place.
Nature's tranquil sounds and the abundance of wildlife surrounding the Upper Clarks Fork River round out why this is a bucket-list location for anglers, particularly fly-fishing anglers.
"Fly fishing is synonymous with the Rockies so there's a romanticism to it," says Blake Clark of Wyoming Trout Guides. "The fly-fishing here is portrayed as so idyllic that many people feel it is unattainable, but I don't think it's as complicated as most people think."
While based in Cody, I wanted to give it a try for myself so I worked with Blake Clark as we set out for a day of fly fishing to see why Hemingway found so much inspiration in these idyllic fishing waters near Yellowstone National Park.
Fishing for Native Cutthroat Trout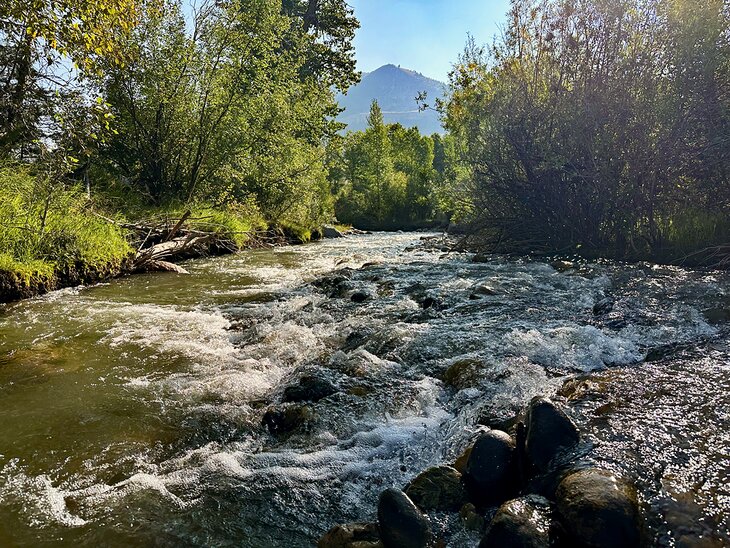 Our first waterway is Dead Indian Creek about an hour outside of Cody to fish for the iconic native cutthroat trout. Why is this species so special? It is the only native trout in Wyoming, and the greater Yellowstone ecosystem is the only place where it exists.
Other species like bears and osprey rely on cutthroat trout for food so this species is essential to the entire surrounding ecological community. This creek is a little off the beaten path from the Chief Joseph Highway but worth a stop for cutthroat trout as it holds a core conservation population of the species.
Recent rains pose a challenge as the downstream flows of many of the surrounding rivers are muddied, but there are plenty of fishing options in the region.
"We're fortunate around here to have five major drainages that we fish so there's always somewhere to fish. Today is about finding clear water," Clark says.
Generally, the higher-elevation waters will clear first, and with Dead Indian Creek at approximately 7,000 feet in elevation, we are good to go.
My guide has lived outside of Yellowstone National Park for more than 35 years and knows how the rivers react to various weather conditions. Since there are so many waters to choose from near Yellowstone and weather patterns evolve quickly in northern Wyoming, it is best to hire a guide who can assess all the factors that impact fishing and change daily.
First Things First: Bear Safety
Before we refresh on things like fly casting techniques, bear safety is my first lesson of the day. It's also one of the most important pieces of knowledge for anglers who plan to spend any time fishing these mountainous waters.
We gear up with calf-high wet wading booties and wading boots making our way through the thicket alongside the creek as Clark shouts, "hey bear – hey bear," announcing our presence to avoid surprising any bears that might be on the prowl. This is bear country, meaning they roam anywhere and everywhere in these mountains.
"You have to respect the bears but if you fear them, you'll never get out and fish. They're just a part of it," says Clark.
In the summertime, bears typically stay at higher altitudes so sightings of them are more infrequent. In the late fall or early spring after hibernation, you are more likely to see them. Anglers must stay bear aware at all times of the year and come prepared with bear spray or a firearm for protection.
Flies, Gear, and Techniques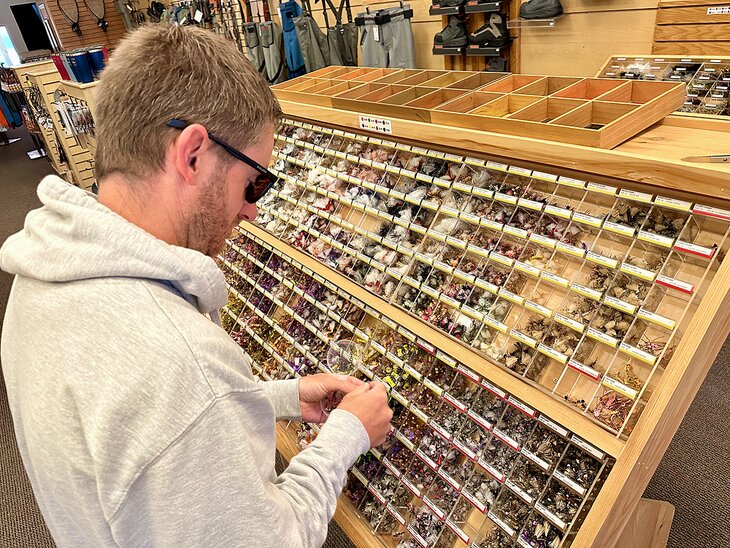 It's been a while since I've cast a fly and the pressure seems more intense fishing in this iconic location for such an exemplary species.
Clark pre-selected a variety of flies from the bait shop and sifts through them on the bank to determine which ones to use today. The late summer air is cool in the morning hours. Clear water rolls through the creek in a pattern that alternates between small rapids and smooth pools around the boulders that give it so much character.
"We are using mainly terrestrials and attractors, small hoppers and flying ants as there's not a lot of hatches in the summer in the northern Rockies," says Clark.
A few test casts prep me for landing my fly directly into the fast water. My challenge is to keep pace with my fly to present it as naturally as possible. This leads to my next lesson – mending, which enables me to manipulate my line, so the fly travels downstream at the same speed as the current.
As an angler who is used to a spinning reel and bigger river fish, identifying the light bite and visual requirements needed for fishing trout takes some getting used to. These are lessons quickly learned after missing several trout right away, but when I land my first, second, and third native cutthroat, it is not lost on me how special this moment is as an angler.
Since we are navigating the creek in the morning hours my next lesson is to keep an eye on the angle of the sun and my shadow so as not to spook the fish in the pools where I want to cast.
We continue along the creek, fishing the closest spots, and work our way upstream changing out flies along the way. One of the most successful attractors is the Fat Angie, which broadly resembles a flying ant. The other winner today is a double-drop rig set-up to target the deeper fish hiding around the boulders to entice the trout that have a mostly sub-surface diet.
"The rig is called a dry dropper or hopper dropper. It gives us another option," says Clark. "It's a dry fly on top then a bead-head nymph below it so it sinks. Essentially, you're fishing two flies at once."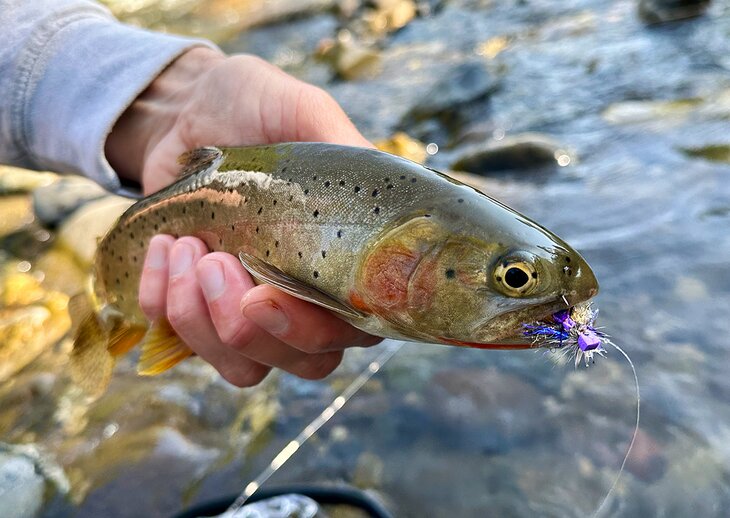 Another technique we use is high-sticking to keep my line out of the faster water that runs between me and the pool I'm targeting. As we navigate various sections of shallow creek bed, the overhead trees and tight conditions pose a challenge for casting. Clark shows me a technique called roll casting used to avoid overhead trees and while it feels like casting backward, it works to direct my line through narrow spaces.
My efforts pay off as I catch several more cutthroat from the edges and near the rocks in the faster water. It is time to move on to another creek and other species.
Fishing Opportunities Near Yellowstone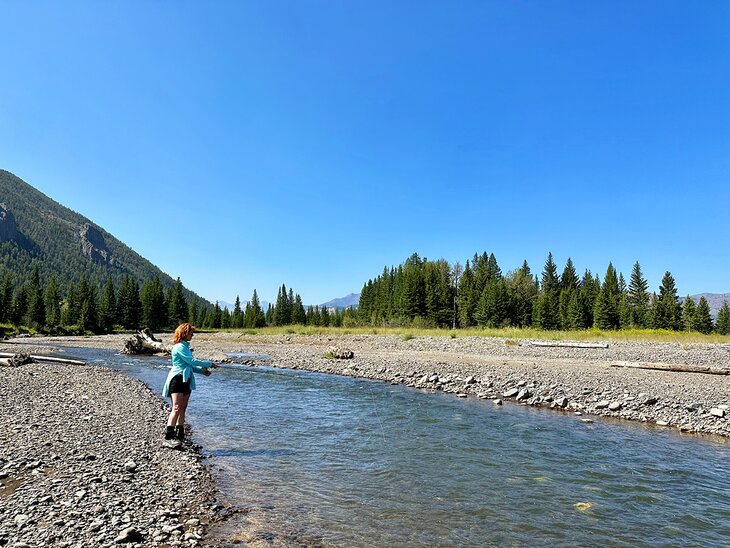 While many anglers come to the greater Yellowstone region to fly-fish for the native cutthroat trout, there are other fishing opportunities that appeal to all types of anglers.
As Clark takes me to our next location at Sunlight Creek, he explains that brook trout are abundant in that system. Besides cutthroat and brook trout anglers can catch other species like rainbow, brown and cutbow trout as well as mountain whitefish in most of the rivers throughout the region.
While I am fly fishing and wading in the creeks today, anglers also have the option to spin fish and float fish in the many rivers, tributaries, creeks, and lakes that surround Yellowstone.
Sunlight Creek is where Clark spent time fishing when he was younger and it's the place he credits for transitioning him from a spinning angler to a fly angler.
"I grew up spin fishing and a friend brought fly rods one day when we went to Sunlight Creek. We caught many brookies and I was just hooked after that," says Clark.
Sunlight Creek is much more open, wider, and shallower than Dead Indian Creek. On my first cast, a small brook trout decorated in stunning color takes my fly. I wet my hands to protect the fish before taking a photo and the small delicate trout barely fits in my hand.
"They'll be plenty more," Clark assures me as this waterway is slightly easier to navigate and fly fish given its open landscape.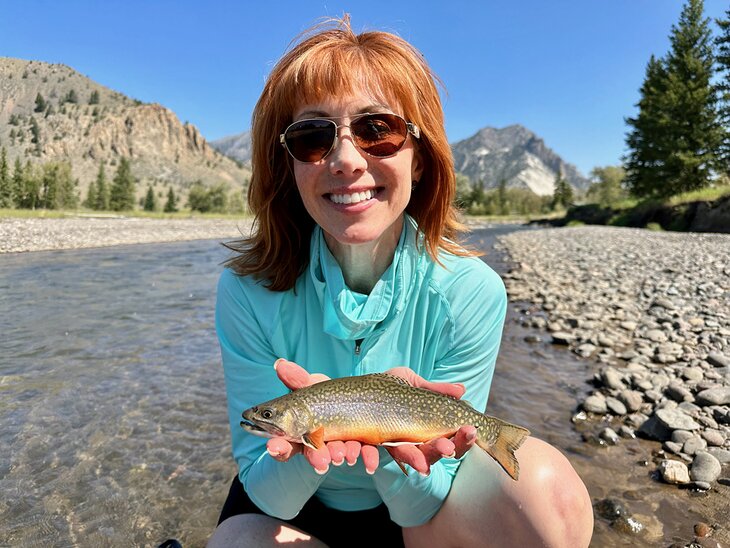 My guide explains that fly fishing is one of the most productive ways to fish in these mountainous streams and once you learn the hatch cycle of bugs from year to year, knowing which flies to use and when becomes second nature.
"Fly fishing is more productive because you can present the food source of the fishery directly to them as opposed to spin fishing or bait fishing. With flies you are changing the food source as their food source changes throughout the year," says Clark.
I cast and catch several more stunning brook trout, in some cases never even feeling the fish on my line. With so many spots on the water to choose from, I wonder what features an expert like Clark looks for to decide where to cast in the water.
"The water has to be deep enough to hold fish. You don't want slack water that's not moving but you don't want fast water because trout are opportunistic so they're going to sit in places where they have cover and that is going to bring food to them."
As I make my way upstream stepping on water-covered stones like a child playing in the creek for the first time, I have a brook trout on the line with nearly every cast making for an exciting day on the water.
Waterways Around Yellowstone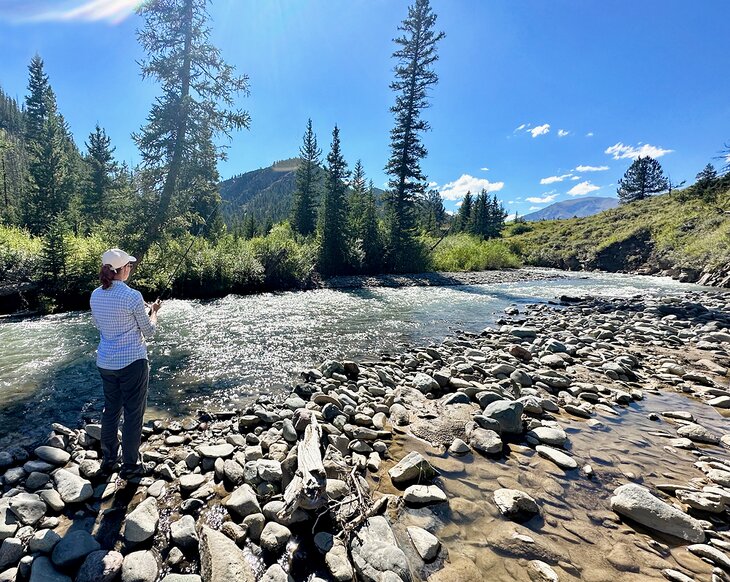 There are so many waterways to fish in the greater Yellowstone region that it is tough to narrow down where to start. Some of the bigger river systems that are popular for fishing are the North Fork of the Shoshone River, Yellowstone River, Snake River, the Madison River, and Henry's Fork River.
There are many tributaries and creeks stemming from these river systems and you will need to research what is most accessible from a location standpoint during your visit or hire a guide to take you. It is also essential to determine which state for which you will need a fishing license as these rivers flow through several of them so you could be in Wyoming, Montana, or Idaho while fishing near Yellowstone.
If you plan to base in Cody, it is easy to access smaller fishing waters whether you have a few hours or a whole day to spend.
The Lower Shoshone River is a nice spot to fish that you can do in an hour or two as it passes right through Cody. It is fishable year-round by wading, float fishing, or from the bank for rainbow and brown trout and mountain whitefish.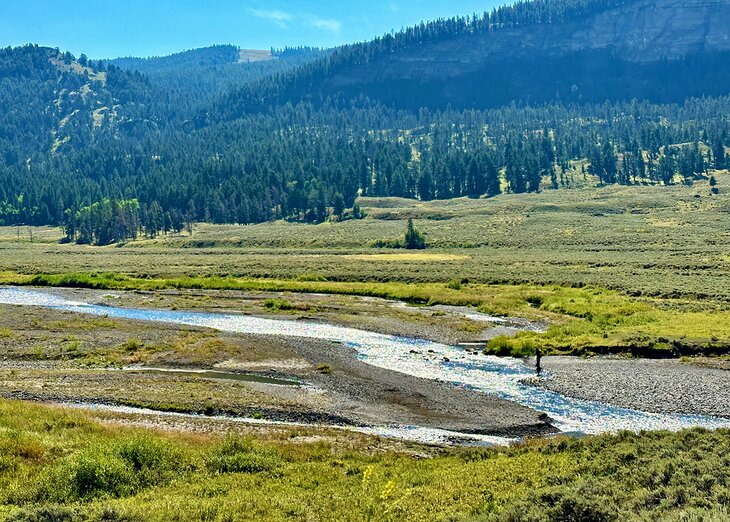 Wood River near Meeteese is a great option in the Shoshone National Forest if you have a half-day available. There is easy river access through preserved wooded landscape and opportunities to catch brook and rainbow trout.
Wind River Canyon is an easy one-day fishing trip about an hour from Cody. This is a nice float trip river for cutbow and brown trout.
Anglers who want to fish within Yellowstone National Park boundaries can do that with a special permit. Yellowstone Lake is iconic for cutthroat trout. Invasive lake trout are also prevalent, and anglers are required to kill them if they're caught.
Soda Butte Creek within Yellowstone is another option to fish for cutthroat trout in the Lamar Valley and it is surrounded by some of the best wildlife in the park.
Best time of Year to Fish Near Yellowstone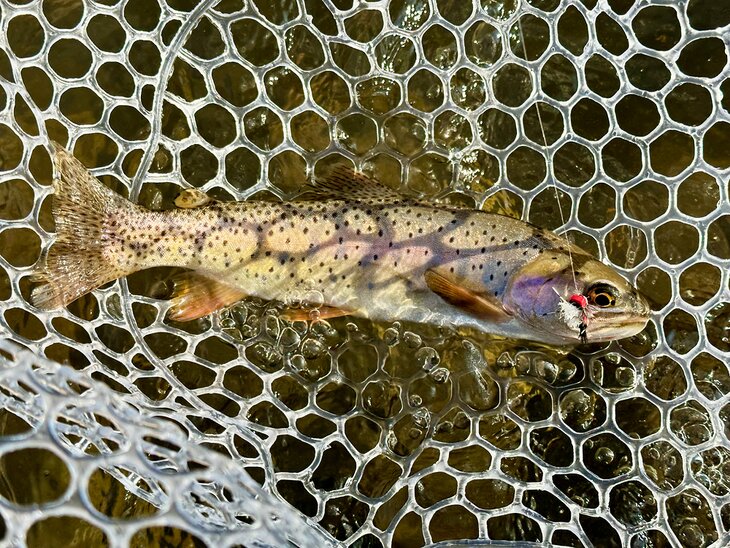 With thousands of miles of rivers, lakes, and creeks for fishing in greater Yellowstone, there are year-round fishing opportunities.
I am fishing in late summer, so temperatures are comfortable in the mountains, and it is easy to wade with shorts and wading boots. July is a great summer month for float fishing. Rivers generally clear up in July, so there is enough water to float within a five-to-six-week window.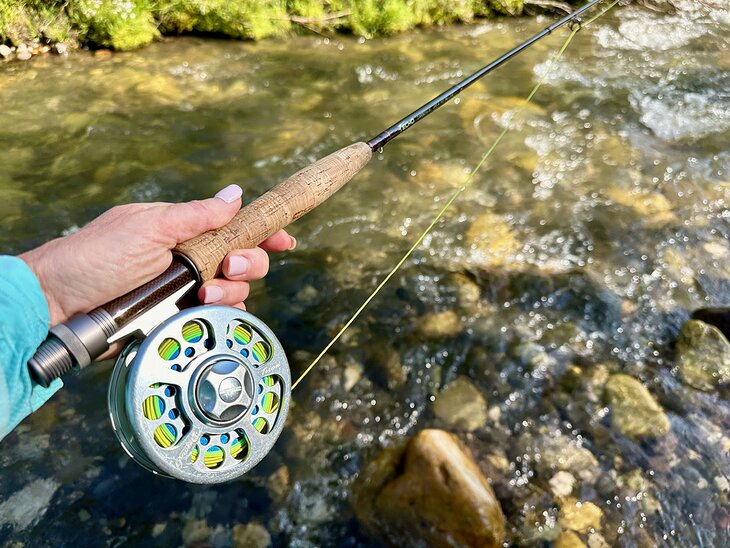 Fall is another great time to fish when the rivers are lower, and it is easier to get around while wade fishing. September is a prime month for wade fishing and dry fly fishing.
Even though winters can be brutal in Wyoming, anglers can still fish on some of the waters around Yellowstone.

"The lower Shoshone tailwater and the Bighorn River are both dam-release rivers, so they don't freeze for 20-30 miles downstream. There's great dry fly fishing in the wintertime with hatches and midges," says Clark.
Spring is a toss-up. It can be cold or warm and water conditions are unpredictable because of spring runoff and a wide range of fluctuating air temperatures.
As I walk up the creek bed wrapping up my day of fly fishing, I can only smile at the new techniques I learned and catching the native cutthroat trout - a crowning new species for me. My wading boots come off as I reflect on a successful fishing day immersed in such a pristine environment. I now understand why Hemingway was so captivated by a similar moment in the surrounding mountain scenery immortalizing these waters in his writings and returning frequently to fish them.