13 Top-Rated Things to Do in Red Lodge, MT
Author Brad Lane lived in Montana between 2018 and 2021 and has traveled throughout the state.
Red Lodge, an hour southeast of Billings, is a premier mountain destination in Montana with big scenery to explore. The eye-catching Beartooth and Absaroka Mountains are visible from town. And the awe-inspiring Beartooth Highway leads right out of town into these mountain landscapes.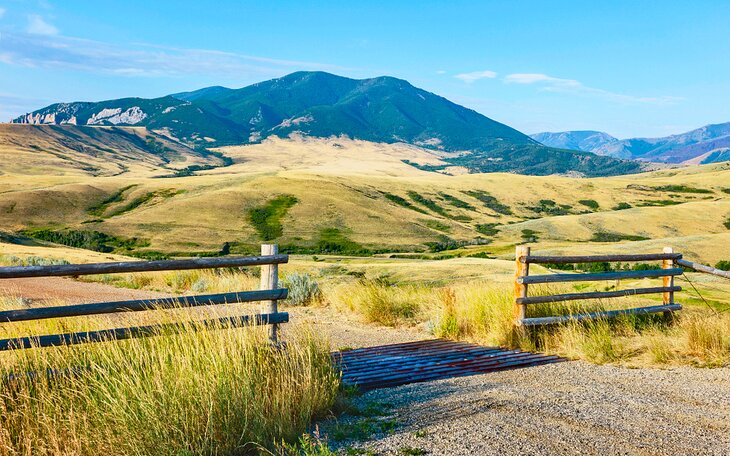 On the other end of the Beartooth Highway from Red Lodge is Yellowstone National Park's northeast entrance. Yellowstone's proximity makes Red Lodge an excellent base camp for visiting the country's first national park. And these mountainous surroundings lend to recreation throughout the year.
It's not all big mountain adventure that makes Red Lodge one of Montana's best small towns, however. The historic downtown district of Red Lodge encourages fun moments between adventures. From local cafés with iconic cinnamon rolls to meeting residents at a wildlife sanctuary, the flavors and community of Red Lodge are also fun to explore.
Find the best places to visit with our list of the top things to do in Red Lodge.
1. Drive the Beartooth Highway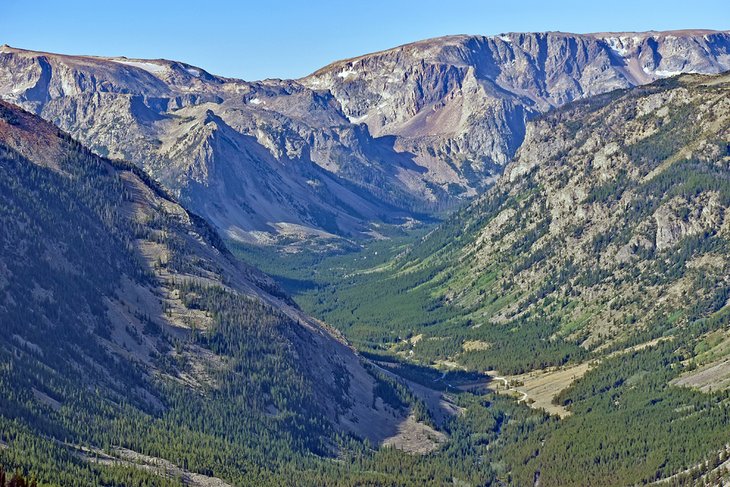 The Beartooth Highway is a modern marvel of engineering and arguably one of the country's most scenic drives. This 68-mile All-American Road spans from Red Lodge to the Northeast entrance of Yellowstone National Park in Wyoming. Incredible mountain landscapes unfurl with each winding switchback along the way, topping out at the nearly 11,000-foot Beartooth Pass.
The Beartooth Highway is open between Memorial Day and sometime in October (depending on snow conditions). During the operating season, the route displays jaw-dropping alpine views. Glacial lakes, deep river valleys, and blazing sunsets are just a few of the roadside attractions.
Just making the drive is a fun thing to do, especially with a recommended stop at Rock Creek Vista. But this mountain route is also lined with a surplus of sightseeing opportunities and recreation outlets. Several trailheads line the Beartooth Highway, inviting day trips and backpacking journeys into the surrounding national forest.
2. Ski at Red Lodge Mountain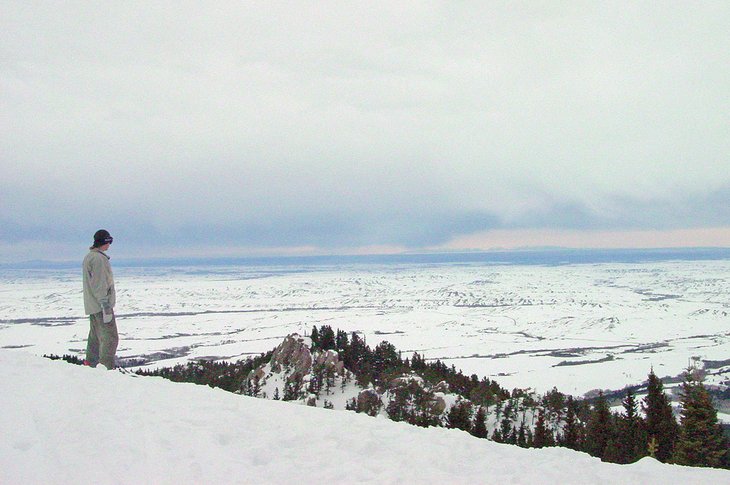 Red Lodge Mountain is one of Montana's best ski resorts. The mountain has a unique vibe from the rest of the state and a more laid-back appeal. Lift lines are also shorter, and lift tickets are less expensive.
But don't dismiss the skiing and snowboarding at this locals'-favorite resort. With over 1,600 acres and an average of 250 inches of snow each season, untouched powder punctuates the entire ski area. And with a long season between Thanksgiving and April, there's almost half the year to make some runs.
Other amenities at the mountain include lessons, rentals, and a cozy Main Lodge with cafeteria-style dining. The mountain also hosts several activities throughout the winter, including a celebrated Winter Carnival with costumes, races, and fireworks.
Address: 305 Ski Run Road, Red Lodge, Montana
3. Meet the Residents at Yellowstone Wildlife Sanctuary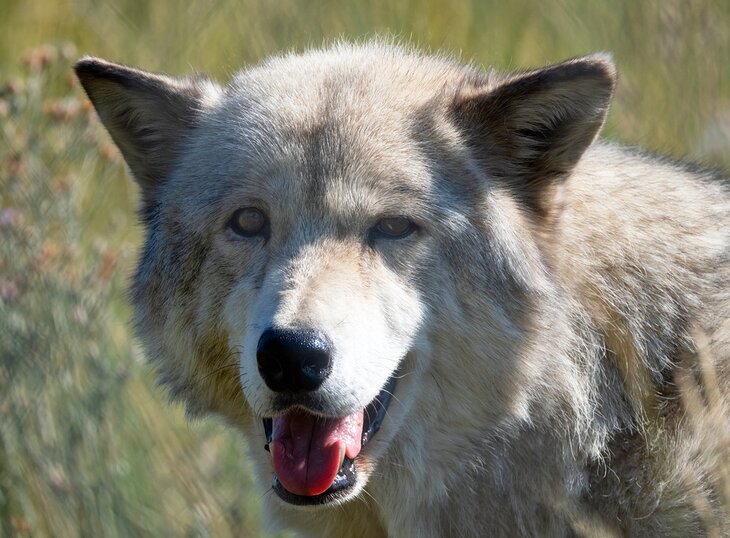 Between Red Lodge High School and Coal Miners Memorial Park, Yellowstone Wildlife Sanctuary offers a refuge for animals otherwise not fit to live in the wild. This non-profit animal haven has operated for more than 30 years. The American Sanctuary Association recently accredited the facility. It's the first sanctuary in Montana to receive this accreditation.
All the animals at the facility are native to the Greater Yellowstone Ecosystem. Currently, a few residents at the zoo include bison, black bears, and mountain lions. The sanctuary also houses several species of birds, like hawks, owls, and falcons. Alongside the approximately 40 animals, Yellowstone Wildlife Sanctuary also features beautifully landscaped gardens.
The sanctuary is open to the public six days a week during the summer (closed Tuesdays). It is only open Friday through Sunday during the shoulder seasons (November, December, and April). The facility is closed to the public except for private tours between January and March. Unique animal encounters are available by arrangement ahead of time.
Address: 615 2nd Street E, Red Lodge, Montana
4. Learn Something New at the Carbon County Historical Society & Museum
The Carbon County Museum provides a window into the past within a historic red brick building on the north end of the commercial district. This eye-catching building is a piece of history itself as the first Labor Temple in the state, dating back to 1909.
Exhibits at the museum tell the county's history ranging from native cultures to modern rodeo traditions. It's not just words on the wall at the museum, either - each display features artifacts, archival photos, and engaging displays. Volunteers and staff at the museum also help share the story of Carbon County.
The museum also hosts several programs and events. A Lecture Series brings someone new to the stage every last Wednesday of the month, excluding November and December. Guided tours outside of the museum are also available, including a Historic Red Lodge Walking Tour.
Address: 224 Broadway Avenue N, Red Lodge, Montana
5. Get Some Sweets at the Montana Candy Emporium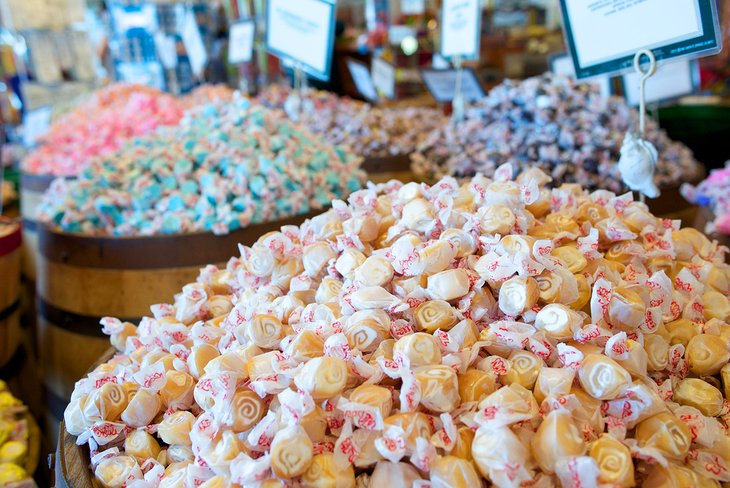 Sweet tooths rejoice at the Montana Candy Emporium on Broadway Street. It's easy to locate this confection superstore thanks to a large marquee outside advertising the latest confections. And with a long history at the location, the Montana Candy Emporium has been a traditional stop on a Red Lodge vacation for over two generations.
The interior of the store resembles an old-time country store complete with vintage memorabilia on the walls. More importantly, every type of candy and then some line the shelves. From the best-selling Walnettos candies to taffy, fudge, jellybeans, and jawbreakers; don't be surprised to walk out of the store toting a hefty bag of candy.
Candy is typically dealt out by the pound, with shoppers in complete control of what and how much goes in their bag. Individually wrapped items are also for sale. Be sure to leave with some of the store's homemade fudge.
Address: 7 Broadway Avenue S, Red Lodge, Montana
6. Backpack into the Beartooths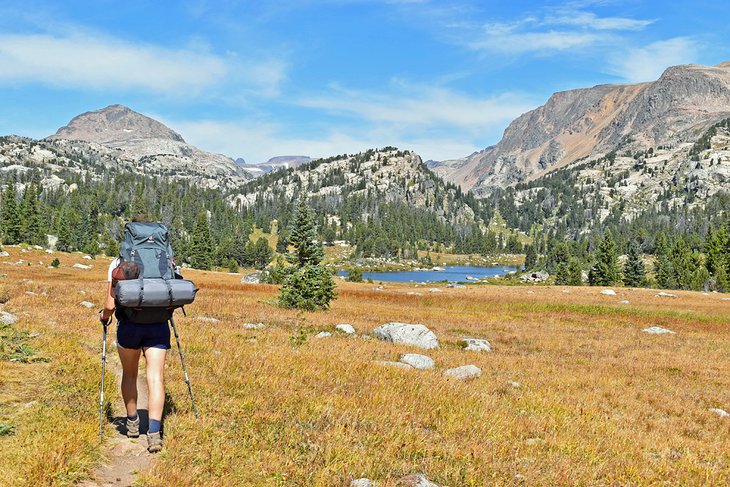 Hundreds of hiking trails litter the Beartooth and Absaroka Mountains surrounding Red Lodge. And not just lengthy backpacking routes. Day hikers and backpackers alike take advantage of the unspoiled terrain and some of the nation's finest hiking trails.
Choosing where to hike from Red Lodge is a little overwhelming. Luckily, most any route shares the splendor of the region. An always popular first choice is the East Rosebud Trail - also known as "The Beaten Path." This popular route travels through the Absaroka-Beartooth Wilderness.
The Beaten Path is 26 miles in total, spanning from East Rosebud Lake to the Clarks Fork Trailhead on the Beartooth Highway. A popular way to travel the entire length is to set shuttles at either trailhead. Day hiking is also popular on The Beaten Path, with several lakes serving as excellent turnaround points. Elk Lake, for example, is 3.5 miles down the trail from East Rosebud Lake trailhead.
Another popular area to hike is the colloquially known Beartooth High Lakes Country, on the Wyoming side of Beartooth Pass. Here, and starting from places like Beartooth Lake Campground, high-elevation lakes like Becker and Albino offer postcard images of the mountain terrain.
7. Fish at Wild Bill Lake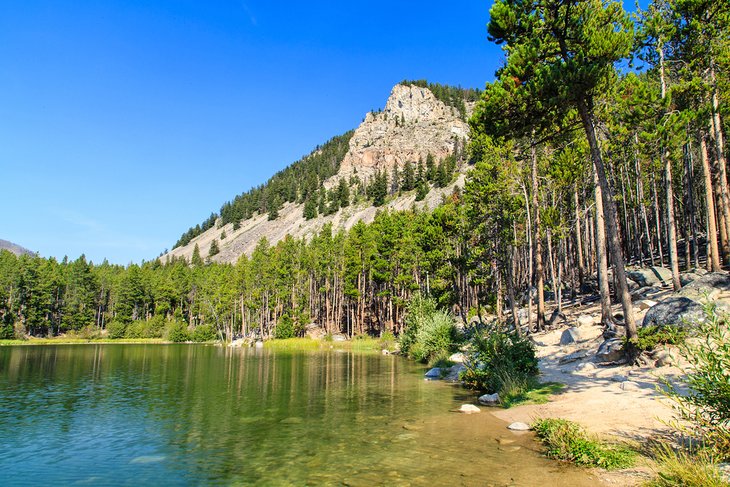 Thousands of acres of Custer Gallatin National Forest wait to be discovered from Red Lodge. One of the quickest ways to explore the forest from Red Lodge is at Wild Bill Lake, accessible with a seven-mile drive.
This small but scenic lake is off the west fork of Rock Creek Road, south of town. It's very popular with families looking to explore outside. The half-mile Wild Bill National Recreation Trail circles the lake and connects to wheelchair-accessible fishing docks. The lake also features several picnic areas overlooking the tranquil setting.
It's common to see several anglers accessing the water of Wild Bill Lake. The U.S. Forest Service regularly stocks that lake with rainbow trout. All anglers 12 years of age and older need a valid Montana fishing license to cast a line.
8. Hit the Greens at Red Lodge Mountain Golf Course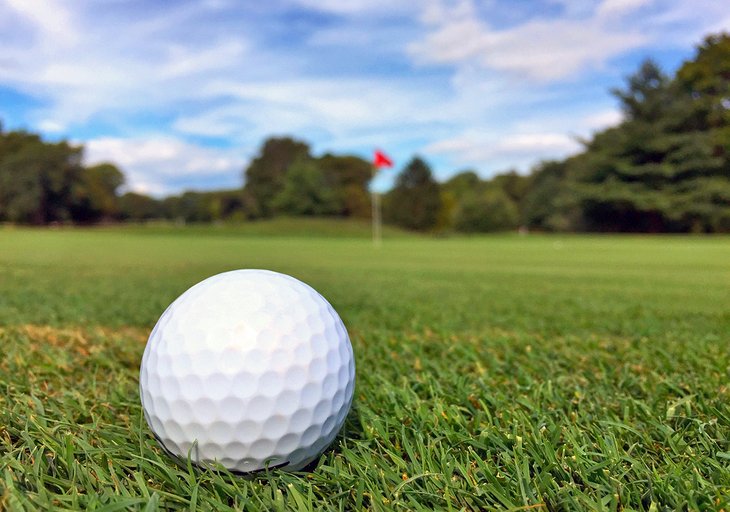 When the skiing and the snowboarding season ends at Red Lodge Mountain, the golf season begins. The public Red Lodge Mountain Golf Course is a favorite of the community and anyone who enjoys gorgeous views backdropping the green. Tee times are available, though walk-ons to this 18-hole, par-72 course are also welcome.
The mountain scenery and affordable green fees often lead to a second round. Beautiful mountain views surround the entire course, and many of the holes have scenic features like lakes and creeks. One of the signature holes, # 15, features a challenging island green.
The golf season at Red Lodge Mountain typically spans mid-May through mid-October. The Pro Shop at the golf course has a selection of clubs and apparel for sale and club rentals. Other amenities include a driving range and several tournaments open for public play.
Address: 828 Upper Continental Drive, Red Lodge, Montana
9. Travel via Horseback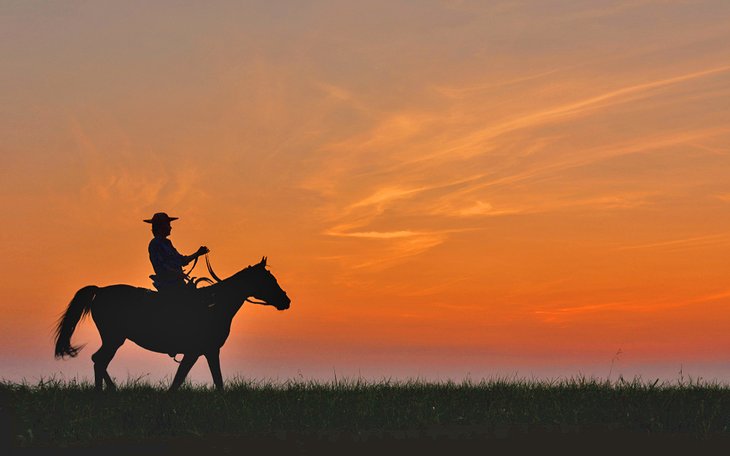 Whether it's the slow trot or elevated vantage point, it just feels right to see the Montana landscape from atop a horse. And the beautiful countryside surrounding Red Lodge is no different. A handful of nearby guiding companies enable this iconic mode of Montana travel for those without horses of their own.
Elk River Outfitters is the most popular guiding service located within Red Lodge. Guided horseback rides from Elk River Outfitters begin minutes from the commercial district, next to Rock Creek, and quickly climb into a mountainous environment. Trips span from an hour in length to full-day and overnight adventures. Elk River Outfitters operates between May and September.
Farther outside of town, other outfitters like Whispering Winds Horse Adventures and Paintbrush Adventures also offer scenic horseback rides.
10. Grab a Bite to Eat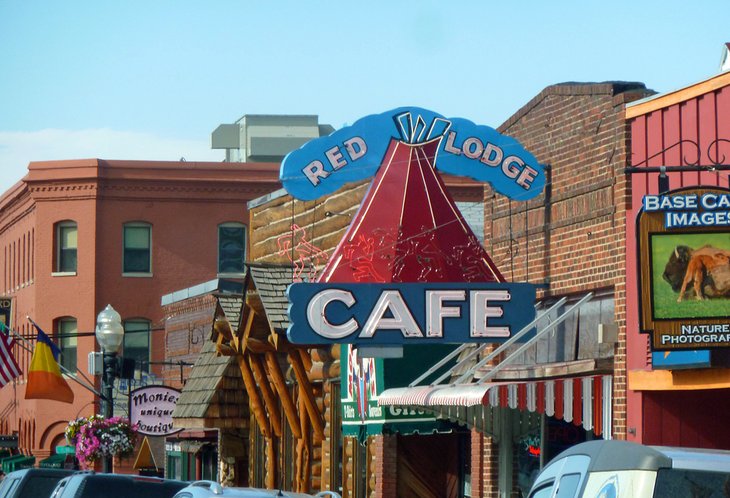 For a town with a population of just over 2,000 residents, Red Lodge has a surplus of excellent restaurants with many flavors. It's the hungry tourists that fuel the demand for local eateries and places to congregate between adventures. And it's easy to have a different dining experience for every meal of a long holiday weekend in Red Lodge.
Cafe Regis, on 16th street, is the local favorite place for classic breakfast entrees. Be sure to save an appetite for fresh cinnamon rolls at Cafe Regis if visiting on Saturday morning. Other popular places to visit for the most important meal of the day include the Red Lodge Cafe and Prindy's Place. All three of these classic breakfast spots also serve casual lunch options.
For evening appetites in Red Lodge, institutions like Carbon County Steakhouse and PREROGATIvE Kitchen are community favorites and good date spots. Romantic outings also occur at Piccola Cucina at Ox Pasture, which features seasonal menus and fresh ingredients. For those with pizza on the mind, look no further than the Red Lodge Pizza Company on Broadway Avenue.
11. Skate the Day Away at the Red Lodge Ice Rink
When winter temperatures dip below freezing, locals and tourists alike rejoice in the cold weather at the Red Lodge Ice Rink. Situated in Lions Park, this community-driven and volunteer ice rink has been giving the town a place to skate since 2006.
Alongside abundant free skate times on the community calendar, the ice rink also has special hockey and figure skating events. Hockey leagues at the rink range from youth hockey to adult pick-up leagues with little experience required.
12. Spend the Night at The Pollard Hotel
If you're looking for where to stay in Red Lodge, consider The Pollard Hotel downtown for an elegant and historic experience. This iconic brick building was built on Broadway and 11th Street in the late 1800s. Early influential guests of the hotel included copper kings from Butte and famous faces like Wild Bill Hickock and Calamity Jane.
Today, visitors enjoy the historic ambience with modern touches like running water and electricity. The entire property has received dozens of upgrades and renovations over the years. Several room sizes are available, ranging from the Pollard Suite to rooms with bunk beds.
The rest of Broadway Street and its several shops and restaurants are right outside the door of The Pollard Hotel. And the hotel is home to the popular Marli's Restaurant on the first floor, comprising a slick dining room oozing with early 20th-century appeal.
Address: 2 Broadway Ave N, Red Lodge, Montana
13. Create Something at the Red Lodge Clay Center
Red Lodge Clay Center is a unique institution dedicated to ceramic artistry. The Clay Center is well known for its residency program in which they host artists from across the country for weeks or months at a time. During their tenure in Red Lodge, resident artists spend much of their time in the Clay Center's studios.
However, it's not just visiting artists who enjoy the creative outlets offered by Red Lodge Clay Center. Tourists and community members also access the studios via child and adult workshops and classes. Shoppers and those looking for handcrafted wares also enjoy selecting from the ceramics for sale.
Address: 123 Broadway Avenue S, Red Lodge, Montana
Map of Things to Do in Red Lodge, MT