12 Top-Rated Attractions & Things to Do in Cody, WY
Step into the world of the Wild West in Cody, a small Wyoming frontier town with immense natural beauty and cultural attractions. Built by the legendary showman William "Buffalo Bill" Cody in the late 19th century, this Old West town is more than just a gateway to Yellowstone National Park. Located 52 miles from the east entrance to the country's first national park, Cody offers an authentic western experience.
Cody offers a number of exciting things to do, including the world-class Buffalo Bill Center of the West, a rodeo, reenactments, and a fascinating living history museum with frontier buildings. You can raft the Shoshone River, venture out to the range to see wild mustangs, and end the day with dinner at the iconic Irma Hotel and a country music show nearby. This "Rodeo Capital of the World" has a walkable downtown teeming with cowboy apparel stores, galleries, and fantastic restaurants.
By making Cody your base, you'll get your Old West fix before your adventure even begins in Yellowstone. Learn more about the best places to visit with our list of top things to do in Cody.
1. Buffalo Bill Center of the West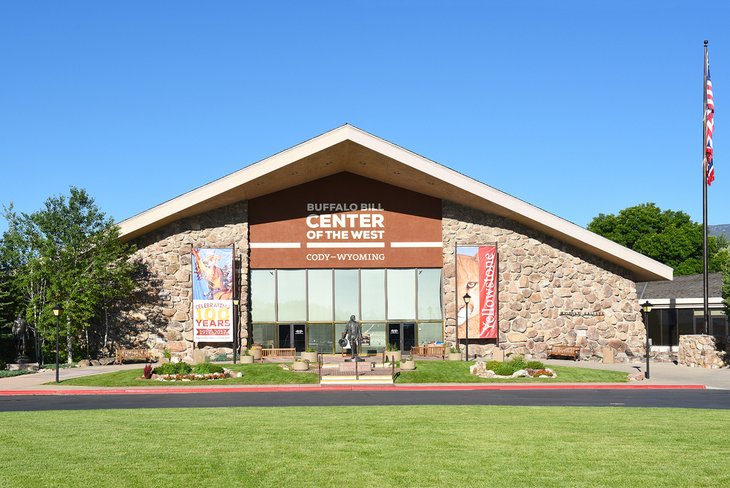 You can spend an entire day at the Buffalo Bill Center of the West and still have more to explore. This Smithsonian-affiliated center has five museums under one roof. Learn all about the extraordinary life of the founder of Cody and his rip-roaring Wild West show at the Buffalo Bill Museum, featuring interactive exhibits and multimedia presentations. Marvel at artwork from Remington to Russell at the Whitney Western Art Museum.
Revisit the history of firearms at the Cody Firearms Museum. The Plains Indian Museum features large dioramas of life on the plains, with an emphasis on culture, customs, artwork, and belief systems of the Native American people who called the area home.
Draper Natural History Museum pays homage to the flora and fauna found in the various ecosystems of the greater Yellowstone region, with specimens of wild animals like red wolves, rams, elk, bison, and grizzly bears. Each of the zones features the sounds and smells of the habitats, giving visitors a multi-sensory experience of the natural world that lies beyond the outskirts of Cody. Don't miss the Raptor show put on by volunteers with rescued and rehabilitated raptors. The admission ticket is good for two consecutive days.
Address: 720 Sheridan Ave, Cody, Wyoming
Official site: https://centerofthewest.org/
2. Old Trail Town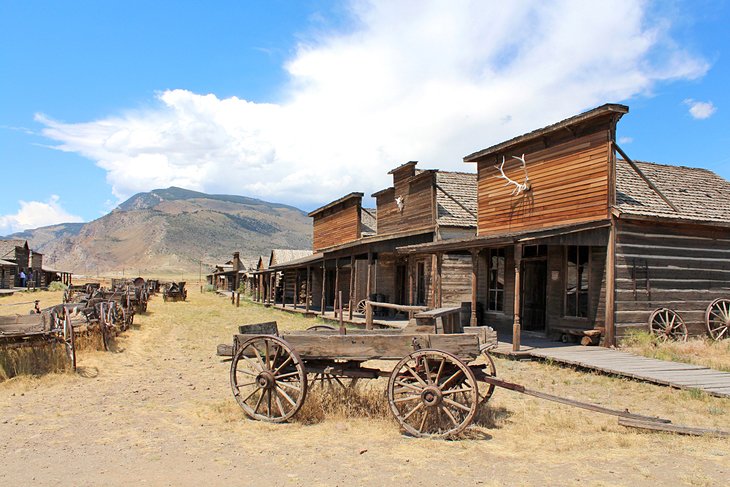 Set against the clear blue skies of Wyoming, Old Trail Town houses a collection of over a dozen historic cabins, a variety of businesses, and a trail of well-worn wagons, giving visitors a glimpse of what an old western town looked like.
Thanks to the efforts of Wyoming native and historian Bob Edgar, buildings from the region that would've otherwise been destroyed were salvaged piece by piece and reassembled at Old Trail Town. At this popular attraction, located next to the rodeo grounds, stroll through history on the boardwalk as you peak inside restored structures dating from 1879 to 1901 containing authentic relics and furnishings.
Among the collection, you'll find three general stores, two blacksmith shops, a carpenter's shop, a granary, a livery barn and a wagon barn, a post office, a school house, and an old saloon that still has bullet holes in the door.
There is also an exhibit dedicated to the pioneering women of the west, and among the cabin homes is the original cabin of scout Curly and the "Hole-in-the-Wall Cabin" of famous outlaws Butch Cassidy and the Sundance Kid. Old Trail Town is open May to September.
Address: 1831 Demaris Drive, Cody, Wyoming
Official site: http://oldtrailtown.org/
3. Take a Cody Trolley Tour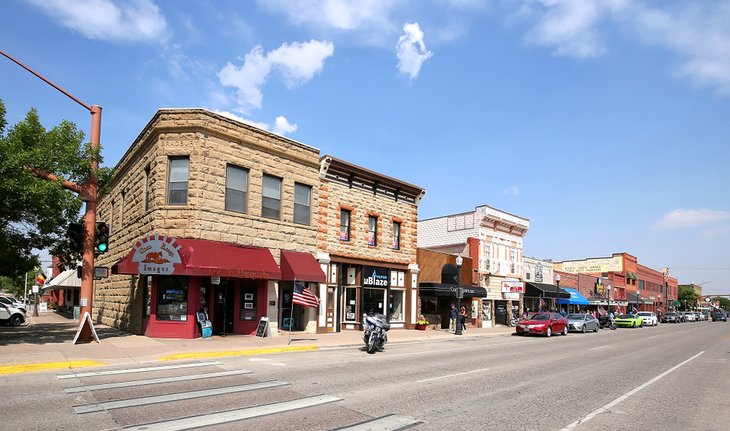 For a good introduction to Cody, hop on a Cody Trolley Tour for an enjoyable 60-minute guided tour of the town's main attractions and beyond. Points of interest include the historic downtown district, rodeo grounds, and the Shoshone River Canyon, where you will see one of the region's most scenic canyon vistas.
Unlike the typical drab narration of many tours, this trolley tour features two guides who play off each other to tell stories about the town, Buffalo Bill, and the Old West in an engaging way. The route covers 22 miles and is fully climate controlled – and also dog-friendly.
Although the sightseeing tour only operates from May through October, tourists passing through Cody in December can catch a ride on the Holly Jolly Trolley, when the tour is transformed into a fun way to see the town's Christmas light displays.
Address: 1192 Sheridan Avenue, Cody, Wyoming
Official site: http://codytrolleytours.com/
4. Buffalo Bill's Irma Hotel & Restaurant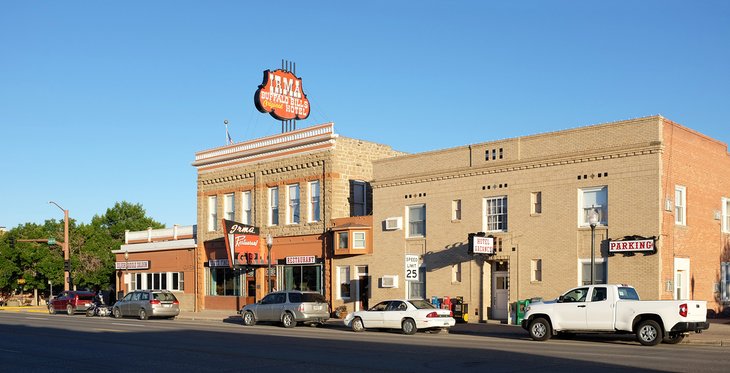 No visit to Cody is complete without a visit to Buffalo Bill's Irma Hotel, situated right in the heart of downtown. Built by Cody and named after his youngest daughter, this property oozes Old West charm from the moment you step inside, with its wallpapered walls adorned with old pictures, antler chandeliers, and animal trophies.
Dine at the turn-of-the-century main dining hall, serving buffet lunches and meals from a menu of classic American fare. The massive Cherrywood bar, a gift to Buffalo Bill by Queen Victoria, takes center stage. Play a fun game of trying to spot bullet holes in the bar from the time of gunslinging cowboys.
Address: 1192 Sheridan Ave, Cody, Wyoming
Official site: http://www.irmahotel.com/
5. Cody Nite Rodeo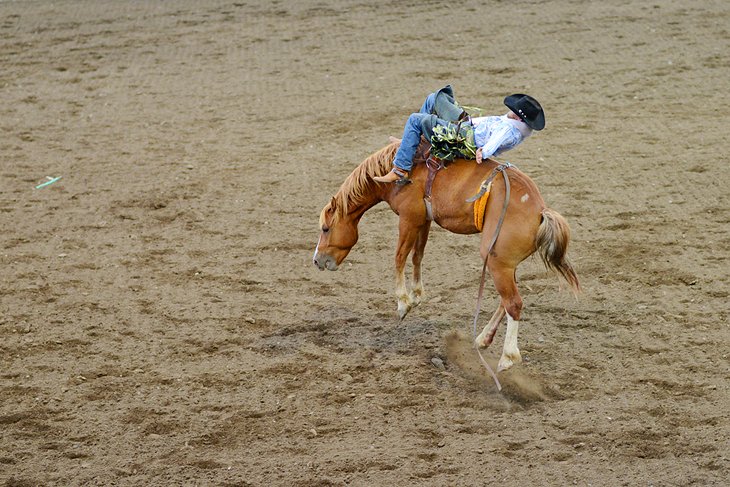 Early settlers who ventured to the wild lands of Wyoming required skills of horsemanship to handle and manage livestock, which have since been passed down to generations. In the American West, these skills are just as important today on working ranches. At the Cody Nite Rodeo, operating since 1938, visitors get to witness real western, family-friendly action with cowboys, broncos, and bull-riders.
There's plenty of fun for everyone. Kids can get their face painted by rodeo clowns and learn to rope like the cowboys and cowgirls, and adults can take their chances on a mechanical bull. Cody Nite Rodeo has nightly performances from June through August.
The rodeo also hosts special events, and the year 2019 marked the 100th Anniversary of the Cody Stampede, an annual four-day festival that takes place July 4th weekend.
Address: 519 W. Yellowstone Ave, Cody, Wyoming
Official site: https://www.codystampederodeo.com/
6. Watch a Wild West Gunfight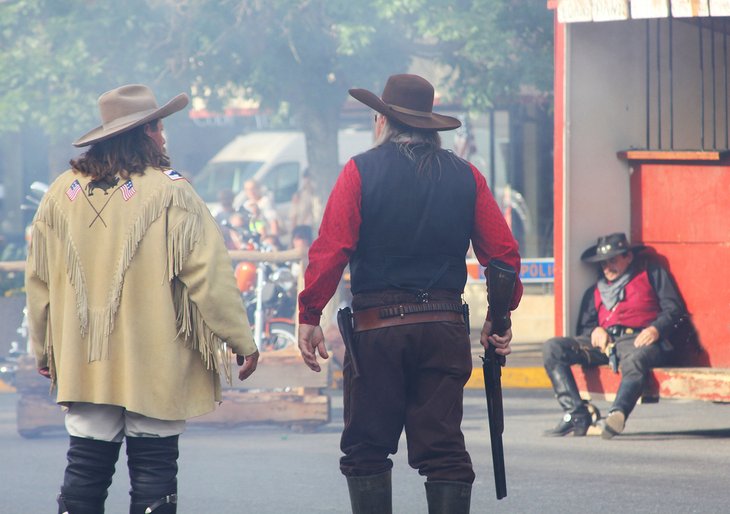 Every evening except Sundays from June through September, the Wild Bunch Gunfighters put on a show that ends with a bang – or, actually, many. Held in front of the historic Buffalo Bill's Irma Hotel, an Old West shootout is re-enacted by the dedicated group of fully costumed actors.
With the performance varying night to night so visitors can enjoy it more than once, this 30-minute show is acted out on the street in front of the hotel. It's free for all spectators, often with hundreds of people lining the street and standing on whatever they can find to get a good view.
Those who want to ensure a great view can also reserve front-row folding chairs at the hotel or through the folks at Cody Trolley Tours.
Another must-see performance in Cody is Dan Miller's Cowboy Music Revue, featuring the lead man as well as his daughter Hannah Miller and musicians Tim Bushnell and Wendy Corr. Be prepared to sing along to foot-tapping country music and cowboy classics like Home on the Range and Cool Water six nights a week (Monday to Saturday) during the summer.
7. Heart Mountain Interpretive Center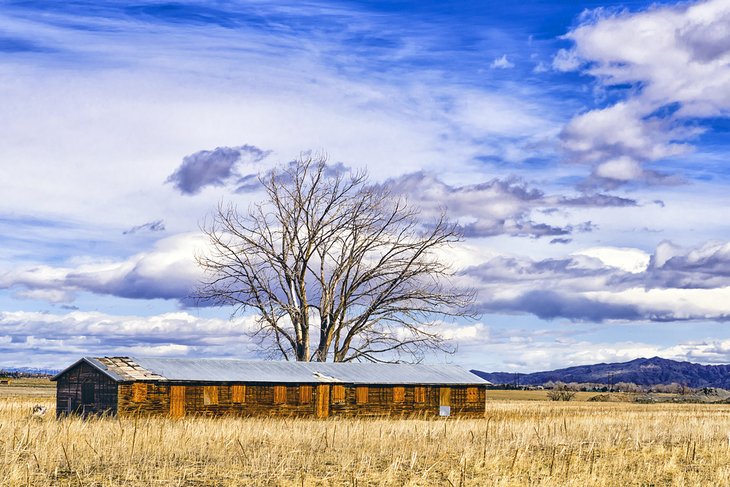 Within a short driving distance from Cody is the Heart Mountain Interpretive Center, located in Powell at the site of the Heart Mountain Internment Camp that imprisoned 14,000 Japanese Americans during World War II. Housed in a building resembling barracks, the center presents exhibits, artifacts, oral histories, and recreations of living quarters depicting the life of those who persevered behind fences in harsh environmental conditions for three years.
A walking trail leads visitors to the Heart Mountain memorial, dedicated to the brave Japanese soldiers from the camp who lost their lives during the war. The center also has a collection of paintings by Estelle Ishigo, a Caucasian wife of a Japanese American who followed him to the camp. Ishigo captured scenes of everyday life at the internment camp with vivid watercolor drawings.
Address: 1539 Road 19, Powell, Wyoming
Official site: http://www.heartmountain.org/
8. Buffalo Bill Dam & Visitor Center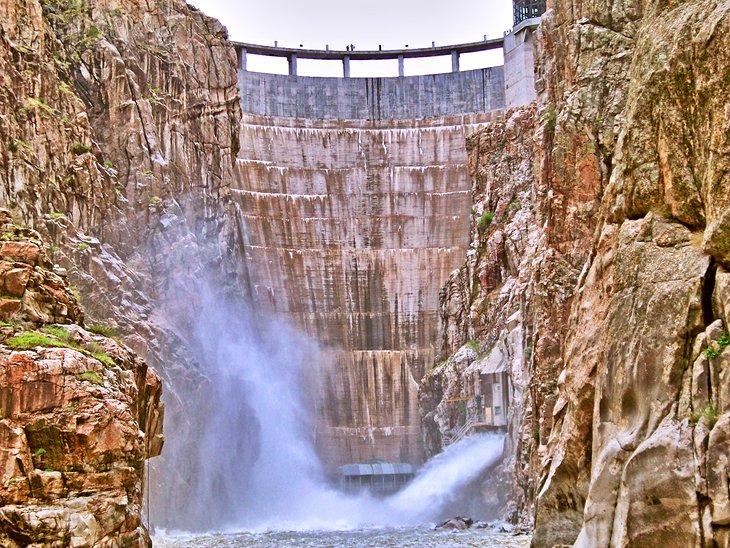 Walk the length of the Buffalo Bill Dam for incredible vistas of the surrounding mountains and the winding Shoshone River. Buffalo Bill Reservoir, as part of the Shoshone Project, irrigates more than 93,000 acres of farmland. Built in 1910, at 325 feet, the dam was the highest in the world at the time, and was one of the first concrete arch dams in the country.
At the dam's visitor center, learn about the construction and importance of the dam for the Big Horn Basin area at the mini-theater. Walk through interpretive areas showing exhibits on the area's farming, geography, wildlife, and prehistoric artifacts.
Address: 4808 North Fork Hwy, Cody, Wyoming
Official site: https://bbdvc.com/
9. Buffalo Bill Scenic Byway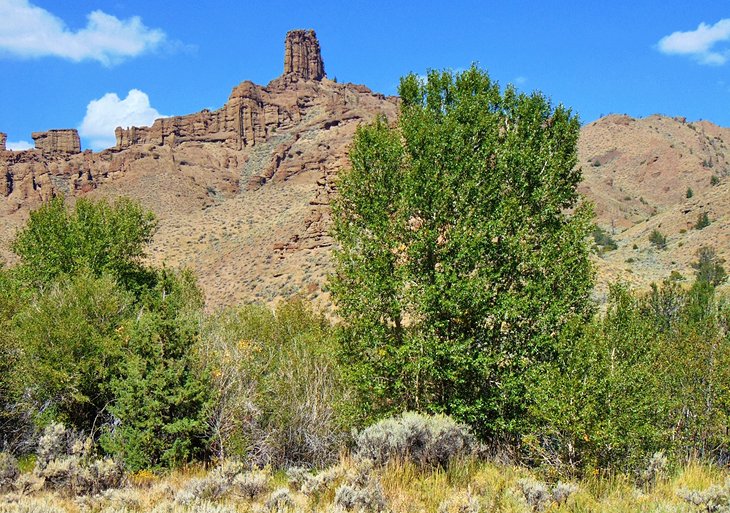 President Teddy Roosevelt once called the Buffalo Bill Scenic byway from Cody to the east entrance of Yellowstone the 50 most beautiful miles in America. This awe-inspiring route follows the path of the Shoshone River, winding past rock formations and sweeping mountain views of the Wapiti Valley.
There are several camping spots along the way if you decide to camp out by the river or go fishing. Just two miles from Yellowstone, stop by Pahaska Tepee hunting lodge, home of Buffalo Bill in between shows. The byway ends in at Sylvan Pass at an elevation of 8,530 feet at the East Entrance of Yellowstone.
10. Red Canyon Wild Mustang Tours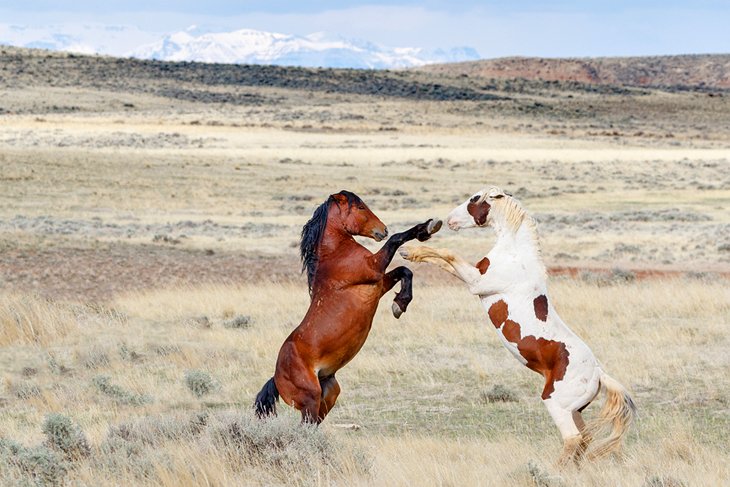 There's something magical about seeing horses in their natural habitat. On a Red Canyon Wild Mustang tour, you'll get a unique chance to see these majestic creatures doing what they are meant to do–living as part of a herd, grazing on green pastures, and playing with other members of their group. See these free-roaming horses of the American west on a "safari" adventure that takes you via van or bus from Cody to the grasslands of the McCullough Peaks Wild Horse Range.
Binoculars are provided, so you can get close-up views of the mustangs, set against a spectacular backdrop. On this nearly three-hour tour, you may also spot pronghorn antelope, coyotes, golden eagles, and black-tailed prairie dogs.
Official site: https://codywyomingadventures.com/red-canyon-wild-mustang-tours/
11. Outdoor Adventures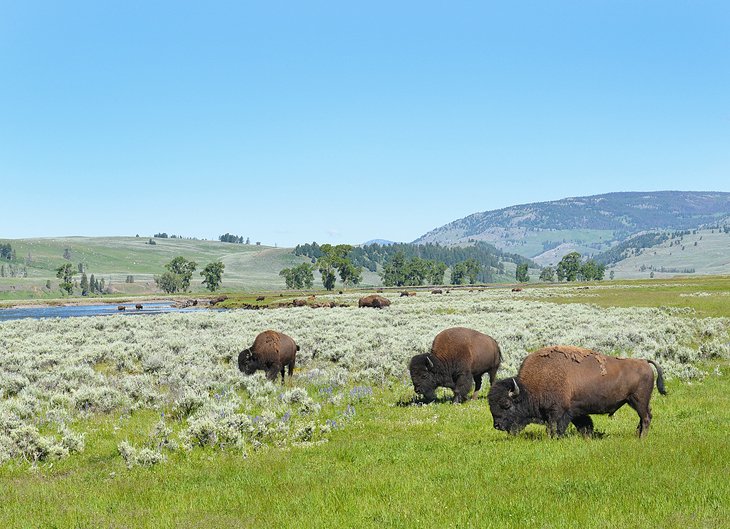 Feel the exhilarating power of the river as you raft or kayak down the rapids coursing in between beautiful red rocks. Tour operator Wyoming River Trips offers rafting adventures on the Shoshone and North Fork Rivers through Red Rock Canyon, Lower Canyon, and more. On the Red Rock Canyon tour, guides will narrate the history of the early Cody settlers and the Plains Indians.
Hikers can head to the Shoshone National Forest and the greater Yellowstone region. Mountain climbers can aim for the cliffs of the North Absaroka Range. Yellowstone's Lamar Valley, dubbed as the American Serengeti, is a dream come true for animal lovers. See large herds of bison and ungulate species like elk and pronghorns. Winter activities in and around Cody include ice climbing, skiing, and snowmobiling.
12. By Western Hands
Opened in 2019, By Western Hands™ (BWH) is a non-profit museum and gallery displaying works inspired by the American West. The museum aims to preserve the history of western functional art that was born in Cody in the 1930s. You'll find exquisite art pieces in the form of furnishings, couture, lighting, and more from artisans who live and work in the Rocky Mountain region. The Education and Training Center has a multitiered curriculum molded for those passionate about western design.
Address: 1007 12th Street, Cody, Wyoming
Official site: https://bywesternhands.org/
Map of Attractions & Things to Do in Cody, WY
Cody, WY - Climate Chart
Average minimum and maximum temperatures for Cody, WY in °C
J
F
M
A
M
J
J
A
S
O
N
D

2

-10

5

-7

9

-3

14

1

18

5

24

9

28

13

27

12

22

7

15

2

7

-4

3

-8

PlanetWare.com
Average monthly precipitation totals for Cody, WY in mm.

12

7

13

29

50

40

31

23

29

22

12

8
More Related Articles on PlanetWare.com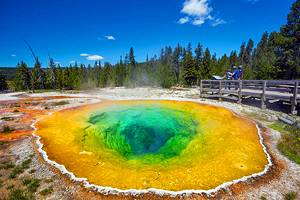 Yellowstone National Park: Explore the natural wonders of America's first National Park with our guide to Visiting Yellowstone National Park: Attractions, Tips & Tours.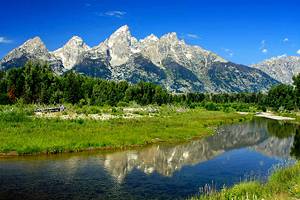 Wyoming: For information on other places near Yellowstone, see our pages on the Top-Rated Attractions in Jackson Hole and the Best Hiking Trails in Jackson Hole. If you're looking to explore the rest of the state, visit our pages on the Top-Rated Attractions in Wyoming and the Best Fly Fishing Destinations in Wyoming.