11 Top-Rated Hiking Trails in Jackson Hole, WY
Ringed by jagged peaks, Jackson Hole, Wyoming offers some of the most spectacular and challenging hikes in the country. You could spend years hiking in this region and still stumble across amazing trails. The valley of Jackson Hole encompasses the funky western town of Jackson, gorgeous Grand Teton National Park, and Jackson Hole Mountain Resort in Teton Village, and you'll find fantastic hikes with jaw-dropping scenery in all these areas.
To the east of Jackson, the Gros Ventres Wilderness features many dog-friendly trails. And in the heart of Jackson, Snow King mountain, one of Jackson Hole's top attractions, features a locals' favorite summit hike.
Before you head out, a word of caution: Wildlife such as moose, black bears, and grizzlies share these trails, so always keep a safe distance, and be sure to pack bear spray. Note that pets are prohibited on trails within Grand Teton National Park. Finally, in this neck of the woods, the weather changes quickly, and snow can fall on any day of the year, so it's a good idea to dress in layers and check current conditions and detailed maps before you hit the trails.
Whether you're looking for flat, family-friendly lakeside loops; wildflower meadows; dog-friendly trails; or epic multi-day treks, Jackson Hole has a hike for you. Plan your adventures with our list of the top hiking trails in Jackson Hole.
1. Paintbrush Divide to Cascade Canyon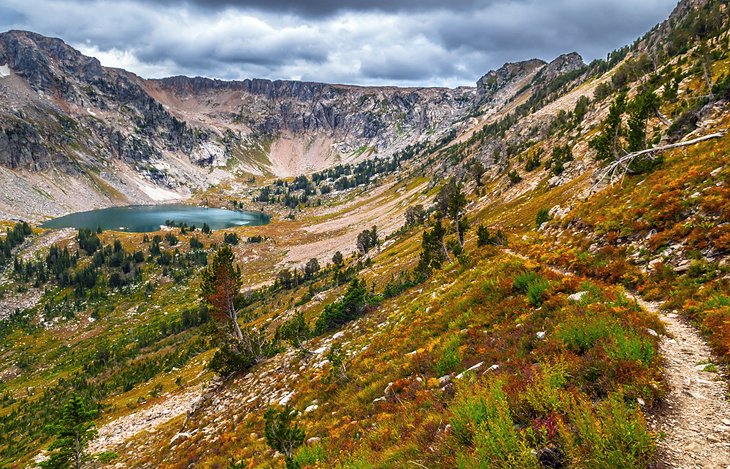 Paintbrush Divide is one of the most rewarding, long day hikes in Grand Teton National Park. This 19.3-mile loop involves a challenging climb up the often snow-cloaked, north-facing slopes of 10,700-foot Paintbrush Divide. Along the way, it passes by some of the park's prettiest mountain lakes and a diversity of breathtaking scenery.
Begin the trail at Leigh Lake Trailhead with a scenic stroll along the eastern shore of String Lake and beautiful views of Mount Moran. As you climb Paintbrush Canyon, you'll see colorful wildflowers, such as the trail's namesake Indian Paintbrush, and great views of Leigh Lake and Jackson Lake behind you.
The Paintbrush Canyon trail includes a side-trip to beautiful Holly Lake, a small glacial lake at the foot of Mt. Woodring, as well as Lake Solitude. The descent towards Cascade Canyon provides beautiful views of Grand Teton that you would miss if you did this hike in reverse. Other highlights include Inspiration Point, with its panoramic views of Jenny Lake, and the picturesque cascades of Hidden Falls.
It's important to check Paintbrush Divide conditions before you set out. Due to snow that often clings to the north-facing slopes, this trail is best tackled in late summer, from August to early September. Hiking Paintbrush Divide in June or July could require equipment like crampons for snow-covered slopes. If you want to take your time, you can easily stretch it out into an overnighter and camp in Paintbrush or Cascade Canyon.
2. Sleeping Indian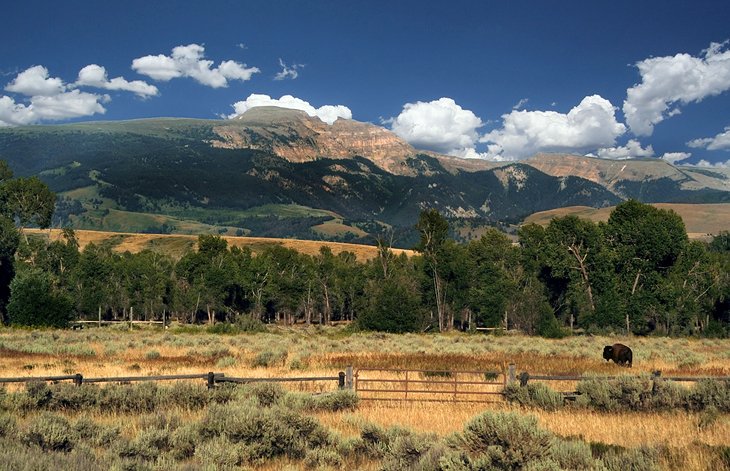 A Jackson Hole favorite, the challenging 12- to 14-mile hike up Sleeping Indian, in the Gros Ventres Wilderness, offers some of the valley's best views of the entire Teton mountain range.
Locals call this peak "Sleeping Indian" because it resembles a Native American adorned in full headdress sleeping on his back, but its official name is Sheep Mountain, thanks to the bighorn sheep, which frequently graze in the area.
This distinctive peak offers a scenic hike up a thickly-cloaked gully through whitebark pine forests and lush meadows flecked with wildflowers. Typically uncrowded, the trail rises between 4,100 and 4,300 vertical feet. Eventually you emerge at the "belly" of the Sleeping Indian, and from here, it's another 1,300 vertical feet to the top, where you can breathe in the spectacular views of the mighty Tetons and the valley of Jackson Hole.
Note that the trail is not marked and might require a little bush bashing at the beginning. The hike takes about eight to nine hours, and it's dog-friendly, but make sure you bring plenty of water, as there are few natural sources en route.
You can access the trail from Flat Creek Trailhead off the National Elk Refuge Road, about 15 miles from downtown Jackson.
Another dog-friendly trail (on-leash only) that can be accessed along the National Elk Refuge road is the 10.3-mile summit trail to Jackson Peak. The trail takes you past pretty, pine-fringed Goodwin Lake, where you can stop for a refreshing swim on the way. Note that the road to access the trailhead might require 4WD, depending on conditions.
3. Jenny Lake Loop: Hidden Falls & Inspiration Point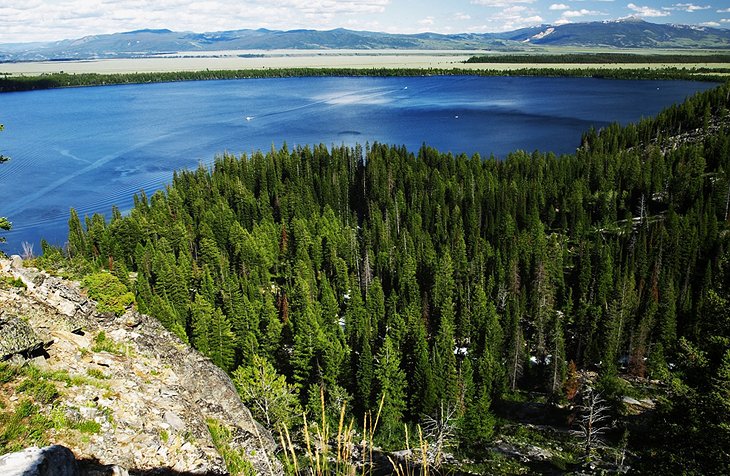 Part of the Paintbrush Divide hike and the Teton Crest Trail, this short and moderate hike is a tourist favorite. It offers inspirational Teton views without the need to clamber up challenging slopes and conjure your inner mountaineer. There's something for everyone on this hike, including a picturesque waterfall, a glittering lake, and spectacular views from an overlook above the lake. No wonder this trail can be congested in peak times.
Named after the Shoshone wife of a trapper, Richard Leigh (for whom nearby Leigh Lake is named), Jenny Lake, at the foot of Cascade Canyon, is a focal point of Grand Teton National Park.
You can start the adventure by hiking part of the loop around Jenny Lake. Alternatively, you can catch the ferry from South Jenny Lake to the west-shore boat dock. This is a great way to admire the spectacular scenery around the mountain-ringed lake and save some energy for the uphill hike later.
Once at the boat dock, follow the narrow 0.8-mile round-trip trail up through pine forests to beautiful Hidden Falls and on to Inspiration Point, where you can stop for a snack and soak up amazing views of the lake and the valley below.
From here, you can head back down to the boat dock for the return ferry, or continue into Cascade Canyon for more gorgeous scenery. Before heading out on this hike, stop by the Jenny Lake visitor center to learn about the area's ecology. You can also start this hike from the String Lake Trailhead.
Official site: http://www.nps.gov/grte/planyourvisit/upload/Jenny_Lake_topo.pdf
4. Death Canyon & Static Peak Divide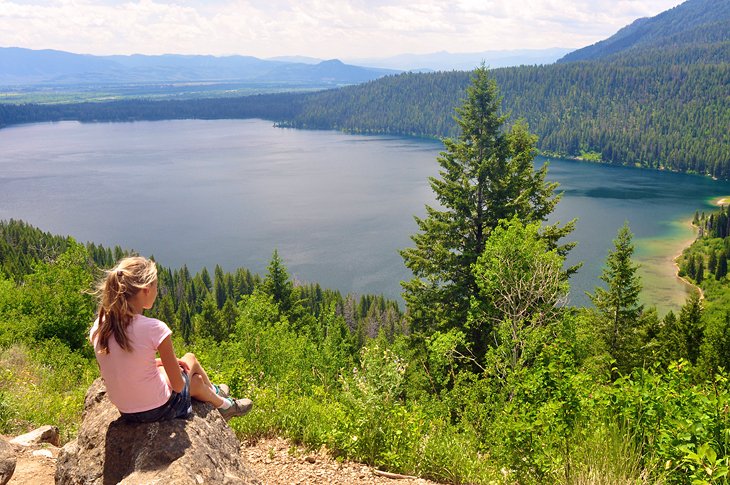 Though it sounds ominous, Death Canyon, in Grand Teton National Park, offers some of the park's most beautiful scenery, including mountain lakes, pine-clad canyons, wildflowers, and wildlife. This is prime bear habitat for both black bears and grizzlies, so be sure to bring your bear spray.
To access the Death Canyon trailhead (also called Whitegrass Trailhead) off Moose Wilson Road, make sure you drive as far as you can possibly go on the rugged dirt trail to save an extra mile or so of hiking. A high-clearance vehicle is recommended for the final stretch, but you can park a two-wheel drive at the end of the paved road and hike the last mile into the trailhead.
The well-maintained trail snakes up a hill to the spectacular Phelps Lake Overlook, a great spot to stop for a snack and snap some pictures. The trail then descends down switchbacks to the junction with the Death Canyon Trail just above Phelps Lake. You can take a left here to reach the shores of Phelps Lake or continue straight to ascend into Death Canyon.
From here, you climb steeply along Death Canyon Creek until you reach the Alaska Basin trail, then continue climbing to 10,790-foot Static Peak Divide. Once at the top, stop to gawk at the breathtaking views of Jackson Hole, the Wind River Range, Rimrock Lake, Death Canyon, Buck Mountain, and Static Peak.
This is a challenging 16.3-mile hike, but the first 1.2 miles to Phelps Lake Overlook is easy, and it's a good turnaround point if you have younger children in tow.
Official site: http://www.nps.gov/grte/planyourvisit/upload/Death_Canyon_topo.pdf
5. Taggart Lake - Bradley Lake Loop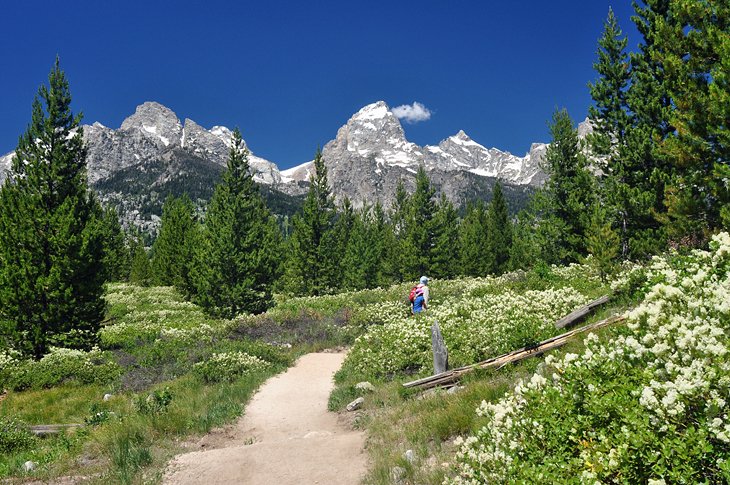 Accessible from May through October, the popular Taggart Lake - Bradley Lake Loop is a relatively easy and flat hike through stunning mountain scenery that's suitable for the entire family. You can adjust the mileage and route to suit your time limit.
The easiest option is a three-mile return hike to Taggart Lake. Mountain meadows covered with wildflowers, gushing streams, and dense pine forests mix up the scenery along the trail, all with the majestic Tetons as a backdrop. Keep an eye out for moose, marmots, and chipmunks.
The hike culminates at the lake with gorgeous views of Avalanche Canyon and the surrounding peaks, as well as the Tetons, depending on your angle. This is a great spot to rest on a boulder along the lakeshore, enjoy a picnic, and take some photos.
From here, you can head back the same way or continue another mile and a half to Bradley Lake and enjoy more beautiful views of the Tetons mirrored in the lake, with less crowds. The Taggart Lake-Bradley Lake Loop is 5.9 miles and ascends 800 feet. Note that the parking lot caters to several other trails, so the area can be busy in the summer.
6. Phelps Lake Loop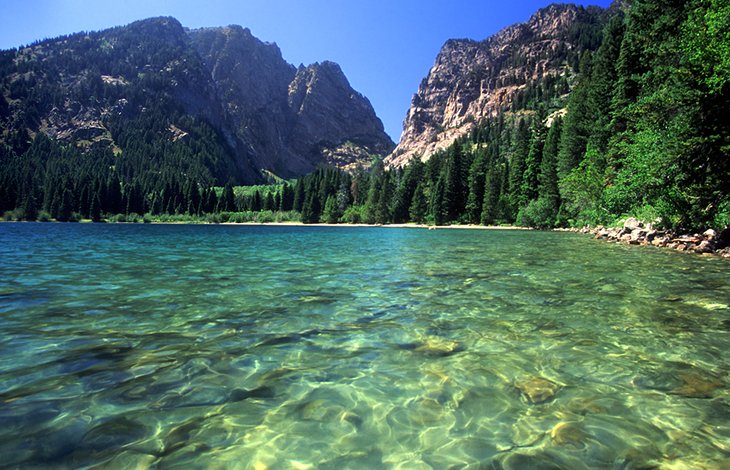 One of the most popular hikes in Grand Teton National Park, the 7.2-mile Phelps Lake Loop is a family-friendly, low-elevation hike with lovely lake views and sprinklings of delicate wildflowers. The trailhead lies in the beautiful Laurance S. Rockefeller Preserve, an 1,106-acre refuge within the national park that was donated by Rockefeller in 2001.
It's a good idea to tackle this hike earlier in the day, before the busy parking lot fills up. Start at the excellent Laurance S. Rockefeller Preserve Center, with its creative sensory exhibits, and continue across sagebrush meadows and through forests of aspen and pine. Black bears are often sighted in this area, so be sure to bring your bear spray.
The Woodland Trail is the most direct route to Phelps Lake, where you can stay for a picnic, continue hiking around its perimeter, or head back the way you came. If you continue around the lake, Huckleberry Point offers wonderful views and a welcome rest spot. For another vantage point of Phelps Lake, you can hike the easy 1.6-mile trail to Phelps Lake Overlook, 700 feet above the lake, from the Death Canyon Trailhead.
Phelps Lake Loop is an easy to moderate hike accommodating most levels of hikers.
Official site: http://www.nps.gov/grte/planyourvisit/lsrpth.htm
7. Teton Crest Trail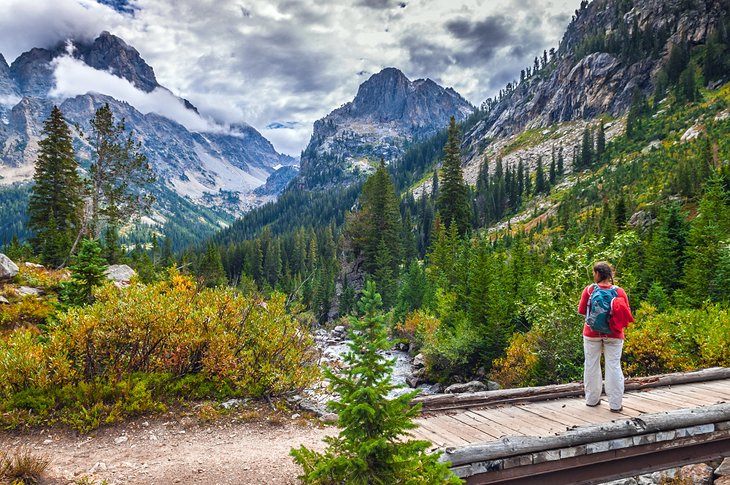 One of the top multi-day hikes in the valley, the challenging, 35-mile Teton Crest Trail visits many of the most famous sights in Grand Teton National Park and incorporates some of the shorter day hikes on this page.
If you want to spend about three nights and four days camping out and hitting the scenic hot spots, this is the trail for you. It's a one-way hike, so you'll need to park your car at Leigh Lake Trailhead in the String Lake parking lot and catch a shuttle to Teton Village, or arrange for someone to pick you up.
To avoid a 4,139-foot uphill hike, hop aboard the Jackson Hole Aerial Tram and join the trail at the top of Rendezvous Mountain at 10,450 feet. Along the way, you'll pass the park's three most famous high-elevation lakes: Marion Lake, Holly Lake, and Lake Solitude (which offers less solitude now than in days past), and you'll have to huff it up three inclines, including Paintbrush Divide and Hurricane Pass.
From Hurricane Pass, you can gaze out over stupendous views of the Tetons and other peaks, including Mount Moran. Other highlights include the beautiful Alaska Basin; Death Canyon Shelf; and picturesque Cascade Canyon, itself a popular day hike.
The season for this hike is from late July to mid September, but check snow conditions before heading out - especially on Paintbrush Divide. Make sure you take a detailed map with you, as the trail branches off in many places along the way. For a longer hike, you can start the trail at the Phillip's Pass Trailhead on Teton Pass.
This hike requires advanced preparation and a healthy fitness level. Make sure you research it thoroughly with Jackson Hole hiking guides and maps before you head out.
8. Leigh Lake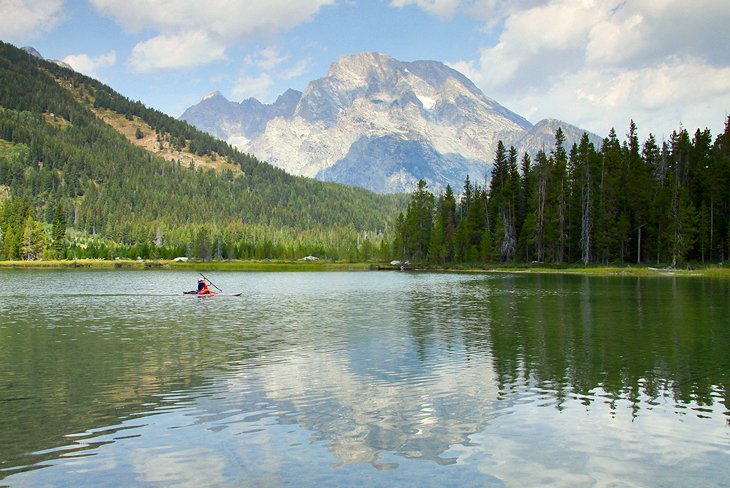 In Grand Teton National Park, Leigh Lake is a flat, family-friendly hike to a beautiful lake rimmed by a white-sand beach. If you have kids, you can lure them along with the promise of a swim and sand play on the lakeshore.
The easy 5.4-mile out-and-back trail starts at the Leigh Lake Trailhead in the northwest corner of the popular String Lake picnic area. Start the hike as early as possible to see the spectacular mountains around the lake in the soft morning light. Along the way, you'll follow the lakeshore of both String Lake and Leigh Lake, the Tetons' third largest lake, and see gorgeous mountain scenery. Rockchuck Peak, Mount Woodring, and Mount Moran provide a stunning backdrop.
Once you reach Leigh Lake, you can enjoy a picnic, gaze up at the mountain peaks from the white-sand beach, and cool off with a refreshing swim. If you're looking for an easy early-season hike, Leigh Lake is a great choice, as the snow melts earlier at this lower elevation. It's also a great spot for an overnight family camping trip.
Accessed from the same parking lot, the String Lake Loop (part of the Valley Trail) is another easy family-friendly lake loop and a great spot to spend a hot summer's day swimming and soaking up the scenery. Look for huckleberries along the trail in August.
9. Tram to Gondola Hike: The Summit Trail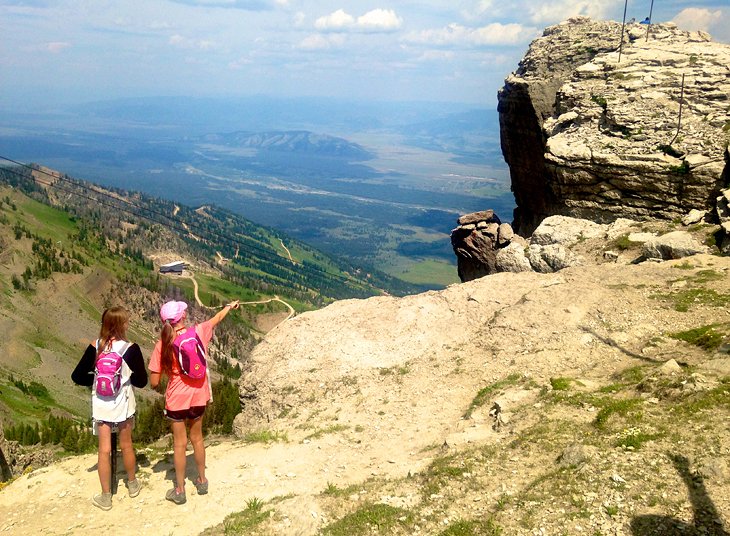 Unless you're a diehard hiker seeking a strenuous workout, this trail is a dream. On the tram to gondola hike, you can enjoy spectacular high-alpine views on a downhill hike with a refreshing treat at the end.
Start by zooming up Rendezvous Mountain to 10,450 feet in 12 minutes on the famous Jackson Hole Aerial Tram. Then all you have to do is hike down the Summit Trail to the top of the gondola, where you can relax at the restaurant with a cool drink, a hearty snack, and breathtaking valley views.
Once you step off the tram, the trail descends along the ridgeline. Along the way, look for marmots in the rocks. Another bonus of this hike is that you can see species of plants and animals that are only found at high altitudes, like the black rosy finch, a high mountain bird that nests above the treeline. Sprays of colorful wildflowers dapple the trails. You'll also pass Corbet's Couloir, the famous chute that becomes a spine-tingling expert ski run in the winter.
Unlike most of the hikes in Jackson Hole, this trail is best done in the afternoon, so you can time your arrival at the gondola summit when the outdoor patio opens and snag a front-row seat to a stupendous view. It's a good idea to check that it's not closed for a private function first.
After refueling on mouthwatering truffle fries and huckleberry concoctions, you can download on the gondola (free after 2pm) or continue hiking down to Teton Village. This is a moderate hike that takes one to two hours, and of course, it's all downhill! But you will need to buy a ticket for the tram ride up.
If you're looking for a longer, more challenging hike from the tram, the 11-mile Granite Canyon trail takes you past Marion Lake and through cool pine forests, ending in Teton Village. Allow about seven hours for this strenuous hike.
Official site: http://www.jacksonhole.com/hiking.html
10. Snow King Summit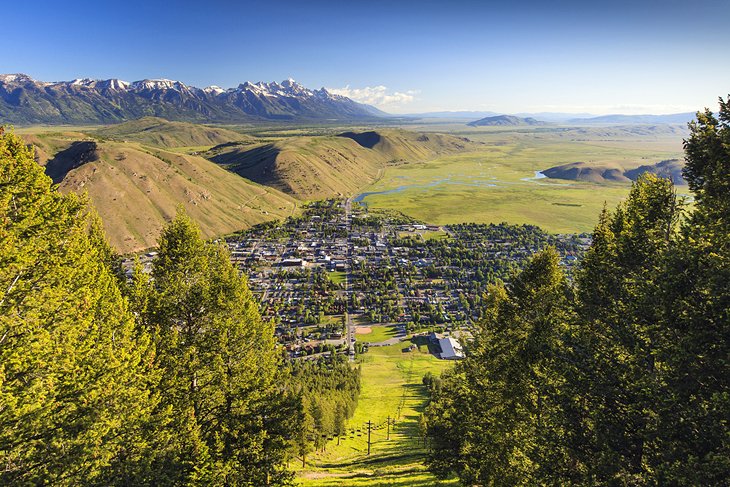 In the heart of downtown Jackson, Snow King is a favorite summit hike that locals often tick off during lunch or after work with their dogs in tow. This is the town ski hill, with some of the steepest north-facing ski racing slopes in the US, and in the summer, a hike to the top is a fun way to tone your calves, boost your heart rate, and enjoy panoramic views over the valley.
The 1.8-mile trail rises 1,500 vertical feet to the summit through fragrant pine forests. Once at the top, you can gaze out at the Tetons, the distinctive peak of Sleeping Indian, the Elk Refuge, the Gros Ventres, and the town of Jackson snuggled in the valley below.
For the return trip, you can take a different route back down on the Trapper Trail under the chairlift, or if you're too beat to descend on foot, hop on the chairlift. The trail is easily accessible and visible at the base of Snow King Mountain, and it's suitable for hikers of all levels, although beginners might have to take frequent rest stops along the way.
An alternative Snow King summit hike, is Josie's Ridge, which has the same spectacular views but with a more secluded feel than the wide service trail up Snow King's summit from the chairlifts. The easiest way to access this trail is from the Wildlife Drive trailhead.
The Snow King trail system also connects with the Cache Creek trail network, another locals' favorite, and all these trails are dog friendly. If you're looking for winter hiking in Jackson Hole, these trails are a good option.
Official site: http://snowkingmountain.com/mountain/terrain-statistics/
11. Amphitheater Lake Trail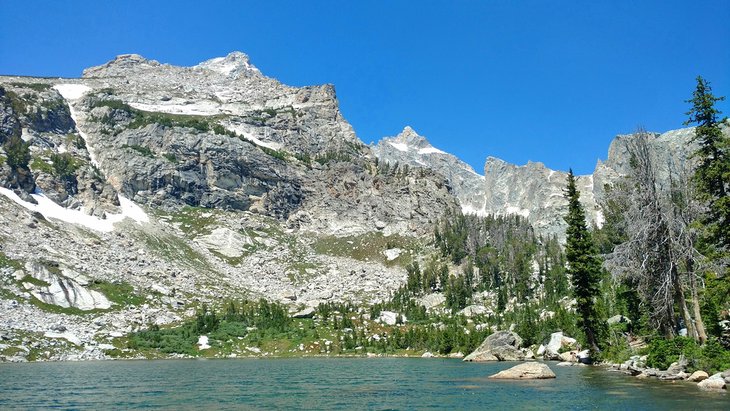 If steep, seemingly endless switchbacks don't scare you, the challenging 10-mile Amphitheater Lake trail will reward you with stunning views of mountain-ringed glacial lakes and the valley of Jackson Hole far below. Depending on the time of year, you might also see beautiful wildflowers; vibrant fall colors; and wildlife such as grouse, deer, marmots, squirrels, chipmunks, moose, and bears.
Start at the Lupine Meadows trailhead in Grand Teton National Park. From here, you'll hike along a relatively flat forest trail before the serpentine switchbacks start. Along the way, you'll emerge from the trees at several points to see breathtaking views of Bradley and Taggart Lake far below, as well as Sheep Mountain, (called "Sleeping Indian" by the locals). You'll also pass Surprise Lake, with a campsite for those who want to extend their adventure overnight.
Once you reach Amphitheater Lake, you'll find plenty of spots to relax with a picnic. But only the bravest of souls attempt a dip in its frigid waters. All up, this out-and-back trail ascends almost 3,000 feet to an elevation of 9,690 feet, so it's not for the faint-hearted.
If you're up for some steep boulder scrambling, you can take a detour from this trail to dazzling Delta Lake, but this trail is not maintained and can be treacherous, depending on conditions.
Jackson, WY - Climate Chart
Average minimum and maximum temperatures for Jackson, WY in °C
J
F
M
A
M
J
J
A
S
O
N
D

-4

-17

-1

-16

4

-11

9

-6

16

-1

22

3

26

6

26

5

21

1

13

-4

3

-10

-3

-17

PlanetWare.com
Average monthly precipitation totals for Jackson, WY in mm.

65

54

42

36

51

43

36

36

34

32

56

63
More Related Articles on PlanetWare.com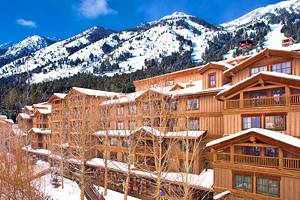 Where to Stay in Jackson Hole: Find a great base for your wilderness adventures with our article on the Top-Rated Places to Stay in Jackson Hole. And if you want to hunker down as close as possible to national park hiking trails, see our page on Top-Rated Campgrounds at Grand Teton National Park.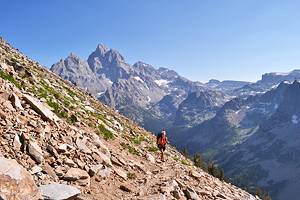 More Outdoor Adventures in Jackson Hole: Looking for more epic trails around Jackson Hole? Check out our article on the Top-Rated Hiking Trails in Grand Teton National Park and Yellowstone National Park. You'll also find plenty of great fishing spots in the region. Discover the best locations, from the Snake River to Yellowstone Lake, with our article on the top fly-fishing destinations in Wyoming.