16 Top-Rated Attractions & Things to Do in Jackson Hole, WY
We may earn a commission from affiliate links ()
Snuggled at the base of the mighty Teton Mountain Range in Northwest Wyoming, the valley of Jackson Hole offers an exhilarating taste of the Wild Wild West in more ways than one.
At the southern edge of the valley, the little town of Jackson (population 10,585) is an authentic Old West town, where, moose and mule deer roam the streets, and ranchers rub shoulders with ski bums, celebrities, and the jet-set crowd.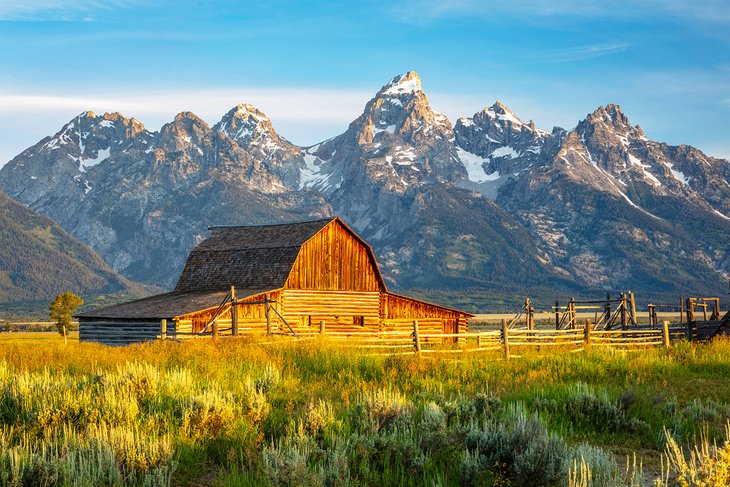 Nature lovers are in for a wild time, with plenty of things to do outdoors. The valley is home to the spectacular alpine scenery of Grand Teton National Park and Bridger-Teton National Forest. Plus the geothermal wonders of Yellowstone National Park are just a day trip away. Add to this an impressive array of wildlife – from marmots and mountain lions to elk, bison, and grizzly bears – and it's easy to see why Mother Nature rules in this pretty little valley.
And if all this isn't wild enough, skiers and snowboarders can carve up the slopes of Jackson Hole Mountain Resort. Thanks to its more than 2,500 acres of precipitous and often powder-packed ski terrain, it's frequently voted one of the best ski resorts in the USA.
Not a skier? No worries. Dogsledding and snowmobiling adventures add to the list of exciting things to do in winter.
Get your adrenaline pumping and plan your trip to this adventure-filled valley with our list of the top attractions and things to do in Jackson Hole.
See also: Where to Stay in Jackson Hole
1. Grand Teton National Park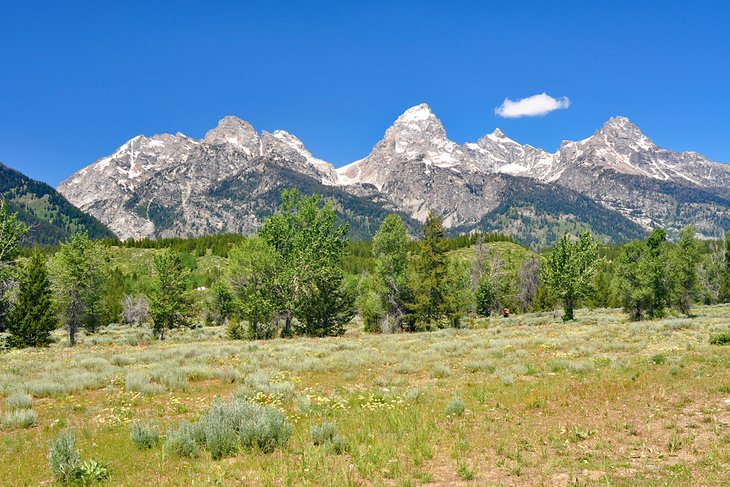 Spanning more than 310,000 acres, Grand Teton National Park is one of the most beautiful mountain wilderness areas in the world. Tourists arriving in Jackson Hole for the first time often gape in awe at the jagged peaks of the park's towering Teton Mountain Range (Grand Teton is the highest peak at more than 13,770 feet.)
If you arrive into the valley on a commercial flight, you'll actually land in Grand Teton National Park at Jackson Hole airport – one of the few airports in the world within the borders of a national park.
Nature lovers and photographers will be in heaven here. Among the diversity of flora and fauna are more than 900 species of flowering plants; 300 species of birds; and 60 species of mammals including moose, black bears, and grizzly bears.
A great place to begin a tour of the park is the Craig Thomas Discovery and Visitor Center in Moose, which provides an excellent overview of the park's ecology. Another top place to visit in the park is the popular Laurance S. Rockefeller Preserve, which serves as the starting point for some of Grand Teton National Park's best hiking trails.
Hiking is one of the top ways to explore Grand Teton National Park. More than 200 miles of trails weave throughout the wilderness, with breathtaking vistas that range from dense pine forests and fields of colorful wildflowers, to sparkling lakes, and the winding Snake River. Top hiking trails take you to Signal Mountain, Taggart Lake, String Lake, and Leigh Lake.
In the summer, the lakes become a focal point. Kayaking, paddleboarding, and water-skiing are all popular things to do, and if you're feeling lazy, pack a picnic and soak up all the mesmerizing scenery along the shore. The boat trip on Jenny Lake is also a favorite.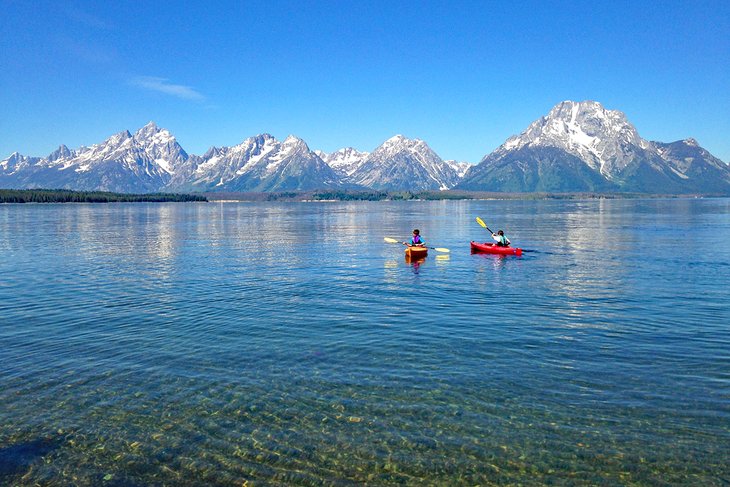 Photographers and anyone who loves gorgeous scenery should take the scenic drive to Antelope Flats between Moose and Kelly. Along the way, you can photograph the Mormon Row historic homes, one of the iconic images of Jackson Hole, as well as herds of bison and pronghorn antelope.
Insider's tip: After exploring the park, stop by Dornans in Moose for a delicious lunch or snack on the outdoor deck with magnificent mountain views.
2. Jackson Hole Mountain Resort, Teton Village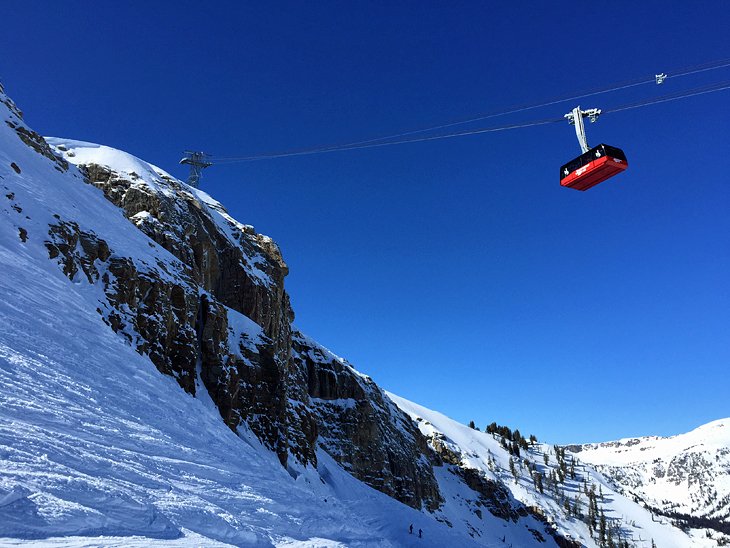 Jackson Hole Mountain Resort is frequently voted the number one ski resort in North America, and for good reason. Known as the birthplace of extreme skiing, it's legendary among powder hounds for its long runs and challenging in-bounds and backcountry terrain. But don't worry, beginners and intermediate skiers will find plenty of suitable terrain, too.
In the winter, skiers and snowboarders can carve up more than 2,500 acres of ski trails on two mountains. Expert skiers can take the plunge into the spine-tingling Corbet's Couloir, a steep and narrow chute with a 10- to 20-foot drop-in (depending on snow conditions) from the cornice above.
But the fun doesn't stop when the snow melts. In summer, you can ride the 100-person Jackson Hole Aerial Tram to 10,450 feet for incredible views and high alpine hiking trails, or hop aboard the high-speed gondola and enjoy a meal with panoramic views over the entire valley.
Other fun things to do in Jackson Hole Mountain Resort in summer include mountain biking, hiking, frisbee golf, and a ropes course catering to climbers of all abilities.
3. Jackson Town Square and the Elk Antler Arch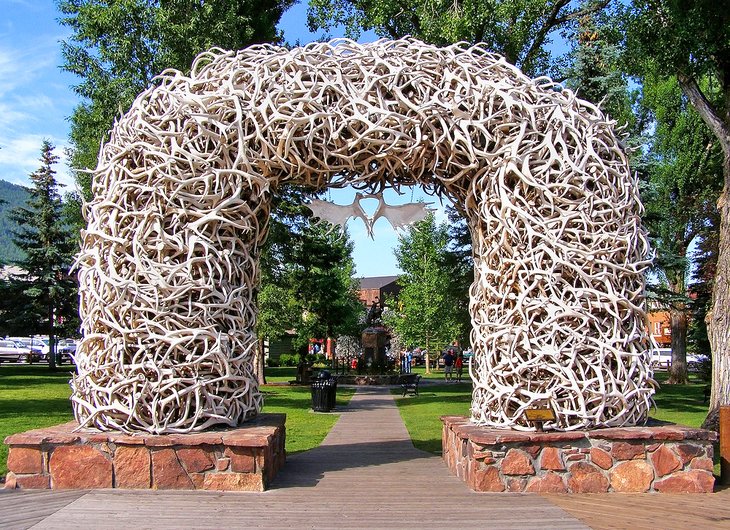 Cowboys, cowgirls, and cashed-up globetrotters feel equally at home in the funky Old West town of Jackson. Sitting at the south end of the valley at an elevation of 6,237 feet, the town is a popular jumping-off point for visiting Yellowstone National Park, a mere one-hour drive away, and the rugged mountain wilderness of Grand Teton National Park.
A great place to start a sightseeing tour of popular Jackson attractions is the Town Square. Tourists love to snap photos here standing under the famous elk antler arches, or gliding around the tiny ice-skating rink.
From the square, you can enjoy an Old-West-style horse and carriage ride around town, or stroll along the boardwalks lined with boutiques and art galleries. If you love wilderness and landscape photography, don't miss the Images of Nature by Thomas Mangelsen gallery. It's a great place to get a dose of inspiration.
Downtown is also the place to come for shopping in Jackson Hole, from gem shops to Lee's Tees with an array of Jackson Hole T-shirts. You'll also find some of the best places to eat in Jackson Hole sprinkled around town.
If you're looking for more exciting things to do in downtown Jackson, how about a taste of the Wild Wild West? During summer, the town square hosts Jackson Hole Shootout demonstrations with talented actors, Monday through Saturday from Memorial Day to Labor Day.
Also nearby, Jackson Hole Historical Society and Museum is a great place to visit to learn more about the area's history. It features exhibits on Jackson Hole, Grand Teton National Park, and Yellowstone National Park, as well as the Indigenous people of the region.
4. Snow King Mountain & the Cowboy Coaster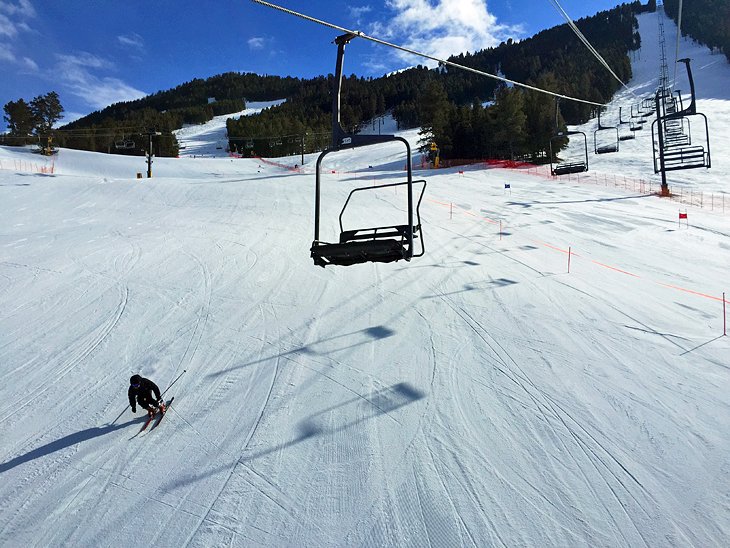 A five-minute drive from the town square in Jackson, Snow King Mountain is the steepest north-facing FIS (International Ski Federation) racing course in the continental US. This beautiful pine-cloaked mountain rises above the streets of Jackson on the south edge of town, and its summit sits at 7,808 feet.
Established in 1938, the mountain was the valley's first ski resort. Today, it offers an affordable ski or snowboarding experience for those who don't mind the relatively limited terrain. In winter, skiers and snowboarders can access 400 acres of trails, serviced by three lifts. One of the lifts provides access to five beginner trails and six intermediate trails, complementing the steep and often icy expert terrain. Night skiing is also offered, and kids will love the tubing course at the base.
Not a skier or snowboarder? No problem. Hop aboard the Cowboy Coaster, an exhilarating, almost-mile-long mountain roller coaster, which is open year-round – even in winter.
Summer brings even more fun. This is when the mountain hosts horseback rides and the valley's only alpine slide, as well as North America's steepest zipline.
Feel like more of a workout? Test your stamina on the steep hiking and mountain biking trails. Mini-golf and a treetop ropes course add to all the adventure, and at the base of Snow King, the climbing walls and children's playground are a hit with the little ones in the warmer months.
Another highlight at Snow King is the stunning view from the summit. From here, you can see right across the valley of Jackson and the Elk Refuge to the snowcapped Tetons in the distance. The hike up to the summit is one of Jackson Hole's top hiking trails and a popular lunchtime workout for locals.
5. The Snake River: Scenic Floats and White Water Adventures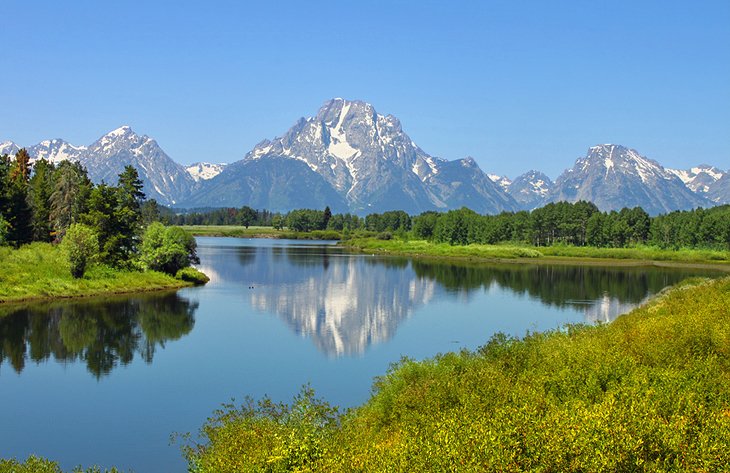 An exciting way to explore the Jackson Hole wilderness from a different perspective is a rafting trip on the Snake River. This famous waterway slithers through the valley from its headwaters in Yellowstone National Park.
Several outfitters offer two different styles of trips: a relaxing scenic float trip through Grand Teton National Park (or the South Park section of the river), and an adrenaline-infused white water trip on Class III rapids. Both offer the chance to admire stunning scenery, including steep limestone canyons, the craggy peaks of the Teton Mountain Range, and thick pine forests.
Along the way, you might spot some of the local wildlife such as deer, bald eagles, osprey, moose, marmots, and beavers.
The Snake River is also one of Wyoming's top fly fishing destinations. If you're looking for things to do in April and May in Jackson Hole, it's one of the best times of year to fly fish, as long as you time it before the runoff. Guided fly fishing float trips can be arranged in season.
6. Laurance S. Rockefeller Preserve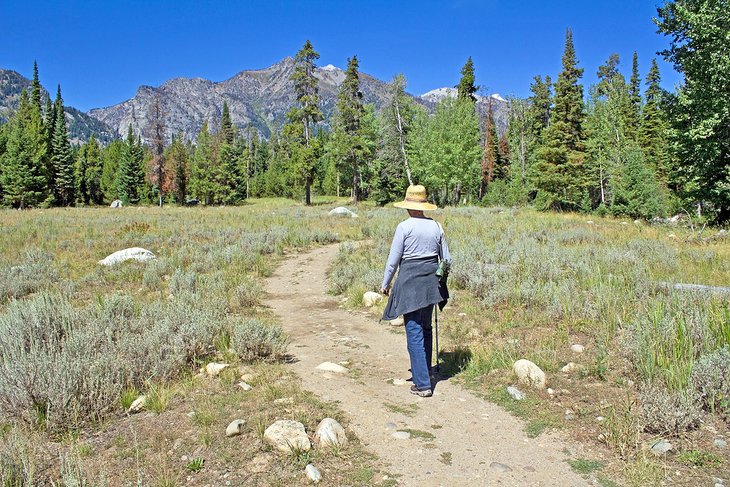 Part of Grand Teton National Park, but administered by the Rockefeller Foundation, the Laurance Rockefeller Preserve offers a one-stop immersive wilderness experience. In 2001, Laurance S. Rockefeller followed in his father John D. Rockefeller's footsteps and donated 1,106 acres of private ranchland to the National Park Service. Today, it is one of the jewels of the park. If you can only make one quick visit to the park, make it here.
Your first stop should be the excellent visitor center. Awarded a Platinum Leed Certification, the unassuming building sits in a serene sagebrush meadow and houses a series of sensory experiences. Sunlight streams through the large windows, poetry peppers the walls, large screens display images of the park's passing seasons, and a soundscape with recordings from the park offers a peaceful space for meditation.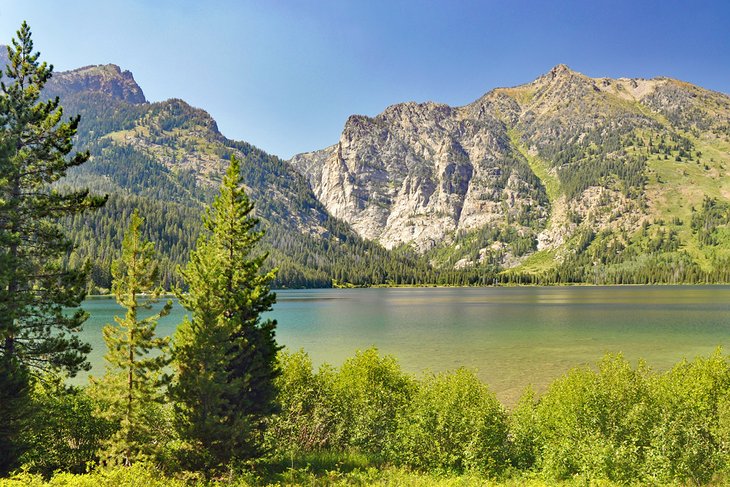 After you've explored the visitor center, head out for a hike. Some of Grand Teton National Park's best hiking trails radiate from here. Of the 16 miles of trails, the Phelps Lake Trail Loop is one of the most popular. Make sure you pack bear spray, though – hikers frequently spot black bears on this trail. Before you head out into the wilderness, you can chat to rangers at the center about recent sightings, and organize guided walks.
7. Jackson Hole Rodeo
A trip to the wild west town of Jackson wouldn't be complete without seeing the famous Jackson Hole Rodeo. Barrel-racing, bull-riding, bareback bronc-riding, and calf-roping are just some of the exciting activities on the lineup here, and even the local little tykes participate with nail-biting bareback rides.
The rodeo is held twice weekly during summer with extra performances during peak visitor times.
Another popular event held at the Rodeo Grounds, usually in July, is the Teton County Fair with fun games, farm animals, and dizzying rides.
8. National Museum of Wildlife Art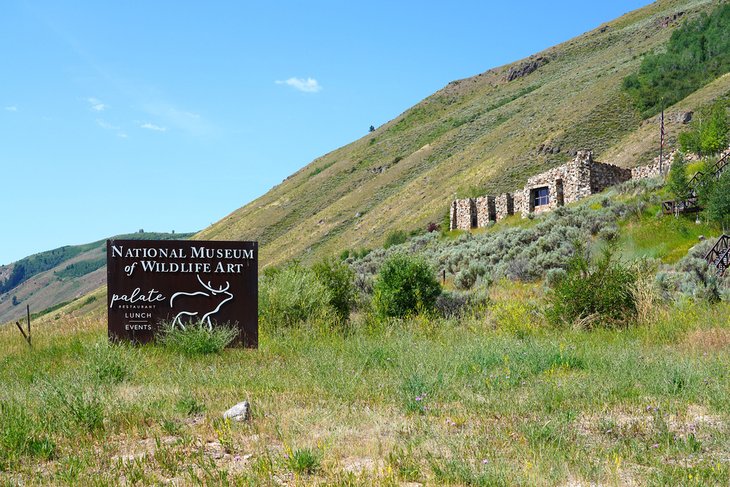 Overlooking the Elk Refuge, the National Museum of Wildlife Art is worth visiting as much to admire the building's environmentally sensitive design as for what's inside. Composed of natural stone, the building blends beautifully with a rocky hillside, and the art exhibits begin before you even enter the building on the Sculpture Trail, with life-size wildlife sculptures.
Inside, the museum's superb collection of wildlife art ranges from 2500 BCE to the present day, with a focus on European and American painting and sculpture. The more than 5,000 artworks span a variety of genres and media, from Romanticism to Realism and lithography to photography. Impressive temporary exhibitions complement the permanent collection.
9. National Elk Refuge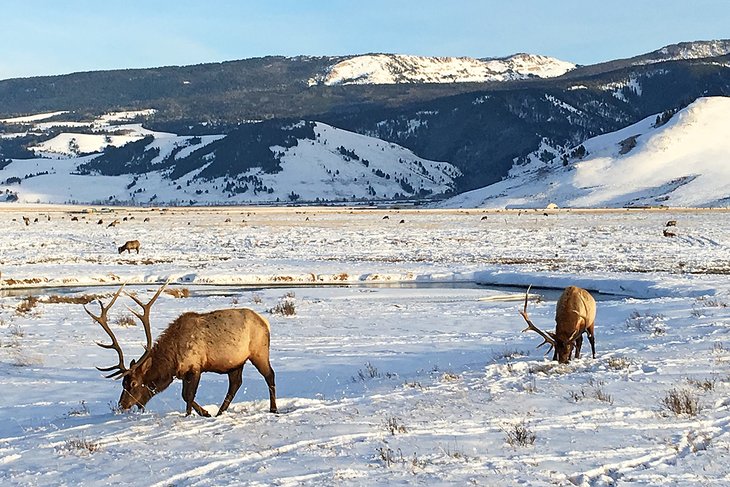 Famous for being the largest concentration of wintering elk in the world, the National Elk Refuge is home to herds of more than 5,000 animals.
In winter, horse-drawn sleighs take visitors out across the glittering snowscape for close-up views of these gentle creatures, and accompanying guides provide a narrative history of the refuge. The sleigh rides depart from the Jackson Hole and Greater Yellowstone Visitor Center, which presents excellent exhibits on the history of the refuge and local wildlife. Looking for some private couple time in the winter? Private sleigh rides can be reserved and are one of the most romantic things to do in Jackson Hole.
The National Elk Refuge is also home to a bison herd of more than 500 animals, and you might also spot coyotes, bighorn sheep, and trumpeter swans.
10. Take a Drive to Antelope Flats and Mormon Row Historic District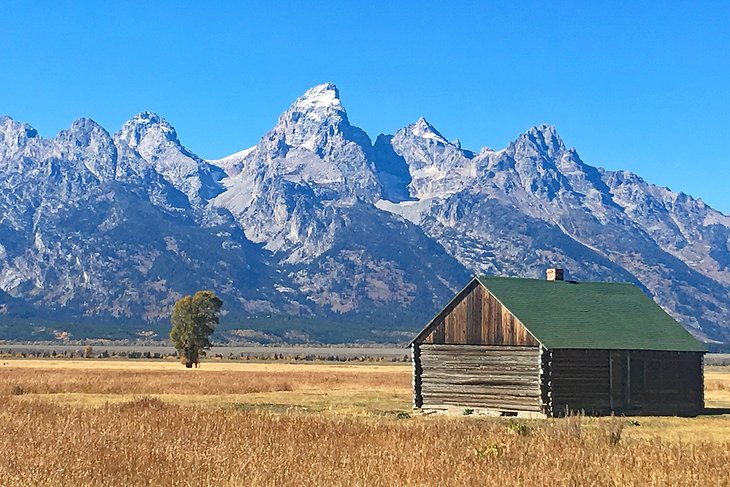 Wondering where to get one of the best photos of Jackson Hole? Take a scenic drive to Antelope Flats. It's about an hour's drive from town, but the scenery en route will make the time melt away.
Get your cameras ready. Along this drive, you'll see spectacular views of the Gros Ventre Mountains and the Teton Range, as well as the delightfully rustic homesteads of the Mormon Row Historic District. You might recognize them from Jackson Hole tourist brochures.
Wildlife sightings are also common. This 640-acre tract of wilderness preserves important habitats and migration routes. Among the many animals you can see here are moose, bison, elk, badgers, coyotes, foxes, many species of birds, and the site's namesake pronghorn antelope.
This is one of the best free things to do in Jackson Hole to soak up Mother Nature's jaw-dropping scenery, To get here, follow highway 191 north from Jackson past Moose Junction and turn right onto Antelope Flats Road.
11. Chuck Wagon Rides & Wild West Shows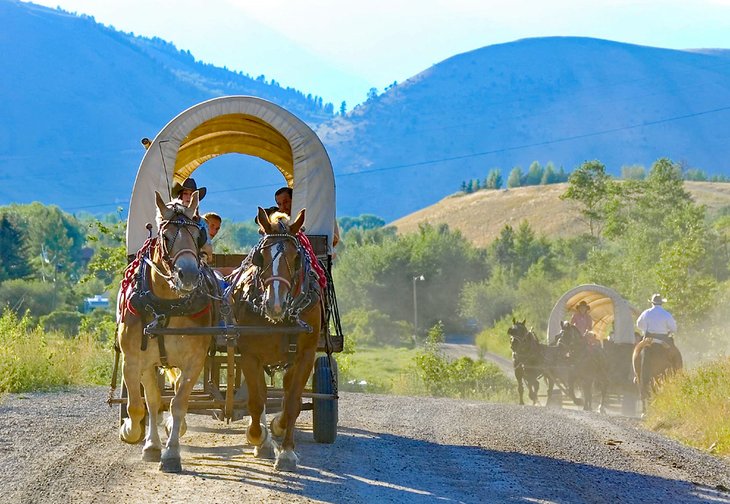 For a fun dose of cowboy culture, sign up for a covered chuck wagon ride followed by a sunset cookout in the wilderness. After dinner, you'll be treated to tall tales, singing, and performances by local talent.
Several outfitters in the area offer packages: Bar T Five Covered Wagon Cookout & Wild West Show takes visitors into beautiful Cache Creek Canyon for an authentic Dutch-oven dinner.
Teton Wagon Train and Horse Adventure offers four-day trips by horseback or covered wagon. The scenery is exceptional, and wildlife sightings are frequent.
The chuck wagon rides usually run from Memorial Day through September and are a huge hit with families.
12. Soak in Granite Hot Springs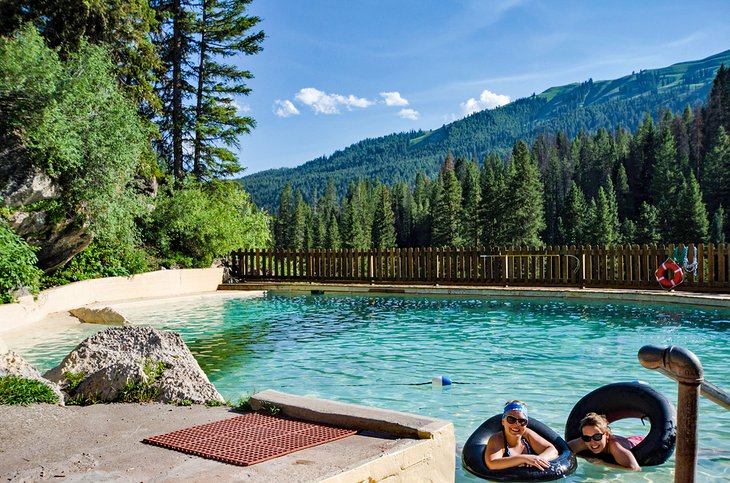 Nothing beats a soak in steamy Granite Hot Springs – especially on a chilly winter's day. Surrounded by spruce, pine, and fir trees in Bridger-Teton National Forest, this inviting pool is a favorite destination for locals and tourists alike.
In winter, it's heated to a toasty 112 degrees Fahrenheit. In summer, it averages around 93 degrees. You can soak here for up to an hour for a small fee, and changerooms and picnic tables are on hand.
Getting here is an adventure in itself. In the winter season (early December until the beginning of April), you can access the springs on a snowmobile or dogsled trip. Alternatively, you could ski in, or ride a fat bike. In the summer (usually late May through October 31), car access is possible down a bumpy dirt road.
13. Jackson Hole Center for the Arts
For such a small town, Jackson is big on culture. And the epicenter of cultural events in Jackson Hole is the Center for the Arts. This modern and intimate venue hosts an impressive lineup of events. The center comprises the Arts & Education Pavilion, as well as the Jean Louise and Mike Thieme Performing Arts Pavilion with a 500-seat theater, music center, and rehearsal space.
Among the many events staged at the center are ballet, opera, international music acts, films, dance performances, as well as the excellent Jackson Wild (formerly the Jackson Hole Wildlife Film Festival), an annual conservation summit and World Wildlife Day Film Showcase.
14. Catch a Show at Jackson Hole Playhouse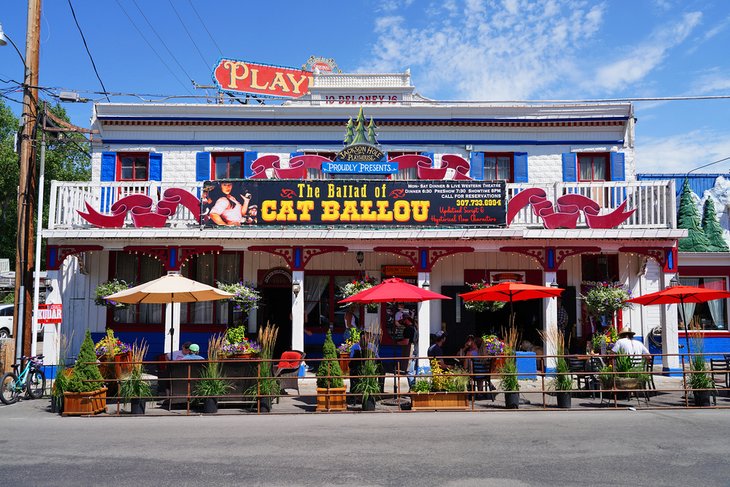 Looking for unique things to do in Jackson Hole at night? Take the whole gang to a show at the historic Jackson Hole Playhouse, Wyoming's longest running professional theater. You'll find it right in downtown Jackson in the town's oldest building, dating from 1915.
You don't have to be a fan of musical theater to have a great time here. Each summer season, talented actors serve up lively performances of favorite Western-style musical comedies – think Seven Brides for Seven Brothers, Paint Your Wagon, and Annie Get Your Gun.
You can purchase a ticket for the show only, or go whole hog and buy lunch or dinner, too. Plus, you can upgrade your ticket for VIP seating. No matter which package you purchase, you'll be singing and clapping along in no time.
15. Go Dogsledding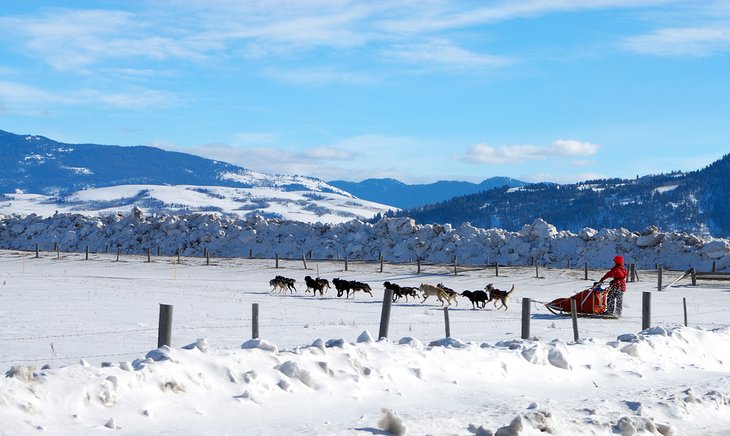 If you're not a skier, you might be wondering about other things to do in Jackson Hole in winter. How about a dogsledding adventure? It's an exhilarating way to get outside and experience this glittering winter wonderland – especially if you're an animal lover.
On the Jackson Hole Dog Sledding Adventure, you'll travel along the Buffalo Fork River, led by an expert musher and a team of skilled sled dogs. All you have to do is snuggle up in a sled bag, sit back, and enjoy the scenery.
Feel like a soak in some steamy hot springs after your sledding adventure? You can also book dogsled rides to Granite Hot Springs or through the beautiful Bridger-Teton National Forest.
16. Day Trip to Yellowstone National Park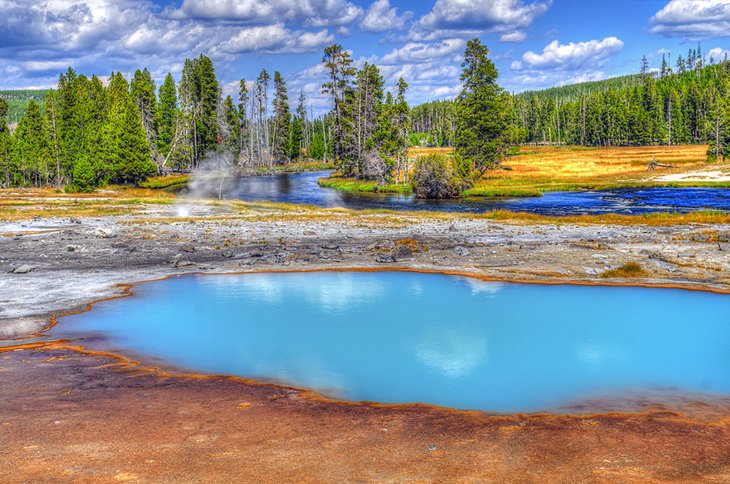 One of the world's most magnificent wilderness areas, Yellowstone is a popular day trip from Jackson Hole. It's about 57 miles from the town of Jackson, with breathtaking scenery along the way.
The park is known for its geothermal features and boasts the world's highest concentration of active geysers – Old Faithful is the most famous. Contrasting with these hissing moonscapes are sprawling green valleys, towering waterfalls, red-walled canyons, rivers, and vast lakes.
Wildlife is abundant. Among the dazzling diversity of species in these pristine ecosystems are grizzly bears, gray wolves, bison, black bears, and elk, as well as graceful trumpeter swans and bald eagles. The best way to explore the park is on the many hiking trails, however visitors can also drive the scenic Grand Loop, a 142-mile-long road that twists through the park.
Besides the geothermal attractions, park highlights include Yellowstone Lake, Hayden Valley, the Grand Canyon, and the Upper and Lower Falls of the Yellowstone River.
Where to Stay in Jackson Hole for Sightseeing
When you're choosing a place to stay in Jackson Hole, the biggest factor to consider is whether you want to stay close to the mountain or near the attractions in downtown Jackson. If you're an avid skier or snowboarder, or you're visiting Jackson Hole for other mountain-based activities, you might want to opt for a hotel near the slopes in Teton Village. If you want easy access to a larger range of restaurants, galleries, and attractions, a hotel downtown is more convenient. Choose the best option from these highly rated Jackson Hole hotels:
More Related Articles on PlanetWare.com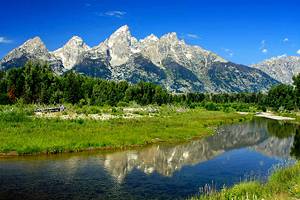 Wyoming Adventures: From cowboy towns to some of the country's most beautiful national parks, Wyoming is ripe for adventure. Explore this rugged Western state with our article on the top attractions in Wyoming. Crisscrossed by miles of wild rivers and crystalline trout streams, Wyoming is also a fantastic place to cast a fly line. Learn about all the fishing hot spots with our piece, Top-Rated Fly Fishing Destinations in Wyoming.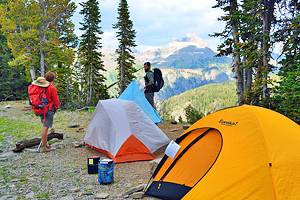 Where to Camp in Wyoming: Looking for the best spot to pitch your tent? Check out our articles on the top campgrounds at Grand Teton National Park and Yellowstone National Park. Traveling further afield with a tent in tow? Plan your trip with our list of the best places to camp in Wyoming.