10 Top-Rated Things to Do in Flathead National Forest, MT
The 2.4-million-acre Flathead National Forest is in Northwest Montana near the Canadian border. It's adjacent to other big open spaces like Flathead Lake and Glacier National Park. But even next to these iconic (and sometimes crowded) Montana landscapes, Flathead National Forest encompasses a unique beauty and solitude all its own.
Glistening alpine lakes, world-renowned ski resorts, and all three forks of the Flathead River are a few defining environments of Flathead National Forest. The area is also home to much of the expansive Bob Marshall Wilderness, or "The Bob," which encompasses over a million acres of untouched terrain.
A few Flathead National Forest summer activities include hiking, boating, fishing, and camping beneath the stars. Wildlife spotting is also abundant, with animals like grizzly bears, bighorn sheep, and mountain goats native to the area.
Flathead National Forest is an excellent alternative to Glacier National Park. The forest receives a fraction of the traffic, and permits are never required for visiting. And without pet restrictions like the ones in Glacier, visitors can bring their dogs along for the adventure. For these reasons among others, it's one of the best national forests in Montana.
Find your next authentic Montana adventure with our list of the top things to do in Flathead National Forest.
1. Ski the Slopes at Whitefish Mountain Resort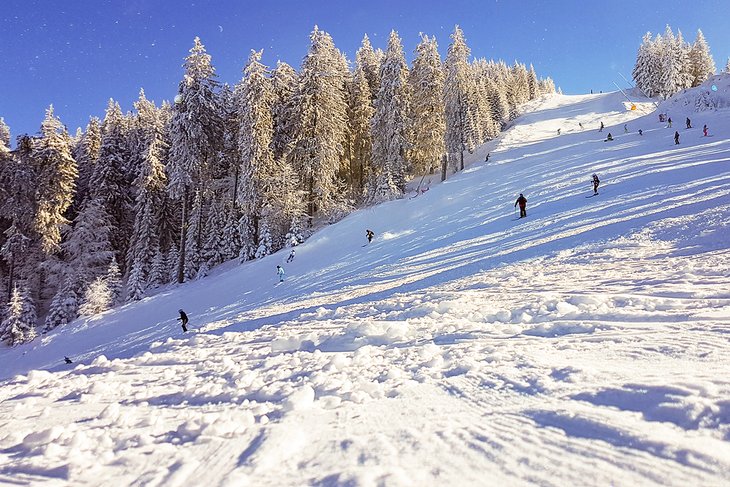 Whitefish Mountain Resort, one of Montana's best ski resorts, is partially located within Flathead National Forest, north of Whitefish. This acclaimed ski resort, also known as Big Mountain, encompasses 3,000 acres accessible with 11 lifts. Its wintry slopes attract thousands of downhill enthusiasts between the typical season of December through April.
And it's not all snow fun at Whitefish Mountain Resort. The chairlifts also service an alpine wonderland come summer. During the warmer months, visitors enjoy miles of downhill biking trails and hiking trails. Other summer tourist attractions include a zipline station, alpine slides, and children's obstacle courses.
Whitefish Mountain Resort is also home to the Summit Nature Center. This engaging education center is on the lower level of Summit House atop the mountain. Here, several exhibits and animal mounts highlight the forest's flora and fauna. Visitors can reach the Nature Center by purchasing a scenic lift ticket or hiking the Danny On Trail.
Official site: https://skiwhitefish.com/
2. Find a Waterfall at Holland Lake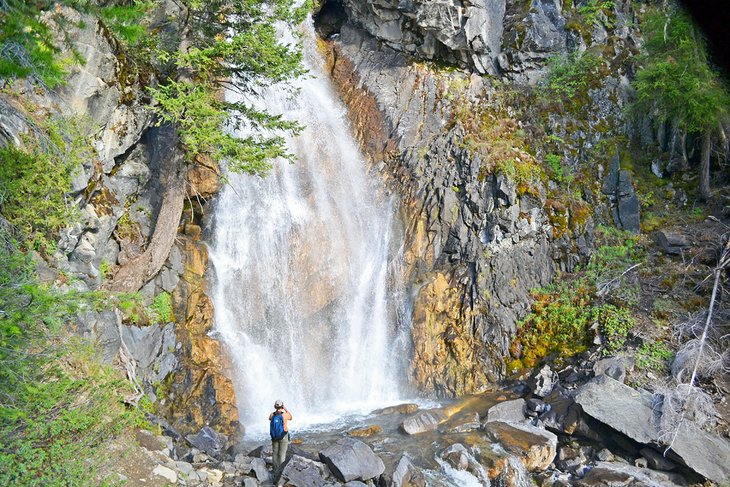 Holland Lake is one of several scenic bodies of water along Highway 83 that cuts through the Swan Lake District of the forest. This route is also known as the Seeley-Swan Scenic Drive, as it spans from Seeley Lake to Swan Lake and beyond. It's true lake country through this corridor, with several lakeshores inviting exploration.
Holland Lake stands out thanks to its size, covering over 400 acres and offering several accessible recreation outlets. The 1.6-mile Holland Falls National Recreation Trail is one such popular adventure near the lakeshore. Also popular throughout the warmer months is a 38-site campground at Holland Lake. The lake also hosts the modern but rustic Holland Lake Lodge.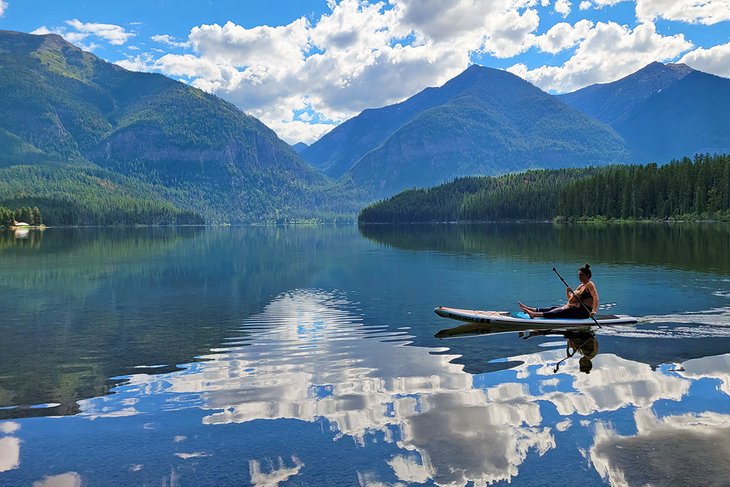 Other lakes along this corridor include Lindbergh Lake and Van Lake, both with campgrounds close to the shore. Farther north, Swan Lake is also a very popular place to visit. This eight-mile-long lake is great for fishing, with pike, trout, and salmon often taking the hook. On the south end of the scenic drive, Seeley Lake invites further exploration within Lolo National Forest.
3. Hike into the Jewel Basin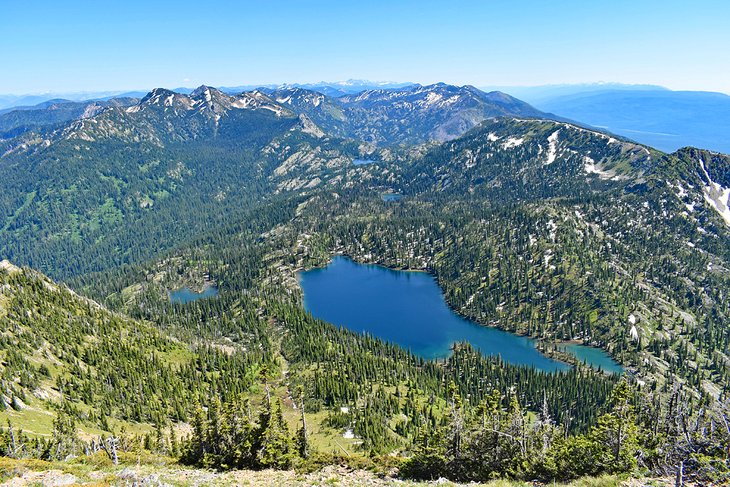 Jewel Basin is a unique hiking and backpacking-only area of the national forest. It's east of Kalispell and encompasses over 15,000 acres, not far from the northeast corner of Flathead Lake. The most common place to enter Jewel Basin is the Camp Misery Trailhead, accessible only by high-clearance vehicles.
The area is a true hiker's delight. Over 20 alpine lakes spread throughout the postcard surroundings, inviting fishing and nature photography. There are no developed campsites in Jewel Basin, but backpackers will find already-used areas to pitch a tent. When choosing a site, stay at least 200 feet away from any water.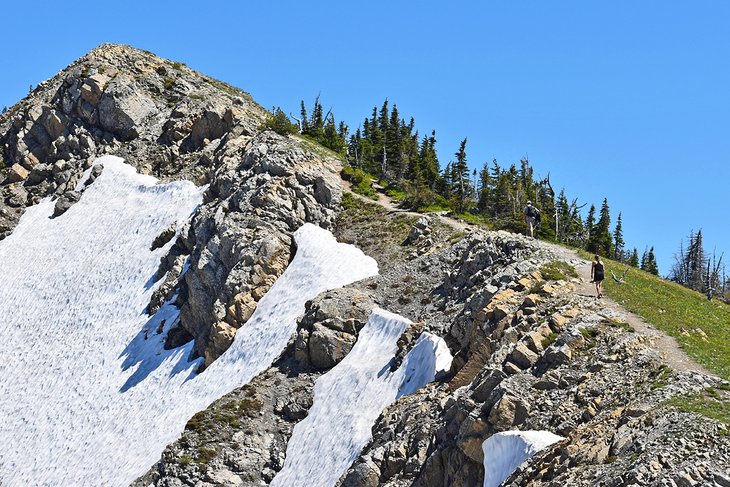 A classic hike in Jewel Basin is the trek from Camp Misery to the summit of Mount Aeneas (elevation 7,474 feet). The route climbs to a prominent ridgeline before summiting, offering spectacular views of the Flathead Valley. Thanks to the resident mountain goats calling this area home, the route is also prime for wildlife photography. A round trip to Mount Aeneas, including a stop at Picnic Lakes, is approximately eight miles long.
4. Float the Flathead River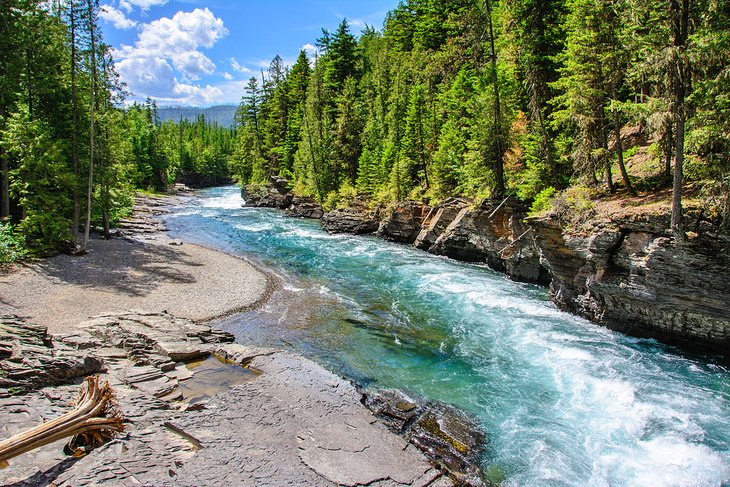 Flathead National Forest encompasses the North Fork, Middle Fork, and South Fork of the Flathead River — collectively known as the Three Forks of the Flathead River. All three waterways connect and spill into Flathead Lake. And as part of the National Wild and Scenic Rivers System, all three rivers offer recreation opportunities, including floating and fishing.
The North Fork of the Flathead River starts in British Columbia and flows south, forming the western border of Glacier National Park. Several rafting companies in the West Glacier region offer guided float trips on this remote waterway. It's also a popular river for anglers looking to spend the day casting a line.
The Middle Fork starts in the remote Bob Marshall Wilderness before flowing next to Highway 2 at Glacier's southern boundary. Here, along the roadway, several put-in sites are well-used by personal watercraft and guiding companies alike.
Much of the South Fork of the Flathead River, including its headwaters, is within the Bob Marshall Wilderness Complex. Thanks to the remote access, the South Fork is generally less explored. As a result, the South Fork offers outstanding solitude for those willing to pack in their gear via foot or horseback.
5. Explore Hungry Horse Reservoir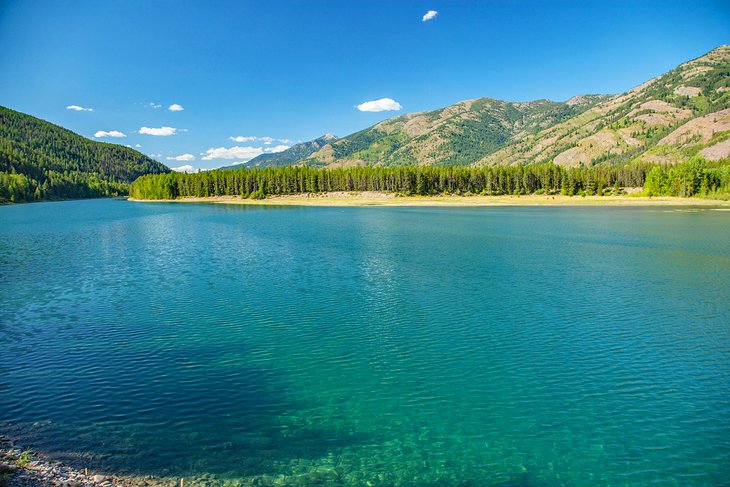 Hungry Horse Reservoir is another massive body of water in the Hungry Horse Ranger District. It's fed by the South Fork of the Flathead River and impounded by the Hungry Horse Dam, three miles south of the town of Hungry Horse. And paved roads lend access to several recreation outlets on both sides of the 38-mile-long lake.
A great first place to stop is the Hungry Horse Dam Visitor Center. This educational space offers detailed information about the dam's history, construction, and status as one of the highest dams in the country. The visitor center also offers free guided tours of the dam's crest.
Common interests at Hungry Horse Reservoir include boating, fishing, hiking, and camping. The Forest Service operates several campgrounds and fishing sites along the entire shoreline. The highest density of places to visit is on the north side of the lake, closest to Hungry Horse.
6. Spend the Night at a Campground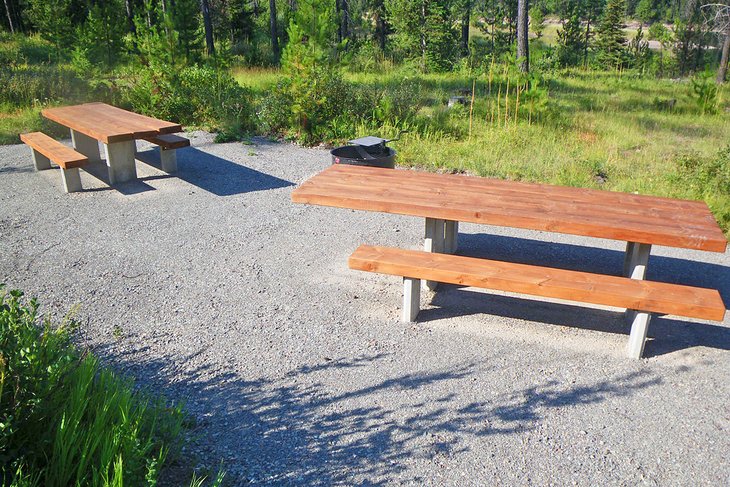 Camping is a primary activity in Flathead National Forest. Every ranger district has places to pitch a tent or park an RV, and the Forest Service oversees a total of 31 developed campgrounds.
Developed campgrounds within Flathead National Forest vary between each unit. The base amenities include picnic tables, fire rings, and vault toilets. Not all campgrounds have potable water. Some campgrounds, like Tally Lake Campground and Swan Lake Campground, have boat ramps.
Dispersed camping is another popular way to spend the night in the forest. Dispersed camping, or "primitive camping," is camping outside of a developed campground within the forest, typically on a pull-out from a gravel road.
Dispersed camping is free, and visitors should understand the rules and regulations before finding a site. Any one of the four ranger stations offer valuable information regarding dispersed camping.
7. Backpack or Ride a Horse into the Bob Marshall Wilderness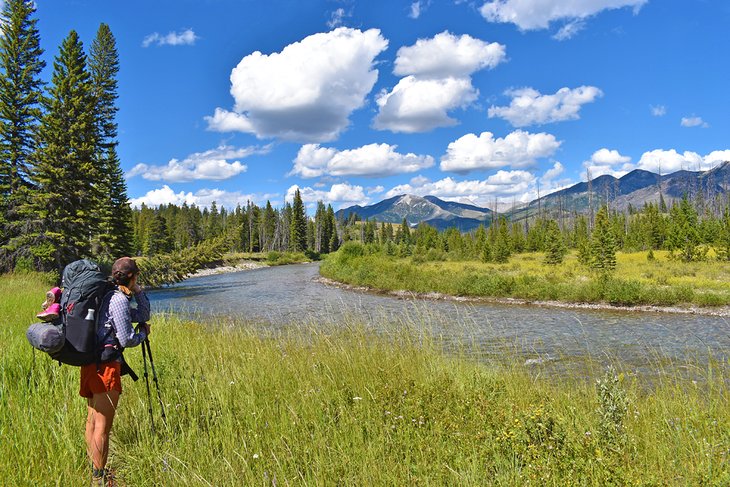 Flathead National Forest hosts a significant portion of the esteemed Bob Marshall Wilderness. This untouched natural area spans over one million acres and encompasses a complete mountain ecosystem. And with the adjacent Scapegoat and Big Bear Wildernesses on either side, all three add up to the 1.5-million-acre Bob Marshall Wilderness Complex.
This staggering amount of unaltered terrain is what most people think of when picturing Montana. It's miles of big mountains and wild rivers within the "Bob," with few signs of civilization throughout the entire wild expanse. And because of its wilderness designation, the only way to experience this pristine landscape is by foot or horseback.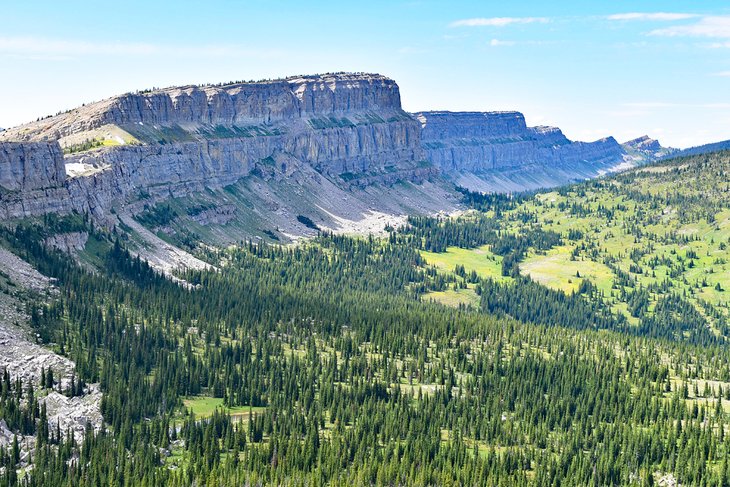 Backpacking or horse riding into the Bob is an endeavor to take seriously. And it helps to have a little experience before trekking into its wilderness depths. One of the most well-trodden routes utilizes the Continental Divide Trail to access the Chinese Wall. This massive escarpment slices high into the sky and stands out as a popular hiking destination.
8. Rent a Forest Service Cabin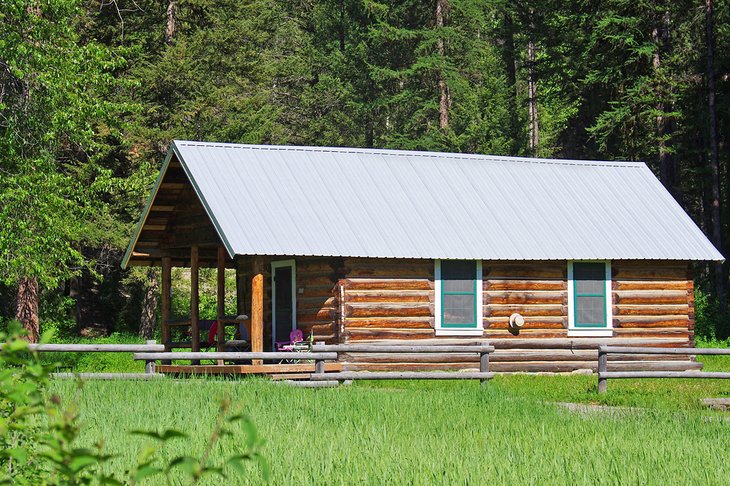 Alongside an excellent selection of campgrounds, the Forest Service also operates 15 cabins available for overnight stays. These four-sided places to stay range in size and accommodations, and all include electric or wood stoves for cooking and heating. Outhouses are the most common type of plumbing. Five of the cabins have electricity, while the majority rely on propane lights.
The smallest cabins, like the Hornet Lookout fire tower, accommodate only two people. The largest cabins, like the Anna Creek Cabin, fit up to 15 people. The average accommodations cater from four to eight guests. Some cabins are accessible via a gravel road, while others require a ski or hike-in approach.
All cabins within Flathead National Forest are available for reservation. And because of their popularity, booking far in advance is the best way to secure a spot. Reservations are available on a six-month rolling basis throughout the peak season of June 15th through September 30th. Availability outside of this peak season varies from cabin to cabin.
9. Check Out the Depths of Tally Lake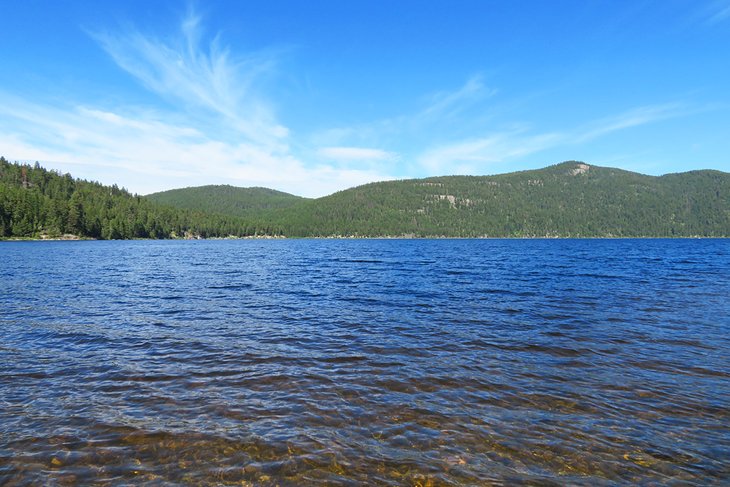 Tally Lake is in the Tally Lake Ranger District of the forest, west of Whitefish. This massive expanse of water is said to be the second deepest lake in the state and features stunning elevated views from all sides. The lake is slightly less crowded than other bodies of water in the area. However, it's still popular thanks to its abundance of recreation.
Tally Lake Campground, on the north shore, is a popular base camp for exploring the surrounding area. It features 38 sites catering to tents and smaller RVs, with no electric hookups. The campground also features a boat ramp to launch into the water. A sandy beach area and a beautiful picnic pavilion are also on-site.
Several trails for hiking, mountain biking, and horse riding surround the lake. From the campground, the three-mile Tally Lake Overlook Trail is a popular hike with a view. For more of an adventure, the nearby Tally Gorge Trail and cross-country Reid Divide Trail offer extended expeditions.
10. Go for a Scenic Drive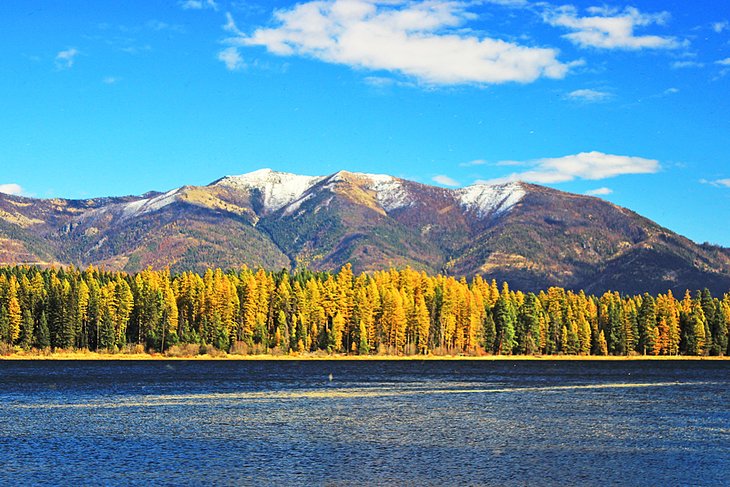 Driving throughout the national forest is a wonder in itself. Several different landscapes are within range of an easy day's drive. One of the most popular routes is the 90-mile corridor on Highway 83, known as the Seeley-Swan scenic drive. This route spans from Seeley Lake past Swan Lake and to the northern tip of Flathead Lake.
Several recreation outlets line the entire Seeley-Swan route. Hiking at Holland Lake, canoeing on the Clearwater River, and spotting wildlife throughout the forest are a few things to do to break up the drive. Several day-use and picnic sites also entice time spent out of the car.
And the Seeley-Swan scenic drive is just the tip of automobile tours in the forest. Other popular routes include the paved roads surrounding either side of the Hungry Horse Reservoir. On the western edge of Glacier National Park, the North Fork Road is also a popular gravel route that leads to the charming town of Polebridge.
Stop into a Forest Service Ranger Station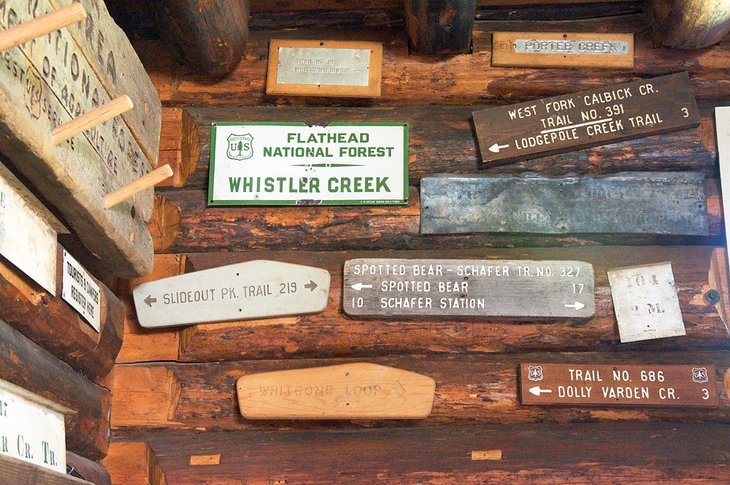 For the definite authority on the area, head to one of four Ranger Stations operated by Flathead National Forest. These four ranger stations include Tally Lake, Swan Lake, Spotted Bear, and Glacier View/Hungry Horse Ranger Stations.
Generally, ranger stations are open to the public Monday through Friday from 9am to 5pm. If visiting in person isn't an option, the phone lines are also open at this time.
Official Site: https://www.fs.usda.gov/detail/flathead/about-forest/offices
Map of Things to Do in Flathead National Forest, MT