10 Top-Rated Things to Do in Philipsburg, MT
Philipsburg in Southwest Montana is a scenic mountain town with a rich history. It's on the Pintler Veteran's Memorial Scenic Highway (Highway 1), which offers an alternative to Interstate-90 when driving between Yellowstone and Glacier National Parks. And it's only a 75-mile drive from Missoula to Philipsburg, making for a popular weekend trip from the university city.
Charming historic storefronts line Broadway Street and the town's commercial district. Today, these buildings house modern establishments like restaurants, hotels, and candy emporiums. The region's sapphire mining is also on display in this town center at places like the Sapphire Gallery and Montana Gems. These unique gemstone purveyors speak to the region's prosperity and feature on-site mining for personal treasure.
And sapphires aren't the only gem in the Philipsburg countryside. Its location on the Pintler Scenic Byway leads to further excursions into Beaverhead-Deerlodge National Forest. From hot springs to ski areas and a massive reservoir popular with boaters, Philipsburg is a base camp for the Montana Great Outdoors.
Find your next authentic Montana experience with our list of the top things to do in Philipsburg.
1. Uncover Buried Treasure at a Philipsburg Sapphire Mine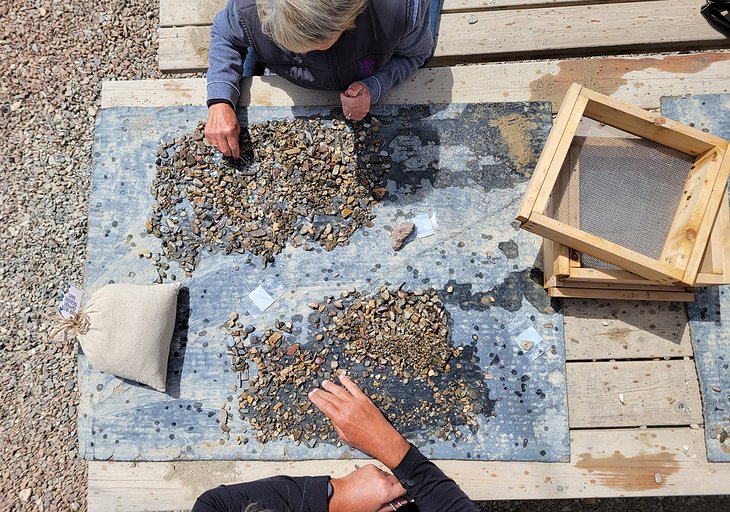 There's a reason why Montana is known as The Treasure State, and unique Montana sapphires are part of the underground trove. Phillipsburg is a top spot to mine for these multicolored gemstones. This opportunity to find sapphires and browse handmade jewelry solidifies Philipsburg as one of Montana's best small towns to visit.
One of the most popular Philipsburg sapphire mines is Gem Mountain, located 22 miles west of town. This family-owned and operated sapphire mine offers guests the opportunity to sift through their gravel cache and find gemstones. The facility also provides heat treatment and faceting for an extra fee.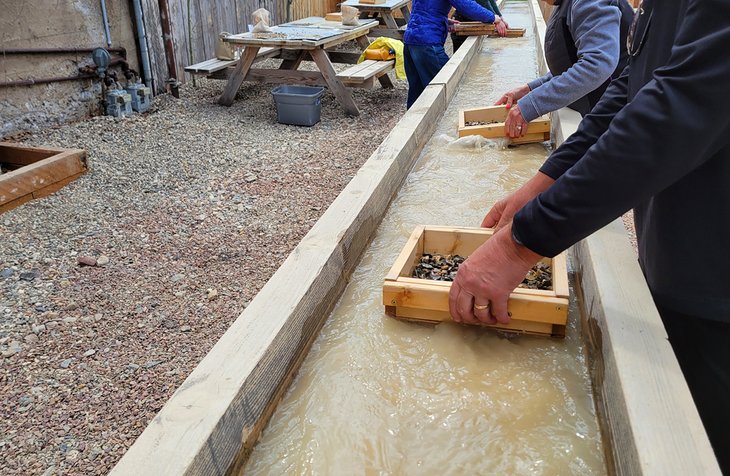 Montana Gems of Philipsburg is another place to visit for personal sapphire finding. This in-town shop similarly provides a water flume for on-site sapphire mining. The storefront also features a jewelry store packed with rings, necklaces, and earrings made from local finds.
For more local gemstone jewelry, the Sapphire Gallery downtown is the place to go. This unique ruby and sapphire store also offers in-house mining, but the storefront specializes in custom jewelry making. Visitors can bring in their unburied treasure to make something beautiful with the help of professional gemologists. The gallery also features a large selection of already-made jewelry for sale.
2. Shop the Selection at The Sweet Palace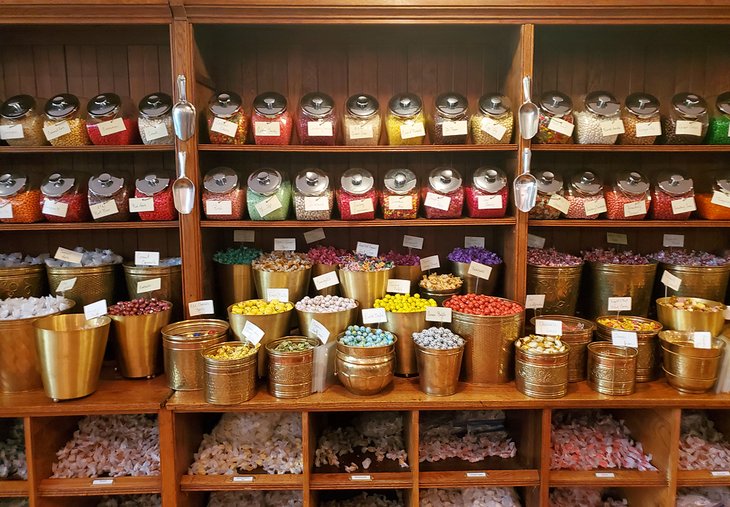 The Sweet Palace has been an institution in downtown Philipsburg for over 20 years. Hundreds of thousands of visitors flock to this candy emporium throughout the seasons. And whether young or young at heart, everyone seems to catch a sugar rush as they walk through the door.
The historic brick building housing The Sweet Palace accentuates the old-fashioned General Store motif inside. And sitting in glass jars throughout the shop, lining the shelves as far the eye can see, thousands of candy varieties bring out the inner child in everyone. The shop also specializes in homemade fudge, taffy, and other sugary confections.
Address: 109 E Broadway Street, Philipsburg, Montana
Official site: https://sweetpalace.com/
3. Drive the Pintler Veteran's Memorial Scenic Highway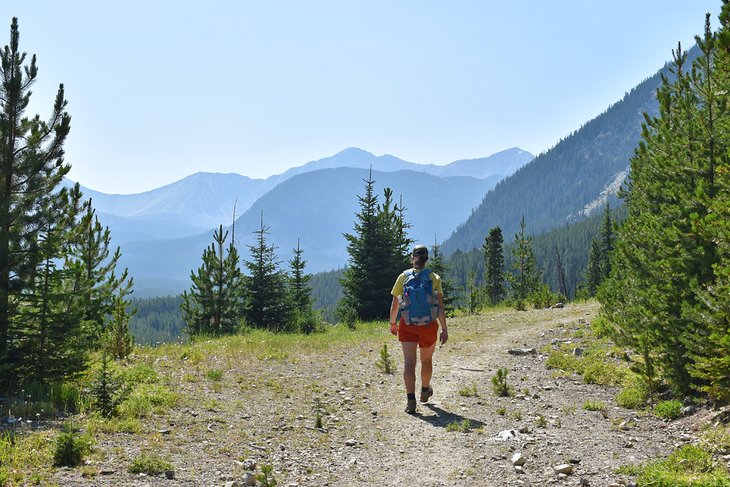 The only way to reach Philipsburg is on the Pintler Veteran's Memorial Scenic Highway - a drive that's worth the visit alone. Phillipsburg is approximately 26 miles south of Drummond, the highway's northern terminus. This historic route continues from Philipsburg to Anaconda, connecting ski areas, trailheads, and boat launches within Beaverhead-Deerlodge National Forest.
One of the byway's best roadside attractions is Georgetown Lake. This massive reservoir with giant mountain backdrops is a magnet for recreation and adventure. Boating, fishing, and hiking the lake's circumference are just a few of the everyday summer activities. Visitors can reach Georgetown Lake on the Pintler Scenic Byway from Philipsburg with a 15-mile drive.
The route skirts east after Georgetown lake, where Anaconda anchors the other end of the byway. This prosperous mountain town resembles Philipsburg in its mining history and modern popularity for tourism. Today, much of downtown Anaconda is on the National Register of Historic Places.
Read More: Top Things to Do in Anaconda, MT
4. Explore Granite Ghost Town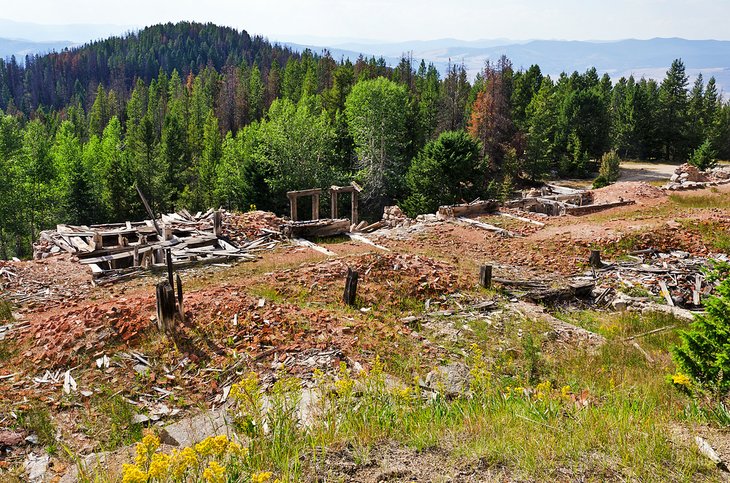 Less than a five-mile drive from Philipsburg, Granite Ghost Town stands as a testament to the region's early mining era. Established in the 1870s, the original miner camp, known as "Montana's Silver Queen," flourished with an estimated 3,000-plus residents. After the eventual bust, the camp was deserted. Today, several of these 1800s remnants comprise what is now known as Granite Ghost Town.
Much of the structures at Granite are dilapidated beyond repair, like the crumbling miner's Union Hall. Other derelict buildings include the company's hospital and the superintendent's house. Self-guided tours are the best way to explore the park's history, with interpretive information available throughout.
The park operates between Memorial Day and the end of September. It's a short and steep drive from Philipsburg. Hikers may encounter short stints of elevation when exploring the deserted town.
Official site: https://fwp.mt.gov/stateparks/granite-ghost-town/
5. Catch a Show at the Opera House Theatre
In downtown, one block south of Broadway Street, the Philipsburg Theatre is the oldest operating theater in Montana. Established in 1891 and first known as the McDonald Opera House, it has seen its fair share of shows.
Restoration and revitalization have left the Opera House Theatre looking much the same as it did over a hundred years ago. Although, more modern technology and equipment now surround the stage, and the theater showcases a much larger variety of performances.
The theater shows classic films, mainstream movies, and film festivals throughout the year. However, the stage is just as well known for its live performances. From stage acting to comedic showcases and including a wide range of musical talent, the marquee is always displaying something new to see.
Address: 140 S Sansome Street, Philipsburg, Montana
Official site: https://www.philipsburgtheatre.com/
6. Ski Discovery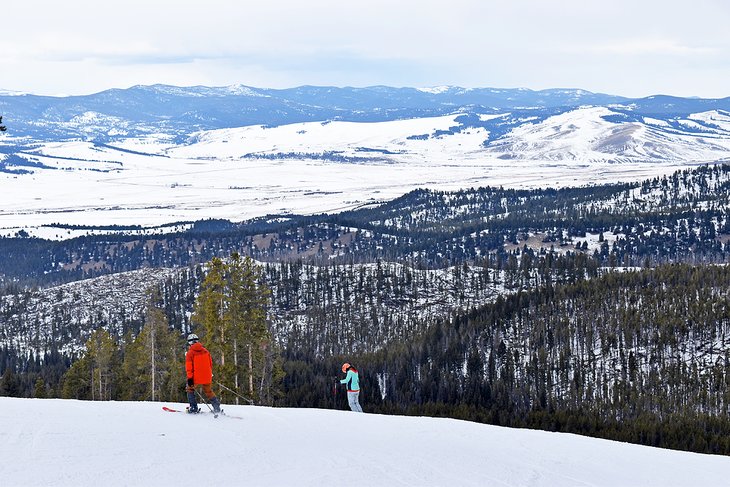 Every winter, thousands of downhill enthusiasts flock to "Ski Disco," 30 minutes south of town. This locally owned operation, also known as Discovery Ski Area, has over 2,000 skiable acres with a wide range of terrain. The resort caters to every downhill ability, with beginner-friendly bunny hills and challenging double-black-diamond chutes on the backside.
And it's not just the 60-plus named trails that makes Discovery one of Montana's best ski resorts. The resort also has facilities like the Discovery Day Lodge and the Discovery Cafe. The café is perhaps best known for its freshly baked chocolate chip cookies. Other resort amenities include rentals, lessons, and an adjacent Nordic trail system circling Echo Lake.
Discovery also isn't just a winter destination. In the summer months, the ski runs thaw to reveal an intricate network of professionally designed mountain bike trails. Users can peddle their way to the top of the Discovery Bike Park with a day pass or spring for a ride on a chairlift.
Address: 180 Discovery Basin Road, Anaconda, Montana
Official site: https://www.skidiscovery.com/
7. Dining in Downtown Philipsburg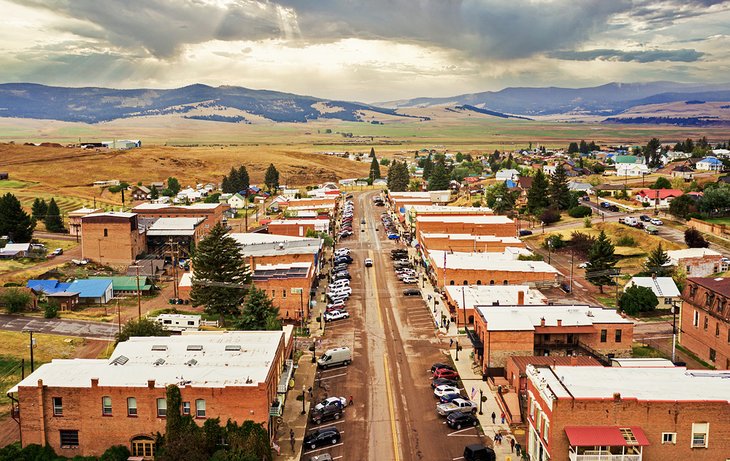 Philipsburg has a distinct hometown flavor thanks to the many tourists that support local restaurants in the area. The bulk of places to grab a taste of the town are within walking distance on both sides of Broadway Street. While heading to this area with a plan works, another recommended approach is strolling about, guided by the senses.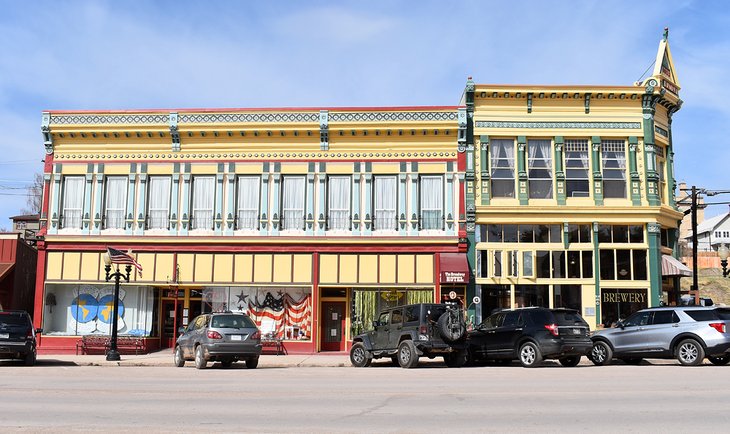 One spot that consistently has customers is Doe Brothers Restaurant where you can find an assortment of dishes. The downtown area also features desserts and post-entree items. The Philipsburg Creamery is an iconic place to visit for homemade ice cream and espresso. Farther west in town, Sherry's Homestyle Bakery also satisfies a sweet tooth with home-baked pastries, pies, and desserts.
8. Soak at Fairmont Hot Springs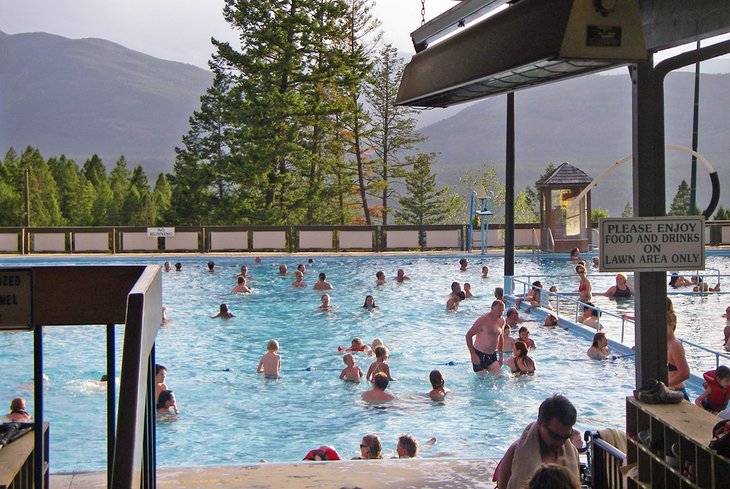 To cap off a road trip on the Pintler Scenic Byway from Philipsburg, Fairmont Hot Springs sits near the opposite end of the route, close to Anaconda. It's less than an hour's drive to this all-inclusive hot spring resort without any pit stops along the way. And with two Olympic-sized hot pools, it's well worth the scenic drive.
The first thing that stands out when visiting is the gigantic 350-foot waterslide twirling into a massive outdoor pool. Another indoor pool at the resort matches the size of this pool outside. And both pools are regulated and heated by a natural heat source, with different sections offering different temperatures to enjoy.
Visiting Fairmont is a complete resort experience. On-site restaurants include the Springwater Café for casual fare and the Waters Edge Dining Room featuring more refined dining. For an extended visit, rooms at the Fairmont Hot Springs Resort range from modern king rooms to two-bedroom suites.
9. Road Trip to Missoula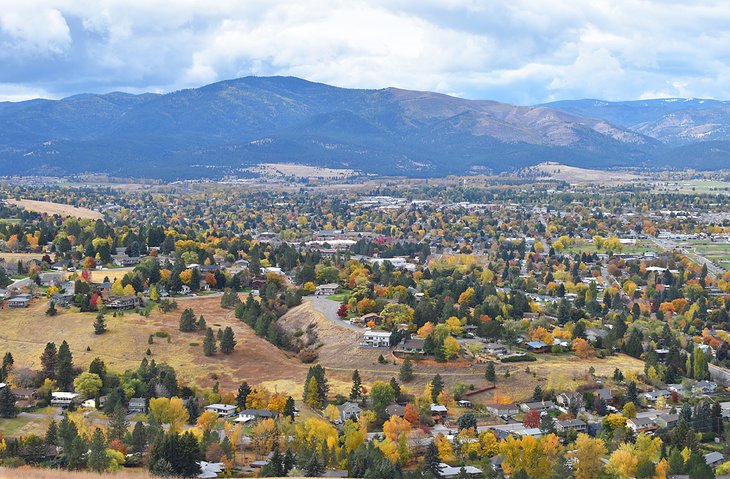 For an extra addition to a Montana road trip, Missoula is 75 miles to the northwest. This university city, one of Montana's best cities, has a much larger population and a broader array of cultural events, including the University of Montana football games.
Missoula also has a bustling downtown district. The summers are when this retail and open space comes to life with live music, farmers' markets, and First Friday celebrations. Connecting downtown to the rest of the city, the Clark Fork Riverfront Trail offers a great way to get around and enjoy views of the Missoula Valley.
The city is also a jumping-off point for several quintessential Montana adventures. Lolo National Forest surrounds the town and offers outlets for hiking, backpacking, fishing, and mountain biking. For Missoula's closest outdoor pursuits, check out the Rattlesnake National Recreation Area bordering the north edge of town.
Read More: Top Attractions and Things to Do in Missoula, Montana
10. Visit the Granite County Museum
For some additional context on any visit, the Granite County Museum paints a vibrant picture of the region's past. The building housing the museum, the former Courtney Hotel, is a piece of history itself, originally built in 1918.
The museum began operating in 1993 after remodeling the first floor to host exhibit space and a community center. The museum's collection of antiques and photographs have continued to grow since then. The primary focus throughout the building is the mining, ranching, and pioneering way of life in the region, dating back to the 1860s.
The museum rotates the artifacts and photos on display throughout the year to ensure something new with each visit. A few of the permanent exhibits include a Ghost Town Hall of Fame and a tourable underground mine. This unique replica includes a glimpse into a miner's cabin for a realistic look into the past.
Plan for at least a few hours wandering the exhibits of this fascinating museum. The facility is open daily in the summer between 12 and 4pm. Winter visits are by appointment only.
Address: 135 S. Sansome Street, Philipsburg, Montana
Official site: https://www.granitecountymuseum.com/
Map of Things to Do in Philipsburg, MT
Philipsburg, MT - Climate Chart
Average minimum and maximum temperatures for Philipsburg, MT in °C
J
F
M
A
M
J
J
A
S
O
N
D

1

-10

3

-8

7

-6

12

-3

16

1

21

4

26

6

26

6

20

2

14

-2

5

-6

1

-10

PlanetWare.com
Average monthly precipitation totals for Philipsburg, MT in mm.

15

13

22

37

65

55

34

41

38

27

18

15