11 Top-Rated Campgrounds near Spokane, WA
In eastern Washington near the Idaho border, Spokane is the second-largest city in the state and is surrounded by natural splendor. The Little Spokane and Spokane Rivers run right through the city, surrounded by the sprawling Riverside State Park. And stunning scenery like the Selkirk Mountains, Ice Age waterfalls, and massive reservoirs are found nearby. These scenic landscapes lend to a lot of weekend camping getaways.
Adventures stem from all the campgrounds near Spokane. Common activities include climbing a mountain, navigating a canyon, or playing disc golf all day. And many of these overnight spots cater to tent camping and RVing alike. This accessibility to the outdoors attracts thousands of tourists and overnight visitors to camp near Spokane each year.
Because of its proximity, some of Spokane's best campgrounds, like Farragut and Heyburn State Park, are across state lines in Idaho. These crown-jewel state parks are some of the biggest in Idaho and are the largest campgrounds close to Spokane.
Find your next favorite spot to pitch a tent or park an RV with our list of the top campgrounds near Spokane.
1. Bowl and Pitcher Campground, Riverside State Park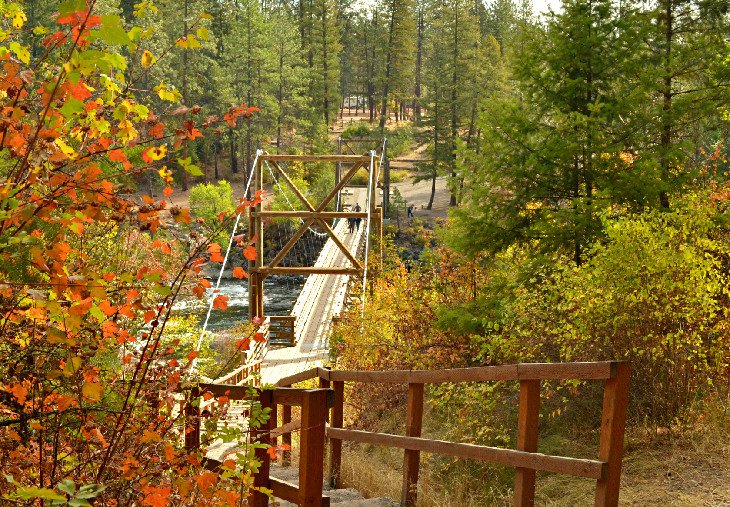 Riverside State Park is a sterling natural space of Spokane, encompassing over 10,000 acres along the Spokane and Little Spokane Rivers. The state park is divided into several units on the northwest edge of the city, many of which are home to Spokane's best hiking trails.
Riverside State Park features four different camping areas, including an equestrian-only campground. Some of the most sought-after sites are in the Bowl and Pitcher area of the park, named after large basalt outcroppings on the Spokane Riverbank. Visitors can see this stunning area via a Civilian Conservation Corps-era suspension bridge.
Over 30 sites at Bowl and Pitcher accommodate tent campers and RVs with partial hookups. Two large group campsites are also available. Many of the sites can be reserved ahead of time. All overnight visitors have access to showers and flushing restrooms.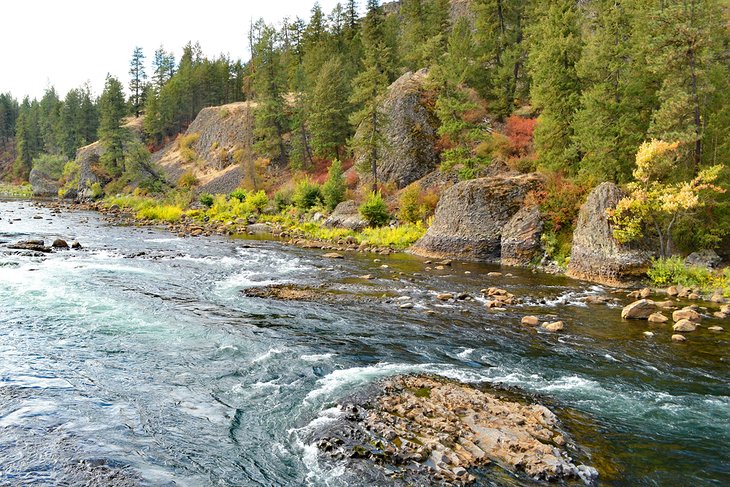 Hundreds of miles of multi-use trails stretch throughout the different units of Riverside State Park, including the beginning of the 40-mile Spokane River Centennial State Park Trail, which extends to the Idaho border. Other units with campgrounds include the Nine-Mile Recreation Area and Lake Spokane.
Official site: https://parks.state.wa.us/573/Riverside
2. Liberty Lake Regional Park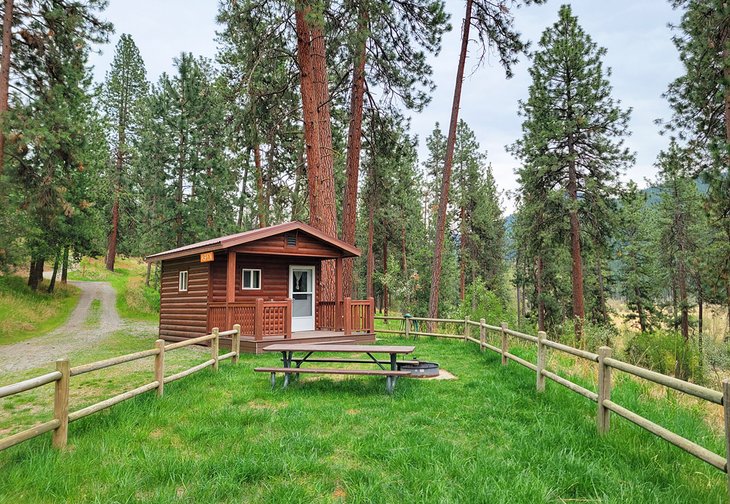 Liberty Lake Regional Park is southeast of Spokane near the Idaho and Washington border. It features several park amenities, as well as ways to enjoy the water. The eight-mile Liberty Lake Loop Trail extends from the park's boundaries, and swimming, non-motorized boating, and fishing are always popular throughout the summer months.
The campground at Liberty Lake features approximately 17 RV sites and 10 designated spaces to pitch a tent, as well as cabins and group sites. The campground is open seasonally between May and October, and all sites are reservable ahead of time. Overnight guests have access to flushing restrooms, hot showers, and a central waste system for sewage.
Official site: https://www.spokanecounty.org/Facilities/Facility/Details/Liberty-Lake-Regional-Park-39
3. Mount Spokane State Park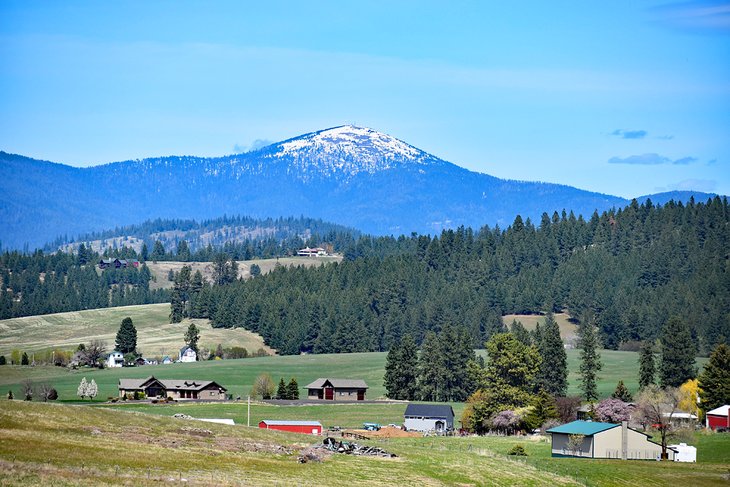 Mount Spokane is an hour northeast of the city and a dominant mountain on the horizon. It's one of the most accessible of the Selkirk Mountains from Spokane, and it hosts one of the largest state parks in Washington. The campground at Mount Spokane features eight standard campsites available on a first-come, first-served basis with access to flushing restrooms and potable water.
The campground is located on Summit Road within the state park, which is generally open between mid-June through mid-October. Alternatively, overnight visitors to Mount Spokane can also reserve the non-electric Quartz Mountain Fire Lookout to spend the night, which sleeps four comfortably at a view-enabling elevation of 5,129 feet.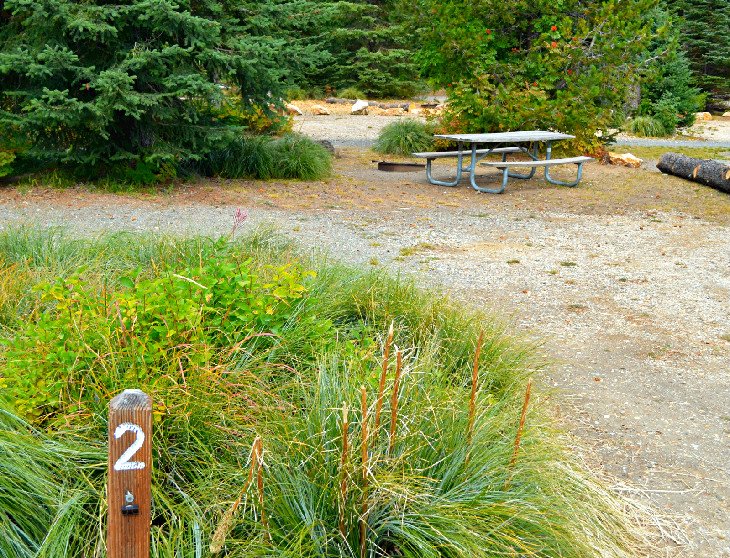 Year-round recreation is available at Mount Spokane with multi-use trails leading up to and around the summit. Visitors can hike to three different mountain summits within the state park, including Kit Carson, Day Mountain, and Mount Spokane itself. And come winter, alongside 50 kilometers of groomed Nordic trails, the Mount Spokane Ski & Snowboard Park draws major interest.
4. Lake Spokane Campground, Riverside State Park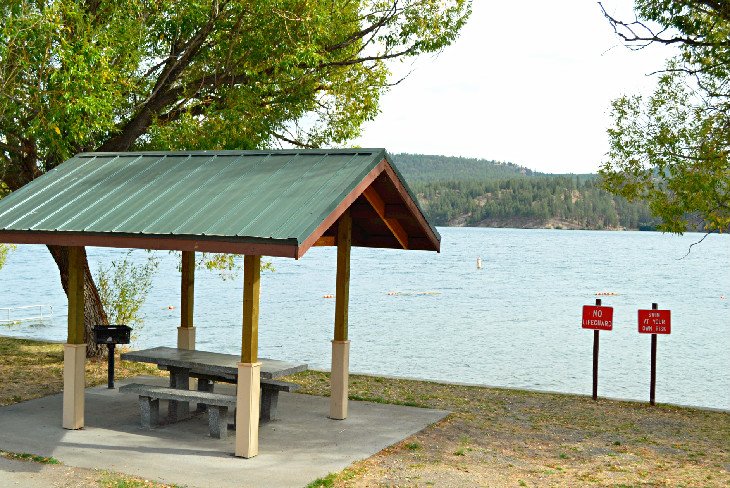 For campsites with a view, Lake Spokane Campground overlooks the water on a high bluff, 30 minutes northwest of the city. As part of the larger Riverside State Park, this campground is a popular spot for those who want quick access to Lake Spokane. It features a public boat launch and accessible dock for fishing, and an unsupervised swimming area.
Lake Spokane Campground offers 11 primitive sites, which can accommodate all sizes of RVs. No hookups are available. Potable water and vault toilets are accessible for all overnight users. Four boat-in camping areas are also available on a first-come, first-served basis.
5. Nine Mile Recreation Area, Riverside State Park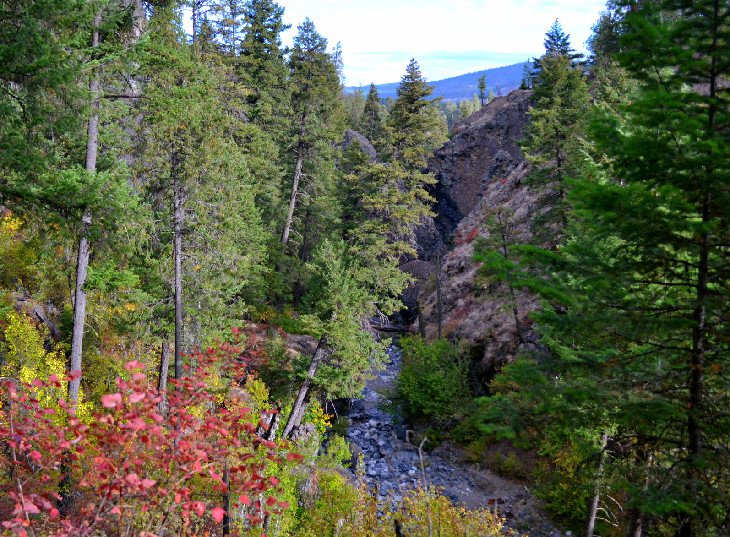 The Nine Mile Recreation Area is one of four camping areas within Riverside State Park. It's north of the Bowl and Pitcher on the Spokane River and features 21 full-hookup RV sites next to the water. Three tent sites are also available, but the campground is best suited for recreation vehicles.
Showers, potable water, and flushing restroom facilities are available to all visitors of the recreation area. The campground is also closely located to the massive Deep Creek Canyon portion of Riverside State Park. A short commute from the campground, Deep Creek Canyon offers creek bed hiking trails, bolted climbing routes, and basalt landscapes that are fun to explore.
Popular water activities at Nine Mile include fishing, swimming, and utilizing the public boat launch. The entire Nine Mile Recreation Area is also defined by hiking and mountain biking trails, and come winter, cross-country skiers and snowshoers are often seen moving through the trees.
6. Heyburn State Park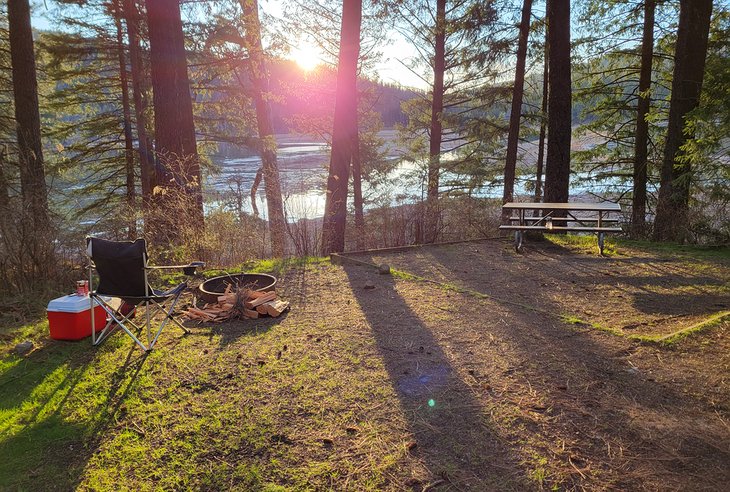 Established in 1908, Heyburn State Park is the oldest state park in the Pacific Northwest, and still today one of the most popular. It encompasses three scenic lakes: Chatcolet Lake, Benewah, and Hidden Lake. From Spokane, the state park is approximately an hour's drive across state lines.
Camping at Heyburn State Park is split into three different areas. The scenic Hawleys Landing Campground features over 50 sites, mostly accommodating RVs with full hookups available. On the opposite shore of Chatcolet Lake, Chatcolet Campground caters specifically to tent campers with 38 sites to pitch a tent. Farther east within the state park, on the shores of Benewah Lake, the Benewah Campground features a mix of tent sites and RV spaces available on a first-come, first-served basis.
All developed sites at Heyburn State Park feature showers and flushing restroom facilities and can be reserved ahead of time. Some sites close down in the winter.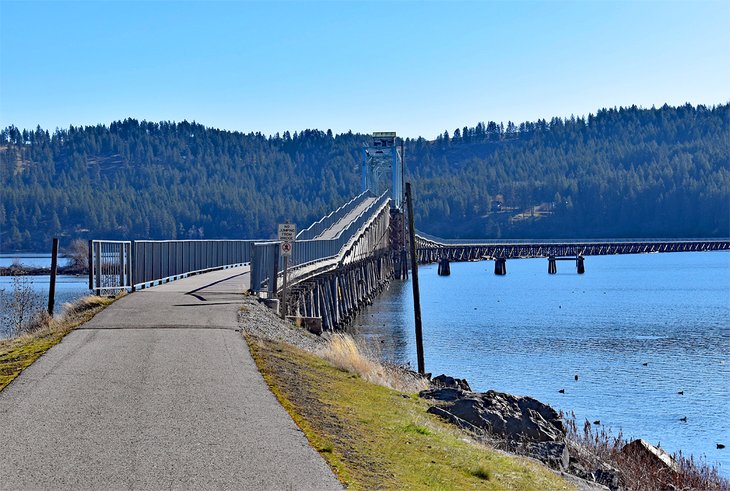 Hiking, mountain biking, and horse riding are all popular land activities enjoyed at Heyburn State Park, and boat rentals enable anyone to get on the water. A popular pedestrian path for cyclists and wildlife watchers, the 72-mile paved Trail of the Coeur d'Alenes also makes its way through the park on its route across the Idaho panhandle.
7. Farragut State Park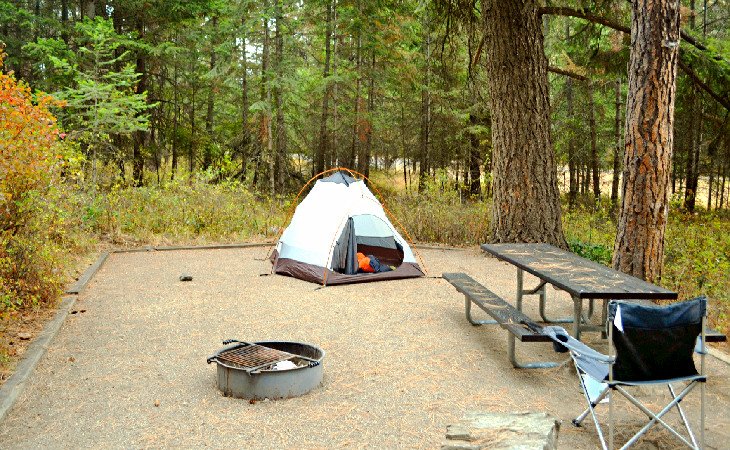 Across state lines in the Idaho Panhandle, Farragut State Park is located on the southern point of the scenic Lake Pend Oreille. Nature and recreation abound at Farragut, as does its interesting naval history with places like the Museum at the Brig at the state park. This history and easy access to abundant nature solidify Farragut's status as one of Idaho's best state parks.
Farragut State Park is accessible from Spokane within an hour's drive. Well over 200 sites are available, spread over four main camping areas. The campgrounds cater to both tents and RVs, and Farragut also offers group camps, equestrian areas, and furnished cabins. Campsites are reservable ahead of time, and all overnight visitors have access to flushing restroom facilities and hot showers.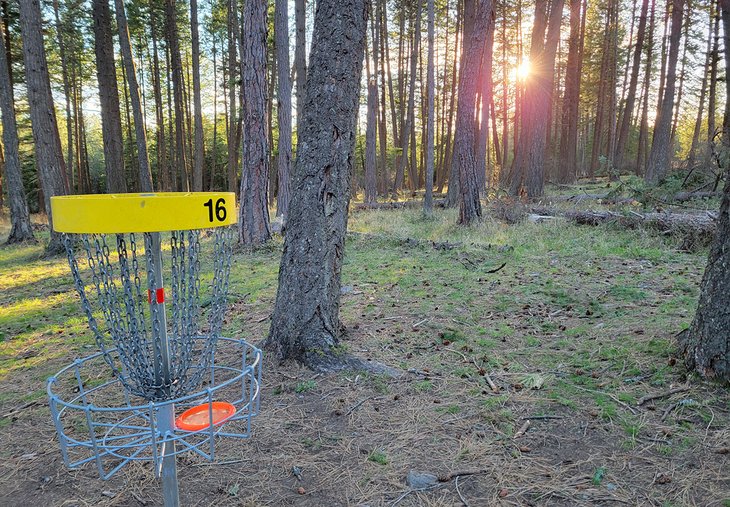 Miles of multi-use trails wind throughout the park, alongside abundant access to Lake Pend Oreille — the largest lake in the state. But Farragut's crowning feature is arguably the four professional 18-hole disc golf courses within its boundaries. This makes the state park extremely popular for professional disc golfers and amateurs alike.
Official site: https://parksandrecreation.idaho.gov/parks/farragut
8. Pioneer Park Campground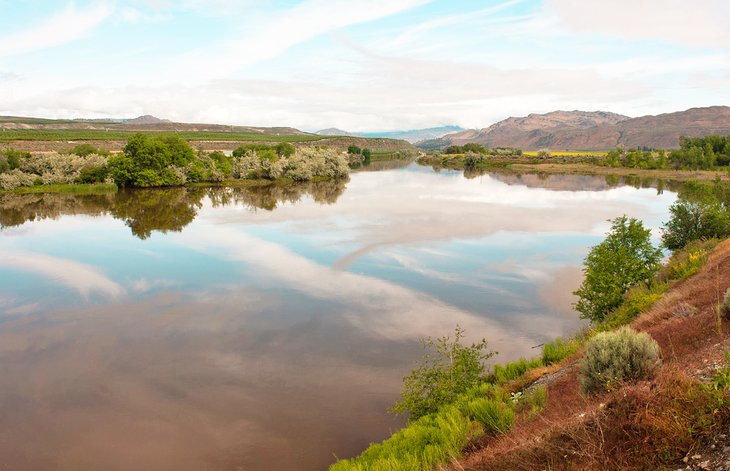 It's approximately a 50-mile drive to reach this Colville National Forest campground in northeast Washington. The Pend Oreille River runs adjacent to the sixteen standard non-electric sites available. About half the sites are reservable through Recreation.gov, while the other half are first-come, first-served. Most sites cater to both tent camping and RVing, with space for up to 36-foot-long motorhomes.
The Pend Oreille River offers immediate appeal in the campground. Pioneer Park provides a boat launch near the campsites for motorized and non-motorized vessels, and a small sandy area nearby offers a nice swimming spot. The campground and boat launch operate between Memorial Day and Labor Day.
Pioneer Park's larger appeal comes from its southerly location on the International Selkirk Loop. This nation-spanning driving and bicycling route circles the Selkirk Mountains of Idaho, Washington, and British Columbia. And Pioneer Park, adjacent to the Pend Oreille Valley Scenic Byway (Highway 20), is part of this world-renowned travel corridor.
9. Edgewater Campground, Colville National Forest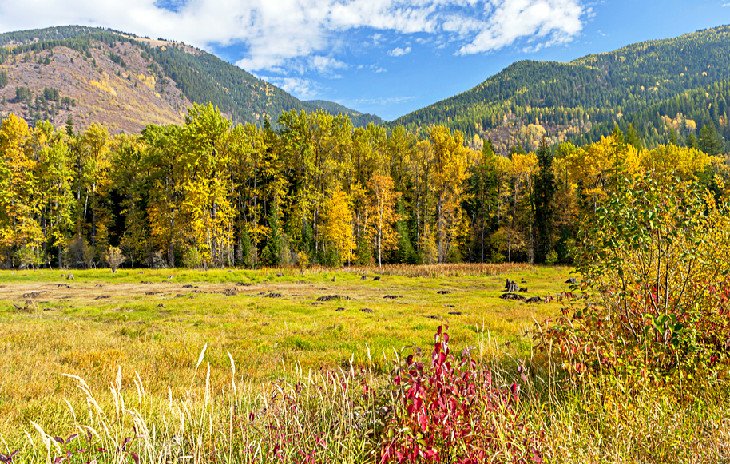 North of Spokane in the Colville National Forest, Edgewater Campground provides quick access to Lake Pend Oreille and the surrounding Selkirk Mountains. A public boat launch on Lake Pend Oreille invites jet skiing, water skiing, and tubing, and a small designated swimming area along the river is great for cooling off in the water.
Edgewater features 19 campsites accommodating tent campers and RVs, and numerous hiking trails also stem from the campground. The nearby Sullivan Lake Road, easily accessed from the campground, is popular for road cycling and auto-touring. Drinking water and vault toilets are available during the warm-weather operating season.
10. Palouse Falls State Park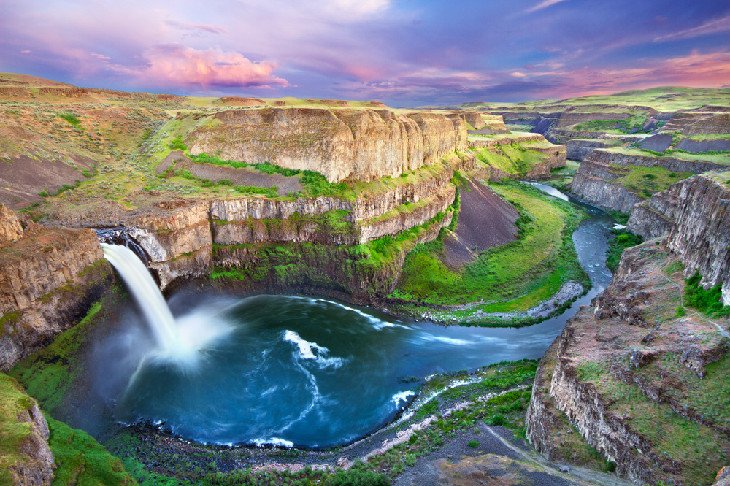 Palouse Falls in southeast Washington earns its status as one of Washington's best waterfalls. It's one of the last active waterfalls carved from the Ice Age Floods thousands of years ago. And today, part of the Palouse River, the waterfall still spills 200 feet into a humungous basin. Alongside being the designated State Waterfall, it's a natural spectacle worth seeing once in a lifetime.
Interested visitors coming from Spokane can reach Palouse Falls within a 100-mile drive (approximately two hours). A rugged landscape surrounds the state park, with limited resources nearby. Eleven primitive campsites await campers on a first-come, first-served basis. No water is available, but the sites come with shade structures and access to a vault toilet.
Palouse Falls really stands out thanks to its sheer size and the colorful basalt canyon into which it pours. Camping is an excellent option because it opens the opportunity to catch a beautiful sunset.
An alternative to the primitive state park campsites, the Starbuck/Lyons Ferry Marina KOA is 15 minutes to the south. This family-friendly campground accepts reservations for tent and RV camping.
11. Kettle Falls Campground, Lake Roosevelt National Recreation Area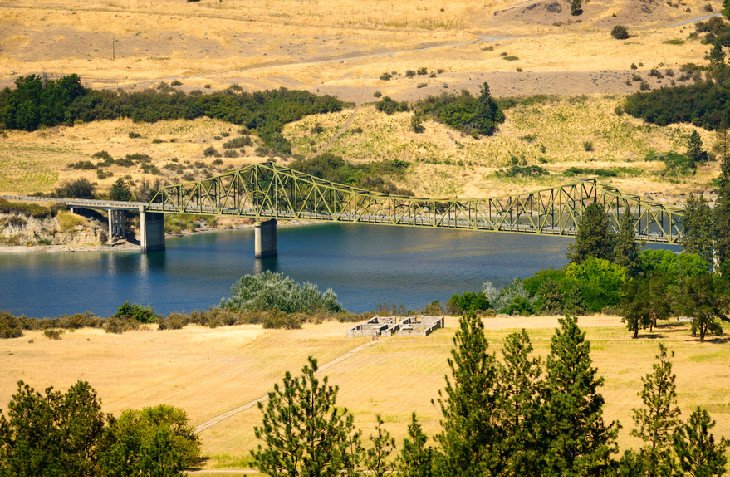 Lake Roosevelt National Recreation Area lends quick access to the massive 130-mile reservoir on the Columbia River created by the Grand Coulee Dam. Best suited for longer weekend trips from Spokane, the recreation area is approximately a three-hour drive from the city. But make the trip, and there's a lot to explore.
Numerous designated swimming areas at Lake Roosevelt allow the public to take a dip.And the 22 public boat launches appeal to boat owners or those renting from the two marinas operated within the recreation area. The National Park Service also hosts guided canoe rides throughout the summer. Fishing is allowed on Lake Roosevelt outside of harbors and designated swimming areas, and anglers often aim to land rainbow trout, white sturgeon, and yellow perch.
Other activities of interest at Lake Roosevelt include auto-touring, road cycling, and walking through history at places like the Fort Spokane Visitor Center and Museum. Numerous campgrounds can be found throughout the recreation area. And like Spring Canyon and Gifford Campgrounds, many have great views of the lake.
One of the largest campgrounds at Lake Roosevelt, Kettle Falls Campground, lends quick access to the Kettle Falls Marina and corresponding day-use area. It's a popular place throughout the summer and features 29 campsites accommodating tent campers or RVs. Potable water and flushing toilets are available.
Official site: https://www.nps.gov/laro/planyourvisit/campgrounds.htm
Where to Stay in Spokane after Camping
Mid-Range Hotels:
For a hot shower and roof overhead after camping, Spokane offers a plethora of quality hotels to spend the night. For a downtown stay close to Gonzaga University, Oxford suites Downtown

Spokane

overlooks the Spokane River and is well reputed for extra-clean facilities, friendly staff, and an evening reception.
North of downtown, Quality Inn

Oakwood

is another favorite mid-range hotel in the city, which provides hot breakfast items, fast and reliable Wi-Fi, as well as a pool and hot tub area.
A newer hotel in the area, La Quinta Inn & Suites Spokane

North

features a modern lobby, guest rooms with comfortable beds, an exercise room, and pool facility.
Budget Hotels:
Great hotels in Spokane that won't break the budget can be found surrounding the downtown area. One of the highest-rated, most affordable hotels in Spokane, the Ramada by Wyndham North

Spokane

offers competitive pricing and the unbeatable service you'd expect from a major hotel chain.
Near the Ramada, the Apple Tree

Inn

provides a more cozy feeling and comfortable place to spend the night.
South of the downtown district, the Super 8 by Wyndham

Spokane/West

has an affordable overnight rate, which includes continental breakfast and access to a well-maintained fitness facility and pool and spa area.
More Related Articles on PlanetWare.com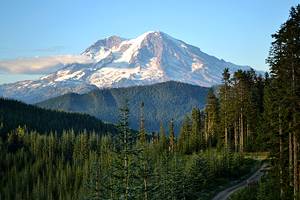 More Camping in Washington: Many of the best campgrounds in Washington are located in Washington's best state and national parks. campgrounds at Mount Rainier aid in multi-day exploring of this scenic region. The best campgrounds in Olympic National Park are as varied as the peninsula itself, and the campgrounds at North Cascades National Park allow access to this scenic region of Washington.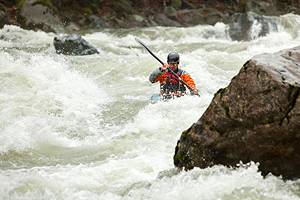 Adventure in Washington: The best hiking trails near Spokane pair well with the area's best campgrounds, and from here, exploring some of the best hiking trails in Washington state is a good idea. For further hiking endeavors, the hiking trails in Olympic National Park can really take you places, and the Mount Rainier hiking trails always come with a view.
Testing your legs on the top-rated hiking trails of the North Cascades is worth the workout, and the best day hikes near Seattle provide maximum enjoyment while barely leaving the city.