6 Best Campgrounds in Osoyoos, BC
From the north, east, south, or west, your arrival at Osoyoos will feel as if you are descending into a desert oasis. Like many newcomers here, you are probably not expecting a desert in British Columbia. The landscape surrounding Osoyoos Lake—one of the best lakes in British Columbia—looks like parts of the American Southwest. You can camp in Osoyoos and experience the best of both worlds: inviting lakeside campgrounds in a rare Canadian pocket desert.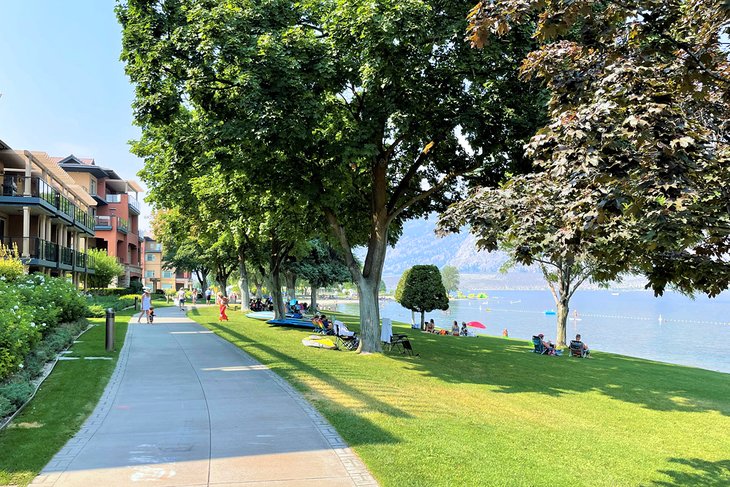 Many expectations you have about visiting the Okanagan Valley will be satisfied in Osoyoos: Hot summers, a lake for cooling off, and picturesque golf courses to practice your best shot. There are places to camp, eat, markets to shop, a downtown lakeside beach for swimming, and a paved waterfront pathway to stroll. A variety of attractions will appeal to visitors looking for a break from the beach and sun.
Camping in Osoyoos is popular. This is especially true during the summer, when people from near and far come to recreate in freshwater that averages 25 degrees Celsius. Before heading out from home this summer, be sure to scan our list of best campgrounds in Osoyoos.
1. Sẁiẁs Park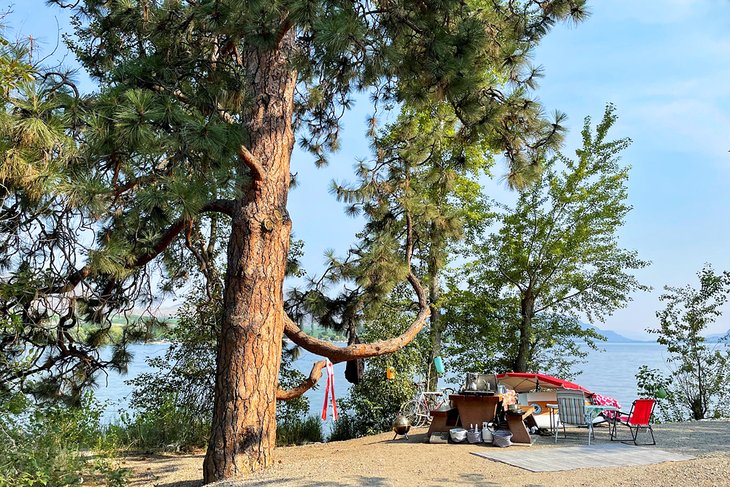 You know you've arrived at a special place in nature when the greeting party is a family of quail. As you enter Sẁiẁs Park (previously called Haynes Point), you also cross into the Haynes Point Wetland. Take an easy stroll to the marsh viewing tower and elevated platforms to view nesting birds and bats hunting for insects at dusk. This natural refuge and other park features make this one of the most popular places to camp in the Okanagan Valley.
Less than three kilometers north of the international border separating Canada from the United States, Sẁiẁs Park shares access with its American neighbors to one of the warmest lakes around. Similar to the way you say Osoyoos, pronounce Sẁiẁs as "s-wee-yoos." In Syilx'tsn (the Indigenous language of the Okanagan Nation) this means "narrowing of the waters." The narrow waters refer to the stretch of beach extending to Haynes Point in the center of the south arm of Osoyoos Lake.
Surrounded by the lake on all sides except the park entrance, the six-decade-old park feels even larger than the 38 hectares within its boundaries. Less than two kilometers long and 18 meters wide, this spit of land is significant to the Okanagan Nation because it holds the oldest known ancestral remains in Osoyoos, dating back more than 1,200 years. Since 2015, the park has been managed by the Osoyoos Indian Band.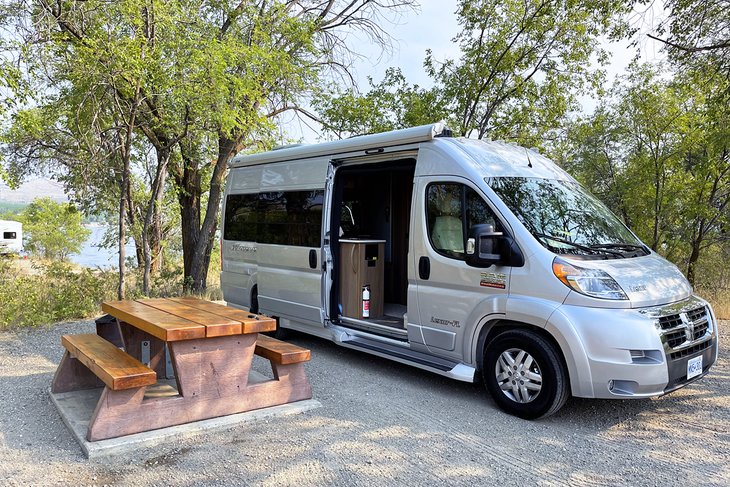 In addition to its day-use picnic and swimming area, boat ramp, and dedicated beach for pets, there is a paved one-way loop around the perimeter of Haynes Point where the campground is located.
Forty-one level campsites are suitable for tents, as well as large and small RVs. Each site features a picnic table and fire ring. Seasonal freshwater taps and flush toilets are available in the campground and day-use area.
Water lovers reserve lakeside sites where they can lounge at the water's edge or easily launch kayaks and paddleboards. Campers seeking more privacy should consider sites along the inside section of the loop drive. Shade is provided by mature cottonwoods and ponderosa pines. Be sure not to miss the short trail from the campground that leads you to Haynes Point at the end of the sandy spit.
You can make campsite reservations online during high season. A limited number of overflow spaces along the lakefront avenue of cottonwood trees open up exclusively to campers in RVs during the summer. When the reservation system closes down, all campsites are available first-come, first-served—look for the green "available for 1 night" signs placed on unoccupied sites.
Given how popular this relatively small campground is, the maximum length of stay for each camper is seven days.
2. Arosa Ranch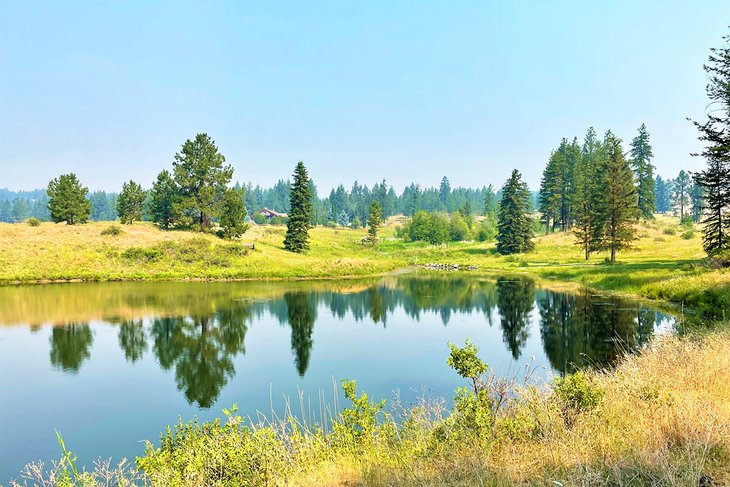 Getting to Arosa Ranch is a 25-kilometer scenic drive east of Osoyoos on Highway #3. If you need to escape the heat of the Okanagan Valley, you'll want to climb into the highlands of the Anarchist Mountains for cooler nights. Driving beneath the welcoming arch and crossing three cattle grates, you know you've arrived on the ranch. From the lodge, the lake down the gulch comes into view. The distant hills beyond lead to the Canada-U.S. border.
With its loyal following of repeat guests and campers, Arosa Ranch caters to tourists who return here for the scenery, outdoor pursuits, and convenient campground facilities. In addition to camping, some families and groups rent the cozy guest suites or centrally located cabins for their cooking facilities and additional accommodations.
Campsites blend into the natural rises and dips of the forested and open landscape. Ponderosa pine and spruce provide ample shade in wooded sites, and sun umbrellas offer protection in sites open to the big sky. A washhouse has hot showers, toilets, and a sink for cleaning dishes. If you need to reconnect with civilization, Wi-Fi is available near the lodge.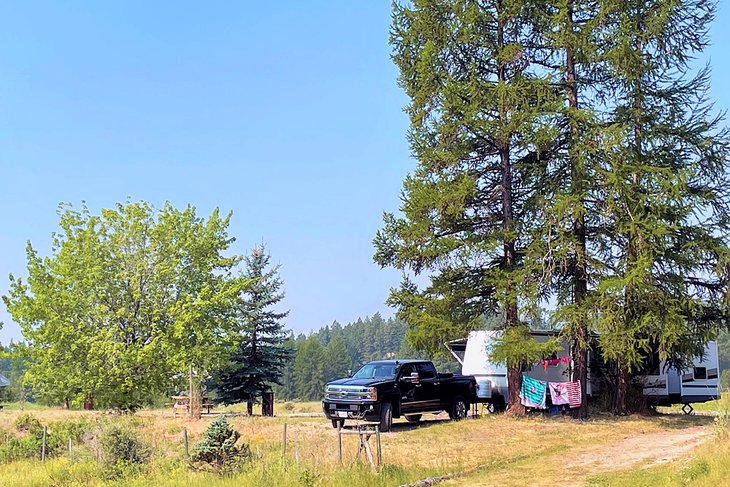 Reserve your pick of nine full-service RV sites with water, 30-amp power, and septic hookups. Four of these sites allow you to pull through rigs as long as 12 meters.
Pitch your tent in one of six car-accessible sites such as "The Lookout" with its resident mascot, a prairie gopher. All campsites include a picnic table and fire pit for wood campfires. When fire restrictions are in place, propane fire rings may be rented at the ranch.
Whether making yourself comfortable in a deluxe RV or camping under the stars in a tent, a good night's sleep is almost guaranteed following days of fresh mountain air, activity, and relaxation.
Arosa is a small working ranch with free-ranging chickens and a small posse of friendly horses living out their days in peaceful retreat. While the ranch does not offer trail rides, its owners can help you arrange a horseback adventure in Osoyoos.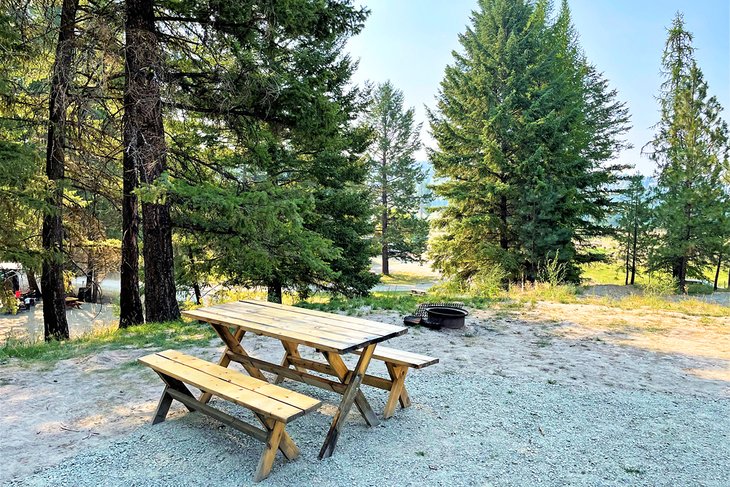 The campground has a homespun resort feel, where campers can share the aboveground seasonal pool and hot tub with guests staying in the lodge. Campers are welcome to organize informal croquet tournaments and other lawn games. Your dog will be right at home here, too.
Between the campground and lodge is an open meadow, where children play on the trampoline, slide and swing set, and handcrafted teeter-totter.
The lake is perfect for fishing and lily dipping in a boat. With adequate flow from natural springs feeding the lake, you might entertain a refreshing swim in the outback. As you wander down the meadow to the lake, appreciate the summer bloom of vetch, lupine, yarrow, and blanket flower.
Many fence posts are capped with birdhouses to attract new families of bluebirds. When you're ready for more exercise, Arosa Ranch offers 65 hectares of nature trails for hiking and viewing wildlife.
As you plan your camping trip to Osoyoos, keep in mind that Arosa Ranch requires stays of a minimum of three nights for holiday weekends.
Address: 1 Arosa Ranch Road, Bridesville, British Columbia
3. Nk'Mip Campground & RV Resort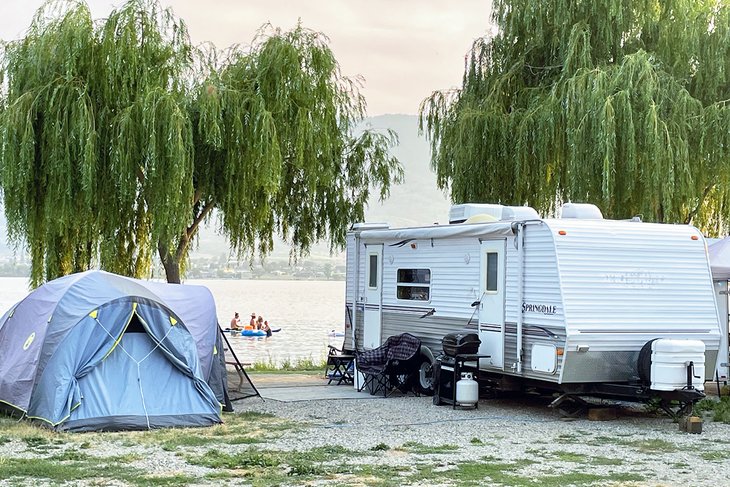 With 415 campsites on Osoyoos Lake, including 120 lakeside sites, Nk'Mip Campground is by far the largest campground in Osoyoos. It's also part of the major attraction that includes the Nk'Mip Spirit Ridge Resort, the nine-hole Sonora Dunes Golf Course, and the Nk'Mip Desert Cultural Centre. The entire complex sits on more than 1,400 hectares owned by the Osoyoos Indian Band.
Amenities at this year-round campground include a clubhouse, marina, boat launch, playground, indoor pool, full-service bathrooms, free Wi-Fi, and a dedicated dog beach. Approximately 150 sites are filled by campers who stay for a season or all year round. During the summer, campers have a chance to see colorful blooming cacti.
More than 250 grass or gravel campsites are reservable for tents and RVs. Sites offer a range of services, including 30- and 50-amp power hookups. The largest sites are 110 feet in length. When not reserved, sites are available first-come, first-served.
For a less rustic experience, you can opt to reserve the four-bedroom cabin, located next to the marina.
One of the rewarding aspects of camping in a resort such as Nk'Mip is the range of opportunities for recreation and things to do. Marked hiking trails range from short and rated easy to a three-hour round-trip hike that takes you to a 673-meter-high panoramic lookout of the valley. If you are looking for more adventure, the Desert Cultural Centre can book an equipped hike to the top of Chief's Lookout, where you repel off the cliff face with the assistance of a certified climber.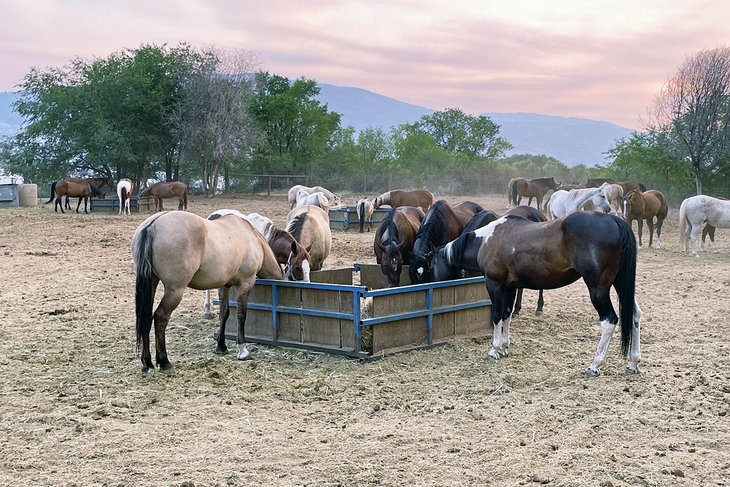 Enjoy a trail ride guided by Indian Grove Riding Stables, located between the campground and the resort.
Boat rentals are also available. Like a fish to water, immerse yourself in the unique experience of paddling in a desert. For more excitement, strap on a set of water skis. Perhaps being set adrift on an inflatable raft is more your style. Other water recreation options include stand up paddleboarding, kayaking, and Sea-Doo rentals.
Before you arrive here for your camping adventure, know how to pronounce Nk'Mip: In-ka-meep (translation: "creek which loses itself in the lake").
Address: 8000 - 45th Street, Osoyoos, British Columbia
4. Island View RV Resort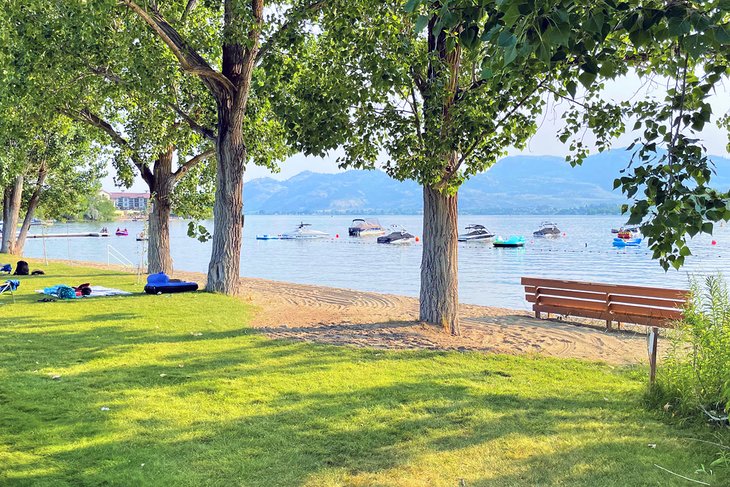 Across the lake from downtown, this RV campground showcases an island view. The island visible from your campsite at Island View RV Resort is Haynes Point at the end of Sẁiẁs Park. As lovely as it is to be at Haynes Point, you can enjoy looking at it while camping at this resort.
Your campsite here must be reserved online and can accommodate RVs in spaces that are 8 to 13.5 meters long. With a privacy hedgerow between you and your neighbors, a tidy concrete pad welcomes you with the convenience of full-service power, water, and septic hookups. Each site has its own picnic table and patch of grass.
Secured entry into the campground gives way to an RV campground with amenities: Clean bathrooms, coin-operated showers, a laundromat, and a small playground for young children. Your pets are welcome if they remain on a leash. Although there are no sites for tenters, the resort has a four-bedroom vacation home and a two-bedroom park model available to rent.
Less than a minute from your campsite is one of the nicest beaches on Osoyoos Lake, where campers bring their own kayaks, paddleboards, and other gear for active pursuits on the water. Staff make it their priority to keep this area clean and raked at the start of each day.
The resort's beach is fenced to enhance privacy, and is located on the other side of Lakeshore Drive. Mini palapas line the shore to give you that Caribbean vibe in Canada's tropical hideaway. Don't fret about your children playing in the shallows here, because the sand is gently graded before swimmers reach deeper water.
One of the pretty features of this beach are cottonwood trees that cast the perfect amount of shade in the grassy park setting. Soak in the sunsets while relaxing on a bench on the beach sand facing the lake. Campers with watercraft use the on-site ramp to launch boats, and the dock to tie them up at the end of the day.
Island View RV Resort is three kilometers from downtown Osoyoos and only a short walk to restaurants and family activities such as the ever-popular amusement park, Rattlesnake Canyon. It offers go-karts, bumper boats, mini golf, and rides.
Address: 5005 Lakeshore Drive, Osoyoos, British Columbia
5. Cabana Beach Campground & RV Park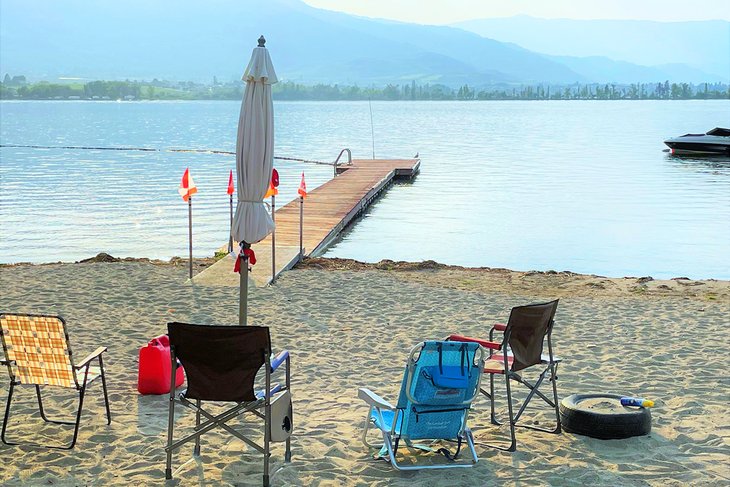 Summertime experiences have been enjoyed for more than half a century at the family-operated Cabana Beach Campground & RV Park. The friendly owners proudly promote happy memories created by generations of campers who flock here for the main event: A beautiful clean beach for safe swimming and other water activities. It's less than a 60-second walk from any campsite here.
In addition to pitching a tent or leveling an RV in a grassy, treed, and old-fashioned campground setting, some tent campers reserve one of the open-style cabanas. Each cabana features a fridge, power for appliances, a kitchen sink with running water, and a covered picnic table. Most of the RV sites have full hookups.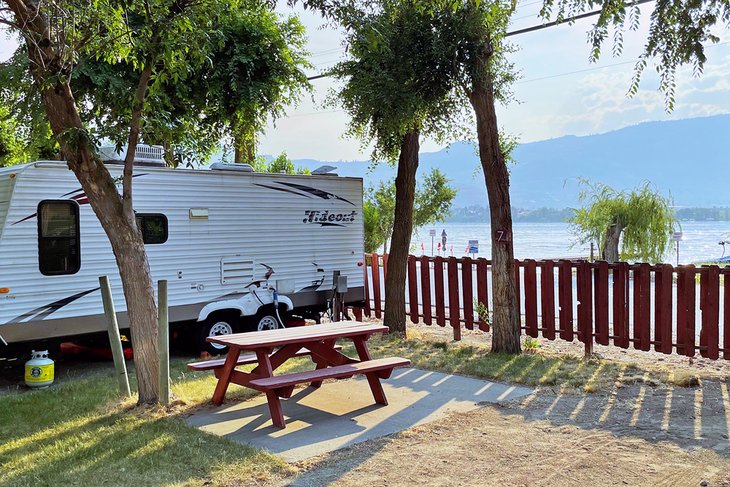 For visitors with no RV or tent, Cabana Beach offers rustic cabins for a self-catered stay with a bedroom, cooking area, power, water, and patio under cover. Keep in mind that pets are not permitted at this campground.
Including lakeside campsites, the 76 sites and cabanas are located across Lakeshore Drive from the beach. For the convenience of campers and guests, Cabana Beach provides showers and laundry for a fee and a Wi-Fi zone in the covered picnic shelter. Reservations are needed in the summer, but drop-ins are still welcomed.
Address: 2231 Lakeshore Drive, Osoyoos, British Columbia
6. Brookvale Resort and Campground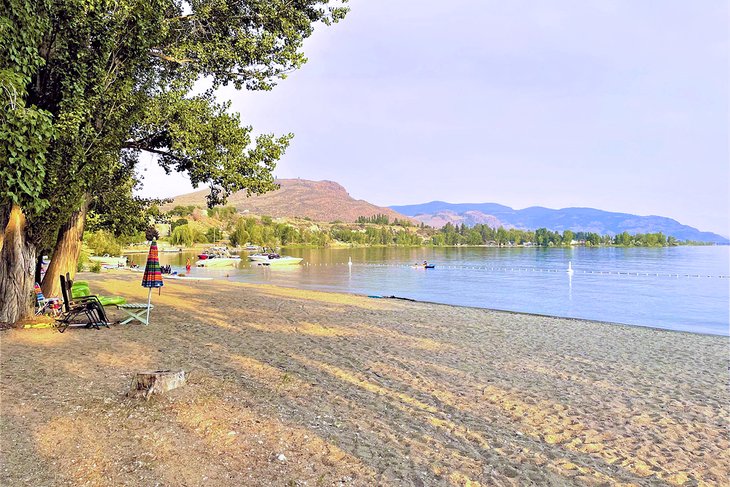 Just south of Cabana Beach on the east shore of south Osoyoos Lake is Brookvale Resort and Campground. This family campground is close to the U.S. border, but don't expect any busy cross-border traffic on this quiet stretch of the lake (the U.S.-Canada crossing is on the west shore).
Here, you will find 12 side-by-side cabanas to rent if you are not set up to camp. Each cabana offers a curtained-off sleeping area with bunk beds for up to four people, a fridge, a two-burner hot plate, a sink with cold running water, and a table and chairs.
For tents and small RVs, there is a selection of 52 efficiently spaced campsites, including four sites with septic hookups. Campsites can be booked by filling out the online form, and the staff will contact you to confirm your reservation.
Above a grassy slope with tree-filtered lake views are a handful of back-in sites for truck campers. Along the same slope are terraced and graveled tenting sites with open cabanas to enhance outdoor cookouts.
The campground is located across Lakeshore Drive from popular Osoyoos Lake Regional Park with a sandy beach and picnic area. Towering willow and cottonwood trees along the beach provide welcome shade on sunny days. This clean and safe beach is an ideal place for families with small children. For campers with boats on a trailer, a concrete ramp is available.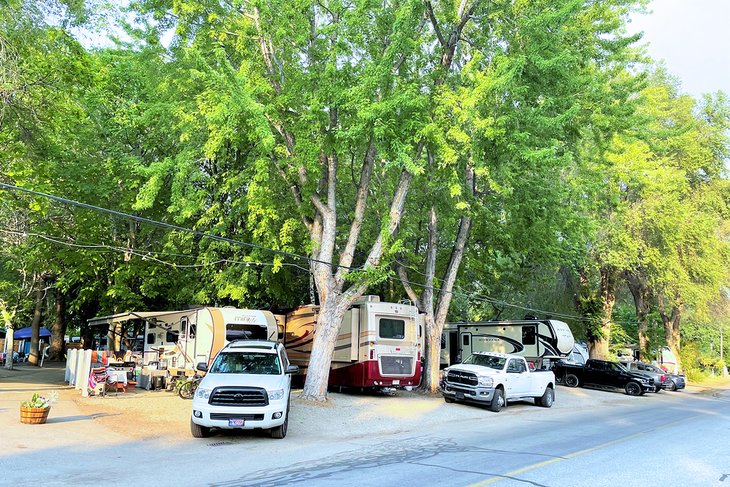 Shower and laundry facilities in the campground complement other amenities to provision a self-catered stay. There is a camp store where you can rent a propane-operated fire pit and purchase ice. The campground includes a designated play area for children. You should be able to access Wi-Fi anywhere in the campground.
Leashed and well-behaved pets are allowed in specified areas of Brookvale Resort, such as the beach park.
Address: 1219 E. Lakeshore Drive, Osoyoos, British Columbia
Map of Campgrounds in Osoyoos, BC