8 Best Campgrounds in Vernon, BC
Camping in Vernon, you're surrounded by three lakes and the convergence of five valleys. Here, at the northern end of the Okanagan Valley, you can experience the scenic beauty of hot spots to the south (Kelowna and Penticton) with a bit more elbow room. In the peak of the summer, when the Okanagan is full to bursting, count on Vernon's campgrounds to be full, and make a reservation.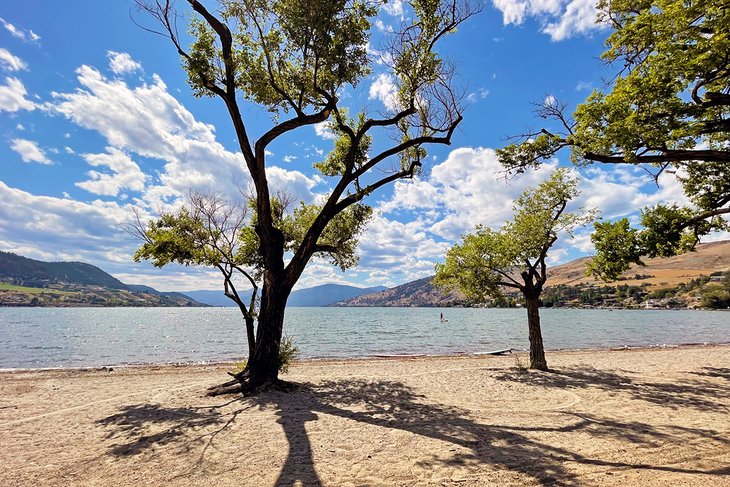 A small city surrounded by three lakes means that virtually everyone at a campground in the Vernon area is on or near the water. Of our top campgrounds, two are provincial parks located on opposite sides of glorious Kalamalka Lake to the south.
Three campgrounds are on smaller Swan Lake to the north of the city. One of the two campgrounds within the city is located on a beach on Okanagan Lake. All of which is to say that if you want to camp next to a lake in the Vernon area, you have plenty of choices.
Of the remaining campgrounds, one backs onto Vernon Creek, and the other is located close to a waterfall. Yes, there's water everywhere and not just at the campgrounds, which means tourists have plenty of things to do in the area. One of the biggest attractions in Vernon is a water park, located less than five kilometers from two of the Swan Lake campgrounds.
The setting around Vernon is pastoral, meaning that you're never far from fields, farms, ranches, and rural critters. Two of the best choices we recommend are provincial parks, starting with Kekuli Bay, where the resident critters excel at sunbathing and being charming ambassadors for the good life.
Pick a scenic camping spot for your next vacation with our list of the best campgrounds in Vernon, BC.
1. Kekuli Bay Park Campground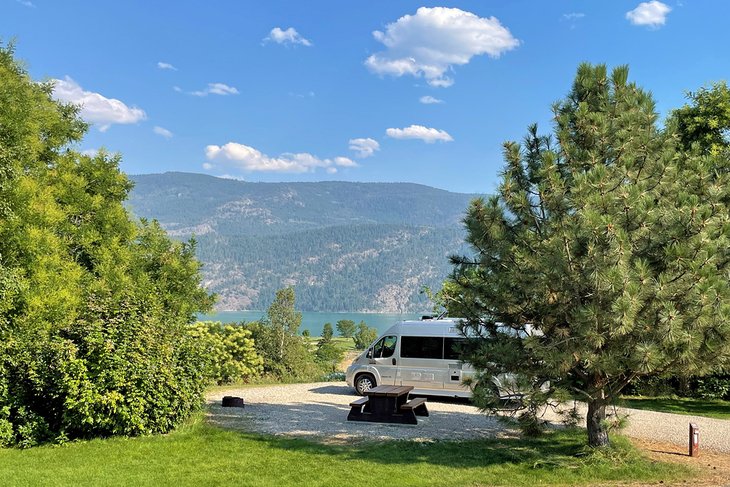 The site where Kekuli Bay Park Campground now stands was once just a boat launch, which still exists. The plan was to create a new campground on a beautiful bay on the west shore of Kalamalka Lake.
Community and youth groups collaborated with BC Parks to plant trees and shrubs (including ponderosa pine, mountain ash, and sumacs). That was 20 years ago, and now those trees provide shade and privacy on six terraced levels. The name "Kekuli" comes from an Interior Salish word meaning "homes partially built into earth."
There are many wonderful things about Kehuli Bay campground, chief among them that everyone who stays here has a view of Kalamalka Lake. This is not just any old standard issue blue water lake.
This one shimmers with the shifting hues of turquoise, green, and blue created when limestone crystals react to seasonal sun. Comprising 57 hectares, the campground looks across to Kalamalka Lake Park, a day-use park for picnicking and swimming. It's a 15-minute drive between the parks, about the same length of time it takes to drive to downtown Vernon.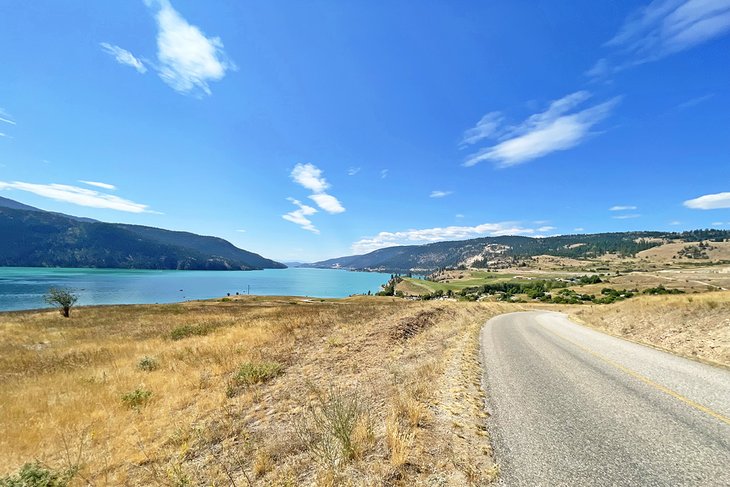 The 73 campsites are all RV accessible, and four offer power hookups (15-amp and 30-amp). They are situated around three terraced loops, which gives all sites uninterrupted views of the lake.
Each site has a picnic table and access to a shared fire pit. All are reservable, but non-occupied sites can accommodate campers without an advanced booking on a first-come, first-served basis. Given the popularity of Kekuli Bay, a large overflow camping area is located on grass under mature willow trees.
Amenities include flush toilets, free hot showers, and outdoor washup sinks with hot water. Ice and firewood are available from the camp operator, but don't expect a campfire in the summer. The Wi-Fi signal isn't strong but it works.
The children's playground is located near a field favored by yellow-bellied marmots who run around, seemingly having a rollicking good rodent time. When not on their hind legs checking out the tourists, these affable ambassadors spread out face down on warm rocks.
The grassland habitat that was once so abundant in the Okanagan — now disappearing due to development — is preferred by these winsome critters. Their curiosity shows they could easily be tamed but resist the temptation. Fed wildlife at best is a nuisance; at worst the consequences are not a happy ending.
The day-use area has an open lawn next to the playground, a rocky swim zone, wharf, and large boat launch. From here, you can launch a flypast on water skis, try your hand at stand up paddleboarding, or hang out on an inflatable neon pink plastic flamingo.
Off the water, walk a portion of the graveled 2.6-kilometer nature trail loop. Another attraction for walkers, joggers, and cyclists is the lakeside Okanagan Rail Trail that runs more than 50 kilometers from Coldstream, a suburb of Vernon, to Kelowna.
Read More: Top-Rated Lakes in British Columbia
2. Ellison Provincial Park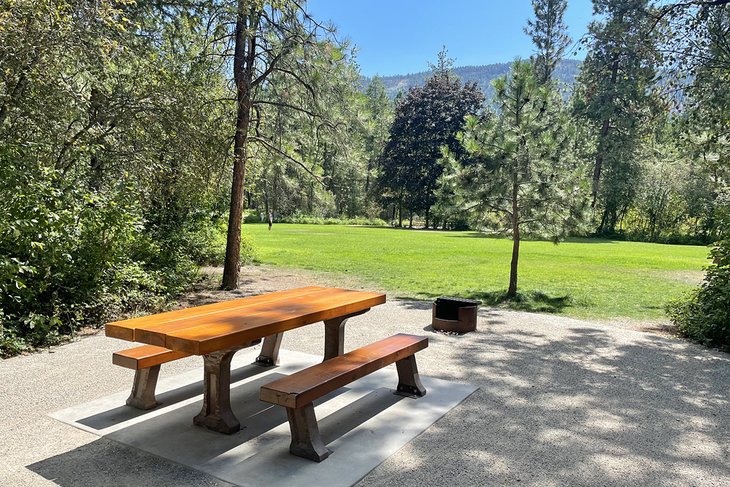 Sixteen kilometers southwest of Vernon, Ellison Park is a bit further removed from the city, which might explain the campground's popularity with campers who like to get away from the distractions of urban life.
Given the popularity of the park, don't go the distance without a reservation — 61 of the 71 sites are reservable. If you're with a larger group that wants to camp together, there are eight double sites. Pull-through sites are not available. In addition to reservable sites, Ellison offers first-come, first-served sites.
Campsites are spacious, offering shade and privacy within a mature forest of Douglas fir and ponderosa pine. There is a day-use area for picnicking, buoyed-off swimming areas at three beaches, small granite cliffs for amateur rock climbing and scrambling, and even a scuba diving park. Scuba divers can explore the wreck of a tugboat at the only freshwater dive park in western Canada.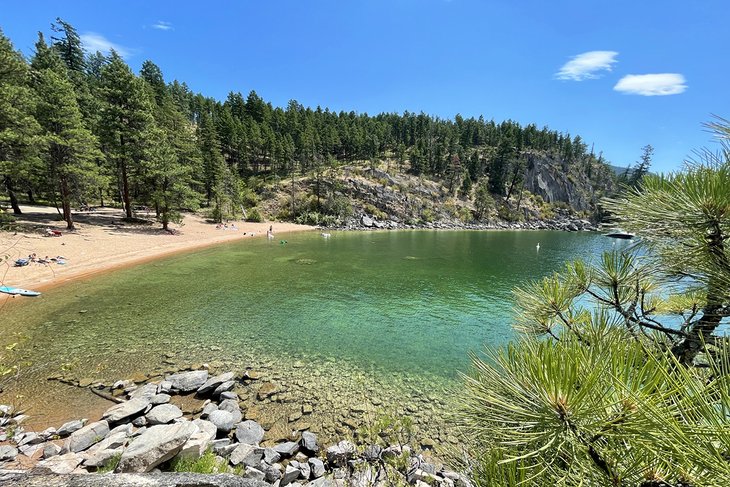 Kids enjoy the playground, and dogs love a romp at Sandy Beach, the one beach that allows pets. There's a field for tossing around a frisbee and playing games. Mountain bikers and hikers can challenge themselves on several kilometers of trails that reveal panoramic views of the lake. It's used to being admired, so bring your camera.
A camera and binoculars should also accompany any outings in case you luck out with a wildlife sighting. Keep your eyes peeled for Columbian white-tailed deer, mule deer, and ground squirrels.
When the day is done, freshen up before dinner with a hot shower.
3. Sandy Beach Campground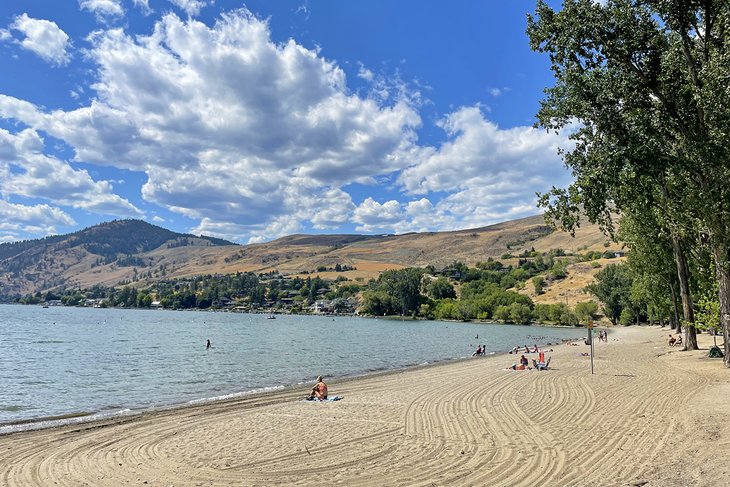 Sandy Beach Campground is one of two campgrounds located within the city of Vernon, and its assets are all about location. Campers look across Lakeshore Road to sandy Kin Beach, at the north end of Okanagan Lake.
The water here is shallow and good for swimming. There's a children's playground, volleyball nets, and nearby parking. Paddlewheel Park is less than a four-minute drive to access another sandy beach with a playground, volleyball and tennis courts, and a boat launch.
Conveniently close to the beach, the urban campground is near grocery stores, a shopping mall, gas stations, and equipment rentals. Davison Orchards, located six minutes away by car, is one of the most fun attractions in Vernon for families with kids, and couples.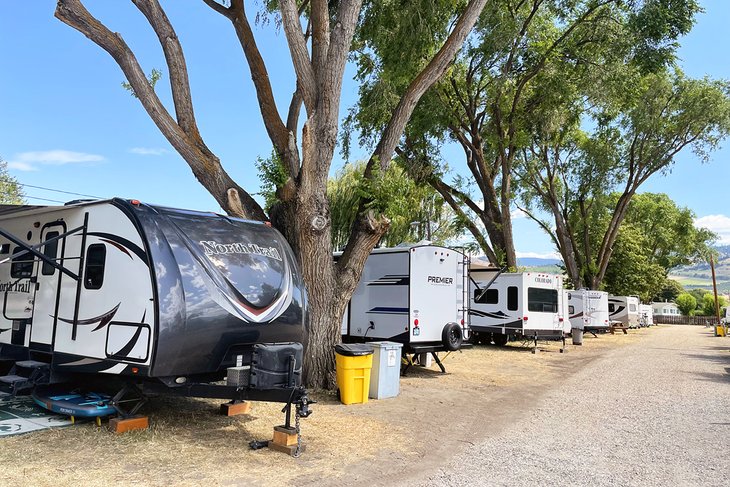 Twenty-eight sites accommodating RVs up to 11 meters have water and 30-amp power. If you need a sani-dump, the closest one is located within nine kilometers at the Great Canadian Superstore. In addition to RVs, the park has four tent sites with 15-amp service and water access. There is no Wi-Fi or laundromat at Sandy Beach.
Reserve your site by calling the campground. For stays of three days or less, you pay the full amount; longer stays require 50 percent down at the time of booking.
Address: 6900 Tronson Road, Vernon, British Columbia
4. Cedar Falls Campground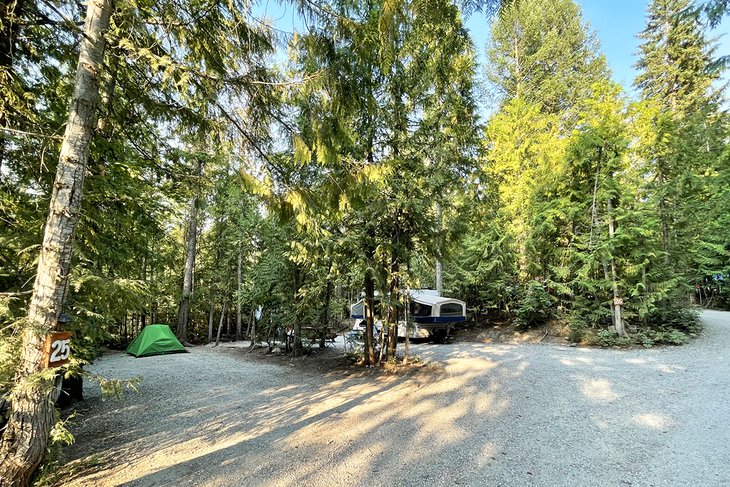 If you're looking for a campground where you can escape the heat and distractions of being in the city during the summer, head for the hills to Cedar Falls Campground. It's located next to BX Falls, in the Silver Star Foothills 10 kilometers northeast of Vernon.
The 63 sites accommodate both RVers and tenters. All 53 RV sites are reservable online, and there are no sites for first-come, first-served walk-ins. RV sites range in size but can accommodate rigs that are 13.5 meters in length.
Sites are available with 15-, 30-, and 50-amp service and water with valet sani service for an extra charge. There's also a sani-dump on the premises to dispose of gray and black water. RVers who desire a serviced site should book early to reserve a spot.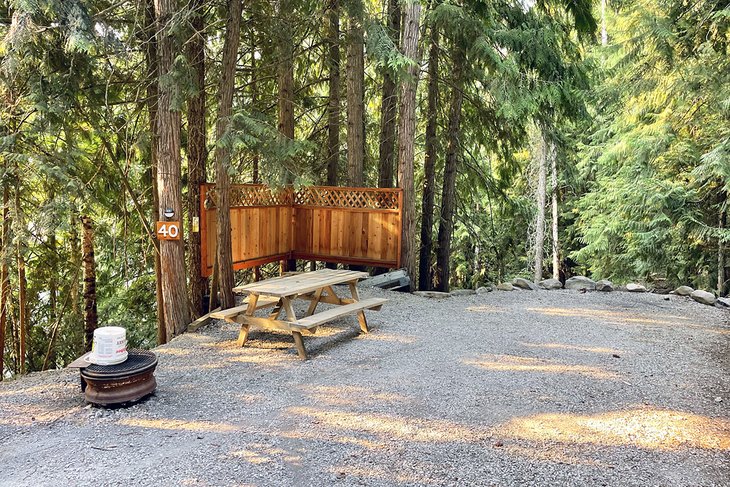 Tenters are accommodated throughout the campground, as well as in Oasis, a designated area in the forest with raised wooden platforms. Every campsite enjoys shady trees. All sites also have a fire pit and a picnic table. Tenters have access to a dishwashing area, flush toilets, and loonie-operated hot showers.
Amenities include a place for children to play, a laundromat, and a store with access to the Internet. Whatever you need to become comfortable and get oriented, the owners are at your service.
One of the best local attractions is conveniently located next door. Look for the sign that says BX Creek and Falls, and follow the short, steep trail and steps to the scenic waterfalls. If you fancy a bit of exercise, hike as much as you want of the creekside trail. Be bear aware, and don't bring your dog.
Address: 7063 Tillicum Road, Vernon, British Columbia
5. Swan Lake RV Resort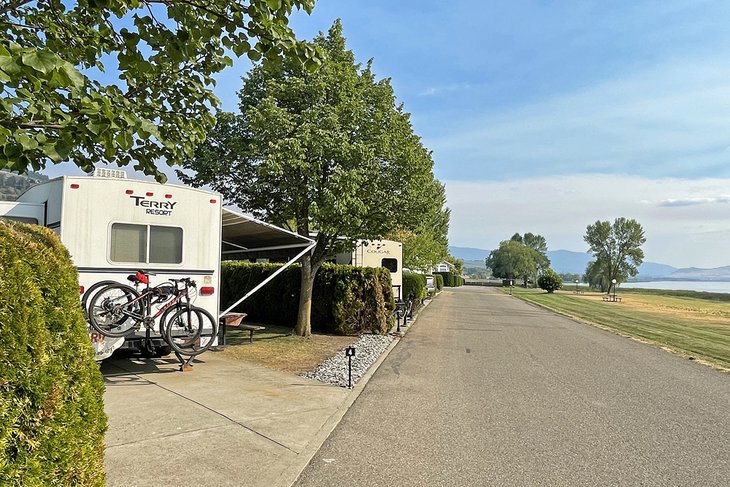 For many of us, camping is more about no-frills than luxury. But others prefer to have some creature comforts on their outdoor getaway. Enter Swan Lake RV Resort.
With its heated swimming pool and hot tub, this campground bills itself as an option for people who seek luxury rather than roughing it. Among the campground rules, your RV cannot be older than 15 years. If the kids want to camp in a tent, that's fine, but it must be removed by morning.
The straight line of large shiny motorhomes parked on concrete pads presents the image of a tidy, well-groomed suburban community at the northern end of Swan Lake. Depending on how many owners put their RV pads into the rental pool, the number of campsites varies from year to year. RVs up to 13.5 meters can be accommodated, and all camping here is by reservation only for approximately 30 sites.
Full-timers and sojourners are encouraged to get together with one another through a variety of facilities and things to do, including horseshoe pits, bocce, exercise classes, walking groups, and a clubhouse with a well-stocked library. Guests have access to central showers and washrooms, laundry facilities, Wi-Fi, and a dog park where your pet must be kept on a leash.
Address: 8000 Highland Road, Vernon, British Columbia
6. Swan Lake RV Park & Campground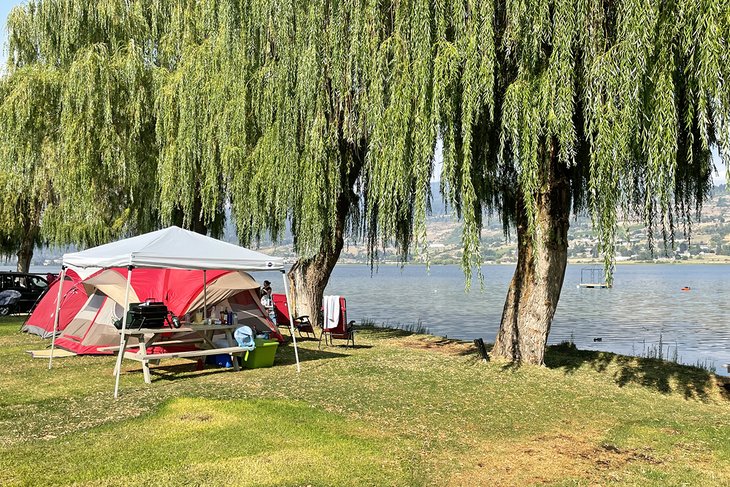 Swan Lake RV Park & Campground is a popular family place in the summer that quickly becomes fully booked from July and August into September.
Located on the western shore of Swan Lake north of Vernon, the boat launch invites campers to think "boating" and "fishing." The marshy shore provides habitat to abundant wildlife such as turtles, eagles, ducks, geese, osprey, and herons. Despite the name of the park, there is no guarantee that you will see swans!
If you didn't bring your own boat, no worries. You can choose from pedal boats, canoes, and rowboats, all free to campers and popular with families. Stand up paddleboards are also available for rent. Use the dock to launch, jump off, dive, and enjoy a quick dip, or opt for a day at the beach on Okanagan Lake or Kalamalka Lake.
Of the 31 RV and five tent spots, more than a dozen are located lakeside for coveted water views. Full hookups and partial services are available, along with washrooms and coin-operated showers. Camp among mature willow trees that provide much-needed shade during the heat of the day. There's also an on-site gazebo, where campers can find a spot to hang out. As the sign says: "Relax, watch the sun set, nap, play cards, read a book . . . "
Amenities include a laundromat, free Wi-Fi, fire pits and firewood (expect a campfire ban during the summer), a sani-dump, and children's playground.
Less than a 10-minute drive from the campground, check out attractions for children: The water slides at Splashdown Vernon are a no-brainer on a hot day. Historic O'Keefe Ranch offers kids an interactive experience, with farm critters and staff in period costumes.
Address: 7235 Old Kamloops Road, Vernon, British Columbia
7. Silver Star RV Park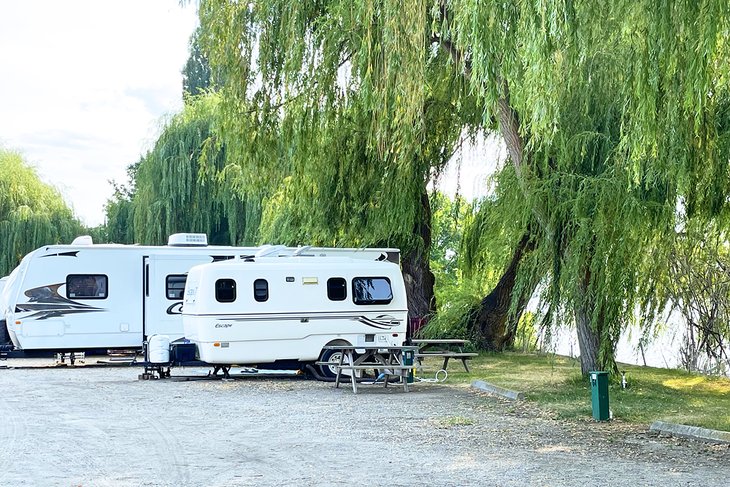 Don't leave home without it: Before arriving at Silver Star RV Park, located one kilometer north of Vernon on Swan Lake, you will need a reservation and confirmation number. This grants you access to one of the 44 full-service graveled sites (mostly 50-amp power, water, and septic) or the 36 sites with water, 30-amp power, and access to the sani dump.
Reservations require a two-night minimum, although there may be a three-night minimum around some holidays. Most campsites are situated right next to Swan Lake. Currently, tenters are not being accommodated.
Bookings begin in mid-April, and if you start early enough, you can pick the site that best meets your needs. Score a lakeside site under the shade of a willow tree. Pick a Wi-Fi hot spot close to the heated pool. Enhance your evening camping experience under the stars by choosing a site with a fire pit. It's hard to beat the experience of relaxing in your camp chair on the shore of Swan Lake.
Amenities for all campers include hot showers, coin-operated laundry, a dog run, and propane campfire rentals.
Silver Star is a 10-minute drive from the many beaches on Kalamalka and Okanagan Lakes. Either one is an excellent choice for swimming, which is not recommended at Silver Star because of the muddy bottom. The beaches are also popular choices for sunbathing, boating, and picnicking. If you need fixings for your picnic, grocery stores are less than one kilometer away.
Address: 6310 Stickle Road, Vernon, British Columbia
8. Dutch's Campground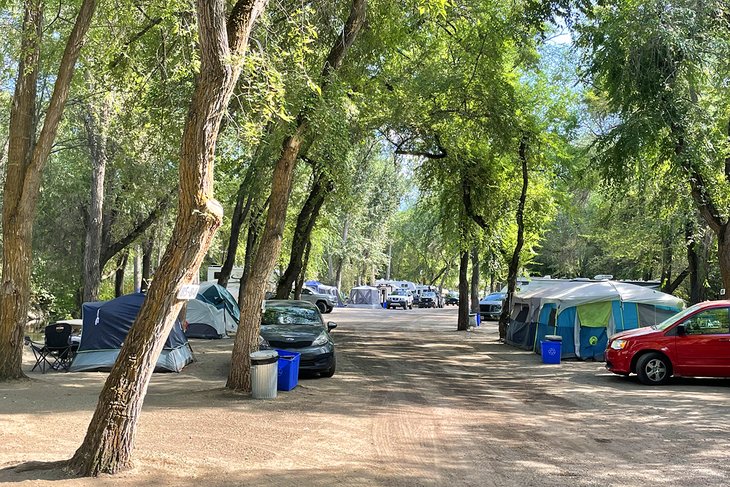 Campers who wish to be close to the city and its attractions might favor Dutch's Campground, which has been operating in Vernon for generations. At this location in Coldstream, a municipality of Vernon, there are all the conveniences of living at home.
You're close to grocery stores, and all the fixings for a great holiday: Bike and surf rentals, a golf course, and the boat launch at Kalamalka Lake where you can rent a kayak. Walk to Kalamalka Lake and beach, plus the Okanagan Rail Trail, within a few minutes.
Even though this 1.6-hectare property is urban, Dutch's is close to natural features such as Vernon Creek. Most of the 43 tent sites have shady trees backing onto the creek. Kal Beach, located two blocks away, is sandy for swimming and handy for paddleboarding and other water activities. The prominent pier is the go-to place for lounging and sunbathing.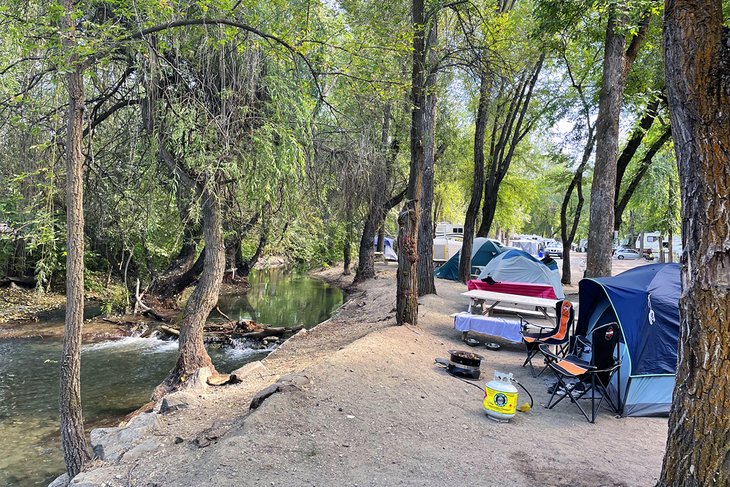 29 sites have full service, and 21 have half-service (15-amp and water) with a sani-dump to dispose of gray and black water. Campers and motorhomes up to 13 meters in length can be accommodated. Reservations for Dutch's Campground can be made online or by phone as early as April and are highly recommended.
Guests enjoy free hot showers, a coin-operated laundry, and Wi-Fi. One on-site attraction of special interest to families is a nine-hole mini-golf course at no charge. The campground's convenience store offers basic supplies, souvenirs, batteries, sodas, ice cream, and other treats.
Dutch's Campground requires you to use pressure reducers when filling water tanks (available for purchase if you don't have one). Due to extreme heat and dry conditions in summer, there is also a ban on campfires. Propane fire pits are available for rent, along with propane fuel tanks.
Address: 15408 Kalamalka Road, Coldstream, British Columbia
Map of Campgrounds in Vernon, BC