14 Top-Rated Things to Do in Vernon, BC
Vernon is a small city with tons of things to do in a pastoral setting, where tourists can recuperate from the high-gear energy of the central and southern sections of the Okanagan Valley. Rest and relax, be active or idle at provincial parks that are drop-dead gorgeous.
Ride in a stagecoach at a ranch that was once the largest in British Columbia. Hop on board a train made of apple crates. Get up close and personal with an alpaca from the Andes. If you really want an adrenaline rush, whoosh down a turbulent waterslide.
There are some things you can only do in Vernon. Some of them, like our top tourist attraction, you couldn't possibly "do" in a day. Plan your time here and discover more of the top things to do and places to visit in Vernon, BC.
1. Visit Kalamalka Lake Park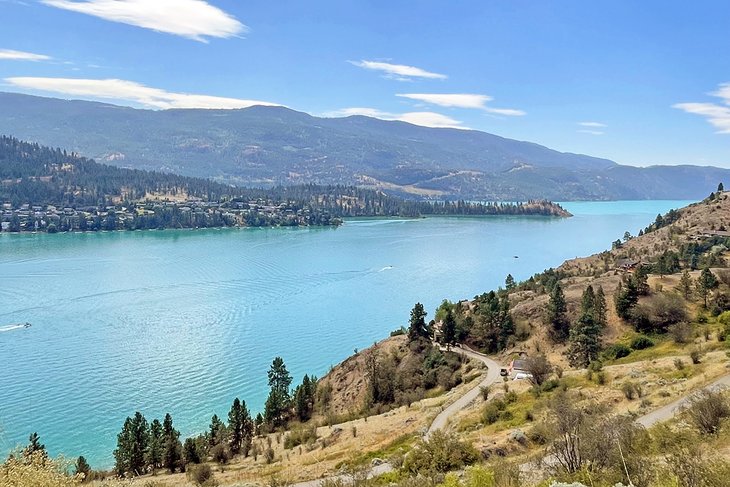 You would need more than one day to explore Kalamalka Lake Park, a large day-use park (3,218 hectares) that was created in part to protect dry forest and disappearing grasslands.
Named for a local Indigenous chief, Kalamalka has been described as the "lake of a thousand colors" — albeit that palette is in hues of blue, green, and turquoise. As a rare "marl" lake, Kalamalka is largely made up of calcium carbonate deposits (a component of limestone) that changes color according to the temperature. It seems like magic, but it's actually just science.
When sunlight reflects off the limestone crystals in summer, the colors are in the green and turquoise range. By winter, the temperature drops, the crystals dissolve, and the color turns blue. If there's only one thing you can do to experience Kalamalka Lake, behold its beauty. Pull off Hwy 97 at a scenic viewpoint, or hike a portion of the Kalamalka Lookout Trail, a popular 2.6-kilometer nature loop trail.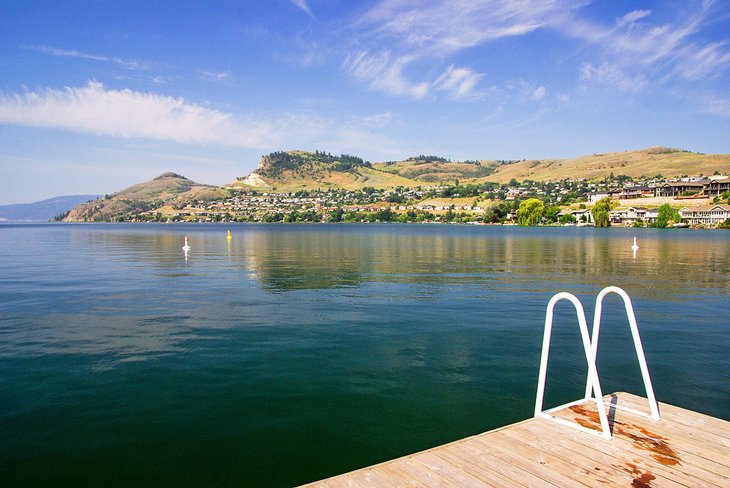 Kal Beach with its prominent pier is popular for boating, swimming, picnicking, and fishing. Due to its warm, shallow water, Kalamalka Lake lures people into bathing suits who might otherwise be reluctant to get wet. Jade and Juniper Bays are favorite spots for taking a plunge.
There's also a large sandy beach for swimming at secluded Cosens Bay, accessible by boat or on foot. On its east end, you'll find a designated area where dogs are allowed. If you don't fancy a swim, pack a picnic and head for any of these locations.
Boating enthusiasts can bring their own boats or rent canoes, kayaks, and stand up paddleboards. More than 14 kilometers of trails prompt people to lace up their hiking books, jump on a bike, or saddle up a horse.
Check before you head out on a bike or a horse to see what's permitted. The Okanagan Rail Trail borders the entire lake and is highly recommended. Spring, summer, or fall, the conditions change — in spring, for example, wildflowers are a spectacular bonus.
Located eight kilometers south of Vernon, much of the park is undeveloped, which adds to its serenity. Trails are the best way to appreciate nature and the beauty of grasslands mixed with ponderosa pine and Douglas fir. Kalamalka offers visitors an opportunity to witness what is precious and what we can still save for future generations to enjoy.
Read More: Top-Rated Lakes in British Columbia
2. Tour Davison Orchards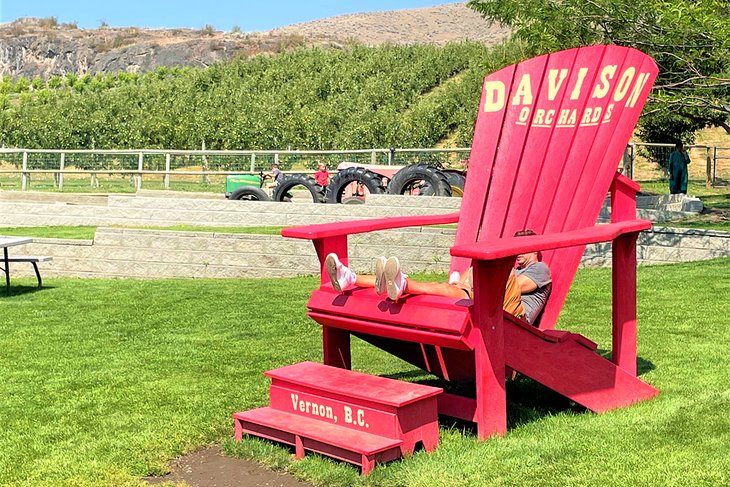 If your kids think that apples come from the grocery store, here's your chance to have fun with them while everyone learns about food production at a working farm: Davison Orchards and Country Village. A visit here is a treat for the whole family. The learning is interactive and hands-on.
Get on board the Johnny Popper Train, made of apple crates and pulled by a vintage John Deere tractor. It's a favorite with kids, and the experience depends on the time of year and what's being harvested. In September, for example, you'll hit the orchard and learn everything about apples, including how to pick one like a pro. Come October, you'll find yourself in the pumpkin patch.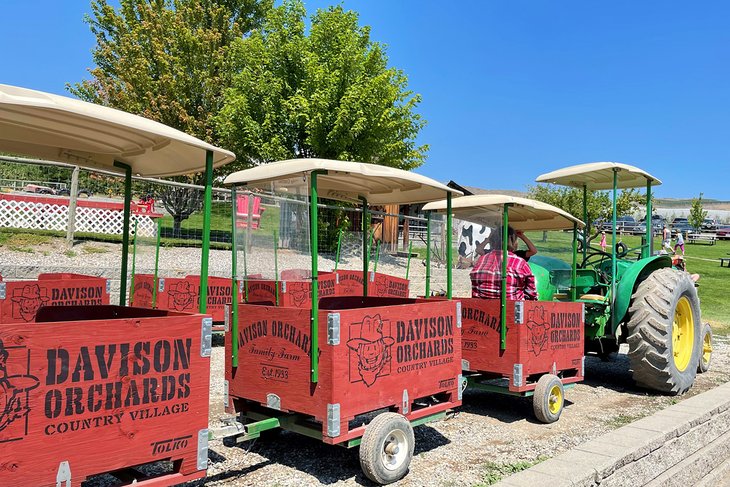 Apart from the train and tractor rides, there are farm critters to pat and a one-acre play area for kids that includes a tree house, haystack tunnels, and old-fashioned water pumps.
This attraction is so entertaining and easygoing, you might forget that real people work here, making food from what they grow. Apples, for example, become apple cider donuts, pies, and non-alcoholic cider. Be sure to sample the delicious vanilla ice cream mixed with fresh fruit. You won't have any need to bring snacks with you to this activity.
Address: 3111 Davison Road, Vernon, British Columbia
3. See Honey in the Making at Planet Bee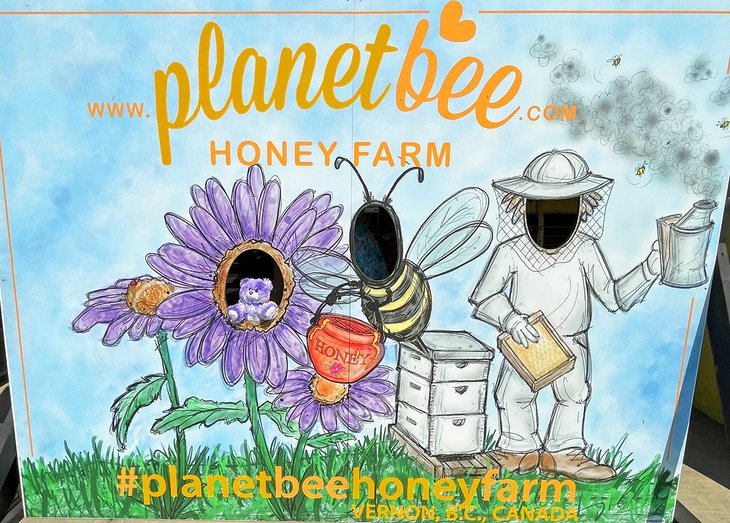 Planet Bee is a working honey farm, which means you can see bees hard at work making honey. Unless you're a beekeeper, it's unlikely you've ever seen a hive up close, so this is one of the most popular places to visit while in Vernon.
What you're looking for is the queen bee, which staff have identified on one side of the hive with a blue dot and on the other side with a white dot. She might be regal in the bee world, but don't expect anything as glitzy as a tiara. This queen looks as brown and ordinary as all the worker bees.
Tourists ages 3 and up are invited to attend 30-minute-long drop-in presentations on bees, which include honey tastings and guided walk-throughs of the "Bee Friendly Gardens."
Back inside "Planet Bee," ask staff for a small metal spoon, and sample whatever you fancy from 20 varieties of honey. Dandelion, buckwheat, and blackberry are among the flavors, some of which are blended to create concoctions such as maple-flavored honey. Savor every drop because a bee only lives for six weeks, and its entire output is a fraction of a teaspoon.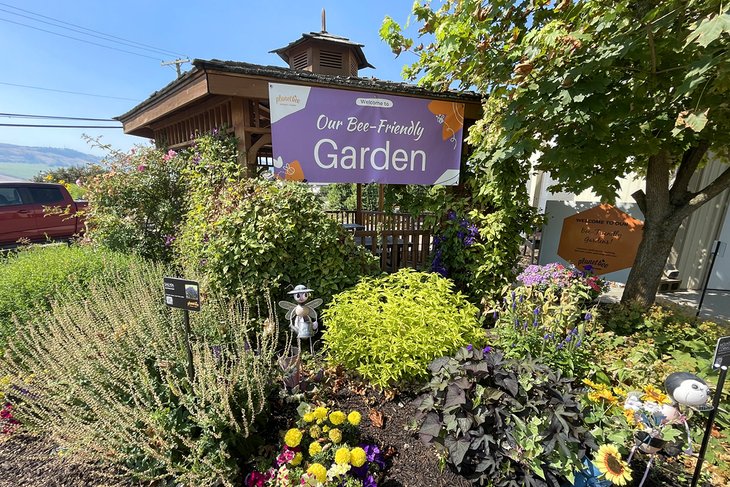 Select the honey of your choice in small jars or large pails, and stock up on bee pollen from the fridge. Any product you can imagine that includes honey or beeswax is available here, from candles to soap.
Beyond the products and the knick-knacks, notice that the humble bee strives to bring out the best in us. HIVE RULES, proclaims one of the signs for sale: Bee Kind, Bee Honest, Bee Respectful, Bee Positive, Bee Grateful, Beelieve in yourself.
Helpful and courteous staff model one of the t-shirts for sale: Bee Kind. The daughter of Planet Bee's founder proudly points to a photo of her father when he started the enterprise in 1975 and another in which she is a child. Planet Bee was — and still is — a sweet place to be.
Address: 5011 Bella Vista Road, Vernon, British Columbia
4. Learn the History of Vernon through Murals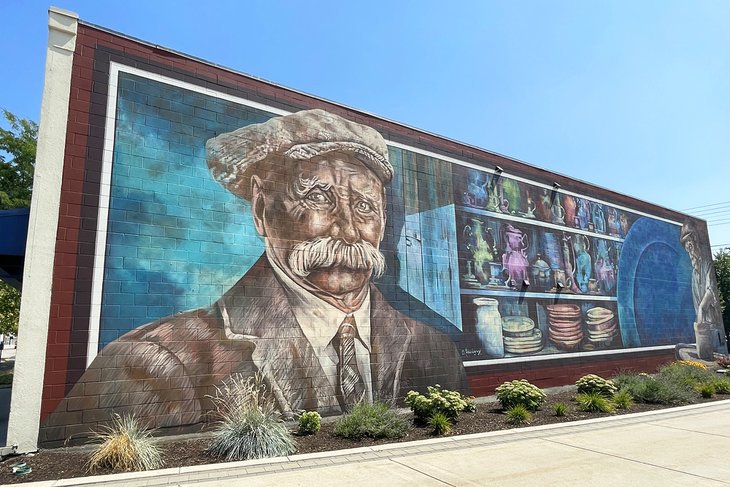 Even if you didn't love history in school, it's easy to get caught up in the characters and stories that created the city of Vernon if you're learning through murals. These colorful visuals painted by local artists are displayed throughout the downtown core.
During the summer, you can arrange a guided tour by calling the Downtown Vernon Association. The organization has also released a map of the murals which you can use for a self-guided tour.
The 28 murals capture historical highlights, scenic attractions, cultural achievements, and important events. Want to learn about how Vernon got its name? One of the murals reveals that it came from two brothers, Forbes and Charles Vernon, who were cowboy ranchers in the late 19th century.
The details are in the murals: Sightings of Ogopogo pre-date the Loch Ness Monster by 60 years. The Vernon fire brigade first tried to fight fires with water in leather buckets before getting on to fire engines. Women during the Great Depression earned 20 cents an hour working in the orchards. The Vernon newspaper was published for 105 years. Boys who built an airplane in the 1930s flew it for three years without a license before authorities put a stop to it.
5. Tune in to Nature at Allan Brooks Nature Centre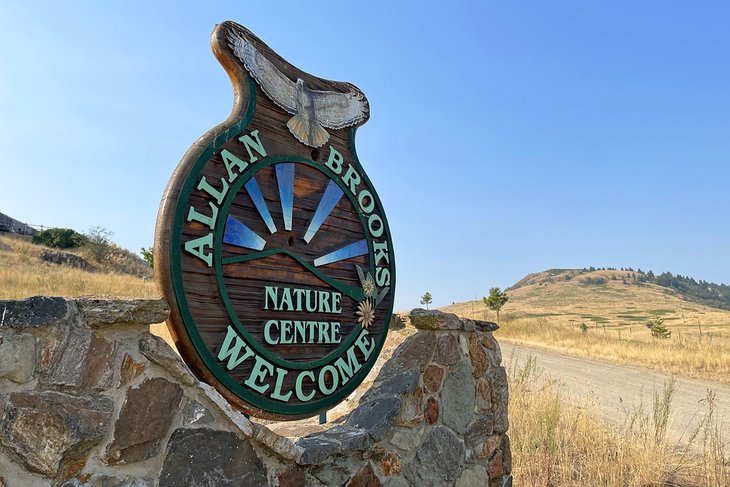 Allan Brooks Nature Centre is where you can learn all about the natural world of the Okanagan region. Read interpretation signs while passing by the bluebird houses attached to fence posts. View sunbathing rodents at Marmot City, and marvel at warblers whizzing above the pond.
An insight might occur to you while resting in the shade of the gazebo: It's not rocket science, this business of ecology. Everything is interconnected and needs the essentials of life: shelter, food and water; places to hide and places to thrive.
Visit the nature center to touch feathers, handle bones, and observe a live hive of healthy working bees. The exhibits are interactive, perfect for engaging a child's sense of wonder. Explore the beehive in the Discovery Room, where you can see a live honeybee colony. Wander through the naturescape gardens, and stroll the grassland trail.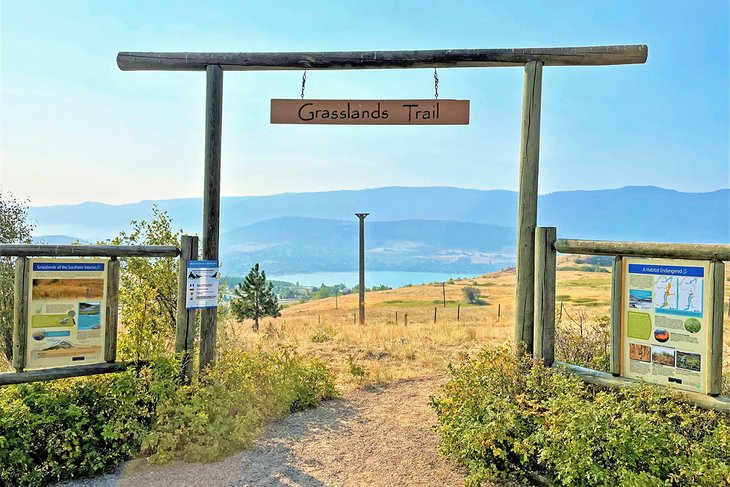 Allan Brooks was an outstanding naturalist, illustrator, and educator. The center in his name teaches us to value what we are on the verge of losing: grasslands and the wildlife that calls it home. Atop this lofty vantage point that was once the Vernon Upper Air Weather Station, you will learn why it's important to save remnants of the habitat that remains.
Address: 250 Allan Brooks Way, Vernon, British Columbia
Read More: Best Campgrounds in Vernon, BC
6. Step back in Time at Historic O'Keefe Ranch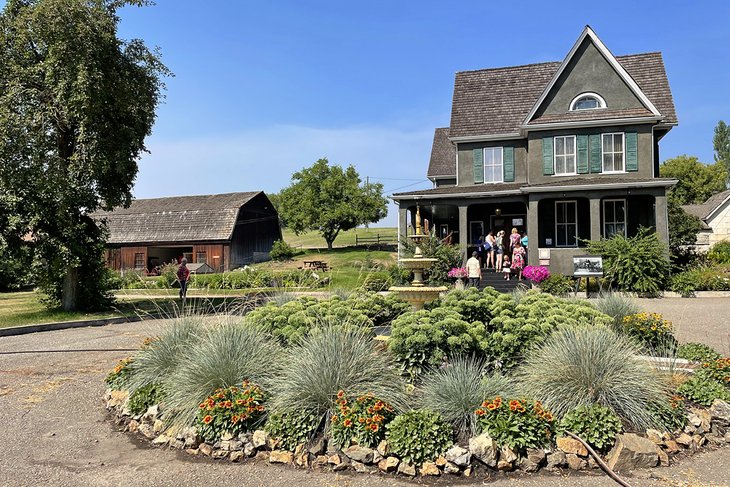 Before orchards and grapes, there was ranching in the North Okanagan, and the historic O'Keefe Ranch offers you an opportunity to step back in time.
The "good old days" of pioneer ranchers now seem quaint and old-fashioned. Imagine stagecoaches to get around (instead of RVs); a grist mill to grind flour (instead of an artisan bakery); and a one-room schoolhouse where a strict teacher taught all grades more or less at the same time.
Established in the same year that Canada became a country (1867), the ranch showcases more than a dozen historic buildings, many of which feature staff in period costumes. There's an original log cabin, the owner's residence, a schoolhouse, church, and cowboy bunkhouse.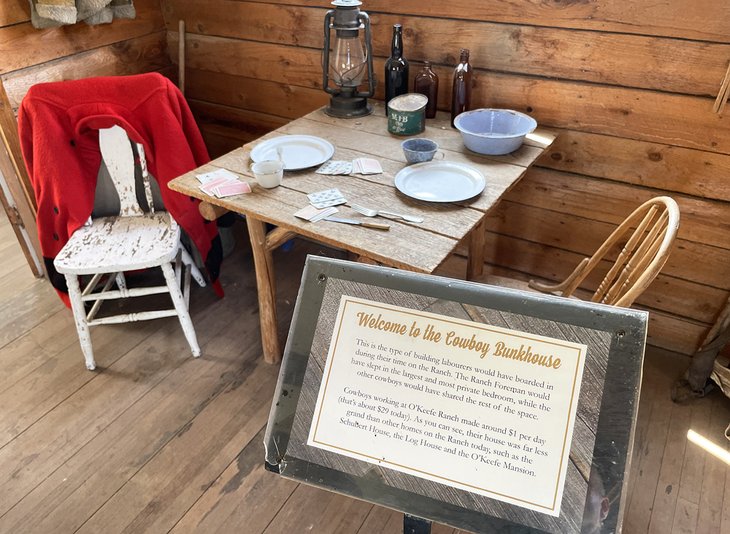 Sign up for whatever guided tours are being offered. See live demonstrations of ranching techniques. Hop on a complimentary wagon ride. From heritage tours to ghost tours, blacksmithing classes, and goat yoga, the ranch is not stuck in a moment of time but is a vibrant part of local community life.
Address: 9380 Hwy 97N, Vernon, British Columbia
7. Zoom down Slides at Splashdown Vernon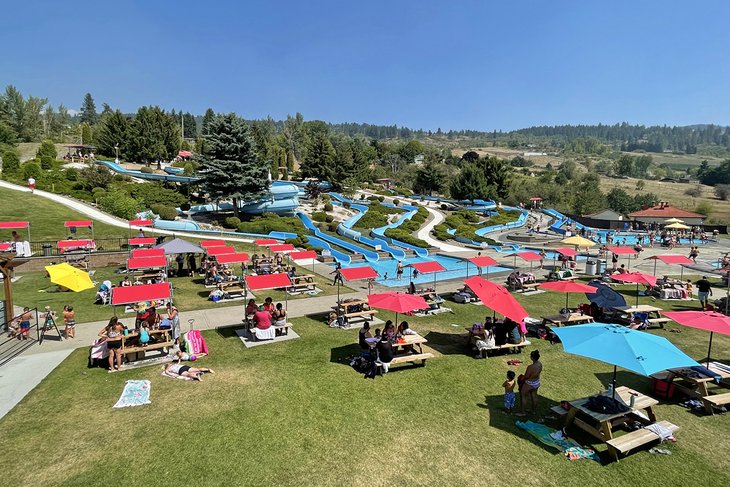 You've taken the family to all the lakes, and now it's time for something completely different. Splashdown Vernon is a water park located in north Vernon. The most popular and adventurous of the waterslides is River Riot, which aims to recreate the experience of being on cascading rapids.
Supervised young children start on the basic Kiddie Slides and graduate to two intermediate slides. Once kids build up their confidence, the next thing to do is tackle Zoom Flumes, Ramp Slide, and Double Trouble. These slides are steeper and faster and, if you're a kid, that means only one thing: more fun!
In between rides on the slides, there's a hot tub where you can keep an eye on the landing pools at the base of the slides. If you don't fancy putting yourself on a watery trajectory, enjoy the relaxing experience of taking in everyone else's squeals of fright and delight from the comfort of a cabana.
To avoid disappointment, book your visit to the slides a few days before you plan to visit. The water park is steadily busy throughout the summer, and reservations are recommended.
Address: 7921 Greenhow Road, Vernon, British Columbia
8. Go Birding at Swan Lake Nature Reserve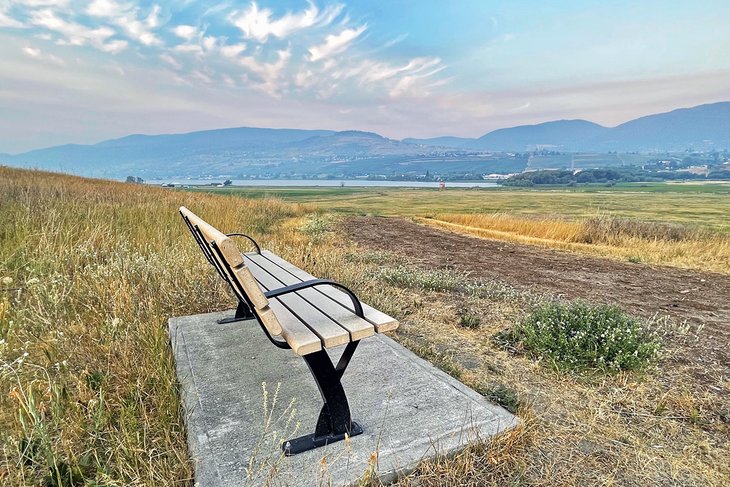 With its many lakes and waterways, birds and wildlife are abundant in the Vernon area. Take your binoculars and camera on an easy walk on the graveled 1.9-kilometer loop trail at the Swan Lake Nature Reserve. Close to Swan Lake and wetlands, it's a hot spot for seeing birds.
Depending on when you visit, chances are you'll see birds that are migrating, breeding, or nesting. Spring and fall are the best times to observe migrations of trumpeter swans and white pelicans. Year-round, the nature preserve is a hunting ground for birds of prey and great blue herons feeding on fish, frogs, snakes, and insects.
Get a bird's-eye view from the top tier of the deluxe wooden observation tower, built in the spring of 2021. If you don't have your own binoculars, a mounted scope will help you zero in on anything that moves.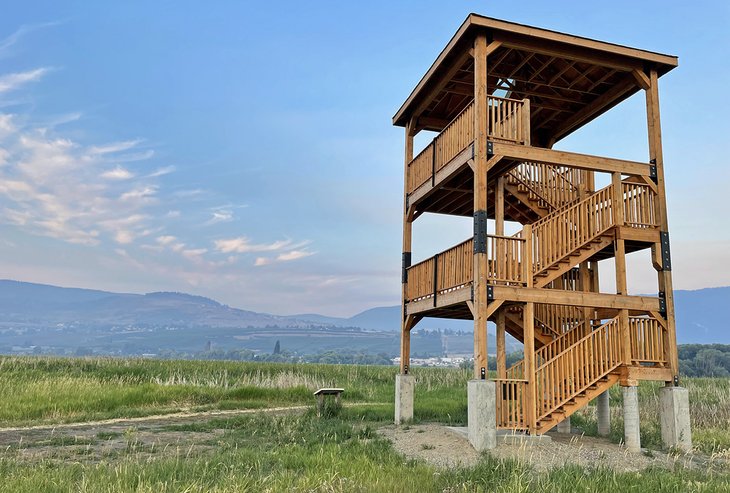 Enjoy the tranquility and appreciate the beauty of prairie grasslands — an environment that is succumbing to the pressures of human beings creating more habitat for themselves. This wetland meadow was at its peak during the middle of the 19th century, 100 years before post-war tourism took off. Today it preserves the last stand of cottonwoods in an area better known for Vernon commerce.
The nature reserve is a seven-minute drive from Vernon via Old Kamloops Road. When you see the building for Stawn's Honey, you have arrived.
Address: 6601-6799 Old Kamloops Road, Vernon, British Columbia
9. Explore Other Worlds at Okanagan Science Centre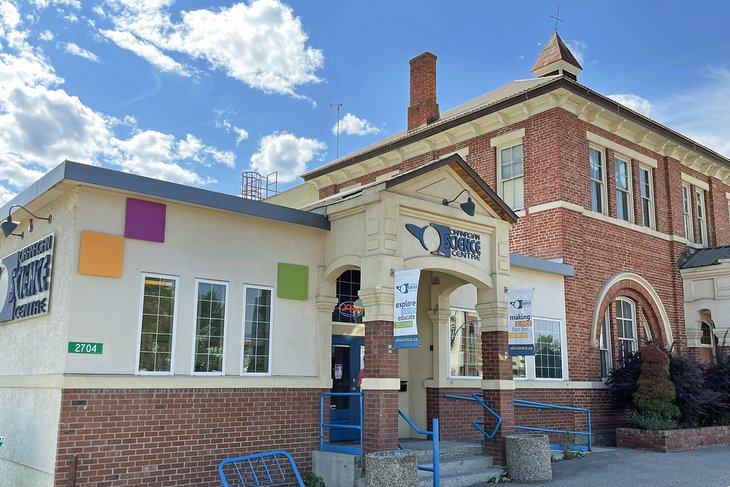 The Okanagan Science Centre is a good option anytime, especially if the weather isn't cooperating. Built in 1893, this building includes the oldest brick schoolhouse still standing in British Columbia. It served an educational purpose then, and that mission continues to this day.
Two of the most popular things to do here: Take a spin in the gyro chair and check out the planetarium show (check the attraction's events page for the most up-to-date show schedule). The gyro chair is a space simulation in which a person is strapped in and the chair is spun 360 degrees. In the early days of exploring other worlds, gyro chairs helped astronauts get used to the movement of space travel.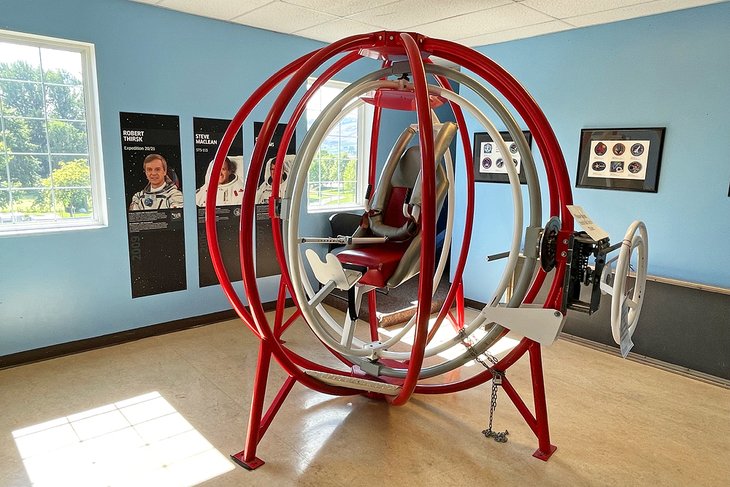 Kids and adults alike can enjoy a hands-on experience at many of the exhibits. Build a race car in the Lego area. Discover what it would have been like to live with dinosaurs. Interact with shadow puppets and robotics. Meet critters: A bearded dragon named Bert, a leopard gecko, hermit crabs, axolotls (marine salamanders), and a tarantula named Rosie.
The animals are not involved in any shows, but staff sometimes bring them out for visitors to have a closer look. The purpose of these critters is to educate and inspire appreciation of diversity. Every living thing has a place in the natural world — including us!
Address: 2704 Hwy 6, Vernon, British Columbia
10. Take a Hike to BX Falls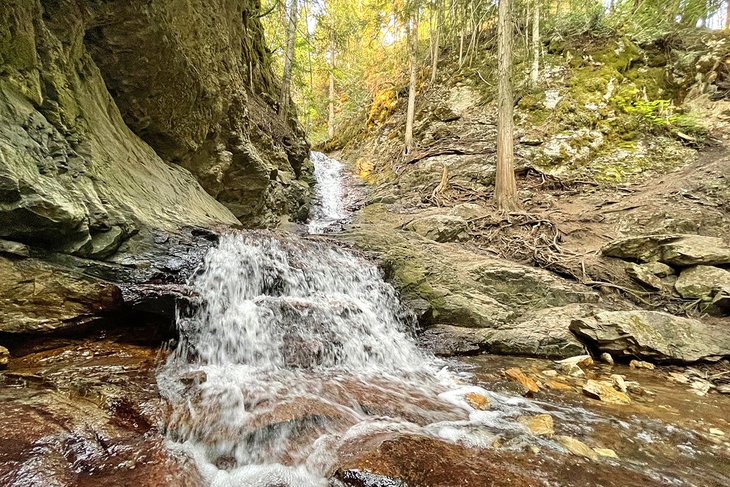 It's not far from the parking lot on Tillicum Road to BX Falls, but geologically it's a big step back in time. Cool down on a hot summer day with a short walk and steep descent through the forest of Douglas fir, spruce, larch, and oak ferns.
There are almost 100 wooden steps to the cool pool beneath the falls, so bring your water bottle and take your time. The water you see (a torrent during the spring) travels from Silver Star Mountain, over the falls, down to Vernon, ending up in Swan Lake.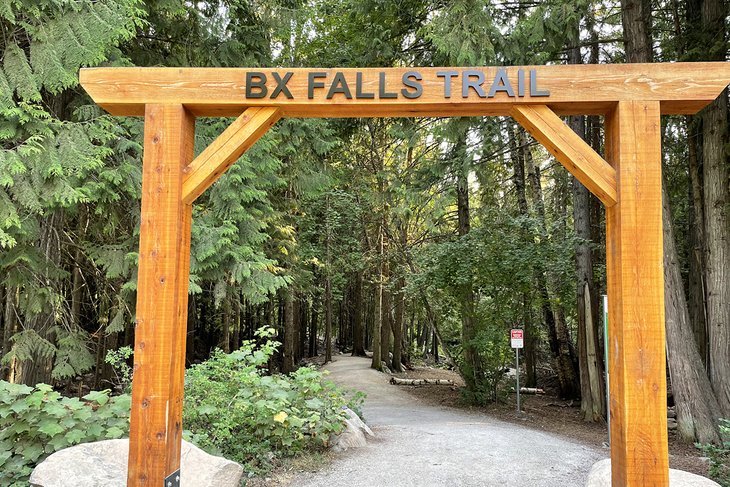 For a longer hike, rated moderate, walk the creekside trail for three to four kilometers (more if you wish), returning the way you came. Watch for remnants of a massive irrigation system associated with BX Ranch and Barnard's Express (once the largest freight company in British Columbia).
Signs prohibit dogs on this trail to protect wildlife such as bears, sightings of which have been confirmed by hikers. Avoid conflicts by keeping your pooch off this path.
Address: 7373 Tillicum Road, #7025, Vernon, British Columbia
11. Ski or Ride a Gondola at SilverStar Mountain Resort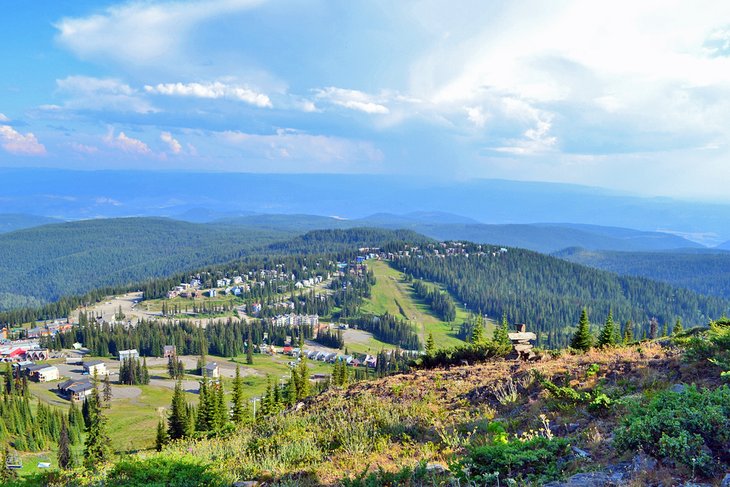 If you are visiting in summer, buy a ticket to ride aboard the SilverStar Mountain Resort gondola, which is wheelchair accessible. The ticket grants you access to hiking trails at the summit, the opportunity to forage for berries, and wildflowers to admire. Breathe in the refreshing mountain air and embrace the panoramic view of the Okanagan Valley and Monashee Mountains. Scan for places you have been and all the sights you plan to see.
Dogs that are calm and on a leash can accompany their owners on the gondola ride. Keep the leash on to prevent your pooch from chasing wildlife. Proceeds from pet season passes are donated to the BC-SPCA. Children under 12 ride for free.
When you buy your gondola tickets, here's a fun activity for you and your kids: Ask for a Gnome Roam map that provides clues about where you can find garden gnomes. There are two routes: One is around Brewer's Pond in the village, and the other is along the Atteridge Scenic Loop at the top of the gondola ride. No prizes are offered, but you do get bragging rights. Have gnomes to donate? Bring them to the ticket office or place them on the loop.
If you are visiting in winter, don't miss out on a chance to ski SilverStar. This mountain offers some of the best skiing in the interior of British Columbia and is particularly popular with families. But skiing is just one of many things to do here in winter. You can also go ice skating, snowshoeing, tubing, fat biking, and snowmobiling.
Address: 123 Shortt Street, Silver Star Mountain, British Columbia
Read More: Top-Rated Ski Resorts in Canada
12. Befriend an Alpaca at Camelot Haven Alpacas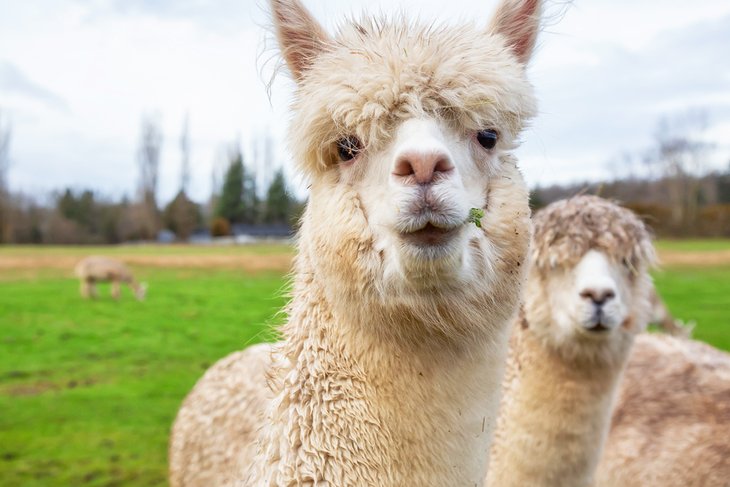 Maybe you've been to a donkey sanctuary or a wildlife recovery center. How about a ranch for alpacas? Vernon has one, and you'd better believe these camel-related critters are pampered when you see their poodle cuts.
Apart from hanging out with these adorable animals, here's why you might wish to visit Camelot Haven Alpacas. Book a one-hour tour to learn all about these fascinating critters from the Andes in South America and how to care for them.
Here are a few things you might not know: A group of male alpacas is kept separate from a gathering of females. Alpaca fleece comes in 22 colors. They have one "cria" (baby) per year. They are smart and praised for being highly intuitive.
Camelot Haven Alpacas offers guided Alpaca walks on Wednesdays and Sundays, as well as private walks at other times. Book at least two days in advance. After the educational tour (this is not a petting zoo), refreshments are served.
Visit the country store to purchase items made from alpaca wool such as socks, sweaters, and cat toys. The ultimate purchase? At Camelot Haven, you can buy your very own alpaca.
Address: 6841 Raven Road, Vernon, British Columbia
13. Pause to Smell the Flowers in Polson Park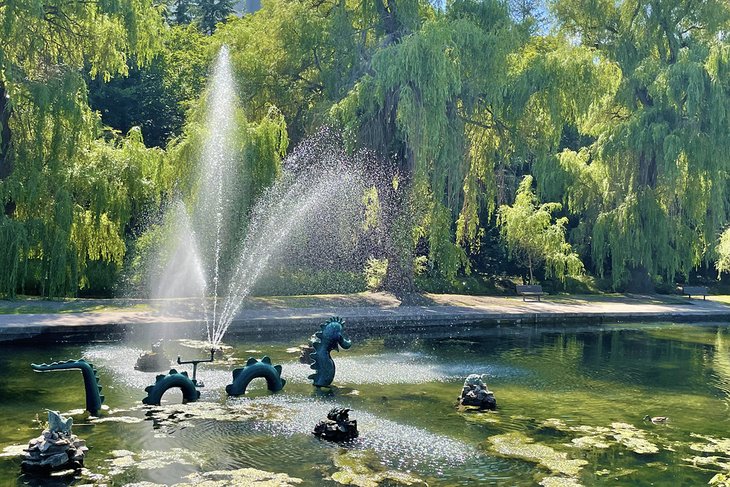 There was a time when you could tell the time by the floral clock in Polson Park. The gardener who made that happen was from a bygone era, but that doesn't diminish the beauty of the simpler arrangement displayed today. Flowers are flowers, even if they don't tell time, and Polson Park is a place where you can see lots of floral color.
Trees have been growing here since the large urban park was established in 1908 when Samuel Polson donated the land to the city. Two noteworthy donations were made during 1967, Canada's centennial year: A garden from the Japanese community and a pagoda from the Chinese community.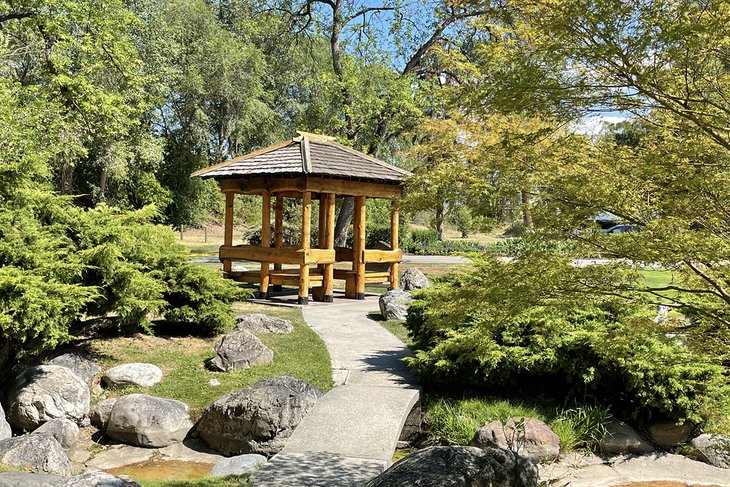 Polson Park serves visitors in many different ways. On the quiet side, the landscaped setting provides a pleasant backdrop for a picnic. Children enjoy the water park, and waterfowl are attracted to the ponds.
For active visitors, there's a skateboard park, tennis courts, a place to play football and soccer, and lawn bowling. There's also a running track and a wheelchair-accessible playground. On the cultural side, the park is popular for weddings and concerts. This attraction is located near the junction of Hwy 97 and Hwy 6.
Address: 2600 Hwy 6, Vernon, British Columbia
14. Shop at Vernon Farmers' Market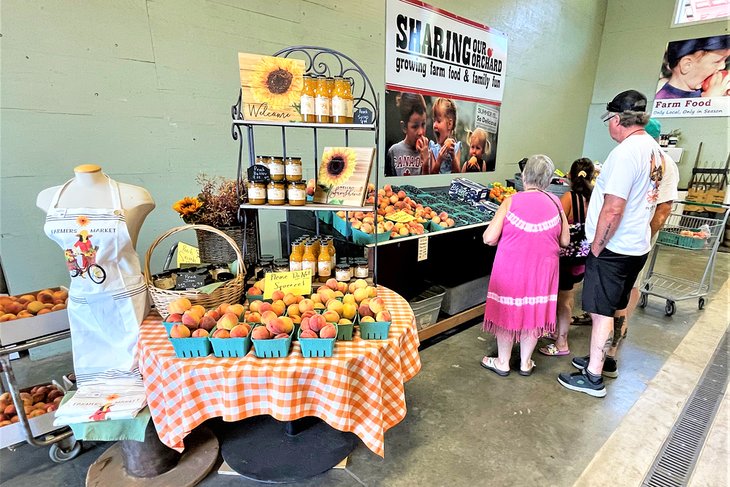 Every Monday and Thursday from 8am to 1pm during the summer, you can meet up with farmers selling their produce, artisans selling their crafts, and cooks working their concessions at the Vernon Farmers' Market. Markets like this one are a festive alternative to grocery stores for locals and visitors who have a taste for the freshest food grown in the fertile Okanagan Valley.
The farmer's market in Vernon, the longest one running in the Okanagan Valley, isn't just about fruits and veggies. It's also a bakery, smoothie stand, and a craft fair. It's a gathering place and a tradition.
Bring your wallet, your appetite, and chow down on tasty organic produce. Experience color, flavor, and texture, some of which you can hold in your hand, and some you can just pop in your mouth.
Address: 3445 43rd Avenue, Vernon, British Columbia
Map of Things to Do in Vernon, BC