13 Top-Rated Ski Resorts in British Columbia, 2023
We may earn a commission from affiliate links ()
The ski resorts in British Columbia draw visitors from around the world to their slopes for many reasons: First and foremost is the consistent snow, and lots of it. Second, a wide variety of resort styles are available to suit any budget and level of skier ability. Finally, good flight connections, generally through Vancouver, ensure that getting there and back home is easy and quick.
Most of the resorts are located in the southern part of the province, and a majority are in the Interior region. A popular option is to combine multiple ski resorts into one trip. This can be easily accomplished in the Okanagan Valley and in the Golden/Revelstoke areas.
For many, the time off the slopes is as important as the skiing itself. In this area, British Columbia's ski resorts excel. What you'll find at the base or surrounding areas ranges from international level amenities at places like Whistler/Blackcomb to old-school ski towns in spots like Rossland near Red Mountain.
Most ski resorts in British Columbia offer more than just downhill skiing. Many feature cross-country trails, snowshoeing, dogsledding, snowmobiling, skating, and tubing.
Check out the top destinations with our list of the best ski resorts in British Columbia.
1. Whistler Blackcomb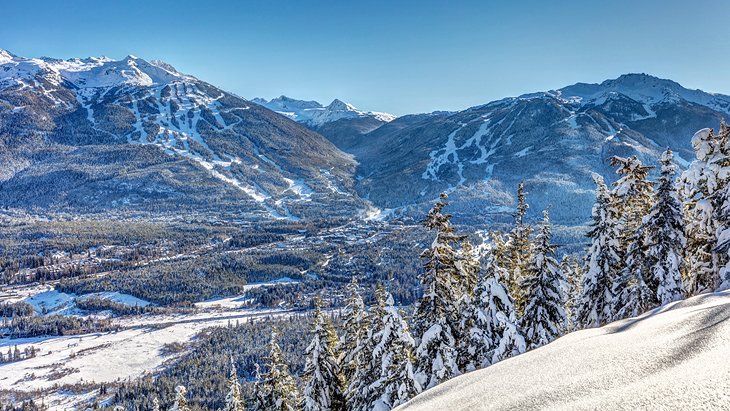 Often ranked as one of the best ski resorts in the world, Whistler Blackcomb has it all. Two mountains (Whistler and Blackcomb) with 240 runs are set in some of British Columbia's most incredible scenery. Whistler Blackcomb is easily accessible via a two-hour scenic drive via the Sea to Sky Highway from downtown Vancouver.
Owing to its location, Whistler can usually be counted on for consistent snowfall, resulting in a deep base. On average, Whistler receives an astounding 35.5 feet of snow each season, ensuring your favorite run is white beneath your skis.
Uphill capacity is impressive, with recent improvements on Blackcomb, including a 10-passenger gondola and two new replacement chairs on Whistler. Even if you aren't a skier, a ride to the top of either mountain and a trip across the PEAK 2 PEAK Gondola is an experience not to be missed.
Big news for skiers at Whistler Blackcomb for 2022/23 include two huge infrastructure improvements in the Creekside Base Area and mid-mountain region. First off, the old six-passenger gondola has been retired, and in its place is a shiny new 10-passenger machine. This new lift is capable of moving 35 percent more people up the hill and will go a long way towards alleviating the long morning lines, especially on weekends.
Farther up the hill, the choke point that was also known as the Big Red Express chair has been addressed. The old quad chair has been replaced with a new six-passenger lift that is capable of moving 30 percent more people uphill.
After your day of skiing or perhaps during a day off to rest the legs, swing by the BUBLY tube park. Seven different lanes are available depending on your age, speed tolerance, and adventure level. A special Mini-kid lane is set aside for the youngest participants. The tube park requires a separate ticket to ride, and it's cheaper to book yours in advance online.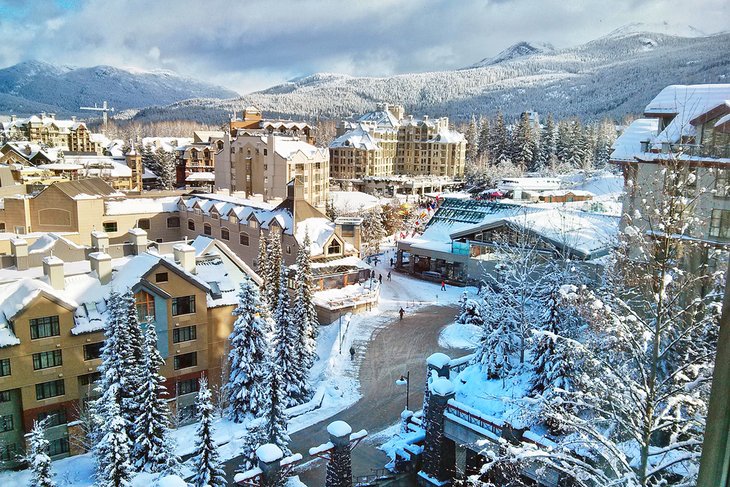 Whistler Village
The town of Whistler is a wonderful alpine village with an extensive offering of fine and casual dining, shopping, and fun things to do. Accommodation options range from ski-in/ski-out luxury hotels, condos, and traditional hotels to private homes for rent. Most people park their car and walk everywhere.
On Sundays, be sure to catch the Fire & Ice ski show, where performers jump, twist, and turn through flaming rings.
2. Big White Ski Resort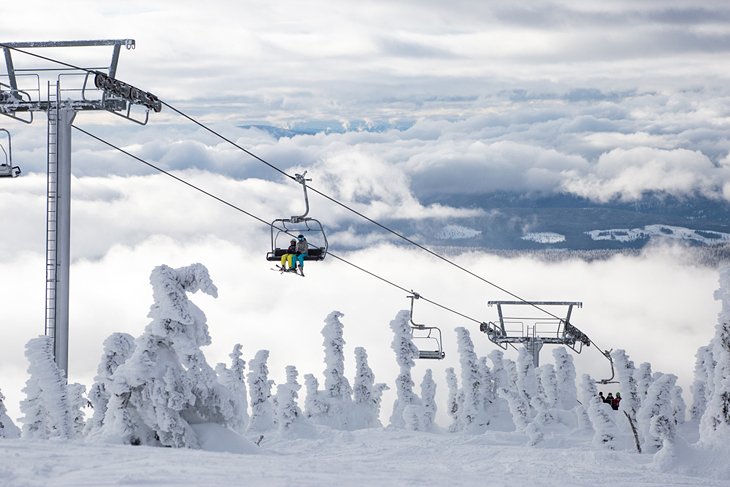 Copious quantities of snow (26 feet on average each season) and the unique snow ghosts are just some of what Big White is known for. The resort features a vertical drop of 2,550 feet and has 119 named runs serviced by 16 lifts including a gondola.
Over half the terrain is rated intermediate and features wide-open, long cruisers to allow you to work on your technique. TELUS Park is the boarder and ski cross area, complete with rails, bumps, boxes, and jumps.
Night skiing returns in 2022/23 after a two-season interruption. If you've still got the leg power, or are just hitting the hill after a late day drive, 38 acres of full lit runs await you. Three lifts, the Plaza Chair, Bullet Chair, and TELUS Park Chair service the illuminated areas.
New developments at the mountain completed recently include some fairly significant projects. The largest and most noticeable to skiers is the completion of the big, beautiful central reservations office. The new building will allow for seamless check in and check out of guests staying on the hill.
Uphill capacity on Lara's Gondola has increased by 50 percent with the addition of eight new cabins. Beginner skiers and families with small children will be the beneficiaries of the installation of a new Magic Carpet lift.
Early risers who love shredding the corduroy will be pleased to learn that the resort has added a brand new $500,000 groomer to the fleet. If you need rentals, you'll be assured of a perfect fit with the addition of brand new laser foot scanners in the rental shop. No more manual measurements and size guesses, now your feet will be measured exactly, and a matching boot selected.
Off the mountain, you'll find 25 kilometers of cross country (Nordic) trails, 14 kilometers of which are groomed daily. Be sure to check out the 60-foot-high, man-made ice tower (climbing allowed), along with the tubing park. A fast and furious dogsled ride through the trees or a romantic horse-drawn sleigh ride are other options as well.
3. Sun Peaks Resort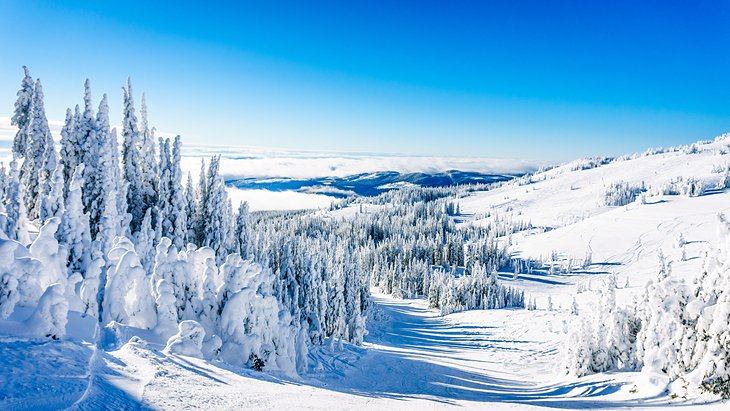 Many people are surprised to find that Sun Peaks Resort is Canada's second largest ski area, with over 4,200 skiable acres. Spread out over three mountains, Mount Todd, Mount Sundance, and Mount Morrisey, you'll find 132 named runs, many of which are best suited for beginner and intermediate skiers.
Sun Peaks has recently made significant investment in their uphill capacity. A new lift, called the Crystal Chair, will boost the number of people getting to the top by 20 percent. To improve loading on the Crystal Chair, a conveyer system has also been installed. This new system, which moves you forward at a set pace, ensures the chair and your rear end arrive at the same time, allowing for a stress-free ride.
Thirteen lifts consisting of four high-speed quad chairs, two quad chairs, one triple chair, and six surface lifts service a vertical drop of 2,894 feet. On average, Sun Peaks gets about 18 feet of snow each year.
Sun Peaks has a delightful "ski-through" alpine village located right at the base of the runs, with restaurants and shops. It's a perfect place to relax and recount the adventures of your day.
Hotels and other accommodations are available in the village and the nearby areas. A complimentary resort shuttle runs on a regular schedule (every 10 minutes during the day, every 20 minutes in the evening) and services the outlying village areas.
4. Revelstoke Mountain Resort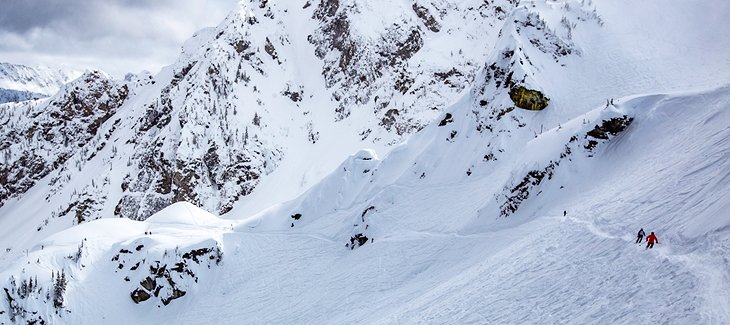 Revelstoke Mountain Resort is located in a snowy valley in eastern British Colombia, where the snowfall is an astounding 30 feet per year. The ski hill is located on Mount Mackenzie and has a vertical drop of 5,620 feet, the highest vertical drop in North America.
Uphill capacity consists of the eight-passenger Revelation Gondola, three detachable quad chairlifts, and two Magic Carpets. Skiing here skews towards intermediate and advanced, which makes up 88 percent of the terrain. Four big bowls feature wide-open skiing above the tree line and can be spectacular following a big dump of snow.
Revelstoke Mountain Resort has also recently installed a new lift called the Stellar Chair. This lift will be a welcome addition and especially favored by beginner and intermediate skiers. In addition to the new chair, three other lifts have additional chairs and gondolas added to the existing infrastructure, boosting capacity by just over 20 percent.
Improvements for the 2022/23 season include changes in the Steller and Ripper areas of the mountain. The changes in the Steller area will primarily benefit beginner skiers, as the Big Bend run will be significantly widened. Skiers enjoying the Ripper area will notice that the Sally Alley run is now straighter and the Chopper run more enjoyable with the grade adjusted.
If you are looking for heli-skiing, Selkirk Tangiers operates a base a short distance from town. In mere minutes, you'll be on top of a mountain with thousands of feet of untracked snow in front of you. Plans are in place to move the heli-base closer to the mountain base area.
Premium accommodation is available at the base of the hill in the ever-expanding base area. If you'd like a bit of history, the town of Revelstoke is a good place to stay. Accommodation is varied and includes hotels, upscale bed and breakfasts, and private rentals.
Official site: https://www.revelstokemountainresort.com/
Accommodation: Where to Stay in Revelstoke
5. SilverStar Mountain Resort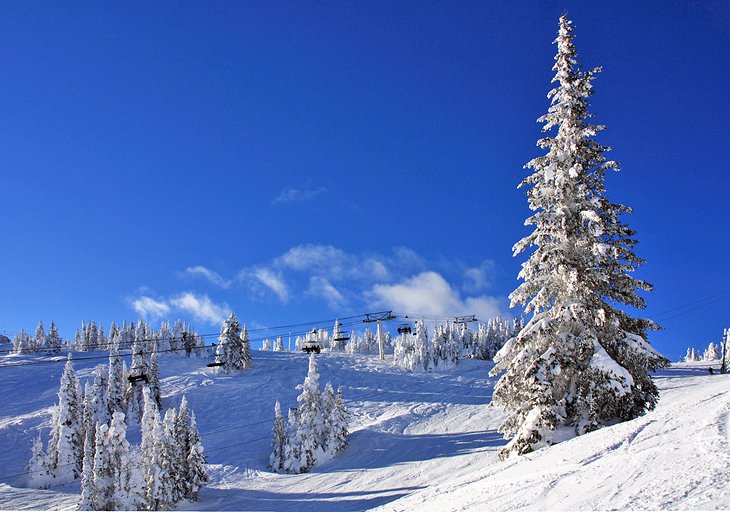 In operation for over 60 years, SilverStar is one of BC's best family ski resorts. It offers nearly 2,500 feet of vertical drop and 132 runs, including one that is five miles long.
An abundance of mid-level terrain on the front side of the mountain is perfect for intermediate skiers and snowboarders. The back is steep and deep. SilverStar get's plenty of snow each year, so much, in fact, at 23 feet, that they specifically boast of having no snowmaking capability. Cranking lots of vertical is easy at Silverstar
One of the highlights of SilverStar is the picture-perfect alpine village located right on the ski hill. Here, you'll find good accommodation options, 18 restaurants, and several unique shops. Cars are of limited use up here, so the resort is a perfect spot to hang up the keys for the week and walk everywhere.
Want to try something completely new? Rent a fat bike and take a rip on over 15 kilometers of snowy and fun trails through the trees. Another option for off-the-ski-hill fun is slip sliding fun at Tube Town, where you and the family can slide down specially designed chutes on truck tire-sized tubes.
6. Apex Mountain Resort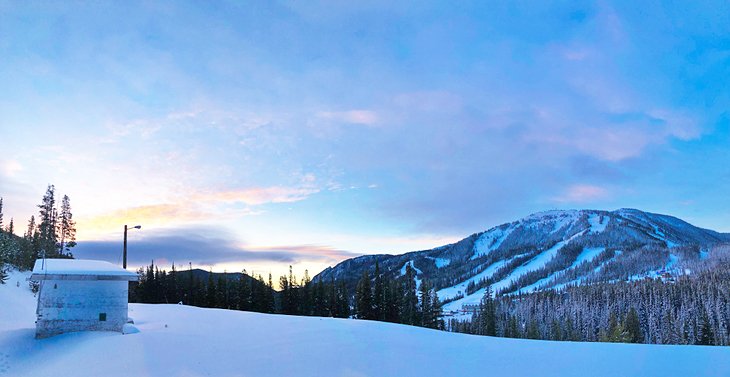 Located close to Penticton, Apex is known for its dry, fluffy powder. Sunny skies are a regular occurrence here as are short lift lines. The average wait time is a paltry two minutes.
Apex is the only resort in the Okanagan Valley that faces northeast. The upside of this alignment is that the beautiful light powder snow is not sun affected and stays pristine longer. On average, the resort receives just shy of 20 feet of this magical fluff.
For those less accustomed to powder snow, Apex has an extensive program of grooming, and miles of corduroy are available for those who love groomed runs. Over 2,000 feet of vertical are spread across 119 runs (79 marked, 40 plus unmarked). Snowboarders and skiers will also find four terrain parks spread across the mountain.
Official Site: https://www.apexresort.com/
7. Red Mountain Resort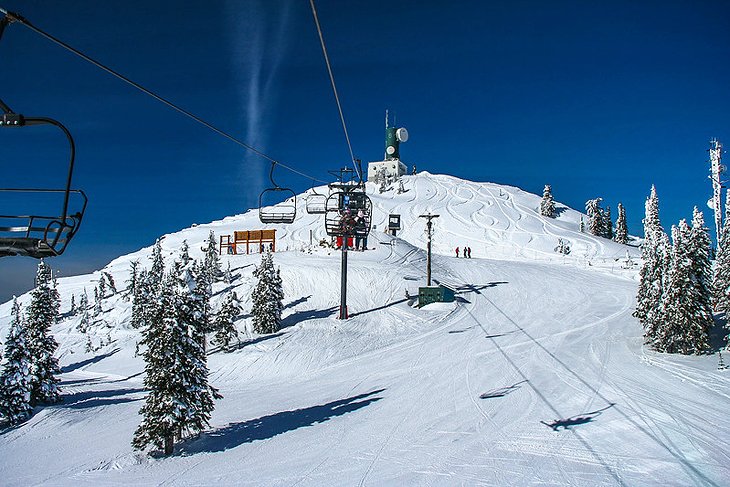 For those purists looking for old school skiing in a relaxed atmosphere, look no further than Red Mountain Resort. This hidden gem of a ski hill is all about skiing and snowboarding, and with an average annual snowfall of 25 feet, the word is starting to get out.
The skiable terrain is spread out over 3,850 acres and features 110 marked runs. For those with the skills, the glade (tree) skiing is some of the best in North America.
You can rack up impressive vertical here. The lift lines are always short, and even if you do have to wait, the locals are a friendly bunch. Red Mountain Resort now has seven lifts, and the recently installed Topping Creek chairlift has opened up 300 brand new acres of fun.
To get a good handle on where to ski, join the free mountain tours that leave twice a day from the base lodge area at 9:30am for the early birds and at 12:30 for those with a more relaxed pace to getting on the hill. The mountain hosts are geared up in fancy blue jackets.
If you really want to get off the beaten track, cat skiing is also available on Mount Kirkup approximately six times a day. You just pay on a per run basis.
The best place to stay is in nearby Rossland, a laid-back mountain town with a mining history. A variety of hotels, bed and breakfasts, and hostels are available along with a decent selection of restaurants.
For something completely different, you can stay in your own hostel-style cabin midway up the mountain. This new offering, called Constella, consists of six cabins and a central clubhouse.
Official site: https://www.redresort.com/
Accommodation: Where to Stay in Rossland
8. Kicking Horse Mountain Resort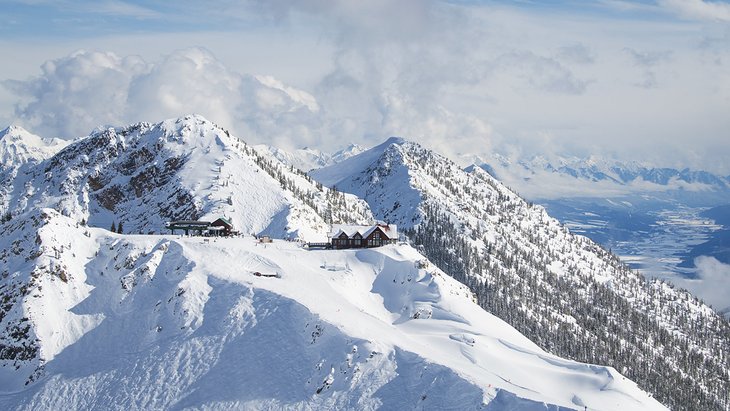 Kicking Horse Mountain Resort is located near the town of Golden, British Columbia. This resort is noted for its frequent dumps of powder snow, and is a true skier's mountain. The large dumps of snow help the resort achieve its average snowfall of 24 feet of snow each season.
The terrain here is intense; 80 percent of the runs are suited to intermediate and advanced skiers. Make sure you have your skiing legs tuned up, Kicking Horse has some of the longest runs around.
An eight-passenger gondola will whisk you up to the top in 12 minutes, and from here, you have your choice of almost 120 different runs leading down over 4,300 vertical feet. In addition to the gondola, three other fixed grip chairlifts and a surface lift are available.
9. Fernie Alpine Resort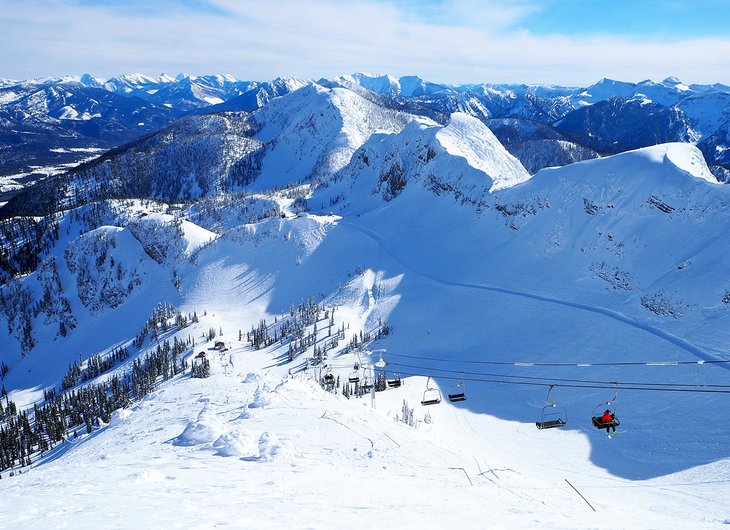 Fernie has a bit of everything: wide groomers, long mogul runs, terrain parks, and five alpine bowls that catch the storms and can be full of beautiful snow.
The resort has a vertical of 3,550 feet and receives on average over 30 feet of snow. Plus, being at a lower elevation, Fernie can be a warmer place to ski than many other resorts in BC. The only watch out here is that occasionally it can rain on the hill, and this changes the snow structure.
Ten lifts, including two high-speed quads, provide good uphill capacity for the 142 runs, plus the aforementioned bowls.
The mountain has five dining options that range from coffee shops to cafeteria style, right through to sit-down full-service restaurants. Be sure to check out the Lost Boys Café at the very top for spectacular views.
10. Panorama Mountain Resort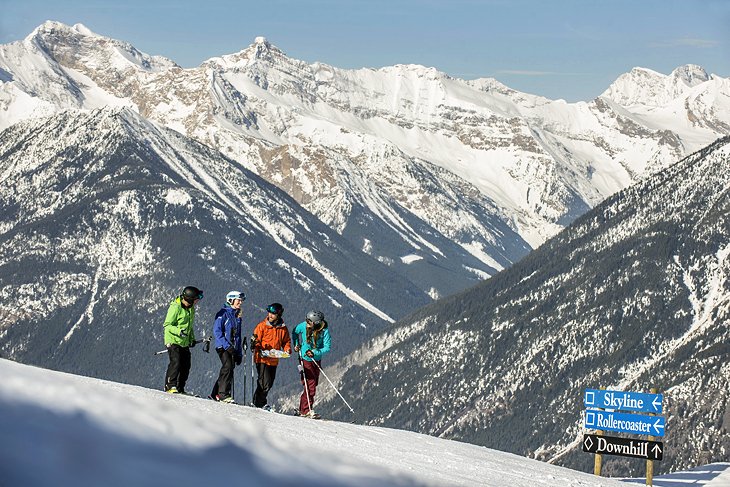 Wide-open groomers greet skiers at Panorama. Located 20 minutes from Invermere, this casual, family friendly resort is ideal for a fun and relaxed ski vacation. Panorama skews to beginner and intermediate, with 50 percent of the runs suitable for this skill level.
Advanced skiers have their own playground in the Taynton Bowl, where all the runs are black diamond routes, steep, deep, and sure to get your heart pounding.
For those looking for a ski hill with accommodation right on the slopes, Panorama fits the bill. You can park your car here and walk everywhere. A big bonus is that all resort guests get to use the extensive outdoor pools.
Panorama has just recently finished a massive renovation and revitalization of one the most important accommodation options at the resort. Rebranded as The Approach, this perfectly placed property now consists of stylish suites and rooms ideally located mere steps from the lifts.
11. Kimberley Alpine Resort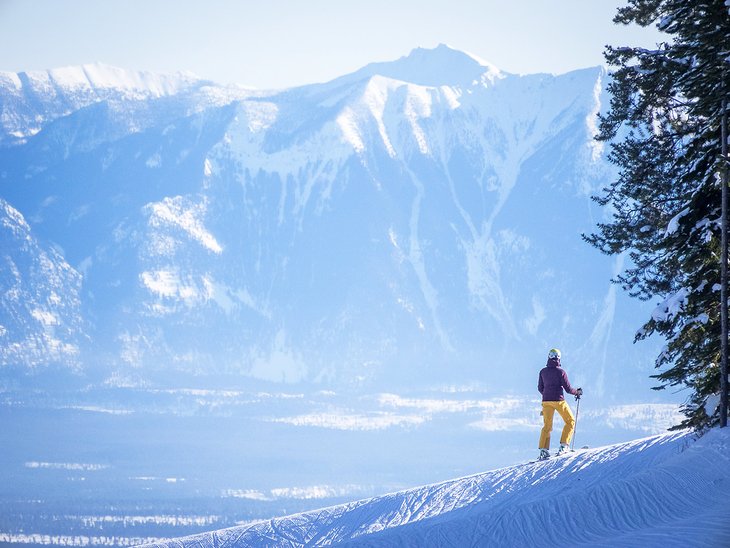 Located a very short drive up the road from the picturesque town of Kimberley, this small resort should definitely be on your BC ski resort hit list. The mountain has two unique features: North America's largest gladed terrain and longest lit run.
Four different areas on the hill all have their own look and feel: Northstar Mountain is perfect for beginners, Vimy Ridge is a mix of intermediate and black diamond runs, and Black Forest and Tamarack Ridge are full of challenging black diamond and gladed runs.
Four lifts service 80 runs zipping down 2,465 vertical feet of drop, spread across 1,800 acres. With all this terrain, it seems that you might be done skiing when the main lifts close; however, for those who want to keep going, or weren't able to make it during the day, night skiing cranks up as the sun goes down. Kimberly is one of the few resorts in BC that offers this amenity.
Off the hill, dog sledding is popular, and the Bavarian-themed small town of Kimberley has a great assortment of restaurants and accommodation options.
In February 2022, an arsonist struck and burned down the control building for the Northstar Quad Lift, one of the critical lifts on the mountain. The resort has been hard at work with the suppliers to get the lift rebuilt over the summer and ready for the 2022/23 season.
12. Whitewater Ski Resort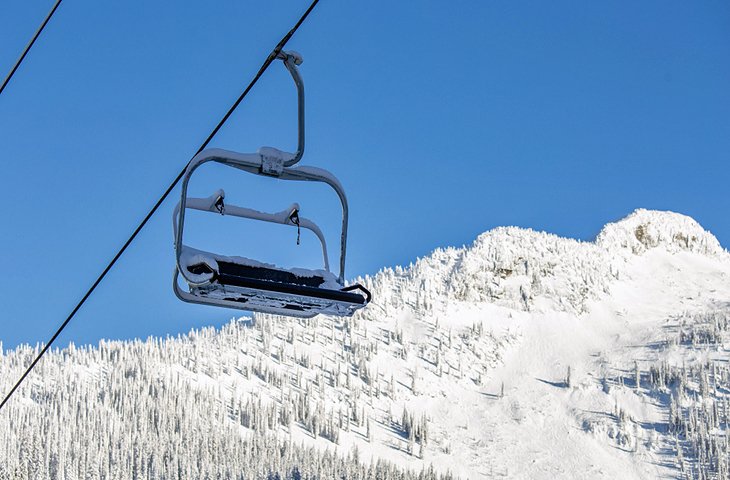 This funky ski resort is as old school as it gets. Located near the equally quirky town of Nelson, this local ski hill has a reputation for copious quantities of snow. In fact, Whitewater gets an average of over 40 feet of snow every season.
The ski hill is compact and has a local ski hill vibe, with an unusual cast of characters skiing and living life to the fullest. Three fixed grip lifts (one quad, one triple, one double) along with a handle tow, service 2,367 acres of skiable terrain, and the vertical drop is just over 2,000 feet.
A wide variety of accommodation options are available in nearby Nelson. Proudly different and noted as a hotbed of "counter culture," your off-hill experiences could be just as crazy as the ones on hill.
Official site: https://www.skiwhitewater.com/
Accommodation: Where to Stay in Nelson
13. Mount Washington Alpine Resort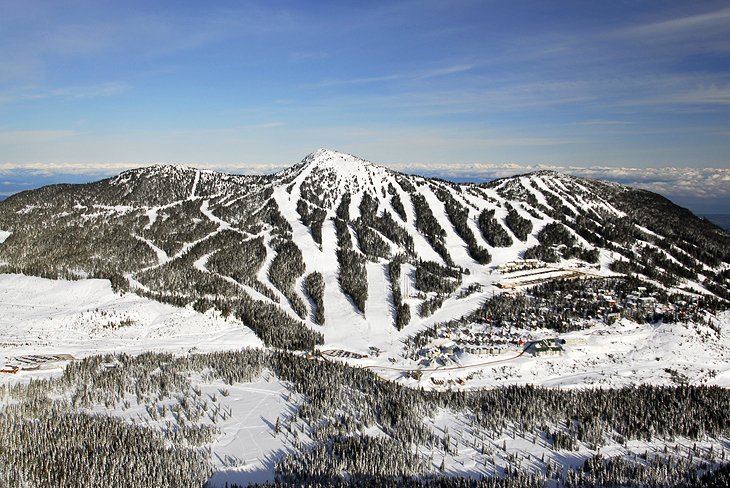 Long a local treasure on Vancouver Island, Mount Washington Alpine Resort is well worth the effort to get to. An affordable ski destination, the resort has eight lifts and a vertical drop of just over 1,500 feet. When it snows here, it can be massive — the resort claims to receive over 33 feet of snow a year.
The pace here is relaxed and family friendly. It's a perfect place to learn how to ski, and the four magic carpets make getting back to the top for beginners easy. For intermediate and advanced skiers, a wide variety of runs are on offer, from long cruisers right through to glades. The view from the peak is stunning on a clear day.
Off the hill, you'll find 55 kilometers of cross-country trails, 25 kilometers of snowshoeing, a tubing park, and fat tire bike trails.
A fun family event is to take a few hours and wander over to the Tube Park for some slip sliding fun. Four chutes complete with a hump two thirds of the way down make for a wild ride – especially if you get the liftie to give your group a spin as you head down.
More Related Articles on PlanetWare.com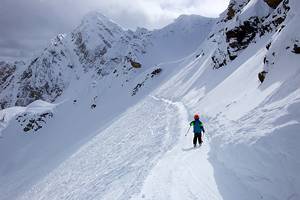 Skiing in Canada: You can find great ski resorts right across the country. For more ideas on where to go, see our guide to the best ski resorts in Canada. This is our comprehensive guide to the best ski resorts from coast to coast. In eastern Canada, you can find a number of ski resorts in Ontario, as well as ski resorts near Toronto, which includes a few within easy reach in Upstate New York. One province over, you can find some excellent ski resorts in Quebec.