14 Top-Rated Ski Resorts in Ontario, 2023
We may earn a commission from affiliate links ()
If you love to ski and you live in Ontario, you may be pleasantly surprised to learn that nearly 60 ski resorts operate here.
Regardless of the type of skiing you're looking for, you can find it somewhere in the province. Crave a total resort experience with the most modern lifts and a fairy-tale town? Head to Blue Mountain. Looking for deep natural snow? Ski resorts in Ontario's snowbelt regions deliver. Interested in fun family ski resorts near Toronto? Check out some local hills like Dagmar or Glen Eden. The choices and destinations are as varied as the terrain.
Don't be afraid to venture further afield to remote areas in search of a ski resort. The increase in drive time will easily translate into more vertical due to less time spent in line. The ski hills farther from major cities have less visitors but still feature impressive vertical drops and uphill capacity. You'll also find that accommodation, lift tickets, and food prices are substantially lower.
To learn more about where to go, see our list of the best ski resorts in Ontario.
1. Blue Mountain Resort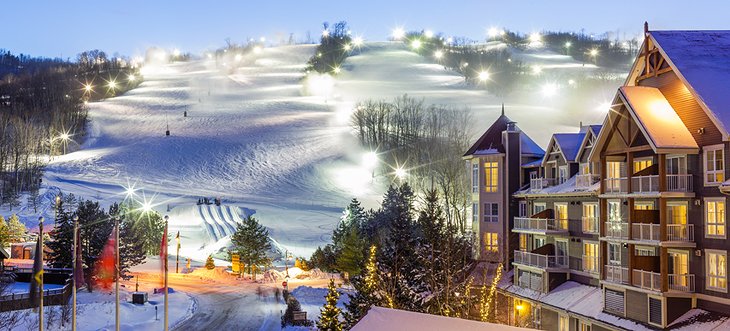 Located just 2.5 hours northeast of Toronto on the Niagara Escarpment, Blue Mountain Resort is the largest ski resort in Ontario. It offers an extensive array of runs, ranging from wide groomers to twisty routes through the trees, and even some knee bashing bumps.
The three terrain parks — Grove, Badlands, and L Park — have all the bumps, humps, rails, and boxes for you to test your skills and see how brave you really are.
Part of Blue Mountain's allure is the village located at the base. Here, you can find luxury accommodation, great shopping in unique boutiques, and everything from fine dining to casual restaurants. One of the most convenient and best places to stay is The Westin Trillium House, Blue Mountain.
Blue, as it is most commonly referred to by locals, has incredible snowmaking coverage, with over 600 snow guns ensuring wonderful soft snow on most runs. If you are fortunate enough to ski at the mountain when the lake effect snow phenomenon off Georgian Bay kicks in, you might get some significant powder under your boards.
Lift capacity consists of seven chairs and four surface lifts, which amply service the 720 feet (220 meters) of vertical. Although the runs may not be long, the ride to the top is quick, and skiers can rack up some serious vertical over the course of a day.
Blue Mountain offers significant deals on lift tickets purchased prior to the season. One of the best is the 5x7, which gets you unlimited midweek skiing and weekend skiing after 3:30pm. As a bonus, you also get night skiing seven days a week, with only limited blackout dates during Christmas, New Year's Day, and on Family Day in February.
2. Mount St. Louis Moonstone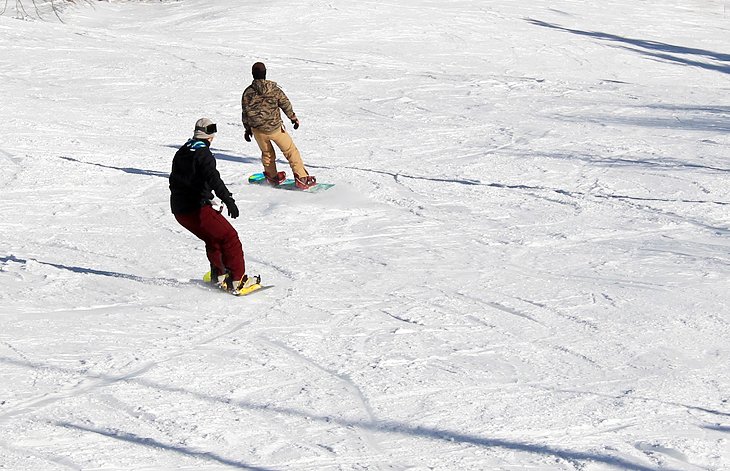 Just over an hour drive north of Toronto, this resort is an easy destination to reach if you are coming from the city. Like Blue Mountain, Mount St. Louis Moonstone is located in Ontario's snow belt region, and it generally sees very good conditions. It also has a bit of everything for skiers and boarders.
The resort has expanded and invested more than seven million dollars in new equipment, including a new six-seater, high-speed chairlift and new lighting for night skiing. In addition to the new equipment, the resort has also invested in new RFID ticket scanners at the lifts — no more lifties slowing down the lines by checking tickets.
Out of sight of most guests but hard at work at night is a brand new Piston Bully PB600 groomer, which has been added to the snow-care fleet. This incredible machine will be churning out endless miles of spectacular corduroy for those early birds lucky enough to enjoy it.
In addition to all the on-hill improvements, the base lodge has been expanded, with more upper level seating in the cafeteria and a significant increase in space in the rental shop, along with flow improvements.
The 550-foot (168 meter) vertical drop is serviced by nine chairlifts and three magic carpets.
The longest run is over two kilometers, and the resort covers 180 acres of skiable terrain.
3. Horseshoe Resort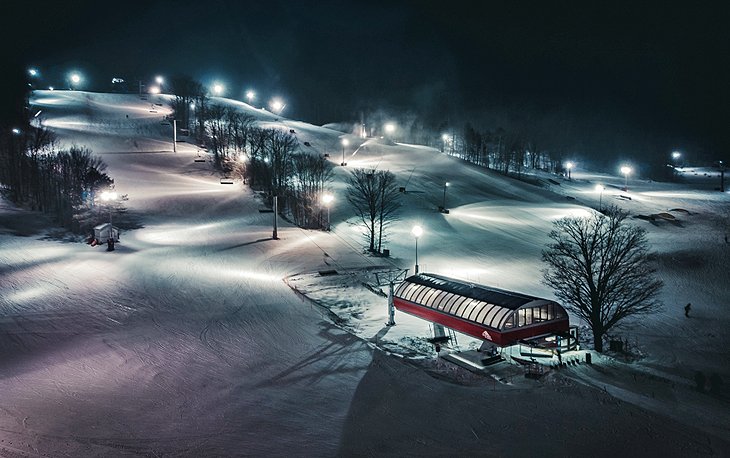 About a 1.5-hour drive north of Toronto, Horseshoe Resort is one of the best places in Ontario to learn how to ski. Their ski school has over 100 instructors who will be able to take you from zero to hero in a short period of time. The ski hill is not large, with 29 runs, but has a decent vertical at just over 300 feet (91 meters), making it a perfect size for a family outing.
The resort has recently invested in new snowmaking equipment and new snow groomers, and has also installed a new quad chair called High Rider Quad. It replaced the aging lift known as chair 6.
Horseshoe is a hot spot for boarding and freestyling. The Outlaw terrain park is one of the better ones in Ontario and has a good assortment of humps, bumps, and rails. Three runs include the slopestyle Bullpen, with large and medium features; Horsefly Hop, which is all about rails and is progression style; and Rodeo, home to the border cross run.
Horseshoe is more than just downhill skiing and boarding — 20 miles of cross-country trails are available, fat snow biking is on offer, as is snow tubing. If you still have energy after skiing all day, lace up your ice skates for a pleasant evening out under the stars.
Extensive renovations to the condos at the bases of the hill have recently been completed; some of these units are just steps to the lifts. If you prefer, lower cost accommodation options are available in Barrie or Orillia, a short distance away.
4. Loch Lomond Ski Area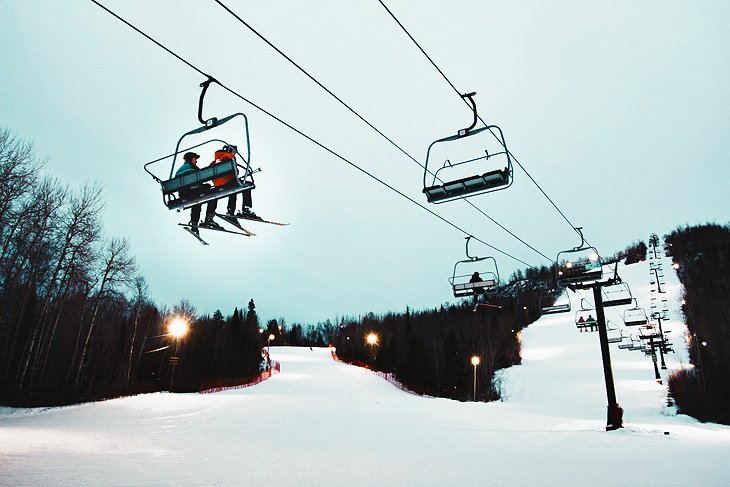 Located near Thunder Bay, in Northwestern Ontario, Loch Lomond has been one of the premier skiing destinations in Central Canada for decades, attracting skiers from Ontario, Manitoba, and Minnesota. The ski hill is just minutes from downtown Thunder Bay, where you'll find a wide variety of places to stay and eat.
Loch Lomond can be easily divided up into the north side, where you'll find the steepest and most challenging runs, and the south side, where the inclines are gentler and the runs more suited to beginners. Those who like to ski in the trees will find a few runs as will the double black diamond daredevils. The resort also has a terrain park with all the latest features.
If you crave a few more turns, or want to get a few laps in after work, night skiing is available Thursday, Friday, and Saturday from 6 until 9pm for an additional fee.
The resort has recently added a tubing park. Unlike many resorts, admission is included with the price of your lift ticket. Tubes can be rented for a modest fee or bring your own toboggan.
5. Hockley Valley Resort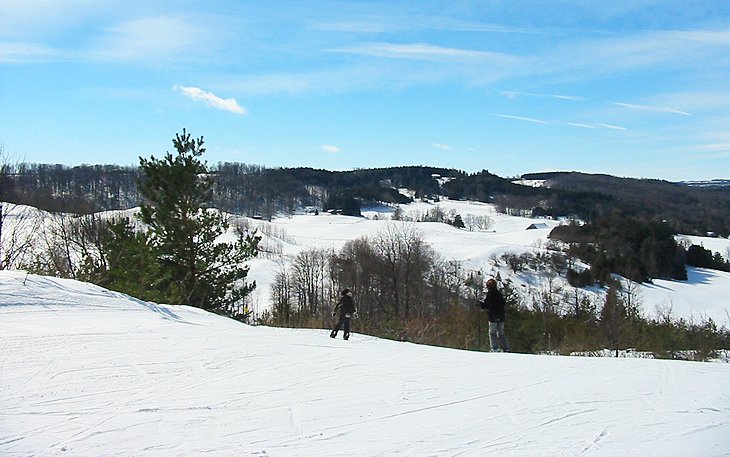 Just a short distance down the road from Horseshoe Valley Resort is Hockey Valley Resort. Similar in nature to Horseshoe Resort, this full-service getaway destination is popular with Torontonians. The vertical drop of 375 feet (114 meters) and 16 runs makes this resort perfect for beginners and families with young children. Two fun and challenging terrain parks will keep teenagers happy doing endless laps. Four lifts will whisk you back up to the top quickly.
Night skiing is available six days a week until 9pm each evening.
One of the unique features of Hockley Valley Resort is the ability to purchase timed lift access. If you have young children or just don't think your legs can handle a full day, consider buying a block of four-hour segments available in packs of eight.
6. Calabogie Peaks Resort
Located in the Ottawa Valley, just an hour from Ottawa, is Calabogie Peaks. Built on the slopes of Mount Dickson, this ski resort has the lofty crown of having Ontario's highest vertical drop at 780 feet (230 meters).
The skiable terrain is more than 80 acres, and the runs here are long, perfect for getting those quads quaking. The hill features 24 runs, along with one that is 1.6 kilometers long. The four terrain parks: Mini Rail Park, Rail Park, Mogul Field, and Snow Cross Track will have boarders sliding, flipping, and catching massive air.
Calabogie Peaks makes for a great weekend getaway. The ski-in, ski-out Calabogie Peaks Hotel offers hotel rooms and condos located right at the base, and an outdoor hot tub is available to soothe those sore muscles.
7. Sir Sam's Ski/Ride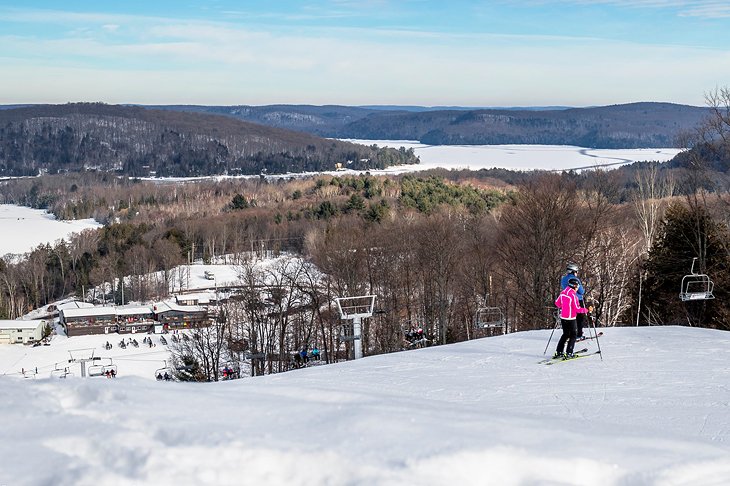 If you feel like a weekend getaway in the northern Canadian wilderness, plan a trip to Sir Sam's Ski/Ride. Located just over three hours from Toronto, the ski hill has a 325-foot (99-meter) vertical drop and is set in some of Ontario's most beautiful countryside.
Fourteen runs serviced by four chairs, a pony tow, and a covered surface lift will get you back up to the top of the hill. The resort also has a terrain park with the usual rails, bumps, and humps.
8. Dagmar Ski Resort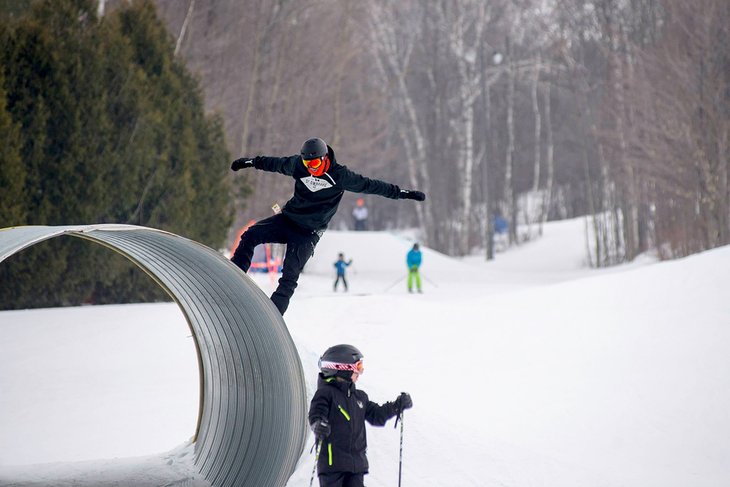 You'll find all kinds of family fun at Dagmar Ski Resort that even includes a giant dog named Daggy, roaming the bunny hill. At Dagmar, the focus is on learning and the resort prides itself on the talent level of the specialized children's instructors. Over the years, the ski school has consistently won awards from local media.
It's not all about kids though – the Family Learning Center has certified snow sports instructors right up to level 4, so if the moguls have caused you trouble over the years, these folks have the solution.
The terrain at Dagmar is family friendly and not too steep. Four chairlifts and two magic carpets service skiers and boarders on 18 runs. The terrain park is the largest in Durham Region and boasts 60 features. It runs right under the main chairlift, so a ride up usually provides plenty of entertainment.
9. Lakeridge Ski Resort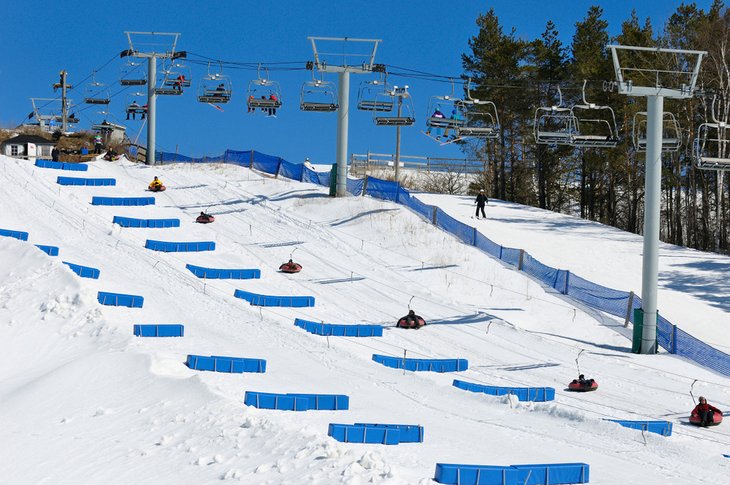 Less than an hour from Toronto in the rolling hills north of Whitby is Lakeridge Ski Resort. This small resort has 23 runs of varying difficulty across mixed terrain and is an ideal family day trip destination. The vertical drop of 300 feet (91 meters) is impressive for a resort so close to the city.
Lakeridge has some unique and fun runs, including a banked slalom run and a snow cross route. It also has two fantastic terrain parks. The hill has recently upgraded their base facilities with a brand new day lodge that is roomy and bright.
In addition to the skiing, Lakeridge has a large tubing park, open to adults and children. No experience or skills are required except the ability to jump on the tube and head down hill.
10. Glen Eden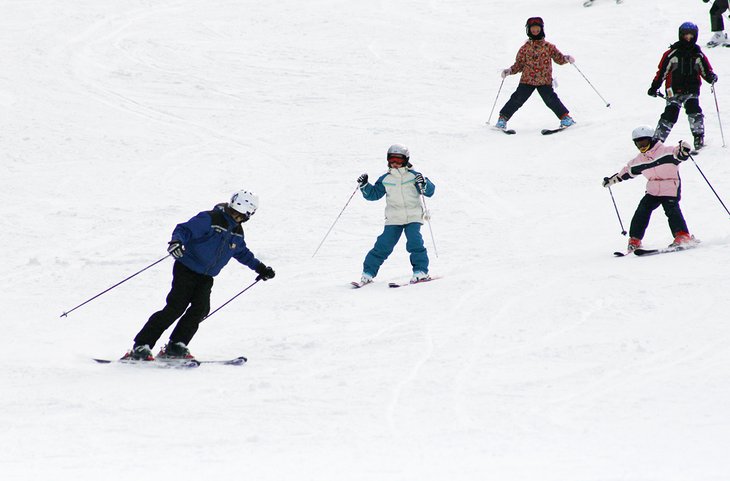 Sixteen short but steep runs and a 240-foot (73-meter) vertical drop are what you'll find at Glen Eden. Operated as part of the Kelso Conservation District, the hill is an especially popular place for night skiing owing to its location, just a short drive from Toronto and the surrounding cities. It's easy to spot as you drive east on Highway 401, with the white patch of runs carved out of the Niagara Escarpment.
11. Mount Baldy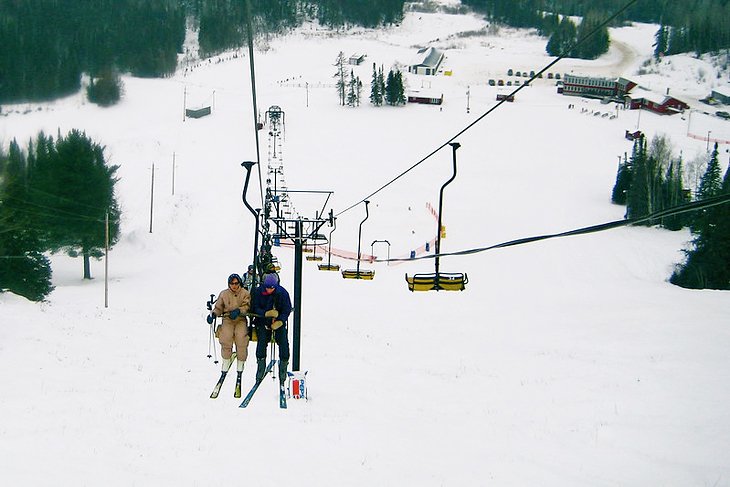 Thunder Bay's Mount Baldy, operating for over 60 years, is a family-run ski resort that has long been a popular destination for skiers and boarders. The ski hill has a vertical drop of 475 feet (145 meters) and three lifts.
Mount Baldy now has a brand new quad lift for the 2023 season. This two-million-dollar investment will dramatically change the skiing experience from a slow ride to the top to something significantly more enjoyable.
In addition to a great terrain park with all kinds of obstacles and bumps, you'll find 10 runs that skew towards beginner and intermediate skiers. Mount Baldy is a perfect family destination. Lessons and rentals are available, and the large day lodge with its big windows is a great place for lunch or a warm-up.
12. Searchmont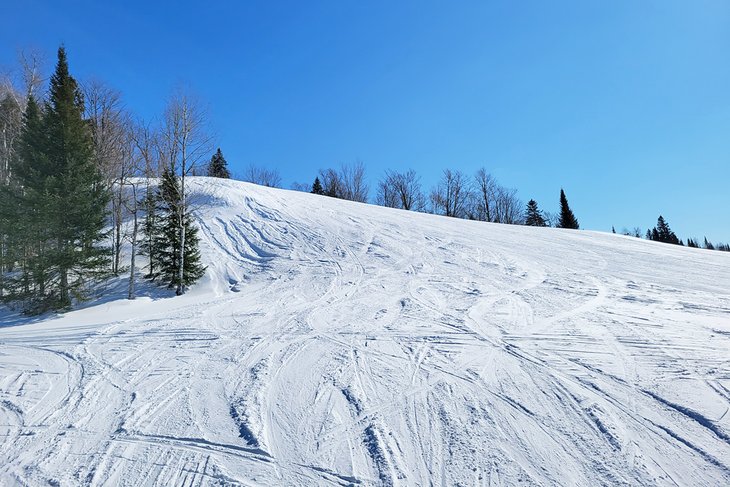 Searchmont Resort is located near Sault Ste. Marie and has long been a favorite with local residents and those from the United States, just across the bridge in Michigan. The vertical drop here is impressive at 750 feet (229 meters).
Searchmont has recently invested significant sums in upgrading the resort experience. A brand-new restaurant with giant picture windows has been added at the base area, new snowmaking equipment purchased, and a new groomer joins the team to keep the runs in perfect condition.
The mountain has 21 runs, serviced by four lifts and two belt rides. Eight of the runs are more than a kilometer long — perfect for getting your groove going. You can also test your skills at the terrain park.
The resort has been busy over the summer season installing all kinds of new infrastructure, the largest project being a new beginner chair set to be named Buzzsaw. In addition to the new lift, 30 additional snow guns have been added to the Goulais trail, ensuring excellent coverage all season long.
Lake effect snow off Lake Superior means natural snow is plentiful, with nearly 11 feet (336 centimeters) annually. Chances of a powder day here are decent. If Mother Nature is being stingy, don't worry, the mountain has 95 percent snowmaking coverage.
13. Mount Pakenham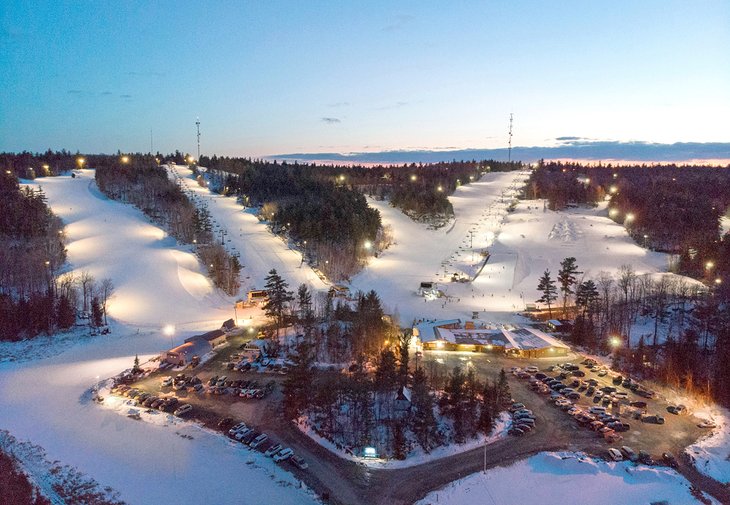 Mount Pakenham is a small, family-focused ski hill near Ottawa. The hill has a drop of 285 feet (85 meters) and only 10 runs, which are mostly designed for beginner and intermediate skiers. The ski resort has recently invested $2.6 million in upgrading their facilities, including increased snowmaking capabilities, a brand-new quad chairlift, and 100 percent night skiing lighting coverage. Cozy up to a stunning new stone fireplace in the day lodge and enjoy better seating as you have lunch.
Uphill capacity consists of three quad chairlifts and a T-bar. Other smaller equipment includes a rope tow, handle tow, and a carpet lift. A snow tubing park is also on-site, but you have to walk your tube back up to the top. Snowshoe trails wind their way around the resort as well.
14. Antoine Mountain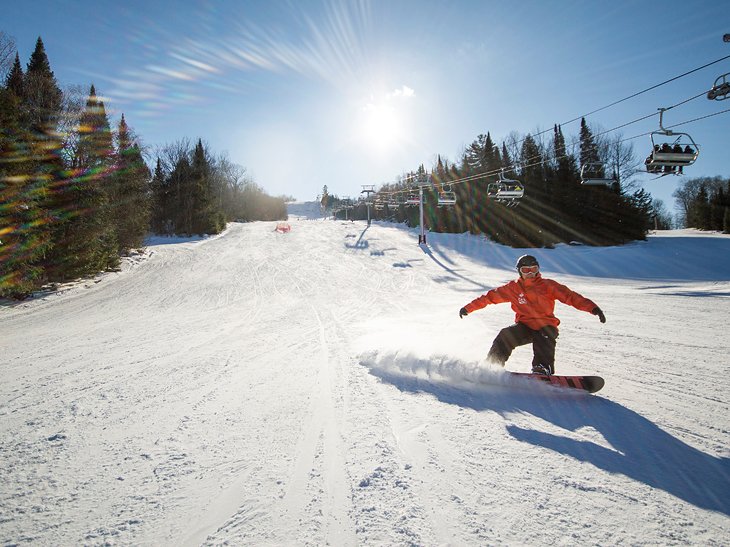 Located near Mattawa and the Quebec border, Antoine Mountain is the newest ski hill on the Ontario ski scene. Closed and abandoned in 2000, the ski hill reopened in 2015 with a new chairlift, significant trail enhancements, a new rental center, and a renovated ski base lodge.
Antoine Mountain has 15 runs, including the longest run in the province at 2.9 kilometers. The vertical here is 630 feet (192 meters), and the view from the top out over the Ottawa River is beautiful.
Frequently Asked Questions
How long is the ski season in Ontario?
This is a tricky question to answer; however, most ski resorts try to open a few weeks prior to the lucrative school Christmas break.
If December is cold, especially at night, most resorts in the south have almost 100 percent snowmaking coverage, and they can get the key runs well covered.
Resorts farther north tend to rely less on snowmaking, as their generally colder temperatures combined with some help from Mother Nature give them the base they need.
You'll find the deepest snow in late January into mid-February but also the coldest temperatures and shortest days. The season usually wraps up around late March.
More Related Articles on PlanetWare.com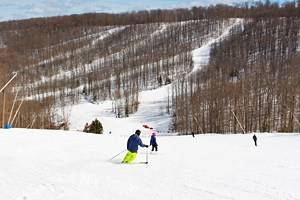 Skiing near Toronto: If you live in Toronto, your skiing options include more than just resorts in Ontario. You can find great ski resorts in nearby areas of Upstate New York. For a more complete look, see our guide to the best ski resorts near Toronto.