10 Top-Rated Ski Resorts in Quebec, 2023/24
Although the best known, the fabled slopes of the Laurentian Mountains north of Montreal are not the only place to find ski resorts in Quebec. Farther east in the Canadian province, near Quebec City and south along the US border with Vermont, skiers of all skill levels will find both challenges and miles of easy cruising.
The northern latitude promises good snow conditions for skiing in Quebec, from late November through early April and even later on the higher mountains; expect extensive snowmaking and professional grooming, too.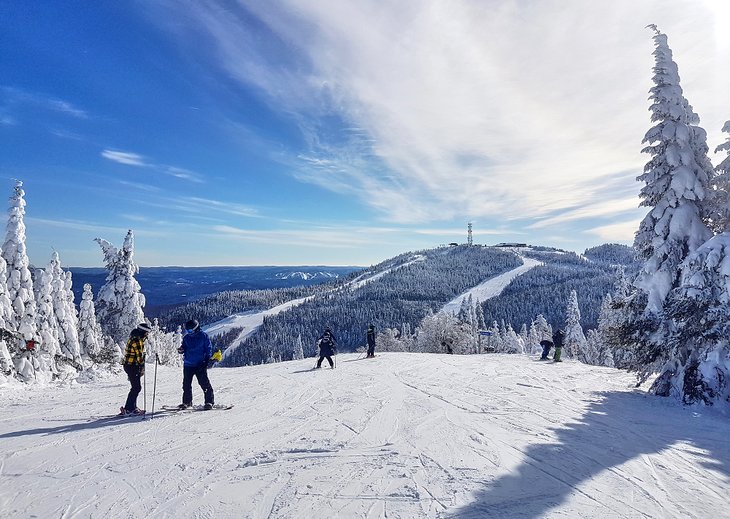 The least known of these ski regions is the Eastern Townships, a group of towns along the US border that were settled by refugees (Loyalists) fleeing the American Revolution.
Most people here speak both French and English, and everyone involved in the hospitality industry can communicate with ease. The same is true of the major ski resorts near Montreal and Quebec City, so English-speaking skiers needn't worry about language barriers.
Skiers used to the Western Canadian mountains will find skiing somewhat different in the east. Elevations are lower, and deep powder rarer, but snowmaking is so advanced here that it's often impossible to tell the difference between made and natural snow.
You won't find as many long, precipitous runs as on higher western peaks, but Canada's eastern mountains aren't short on white-knuckle challenges, with plenty of steeps, moguls, and glades. And you'll enjoy the variety: in each of Quebec's three major ski regions, resorts are close enough together that you can ski several in the same trip.
Choose the best place for your family's winter vacation with our list of the top ski resorts in Quebec.
1. Mont Tremblant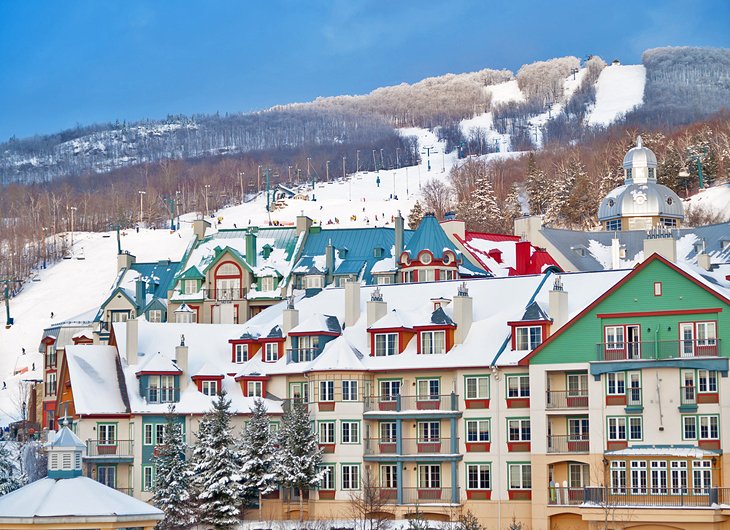 755 skiable acres
50% of the runs are for advanced to expert skill levels
Summer skiing on a synthetic surface
Vertical drop of 2,116 feet (645 meters)
One of the best-known ski resorts in North America, Mont Tremblant has the look and flair of a French Alpine resort, with a cozy traffic-free village of hotels, restaurants, and shops at its base.
About 128 kilometers north of Montreal in the Laurentians, the mountain's 2,871-foot altitude adds to its northern location to assure plenty of natural snow; state-of-the-art snowmaking tops that off to extend the season. This is combined with a wide range of on- and off-mountain activities.
The more than 755 skiable acres are well-divided between beautifully groomed beginner and intermediate runs, with nearly half the 102 trails designated for experts; the advanced terrain includes some good mogul trails and nearly 200 acres of glades. The longest run is 5.9 kilometers.
Opened for the 2021/2022 season, the new Timber Summit terrain added eight new trails from the summit to the base of Versant Soleil or the North Side. A high-speed quad chairlift accesses the summit from the base of Versant Soleil. Here, a new $1.4 million beginner area features easy runs and practice slopes.
Terrain parks for boarders and freestylers are in three separate areas of the resort. As a full-service resort, Mont Tremblant is very family-friendly, with ski and boarding lessons, play centers, and lots of off-slope activities.
Also worth noting, for a more laid-back ski experience with fewer people competing for lift space, the much smaller Mont Blanc is a 10-minute drive away, with 43 trails that include beautiful tree-lined runs.
Mont Tremblant added a new concept in skiing this summer, with the opening in August of their new "Summer Skiing" slope. The specially designed ski slope has a synthetic surface that mimics the surface of snow, enabling enthusiasts to add to their skiing experiences, and opening a whole new sport for summer visitors.
2. Mont-Sainte-Anne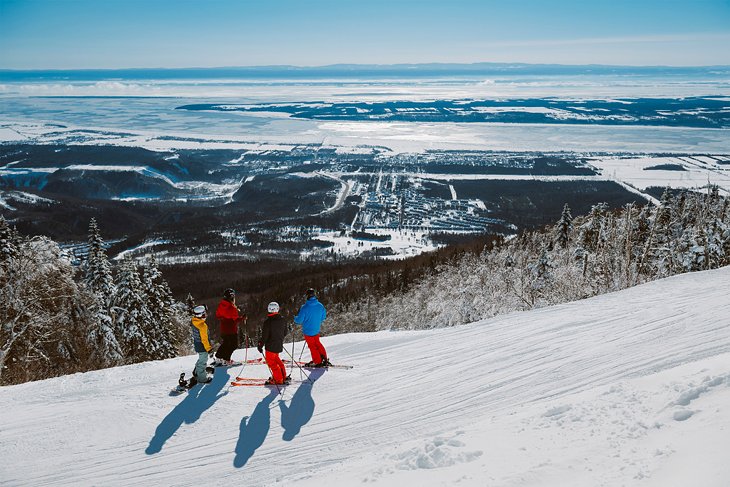 Close to Quebec City
547 acres of skiable terrain
Vertical drop of 2,050 feet (625 meters)
About 40 kilometers northeast of Quebec City, Mont-Sainte-Anne's 70 trails stretch across three mountains, with 547 acres of beautifully groomed mountain terrain for skiers and boarders. It is particularly loved in this latitude of short winter days for its 19 trails lighted for night skiing; it has Canada's highest night skiing vertical. Lifts are fast and include a base-to-summit gondola and four high-speed quads.
The terrain is well mixed for different abilities and is especially family-friendly, and there's an easy three-mile-long trail from the summit that's rated for beginners. Over 340 acres, or about 80 percent of the terrain is covered by snowmaking, supplementing more than 200 inches of natural snow annually.
Expert skiers appreciate the challenging glades and the mogul runs. The north side of the mountain, while it doesn't have the great panoramic views of the south slopes, has some superb intermediate terrain, and its northern exposure gives it more certain snow for spring skiing.
A welcome addition to mountain attractions is the trailside Cabine a la Sucre — sugar shack — serving maple syrup on snow.
3. Le Massif de Charlevoix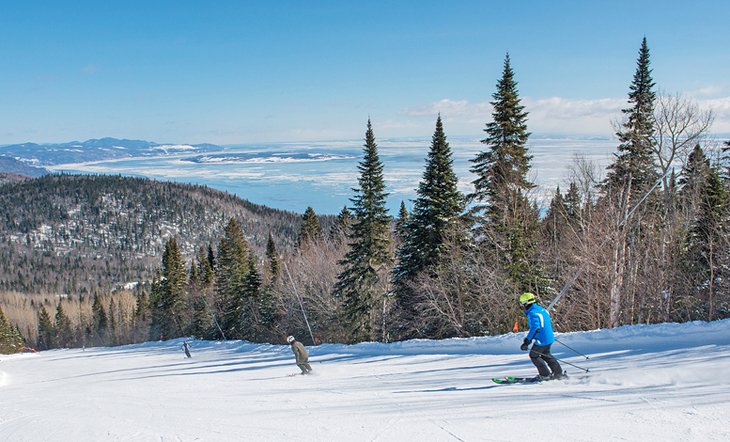 More than 400 acres of skiable terrain
Highest vertical east of the Rockies (more than 2,500 feet)
Overlooking the broad St. Lawrence River in Quebec's Charlevoix region, Le Massif is known for its spectacular views and for its demanding steeps, as well as its "upside down" layout. The main lodge is at the top of the mountain, which is also where the ski school and beginner slopes with magic carpet lifts are. You can drive to the summit (the larger parking area is there) or you can begin at the bottom and take the lift.
With Canada's highest vertical east of the Rockies and a new 100 acres of glades, Le Massif is popular with more advanced skiers; more than half its trails are graded black diamond, double diamond, or triple diamond. Several intermediate runs account for one-third of the terrain and only 15 percent are rated easy, with two beginner summit-to-base options and not much more.
Unlike many resorts where cross-country ski and snowshoe trails traverse wooded valleys, those at Le Massif lead to magnificent views of the river, L'Isle-aux-Coudres, and the Archipelago of the islands of Montmagny. The 7.5-kilometer Luge run adds appeal for thrill-seekers.
Le Massif is known, too, for its outstanding food service, with chefs preparing sophisticated dishes in place of the usual ski-lodge burgers and fries.
4. Mont Orford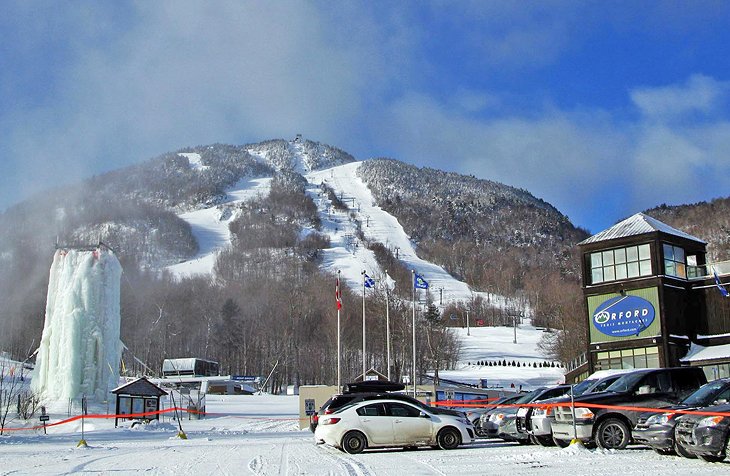 245 skiable acres
Vertical drop of 1,933 feet (589 meters
Offers some challenging terrain
Surrounded by the forests of a national park, Mont Orford's skiing and snowboarding spreads out over three mountains and combines well-groomed trails for all skill levels with an entire section of undisturbed natural snow on Mont Alfred-Desrochers.
The signature mountain, Mont Orford, is the tallest in the Eastern Townships, and its face provides an exciting rank of formidable black and double-black diamonds, some nearly vertical drops that will challenge the best. Like Mont Tremblant, Mount Orford proves that skiing in Quebec can be as challenging as mountains in the west.
Mont Giroux has slopes on two faces, one of which is a nice mix of blue and green trails. One of the greens winds four kilometers from the top of the gondola to the base. Two of the 17 glades are designed for beginners, three for intermediates, and a dozen for experts.
Also in the park, cross-country skiers will find about 48 kilometers of trails at the Discovery Center Le Cerisier.
Because of its park location, the base is not surrounded by hotels and condos; these are nearby in the town of Orford and throughout the Lake Memphremagog region.
5. Bromont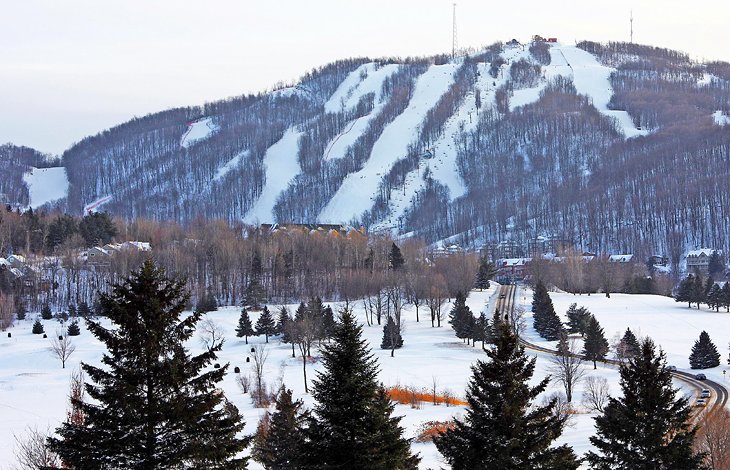 450 acres of skiable terrain
9 snow parks
The largest of the Eastern Townships' ski resorts, Bromont spreads 155 trails across seven slopes on four mountains, which gives it an astonishing variety of terrain. Although the mountains look benign from below, nearly 40 percent of the trails are classed for experts and double-diamond skiers. That still leaves plenty of terrain, with 25 percent rated for beginners and 35 percent for intermediates.
An advantage of having so many mountain faces is that there is always good skiing somewhere. For the 2023-2024 season, expect a new high-speed quad to serve the Versant des Épinettes terrain, a continuation of the long-term upgrade initiative that brought the Village Express eight-person gondola last season.
For the 2013/24 season, Bromont is replacing the Des Épinettes fixed-grip chairlift with the four-passenger Express des Épinettes, a high-speed detachable Doppelmayr that increases capacity to 2400 per hour.
Night skiing is a big draw for Bromont, which has the largest lighted area of any ski resort in North America. The resort is well equipped for families, with a separate learning area near the lodge and a cluster of green and blue trails on Mont Soleil, not to mention the popular water park at the base.
Especially attractive to families with young or new skiers is the budget-friendly season pass to the Mont Soleil terrain. The resort facilities at the foot of the mountain include the luxury, family-friendly Hôtel Chateau-Bromont.
Official site: https://www.bromontmontagne.com/en/
6. Mount Sutton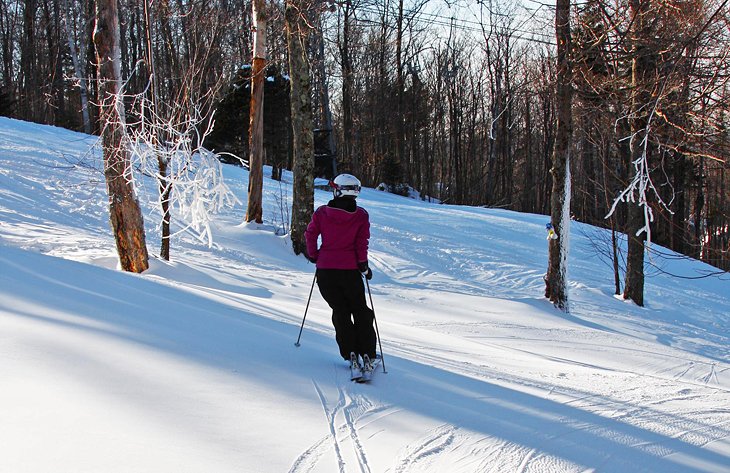 230 acres of skiable terrain
A vertical drop of 1,500 feet
Known for tree skiing (glades for all levels)
The closest of the Eastern Townships ski mountains to the US border and only a 45-minute ride from Montreal, Mont Sutton is known best for its trees. From its beginning, the ethic here was that trees are part of the mountain experience, so there are glades for all levels of skier.
The top section of the mountain is mostly expert territory, webbed with black diamond and double diamond challenges.
One blue trail follows the ridge from the summit to the base, and the central section of Sutton is filled with beautiful blue trails that link together nicely for an almost endless choice of options. Some wind down through widely spaced hardwood trees whose placement allows for good control.
To the right of the base lodge is a Zone Famille (family zone) with its own lift, a dedicated area for beginners, and kids.
Because Mont Sutton is in its own natural micro-climate, snowfall is heavier and more frequent than in neighboring mountains, making Sutton a good choice for those who love powder skiing. The L'EST GO pass includes an entire season of skiing at both Mount Sutton and nearby Owl's Head.
7. Saint-Sauveur and Les Sommets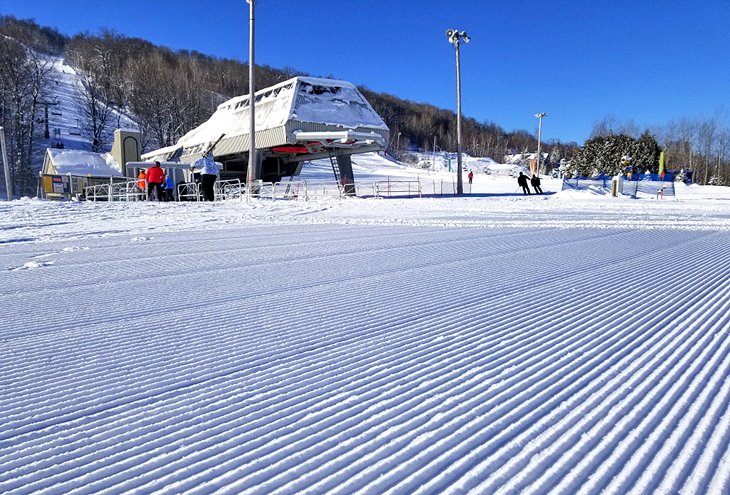 142 acres of ski terrain
Vertical drop of 698 feet (213 meters)
On the Laurentians about halfway between Montreal and Mont Tremblant, Saint-Sauveur and the slopes on the opposite side known as Avila account for 40 of the 156 trails in the valley's five resorts, collectively called Les Sommets. The terrain at Saint-Sauveur and Avila, which are connected, ranges from a gentle learner hill to expert-rated runs studded with moguls (mogul skiing is especially popular in Quebec, and you'll find them aplenty at all the major mountains).
Eight lifts, including four quads, access 142 acres of ski terrain, much of which is lighted for night skiing. This season a new fixed-grip Doppelmayr 4-person B Apollo chairlift will replace the old B-Télésiège Triple, increasing lift capacity to those trails to 2,400 an hour.
The Rockstar MS Snopark at Avila is the largest in Quebec. The valley resorts, which are all within a few minutes of each other, have a total of six ski schools.
One of Quebec's oldest ski resorts, Saint-Sauveur offers slope-side lodging, dining, and shopping as well as other outdoor activities. A passenger-controlled mountain coaster, The Viking, and a double zipline called Le Dragon keep thrill-seekers happy. New last season, a sugar shack serves maple syrup on snow, a popular treat that's an extra bonus for skiing in Quebec.
8. Owls Head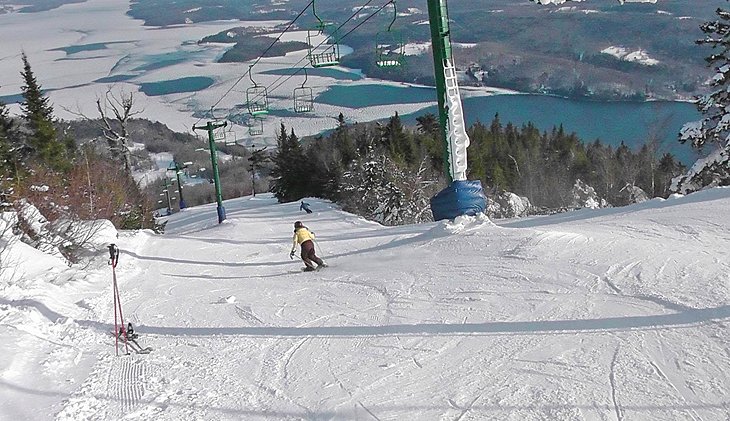 A good mix of beginner, intermediate, and expert runs
Owl's Head Ski Resort, in the Eastern Townships, has the relaxed atmosphere of skiing as it was in the 1960s, except that the snow-making and grooming are 2020s state of the art. There's a two-nation view from the top that includes a panorama of the sprawling Lake Memphremagog, which you see as you ski down almost any run.
A good variety of trails are almost evenly divided between the three skill levels with 30 percent each for beginner and expert, 40 percent intermediate.
Most of the novice areas are separate from the more challenging trails, with several green trails on the mountain's lower east face, where there is enough terrain to keep novices and even intermediates busy. This keeps most of the more experienced skiers away from novices polishing their skills.
In all, the mountain has 52 trails served by four quad lifts and covered by an annual natural snowfall of 175 inches.
The lift to the summit accesses blue and expert terrain, which includes big, bold verticals that will challenge even the best skiers. Owl's Head is also well known for its big backcountry skiing space, undeveloped wilderness areas open only to experienced expert skiers with the proper equipment.
To complete the throwback feel, the base lodge has comfortable double and family rooms with the feel of an old-fashioned ski dorm. There are also slope-side condos, and the town of Magog, about half an hour away at the head of the lake, has several lodging options. The L'EST GO season pass includes skiing at both Owl's Head and Mount Sutton.
9. Stoneham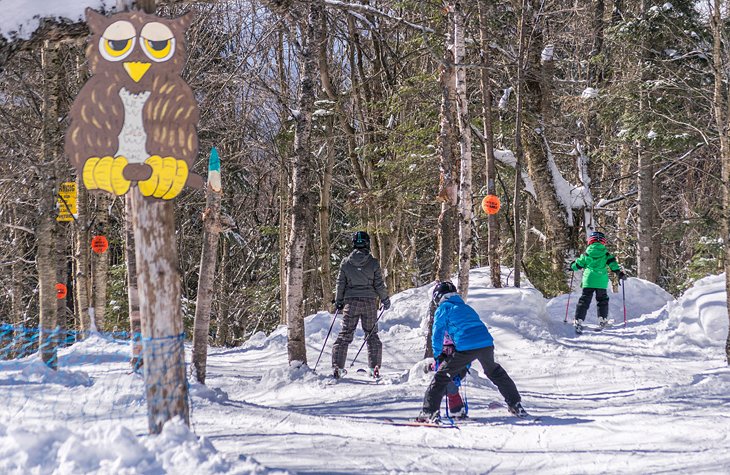 Close to Quebec City
135.8 acres of skiable terrain
Vertical drop of 1,132 feet (345 meters)
About 20 minutes north of Quebec City, Stoneham Ski Resort has 42 trails over three mountains; trails are served by four chairlifts and three surface lifts. Although its vertical drop is only 345 meters, the terrain is steep enough for 39 percent of the trails to be rated expert and 16 percent as double-black.
One quarter of the trails are classed for intermediates and 19 percent for beginners. The longest trail is 3.2 kilometers. Nineteen of the trails are lighted for night skiing, and on weekdays the $20 night pass includes skiing from 2pm.
Stoneham is a particular favorite for boarders, with Quebec's only Olympic half pipe and an Intro Park for beginners with four different modules. Kids love tree skiing in the Family Fun Glade, with its brightly colored characters.
The resort has a skating rink and snowshoe trails, and condos and a hotel are at the base, along with dining and two spas. Quebec City has a lot more lodging options within easy reach.
10. Le Mont Grand-Fonds
budget-friendly resort
2.5 kilometers of skiable terrain
A good budget-friendly choice for families with both experts and beginning skiers, Le Mont Grand-Fonds combines beginner trails from the summit with an entire mountainside of black and double-black diamond trails. All this at about two-thirds of the lift prices at nearby Le Massif.
The 24 kilometers of skiable terrain at this low-key mountain is served by three lifts, and the elevation is between 1,300 and 2,400 feet. Beginners have a dedicated area and even a short stretch of trail where they can learn and practice tree skiing. Intermediates also have options of gladed trails and moguls.
Expert skiers have one entire side of the mountain to challenge their skills, with five black diamond trails and five double-diamonds. Two of the trails in this Versant du Lynx terrain are glades, and one, L'Emerentienne, is a moguls course. The longest run, Menaud, is 2.5 kilometers, and the most difficult is the 1.3-kilometer La Chouenneuse.
The view from the summit overlooks the St. Lawrence River as it flows through the forested landscape of the Charlevoix. Non-skiers can enjoy the cross-country trails or go for snowmobile rides through the forests. Known for the depth and quality of its snow, thanks to a microclimate with the right balance of moisture and temperatures, Le Mont Grand-Fonds can maintain prime conditions later than most other ski resorts.
Map of Ski Resorts in Quebec
Tips for Choosing the Best Ski Resort
For quick reference, here are the best ski mountains in Quebec if you're looking for specific features:
Best for Experts:
Mont Tremblant: Almost half the 102 trails are classed for experts, with five-kilometer runs, challenging moguls, and nearly 200 acres of glades.
Mont Orford: Black and double-black diamond trails, some nearly vertical drops cover the precipitous face.
Best for Beginners:
Bromont: Mont Soleil has a learning center and green trails designed for beginners, with a few blues for new skiers to "graduate" to as they progress.
Mont Ste Anne: The trails and slopes have plenty of easy terrain; there's an easy three-mile-long green-rated trail from the summit, a rare treat for beginners.
Best for Freestyle and Boarders:
Saint-Sauveur and Les Sommets: The Rockstar MS Snopark is Quebec's largest.
Stoneham: Quebec's only Olympic halfpipe is here, and there's an Intro Park, where beginners can learn and practice.
Mont Tremblant: Three separate areas of the resort have terrain parks for boarders and freestylers.
Best for Backcountry and Natural Snow:
Owl's Head: Large areas of undeveloped wilderness are open to experienced expert skiers with the proper equipment.
Mont Tremblant: Long a center for backcountry skiing, the resort hosts an annual Alpine Touring Festival with gear demos and guided tours for all experience levels.
Mount Orford: On Mont Alfred-Desrochers, you'll find a whole area of undisturbed natural snow.
Where to Go Cross-Country Skiing in Quebec
Skiing in Quebec isn't limited to downhill resorts; all over the province, you'll find places to go cross-country skiing. Several of the resorts have cross-country centers of their own, and local parks often have trails. But what really sets the province apart for cross-country skiers is the abundance of trails and ski centers right in the two major cities of Montreal and Québec.
In Québec City
At Mont-Sainte-Anne, more than 200 kilometers of beautifully groomed trails make up one of the most extensive trail networks in North America, dotted with heated warm-up huts. Skiers under age 18 have free equipment rentals at Camp Mercier, where the trails traverse a magnificent forest of spruce, fir, and other evergreen trees.
About 20 minutes north of the city, the landscape is similar on the 45 kilometers of trails at Sentiers du Moulin, but with a more rolling terrain. Rentals are available, and warming huts are scattered along the trails.
Also north of the city, Forêt Montmorency sits at a higher altitude, so it keeps the snow longer than the cross-country trails closer to Quebec.
Right in the heart of the city, you can join local skiers on the Plains of Abraham, a huge park where you can also rent equipment. Use of the trails is free.
In Montreal
With nearly 200 kilometers of ski trails in the city, there is no shortage of places to go cross-country skiing in Montreal. Many of these have free equipment rentals for those 18 and under. In Maisonneuve Park, trails cross open lands and wind throughout the woods; skate skiers will find almost three kilometers of untracked trail. More trails are nearby in the Botanical Garden.
You'll find 14 kilometers of ski trails at Cap-Saint-Jaques Nature Park on the western edge of the city, with warming huts and a sugar shack to replenish your energy.
Another nature park will appeal to skiers who are also bird-watchers. Bois-de-l'Île-Bizard Nature Park, on Île Bizard, has bird-feeding stations alongside the trails, and skis offer a silent approach.
In the Eastern Townships
The 76 kilometers of cross-country ski trails in Parc National du Mont-Orford are marked and groomed with 50 kilometers for classic skiing and 26 for skating. Families and novice skiers will find plenty of space here, but the park offers enough challenging ones for experts.
Beginning in the town of Sutton and meandering through the old-growth forests of the Sutton mountains are about 20 beautiful cross-country ski trails of Plein air Sutton. Most of the trails are for intermediate skiers, and all are fairly short, with the longest one at about 5 kilometers.
More Related Articles on PlanetWare.com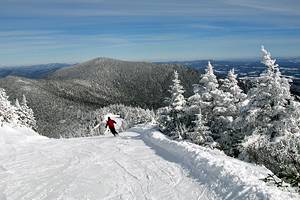 Ski New Hampshire, Vermont, and Ontario: Learn about more ski mountains just south of Quebec in our article Top-Rated Ski Resorts in Vermont and about resorts in the neighboring White Mountains in Top-Rated Ski Resorts in New Hampshire. You can also find a variety of ski resorts near Toronto, both in Ontario and in Upstate New York.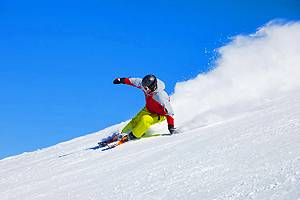 Ski the West: Discover more options for skiing in Canada in our article on Top-Rated Ski Resorts in Canada and read about the mountains farther south in our articles: Top-Rated Ski Resorts in Utah, Top-Rated Ski Resorts in Colorado, and Top-Rated Ski Resorts in California.