14 Top-Rated Attractions & Things to Do in Parksville, BC
You're planning a getaway to Vancouver Island and deciding where to go. If you're looking for sandy beaches with warm ocean breezes and calm water, the choice is simple: Parksville's sheltered bays.
Does Parksville have parks? Yes, Parksville lives up to its name with an abundance of majestic provincial, regional, and community parks. Parks also refers to an early settler as you'll learn during a visit to the Parksville Museum. Nelson Parks was the first postmaster of the settlement of 38 people that became known as Parksville. While Nelson Parks is part of local history, the natural legacy of preserved parkland is here for you to enjoy.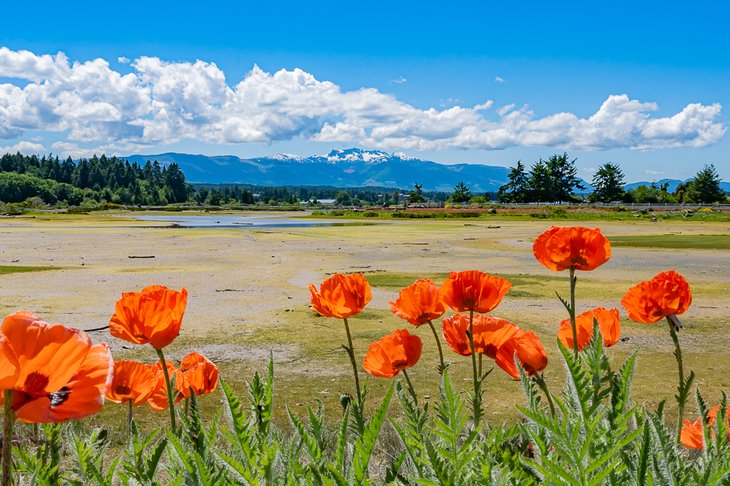 Parksville's boundaries are defined by water in three directions. To the east, the Salish Sea laps upon the shore. The Beaufort Mountain range to the west provides two waterways on Parksville's northern and southern borders: French Creek and Englishman River. Estuary habitats created by the briny blend of fresh and saltwater support an abundance of life - essential to thousands of migratory birds and flocks of admiring bird-watchers.
With its pleasant year-round climate, Parksville attracts people for recreation and retirement. Access to unspoiled nature, golfing, and fishing is part of daily life for residents and tourists. Discover why you and other travelers make this a thriving tourist destination, with our list of attractions and things to do in Parksville.
1. Rathtrevor Beach Provincial Park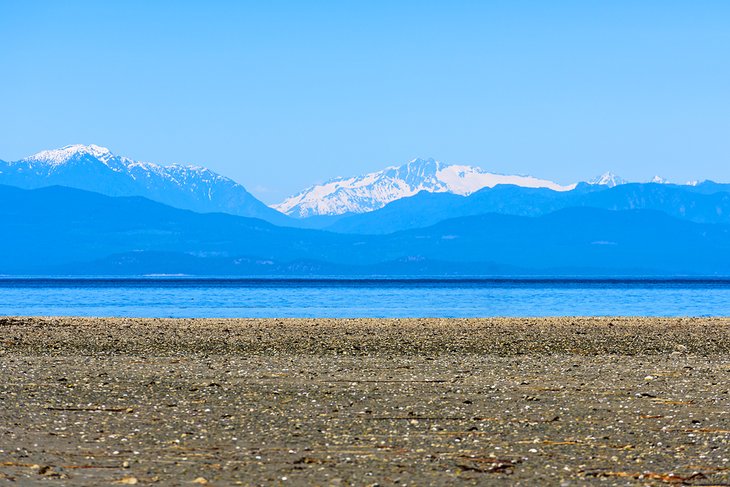 Parksville is all about beaches, with one standout: Rathtrevor Beach, the main attraction of the provincial park and campground, is two kilometers of silky sand where you can beachcomb, walk, jog, and sculpt a sandcastle. At low tide, explore tide pools as you make your way to the ocean to swim or paddle. If it seems like a long walk to the water, that's because it is - up to a kilometer more.
Wait until the tide comes in before dipping a toe in the water to test the temperature. To your delight, you won't shiver and steel yourself as you would on the west coast of Vancouver Island. Where sun has been beaming on the sand, the water is warmest, and that makes it easy for the whole family to jump in.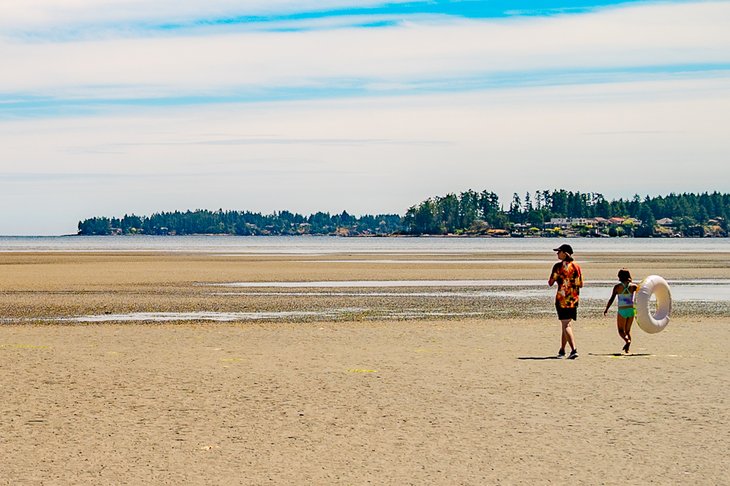 Bring your sun brolly and the novel you've been wanting to read. Pack a picnic, and let the kids play butler at the beach. Chase, catch, take photos, and repeat until everyone collapses for a nap. Visit Rathtrevor Beach Nature House to learn more about the rich marine life that surrounds you.
Parksville is blessed with trails that take you to the top (Mount Arrowsmith), straight ahead (along an old railway line), and up and down (mountain bike trails). So many trails, so little time!
If you've only got time for one trail, head for the 3.4-kilometer loop trail in Rathtrevor Beach Provincial Park. This trail is so easy, you can take your baby there in a stroller. With no elevation gain, you and the rest of the family, from youngsters to grandparents, can easily complete the trail in an hour while seeing a diversity of habitats: beach, forest, and open meadow.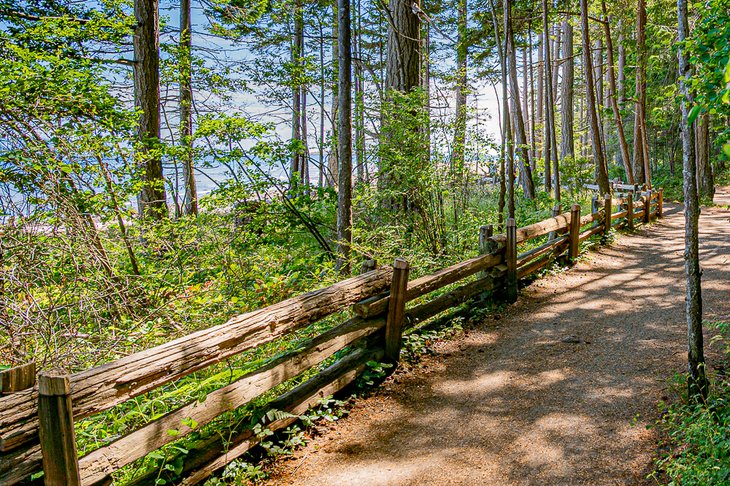 On the beach portion, look for crabs and sand dollars, go beachcombing, and savor a snack or picnic. From your perch on a beach log, you're looking across the Salish Sea to Lasqueti Island, backed by larger Texada Island and beyond that, the Sunshine Coast.
In the Douglas fir forest, look for spring wildflowers and shy bunnies making a run for it. In the open meadows, you might see browsing deer and raptors soaring on the updrafts. Protect the wildlife by walking your dog on a leash.
Official site: https://bcparks.ca/explore/parkpgs/rathtrevor/
2. See the Goats at Coombs Old Country Market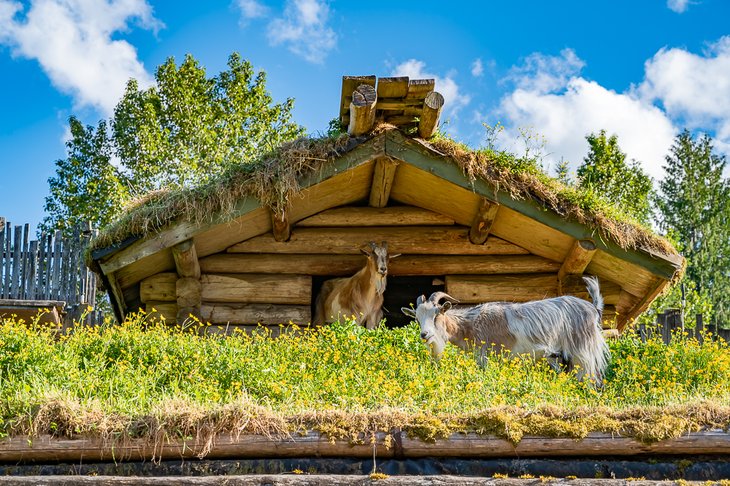 Coombs Old Country Market is as well-known for the iconic goats on its roof as all the treats inside. Borrowing from a tradition in the old country, the original Norwegian owners installed a sod roof. Goats introduced to keep the edible greenery under control were such a huge hit with tourists, they became one of the top attractions on Vancouver Island for more than three decades.
The inside market is well stocked with specialty foods and all kinds of good eats. Head to the bakery for a Nanaimo bar or - in honor of the goats - a Billy Gruff Bomber, a confection with a caramel filling topped by bacon. Prefer traditional pie? Take your pick! Coombs Old Country Market is less than 10 kilometers from Parksville.
Address: 2326 Alberni Hwy, Coombs, British Columbia
Official site: https://oldcountrymarket.com/
3. Visit Little Qualicum Cheeseworks at Morningstar Farm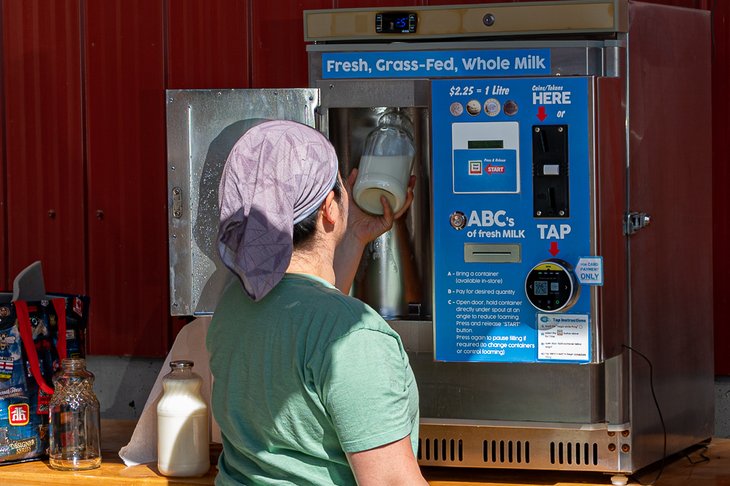 At Little Qualicum Cheeseworks at Morningstar Farm, you can enjoy farm animals and stock up on edible treats. On a self-guided tour, kids usually head straight for the bunnies at Kritter Corner. There are also farm "kids" that are tame enough for children to handle.
At the store, sample Morningstar's cheese curds and artisanal cheese. Sip a delicious cup of locally roasted Creekmore Coffee at the seasonal Calfé. Fill your milk bottles from the 24/7 grass-fed milk-on-tap dispenser.
On Tuesday and Thursday nights during the summer, check out the seasonal Summer by the Sea street market at the Parksville Visitor Centre. You'll find 20 vendors each night selling food and farm produce, as well as artisans and entertainers. This long-running festival is popular with locals and tourists.
Address: 403 Lowry's Road, Parksville, British Columbia
Official site: https://www.morningstarfarm.ca/
4. Explore Top Bridge Regional Park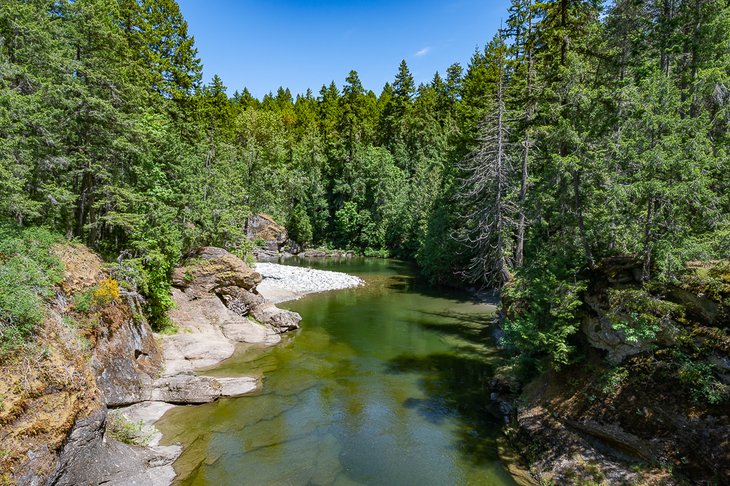 At Top Bridge Regional Park, you will feel lucky to discover an attraction that is well known to locals but missed by many tourists because they're hanging out at the beach. Here, you can experience the "wow factor" at every turn: A suspension bridge over the potholes of the Englishman River on one side and cascading white water on the other.
At this popular local attraction, three parks (Top Bridge Community Park, Englishman River Regional Park, and City of Parksville Mountain Bike Park) converge with Nature Trust of B.C. Conservation Lands to create a playground for many activities. If you're up for a hike, follow the 10-kilometer Top Bridge Regional Trail from the bridge to Rathtrevor Beach and back.
Enjoy a refreshing dip in the river or the sculpted potholes. Drip-dry, sunbathe, and enjoy a picnic. Cast a fishing line from the rocks. Explore the trails on horseback or a mountain bike.
Official site: https://www.rdn.bc.ca/top-bridge-regional-trail
5. Parksville Community Park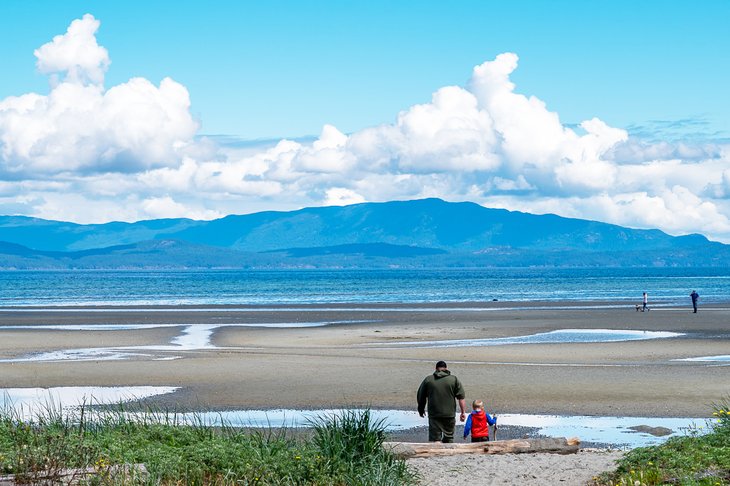 Follow street signs to 39-acre Parksville Community Park where you'll immediately be overcome by an instinct to ditch your shoes and sink your toes into the sand. Fancy a swim? You will wade a distance in the sandy shallows before launching into a front crawl.
The Waterfront Walkway skirting Parksville Bay is the ideal path to stretch your legs. Mingle with locals on foot, in wheelchairs, and strollers, to catch a summer sunset. Make your way to the south end of the paved trail to the Legacy Labyrinth for a self-guided meditation walk in the balmy ocean breeze.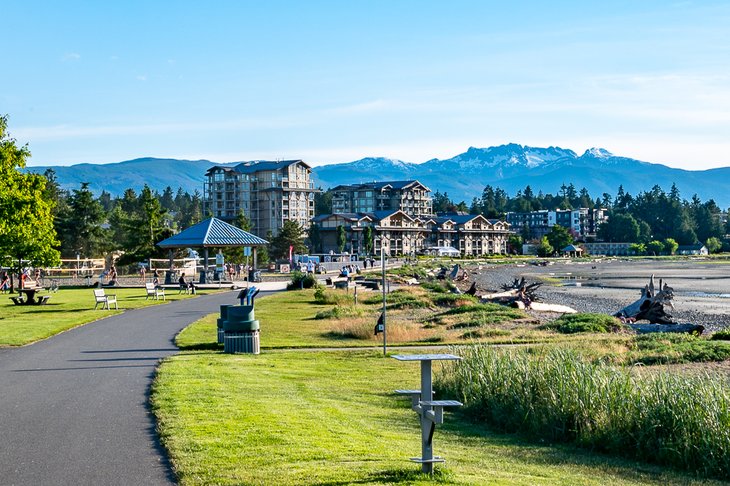 In addition to public washrooms, a picnic shelter, and waterfront gazebo, Parksville Community Park offers facilities that satisfy almost every outdoor interest and activity. The Lions Ventureland Playground and barrier-free Splash Park keep kids busy with things to do on multiple slides, climbable sculptures, trampolines, a ZipKrooz, and jungle gym.
The Skate Park is a safe hangout for skateboarders and BMXers. When not used for provincial and international championships, beach volleyball courts are ready for your pass-set-spike. Get your game face on in the lacrosse box for pickup lacrosse or street hockey. Pitch, throw or kick a ball in the sports fields and baseball diamonds.
Bring your own rackets and balls for tennis, and a set of lucky horseshoes to catch a few ringers. There's an expansive field to fly your kite or frisbee, and a bay filled with sand for water sports.
Address: 193 Beachside Drive, Parksville, British Columbia
6. Beachfest Sand Sculpting Competition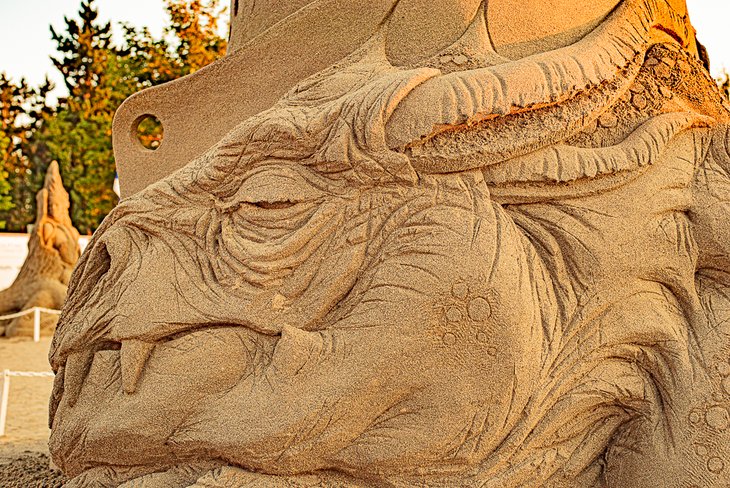 From mid-July to the third week in August, Parksville Bay adopts a carnival-like atmosphere for the annual family-friendly Beachfest. The showpiece is the unveiling of whimsical creations carved out of sand by competing international artists in the Sand Sculpting Competition & Exhibition. You'll be impressed by the artistry and amazed that these works were completed within a regulated 30 hours.
Attended by more than 100,000 visitors annually, Parksville's first competition took place in 1982. It remains the only event of its kind in Canada to be recognized by the World Championship of Sand Sculpting. In addition to earning more than $5,000, sculptors covet a first-place finish that guarantees them entry into the World Championships.
Come for the beach art, enter your vote for the "People's Choice Award," and stay for the party. Other Beachfest activities include a free series of concerts, street buskers, a public market of arts and crafts, and the moment during grand finale weekend when the sand sculptures are lit up after dark.
Official site: https://www.parksvillebeachfest.ca/
7. Enjoy Bird-Watching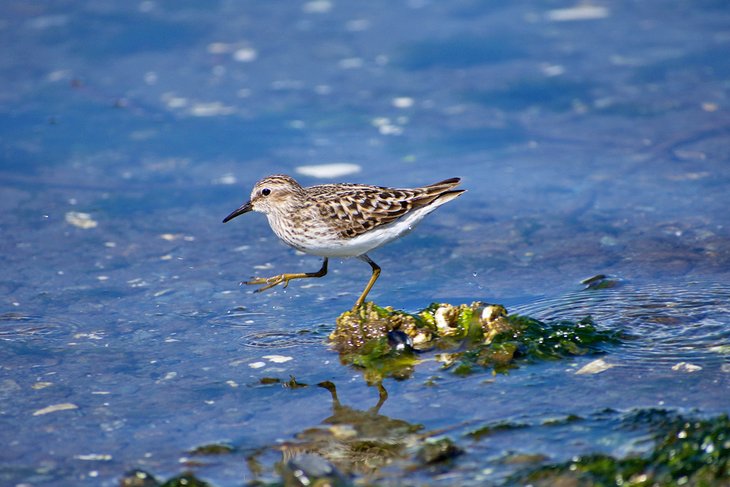 From spotted sandpipers pecking in the seaweed to bald eagles and turkey vultures cruising the skies, 150 species of birds have been observed in Parksville. In addition to the beaches of Parksville, Seaside Nature Park at the west end of Qualicum Beach is another place to spot migrating Brant geese and other shore birds. At the park's pavilion, interpretation signs inform you about birds you might see.
Estuaries and wetlands are sure bets for observing birds. Between Parkville and Qualicum Beach, there are eight "hot spots" of which three are estuaries (tidal areas where the river meets the sea): Englishman River, French Creek, and Little Qualicum River. Other bird-watching locations include Parksville Community Park, the Silver Meadows Farm parking lot, and North Island Wildlife Recovery Centre.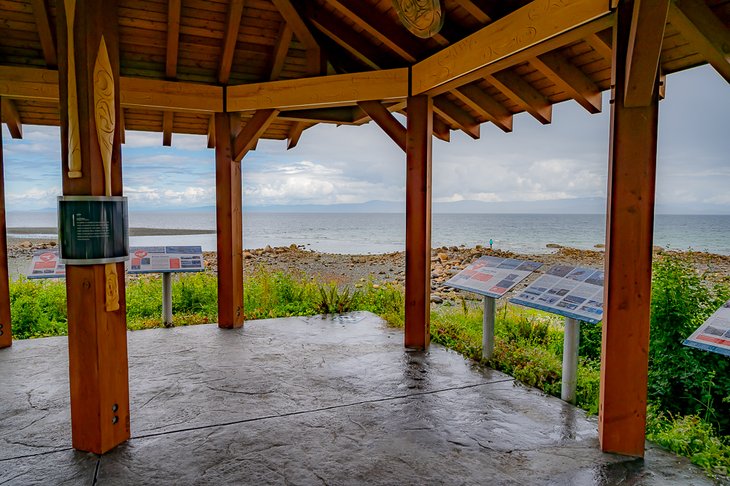 If you're not an expert birder, consider taking a bird-watching tour offered by Pacific Rainforest Adventure Tours. Field trips are led by Nanoose Naturalists and Arrowsmith Naturalists. The seasonal bird checklist for Parksville-Qualicum Beach, created by Arrowsmith Naturalists, is available at the Parksville Visitor Centre.
8. Go Golfing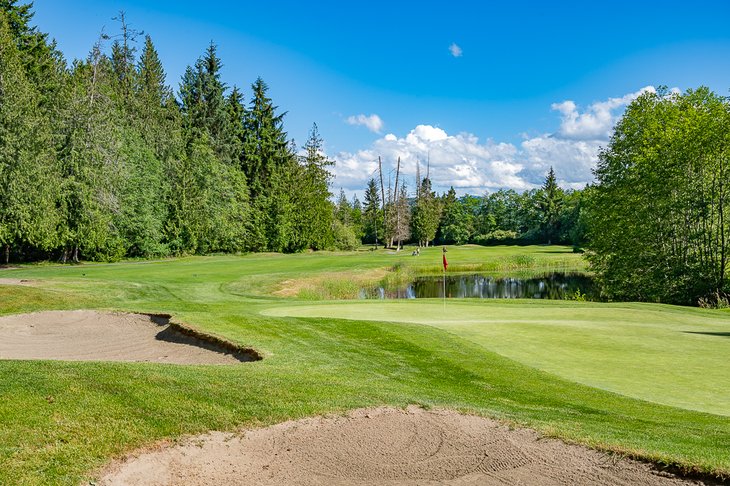 With seven golf courses in the area, Parksville-Qualicum Beach is known as the heart of the Vancouver Island Golf Trail. Here, you can play golf at a different set of fairways every day of the week.
Follow Highway 19A from east to west to a golfer's paradise that features more than 100 unique and challenging holes on the following courses: Fairwinds, Brigadoon, Morningstar, Eaglecrest, Pheasant Glen, Qualicum Beach Memorial, and Arrowsmith. Select one course - or golf all seven - and you are guaranteed a game in one of the most comfortable Canadian climates, with ocean, mountain, or temperate forest views at every tee.
Parksville's most established 18-holer is Morningstar Golf Course (opened in 1991). Morningstar and nearby Fairwinds and Pheasant Glen are three of the 11 public Vancouver Island courses with a four- to five-star rating by the Where-2-Golf guide. Adding to the roster of golf courses is the nine-hole Qualicum Beach Memorial Golf Course that opened in 1913, reigning as Canada's fourth oldest course.
9. Brant Wildlife Festival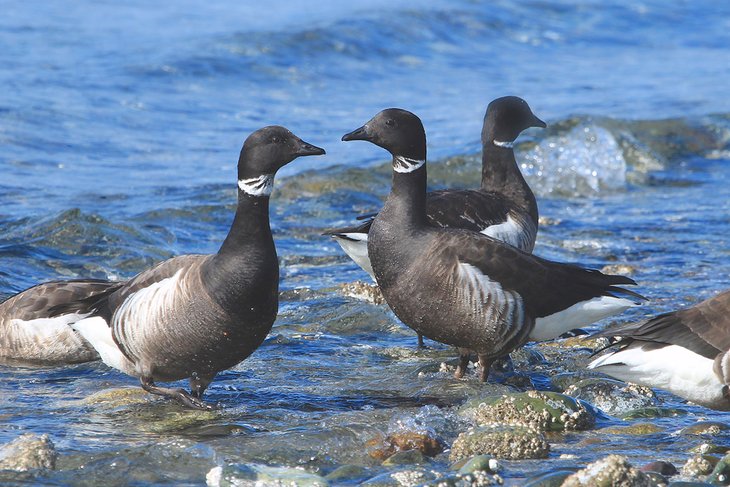 Parksville-Qualicum Beach rolls out the red carpet for a gaggle of feathered visitors each April - Pacific Black Brant (aka "little sea geese"). The geese arrive by the thousands during one of the longest bird migrations in the world.
While human admirers come with high-powered binoculars, spotting scopes, and camera lenses, Brant geese are oblivious to all the fuss and have only one thing on their mind: Eelgrass. The rich beach and estuary habitats of eelgrass are the Brant's favorite place for takeout before flying to the most northerly nesting location of any goose species.
The Nature Trust of British Columbia (with help from local organizers and volunteers) hosts the Brant Wildlife Festival to celebrate this small but mighty goose. Festival activities for all ages and interests include: guided wildlife viewing and river walks, nature camps, and art exhibitions.
Official site: https://brantfestival.bc.ca/
10. Dive into Water Adventures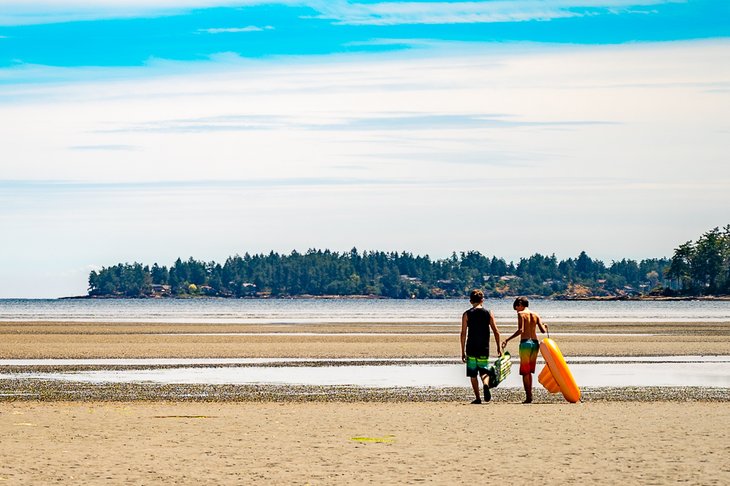 How many water activities can you enjoy in Parksville? Let's count the ways: Swimming, sea kayaking, stand up paddleboarding . . .
No need to go to great lengths if you want to swim or go paddling in Parksville. Rathtrevor Beach is particularly inviting for supervised children to enjoy their first experience of the ocean. There are also popular swimming holes in the Englishman River where you can cool off after hiking or biking.
Skimboarding and stand up paddleboarding enthusiasts head to Parksville Bay. If you want to have a go as a newbie, equipment rentals can be arranged through outfitters in Parksville.
Anglers head to nearby lakes and rivers for trout fishing. For ocean fishing, French Creek Marina, four kilometers northwest of Parksville, is the best place to visit. A public boat launch is next to the federal dock and ferry to Lasqueti Island. If you don't catch your own, buy halibut, salmon, cod, or shellfish at the French Creek Seafood Retail Store.
11. Visit the Parksville Museum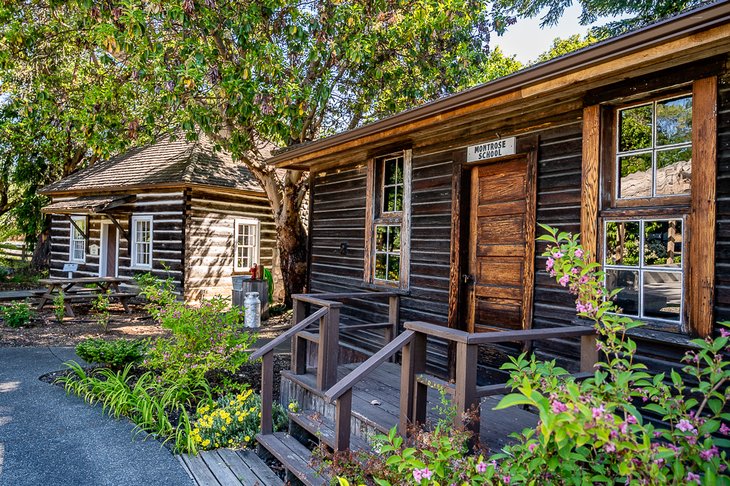 Conveniently located off the Island Highway next to the visitor center, Parksville Museum is your gateway to experiencing the history of the city and nearby communities: Coombs, Errington, French Creek, Hilliers, Nanoose Bay, and Lasqueti Island. By appointment, you can access the museum's extensive archives. This resource includes maps, photographs, newspaper clippings, and genealogical surveys dating to the first settlers in the late 1800s and the second wave of "new" arrivals during the early 1900s.
With seven rustic buildings relocated on-site for the convenience of your visit, this living history museum provides a sense of community life for Parksville's pioneers. In addition to buildings constructed by settlers, there's an outdoor exhibit of historic logging and agricultural tools.
Plan to be there on a Saturday during the summer to watch artisans heat, hammer, bend, and cut metal into useable objects. Traditional Japanese-style swords are also forged in the blacksmith shop.
Address: 1245 East Island Highway, Parksville, British Columbia
Official site: parksvillemuseum.com
12. North Island Wildlife Recovery Centre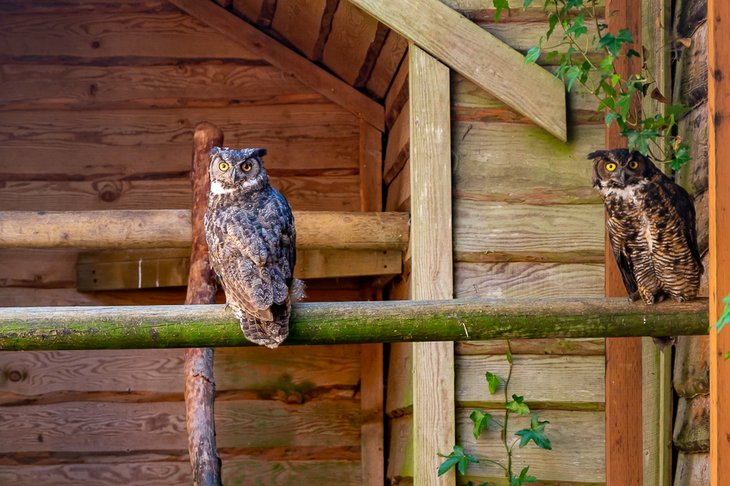 North Island Wildlife Recovery Centre is home to resident birds and animals that are non-releasable (which you can actually see) in addition to wildlife that will be returned to the wild (not available for viewing). Visit the Museum of Nature for interactive learning about birds and bears that are rehabilitated each year. Go bird-watching at the Native Wildlife Garden with special attention to the ponds that are magnets for birds.
Rehabilitation of sick, injured, and orphaned wildlife is a time-consuming and costly process. The care team at the recovery center is led by a veterinarian supported by a small group of staff, interns, and more than 80 volunteers. Whenever you buy gift items from the store, you're also contributing to the center in Errington, located 5.5 kilometers from Parksville.
Address: 1240 Leffler Road, Errington, British Columbia
Official site: niwra.org
13. Take the Kids to the Amusement Parks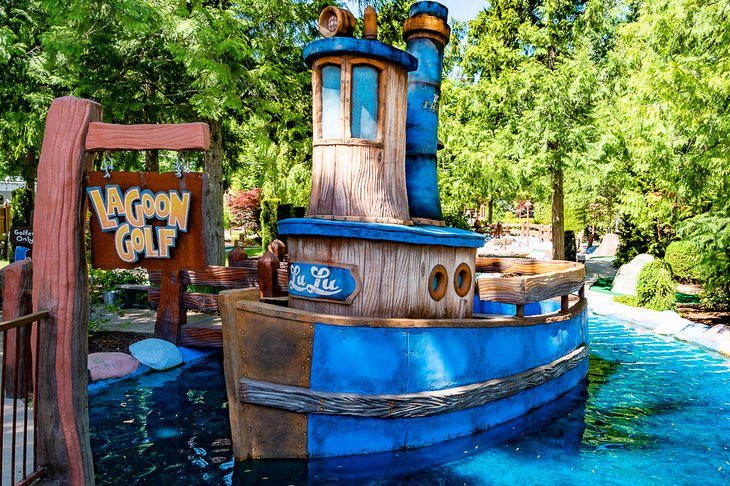 As a bustling tourism hub, Parksville's amusement parks add fun and adventure into the mix of your family holiday. In downtown Parksville, you're within splashing distance of Paradise Mini Golf and Fun Park. Try the water version of bumper cars - you are guaranteed to laugh out loud from wave after wave of smashups. With two 18-hole mini-golf courses ready to test your putting skills, Paradise Mini Golf will keep you amused for hours.
If you're camping at Rathtrevor Beach Provincial Park, the Riptide Lagoon Adventure Park is right next door. This is a dreamscape for mini-golf enthusiasts, offering two artfully designed 18-hole courses. Bump it up a notch by riding in one of Riptide's laser tag bumper cars. Still have energy to burn? More fun awaits in the arcade.
For high-gear activity, head to Fast Time Amusements, located less than six kilometers from town. When you're ready for a break between races, try your hand at archery and axe throwing.
14. Cheer on the Team at Volleybash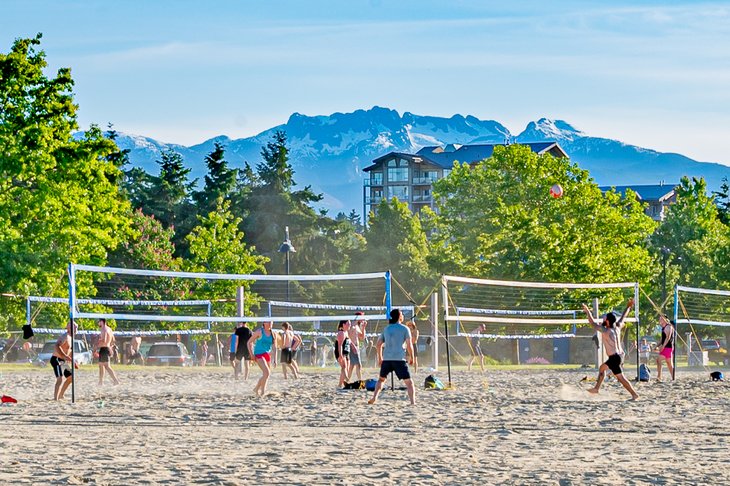 Making the best of its scenic splendor, Parksville celebrates what comes to it naturally. Many annual celebrations take place in Parksville Community Park on Parksville Bay: Canada Day, the Van Isle Show & Shine vintage car show, Kitefest, and Kidfest. It also motivates people from around the world to play in the island's biggest sandbox at Volleybash.
For almost 30 years, Parksville has hosted an international beach volleyball tournament. Volleybash is a three-day competition featuring more than 100 teams challenging each other on hot sand stretched over 32 courts and a center-stage court. It's an event that sends a serious shout-out to summer.
With tunes pumping and teams into the groovy mix of fun and competition, you'll feel in your element as a spectator dressed in a sunhat and Ray-Bans. Slather on the sunscreen and bring something cool to sip on, because it's going to be hot on and off the court!
Official site: http://volleybash.ca/
Where to Stay in Parksville for Sightseeing
Luxury Hotels:
Gazing down upon the golden sands of Parksville Bay like an eagle, The Beach Club

Resort

is at the center of Parksville's leisure universe. It offers the most luxury of any hotel in Parksville, with every amenity and service you desire under one roof. With one- and two-bedroom residential-style suites and adjoining studios, this resort adds versatility whenever you want to add more people to share your beach time experience.
On Rathtrevor Beach, Tigh-Na-Mara

Resort

is the best known hotel in the area, and its elevated reputation has been maintained during many decades of service. Set on almost nine hectares of mature forest, distinctive log-frame rooms satisfy your need for seclusion and relaxation. Every creature comfort you can imagine is close by: unique dining experiences, a top spa, indoor pool, whirlpool, sauna, fitness facility, outdoor multi-sport court, and an extensive recreation program.
Mid-Range Hotels:
If you prefer a less woodsy setting with oceanfront access, Sunrise Ridge Waterfront

Resort

next door to Tigh-Na-Mara provides commodious one-, two-, and three-bedroom units in a low-rise condominium complex on 10 sunny acres. All feature contemporary décor, sumptuous amenities, and well-appointed residential kitchens with full-size gas BBQs. An outdoor pool with fitness facility is centrally located. On cool evenings, reserve the covered outdoor fireplace for a night of "s'mores" and cozy ambience in front of a roaring fire.
The best mid-range beachfront hotel in the downtown area is Bayside Resort

Parksville

. Part of the Ascend Collection, the Bayside gives you a front row seat to unsurpassed views of Parksville Bay, whether from your standard bedroom or the expansive multilevel restaurant and upscale sports lounge. Soak in the sunshine or under cover in Bayside's indoor-outdoor pool and hot tub facility. Into racket sports? This hotel comes with its own squash court.
Budget Hotels:
Two affordable properties downtown provide a comfortable stay in a central location only steps from Parksville Bay. Providing some amenities of a mid-range hotel, Travelodge by Wyndham

Parksville

will feed you a complimentary breakfast before you head out for the day. You can also look forward to relaxing in the hotel pool and hot tub after a workout in the on-site fitness room.
The ever-popular VIP

Motel

next to the Travelodge is suitable for travelers who prefer immediate access to the car outside their room. With kitchenettes in every unit and free use of common BBQ and laundry facilities, this motel offers a restful sleep year-round.