11 Best Campgrounds near Vancouver, BC
Surrounded by mountains and the ocean, it's easy to get the itch to escape into the great outdoors when you're spending time in Vancouver but it's a little trickier to find a place to pitch a tent. While there aren't any campgrounds in the city itself, there are plenty of great options for camping close to Vancouver. We've narrowed down the best campgrounds near Vancouver to satisfy your craving for an outdoor adventure.
All these campsites are located within two hours of the city – several can be accessed in just one hour's drive. The right fit for you depends on where you want to go: you might head up the Sea to Sky Highway towards Squamish, you could catch a ferry to the Sunshine Coast, or you can pack up and go east to the Fraser Valley. Decisions, decisions. . . .
The campsites on this list offer a wide range of extras and amenities. On the far end of the scale, there are wilderness campsites that require a backcountry hike to access – don't expect any frills here. On the other hand, many of the campgrounds offer RV sites with full hookups, laundry facilities, hot showers – and even Wi-Fi. It all depends on the type of experience you're seeking.
Regardless of which campground you pick, be prepared to reserve your campsite well in advance – especially if you're planning on visiting in the summer. Vancouver is a city full of outdoor enthusiasts and after a long, dark, rainy winter, people are more than ready to spend a night under the stars.
For best results, always plan ahead, and research your options with our list of the best campgrounds near Vancouver.
1. Porteau Cove Provincial Park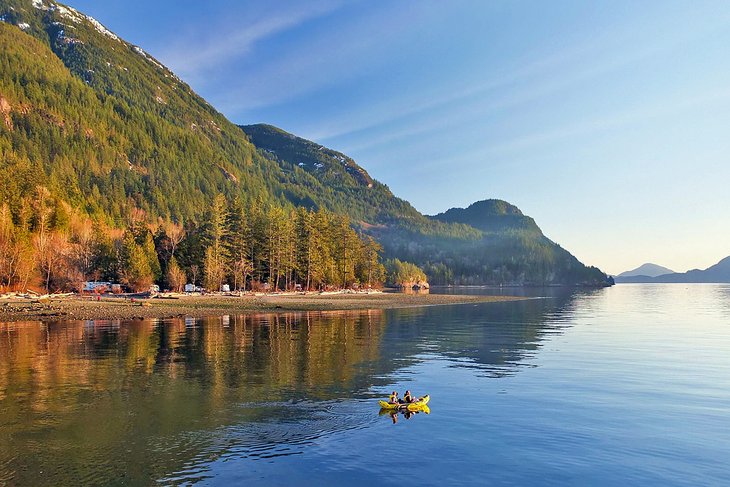 Porteau Cove Provincial Park is located a 45-minute drive away from Vancouver, via the scenic Sea to Sky Highway. Overlooking Howe Sound, Porteau Cove is a popular pick for boaters and scuba divers itching to get out on the water.
It's also a good bet for campers looking to pitch a tent close to home – if disaster strikes (think a hole in your tent on a rainy night or young child who refuses to fall asleep), it is only a quick car trip to get back to the city.
Porteau Cove features 60 front-country campsites, all of which can be reserved ahead of time.
There are two Olympic Legacy Cabins that can be booked: these log cabins come complete with a kitchenette and en-suite bathroom, each accommodating up to four people.
There is also a single campsite that can accommodate an RV – plan accordingly if you hope to nab this lone site.
Though the campsite is open year-round, its proximity to Vancouver makes it very popular in the summer months. As such, a seven-day stay limit has been imposed to ensure that everyone gets a chance to camp.
And though it is close to the city, the campground is tucked away from the city lights – the lack of light pollution will reveal a dazzling starry sky on a clear night, so be sure to poke your head out of your tent every now and again.
Official site: http://www.env.gov.bc.ca/bcparks/explore/parkpgs/porteau
2. Sunnyside Campground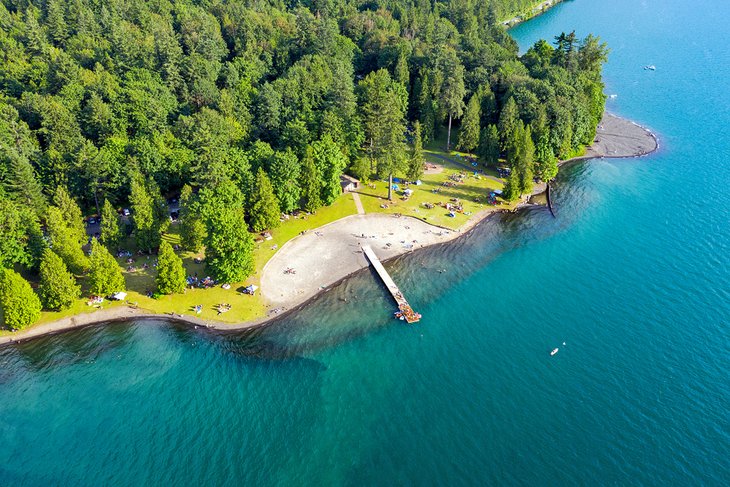 Many Vancouverites have made the pilgrimage to Cultus Lake an annual summer tradition, and for good reason: the wide-open lake, nestled among forests and mountains, is the perfect retreat from the city. Just a 100-kilometer drive from the city, Cultus Lake feels like it's eons away.
Sunnyside Campground is the official campground of Cultus Lake Park. It features a whopping 65 acres of campsites, some of which are right on the water and many offering spectacular views.
The family-friendly campground is super central – you can park your car and forget about it, since you can walk to the nearby water park, a mini-golf course, hiking trails, and – most importantly – ice-cream shops.
There are hundreds of campsites, from tenting sites to RV sites to group camping areas. The campground offers boat rentals, playgrounds, laundry facilities, and a whole lot more. Even your four-legged friends are welcome – there are actually pet-designated swimming areas at the lake!
Official site: https://www.cultuslake.bc.ca/sunnyside-campground
3. Alice Lake Provincial Park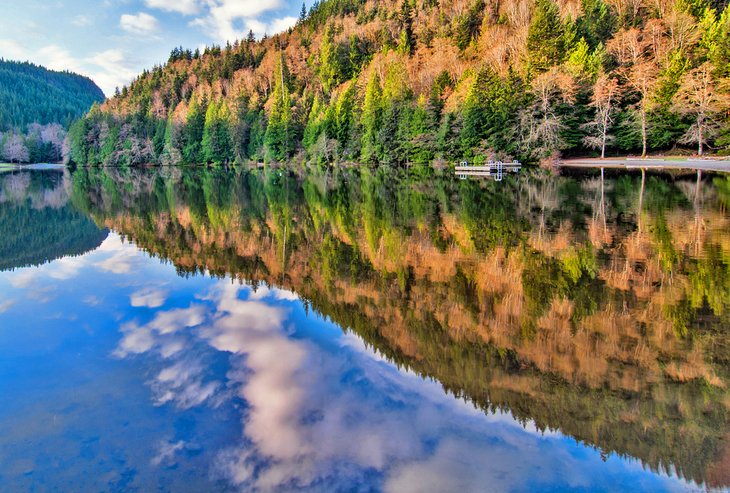 Located just north of Squamish, Alice Lake Provincial Park features a sprawling network of trails, four sparkling lakes, and plenty of extra amenities, making it one of best places near Vancouver to pitch a tent.
A paved road leads directly to the 96 vehicle-accessible campsites, which are a stone's throw from Alice Lake – a great spot for a swim, canoe, or paddleboard. There are also 11 double sites and two large group camping areas.
Looking for electrical hookups? One of the group sites and 55 of the regular campsites offer electrical services. All the campsites are nicely shaded – a perk on a hot summer day.
4. Mount Seymour Provincial Park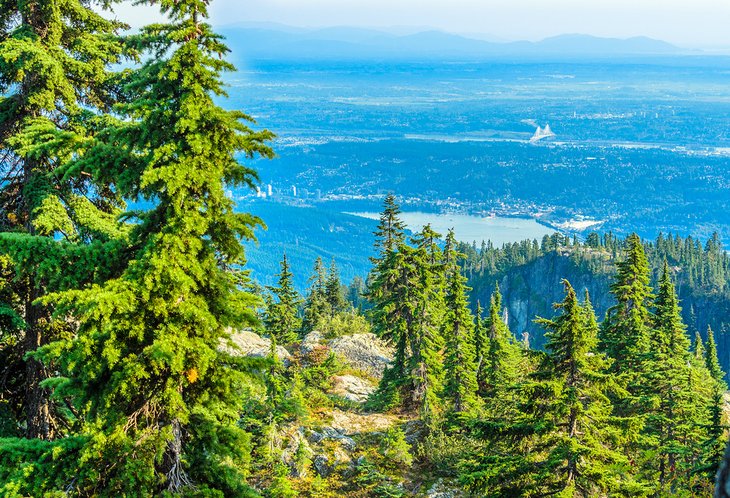 At just half an hour from Vancouver, you'll be hard-pressed to find a campsite that's closer to the city than Mount Seymour Provincial Park. If you're looking to car-camp, then this isn't the place for you – but if you're looking to head into the backcountry for an escape from the city, then you'll be happy to hear that there are plenty of opportunities to do just that at Mount Seymour.
Campers can pitch a tent within park boundaries, north of Brockton Point. There are no formally designated campsites, although campers should look to pitch their tents in areas that will not cause any environmental damage.
Obviously, the lack of formal campsites means there isn't much in the way of amenities, aside from the regular toilets available to all park users – and campfires are prohibited in the backcountry.
5. Golden Ears Provincial Park
Just over an hour east of Vancouver, Golden Ears Provincial Park is a popular option for those looking for a heaping dose of Mother Nature close to Vancouver. Offering plenty of hikes spanning all levels of difficulty, canoe and kayak rentals, swimming areas, and beaches for lounging, there's lots to do, see, and explore at Golden Ears Provincial Park.
While a day trip to the park is fun, an overnight camping trip is even better. Golden Ears Provincial Park has several options for camping. Three different areas offer vehicle-accessible camping: Gold Creek, Alouette, and North Beach. Campsites should be reserved ahead of time (especially in the summer), and reservations are limited to a maximum of 14 nights per calendar year per person, so don't get greedy! There are also two group camping sites that can accommodate 15-50 people.
In addition to the three campsites listed above, there are several designated wilderness backcountry camping sites that can be accessed by hikers via trail, or by boaters on the water. There are a limited number of campsites here, and all campers must obtain a backcountry camping permit ahead of time before pitching a tent. Some of these sites have pit toilets, but campfires are never permitted in the backcountry.
Official site: http://www.env.gov.bc.ca/bcparks/explore/parkpgs/golden_ears
6. Sasquatch Provincial Park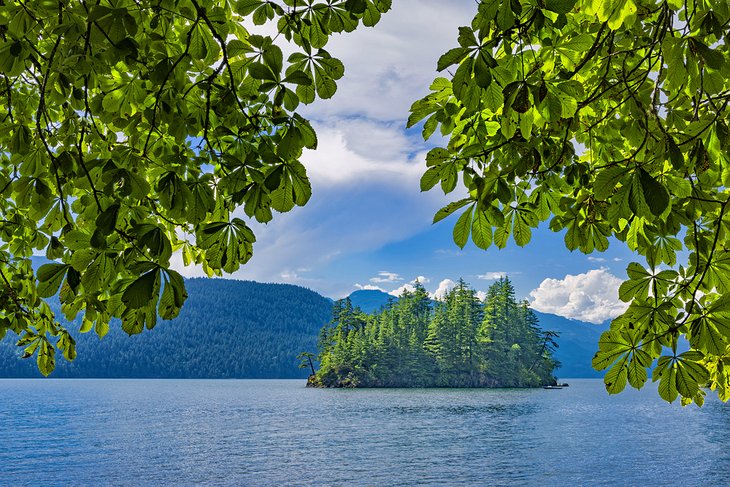 Roughly two hours away from Vancouver, Harrison Hot Springs isn't just a fancy resort town – it's also home to Sasquatch Provincial Park, a scenic park known for its lakes, which are popular for motorboating, canoeing, and fishing (rainbow trout and brook char, anyone?).
There are three different campsites at Sasquatch Provincial Park: Hicks Lake, Bench, and Lakeside (Deer Lake), each offering vehicle-accessible campsites. Some sites can be reserved ahead of time, while others are held on a first-come, first-served basis. Hicks Lake also offers a group campsite for groups of 15-40 people.
7. Porpoise Bay Provincial Park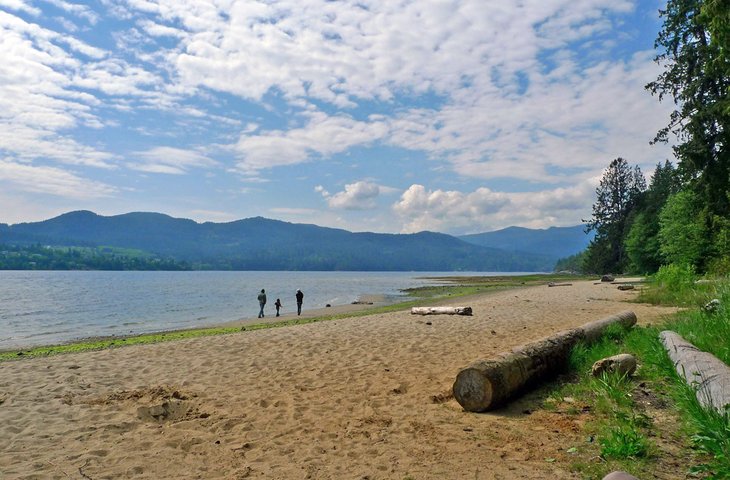 The Sunshine Coast is one of the best places to escape from the city: a 45-minute ferry ride away from Horseshoe Bay, it is close enough to be convenient, but far enough to feel like a true vacation.
One of the best places to camp on the coast is at Porpoise Bay Provincial Park, which features both car-access campsites and an open cyclist-only camping area (which is also open to backpackers/hikers). One of the campsites is wheelchair-accessible, and a group campsite offers additional camping for 15-50 people.
The campsites feature taps for drinking water, communal fire pits, flush and pit toilets, and showering facilities. Some campsites can be reserved ahead of time, while others are set aside to be occupied on a first-come, first-served basis.
The park's best feature is its proximity to hiking trails, sandy beaches, and the Sechelt Inlet (swimmable in the summer months, at least). There is plenty of space to stretch out, run around, and enjoy a few days outside.
Official site: http://www.env.gov.bc.ca/bcparks/explore/parkpgs/porpoise
8. Rolley Lake Provincial Park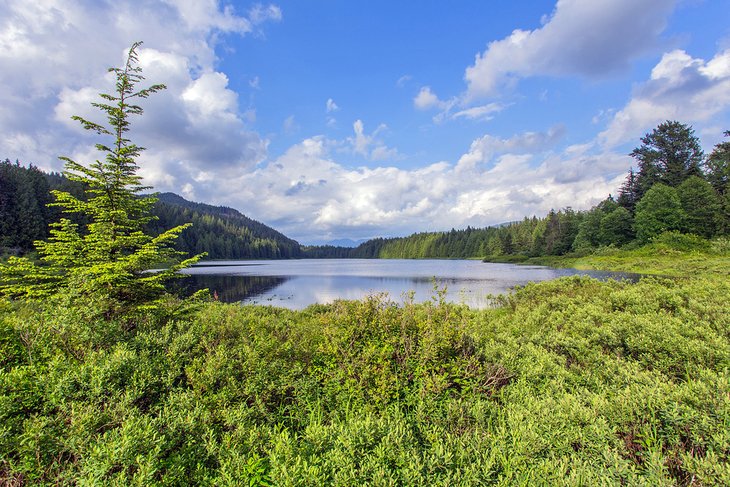 Open seasonally to campers, Rolley Lake Provincial Park is roughly an hour from Vancouver and boasts 64 forested campsites. The camping is just a few minutes away from Rolley Lake, where campers (and day visitors) can swim and lounge on the sandy beach, fish (with a permit, of course), and canoe in the water. Since the lake doesn't permit any kind of motorized craft, the area is delightfully peaceful.
Each campsite is outfitted with a campfire ring (though check to make sure there aren't any fire bans in place), with drinking water available from taps throughout the campground. Rolley Lake is home to both flushing toilets and hot showers. There's also a playground for the kids to enjoy.
9. Say Nuth Khaw Yum Arm Provincial Park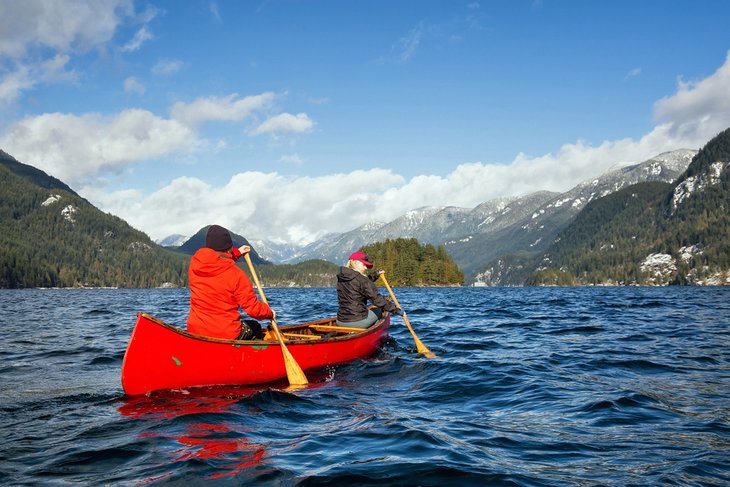 Formerly known as Indian Arm Park, Say Nuth Khaw Yum Provincial Park can only be accessed by water via the Indian Arm fjord, typically by powerboat or kayak. There are waterfalls, hiking trails, and alpine lakes to explore, making this park the ideal getaway.
There are campsites throughout the park, including on the south side of Bishop Creek, at South Granite Falls and South Granite Campground, at the South Bishop Campground, and at the North Twin Campground. Note that camping is prohibited on both South Twin Island and Racoon Island, nor is it allowed on the north side of Granite Falls, near the BC Parks dock.
Amenities are pretty rustic: there are pit toilets, but campfires are never allowed in the park, nor is there any running water – you'll have to collect water from the creeks, which must be treated and which may not be available in drier months.
10. Fort Camping
If you're looking for a place to camp with your RV, look no further than Langley's Fort Camping. Located on the Fraser River, Fort Camping offers 156 campsites, several of which are suitable for large RVs with full hookup.
All 156 sites offer 30 amp electricity and water, and for those who don't want to totally disconnect, Wi-Fi is available. There's also a group campsite that can accommodate up to 30 campers, as well as five large family tent cabins, each of which can accommodate five people.
Fort Camping offers all the bells and whistles, from a camp store and on-site café to laundry facilities and bike rentals. Best of all, the campsite is connected to walking trails and provides beach access, allowing for lots of outdoor play.
Official site: https://www.fortcamping.com
11. Vedder River Campground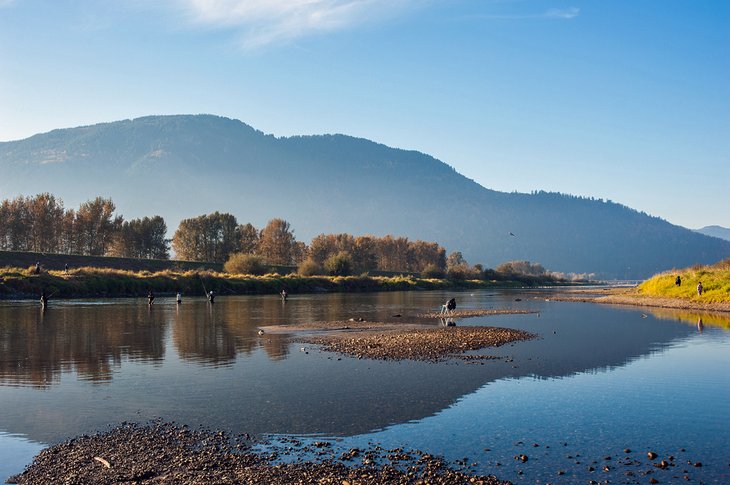 Just 10 minutes from Cultus Lake is another great campground: Vedder River Campground in Chilliwack. Open seasonally from early June to early November, Vedder River Campground is located on the banks of the beautiful Vedder River, offering campsites for tents, trailers, and RVs.
There are plenty of extras at the campground, including laundry facilities, picnic tables, and an on-site store. Kids will love exploring the playground and playing a round of horseshoes.
More Related Articles on PlanetWare.com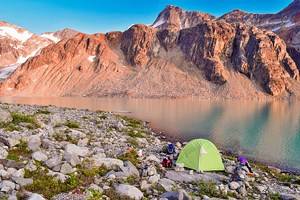 More Camping in British Columbia: Also within striking distance of Vancouver are the campgrounds around Whistler. If you want to head over to Vancouver Island, you can find good campgrounds near Victoria and Tofino. For camping around other towns and in more remote areas, see our list of the best campgrounds on Vancouver Island.