13 Top-Rated Hikes near Vancouver, BC
Though it has its fair share of vibrant neighborhoods and cultural attractions, Vancouver is perhaps best known for its jaw-dropping natural surroundings. Mountains frame the downtown skyscrapers. Parks and green spaces, small and large, are scattered throughout the city, so that you're never too far from fresh air and leafy trees. Nine beaches offer a range of vantage points for taking in the sunset over the Pacific Ocean.
It's safe to say that Vancouver offers the best of both worlds: urban living with quick access to nature–and lots of it. Whether you're a long-time local, a newcomer, or in Vancouver for a quick visit, you never have to look far to satisfy your craving for an outdoor adventure. With sturdy footwear on your feet and a bag packed with the requisite gear and safety items, all that is left to do is to find the right hiking trail.
There's a hike for just about everyone in or around the Vancouver area, from easy and accessible trails right in the city to grueling workouts that are quickly accessed by transit and full-day treks just a short road trip away. For ideas on where to go, see our list of the best hikes near Vancouver.
1. Stanley Park, Vancouver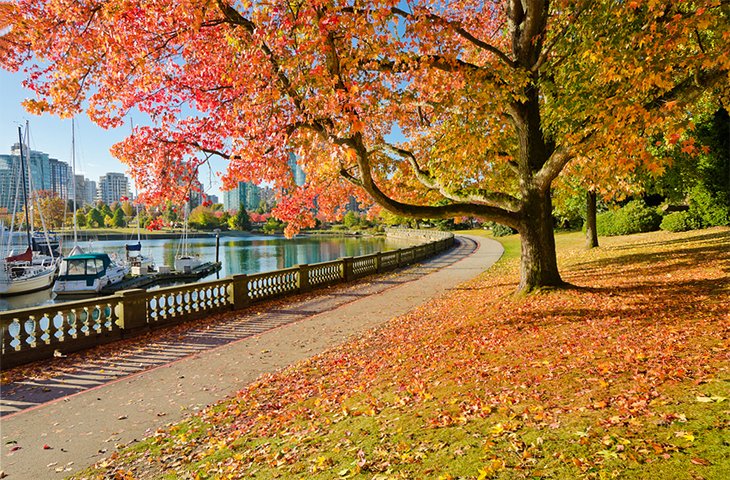 For a heaping dose of nature right in the heart of downtown Vancouver, head west towards the world-renowned Stanley Park. The 1,001-acre park features over 27 kilometers of trails. Winding through forests of hemlock, cedar, and fir, these flat, mellow trails offer a unique way to explore Stanley Park that simply cannot be experienced by car.
Bridle Path crosses through the middle of the park, linking up with several other trails. Lake Trail takes you east towards the Beaver Lake Trail, which loops around Beaver Lake. A detour on Lovers Walk leads west towards Ferguson Point and Third Beach.
Continuing onto Prospect Point Trail takes you all the way out to Prospect Point at the north end of the park, offering one of the best views of the city. Choose your own adventure!
2. Pacific Spirit Park, Vancouver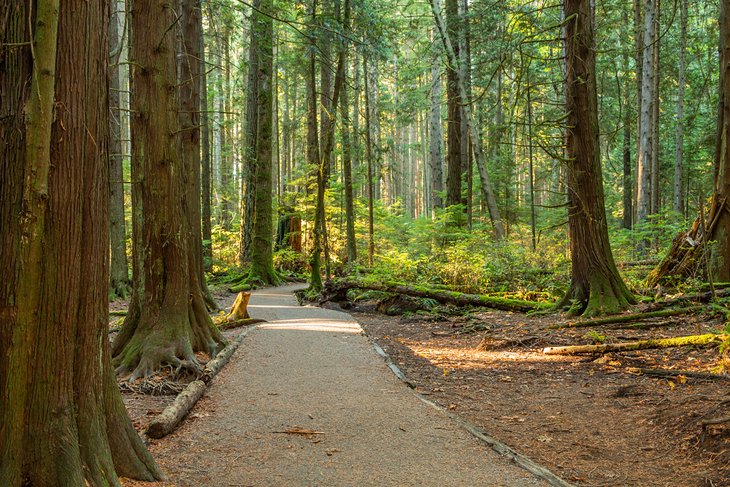 Stanley Park isn't the only massive green space that Vancouver has to offer. At nearly double the size of Stanley Park, Pacific Spirit Park offers 1,885 acres of forest and trails, buffering the University of British Columbia campus from the rest of the city.
Over 50 kilometers of trails take you through towering evergreens that remain lush no matter the time of year. The trails can be accessed from several different points–a good place to start is at 29th Avenue and Imperial Road, which accesses mostly flat, non-technical trails with names that reflect local flora and fauna, like Huckleberry, Hemlock, and Deer Fern.
Though more of a walk than a hike, the trails of Pacific Spirit park are great for all levels of ability and for those who don't have time to head out of town but still want to experience the magic of the West Coast's famous forests.
3. Burnaby Mountain, Burnaby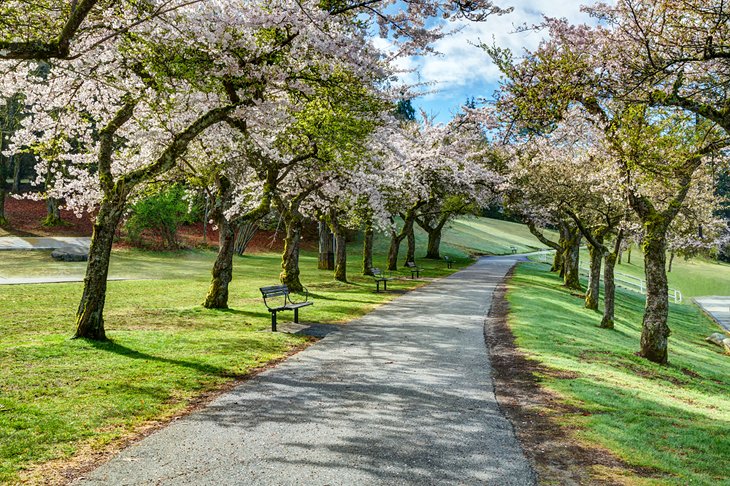 Just east of Vancouver sits Burnaby Mountain, a popular spot for locals and students at the nearby Simon Fraser University who are looking for a quick adventure close to home.
The 1,423-acre conversation area offers 26 different trails that are shared between mountain bikers and hikers (and, of course, the local wildlife). At 366 meters, the mountain summit is just high enough to get your heart pounding, but the trails on Burnaby Mountain are, for the most part, suitable for novice hikers.
A popular loop links seven trails together: Gear Jammer can be accessed from the SFU campus, which connects onto Mel's Trail. Continue on to Dead Moped and onto Power Line Trail, then take the easy Pipeline Trail onto a more challenging Nicole's Trail.
Finish by taking Poplar trail, then it's a short walk back to the start at Gear Jammer. This loop features a mix of terrain, climbs about 250 meters, and covers just over five kilometers of distance–perfect for hikers hoping to experience the best of Burnaby Mountain.
4. Lighthouse Park, West Vancouver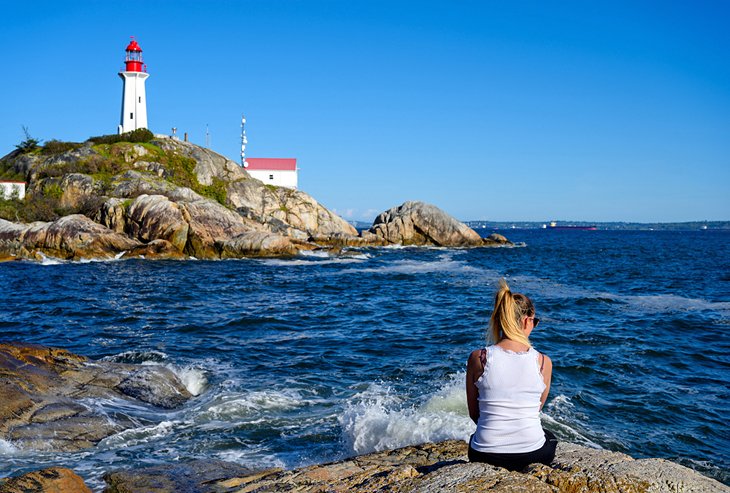 Cross the Lion's Gate Bridge to discover the trails of West Vancouver (which, despite its somewhat confusing name, is an entirely distinct town that is not part of the city of Vancouver).
West Van's Lighthouse Park features a series of groomed trails leading to the monumental Point Atkinson Lighthouse, which offers exceptional views of the Vancouver city skyline across the Burrard Inlet. With non-technical trails and little gain or loss in elevation, the trails of Lighthouse Park meander through a forest of stately Douglas fir trees and provide major reward for relatively little effort.
The lighthouse can be accessed in as little as 10 minutes by taking the direct Beacon Lane Trail, or you can opt to take your time wandering through the park's numerous other trails.
5. Lynn Canyon Park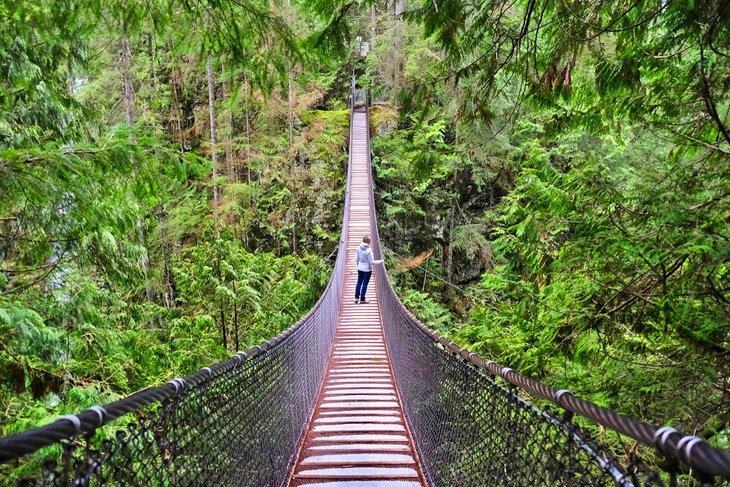 Another good choice for a variety of short hikes is Lynn Canyon Park, in North Vancouver, which combines hiking trails with several attractions. The primary goal of most hikers is the 50-meter-high Lynn Canyon Suspension Bridge that swings (be prepared for some vertigo) over a canyon and the rushing river that carved it.
But hikers will find a lot more, from leisurely strolls to rugged sections of the 48-kilometer Baden Powell Trail. Stop at the Ecology Centre for a trail map, or download it from the park website.
The 30-foot pool, approached by a short trail, is popular for swimming and picnics. You'll find more solitude on a hike to Twin Falls, where you get a beautiful view of a waterfall and large pool below from the Twin Falls Bridge. Or follow the trail down for water-level views.
An easy riverside trail leads to Lynn Headwaters, or you can walk the entire perimeter of Rice Lake. It will take less than two hours to hike the section of the Baden Powell Trail that crosses the park.
Official site: https://lynncanyon.ca/trails
6. Quarry Rock, Deep Cove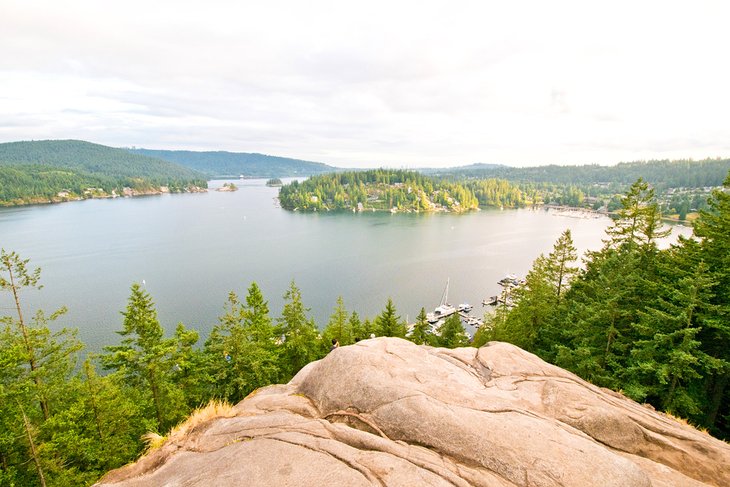 A sweeping view over Deep Cove and its surrounding forests rewards hikers on the Quarry Rock Trail. That's a lot of view for a 3.8-kilometer round trip hike that climbs only 100 meters in altitude.
This short-but-sweet trail travels through deep forest, with wooden stairs and walkways traversing the roughest spots and crossing a mountain stream. Despite a few rocky areas, the trail is an easy one, suitable for all experience levels. At the top, you step out onto a smooth rocky overlook above Deep Cove and Indian Arm.
Less than 20 kilometers from Vancouver, Quarry Rock Trail is part of the 48-kilometer Baden Powell Trail, which crosses the mountains between Horseshoe Bay in West Vancouver and Deep Cove in North Vancouver.
7. Grouse Grind, North Vancouver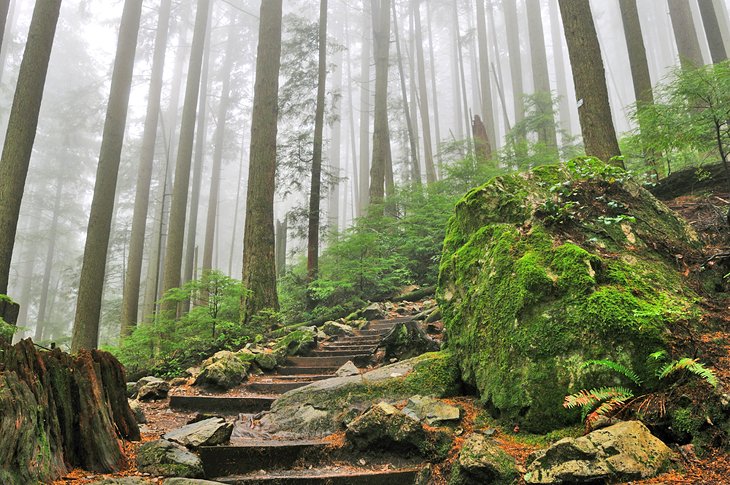 Mention the Grouse Grind to any Vancouver local, and you're sure to get a passionate response–either a good one or a bad one, depending on how they fared on "Mother Nature's Stairmaster."
The Grouse Grind is, well, a grind. You put your head down and tackle the steep, relentless trail, occasionally looking up to observe the sights and smells of the forest before trekking onwards and upwards. The Grouse Grind may only be 2.9 kilometers in length, but it climbs 850 meters–in other words, it is steep.
The Grind takes you to the top of Grouse Mountain, which has plenty to explore, from wildlife refuges to lumberjack shows. Downloading by gondola is mandatory, so bring money for the trip back down.
Although the Grouse Grind is practically a rite of passage for Vancouverites, make no mistake about it: this is a challenging, very technical trail that should only be attempted by well-prepared hikers in good physical shape. Though many people hike it every day, it's still the wilderness. Be prepared, wear the right gear, and abide by posted rules and seasonal closures.
8. Norvan Falls, North Vancouver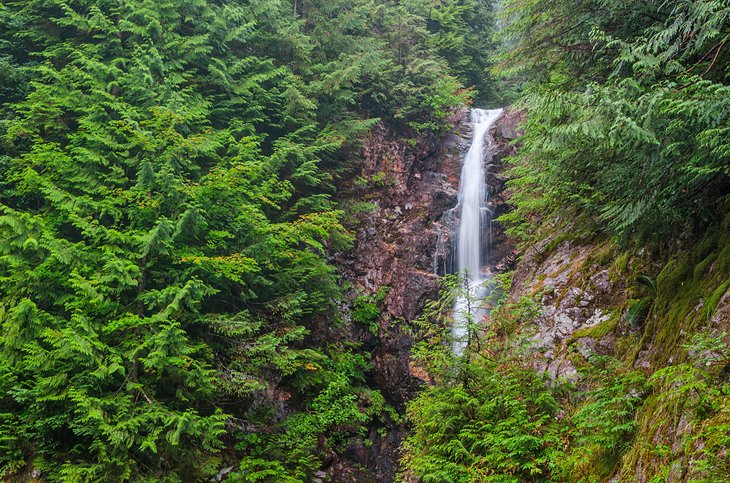 Hikers looking for a longer adventure that offers plenty of bang for its buck should look no further than the hike to Norvan Falls in North Vancouver's Lynn Headwaters Regional Park. The 14-kilometer round-trip trail allows you plenty of time to marvel at the stunning surroundings: cedar trees stretching towards the sky, streams weaving their way alongside the trail, and viewpoints along the river, to name a few.
The true attraction is the rushing Norvan Falls waterfall, cascading down into the creek below and enveloped by dense, impossibly green forests.
Though the hike is on the longer side, the total elevation gain is under 200 meters, making it a moderately difficult option compared to many other hikes in the area, which often involving climbing up a mountain.
If you're looking for a day hike with plenty of upside that doesn't require summiting a mountain, Norvan Falls is a great choice.
9. St. Mark's Summit, West Vancouver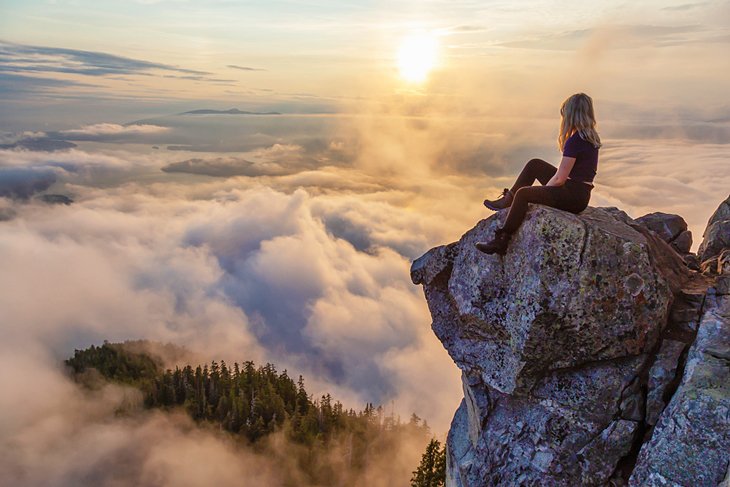 If you're hungry for the type of satisfaction that can only be satiated by standing on a mountain's peak, head to St. Mark's Summit at Cypress Mountain in West Vancouver.
The trail starts off relatively easy, but don't get too comfortable: the difficulty increases noticeably as you make your way towards the summit along a steep, technical trail.
The total elevation of this hike is about 460 meters, but the trailhead starts much higher up than that, so you'll definitely feel like you're on top of the world. The trail is generally well maintained, just be prepared to get a little muddy and sweaty–but those views at the top will make it worth the while.
At roughly 11 kilometers in distance, St. Mark's Summit is best hiked in the summer months on a clear and sunny day. Start early, as you likely won't be the only one chasing the summit in good conditions. Weekdays tend to be less crowded than weekends.
10. Diez Vistas, Anmore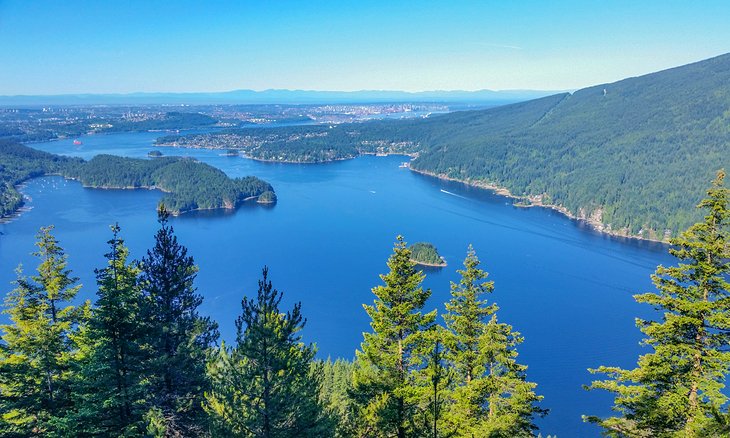 "Diez Vistas" means "Ten Views" in Spanish–and that's how many viewpoints you have to look forward to on this gorgeous hike at Buntzen Lake. In fact, consensus is that there are way more than 10 epic lookouts along Diez Vistas capturing glimpses onto Deep Cove, the Indian Arm, Burrard Inlet, and even way out to Vancouver Island. You'll definitely want to take your camera along for this one.
Though only an hour or so from Vancouver, you'll quickly forget the hustle and bustle of city life on this 15-kilometer loop trail.
Diez Vistas is well-suited for intermediate hikers looking for a challenging but rewarding trek. Expect a decent climb, as you'll gain 440 meters in elevation over the course of the hike. The trail is well-marked, but keep your eyes on the path ahead of you, as there are plenty of technical root and rock sections that require you to stay light on your feet.
11. Dog Mountain, North Vancouver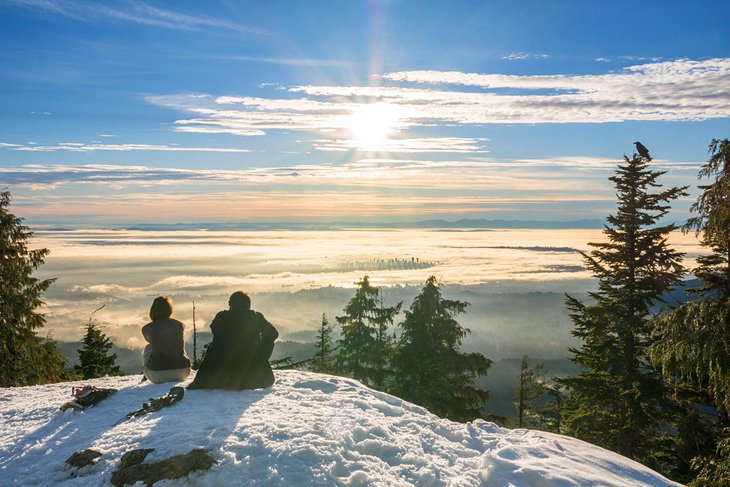 When you don't have time for a full day hike but you still want a bit of a challenge and some five-star views, make your way to Mount Seymour Provincial Park to tackle Dog Mountain. This hike is close to town and easy to access–which means it also tends to be popular in high season, so while the views are plentiful, be aware that the crowds can be, too.
At five kilometers return, this hike isn't particularly long, nor is it steep (it climbs less than 50 meters in elevation). But this technical trail features plenty of roots, rocks, and slippery mud to keep your mind–and feet–engaged. Suitable hiking footwear is a good idea on Dog Mountain.
On a clear day, views extend from Vancouver and Howe Sound all the way out to Washington State's Mount Baker. Not bad for a quick hike that can be squeezed in after work!
12. Mount Cheam, Fraser Valley (near Chilliwack)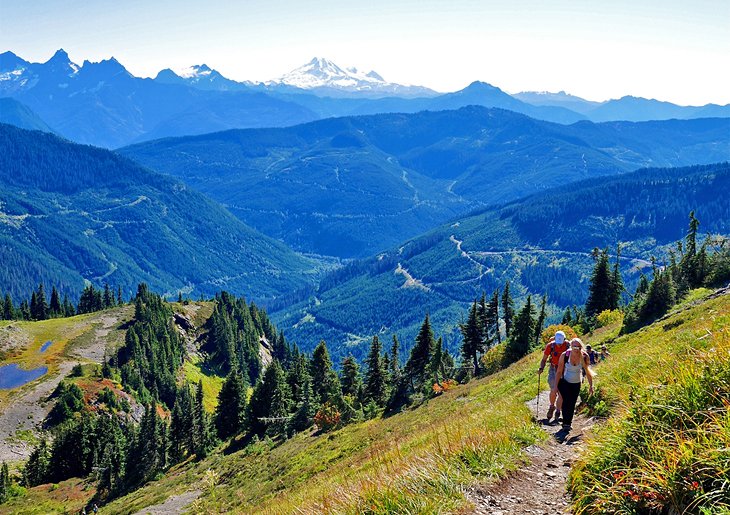 Not into crowds? No problem–venture a little farther out from Vancouver, and the throngs of fellow hikers tend to thin out. Choose a hike that requires four-wheel drive in order to get to the trailhead, and you're even more likely to find that blissful solitude you're seeking.
Chilliwack's Mount Cheam is the perfect intermediate level hike: 10 kilometers round-trip in length, 700 meters of total elevation gain, and that utterly satisfying feeling that comes with summiting a mountain, with picturesque views onto the Fraser Valley below, to boot.
Of course, you'll need a sturdy vehicle to get to the trailhead–and since we're talking about mountain peaks, you'll need to get to this hike in the summer or early fall months before it gets snowed over. Luckily, that time of year tends to offer the prettiest surroundings: think wildflowers and brilliantly green meadows.
13. The Chief, Squamish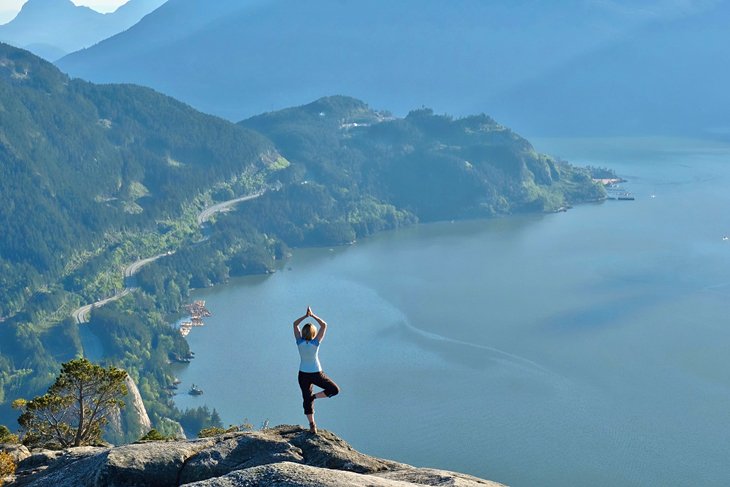 If you're a glutton for punishment (see: the Grouse Grind, above), then add the Stawamus Chief to your Vancouver-area hiking bucket list. It's a little over an hour from Vancouver to the easily accessible Chief trailhead, but you'll want to head up early on weekends, especially in the summer months, when parking can be tricky to come by as you compete for spots with rock climbers.
Yup, people rock climb the imposing granite face you see from the Sea to Sky Highway. Keep your eye out for them–although they'll likely resemble tiny ants from down below.
For those who prefer to climb up via trail and not rock, there is a well-maintained–though challenging–trail that takes you up to the top of the Chief. In fact, there are three peaks that can be conquered individually or all in one go. Each offers incredible–and distinct–vistas, so if you're up for a super-challenge, start early and make a point of visiting each one.
The first peak is a four-kilometer return trip, but like the Grouse Grind, the distance is deceiving. The two-kilometer climb results in an elevation gain of about 500 meters. Throw in the second and third peaks, and you'll add on roughly three kilometers (return) and more than 100 meters in elevation.
Map of Hikes near Vancouver, BC
Vancouver - Climate Chart
Average minimum and maximum temperatures for Vancouver, Canada in °C
J
F
M
A
M
J
J
A
S
O
N
D

6

0

8

1

10

3

13

5

16

8

19

11

22

13

22

13

18

10

14

6

9

3

6

1

PlanetWare.com
Average monthly precipitation totals for Vancouver, Canada in mm.

150

125

109

76

61

46

36

38

64

114

170

178

Average monthly snowfall totals for Vancouver, Canada in cm.

21

9

4

1

0

0

0

0

0

0

3

19
Average minimum and maximum temperatures for Vancouver, Canada in °F
J
F
M
A
M
J
J
A
S
O
N
D

42

32

46

34

49

36

54

40

61

46

66

51

71

54

71

55

65

50

56

43

48

37

43

33

PlanetWare.com
Average monthly precipitation totals for Vancouver, Canada in inches.

5.9

4.9

4.3

3.0

2.4

1.8

1.4

1.5

2.5

4.5

6.7

7.0

Average monthly snowfall totals for Vancouver, Canada in inches.

8.1

3.4

1.6

0.2

0

0

0

0

0

0

1.0

7.3
More Related Articles on PlanetWare.com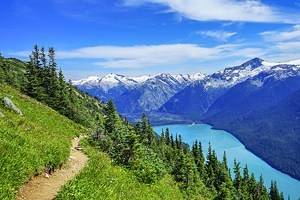 Nearby Hiking Trails: If you want to get a little more remote and have time to go further afield, consider taking a day trip up the Sea-to-Sky Highway. You can find more amazing hiking trails in Whistler and also in Squamish. Mountains, lakes, and wildlife, making this a beautiful area for hiking.