13 Top-Rated Things to Do in Langley, BC
The beauty of Langley, British Columbia is that it is actually two places in one. On the one hand, you have the township of Langley: a 308-square-kilometer district municipality with a storied past, playing a historic role in fur trading, the gold rush, and beyond. On the other hand, there's the tiny, 10-square-kilometer City of Langley — a vibrant urban center with plenty of things to do.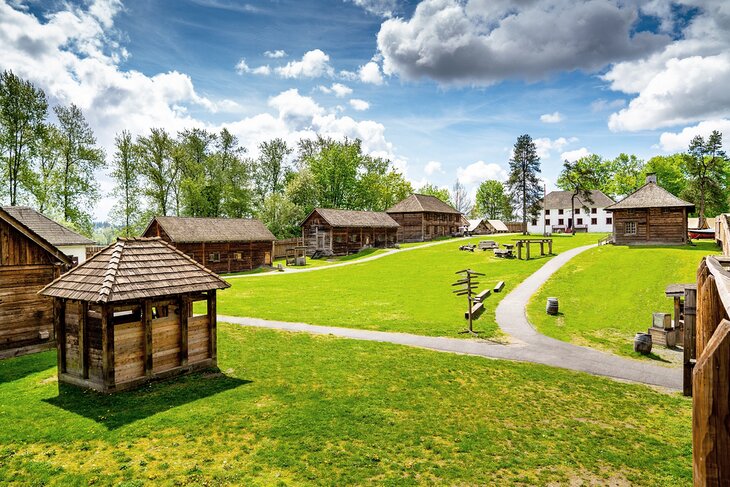 To truly experience the best of Langley, we recommend spending time in both the township and the city. When planning your itinerary, a great place to start is at the Fort Langley National Historic Site, where you'll get to explore the local history.
From here, check out a few of Langley's farms to learn about the community's agricultural side, sampling some farm-fresh fare along the way. Then, you can move into the city's downtown core to visit eclectic shops and restaurants, capping the day off with an energizing Vancouver Giants hockey game at the Langley Events Centre.
Some of the best tourist attractions in Langley are its smaller shops and museums — those that cater to niche interests, like old-fashioned telephone systems and all things aviation. The best way to learn something new is to talk to someone who is really passionate about it — and that's exactly what you'll find at the Canadian Museum of Flight and the BC Farm Museum, among other specialized places to visit in Langley.
For more sightseeing ideas, see our list of the top things to do in Langley, British Columbia.
1. Take the Langley Circle Farm Tour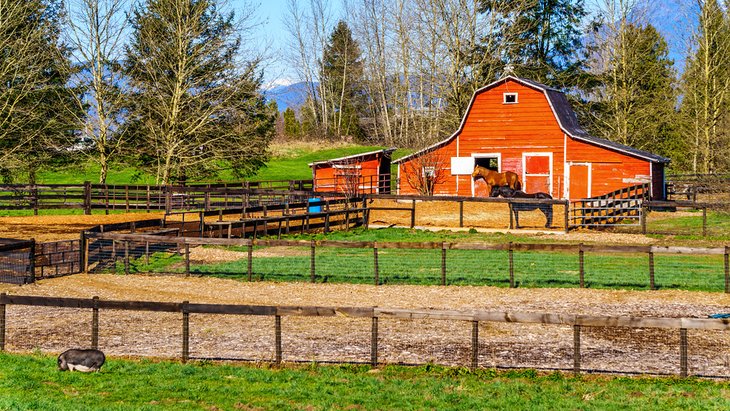 No town or city in the Metro Vancouver area has more farms than Langley: there are over 50 working farms in the township, several of which have earned a spot on the Langley Circle Farm Tour.
This self-guided tour is a great resource for visiting some of the most interesting and unique farms in town. Several farms allow you to pick your own juicy berries in the summer or to select the perfect pumpkin come Halloween. Many offer tasty farm-made treats for sale, like pies, jam, and honey - yum.
Every stop on the tour offers something special, but there are definitely a few that stand out. For instance, check out the Huacaya Alpacas at the Kensington Prairie Farm: you can marvel at the alpacas then visit the boutique, featuring super-soft alpaca goods.
At the Eagle Acres Dairy Farm, you'll get to try your hand at milking a cow. Milner Valley Cheese is a must-visit stop for cheese lovers - the goat's milk gelato is also worth sampling.
You can visit as few or as many farms as you wish - either way, you'll walk away with a newfound appreciation for Langley's agricultural scene.
2. Go Back in Time at the Fort Langley National Historic Site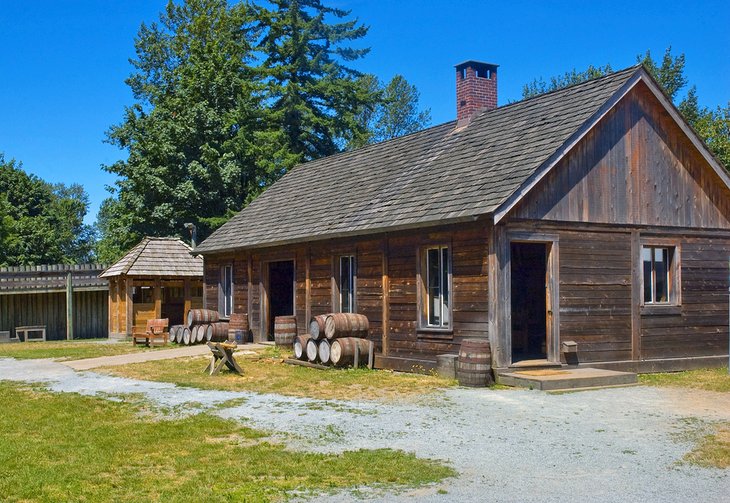 You don't need a time-travel machine to jump back to the 1800s - just visit the Fort Langley National Historic Site, an official Parks Canada National Historic Site that explores what life in Langley would have looked like in the 19th century.
Visitors can learn more about Fort Langley's role in the fur trade and gold prospecting era by exploring the re-constructed timber buildings, complete with costumed interpreters and live demonstrations. Kids can experience history first-hand in the play area or by partaking in the Xplorers Program, which encourages kids to try a variety of activities.
If you want to take the experience to the next level, book an overnight stay in one of the themed A-frame cabins, like "Chez Louis" (theme: French-Canadian voyageurs) or "Stromness" (theme: Scottish boat builder).
Equal parts fun and informative, a visit to Fort Langley National Historic Site provides the chance to discover Langley's rich history.
Address: 23433 Mavis Ave, Langley, British Columbia
3. Expand Your Horizons at the Canadian Museum of Flight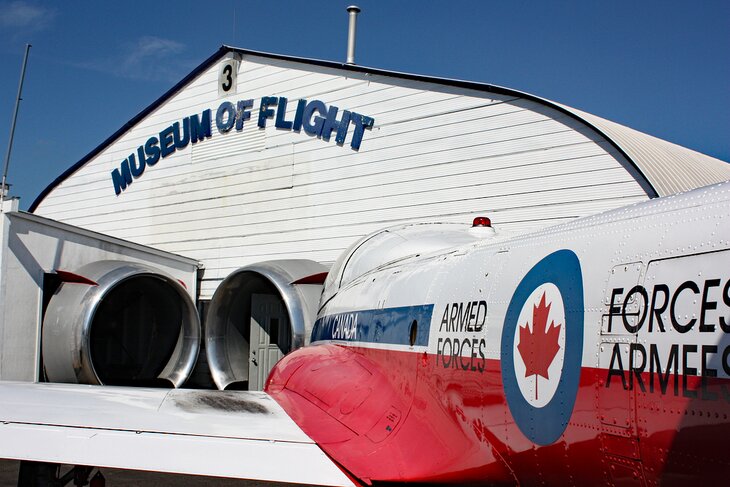 With more than 25 aircraft on display, the Canadian Museum of Flight is a must-visit for any lover of aviation. This hidden gem is located at the Langley Airport and features both static and flying aircraft, including a Handley Page Hampden from WWII (which happens to be the only one on display in the entire world).
The museum encourages hands-on interaction, so you can get as close as you want to many of the different aircraft. There's a lot to take away from a visit to the museum, ranging from the evolution of aircraft technology to the history of aviation in Canada.
The museum is non-profit and is supported by a dedicated team of volunteers, who devote their time to restoring some of the amazing aircraft featured at the museum. If you're lucky, you might catch a few volunteers working actively on a restoration project while you're here.
You can pop in to the Canadian Museum of Flight for a self-guided visit or you can register to reserve a spot on a guided tour, which explores the grounds inside and out.
Address: 5333 216 Street, Langley, British Columbia
4. Go Wild at the Greater Vancouver Zoo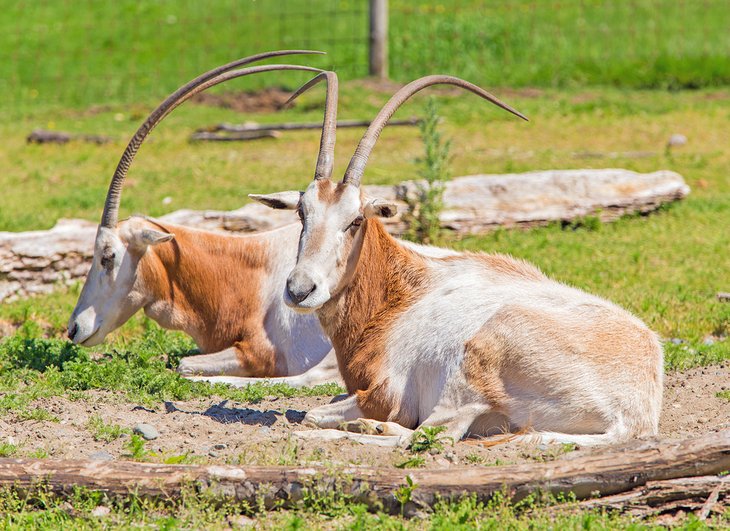 One of the best animal attractions in the Vancouver area is located in Aldergrove, a community in Langley: the Greater Vancouver Zoo. This isn't a huge zoo compared to, say, the Toronto Zoo or the San Diego Zoo, but being a smaller zoo has its perks.
For one, the zoo is extremely walkable — though if you prefer, you can always ride the train that winds through the property.
Second, you have the opportunity to observe the animals from much closer than a lot of the larger zoos. There's a wide range of animals to check out — over 140 different species, to be exact — some of which are local to BC (like the grizzly bear and the elk), others that are more exotic (like the hippopotamus and the giraffe).
If you're visiting the zoo in the summer, make a point of checking out the "Keeper Talks," where a zookeeper gives an educational rundown of the life of a zoo animal. For an extra fee, you can also register for a behind-the-scenes experience with the lions, black bears, and other animals.
If you're after an especially wild time, look into the family sleepover events, which are hosted at the zoo on select dates. Think camping in a tent on the zoo grounds, a nighttime safari, and stories around the campfire - in other words, a night you won't soon forget.
Address: 5048 - 264th Street Aldergrove, British Columbia
5. Get Curious at the BC Farm Museum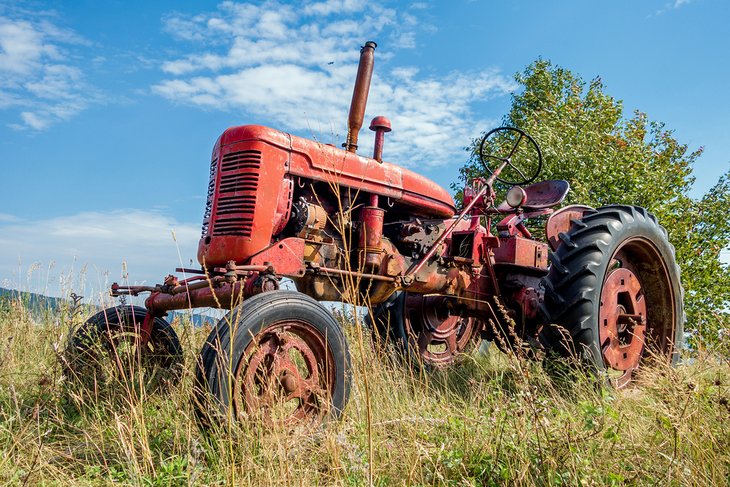 Agriculture played a key role in the development of Langley — and it continues to serve an important role today. The BC Farm Museum is a hub of pioneer and agricultural artifacts, exploring the evolution of farming equipment and the industry as a whole.
More than 5,000 donated historical items are on display throughout two buildings, so you'll definitely want to allow ample time to properly visit the entire site. Items on display range from tractors to horse buggies, from egg sorters to tomato separators.
Kids can explore the hands-on workshop and partake in a scavenger hunt, encouraging them to search the entire museum from top to bottom.
The BC Farm Museum is the perfect representation of the dedicated members of the Langley community: all museum staff are volunteers, and every piece of equipment in the collection was donated. Be sure to chat with the friendly on-site personnel, who are happy to share stories and explain the pieces of the collection.
Address: 9131 King Street, Langley, British Columbia
6. Cheer on the Vancouver Giants Hockey Team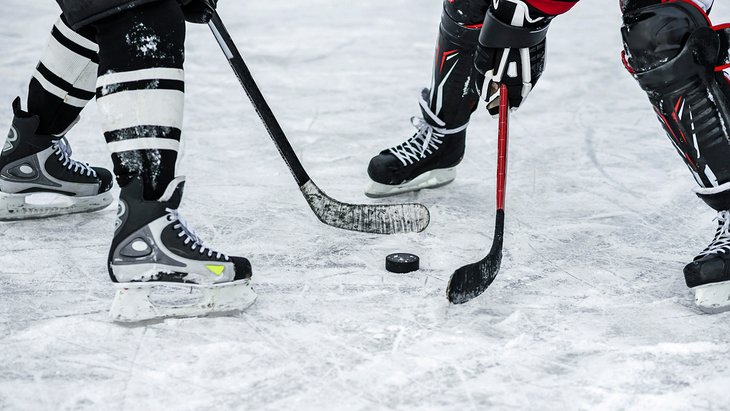 There's more to hockey in the Vancouver area than the Canucks, the beloved hometown NHL team. Case in point: the Vancouver Giants put on a mighty good show at the Langley Events Centre.
The Giants play in the Western Hockey League, a major junior hockey league overseen by the Canadian Hockey League. Many of the players, who are 16 to 20 years old, go on to play in the big leagues. Suffice to say, the caliber of hockey is exceptional - and the prices are much more reasonable than an NHL game (the free parking is the ultimate cherry on top).
The smaller venue size means fewer crowds, making for a more manageable experience for all members of the family. Plus, every seat in the house is a good seat — there's no nosebleed section here!
With concession food to nibble on, a family-friendly atmosphere, and non-stop action, you don't really need to even know anything about hockey to have a great time at a Giants game — though if you do happen to be a fan, you'll be thoroughly entertained.
7. Discover Langley City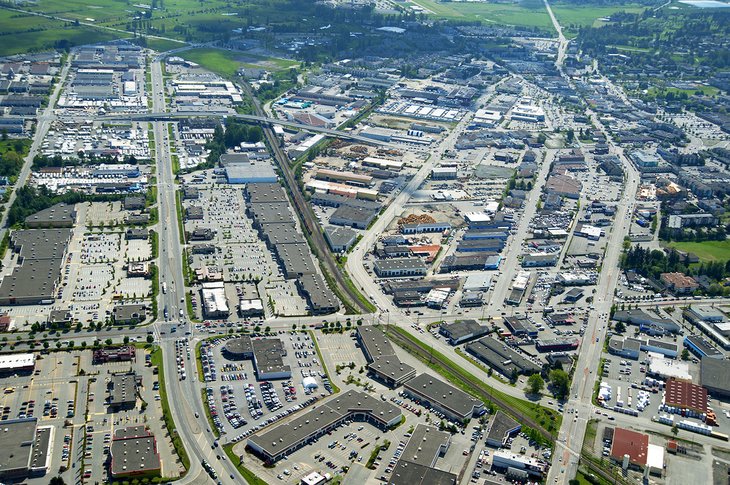 There's more to Langley than farms and horses: Langley City features a trendy downtown core that's perfect for catching up with a friend, grabbing a bite to eat, or partaking in some window shopping.
It's got all the perks of a small town — easily walkable, free parking — with big city attractions, including a wide range of shopping experiences (over 500, to be precise).
Special events and festivals take place throughout the year. Visiting in December? Check out the gingerbread walk, featuring real gingerbread masterpieces at various downtown businesses. If you're in the area in August, check out the Arts Alive Festival, a free event celebrating all forms of art, or the Fork & Finger event - perfect for the avid foodie.
8. Climb, Jump, and Run at the Penzer Action Park
To put it simply, Penzer Action Park is not your average park. There's a good chance your kids will lose their minds when they see this epic activity zone for the first time.
What's so special about it? Forget plain old swings and a boring slide: this park offers a parkour course (one for younger kids and another one for older kids, including an in-ground trampoline), a climbing playground, a concrete pump track, and various sports courts.
The highly interactive playground structures are unlike anything you've seen before, and kids of all ages will have a blast running and playing for hours.
The best part? It's all absolutely free.
9. Stop and Smell the Flowers at Full Bloom Lavender Farm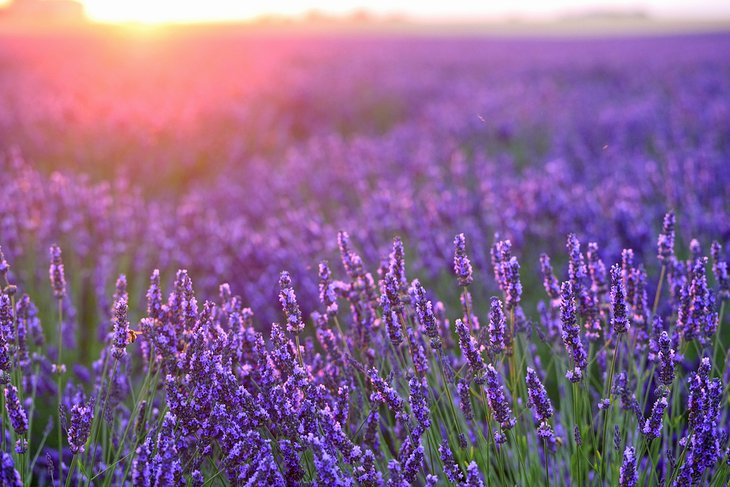 Farming is a big part of life in Langley, and let's face it: farms can be stinky. If traditional farms aren't your cup of tea, check out Full Bloom Lavender Farm, the nicest smelling farm around.
Full Bloom Lavender farm has the distinction of being the only lavender farm in Metro Vancouver. It operates seasonally, opening when the first variety of lavender blooms, which is typically mid-June.
You can wander the fields to your nose's content, then head to the farm store, which sells an array of lavender-themed products including lavender toiletries, lavender bundles, gooey lavender honey, and lots more.
Address: 2926 248 Street, Langley, British Columbia
10. Walk the Fort-to-Fort Trail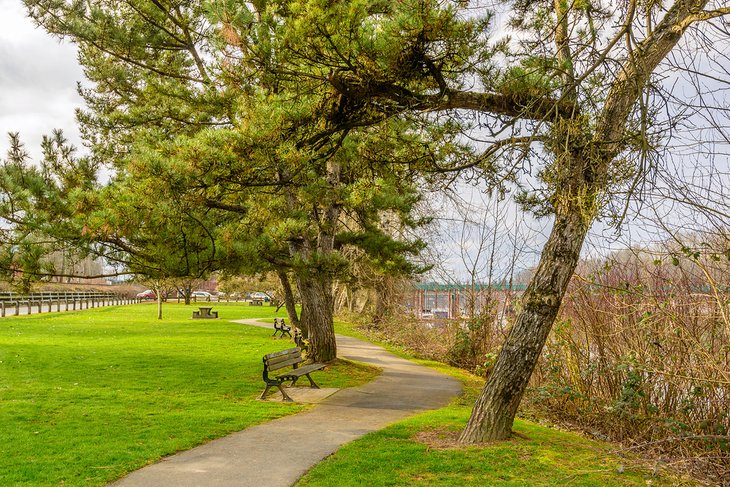 One of the best ways to truly experience a place is to travel it by foot. The Fort-to-Fort Trail allows you to do just that, connecting the Fort Langley National Historic Museum to Derby Reach Regional Park by way of a four-kilometer trail along the Fraser River.
You can opt to tackle all or part of the trail; however you choose to explore it, you'll be treated to mountain and river views, plus a scenic section that passes through a meadow.
The trail is relatively flat, making it a popular option for walking the dog or pushing a stroller. You can complete the entire Fort to Fort Trail as an out-and-back walk, stopping for lunch or a coffee at the halfway point before making your way back to the beginning. This is a great option for a relaxed and low-key activity that just about everyone will enjoy.
11. Pay a Visit to the Alder Grove Heritage Society and Telephone Museum
When's the last time you really thought about how your phone works?
Believe us: you'll look at your phone differently after a visit to the Alder Grove Heritage Society and Telephone Museum.
It's a tiny museum — just one simple building — but there's an awful lot of information and history inside, starting with the structure itself, which was built in 1910. Formerly the site of the local telephone exchange, the building now holds the museum, along with a host of community archives.
The museum is by donation, and volunteer guides will share stories of Langley and explain how phone calls were made many decades ago, before everyone walked around with personal telephones tucked into their pockets. This is the kind of quirky but special place to visit that you can only find in small towns like Langley.
Address: 3190 271 Street Aldergrove, British Columbia
12. Campbell Valley Regional Park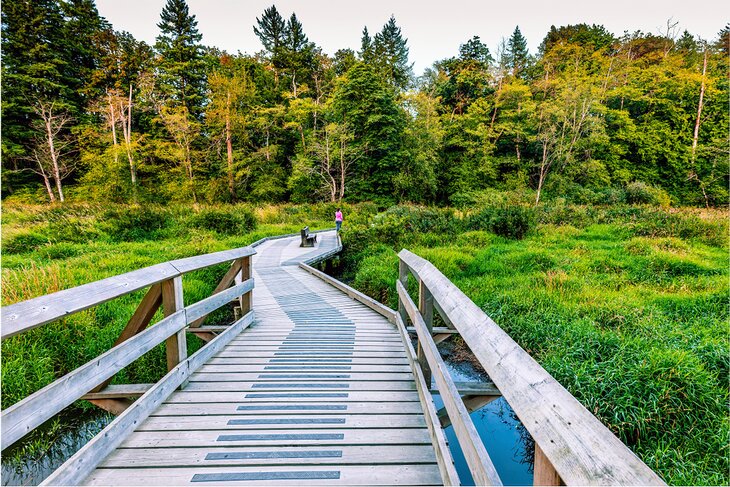 The Campbell Valley Regional Park is a hot spot in Langley for those who love the great outdoors. Towering fir and cedar trees greet hikers and walkers as they take to the trails that wind their way under this impressive canopy of green.
Trails are level and easy and suitable for all ages, making the park a popular family destination. In addition to the trails, you'll also find picnic tables and shelters, drinking water, and washrooms. The park is also a popular place to visit for equestrian riding, so don't be surprised if you see people on horseback coming towards you on the trails.
For a bit of history, swing by the Annand/Rowlatt Farmstead, dating from 1898, and the Lochiel Schoolhouse, dating from 1924.
Address: 20285 8 Ave, Langley Twp, British Columbia
13. Derby Reach Regional Park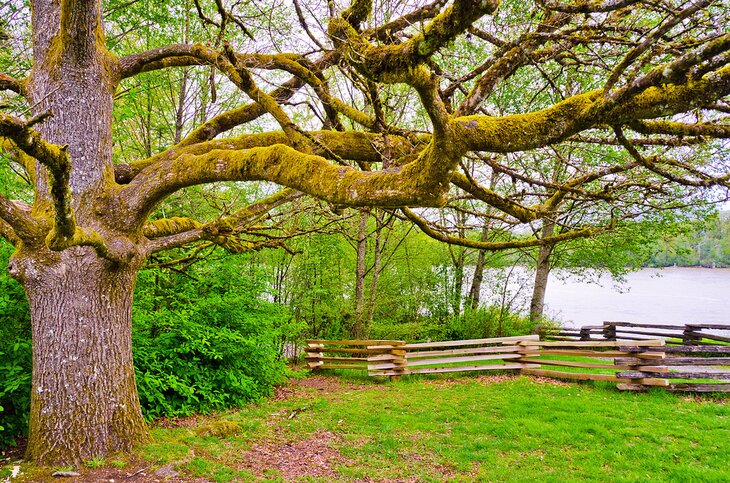 Another of Langley's great outdoor spaces is the Derby Reach Regional Park. Set along the banks of the mighty Fraser River, this park has a wonderful assortment of things to do.
One of the most popular pastimes is hiking, especially along the Edge Farm trail. This easy walk follows the banks of the Fraser River and offers exceptional views of the river and the surrounding countryside.
Derby Reach Regional Park also showcases early pioneer farming life, with exhibits and historic buildings. Time your visit right in the fall, and you may even get a tasty apple from the historic orchard.
Pack a picnic and plan a fun day for the family here. Picnic tables and shelters, some of which can be booked in advance, are set near wide-open spaces, allowing the kids space to run and roam.
For a good urban camping experience, set up your gear at one of the 38 sites at the Edgewater Bar Campground.
Address: 21801 Allard Crescent, Langley Twp, British Columbia