11 Best Weekend Getaways from Vancouver, BC
Vancouver's unique coastal location near the U.S. border makes it the perfect launch pad for a wide variety of wonderful weekend trips. From the Gulf Islands to the Sunshine Coast and Victoria to Whistler, these weekend getaways are all within driving distance or a ferry ride from Vancouver.
For outdoor enthusiasts there are hiking trails through first-growth forests, kayaking along quiet rivers, and fishing in world-class waters. For those who want a little more rest and relaxation there are spas, award-winning restaurants, and beautiful boutiques selling local goods.
So whether it's a romantic getaway or a fall weekend retreat, plan your trip with our list of the best weekend getaways from Vancouver.
1. Victoria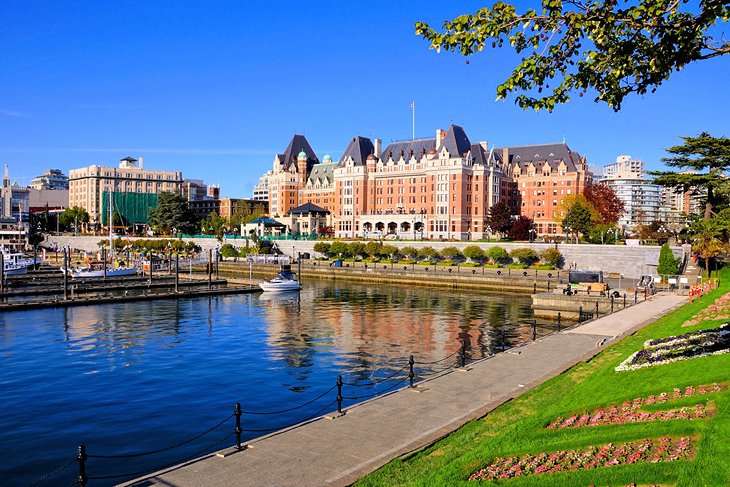 When planning the perfect weekend trip from Vancouver, look no further than British Columbia's thriving capital on Vancouver Island. Once considered a stodgy city stuck in time, Victoria has had a cultural revitalization, thanks to an infusion of tech startups and entrepreneurial-minded folks fleeing high property prices on the mainland.
Hop on one of the regular 95-minute B.C. Ferries from Tsawwassen Terminal to the Swartz Bay Terminal on Vancouver Island, and drive 35 minutes along the Patricia Bay Highway to downtown Victoria.
Fuel up at Picnic Too on Fort Street, a local coffee shop that serves up locally roasted two percent Jazz coffee and other fan favorites, including Empire Donuts and Cultured Kombucha. If your sweet tooth is still unsatisfied, stop in down the street at Crust Bakery for a baked-that-day chai pumpkin gingerbread tartlet or a passion fruit cronut (among many other baked delights).
For something more substantial (and sustainable), Be Love is a bustling, plant-based restaurant that serves up seasonal, meat-free meals designed to feed the body and soul. Perro Negro is also worth a visit, offering an outstanding menu of traditional Spanish tapas, which allows you to eat as much or as little as you like-be confident knowing every bite will be delicious.
One of Victoria's most popular attractions is the Royal British Columbia Museum, which does a brilliant job of outlining the history of the province, from its First Nations peoples to the Gold Rush, with interactive exhibits and displays.
When heading back to Vancouver via Swartz Bay, take some time to explore The Butchart Gardens, a 55-acre botanical oasis that's been growing for over 100 years-it's especially pretty to visit on a fall weekend when the autumnal colors are turning.
2. Whistler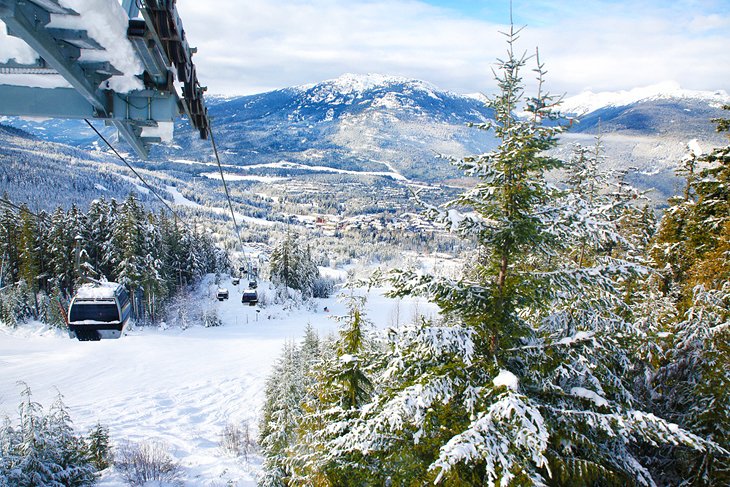 Whistler provides the ideal weekend getaway from Vancouver no matter what the season. In summer, there's world-class golfing, hiking, and mountain biking. In winter, the skiing at Whistler Blackcomb is some of the best in the world, offering visitors over 200 marked runs and 16 alpine bowls spread over 8,171 acres of skiable terrain.
And the winter activities at Whistler don't stop there. Start the morning with a breakfast snowmobile tour with Canadian Wilderness Adventures, which takes you up a snowy mountain trail to an adorable alpine cabin where flapjacks and scrambled eggs await. Then relax the afternoon away at Scandinave Spa Whistler, a Scandinavian-inspired spa with cascading hot and cold pools, dry saunas, scented steam rooms, and relaxation solariums nestled in the woods just a five-minute drive from Whistler Village.
Dining out in Whistler is a year-round treat-for a meal to remember, book a table for dinner at the award-winning Araxi restaurant. For something more casual, go to Green Moustache Organic Café for a superfood salad and fresh, cold-pressed juices. For accommodation, Pan Pacific Whistler Mountainside provides ski-in, ski-out suites with a full kitchen, romantic fireplace, and a balcony with dramatic mountain views.
Don't forget to block off an afternoon for shopping in Whistler, too, as there are more than 200 boutiques, jewelers, galleries, and gear stores to browse. Camp Lifestyle & Coffee Co. is a local favorite, sourcing all its Canadian-inspired clothes, books, and housewares from local, ethical, and sustainable companies.
To appreciate the full majesty of the Coast Mountain Range, hop on the Peak 2 Peak gondola from Whistler Village, which crosses over from Whistler's peak to Blackcomb's. Round off the journey with a gourmet lunch at Christine's On Blackcomb.
3. Salt Spring Island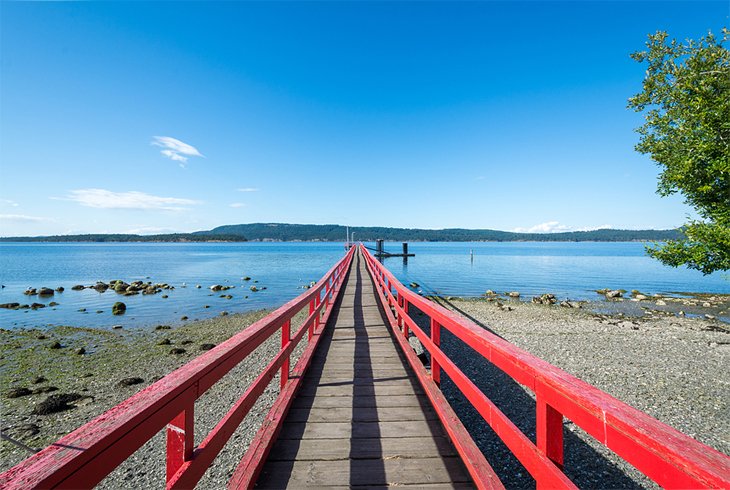 As the largest of the Southern Gulf Islands, Salt Spring Island has all the attractions and amenities you'd need for a relaxing weekend trip from Vancouver. While in the summertime the island bustles with activity and visitors, a fall weekend is also an ideal time to visit-the leaves are changing, the crowds have dissipated, and time slows down.
To get here, book a ferry passage from Tsawwassen Terminal to either Long Harbour or through to Fulford Harbour (2-3 hours). It's best to take a car, as public transit on Salt Spring Island is limited to the main roads, and many of the best attractions are off the beaten path.
The main town, Ganges, is where you'll find the majority of the shops, restaurants, and galleries. The Salt Spring Inn is right in the heart of the village, making a great home base from which to explore-it also has one of the most popular restaurants. For a Scandinavian-inspired fine-dining experience, book a table at House Piccolo, and enjoy a delicious meal in this tiny heritage-home-turned-restaurant.
Some of the best food on the island comes directly from the producers themselves. Visit the "farm" base of Salt Spring Cheese Company-meet the sheep and buy their handmade cheeses directly from their door. Visit Francis Bread's café and pick up a loaf of bread that uses only B.C.-grown organic grains and is baked in an on-site wood-fired oven.
Besides great local food production, Salt Spring Island is also known for its thriving artist and artisan community. Do a self-guided gallery tour stopping in at ArtCraft, Duthie Gallery, Venter Gallery, Steffich Fine Art, and Salt Spring Gallery. If pottery is more your speed, Julie MacKinnon Ceramics studio is a must, as is the newly opened The Pottery, a potters' collective shop and studio in Fulford Village.
4. Ucluelet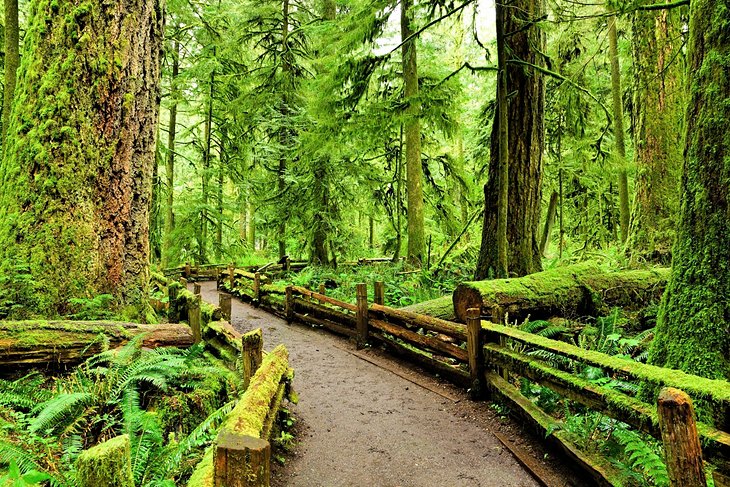 For a romantic getaway in winter, you can't beat the fresh ocean air, temperate rainforests, and wild beaches of Vancouver Island's west coast, and one of the best (and most undiscovered) towns from which to explore them is Ucluelet, not far from the resort town of Tofino.
Take a ferry from Horseshoe Bay (25 minutes north of downtown Vancouver) over to Nanaimo (95 minutes) and follow Highway 4/ Pacific Rim Highway across the island. While this trip takes just over two and half hours, take it if you can-the road twists and turns through the Island's most stunning snowcapped mountains, glimmering lakes, and deep old-growth forests.
Make a planned stop at Cathedral Grove to walk among the ginormous trunks of ancient Douglas fir trees in the remnants of a rare and endangered ecosystem.
Upon arriving in this town of just over 1,700 residents, check into Black Rock Oceanfront Resort, a stunning modern retreat perched right on the edge of the Pacific Ocean. All steel, glass, rock, and wood, Black Rock's rooms are perfectly positioned to take in the wild, wintertime sea storms that batter these shores – from the comfort of a private soaker tub.
In town, take a stroll down to the wharf, stopping in at the tiny boutiques selling local crafts, artwork, and goods. The Crow's Nest, which is housed in the former general-store building built in 1908, has been a treasure trove of souvenirs and gifts for over 30 years. Across the street is the Ucluelet Aquarium, Canada's first collect-and-release aquarium, where visitors come face to face with local fish and invertebrates found in the waters just steps from the doors.
To feel the full effects of a West Coast winter, put on your rain gear and head out for a brisk day of hiking along Ucluelet's Wild Pacific Trail, and a sunset stroll along one of the many stunning beaches found in the world-famous Pacific Rim National Park.
5. Galiano Island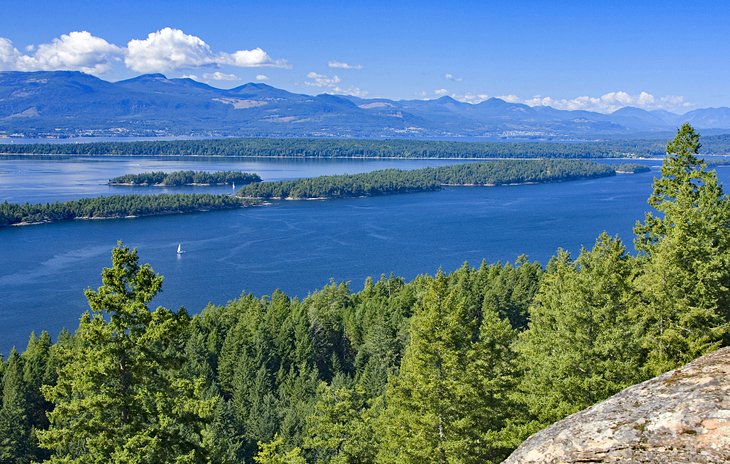 As the Southern Gulf Island closest to Vancouver, Galiano Island is one of the easiest to reach for a weekend trip. The non-stop ferry ride is a breeze from Tsawwassen Terminal, transporting you from the bustling streets of Vancouver to Galiano's spectacular rocky cliffs, quiet pebble beaches, and ancient forest trails in about an hour.
To really appreciate the oxygen-rich air only an island blanketed in forest can provide, rent a moped from Galiano Boat & Moped Rentals and head out for a day of exploring along tranquil country roads. To truly appreciate the gorgeous coastline and diverse marine life that surrounds Galiano Island, get out onto the water in one of the most popular activities in the Gulf Islands-kayaking. Connect with Gulf Island Kayaking to book a tour.
Whale watching is also a top-rated outdoor activity in the Gulf Islands-Salt Spring Adventure Co. makes a stop at the Galiano Island dock to pick up people who want to see orcas in their natural environment.
Conveniently located right next to the ferry terminal, Galiano Inn & Spa, which was recently renovated and boasts breathtaking ocean views, an inspired-by-the-coast spa, and Galiano's only contemporary oceanfront restaurant Atrevida, is the ultimate romantic getaway.
Make the weekend trip extra special and reserve a table at Pilgrimme for a truly unique-to-Galiano, farm-to-table dining experience deep in the Galiano Island woods. (Tip: Pilgrimme has limited seating and books up very quickly, so reserve in advance).
6. Port Renfrew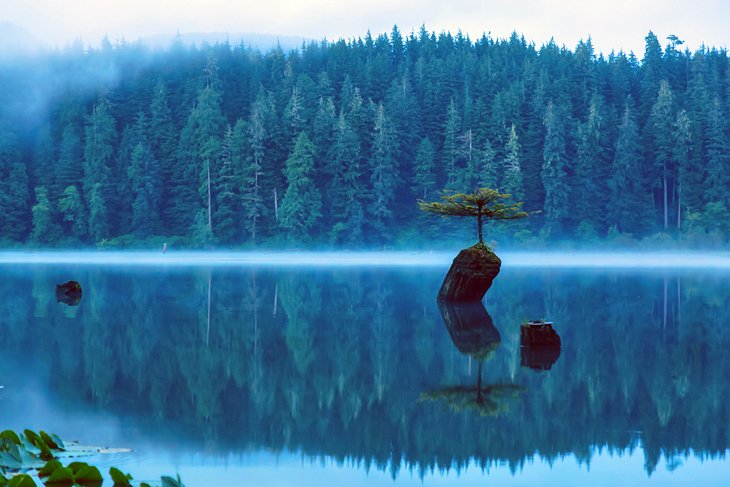 Port Renfrew, once a sleepy little fishing and logging town, has been revitalized as a dream weekend-trip destination on the southwest coast of Vancouver Island.
To get here from Vancouver, catch a ferry from Tsawwassen Terminal to Swartz Bay and drive two hours northwest of Victoria. As part of the scenic Pacific Marine Circle Route, the journey to Port Renfrew is just as important as the destination.
Make sure to stop off at French Beach Provincial Park to get a clear view out over the Strait of Juan de Fuca to Olympic Mountains, and Sheringham Point Lighthouse, which is favorite hangout spot for killer, grey, and humpback whales. Shirley Delicious also offers a delicious pitstop full of made-from-scratch treats and warm-you-up beverages.
One of the reasons this tiny town has had a resurgence in part is thanks to Wild Renfrew Seaside Cottages, a resort that offers steps-from-the-sea accommodation, the extremely popular Coastal Kitchen, as well as wilderness tours and fishing charters. As the terminus of both the Juan de Fuca Marine Trail and West Coast Trail, this is the perfect spot for outdoor enthusiasts looking to enjoy some of Vancouver Island's best hiking trails.
Take "forest bathing" to the next level along the well-maintained trails of Avatar Grove, a clutch of old-growth Western Red cedar and rare Douglas fir in the Gordon Valley River. Surfing is a big draw as well, with wave riders braving the brisk waters year-round at Sombrio Beach and Jordan River.
A weekend trip to Port Renfrew would not be complete with a visit to Botanical Beach, which boasts one of the richest intertidal zones on the West Coast and tide pools teeming with marine life.
7. Gibsons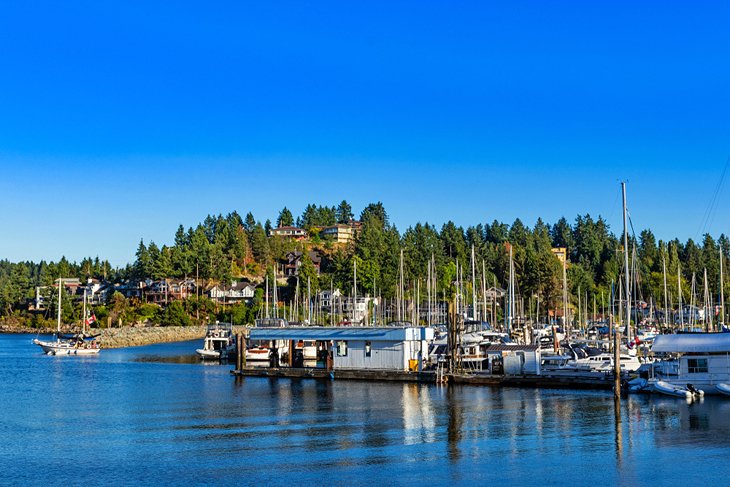 While the Sunshine Coast is part of B.C.'s mainland, the landscape is so rugged and mountainous, the only way to access it is via ferry. A 40-minute boat ride from Horseshoe Bay gets you to Langdale Terminal, a few minutes' drive from Gibsons, the main hub of the Sunshine Coast.
To find out what makes Gibsons so special, start with your taste buds. Gibsons Public Market hosts local food vendors selling scrumptious products all under one roof. After tasting artisanal chocolates and candied salmon at the merchants' market, head upstairs to Emelle's Market Bistro for a gourmet burger and fries. Then learn about the underwater world of Howe Sound, right at the market's doorstep, at the Nicholas Sonntag Marine Education Centre.
Gibsons is a big fishing hub, so if reeling in the big one is on your weekend getaway wish list, look no further-there are plenty of charters and equipment rentals available in town.
A hike up Soames Hill, with its superb vistas of the surrounding mountains and islands, is also a popular activity. To make your time outdoors even more meaningful, consider booking a guided tour with B.C.'s first certified forest-bathing guide at Haida With Nature.
8. Seattle NorthCountry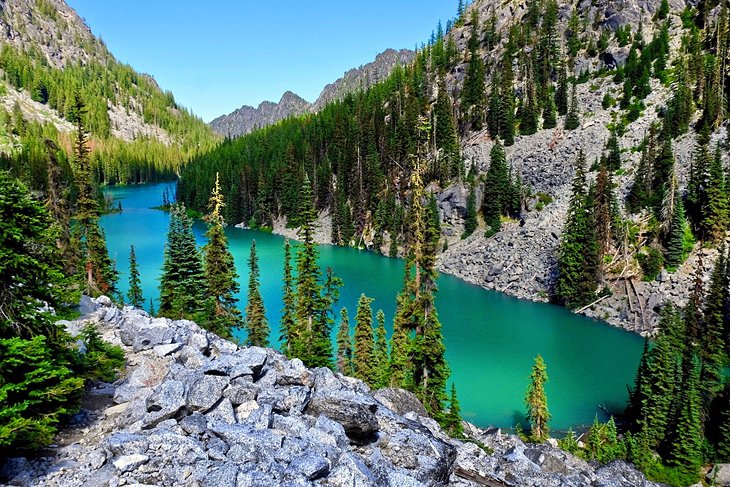 When looking at weekend trips from Vancouver to the U.S., Seattle NorthCountry is one of the best options. Drive south of Vancouver for just over two hours, and you'll find yourself in an area stuffed with working farms, rugged wilderness, and adorable small towns.
Located 40 kilometers from Seattle, Everett is the largest city in Snohomish County, Washington, with a population of just over 100,000. Because of its size and unique Puget Sound location, it has a coastal small-town vibe with big-city attractions.
When visiting, be sure to order a dish of fresh, handmade pasta at Capers + Olives, a friendly brick-walled, Italian bistro downtown. Choux Choux Bakery will make your mouth water with its baked goods ranging from savory croissants to Norwegian krumkake.
If you decide to go during a fall weekend, head to the hills of Perry Creek for a 10.5-mile mountain trail loop that, thanks to a diversity of ecosystems, is perfectly positioned to present the best autumnal colors around. In winter, it's all about kayaking the sloughs of the lower Snohomish River for a chance to see wildlife up close.
9. Cowichan Valley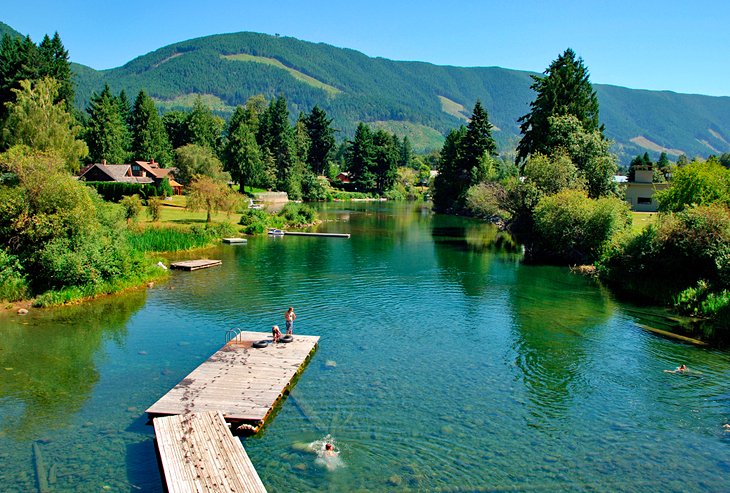 For a food-filled fall weekend trip from Vancouver, head to Vancouver Island's Cowichan Valley. This region is an undiscovered treasure trove of activities and agricultural gems that really comes alive during harvest season. The Eat, Stay, Play food festival runs through November, but there's plenty to do any month of the year in Cowichan Valley.
There are over 700 farms, including Canada's first tea farm, Westholme Tea Company, and the valley is home to one of B.C.'s biggest year-round farmers markets, Duncan Farmers Market. For a rugged romantic getaway, the Cowichan River Lodge provides cozy, boutique accommodation right along the edge of one of North America's highest rated trout rivers.
Head over to Cowichan Bay for an afternoon of shopping, browsing, and snacking along the waterfront main street of this tiny artisan town. Wild Coast Perfumery is a delightful store/studio selling all-natural, plant-based perfumes that feature local handpicked ingredients. Beachology stocks beautiful coastal-inspired furnishings, home décor, jewelry, and fashion, and is a great spot to find a souvenir.
To get to the Cowichan Valley, take a ferry from Horseshoe Bay to Duke Point (Nanaimo) and drive south along the Trans-Canada Highway for close to two hours.
10. Bowen Island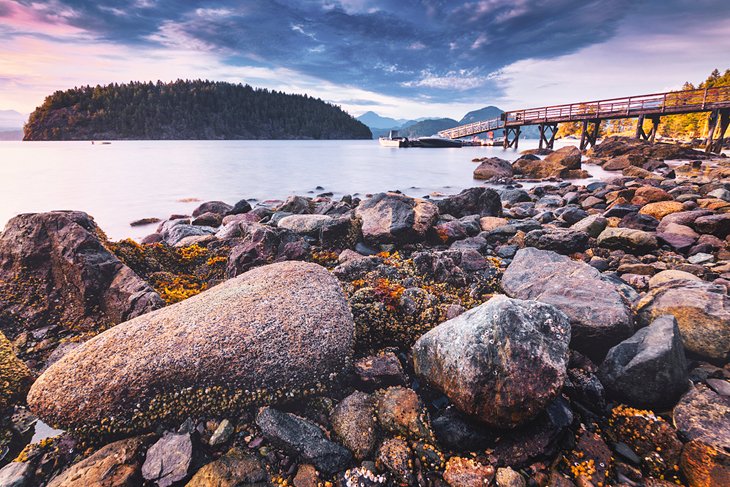 Sitting just off the Sunshine Coast is Bowen Island, an idyllic weekend destination that gives visitors stunning ocean views, plenty of relaxation opportunities, and unique island activities. Plus, since it's only a 20-minute ferry ride from Vancouver via Horseshoe Bay, this little island provides the perfect location for a weekend trip when time is precious.
To get into the island-life mindset, start your weekend trip with a rejuvenating yoga class at Nectar Yoga B&B's Geodesic Yoga Dome-they also offer Tarot card readings and sound-healing ceremonies. Discover what makes Bowen Island's ecosystems so special with a guided ecological tour with Bowen Island Adventures-slacklining lessons, foraging excursions, and trail running clinics are also available.
Home Farm Gardens is a hub for organic gardening and husbandry with a market stand, special long-table events, and thoughtful landscaping that's work a look.
To eat a fresh croissant baked by a French pastry chef, pull up a chair at Artisan Eats Café, an island favorite for 10 years that serves breakfast, brunch, lunch, and coffee.
11. Squamish

The delightful small city of Squamish should be on everyone's day trip destination itinerary. Not only is the cliff-hugging drive along the Sea to Sky Highway to Squamish one of the best drives in the province, but the attractions in Squamish are numerous and enjoyable.
Take a stroll up and down the bustling main street replete with coffee shops, eclectic retail stores, and restaurants featuring local chefs. Nearby is the imposing natural granite tower known as Stawamus Chief. It's worth driving into this Provincial Park to gaze upwards at the rock climbers risking life and limb in the quest to ascend to the top.
To enjoy the view that they work so hard for with a fraction (or even less!) of exertion, take a ride up on the Sea to Sky Gondola. This spectacular ride takes you up to the summit, and from here, you can see all the way down Howe Sound and across to the mountain peaks on the other side. At the top, you also have the option of walking across a 100-meter-long suspension bridge to an additional lookout.
One of the best hikes in Squamish, the Al's Habrich Trail, leaves from the summit and takes you past some incredible scenery that was previously hard to get to before the installation of the gondola.
Map of Weekend Getaways from Vancouver, BC
More Related Articles on PlanetWare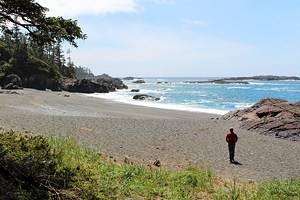 Camping on Vancouver Island: If your weekend getaway plans involve camping and enjoying the outdoors, you may want to consider the beautiful campgrounds on Vancouver Island. Choose from oceanfront walk-in sites to places where you can park your RV. If you are planning on spending your time near the capital, have a read through our list of the best campgrounds near Victoria. For something a little more remote, see our guide to the best campgrounds near Tofino.