6 Top-Rated Campgrounds near Victoria, BC
The best campgrounds and RV parks in the Victoria area all within 30 to 40 minutes from downtown. Tenters or those with smaller trailers will find beautiful forest campgrounds to the north and west of the city center. RV parks, some of which also offer tenting, can be found along the oceanfront in Saanichton, not far from the international airport.
Some campgrounds are seasonal, operating from spring until fall, others are year-round. In campgrounds that are not all first-come, first-served, reservations are generally accepted during the prime summer months only.
For a complete look at the top camping options, see our list of the best campgrounds in the Victoria area.
1. Goldstream Provincial Park Campground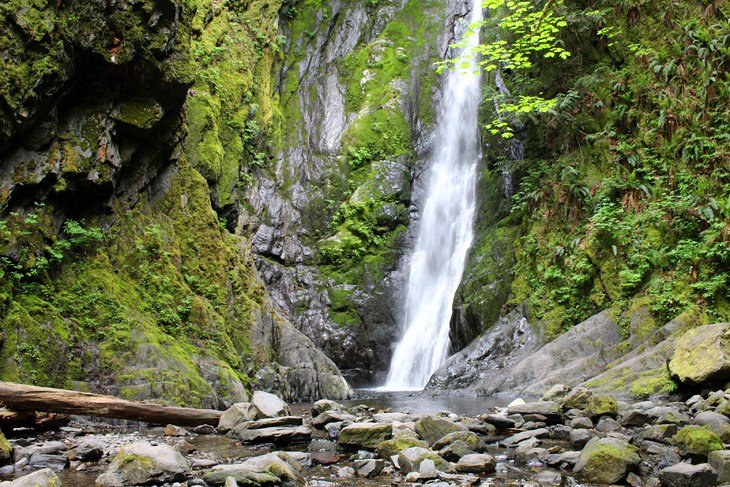 Goldstream Provincial Park is an incredibly popular park in the Victoria area, with plenty of opportunities for outdoor activities. It's particularly well-known for hiking and home to three of the best hikes around Victoria. The campground is set in a heavily wooded area with large trees. It's well off the highway, so you don't have to worry about traffic noise. Sites are big, level, and offer a high degree of privacy. If you are looking for an outdoor nature experience close to Victoria, this is the best place to come.
The Goldstream Campground is open year-round and offers reservable sites from approximately mid-May to early September. Facilities include flush toilets and hot showers.
2. Spring Salmon Place (KWL-UCHUN) Campground, Sooke Potholes Regional Park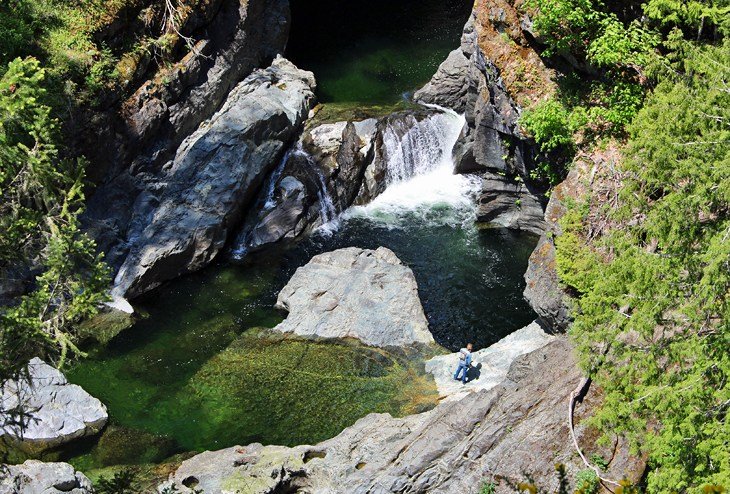 Sooke Potholes Regional Park encompasses a spectacular portion of river with a series of waterfalls. Many people day trip here from Victoria to see the falls from the overlook or walk along the river and even swim below the waterfalls. At the end of the road leading through the park is the Spring Salmon Places Campground, just beyond the overlook for the falls.
The campground is jointly managed by the Capital Regional District (CRD) and the T'Sou-ke Nation and operates on a seasonal basis only, from approximately the middle of May to the middle of September. All sites are first-come, first-served; firewood is available for purchase on-site.
The setting is beautiful. Campsites are cut into the forest and set below large trees. Sites vary wildly, from large with plenty of privacy to small, exposed sites near the edge of the campground road. A river runs along the edge of the campground, and you do get an away-from-it-all feeling and experience.
Official site: https://www.tsoukenation.com/sooke-potholes-regional-park-spring-salmon-place-campground/
3. Island View Beach Regional Park Campground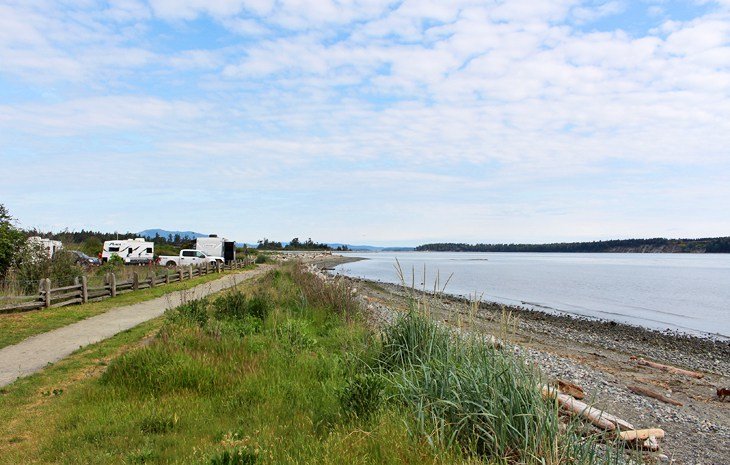 Located about a 25-minute drive north of downtown Victoria, on the way towards Victoria International Airport, this campground is perfect if you are looking for a place to set up along the ocean. The pebble beach stretches out along the shore, and views look out to distant islands. A paved walking trail runs along the waterfront, and you feel like you are far from the city.
The tent campground is set behind trees, which block the wind. You won't find much by way of privacy here. Tents are set up along the side of the road on grass, one right next to the other, with no trees in between. The RV area is separate from the tents but just a short distance down the road, in a cleared area above the beach, with uninterrupted views over the ocean.
The campground is open from the Victoria Day weekend to Labour Day weekend. Reservations can be made up to 30 days in advance. The campground has a total of 47 sites, which include RV sites, tent trailer sites in the trees, and tent sites. Five RV sites and 11 tent sites are first-come, first-served. Facilities are limited to pit toilets and there are no showers.
Official site: https://www.crd.bc.ca/parks-recreation-culture/parks-trails/find-park-trail/island-view-beach
4. Salish Sea RV Haven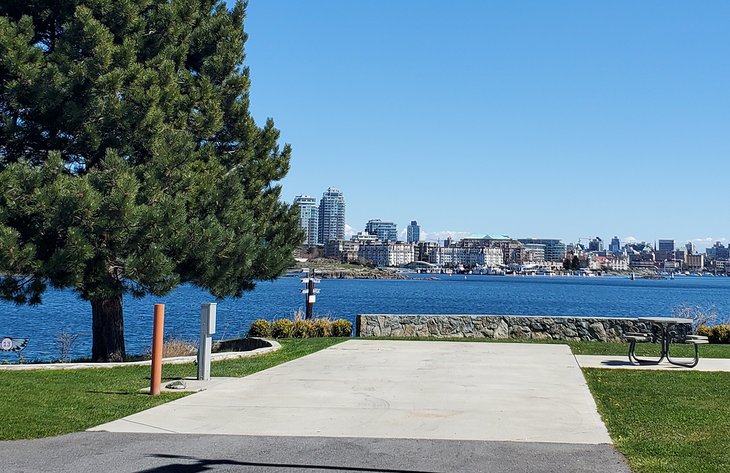 Brand new on the RV'ing scene in Victoria is the Salish Sea RV Haven. Commanding one of the best locations in the city of Victoria, this campground is located on a peninsula jutting into the water near Victoria's main harbor area. Many of the 37 sites are waterfront locations with amazing views.
Salish Sea RV Haven was designed with the largest RVs in mind, and the sites can accommodate class A Motorhomes. All sites come with 20/30/50-amp service, water, sewer, Wi-Fi, and cable hookup (box not provided). A concrete parking pad and patio round out the set up. A central clubhouse, complete with soaring ceilings, a fireplace, and large decks is available for guests' use. The comfort station is modern and has hot showers and a laundry room.
The harbor ferry stops nearby, so park your car and jump on board for a scenic ride into town.
Unfortunately for tent campers, the park only accommodates RVs.
Official site: https://www.salishseasidervhaven.com/
5. Oceanside RV Resort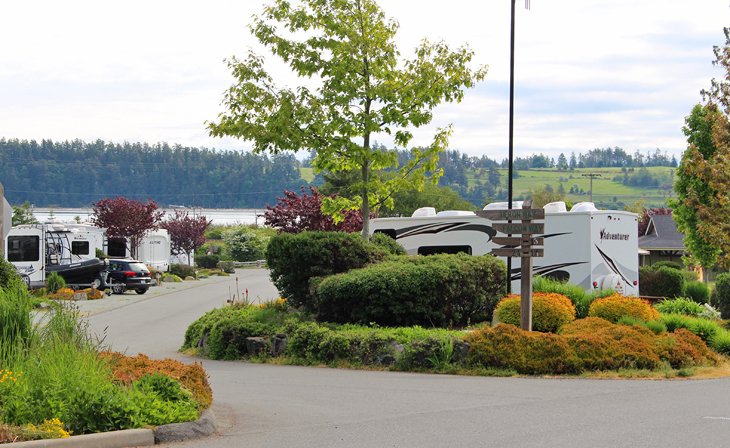 Another popular RV park near the airport, the Oceanside RV Resort has immaculately maintained grounds with beautiful gardens and large trees in some areas. The park looks out over a pleasant little bay with often calm water. Although Oceanside has year-round and seasonal sites, they also offer 69 full-service overnight sites. The resort is located 30 minutes north of Victoria in Saanichton near the Schwartz Bay ferry terminal.
Unlike the other RV parks mentioned here, this park is adjacent to a residential area, so it has a less remote feeling than many of the others. You'll find all the necessary amenities here, including 15-, 30-, and 50-amp power; water; sewer; some pull-through sites; Wi-Fi; and picnic tables. They can also accommodate large RVs.
Official site: http://www.parkbridge.com/en-ca/rv-cottages/oceanside-resort
6. Fort Rodd Hill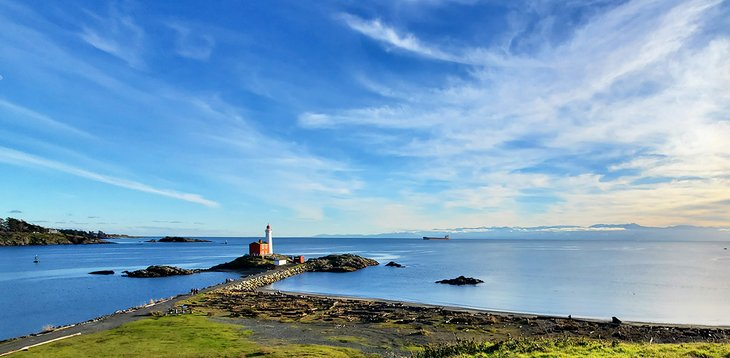 For something completely different, consider camping at a military fort first established in the late 19th century. Fort Rodd Hill National Park has limited camping at five oTENTik sites. These fully equipped tents come with bunkbeds sleeping six, heat, lights, a table and chairs, all your cooking equipment, a cooktop, and barbecue. An outdoor deck and picnic table are just perfect for lounging in the late afternoon sun. A central building has refrigerators, freezers, flush toilets, water, and sinks.
The oTENTik sites are located in the same area that military families used to stay back when the fort was in operation. After the main gates close, you'll have the entire park to yourself to create your own adventures.
Sites can be reserved in advance, and the season runs from the start of May through Thanksgiving.
Official site: https://www.pc.gc.ca/en/lhn-nhs/bc/fortroddhill/activ/oTENTik
Where to Stay if You Decide not to Camp
If you want to spend your time mainly in Victoria, with the exception of one, the campgrounds can be a little inconvenient due to their distance from the city. Also, if the weather isn't cooperating, it's sometimes nice to check into a hotel for a couple of nights. Below are a few options for travelers who are looking for quality but don't want to spend a lot of money on a room.
Mid-Range Hotels:
For a wonderful location at a reasonable price, it's hard to beat the Days Inn by Wyndham - Victoria on the

Harbour

. This hotel puts you in the heart of the tourist scene and steps from the city's beautiful harbor.
Families may enjoy the Hotel

Zed

, another good-value hotel. This property is known for its funky and colorful rooms done up in 70s décor. Other notable features include a ping pong table and other games, as well as a pool and hot tub. From here, you'll have to drive in to downtown, but nothing is very far away in Victoria.
The James Bay Inn Hotel Suites &

Cottage

is a historic property within walking distance of the Inner Harbour. They offer a variety of accommodation options at different price points, ranging from small rooms with double beds to two-bedroom connecting family rooms, and even a private cottage.
Budget Hotels:
If your main concern is price, you can find some deals in Victoria, although they are few and far between. A good choice is the Robin Hood

Motel

, which is a bit farther out, very clean with helpful staff.
The Days Inn by Wyndham Victoria

Uptown

is an older property that offers very basic rooms and an indoor pool, all at a decent price.
More Related Articles on PlanetWare.com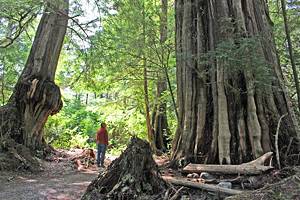 Hiking: You might think you have to travel "up island" if you want to find good hiking, but in fact, you can find some great hiking trails within minutes of downtown. For a look at the options, see our list of the best hikes around Victoria. If you are taking some time to travel around the island, chances are Tofino is on your itinerary. The old-growth forest here contains some of the oldest trees in Canada, and the seemingly endless stretches of beach make this an incredible area to explore on foot. Don't miss our top hikes in Tofino article. Chances are, there are numerous great hiking areas around the island you haven't even considered. For some ideas, see our article on where to go hiking on Vancouver Island.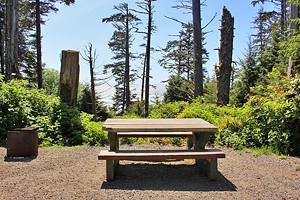 Camping: Whether you are looking for a remote hike-in oceanfront tent site, where you can wake up to a still and quiet morning, or an RV park on the outside of a fun tourist town, you can find it on Vancouver Island. For ideas and tips on where to look for these experiences, have a read through our guide to the best places to camp on Vancouver Island. And again, if you are heading up to Tofino, be sure to look through our list of Tofino campgrounds.