14 Top-Rated Attractions & Things to Do in Whistler
Canada's most famous ski resort, Whistler, sits at the foot of two immense mountains: Whistler and Blackcomb. Together, these impressive peaks form the biggest winter sports area in North America, and the always-bustling Whistler Village provides immediate access to some of the best skiing around.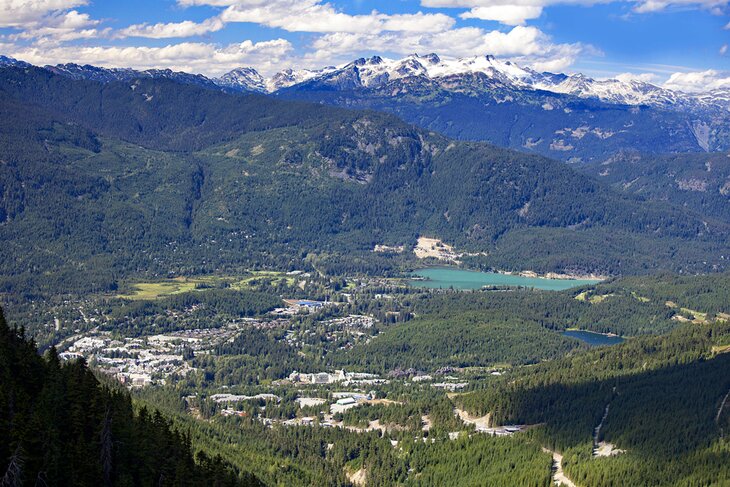 Whistler certainly had international cachet before it co-hosted the 2010 Winter Olympics with Vancouver, an easy 90-minute drive away by car, but the games only amplified the mountain resort's fame as a recreation hot spot.
Since the world comes to ski and visit, the village has a comfortable variety of tourist accommodations, from condos to luxury hotels, all packed along the ambling Village Stroll, a pedestrian-only path lined with countless fun things to do, from great dining experiences in its many restaurants to shopping in its boutique stores, art galleries, and gift shops.
Surrounding the village, this rugged region is a mix of untamed rivers, teal-blue lakes, unending forests, and volcanic peaks. Only one main road, Highway 99-also known as the Sea-to-Sky Highway-connects the area's attractions and communities, a scenic drive that rates as one of Canada's most spectacular road trips. For more ideas on places to visit in BC, check out our list of the best attractions and top things to do in Whistler, Canada.
1. Whistler Blackcomb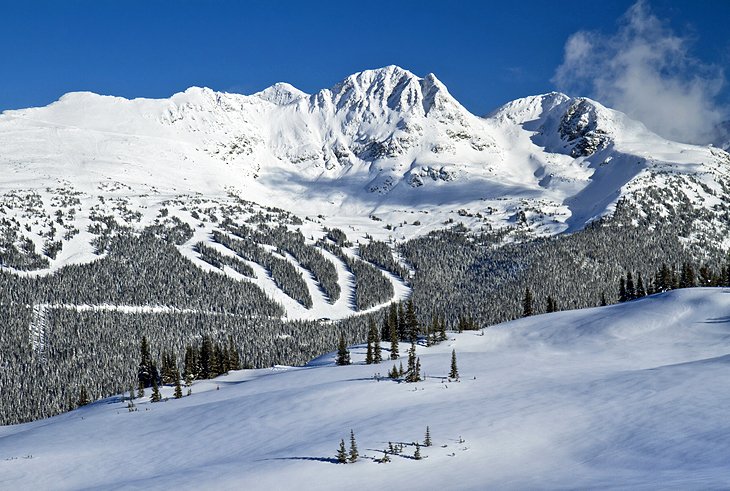 Whistler Mountain (2,182 meters) and Blackcomb Mountain (2,284 meters), the two peaks that rise above Whistler Village, boast some of the best skiing in North America. The Whistler Blackcomb resort's combined skiable terrain tops 3,307 hectares with more than 200 runs accessed by 39 lifts, including brand-new high-capacity gondolas on Blackcomb Mountain and Whistler Mountain.
Indeed, there is too much to cover in one day, which is why many visitors plan to spend a week or so on the slopes. Thanks to summer skiing opportunities on Blackcomb's Horstman Glacier, the Whistler Blackcomb resort also offers the longest ski season of any resort in Canada.
Some hotels provide ski-in access to the two mountains, and multiple restaurants and village eateries are located within ski-boot walking distance of the gondola base (with ski racks set up outside the door and warming fireplaces inside). Snowmobile trips and heli-skiing are also popular winter pastimes at the Whistler Blackcomb resort, and for those traveling with kids, the bubly™ Tube Park offers no end of downhill fun.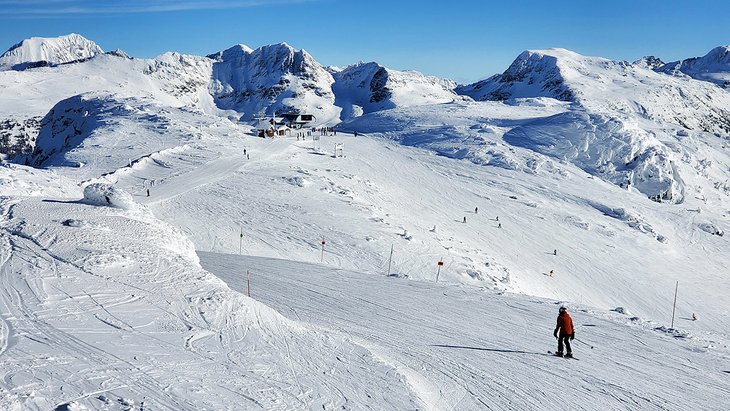 Besides glacier skiing, in summer, the mountains are busy with hikers, as well as mountain bikers who take to the challenging trails of Whistler Mountain Bike Park. When riding the chairlifts, keep an eye out for bears ambling along the mountain trails in search of berries.
One of the top things to do in Whistler at night is to visit Vallea Lumina, a fascinating multimedia light show that illuminates parts of the forest around Cougar Mountain.
Address: 4545 Blackcomb Way, Whistler, British Columbia
2. Peak 2 Peak Gondola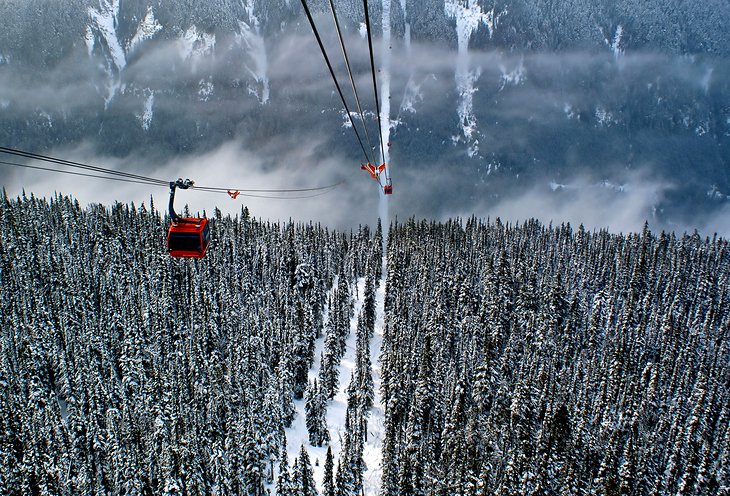 The Peak 2 Peak Gondola provides an elevated ride between the two mountains. Though the distance covered is a record-breaking 4.4 kilometers, the ride takes only 11 minutes. On a clear day, the view is superb and looks out to snow-capped mountains, alpine lakes, and dense coniferous forests. A glance down to Fitzsimmons Creek is also awe-inspiring - at points the gondola is nearly half a kilometer above the valley floor.
If you are lucky, you'll hit the jackpot and ride on a gondola that has a glass-bottom floor in the middle. These gondolas, only two out of 24, are grey instead of the distinctive red color of the others.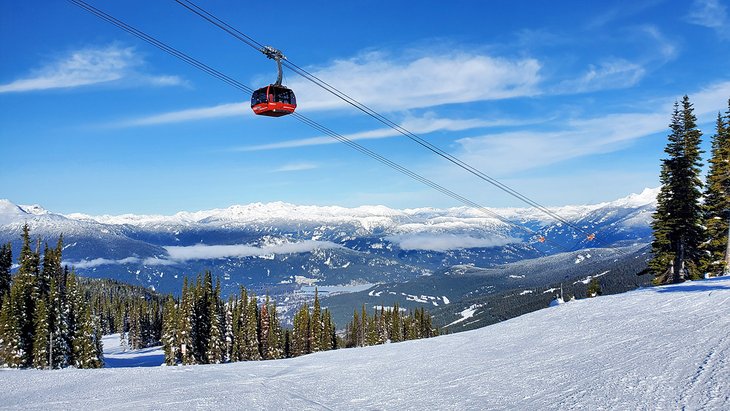 From spring to fall, it's part of the Whistler-Blackcomb sightseeing experience, with guided alpine walks and many photo opportunities. At the peak, loop-hiking trails introduce the alpine terrain and the new Cloudraker Skywalk, with its 360-degree views of the incredible Coast mountain range and Black Tusk, is not to be missed. There is also a tea hut for warm-ups, as the temperatures can be cooler at higher elevations. In winter, skiers and snowboarders make use of the Peak 2 Peak gondola to hop between runs on Blackcomb and Whistler.
3. Squamish-Lil'wat Cultural Centre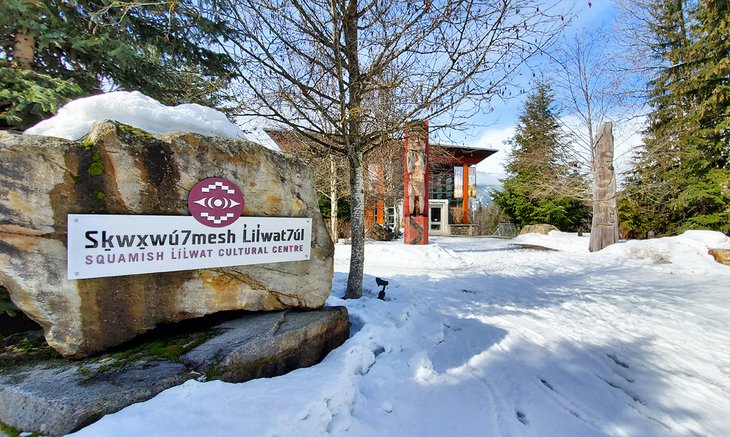 Whistler's beautiful and modern First Nations museum, the Squamish-Lil'wat Cultural Centre (SLCC), is home to a collection of carvings, weavings, and stories that introduce the history and culture of the local Squamish and Lil'wat peoples. Both nations include Whistler in their traditional territory and have lived on and from this land for longer than memory. The on-site café serves an interesting menu of First Nations-inspired dishes, and the gift shop sells some handmade souvenirs.
One of the top things for visitors to do in Whistler at night is to enjoy one of the museum's spectacular First Nations Feast and Performance experiences, which take place each Tuesday and Sunday evening. Things kick off with traditional indigenous dishes followed by a performance by local cultural ambassadors (reservations recommended).
Address: 4584 Blackcomb Way, Whistler
4. Hiking & Climbing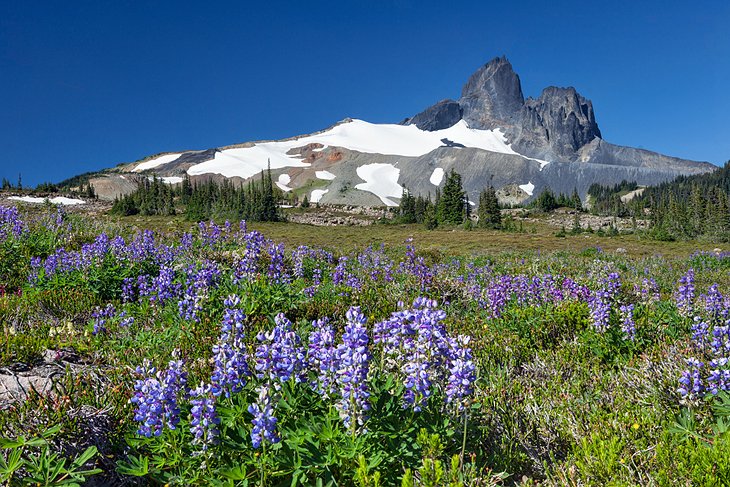 British Columbia is renowned for its many hiking trails, and Whistler is no different. Trails range from easy nature walks around Lost Lake to elevation-intense mountain climbs. A well-traveled network of hikes radiates from the lookouts atop Whistler Mountain. Gondolas take hikers above the tree line, where the trails are especially lovely during the alpine wildflower season.
The mountains also adjoin the mostly un-trod terrain of Garibaldi Provincial Park. Five trailhead areas provide access to the provincial park from varied points between Squamish and north of Whistler. Trails include excellent day hikes to Garibaldi Lake, Cheakamus Lake, and Wedgemount Lake.
The park is also where you'll find Black Tusk, an imposing pinnacle of volcanic rock that juts 2,319 meters above sea level; famous among climbers, it's easy to spot from the comfort of your car as you whizz along the Sea-to-Sky Highway. Or, if you have the stamina, Black Tusk can be reached via a 26-kilometer (round trip) hiking trail. This is not a trail to be taken lightly, you'll ascend a significant amount of vertical, and the end of the trail is slippery shale.
Just a short distance from Garibaldi (and you'll pass it along the way) is Brandywine Falls Provincial Park, a great photo op for its stunning 70-meter-tall waterfall. Also worth including in this day trip is a visit to the "Train Wreck," the location of a group of abandoned 1950s boxcars accessible along an easy trail that includes a cool suspension bridge over the Cheakamus River.
5. Mountain Biking & Other Sports in Whistler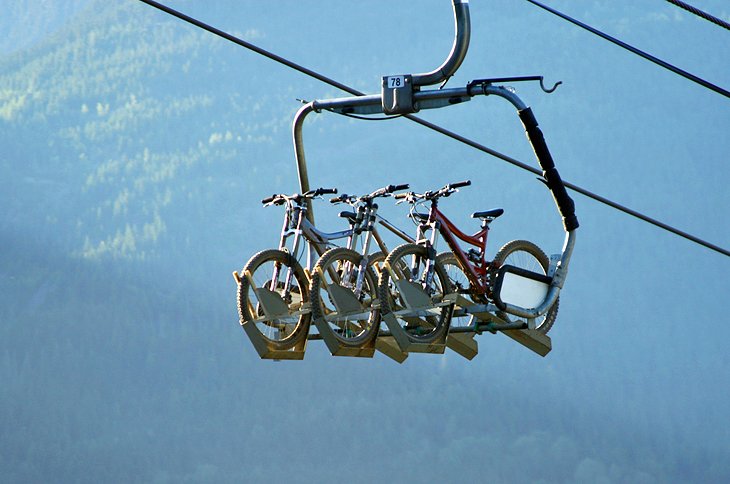 Mountain biking is certainly one of the most popular summer sports in Whistler Village, and visitors will see legions of armor-clad bikers heading up the slopes by chairlift to Whistler Mountain Bike Park. But the region offers many other adrenaline-fuelled activities, too. Taking a zipline tour is one of the most thrilling excursions. Zipliners reach highway speeds while flying across forested valleys.
Another high-speed option is at the Whistler Sliding Centre bobsleigh and skeleton track. Built for the Olympics, the center is also open for self-guided tours. More local thrills are available in the form of bungee jumping above the Cheakamus River, ripping along logging trails on off-road vehicles, and rafting the high river water of the spring melt. Perhaps one of the most insane activities you can participate in is a full-day ice climbing tour, where you strap on crampons and climb up a frozen waterfall.
It's not all about high-intensity fun at Whistler. A more sedate and calming pastime is fly fishing. The rivers in and around Whistler are some of the best in the province for catching rainbow trout, bull, and cutthroat trout. Half-day guided tours will get you onto the fish and provide instructions on how to cast.
6. Whistler Olympic Park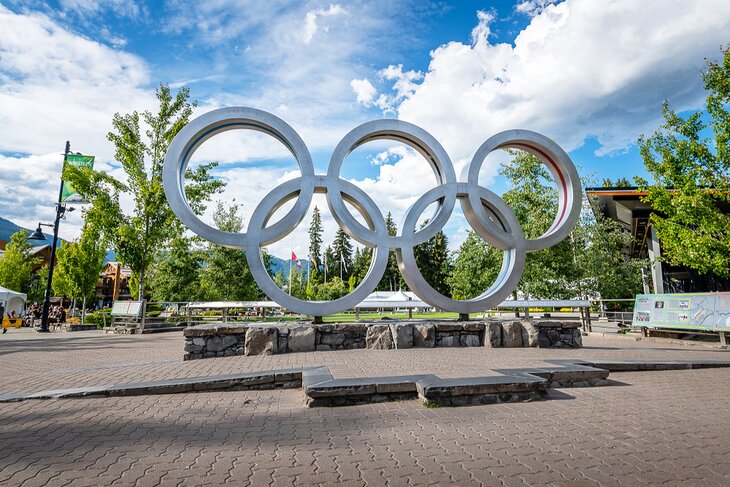 Another facility built for the 2010 Winter Games, Whistler Olympic Park now offers ready access to winter cross-country skiing trails. The unusual-looking ski jumps are still in place at the facility, as are a set of Olympic rings. In winter, Nordic skiers take to the groomed trails while snowshoers follow the route to Alexander Falls and other viewpoints.
A variety of hands-on tour options are available, some of which include aspects of sports like biathlons (rifle shooting), mountain biking, as well as guided hiking tours.
Address: 5 Callaghan Road, Whistler, British Columbia
7. Golfing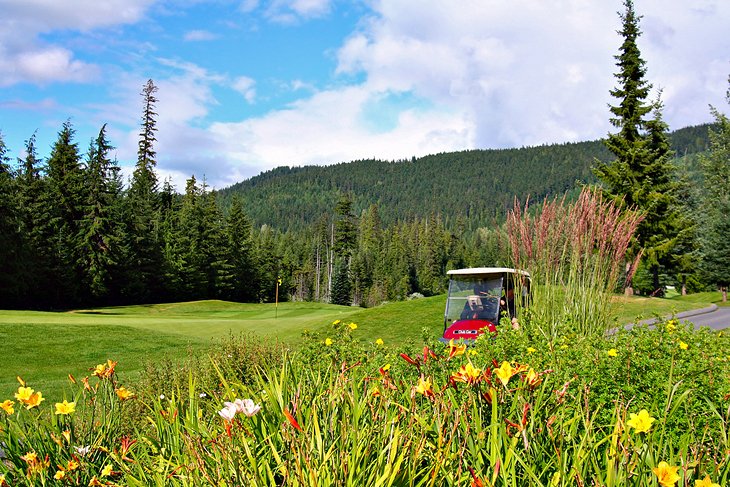 Celebrity-designed courses add to the resort vibe in Whistler. These Pacific Northwest fairways are set amid a lush landscape of stately conifers, pocket lakes, and a mountain backdrop. Options for playing 18 holes include the Arnold Palmer-designed Whistler Golf Club, the Nicklaus North Golf Club, and the Fairmont Chateau Whistler Golf Club.
Playing a round on these uber-scenic courses replete with mountain views, rushing rivers, and towering trees is something that every golfer should put on their to-do list. A little-known fact: your golf ball travels farther at higher elevations. With Whistler perched at 2,200 feet, this could be just the thing to notch a personal best long drive!
Avid golfers are advised to book in advance during peak season to be assured of a tee time. For non-golfers, a variety of pleasant walking trails are located around the perimeters of these courses.
8. Lost Lake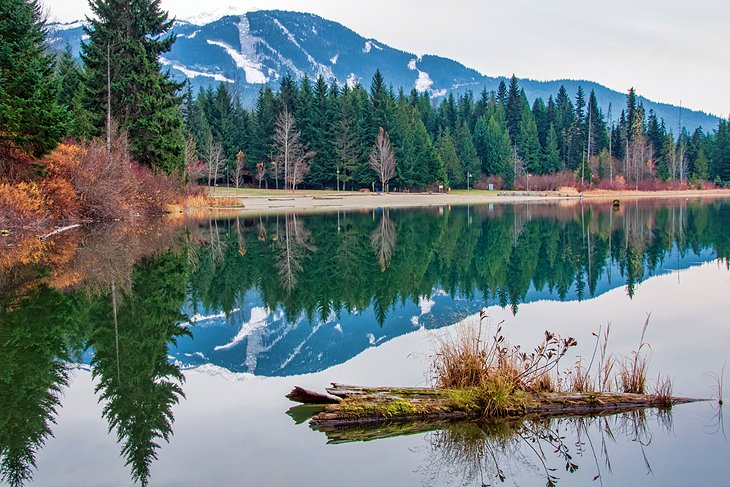 Lost Lake is a year-round destination for activities, be it mountain biking, hiking, and bird-watching in summer, or snowshoeing and cross-country skiing in winter. From the shoreline, trails fan out, allowing visitors to explore the surrounding quiet forests filled with British Columbia wildlife. The small lake features a beach area and is generally one of the busier spots on a hot summer day, especially as there is a shuttle from the village.
For more sandy, freshwater beaches near Whistler, head to Alpha Lake and Alta Lake.
9. Audain Art Museum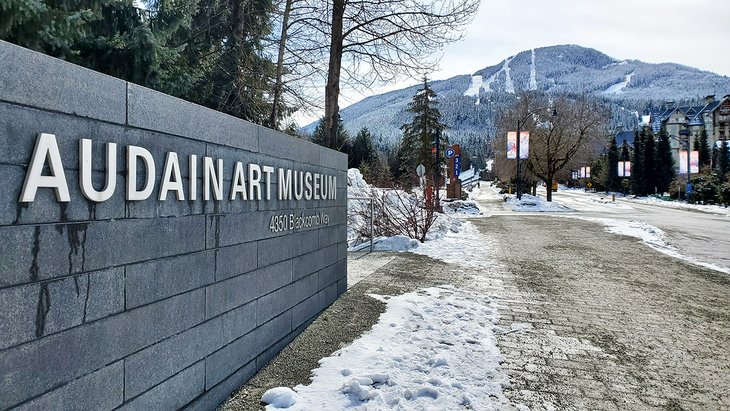 One of the newest cultural attractions in Whistler, the exquisitely designed, wood-clad Audain Art Museum opened in 2016 and has become a fast favorite among tourists and locals alike. With a mandate to feature British Columbian art and artists from the late 1700s onwards, the museum's permanent collection is certainly impressive.
Highlights include The Dance Screen, a large work carved from cedar by artist James Hart, along with examples from renowned Canadian artists including Emily Carr and E.J. Hughes. Important First Nation's art is represented, too, including a variety of historic masks.
In addition to hosting regular traveling exhibits, the facility hosts lectures, educational programs (for kids as well as adults), and cultural events and activities. Also worth a visit, the Maury Young Arts Centre features a community gallery of works by local artists, some of which is available for purchase.
Address: 4350 Blackcomb Way, Whistler, British Columbia
10. Whistler Museum
Whistler Museum is small but ambitious. It tells tales from Whistler's early days and should definitely be added to your list of things to do. The museum's interesting exhibits introduce local characters, including early settlers and lodge owners, quirky area artists, and the many world-class athletes who have trained on the slopes. A few interactive exhibits let visitors dress up or touch pieces of Whistler history, and there's a large focus on Olympic memorabilia.
The museum also offers a number of regular guided walking tours of the historic points of interest around the resort area, nature hikes, craft programs for kids, and educational seminars.
Address: 4333 Main Street, Whistler, British Columbia
11. Cloudraker Skybridge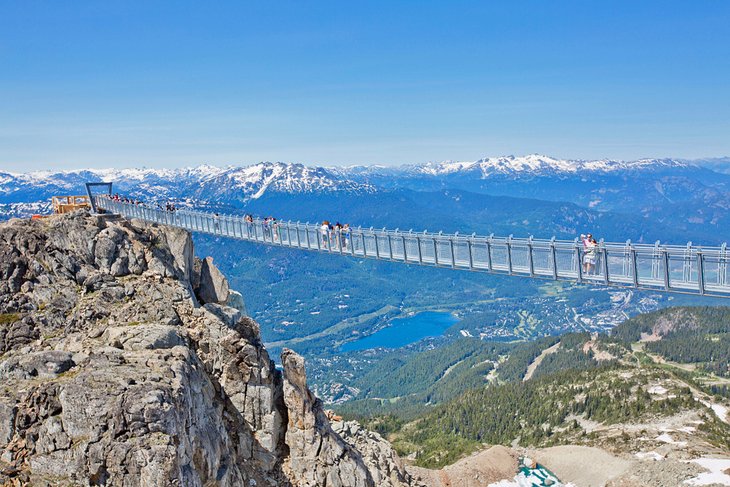 Situated at the highest point on Whistler Mountain, near the top of the Peak Chairlift, is the Cloudraker Skybridge. This new attraction offers arguably some of the finest views in all of British Columbia. Open only in the summer, this metal-framed bridge stretches 130 meters over a yawning chasm from Whistler Peak to West Ridge.
On top of West Ridge, the Raven's Eye deck provides unobstructed views of Black Tusk in Garibaldi Provincial Park, Whistler Village, Blackcomb Mountain, and the Coast Mountain range. Equally thrilling is the ride up the Peak Chair as it ascends steeply over several sections that are very high.
Participants have to be one meter tall and have a reasonable level of fitness to manage the 0.6-kilometer walk on a gravel walkway with an elevation gain/loss of 63 meters.
12. Day Trip to Squamish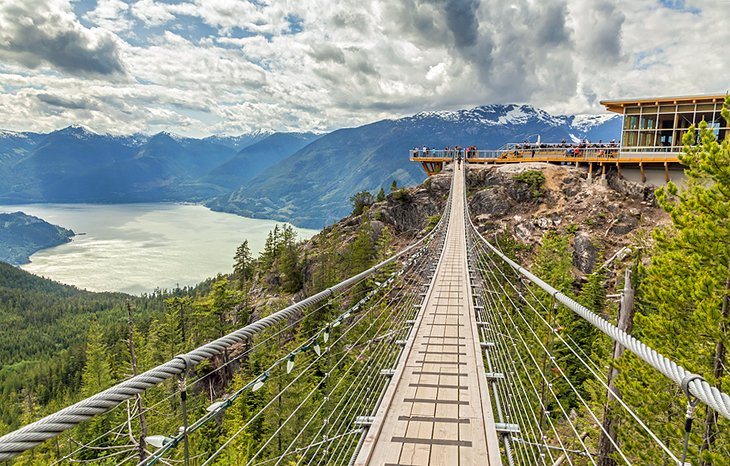 In its spectacular setting at the head of Howe Sound, the old logging town of Squamish is now a destination with exciting things to do and outdoor activities, such as rock-climbing, hiking, mountain biking, and kiteboarding.
The Stawamus Chief Mountain (Stawamus Chief Provincial Park) on the edge of town is a granite dome that attracts outdoor enthusiasts, particularly climbers. It's also the site of a favorite (though very challenging) hike with outstanding panoramic views. Gondola-access hikes at the Sea-to-Sky Gondola offer more varied mountain routes.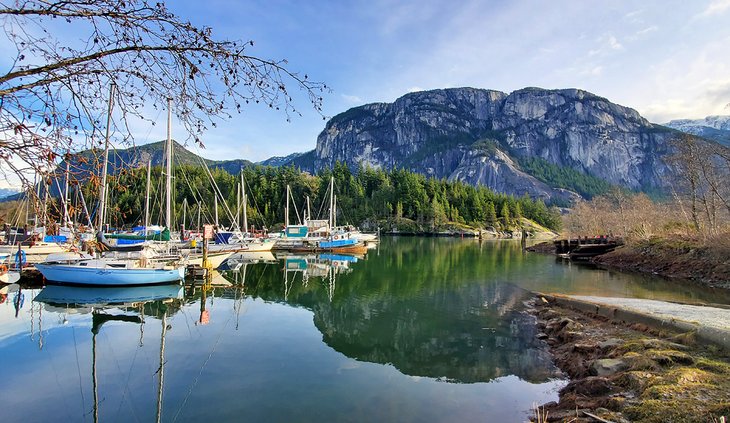 The town itself has a solid selection of retail and restaurants, as well as a lovely waterfront. For a look at some local history, stop in at the Britannia Mine Museum.
Squamish is located on the Sea-to-Sky Highway (Hwy 99), which makes it a natural stop on a road trip to (or from) Whistler. Also in the vicinity, Shannon Falls Provincial Park is a favorite rest area, with the third highest falls in British Columbia (335 meters high) being an awe-worthy draw only a five-minute walk from the parking lot.
13. Day Trip to Pemberton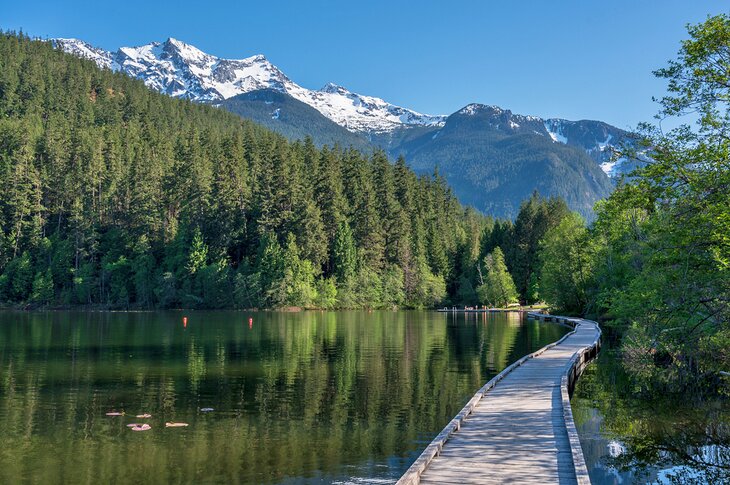 Located northeast of Whistler, Pemberton is the next stop if you carry on along Highway 99. The settlement offers a wealth of outdoor activities, from golfing and mountain biking in summer to heli-skiing and snowmobiling in winter.
The area around the town is mostly uninhabited, with glacier-fed lakes and mountains surrounding the valleys. An easy-to-follow trail that's popular with locals for its swimming opportunities is One Mile Lake Park, which can be completed in under an hour.
An easy road trip stop is Nairn Falls Provincial Park, where the Green River tumbles into a series of roaring waterfalls. Pretty Joffre Lake Provincial Park is also worth seeking out to photograph the teal hue of the lakes.
14. Day Trip to Lillooet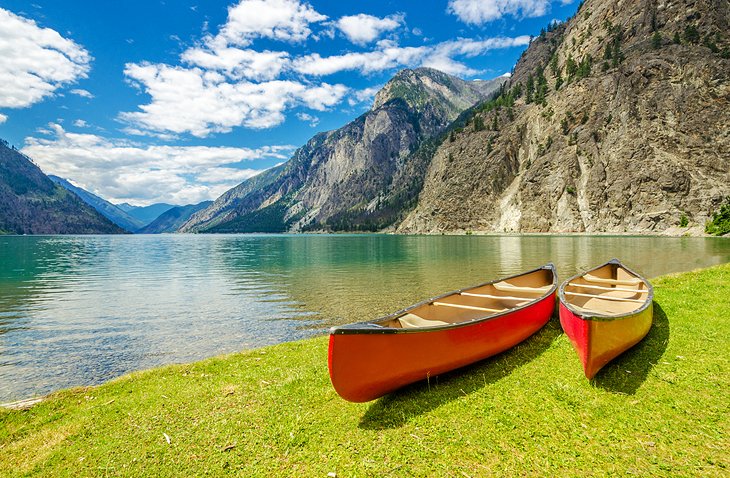 An attractive and twisting drive farther northeast along Highway 99 takes tourists to the small town of Lillooet (it's a two-hour drive from Whistler, so be prepared to spend the best part of the day on this day trip).
Located on the banks of the Fraser River, this charming little community owes its existence to the Cariboo Gold Rush of 1858, as it was here that gold hunters exchanged their canoes for ox-carts and set off up the Cariboo Road. The Lillooet Museum is full of memorabilia from these gold-craze days, and a Mile 0 cairn marks the historic route.
Lillooet is also known for its extremely dry climate, something of an anomaly due to the sheltering effect of the surrounding mountains-an effect that has earned the community the nickname "Canada's Hot Spot."
From Lillooet, you can also visit beautiful Seton Lake, a huge reservoir that's popular for its fishing, swimming, and boating.
Where to Stay in Whistler for Sightseeing
Whistler is spread out along the Sea to Sky Highway with a number of different developments, but the best place to stay is right in the heart of bustling Whistler Village. The Village, as it is commonly referred to, is fairly compact and there is no one best location, but as a general rule of thumb, the closer you get to the main walkway, Village Stroll, the more lively the scene. Skiers will want to be near the southern end of the Village to shorten the walking distance to the lifts. Note that parking at the hotels is expensive and always in addition to your room rate.
Below are some highly rated hotels in great locations for you to consider:
Luxury Hotels:
Right in the center of the action, along Village Stroll, is the Pan

Pacific

, with oversized suites, full kitchens, and gas fireplaces. A breakfast buffet and après ski snacks are included in the room rate.
Farther out from the center, and near the lifts of Blackcomb Mountain, is the Four Seasons Resort and Residences

Whistler

, known for its first-class service, luxurious rooms, and amazing amenities.
The Sundial Boutique

Hotel

is at the southern end of the Village, at the base of the Whistler lifts. This hotel is just steps from the lively street scene and features a rooftop hot tub with amazing views.
Mid-Range Hotels:
In the northern end of the Village, near the Olympic Park, is the pet-friendly Summit Lodge Boutique

Hotel

. This boutique hotel offers spacious rooms, with balconies and full kitchens, and an outdoor pool.
Just slightly north on the Village Stroll is the Delta Hotels by Marriott Whistler Village

Suites

featuring a large indoor/outdoor pool and hot tub and a well-regarded steak house on the premises.
For true ski-in/ski-out convenience at Blackcomb Mountain, about 2.4 kilometers from the Village, Blackcomb Springs Suites by

CLIQUE

offers good-value suites with kitchens and balconies. A deluxe complimentary breakfast is included in the room rate.
Budget Hotels:
The Pinnacle

Hotel

, near the Olympic Park, has oversized rooms with soaker tubs and full kitchens at a fair price. Use of the free shuttle around town is included with the room rate.
Adjacent to the Whistler Convention Center, the Aava Whistler

Hotel

is pet-friendly and also offers guests rentals of GoPro Hero 4D video cameras.
In the heart of the Village and offering quality rooms at reasonable rates, the Crystal Lodge

Hotel

is steps from restaurants and entertainment activities, as is the Mountainside

Lodge

, popular for its studios and one-bedroom suites.
More Related Articles on PlanetWare.com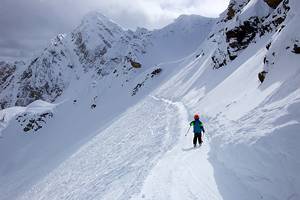 Skiing in Canada: Canada boasts no shortage of great places to enjoy time on the slopes. In addition to the great skiing at Whistler and Blackcomb, check out our list of the best ski resorts in Canada to find the best places to ski across the country.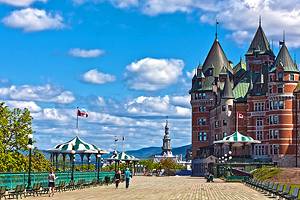 Exploring British Columbia: See our guide to the best Canada travel itineraries to discover routes for exploring BC. and even the neighboring province of Alberta. Vancouver Island is another great place to visit, especially for adventure seekers who tend to head up-island for the surfing, hiking, camping, and other sports around Tofino. In the interior of British Columbia, be sure to enjoy some time in the Okanagan Valley and the city of Kelowna and Penticton.