8 Top-Rated Campgrounds in Tofino, BC
Author Lana Law loves the beaches of Tofino and returns every chance she gets.
Wake in an old-growth forest beneath giant trees or along the shores of the Pacific Ocean with the sound of waves rolling in on the enormous beaches. Camping in Tofino allows you to fully appreciate the natural beauty of the area and immerse yourself in the environment.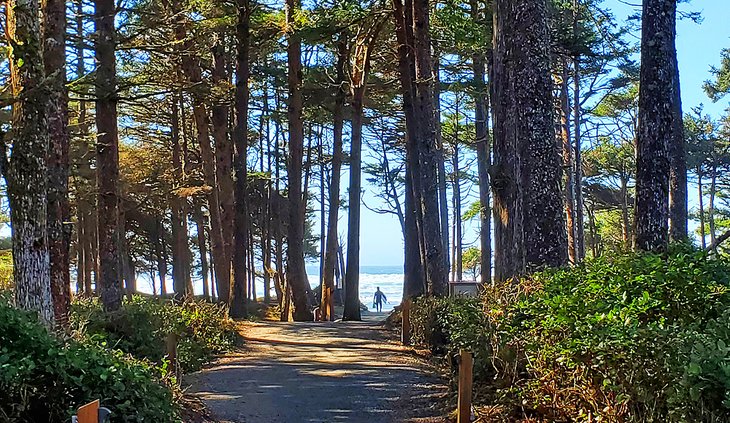 The main attraction in the area and where many visitors look to camp is Pacific Rim National Park Reserve, but you can find camping from the town of Ucluelet in the south right up to the newly expanded offerings in Tofino to the north of the park. In fact, many of these private campgrounds are far better options with more facilities and better locations than the two in the park.
Some campgrounds have their own unique vibe, like those that cater largely to surfers, while others are more geared toward families. Depending on the campground, you'll generally find a mix of RV sites, tent sites, and glamping options either in yurts, hard-sided structures, or permanent RVs.
Below is a list of the best campgrounds in the Tofino area.
1. Surf Grove Campground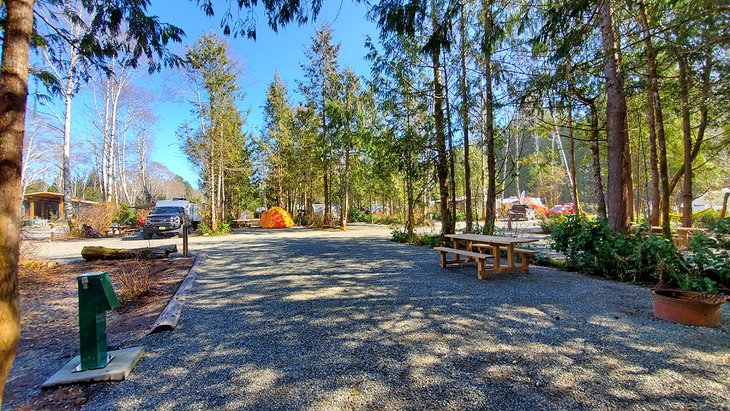 Sometimes things move slowly in Tofino, and the arrival of Surf Grove Campground is no exception. It's taken 20 years for a new campground to arrive, and fortunately, the wait has been worth it. Situated on a former campground area that had gone to ruin, Surf Grove is the latest and greatest evolution in camping. Brand new facilities ranging from modern washrooms, nicely spaced campsites, and well-thought-out common areas make camping here a pleasure.
The campground is on Cox Bay and shares some pretty premium real estate; neighbors nearby include the Pacific Sands Beach Resort, Long Beach Lodge, and Cox Bay Beach Resort. A short walkway, complete with showers, leads to a lively beach scene of surfing and beachcombing. In the evening, the gentle glow of beach fires and laughter mark the end of another great day.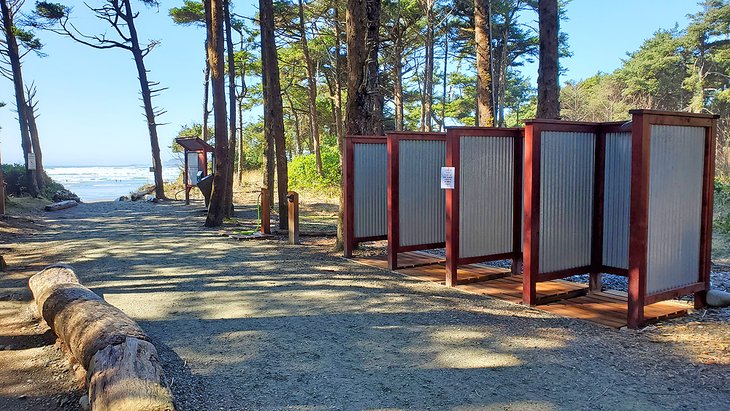 Surf Grove has 190 sites, all with water, sewer, and electricity, and are bookable in advance online.
Want to camp but don't fancy sleeping in a tent on the ground or don't want to tow your rig all the way out here? Consider renting one of the permanent RVs. These fully equipped units come with a full kitchen, a queen bed, and even an electric fireplace. The RVs are ideal for families and can sleep two adults and two children. All you need to do is bring food, bedding for the bunks, and towels. Outside the RV is a level area, with two Adirondack chairs, a BBQ, and a picnic table.
Another option for the non-tenting folks is A-Frame Tents. These permanent wooden structures aren't really tents at all despite their name. What they are is a queen-sized bed tucked in a triangular wooden framed building complete with big windows, heat, and electricity. There's no kitchen, so you'll need to bring all your regular camping gear. With this option, you just don't need to sleep on the ground in a soggy tent if it rains.
If you've got a chill that you just can't shake, which is not uncommon after surfing in the bone-chilling North Pacific, sign up for a session (fee charged) in one of the Surf Grove Saunas. These unique cedar saunas are in the shape of an oversized barrel and hold six people comfortably.
Don't feel like cooking? Break out your best clothes and walk down the beach to Long Beach Lodge and enjoy a sunset dinner in the Great Room restaurant.
Address: 1451 Pacific Rim Hwy #1109, Tofino, British Columbia
2. Wya Point Resort Campground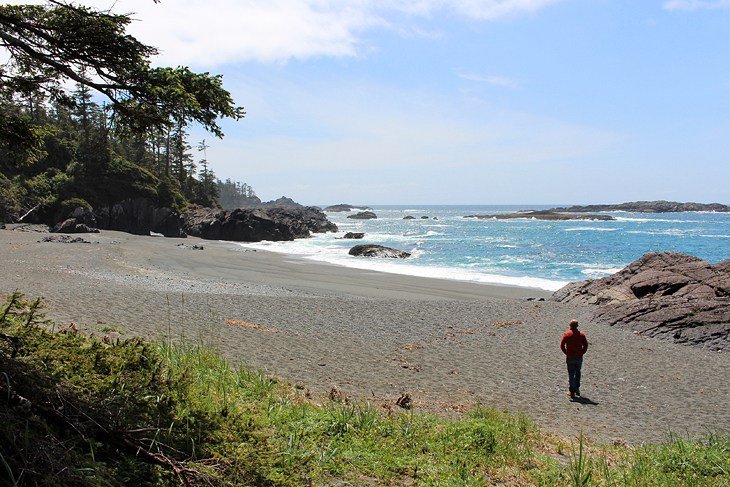 This campground has the most beautiful setting of any campground in the area. The dark-sand beach and surrounding rocky shoreline is wildly scenic and remote enough that you won't see tourists wandering by.
Wya Point Campground has a mix of drive-in and walk-in campsites. Some of the walk-in tent sites are set in the trees that line the top of the beach and are just a short distance from the parking area. You can wake to the most incredible view and step out onto the sand.
Sites here are primarily designed for tents, although some small RVs and pop-up trailers will fit with a bit of creative parking.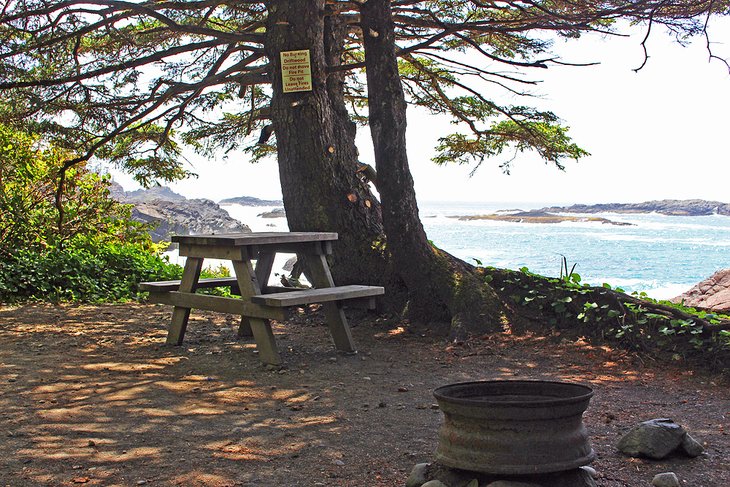 The drive-in sites are located a little farther back and up the hill from the beach. On one end of the beach is a line of three oceanfront yurts.
Reaching the campsite requires driving a few kilometers down a dirt road but this is a real plus because you are removed from the highway and any traffic noise. Sites are all very private and come with a picnic table and fire pit. Facilities include flush toilets and showers.
Address: 2460 Willowbrae Road, Ucluelet, British Columbia
3. Green Point Campground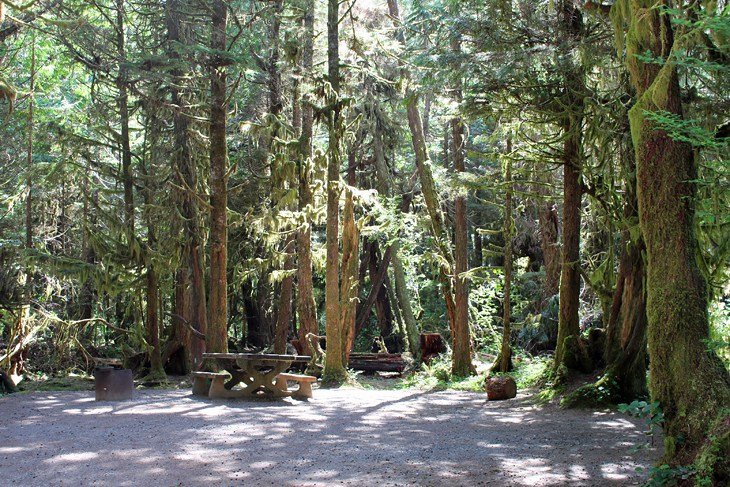 Green Point Campground is located within Pacific Rim National Park. This is a large campground in a heavily wooded area and is very centrally located. The campground is set high above the ocean in the trees, and some sites at the front of the loop have views out to the ocean, looking over a hillside. However, sites are not truly oceanfront because you can't walk from your campsite to the water's edge.
Sites are all very private with plenty of vegetation between spots. The area has huge trees, and sites vary in size. Those closest to the ocean are smaller and more suited to tents, while sites on the forest side of the loop are larger and suitable for big RVs.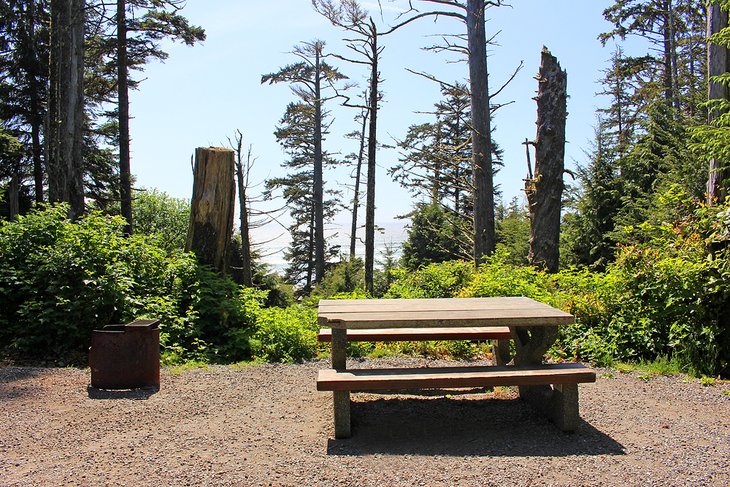 The campground has 94 drive-in sites, all with electricity, and 20 more primitive walk-in forest sites. All sites are reservable, and the summer high season dates book out almost immediately when registration opens up in January. Book in advance or come in the spring or fall if you want to have the best chance of securing a campsite.
One oTENTik soft-sided unit on a platform is available.
4. Bella Pacifica Campground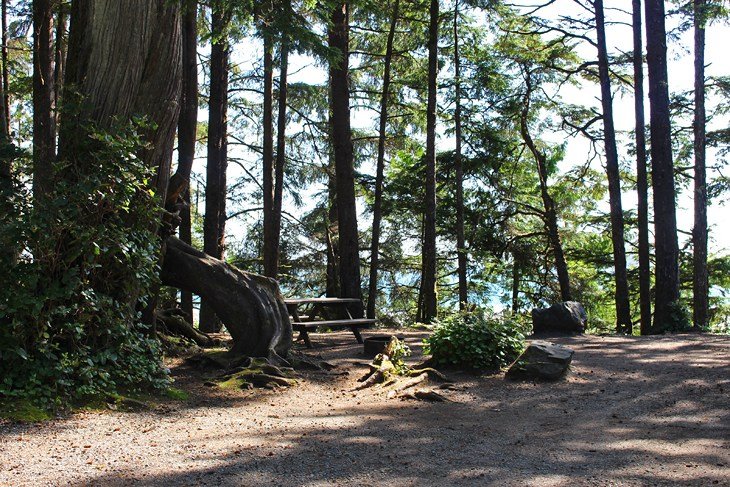 Bella Pacifica is a lovely campground with 190 sites, close to town, but in a true forest setting. The tent sites here are incredible, all of which are very private and surrounded by huge trees. Many of the tent sites have ocean views. The RV area is not the same. This section is a long open area with no privacy between sites.
Nonetheless, Bella Pacifica Campground is in an extremely convenient location. Four boardwalks allow campers access to the stunning wide-open spaces of McKenzie Beach. The campground has three restroom facilities with flush toilets and showers. Basic supplies are available from the campground office.
Address: 400 MacKenzie Beach Road, Tofino, British Columbia
5. Crystal Cove Beach Resort: Cabin and RV Resort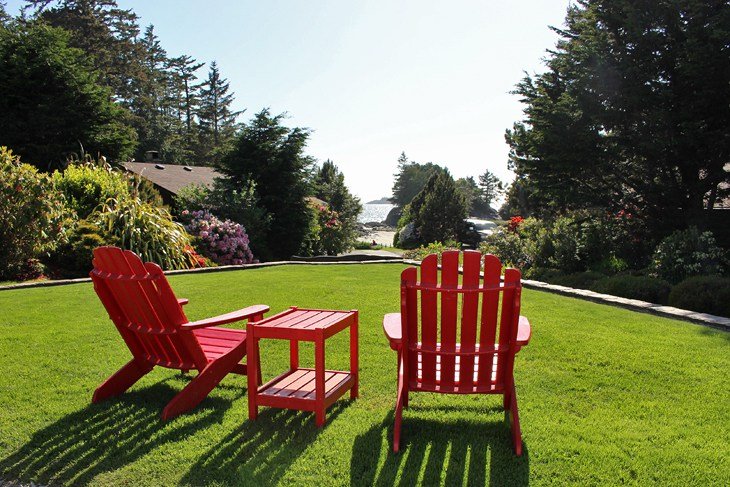 Crystal Cove has a mix of RV sites and 34 quaint log cabins for rent. The grounds here are immaculate, with beautiful gardens and common areas, and the front of the property offers views of the ocean.
Some RV sites cater to long-term guests, but others offer short-term stays. All RV sites have 30-amp power, water, sewer, a picnic table, and a fire pit. In addition, 10 "glamping" sites are available in 30-, 35-, and 40-foot fully outfitted permanent 5th-wheel RVs set up for overnight (or longer) visitors. A minimum stay of three nights is required during peak season.
A colorful children's playground offers play structures and fun activities for kids, Crystal Cove truly has the feel of a "resort" and not just a campground. It's also just outside of Tofino and incredibly convenient for accessing the town, grocery shopping, or seeing some of the nearby attractions.
Address: 1165 Cedarwood Pl, Tofino, British Columbia
6. Surf Junction Campground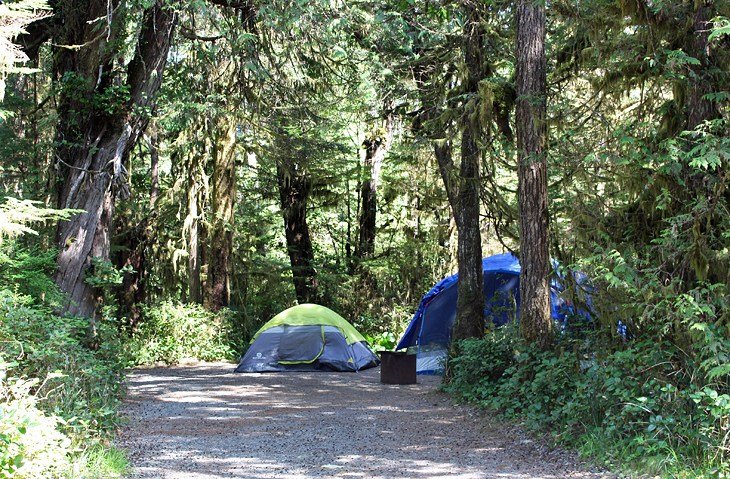 Set on the inland side of Highway 4, this campground is funky and fun. The campground is targeted to surfers and as a result has some unique amenities, including a hot tub and sauna, perfect for warming up after a day in the frigid North Pacific Ocean. You'll also find wetsuit washing facilities and drying racks.
The campground has 75 tent and RV sites, many of which are large and mostly level. The campground is divided into two sections: the Front Lot and the Back Lot. The distance between the two is about one kilometer. If you want peace and quiet, choose the Back Lot, for a livelier time and to be close to the hot tub and sauna, grab a spot in the Front Lot.
Surf Junction continues to improve and evolve. Surf Junction has recently built a brand new communal building in the Back Lot, with showers, toilets, and an indoor kitchen area for meal prep. It's also a fun place to hang out and meet your fellow travelers and swap surfing stories.
Surfboards and equipment rentals along with instruction are available on-site. If you are a surfer, or want to become one, and love camping, this is definitely the place to be. Note that the campground is not located on the ocean; it's about a five-minute drive to Wickaninnish Beach, one of the best surfing spots along the coast.
Address: 2650 Tofino Ucluelet Hwy, Ucluelet, British Columbia
7. Long Beach Campground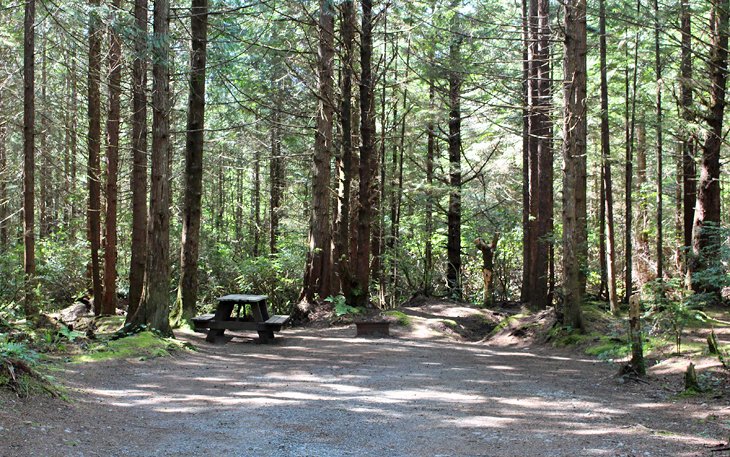 Despite the name, which suggests it may be on Long Beach, this campground is tucked back in the woods near the airport and the Long Beach Golf Course. The 76 campsites include a mix of large sites in a heavily forested area and a few brighter sites located in more open areas on grass. In addition, six fully serviced RV sites are on offer.
Long Beach Campground is in an exceptionally convenient location, all of the things to do within Pacific Rim National Park are a short drive away, and the main beach is just across the highway. The town of Tofino is only a few minutes down the road.
Golfers will also find this campground especially well located, as the golf course is on the same property and within easy walking distance from the sites. Long Beach Campground has new flush toilets, laundry facilities, and free showers (a rarity!) in the main building. Dogs are allowed, but there is a one-time fee.
8. Ucluelet Campground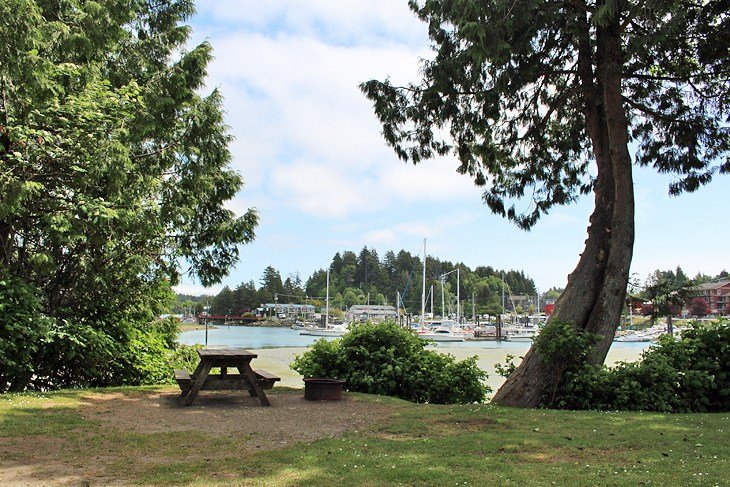 This campground is set right in Ucluelet, about a 40-minute drive south of the town of Tofino, but only about 20 minutes from Long Beach in Pacific Rim National Park Reserve. While this is in town, it is still a scenic place to set up camp. Some sites overlook the pretty harbor, while others offer mountain views.
Camping at Ucluelet Campground has the feel of being in a city park rather than a rainforest. For those who prefer more trees, semi-private forested sites are also available. The campground has 125 sites but note that only 15-amp service is available. The campground recently installed a brand-new washroom building with modern amenities and heated outdoor showers.
The Wild Pacific Trail, which includes two separate sections, is a short drive away.
Address: 260 Seaplane Base Road, Ucluelet, British Columbia
Map of Campgrounds in Tofino, BC
More Related Articles on PlanetWare.com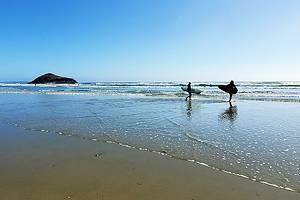 Explore Tofino: The true attraction of Tofino is the wild scenery, and one of the best and easiest ways to see this is on foot. Have a look through our list of the best hiking trails in Tofino to figure out where to go. Be sure to take some time to also explore the numerous attractions or even hop on a tour. For ideas on how to spend your time in Tofino, see our article on the top things to do in Tofino.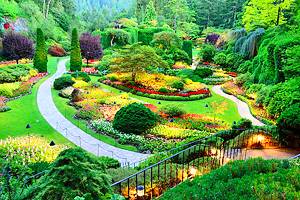 Vancouver Island: Vancouver Island is a beautiful destination for camping. For some inspiration on where to camp, turn to our piece on the best campgrounds on Vancouver Island. This will give you an overview of the island and some of the parks that offer outstanding campgrounds. For general ideas of sightseeing, don't miss our list of the top attractions on Vancouver Island. If you are arriving to Vancouver Island by ferry, chances are you will be transiting through either Victoria or Nanaimo. Both cities are worth some time. The capital of B.C., Victoria is home to all kinds of interesting attractions. Nanaimo is smaller but still offers an array of things to do.