10 Top-Rated Hiking Trails on Vancouver Island, BC
We may earn a commission from affiliate links ()
Vancouver Island is home to mountains, glaciers, lakes, forests of centuries-old trees, and hundreds of kilometers of coastline. The hiking opportunities here range from multi-day coastal treks to full-day summit hikes and peaceful walks through meadows and valleys. Along the rugged west coast of the island, you'll find life-changing hikes, like the West Coast Trail and the Juan de Fuca Trail. In the interior are ancient forests and alpine areas to explore on foot. Even if your travels take you no farther than the provincial capital of Victoria, you won't be disappointed with the hiking opportunities. For a look at trails that range from wheelchair accessible to demanding week-long journeys, see our article on the best hikes on Vancouver Island.
Note: Some businesses may be temporarily closed due to recent global health and safety issues.
1. Juan de Fuca Marine Trail, Port Renfrew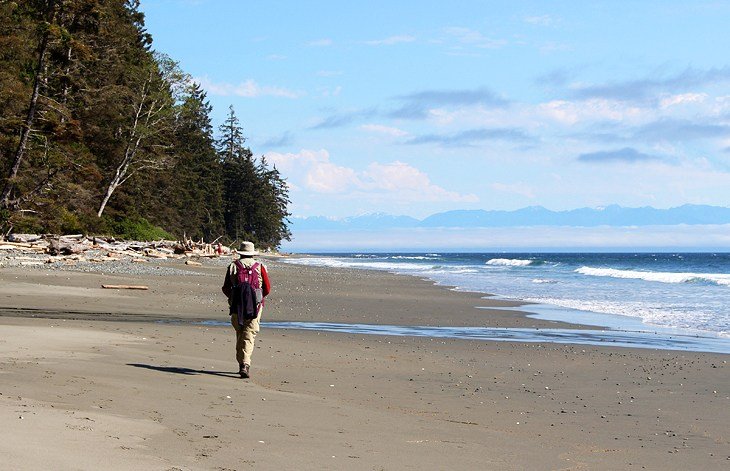 The Juan de Fuca Marine Trail, usually just called the Juan de Fuca Trail, is a multi-day trek that runs along the wild west coast of Vancouver Island, from China Beach to Port Renfrew. This hike takes you along beautiful open stretches of beach, over rugged shorelines and headlands, and meanders through a forest of huge Sitka spruce; western hemlock; and western redcedar, B.C.'s provincial tree. The enormous size of these trees is breathtaking. But you don't have to complete the entire trail to enjoy a day-hike along the Juan de Fuca Trail.
You can access the trail from China Beach, Sombrio Beach, and Port Renfrew, near Botanical Beach. Each of these sections offers something a little different. If you are staying in Port Renfrew, don't miss an opportunity to take a stroll along this trail, down to the ocean and through some dense forest and towering trees. It's also worth wandering down to the trail at Sombrio Beach, where you'll find oceanfront campsites looking out over a wide swath of beach. China Beach is one of the most beautiful and easily accessible sections, but the actual trail only leads through the woods from the parking lot, so you will have to detour a bit to see China Beach.
The entire trail is 47 kilometers and generally takes three to four days to complete. The easiest section is the portion closest to Port Renfrew, and the trail becomes more difficult as you head south.
2. West Coast Trail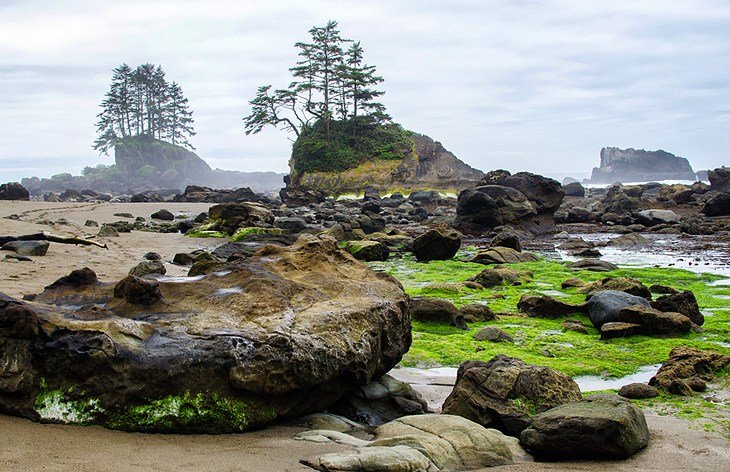 The West Coast Trail is one of the most famous hiking trails in all of Canada. Hikers are drawn here by the outstanding scenery, and many come simply for the challenge. It is a difficult, multi-day hike along the rugged southern west coast of Vancouver Island. Portions of the trail were once used by First Nations, who paddled and walked through these areas, but the trail was established along here to aid in the rescue of shipwreck survivors. The trail stretches 75 kilometers, from south of Port Renfrew to Bamfield, and can be done in either direction.
You can expect to encounter all kinds of terrain, from forests and bogs to beaches and rocky headlands. This is not a simple walk in the woods. Hikers need to negotiate ladders and be prepared for climbing and other obstacles. The southern portion is more difficult than the north, but the terrain is only one aspect. The weather presents its own obstacles. This area is frequently wet and cool, creating slippery conditions and the risk of hypothermia.
The trail is open from May 1 to September 30, and you need a permit to hike the West Coast Trail. The reservation system opens in early January, and the spaces fill almost immediately. If you want to have a serious chance of securing a spot, set up an account in advance of the first day reservations open and try to book the morning the system opens. Check with the Pacific Rim National Park Reserve site for details and planning.
3. Cathedral Grove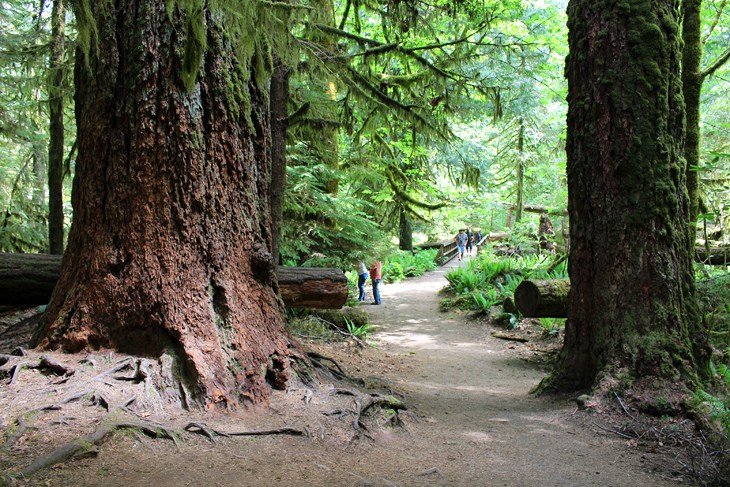 This short hike through a forest of giants is well worth a stop if you are near Qualicum Beach or on your way to Tofino and Ucluelet. A few loops in the area lead through ancient stands of Douglas-fir, some of which are more than 800 years old, as well as western redcedars, which can reach heights of 60 meters. You'll also see bigleaf maples, which turn yellow in the fall. The largest tree in Cathedral Grove, simply known as The Big Tree, is a 76-meter Douglas-fir, measuring nine meters round, and is thought to be more than 800 years old. The trails are flat and easy and can be found on both sides of the Highway 4. Parking is right on the edge of the highway, which is not generally busy, but can be on weekends and holidays.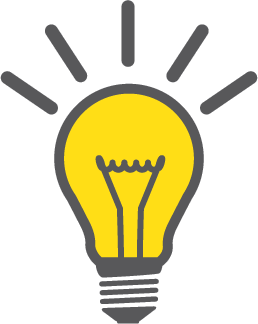 If you are visiting Vancouver and would like to do a quick tour to Vancouver Island and hit a few of the best trails on this list, consider a 2-Day Tofino Tour from Vancouver. This tour will arrange everything for you, from transportation to a hotel, and take you to Cathedral Grove, as well as the Wild Pacific Trail. You'll also have a chance to visit Long Beach in Pacific Rim National Park Reserve and other interesting stops in the area.
4. Schooner Cove Trail, Pacific Rim National Park Reserve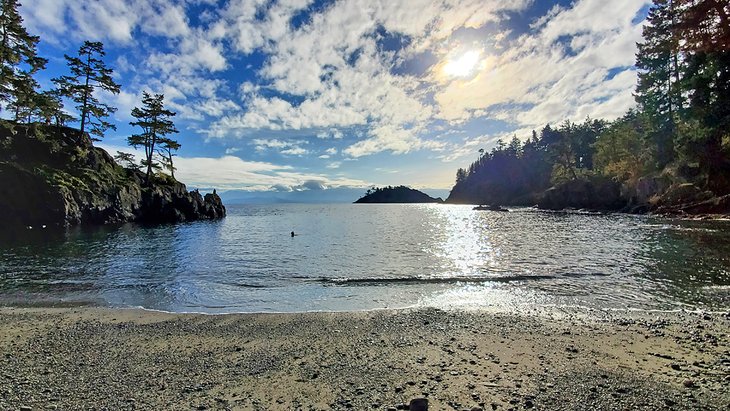 Pacific Rim National Park Reserve outside the town of Tofino is a highlight of Vancouver Island, and the hiking here is spectacular. Hikes are generally short but deliver big rewards when it comes to scenery. Huge beaches and some of the oldest trees in Canada are what you can expect to find in this area. For the best perspective on this, head to the Schooner Cove Trail at low tide. Enormous trees, some up to 800 years old, line the trail through the forest, which includes long stretches of raised boardwalk and takes you to a remote sand beach. The hike itself is only a kilometer each way, but you can count on spending more time wandering along the beach. At low tide, you can walk to islands, around headlands, or just head south down the beach. Schooner Cove lies at one end of the 16-kilometer Long Beach and is one of the best hikes in the Tofino area.
5. Wild Pacific Trail, Ucluelet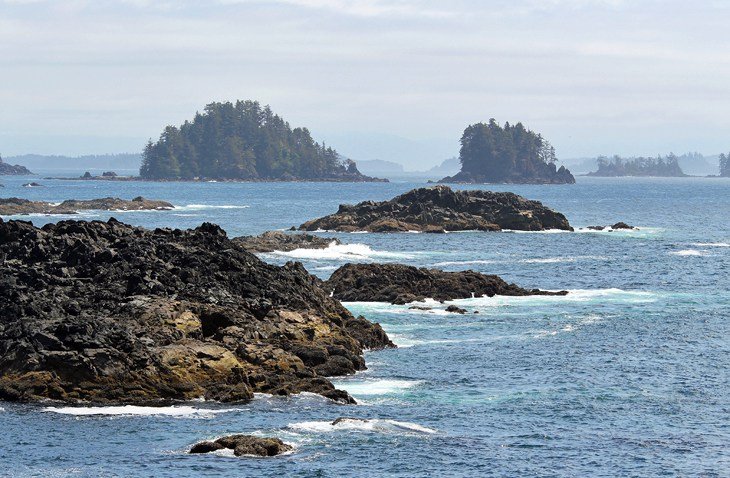 Just south of Pacific Rim National Park Reserve, about 40 minutes from the town of Tofino, is the small community of Ucluelet and the Wild Pacific Trail. This trail offers a glimpse of the wild and rugged coast that dominates this area of Canada but provides easy access on a well-maintained trail. Most hiking trails in the nearby national park lead to beaches and present a different landscape than what you will see on the Wild Pacific Trail. The offshore islands, waves crashing on rocks, lighthouse, and twisted and windblown trees have their own unique beauty.
The trail is divided into two sections. The Lighthouse Loop is a 2.6-kilometer trail and the most popular section with the most stunning scenery. The Brown's Beach to Rocky Bluff portion is an eight-kilometer return-trip hike along the ocean and through rainforest and is also worth doing.
6. Coast Trail, Sooke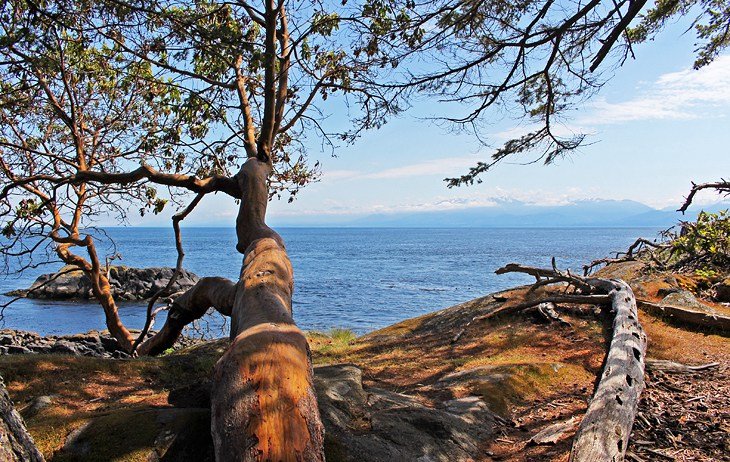 One of the most beautiful hikes in the Victoria area and also one of the classic day hikes in British Columbia is the Coast Trail, in East Sooke Regional Park, about 45 minutes from downtown Victoria. This trail takes you along beaches, across rocky shores, and over headlands, and looks out over the Strait of Juan de Fuca to the snowcapped Olympic Mountains. This is a challenging 10-kilometer one-way hike, but you can do a portion of it as an in-and-out hike if you choose. The most popular area starts from Aylard Farm, which is also a popular day use area with a beach.
If you would like to take a guided tour, you can arrange a Vancouver Island Guided Hike with Private Guide to take you on a two- to three-hour hike in the Victoria area, including pickup from your hotel or the port.
7. Mount Work Trail, Victoria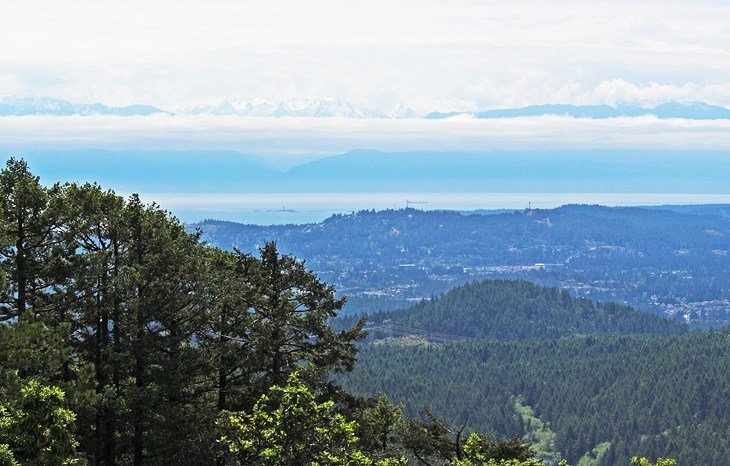 Mount Work, just a 40-minute drive from downtown Victoria, offers stunning mountain top views over Saanich Inlet, the Strait of Juan de Fuca, and beyond to the dramatic peaks of the Olympic Mountains. The 4.5-kilometer return-trip trail takes you up through a forested area, steep at times but not technically challenging, to two viewpoints. Each of these looks out in different directions. It's best to leave this hike for a clear day when you can fully appreciate the vistas. The trailhead is in Mount Work Regional Park, beyond Durrance Lake, at the Ross Durrance Road Parking Lot.
8. San Josef Bay Trail, Cape Scott Provincial Park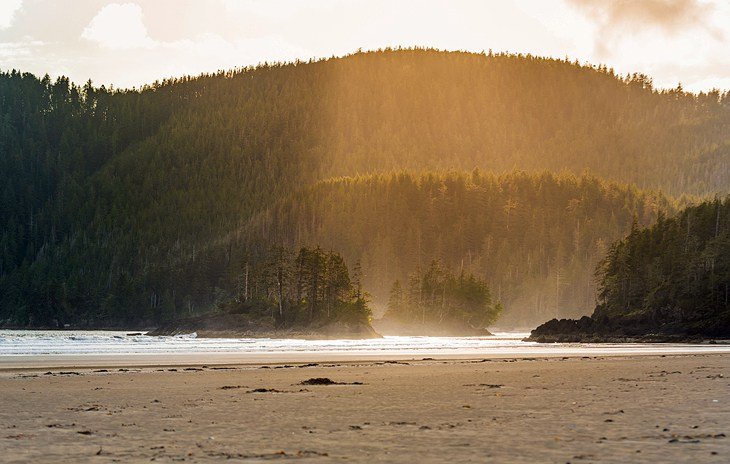 In the far north of Vancouver Island, along the remote western shore, is the ruggedly beautiful and little visited Cape Scott Provincial Park. This is approximately an eight-hour drive north of Victoria and a 4.5-hour drive north of Campbell River, beyond which there is very little out here other than forest and a couple of small towns. Cape Scott Provincial Park offers access to some dramatic scenery and wonderful hiking trails. The San Jose Bay Trail is an easy five-kilometer round-trip hike, which takes you out to San Josef Bay, an area of beach, rocky shoreline with tidal pools, and sea stacks. Bring a lunch and make a day of it out here, exploring small shore caves at low tide and appreciating the remoteness and solitude.
San Josef Bay is about a two-hour drive from Port Hardy. If you are going to be in Port Hardy, one of the easiest ways to see this area is on a San Josef Bay Tour, which provides transport from Port Hardy to Cape Scott Provincial Park and includes this hike.
If you are interested in a more advanced trail, consider the 23-kilometer one-way Cape Scott Trail, or the North Coast Trail, a 43-kilometer add-on to the Cape Scott Trail. Both of these are in Cape Scott Provincial Park and are for advanced hikers who are familiar with coastal conditions in this area. The North Coast Trail requires a minimum of five days, but hikers should prepare for seven to eight days to complete it.
9. Elk River Trail, Strathcona Provincial Park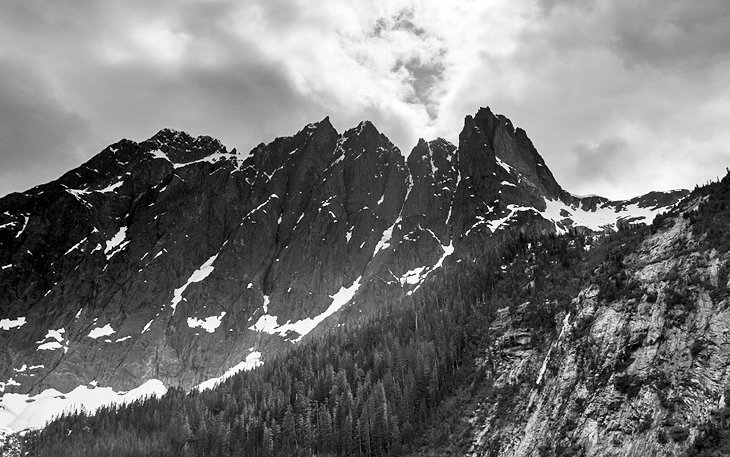 Strathcona Provincial Park is just a 45-minute drive from Campbell River, in North Central Vancouver Island. The Elk River Trail is 11 kilometers, with 600 meters of elevation, and it is one of the most popular and beautiful hikes in the park. It takes you up the Elk River Valley to scenic Landslide Lake, where surrounding mountains reflect in the calm waters. If you want to do this hike as a two-day trip, camping is available at Butterwort Flats, six kilometers from the start, or at the upper gravel bar campsite, nine kilometers in. You can't camp at Landslide Lake. This is an in-and-out hike.
10. Paradise Meadows Loop Trail, Strathcona Provincial Park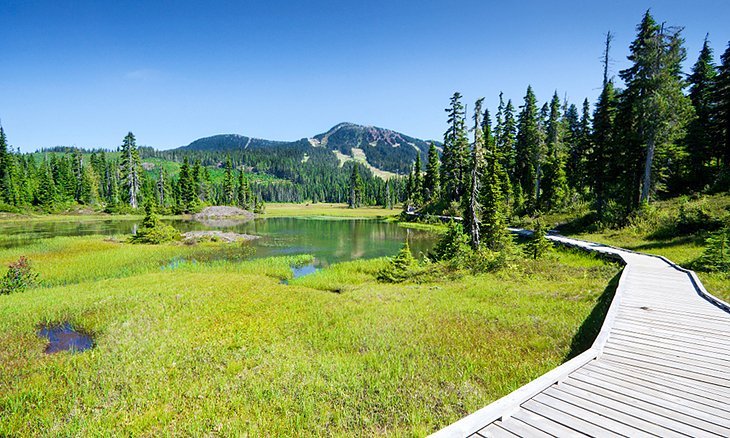 At the base of Mount Washington, Paradise Meadows is a short and easy 4.2-kilometer return-trip trail in Strathcona Provincial Park and can be done in about 1.5 hours. Running along boardwalks and a gravel path, this hike can be done by anyone and is wheelchair accessible. This sub-alpine area offers some beautiful scenery and comes to life with colorful wildflowers during the summer. The trailhead is located at the Mount Washington Ski area.
More Related articles on PlanetWare.com
Cities and Towns on Vancouver Island: Outdoor enthusiasts will find no shortage of great destinations around Vancouver Island. One of the top outdoor destinations, known particularly for incredible surfing, but also hiking, kayaking, and wildlife viewing, is the small town of Tofino on the west coast. Of course, you can't miss visiting the provincial capital and the jewel of the island, Victoria. Scenic, small, historic, and full of character, this city should be on everyone's list of places to visit in B.C. A couple of hours north of here, Nanaimo is an often overlooked destination, but it's a great place to enjoy some time on the ocean in the Salish Sea, either on a whale watching tour, a fishing boat, or even in a kayak.