12 Top-Rated Attractions & Things to Do in Squamish, BC
Mountains. Rivers. Trails. Ocean. These four words sum up why Squamish, British Columbia is the ultimate place to visit for outdoor enthusiasts. There's a reason, after all, that the town's motto is "Hardwired for Adventure."
Just over an hour north of Vancouver and just under an hour south of Whistler, Squamish is evolving to become a world-class destination in its own right. The town and its beautiful mountain and ocean scenery were recently used as a filming location for the Netflix series Virgin River.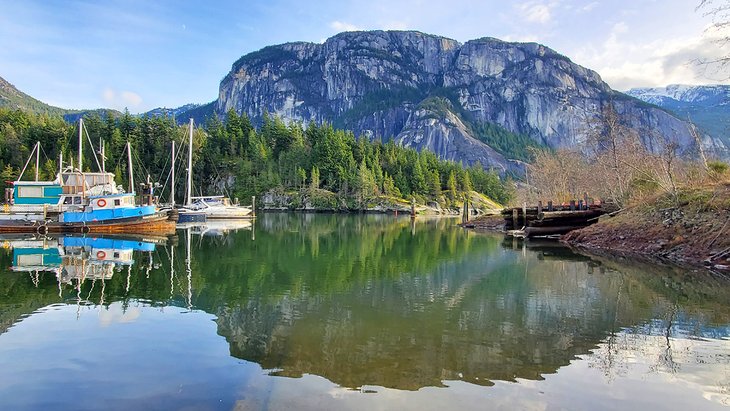 With a population of around 20,000 (and counting), Squamish has the charm of a small town, but its attractions are epic enough to rival any major tourist destination. Its quaint downtown offers plenty of choices for dining and shopping, while its natural surroundings provide the ultimate backyard for countless adventures.
Many people used to think of Squamish as a good place to pull over and stretch your legs on the way up to Whistler, but visitors are now realizing that you can easily fill days, weeks, or even months exploring everything that Squamish has to offer. Squamish is no longer just a pit stop — it's the end goal.
Whether you're new to the world of outdoor adventure or consider yourself a seasoned pro, there are plenty of options to keep you busy during your visit to Squamish. For sightseeing ideas, check out our list of the top things to do in Squamish.
1. Ride the Sea to Sky Gondola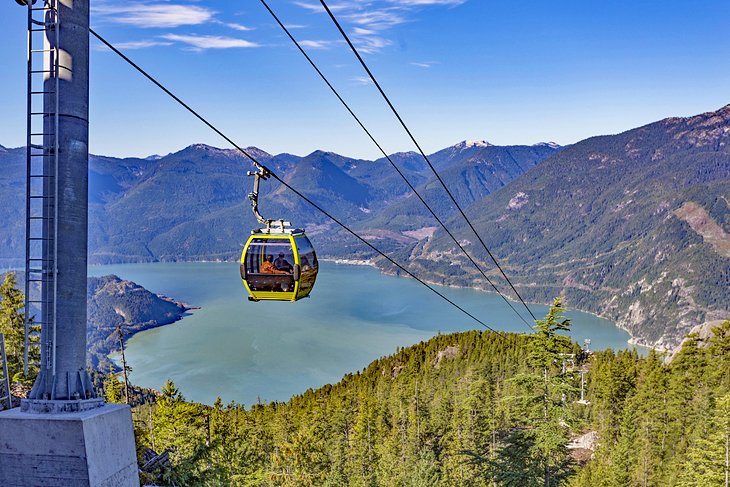 Highlights: Stunning mountain scenery, Sky Pilot Suspension Bridge, hiking trails
The quickest way to immerse yourself in the mountains is to hop aboard the Sea to Sky Gondola, which rises 885 meters above sea level in just 10 minutes. You'll want to savor each and every minute of the ride, as there is plenty to look at: boats dotting Howe Sound, hikers weaving through the thick forests below, and views of popular landmarks like Shannon Falls and the stately Stawamus Chief.
The gondola ride is just one piece of the adventure: once you're at the top, allow yourself plenty of time to explore. Take a stroll out on the Sky Pilot Suspension Bridge for even more incredible views. Take a hike; trails range from easy (but always scenic) short loops to longer, challenging treks-you can even forego the gondola ride and hike up the mountain instead. In the winter, rent some snowshoes for a romp through the snow, or pump up the adrenaline with some snow tubing.
There are tons of special events hosted at the gondola throughout the year, including holiday celebrations, concerts, and possibly the most scenic yoga classes that you'll ever take. You can fuel up at the lodge before taking the gondola back down to the base of the mountain.
Address: 36800 BC-99, Squamish, British Columbia
2. Hike the Stawamus Chief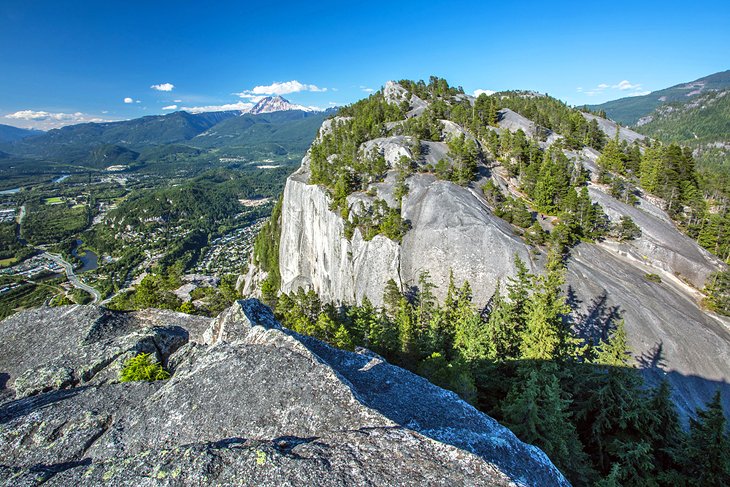 Highlight: Wonderful views reached by a challenging hike
The Stawamus Chief is arguably the most iconic landmark in the Squamish area. It's impossible to miss as you enter town: the granite monolith stands out among all the other mountains, catching the light in an almost magical way.
There are two ways to experience the Stawamus Chief: If you're an expert rock climber, you can try your hand at the many routes along the Chief. Otherwise, you can opt to hike up the mountain, starting with a series of stairs that will get your heart pounding, then climbing through the trees before reaching the rocky summit.
There are three peaks to explore — many hikers opt to visit only the first peak, which is the quickest, but each one is well worth exploring. To make it a longer day, you could even try all three peaks at once, gaining over 600 meters in elevation over approximately eight kilometers round-trip.
The Stawamus Chief is a difficult hike best suited to people in good physical condition who are well-prepared with the right footwear and safety equipment. The trail involves chains and ladders, which make it tricky — but an awful lot of fun!
3. Explore the Lakes at Alice Lake Provincial Park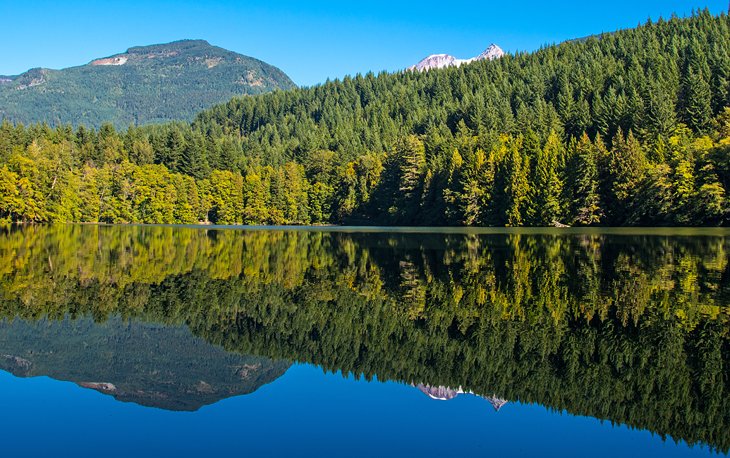 Highlights: Four serene alpine lakes, a family-friendly hiking trail
At the north end of Squamish sits Alice Lake Provincial Park, a secluded park space with plenty to see and do. The designated campsites offer the perfect place to pitch a tent (just be sure to reserve a spot ahead of time), but the park is equally fun for a few hours of adventure.
There are four freshwater lakes in the park: Alice, Stump, Edith, and Fawn. Alice Lake is the easiest to access, with parking just a few steps away. If you brought your hiking shoes, you can explore each of the lakes along the Four Lakes Trail, a six-kilometer, family-friendly loop through the woods.
4. Watch Kiteboarders at the Spit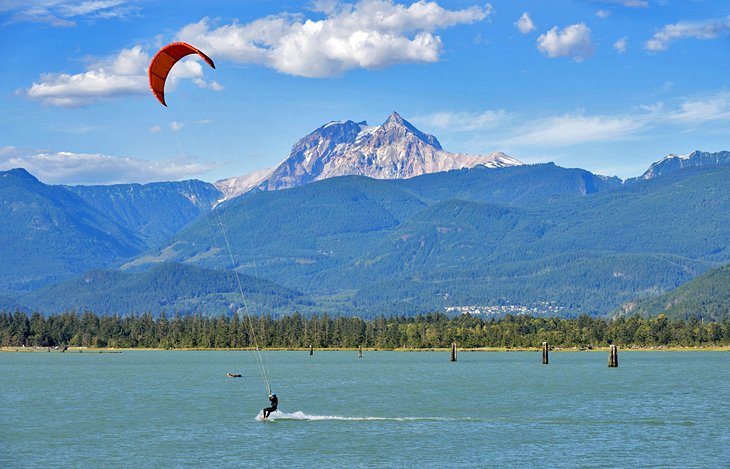 Highlights: A colorful show of tricks and crashes performed by adrenaline-addicted athletes
For an entertaining mid-summer afternoon, head out to the Spit to watch the local kiteboarders work their magic on the Howe Sound. Harnessing the power of the wind, these kiteboarders can pick up impressive speed as they skip along the ocean. The colorful sails are mesmerizing, and if you're lucky, you may witness some fancy aerial trick work.
If you want to try this adrenaline-filled sport, outfitters in town will get you all set up with gear and lessons taught from a boat. Count on at least three days before you get up on the board in a meaningful way. The investment in time, effort, and money is worth it; once you get the hang of zipping across the water powered by the wind, you'll be hooked for life.
5. Go White-Water Rafting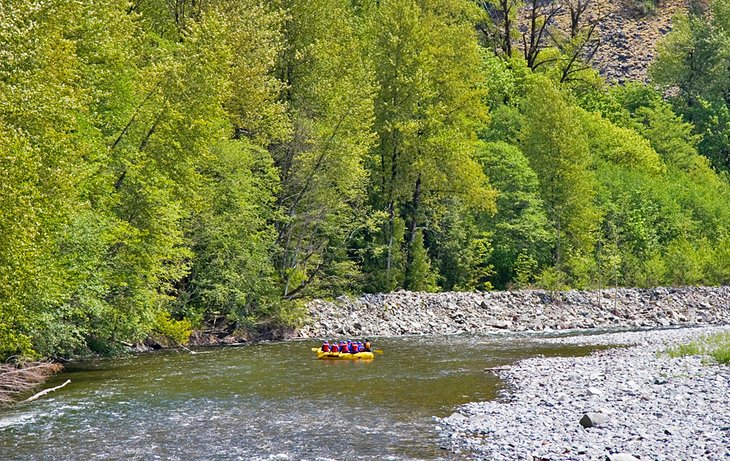 Highlights: A fun day out on the Cheakamus River with a few thrills along the way
Even if you're not a seasoned kiteboarder, you can still experience Squamish from the water. Just book a thrilling white-water river rafting trip along the Elaho River — no experience is required, although a sense of adventure is highly recommended, as you'll be paddling through some Class 3 and Class 4 rapids.
For a mellower option that is well-suited to family members ages five and up, a paddle along the calmer Cheakamus River is just as fun — and you'll still get to experience some smaller rapids along the way.
Whichever river you tackle, keep your eyes open, as you never know what you'll see... maybe a bear poking along the shore or an eagle soaring up above!
6. Stretch Your Legs at Shannon Falls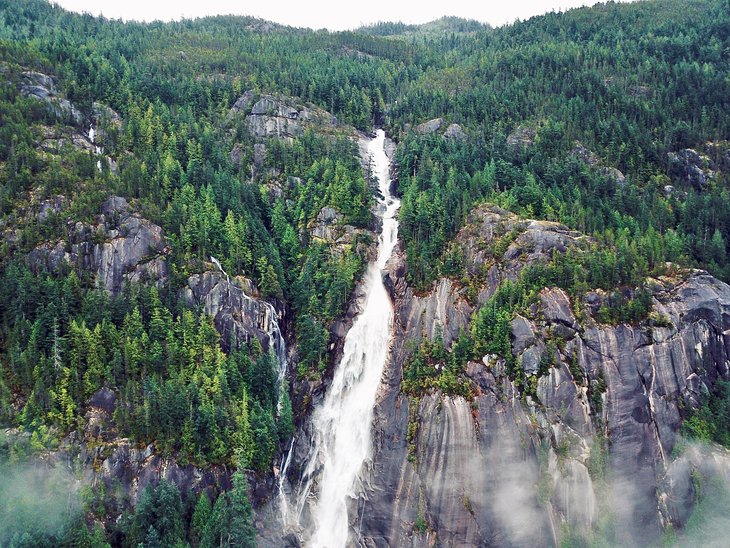 Highlights: A huge waterfall, easy walking trails lead right to the base
Shannon Falls, British Columbia's third-highest waterfall, dropping 335 meters, does not disappoint. Tumbling from a ridge high above, it cascades down several ledges before finally crashing into a rocky pool at the bottom with a thunderous roar. A 350-meter walking trail leads right up to the base of the falls, and perfectly placed viewing areas allow you to get surprisingly close and as wet as you want.
In the open green space back from the falls are picnic tables, a concession stand, and a comfort station with running water and flushing toilets. If you are planning a day trip to Whistler, this is an excellent place to visit to stop and stretch your legs and breathe some fresh mountain air.
Parking can be tricky here on weekends. Be sure to only park in designated spots, or you'll have a good chance of getting a ticket or being towed. Shannon Falls is about a 10-minute drive from Squamish.
7. Pan for Gold at the Britannia Mine Museum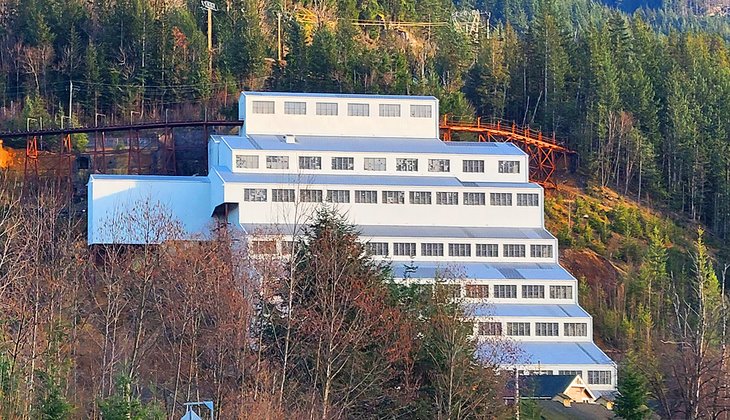 Highlights: Underground train tour, BOOM! a multi-sensory experience, interactive displays
Discover elements of Squamish's industrial history with a tour of the Britannia Mine Museum. Located just south of Squamish in the former mining town of Britannia Beach, this museum offers plenty of interactive exhibits and is well-suited for visitors of all ages.
Two special attractions make the Britannia Mine Museum stand out from the rest: First, the live-action show, BOOM! brings history to life in a multi-sensory experience that engages sight, smell, and (especially) sound. Second, a train ride into the mine offers an immersive experience that is equal parts educational and entertaining. The museum is a great way to fill a rainy day.
Address: 1 Forbes Way, Britannia Beach, British Columbia
8. Kayak in Howe Sound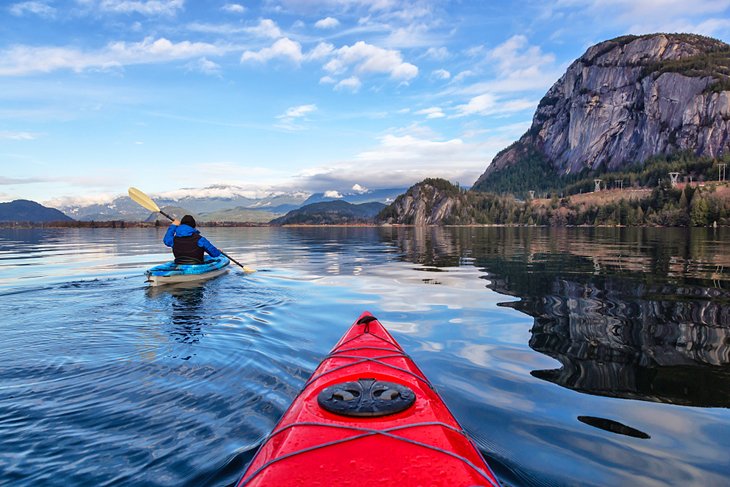 Highlights: Marine wildlife, clear waters, estuary exploration, solitude
Those with some paddling experience will want to consider renting a kayak for a day and popping it into Howe Sound to experience the magic of the Pacific Ocean up close and personal. Head south down the highway to Porteau Cove for an easy access point.
There is lots to explore, from islands both large and small to the remote shores on the opposite side of the sound. There's a fairly good chance that you'll spot a playful seal or two checking you out. If you're super lucky, you may catch a glimpse of orcas, who have been known to occasionally check into Howe Sound.
Take a look at the tide charts and read up on the marine reports before you go-conditions can range from smooth and glassy to windy and choppy. Even on sunny days, the water is rather chilly, so dress appropriately.
If you can't get enough of kayaking in Howe Sound, extend your boat rental and check out the Sea to Sky Marine Trail. This water route links secluded campsites and stretches all the way down to Horseshoe Bay. You can explore as little or as much of it as you want, customizing the trip to suit your schedule, the conditions, and your own interests.
9. Spot Eagles along the Squamish River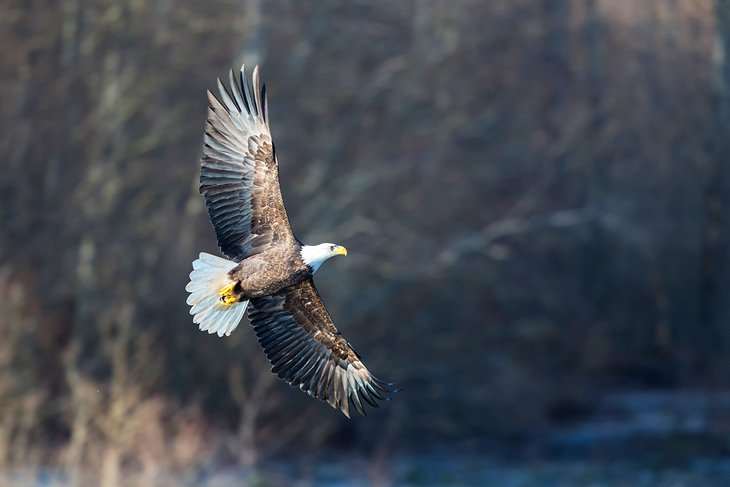 Highlights: Easy access to view thousands of bald eagles in the trees, the air, and hunting
Brackendale-a community at the north end of Squamish — is dubbed as the "World Eagle Capital." If you visit between November and January, you'll quickly realize why it has earned this moniker: wintering bald eagles can be seen and heard virtually everywhere, especially along the Squamish River.
Over a thousand eagles return to Squamish every year. To learn about them, you'll want to take advantage of the EagleWatch Interpretive Program; this program is run entirely by volunteers and will not only guide you on where to look but will also help you understand what it is about Squamish that eagles love so much.
Interpreters are on-hand throughout weekends over the winter along the Eagle Run dike in Brackendale. If you're visiting at another time, check out the interpretive signage and displays, which will give you a crash course in all things eagles.
10. Learn to Rock Climb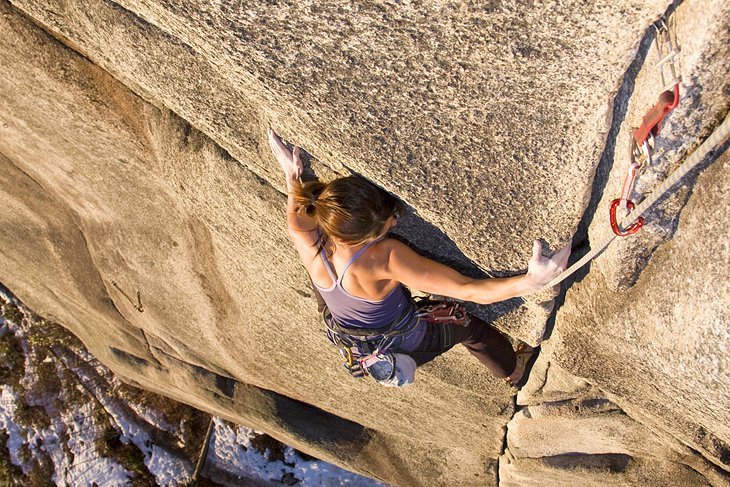 Highlight: The ability to try a new adrenaline sport supervised by experts in a beautiful setting
While the winter season means an influx of eagles to Squamish, the summer season attracts an entirely different cohort: avid rock climbers on the search for challenging rock faces, nice weather, and a beautiful backdrop for their adventures. Rock climbing culture is huge in Squamish, and you don't have to be a pro to get a taste.
Local companies offer introductory courses that can be completed in just a day, covering basic techniques and showing you the ropes (pun intended). You'll get the chance to experience Squamish's infamous rocks up close and personal.
Though courses generally run rain or shine, you may prefer to head to the local rock climbing gym, which offers beginner courses indoors. You can practice your skills inside, then hire a guide to show you how to apply your newly developed techniques to outdoor climbs.
11. Rent a Bike (Mountain or Otherwise)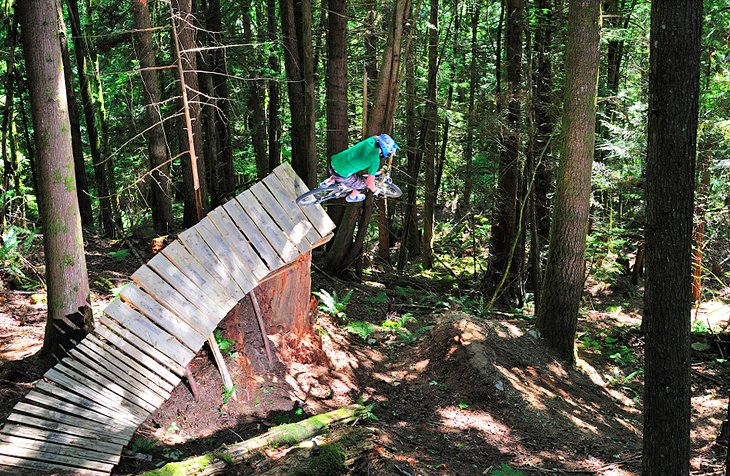 Highlights: Some of the best and most insane trails in the province
In addition to rock climbing, Squamish is well-known for another action sport: mountain biking. A dizzying network of trails winds through Squamish, stretching from one end of town to the other — and beyond. Squamish is known for technical trails featuring gnarly roots, slabs of rocks, challenging climbs, and thrilling descents.
Experienced mountain bikers can rent a bike, grab a map (paper or digital), and explore to their hearts' content-though be warned that the trail ratings (green, blue, and black — much like ski runs) may be a little different from what you know. A "Squamish blue" might feel more like a black run somewhere else. A good approach is to start with easier trails and work your way up.
Not sure you're ready to tackle Squamish's trails? No worries-rent a cruiser bike and pedal your way around town. A paved trail, shared between bikers, walkers, runners, and even horses (see below!), runs just beyond the east side of the highway.
Start at the Adventure Centre across from downtown Squamish, where you can rent bikes and helmets, then enjoy the ride under a canopy of trees.
12. Go Horseback Riding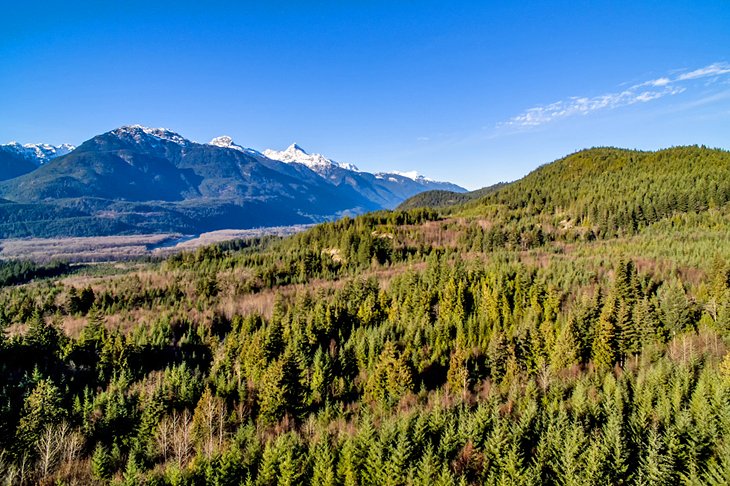 Highlights: Horseback riding through the scenic Squamish Valley
Don't be surprised if you bump into a horse or two as you explore everything that Squamish has to offer. There are farms peppered throughout the area — it isn't unusual to find a small equestrian facility in the middle of a residential neighborhood, for instance.
For the chance to interact more closely with horses, make your way out to the Squamish Valley, a secluded slice of paradise that is home to several farms and ranches. (Pop by the farmers market in downtown Squamish on Saturdays in the summer to sample some of the delicious produce grown in the valley.)
Some of these ranches offer horseback trail rides for tourists, which is well worth making time for in your busy Squamish itinerary. There is no better way to explore the beauty of the Squamish Valley than by horseback, and there are options that are perfectly suited for total beginners.
You'll get the chance to learn some Western horseback riding techniques; interact with your specially-matched horse; and experience the local trails, forests, and rivers from a unique vantage point.
Horseback riding is a great option for those seeking a special Squamish activity that isn't quite so adrenaline-heavy and can be suited to a wide range of ages and experience levels. Plus, you'll get to see areas of Squamish that few tourists venture out to but that is just as impressive as its more well-known tourist attractions. Happy trails, indeed!
Map of Attractions & Things to Do in Squamish, BC
Best Time to Visit Squamish
The best time to visit Squamish is in the summer, primarily in the months of June, July, and August. The town is packed and humming with visitors from around the world, giving it a fun and lively vibe. Temperatures are in the high teens to very low 20s Celsius most days, and can feel cooler if the wind is off the water.
Summer is the best time to go climbing and hiking, with warm, dry, and sunny days. It's also a great time to get out mountain biking or to hit the water under a kite when the wind builds in the afternoon.
September is another great time to visit — the weather is only slightly cooler and the days a bit shorter, but you won't have to contend with the crowds. May, like September, is a good shoulder season month as well, however, the weather can be a bit unpredictable and wet at times.
The clouds close in mid-October and the rain starts and doesn't stop in a meaningful way until the months of November, December, January, February, March, and April have passed.
More Related Articles on PlanetWare.com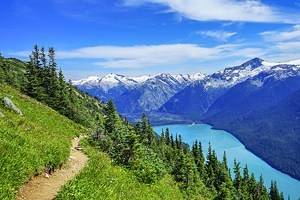 Whistler: While Squamish is a destination that makes you want to linger, you can find more sights and things to do in Whistler, just up the road. In summer you can hit the hiking trails, and, if you are here in winter, Whistler offers some of the best skiing in Canada.