13 Top-Rated Things to Do in Vancouver in Winter
There's a lot to be said for visiting Vancouver, BC in the winter - namely, it's a great time of year to experience many of the city's best tourist attractions without the crowds. Unlike the rest of Canada, winter in Vancouver is relatively mild, so you can still enjoy a ton of outdoor activities. There is lots to do to keep you entertained in Vancouver in the winter, including the can't-miss activities we've listed below.
You've probably heard that winter in Vancouver can be grey, dark, and rainy. It's true - the days are short in December, and the city experiences a lot of rain, but there's something to be said about grabbing a coffee and watching the drizzle from inside a cozy café. In fact, there are lots of indoor activities to enjoy in Vancouver - sometimes, a rainy day is the perfect excuse to head inside and check out a museum or gallery like the ones we've featured here.
But that's not to say that you should let a little rain stop you from enjoying the outdoors. As evidenced by the locals who can be seen biking, jogging, and walking their dogs in all weather conditions, Vancouverites never let a little rain stop them from spending time outside. And sunny days in winter in Vancouver are glorious.
Craving snow? We've got you covered. You may not find much of the white, fluffy stuff in Vancouver proper, but you won't need to go far to ski or snowboard in the winter months.
Find out about the best places to visit with our list of the top things to do in winter in Vancouver.
1. Catch a Canucks Game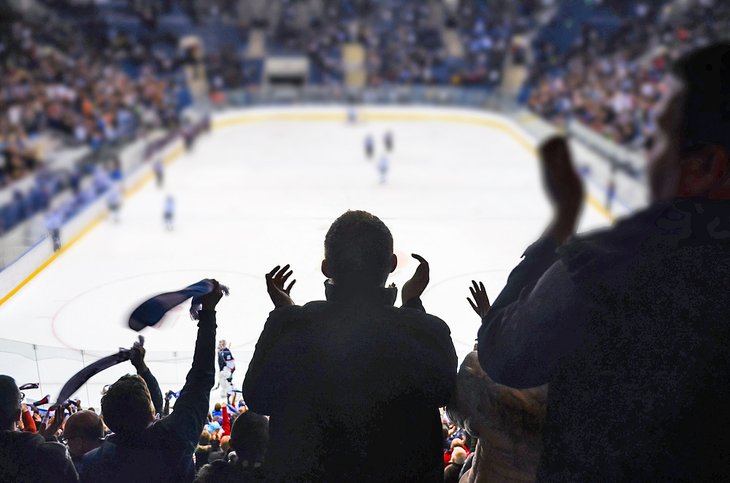 Say it with us now: Go Canucks go! If you can master that chant, then you'll fit right in at a Vancouver Canucks hockey game. The NHL regular season runs from early October to early April - and, depending on how optimistic you are, the Canucks could continue to play into the late spring, if they make the playoffs.
While hockey fans will get a thrill out of experiencing the action in person, you don't really need to know anything about hockey to have fun at a Canucks game. The sights and sounds (and tastes and smells of the concession food) are entertaining for new fans and diehard Canucks devotees alike. Visit the Canucks website to see the schedule of games and matchups.
Official site: https://www.nhl.com/canucks
2. Visit the Vancouver Aquarium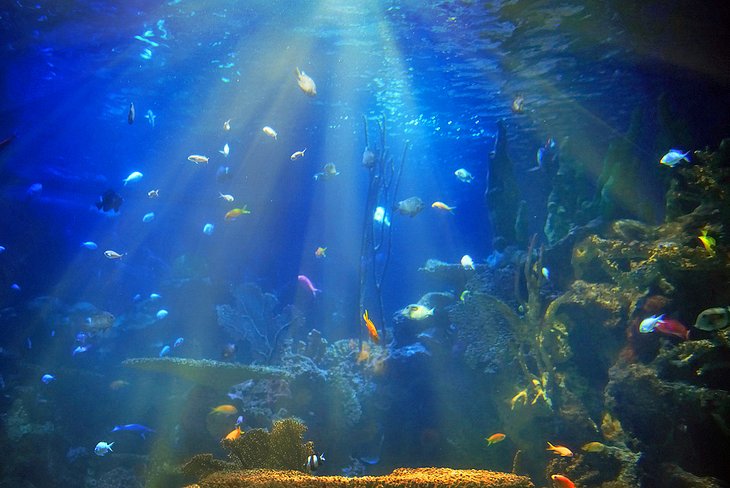 When it's a little wet outside, why not make like a fish and embrace all the water? The Vancouver Aquarium is a fun place to visit in the winter: many of the 30 plus exhibits are indoors, although it's well worth checking out the outdoor pavilions (Sea lions! Otters! Penguins!) under one of the covered viewing areas. If you're craving summer, be sure to pop into the Amazon rainforest exhibit for a bit of warmth.
Kids love checking out the marine life at the aquarium, but adults may be interested in scoping out the calendar of special events, which range from after-hours sessions with guest speakers to learning about sustainable seafood to a festive, open-to-the-public holiday gala that takes place every winter.
Official site: https://www.vanaqua.org
3. Ski and Snowboard near Vancouver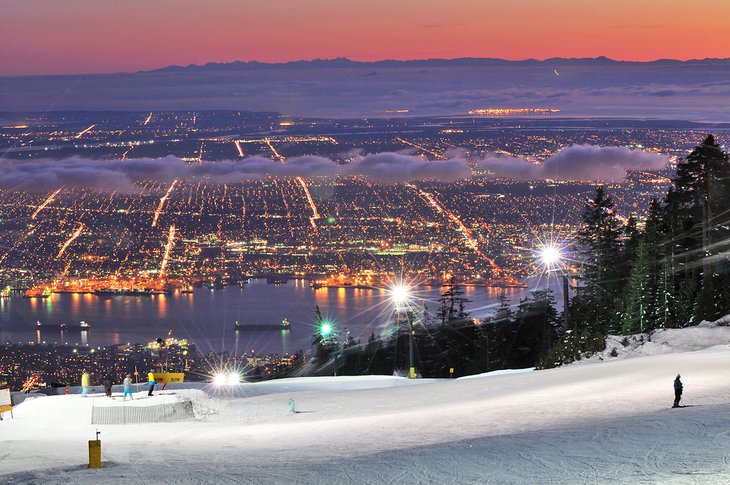 If you were hoping to experience a true Canadian winter - snow and all - you might be disappointed to learn that winter in Vancouver typically involves a lot of rain and very little (if any) snow. But the good news is that you don't have to go very far to find some snow.
The North Shore mountains are just a bridge away from downtown Vancouver, and you can ski and snowboard at all three: Grouse Mountain (33 ski runs), Seymour Mountain (40 ski runs), and Cypress Mountain (53 ski runs).
If you're willing to travel a little farther, Whistler Blackcomb is one of the top ski resorts in Canada. Roughly two hours from Vancouver, Whistler Blackcomb features more than 200 runs spread over a combined 8,171 acres of terrain. This is a must-do side trip for anyone who loves skiing or snowboarding.
4. Explore the Museum of Anthropology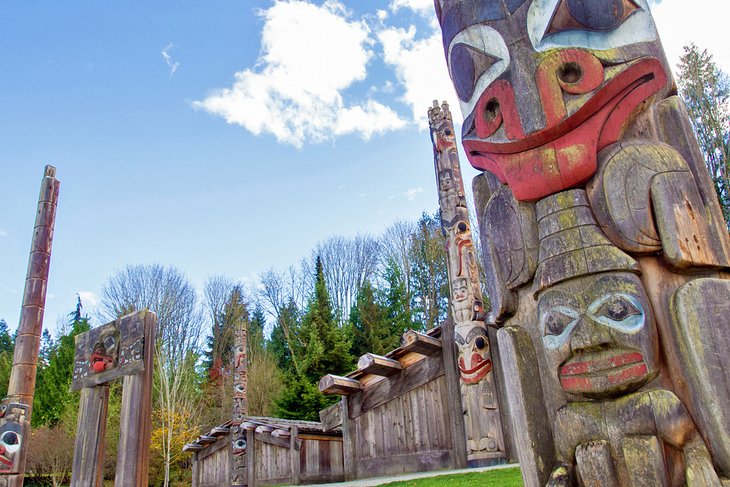 Framed by the Pacific Ocean and the expansive Pacific Spirit Park, the University of British Columbia is one of the most beautiful campuses in Canada. It also happens to be home to the Arthur Erikson-designed Museum of Anthropology, a spectacular museum that explores the cultures of British Columbia, with an emphasis on its indigenous communities.
The building itself - built in 1976 - is a sight to behold, housing approximately 50,000 different pieces. Take your time wandering through the museum, or join in on an hour-long guided tour for a thorough orientation on the museum's displays and exhibits.
Official site: https://moa.ubc.ca
5. Shop at the Riley Park Winter Farmers Market at Nat Bailey Stadium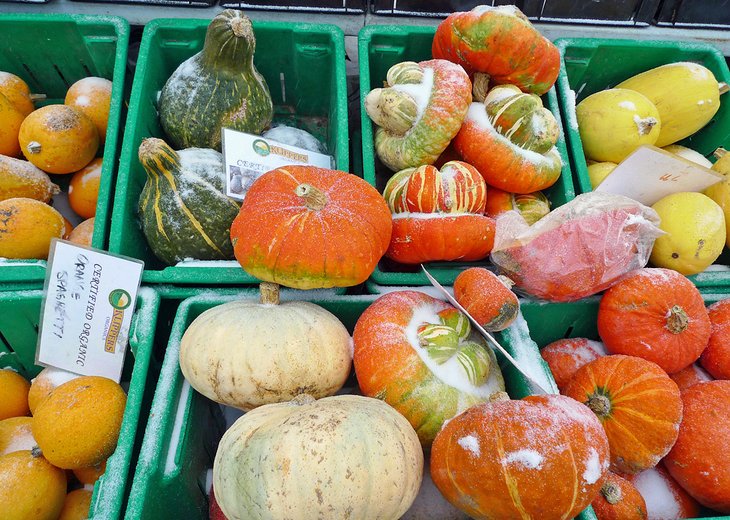 Every Saturday through the winter, the winter farmers market takes place at the Nat Bailey Stadium and Riley Park Plaza. Even in the cold months, dozens of stalls fill the park, offering farm-grown and hand-made local goods.
The Winter Farmers Market is much more than just produce (although you'll find some of that, too) - there's local honey, salts, and spices; decadent desserts; fresh bread; and other locally-made treats, not to mention a vast array of non-edible goodies like jewelry, crafts, and yummy-smelling candles. This is a great place to find unique gifts and souvenirs unlike anything you'll find back home.
Official site: https://eatlocal.org/markets/riley-park
6. Walk the Seawall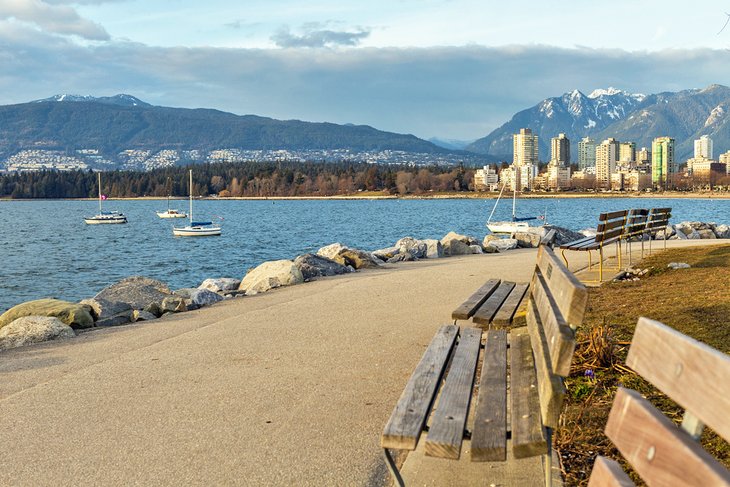 Exploring Vancouver's seawall is an obvious attraction in the summer, but it's just as worthy in the winter months. You may get lucky and catch Vancouver on a sunny winter's day, but even on a gloomy, grey day, it can be nice to head outside and catch some fresh air.
Without the summer crowds, a stroll on the seawall is the perfect place to clear your head. While the section of the paved ocean-side trail that follows the perimeter of Stanley Park is popular with tourists, we recommend checking out some other parts of the seawall, like the stretch across the Burrard Bridge that spans from Kitsilano Beach or along Jericho Park.
Both Kitsilano and Jericho feature expanses of sandy beach and are especially peaceful in the quieter winter months.
The key to enjoying the sea wall is dressing for the conditions. Your best bet is a good pair of waterproof shoes and a rain jacket with a hood. An umbrella can do the trick, but it might not be the best line of defense on a windy day, when the rain can fall sideways and tends to flip umbrellas inside out!
7. Ride the Bright Nights Christmas Train at Stanley Park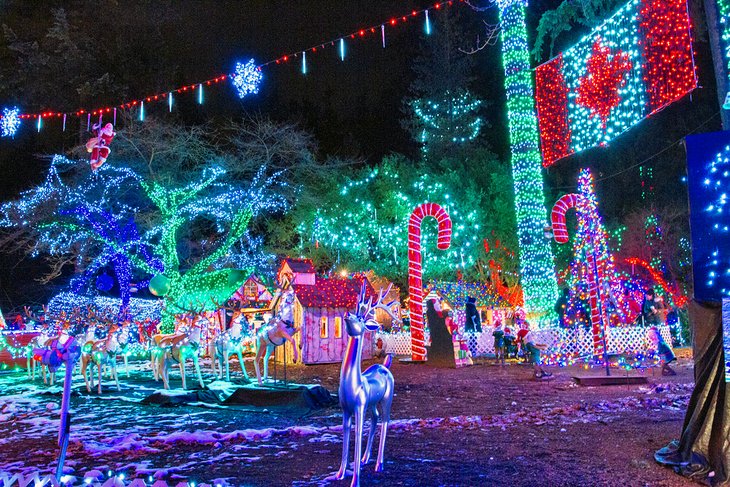 If you're visiting Vancouver around Christmastime, the best way to experience the festive holiday spirit is at Bright Nights in Stanley Park. This is where Vancouver's infamous Stanley Park comes to life under millions of sparkling lights, making for a truly magical holiday experience.
The Bright Nights Christmas Train takes you on a scenic tour through parts of the park. Running from late November through the holiday season, it's a fun activity for all ages and doubles as a fundraiser for the Burn Fund. You can cap off the night with photos with Santa and a hot cocoa to warm you up.
If you missed the holiday season, it's still worth visiting Stanley Park, even in the winter. Zip up your rain jacket and explore the trails without the summertime crowds - it's a tranquil experience and a nice respite from the busy city.
8. Visit the Vancouver Art Gallery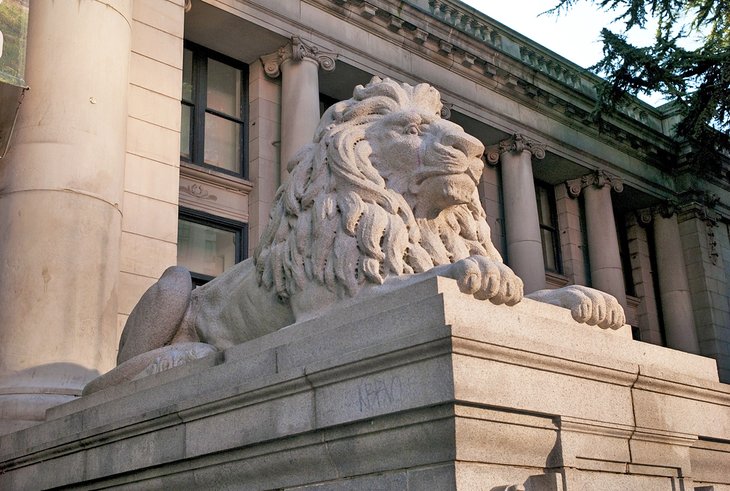 Prefer to skip the bad weather? Just head indoors to the Vancouver Art Gallery. Operating since 1931, the Vancouver Art Gallery's extensive collections and temporary exhibits will keep you entertained for hours.
The gallery houses impressive displays of First Nations artwork, as well as art celebrating the Asia Pacific region. Past featured exhibitions have included world-renowned artists such as Alberto Giacometti, Emily Carr, and Claude Monet, to name a few. Check out their website to see the latest shows and exhibits.
Official site: http://www.vanartgallery.bc.ca
9. Ice-Skate at Robson Square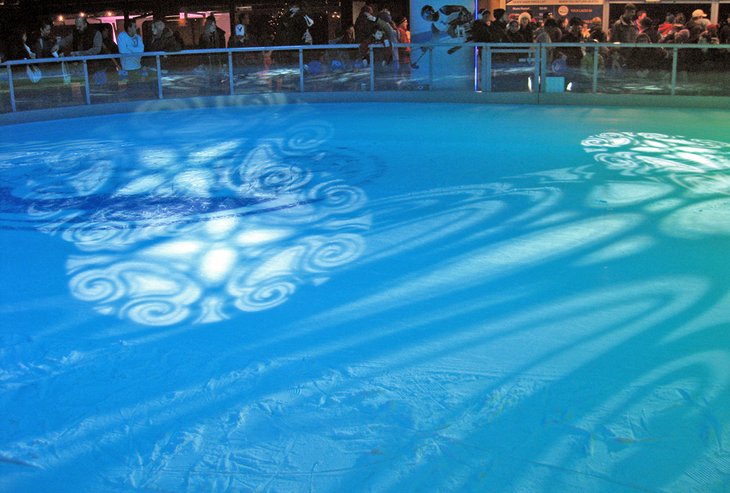 You don't need any snow to lace up a pair of skates and glide across the ice at an outdoor skating rink.
Each winter in the heart of downtown Vancouver, Robson Square transforms into an al fresco ice rink, where you can skate, twirl, spin, or just clumsily teeter your way around the rink.
From early December to late February, you can rent a pair of skates (cash only) and hop on the rink - or, if you have your own ice skates, you can skate for free.
More good news: you don't need to wait for perfect weather to enjoy this activity, as the rink is conveniently covered to protect you from the rain.
Official site: http://www.robsonsquare.com
10. Explore Science World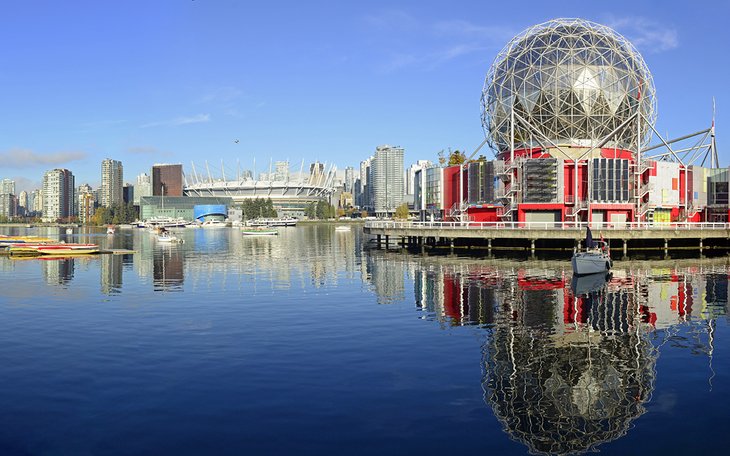 For an educational escape from the cold and rain, hop onto the SkyTrain and head to the TELUS World of Science (better known as Science World). The interactive displays are equal parts entertaining and informative, covering a range of topics, from the human body to the natural world to all things engineering.
Kids will love Science World's play-based approach, while adults will enjoy unleashing their inner child. Science World also features an OMNIMAX theater featuring a rotating selection of films, which can be visited on its own or as an add-on to the main science center.
Official site: https://www.scienceworld.ca
11. Tour Granville Island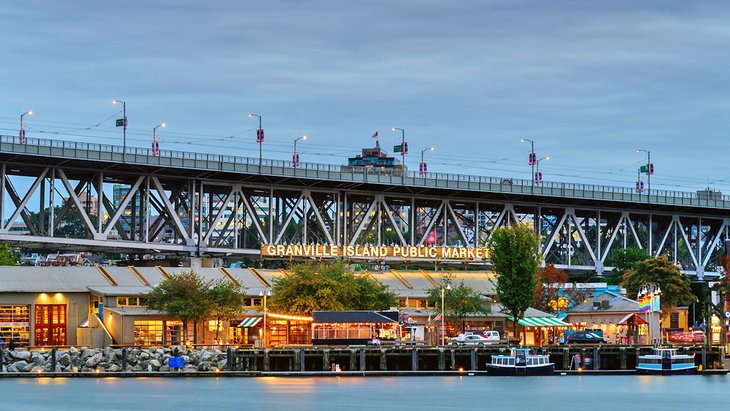 You could easily fill an afternoon and evening exploring Granville Island. The adventure starts with the trip over to the island: although you can get there by road, the more exciting option is to catch the Aquabus mini-ferry from one of its docks along False Creek. Even in the rain, the (covered) ferry is a fun way to experience Vancouver.
Once you've made it to Granville Island, spend some time exploring the Public Market, open seven days a week. The indoor market features fresh food, unusual ingredients, and whimsical gifts - you'll want to allow plenty of time to wander the stands and chat with the vendors.
There are several galleries to explore throughout the island featuring the work of many incredibly talented locals. If you've got kids with you, be sure to visit the Kids Market for kid-oriented shops, a huge multi-level indoor play zone, bumper cars, and other kid-approved activities.
When you start to get hungry, you can grab a bite to eat at the market, or you can wander outside and grab a meal at one of Granville Island's restaurants (several of which offer five-star views).
After a meal, check out the Arts Club Theatre Company for a live show to cap off a most entertaining day.
Official site: https://granvilleisland.com
12. Get Festive at the Vancouver Christmas Market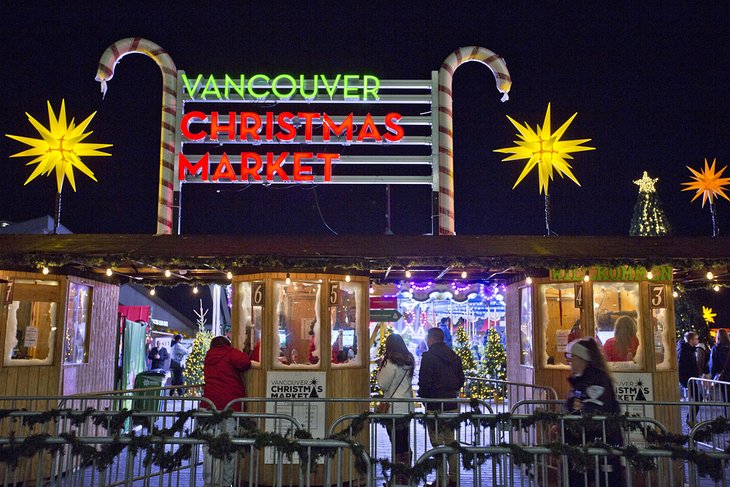 From late November until Christmas, the city really gets into the holiday spirit at the Vancouver Christmas Market. It's the perfect place to shop for unique gifts for everyone on your list, with plenty of food and drink options to keep your belly full and warm.
The German-inspired market takes place in Jack Poole Plaza, where you'll also get to experience a piece of Vancouver history: the 2010 Winter Olympic Games Cauldron. Between treats and shops, catch singers, live Christmas-themed performers, and possibly a visit from Saint Nick himself!
Official site: https://www.vancouverchristmasmarket.com
13. Discover the H.R. MacMillan Space Centre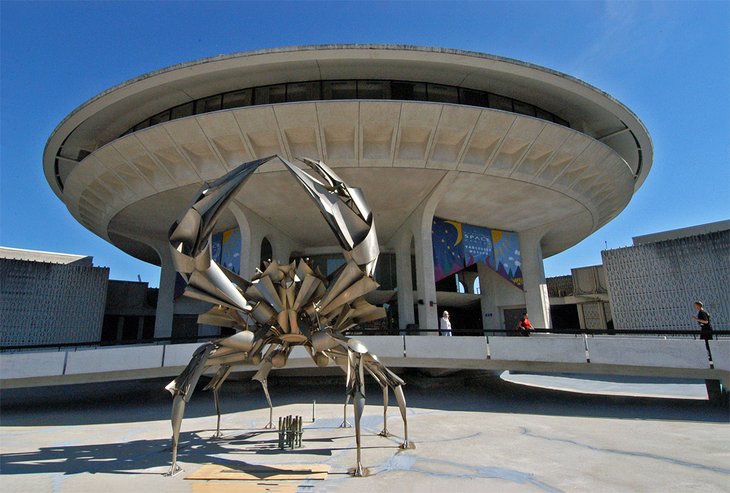 If you're fascinated with all things outer space - and, let's be honest, who isn't?! - the H.R. MacMillan Space Centre in Vanier Park near Kits Point is a must-visit museum. This museum is truly oriented for all ages and features several different attractions.
First, there's the GroundStation Canada Theatre, featuring a wide variety of interactive shows. The shows, which are each 20 minutes in length, range in topic from gravity to the life of an astronaut to rocket science.
Then, there is the Planetarium Star Theatre, where you can experience the night sky and outer space like you never have before. This theater features longer shows (approximately 45 minutes each) covering constellations, dark matter, the solar system, and more.
The Cosmic Courtyard Exhibit Space features hands-on activities and displays, while the Observatory has a giant telescope that you can use to check out the stars.
Be sure to check out the daily show schedule, as there are plenty of different shows and topics covered, and you may want to time to your trip to align with your interests.
Official site: https://www.spacecentre.ca
Map of Things to Do in Vancouver in Winter