12 Top-Rated Campgrounds near Whistler, BC
Whether you want to pair your Whistler-based adventure with a night under the stars or are simply hoping to bypass the resort's pricey hotels, camping in and around Whistler is a great opportunity to enjoy some fresh air and the scenic mountain and valley views.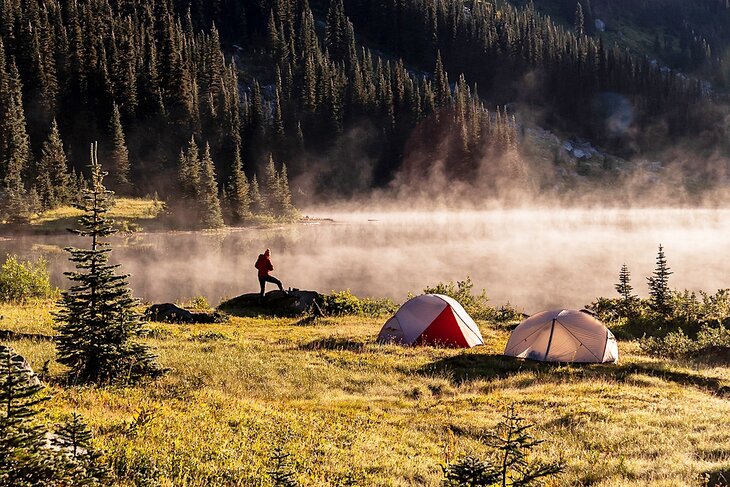 Camping opportunities in Whistler itself are quite limited, but we've rounded up the best campgrounds in and around Whistler where you can pitch a tent or (sometimes) park an RV.
From rustic, no-frills campsites to campgrounds filled to the brim with amenities, there are several camping options within an hour's drive of Whistler Village. The general rule of thumb is that the closer you are to Whistler, the more you can expect to pay for a campsite.
Several campgrounds on this list are located within provincial parks. The fees for these campsites — some of which can be accessed by vehicle, others that require you to hike in — are generally reasonable, but be aware that these campgrounds tend to be very popular, especially in the summer months.
Our advice to you: if a campground has a reservation system in place, make your reservation as early as possible. Relying on first-come, first-served sites can leave you in a bit of a bind, so plan accordingly.
For ideas on where to pitch your tent, read our list of the best campgrounds near Whistler.
1. Riverside RV Resort and Campground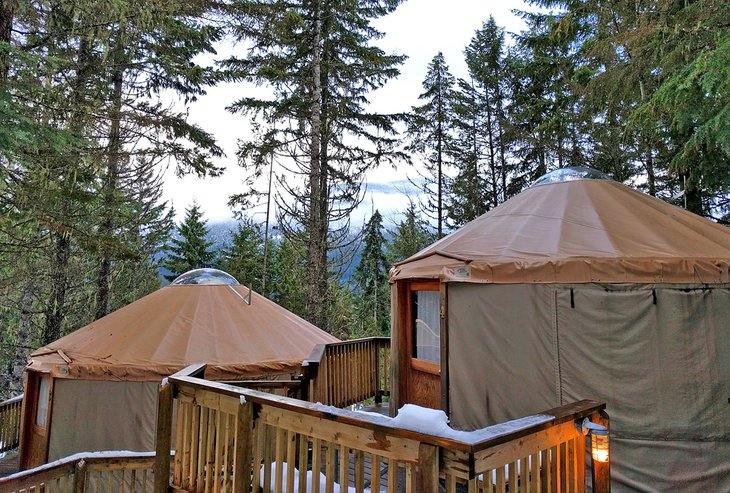 Without a doubt, the most central place to camp in or around Whistler is at the Riverside RV Resort and Campground. It's the only campground that is right in town, making it a coveted option for those who want to check out Whistler without booking an expensive hotel room or AirBnb.
Aside from its stellar location - only 3.5-kilometers from Whistler Village and easy to access by the Valley Trail, the paved pedestrian/bike path - Riverside is also quite beautiful, located along the Fitzsimmons Creek.
Convenience comes at a cost, especially in peak season, which runs from May to mid-October. The tent sites are the least expensive option: all are walk-in only; located a short distance from the parking area; and equipped with common bathrooms, showers, and dish-washing facilities. Other options include multi-use sites (for tents or RVs), partially- and fully-serviced RV sites, and cabin and yurt rentals for the glamping crowd.
Riverside offers plenty of extras, including volleyball courts, an on-site café (don't miss the delicious breakfast), free Wi-Fi, and access to the lodge.
2. Whistler RV Park and Campground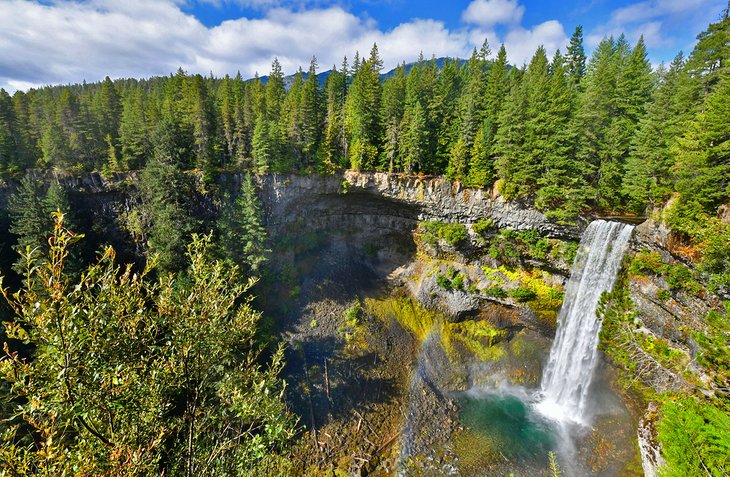 Just south of Whistler, the Whistler RV Park and Campground offers a remote setting with all the essential amenities but is still just a short car ride from all the action.
At 104 acres, this is a huge campground with plenty of space. Its 102 fully serviced RV sites are available 12 months a year, with an additional 44 non-serviced RV sites that are available seasonally. There are also several tent sites, which can be rented in the summer season.
Although Whistler RV is less than 20 kilometers from Whistler Village, it isn't serviced by public transit, so you'll need your own vehicle to get to town. However, the location has its perks: in the winter, it is the perfect home base for adventures through some incredible snowmobiling terrain on Brandywine Mountain. In the summer, it's a prime place to pitch a tent before tackling the Brew Lake Hiking Trail.
There are washrooms, showers, fire rings, and picnic tables throughout the site, as well as a dish-washing station. As far as activities go, there are a ton of options. The on-site Wiffle golf course and frisbee golf course are both worth exploring, even if you've never tried your hand at either game. The campsite offers snow bike and snowshoe rentals for its winter guests, and it also shares its grounds with Whistler Stables, so you can easily arrange a horseback riding tour in the summer.
In summer 2022 the facility added a coffee shop, new outdoor ping pong tables, and brand new laundry facilities.
3. Cal-Cheak Recreation Site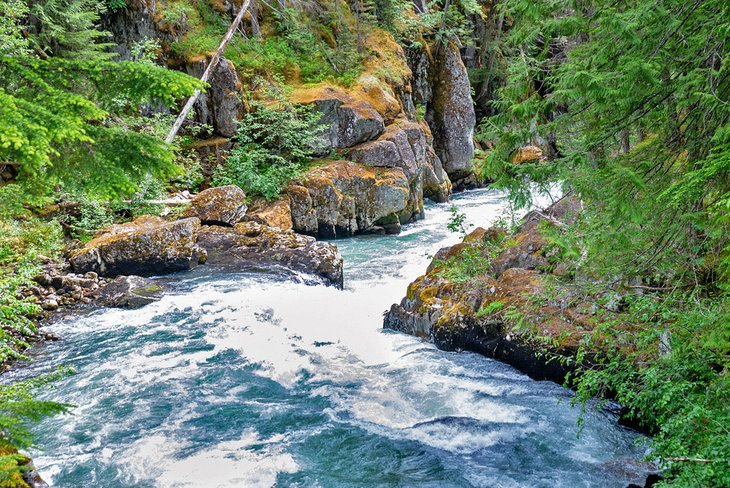 At the south end of Whistler, Cal-Cheak Recreation Site offers 55 campsites situated in three lovely forested enclaves. With a network of winding trails nearby plus access to Cheakamus River, Callaghan Creek, and a suspension bridge, this is a great campsite for those looking to hit the trails.
Its location offers the best of both worlds: it's an easy drive to Whistler Village (approximately 15 minutes away by car), but you'll feel fully immersed in nature.
Sorry, RVs: these sites are only for tents. Amenities are relatively low-frills; think pit toilets, water, bear caches, and firepits. You can buy firewood on-site, but note that Whistler is often subject to a fire ban in the summer when conditions are dry.
Open seasonally from mid-spring to fall - pretty much whenever the site is free of snow - these campsites cannot be reserved ahead of time. If you're planning on camping in high season (namely July, August, or any holiday long weekend), come early and make back-up plans, if possible.
4. Callaghan Lake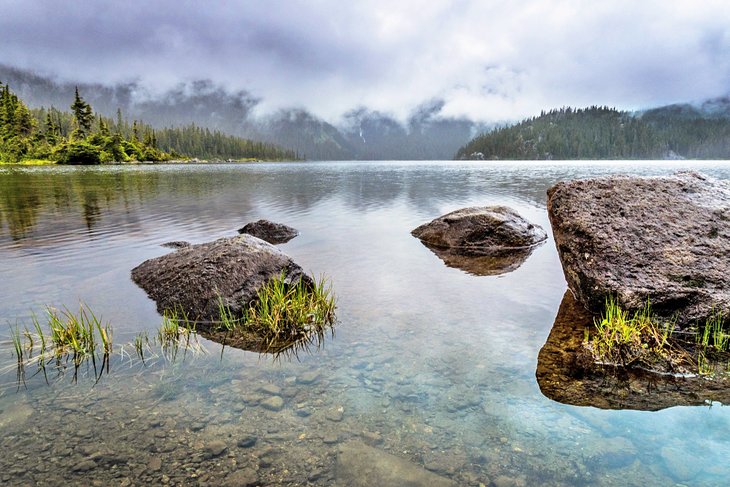 Free camping near Whistler? Yup, it exists - with a few caveats, which we'll get to shortly.
The Callaghan Lake hiking trail is at the south end of Whistler, about 20 kilometers from town and down a long and bumpy logging road that, with plenty of potholes, is best navigated with a high-clearance vehicle. The trail to the lake is a favorite among locals and is one of the few Whistler-area hikes that doesn't involve climbing up a mountain.
There's an unofficial (but perfectly legitimate) camping area at the end of the road to the trailhead with room for about five tents, give or take. It's free to camp here, but there's no reservation system in place. It's basically first-come, first-served, and you'd better believe that these sites are in high demand.
Camping is only permitted when the area is clear of snow, which is usually from mid-June to mid-October. Facilities are very limited: there's one pit toilet and established fire pits, though do take note of - and abide by - any fire bans that may be in place. There are no picnic tables, garbage cans, showering facilities, or water hook ups, so come prepared.
Official site: http://www.env.gov.bc.ca/bcparks/explore/parkpgs/callaghan_lk/
5. Wedgemount Lake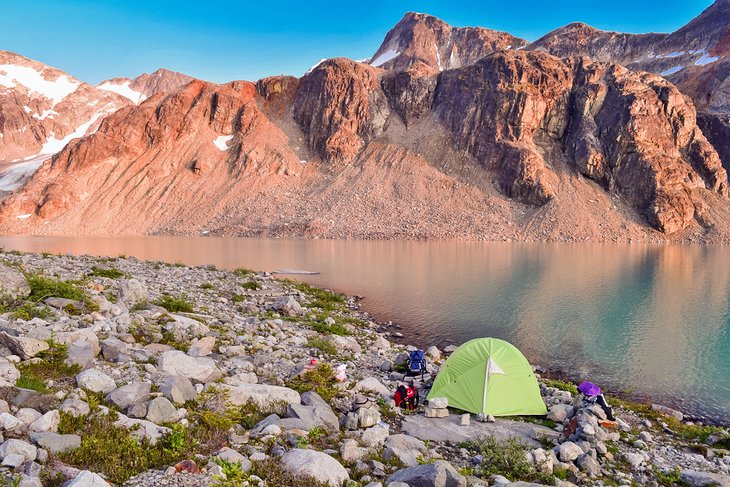 There are 20 tent pads located along the beautiful, glacier-fed Wedgemount Lake. These wilderness sites offer little in the way of amenities - there's no garbage can, so pack out what you pack in - but you'll wake up to one of the most spectacular views on the planet. There's one catch: to get to these campsites, you need to hike up Wedge, which is one of the most steep and challenging hikes in the area.
The hike up Wedgemount is long and relentlessly steep, climbing 1,200 meters over the seven-kilometer trail - and it's only made more difficult when you're carrying camping gear on your back. However, it's a great challenge for experienced hikers who are looking for a rewarding expedition. The trailhead is only 13 kilometers north of Whistler, so you can pair this adventure with other activities in town.
Wedgemount Lake is located in Garibaldi Provincial Park, and campsites must be reserved ahead of time. While securing a reservation will guarantee you a spot, site selection is made on a first-come, first-served basis.
6. Nairn Falls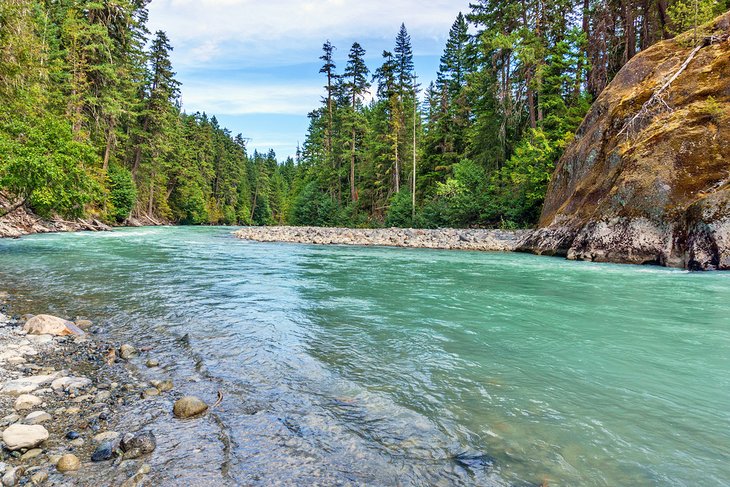 About half an hour north of Whistler Village and five kilometers south of Pemberton, Nairn Falls Park offers 94 sites where you can pitch a tent. The campground is open seasonally from mid-May to late September - the rest of the year, the gate is closed, though hikers can walk around it to check out the trail to Nairn Falls.
Nairn Falls is a great site for car camping, as you can drive up to each of the campsites. Most of the sites can (and should) be reserved ahead of time, though two sites are set aside and can be claimed on a first-come, first-served basis.
Facilities at Nairn Falls are pretty rustic, with pit toilets, a couple of hand pumps for drinking water, and a pair of picnic tables nearby. However, you're a short drive to Pemberton, a small town with all the basic stores and amenities.
If you're camping at Nairn Falls, be sure to check out the waterfalls themselves. It's a short, 1.5-kilometer hike (each way) with minimal elevation and is well worth doing at least once.
7. Taylor Meadows and Garibaldi Lake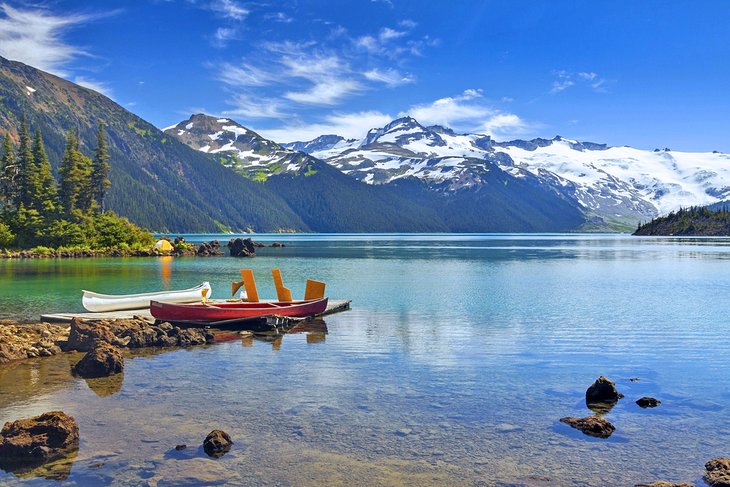 For a backcountry camping experience paired with some incredible hiking, reserve a spot at either the Taylor Meadows Campground or the Garibaldi Lake Campground. Both are relatively close to one another in Garibaldi Provincial Park; the former has 40 sites, while the latter has 50. Reservations for sites at either campground are required year-round.
If you're planning on a multi-day hiking trip to check out some of the Sea to Sky region's most spectacular hikes - Garibaldi Lake, Black Tusk, and Panorama Ridge - you will definitely want to make either of these campgrounds your home base. It's a decent hike to get to either location: you'll need to hike 7.5 kilometers from the parking lot up steadily climbing switchbacks to get to Taylor Meadows campground, and nine kilometers from the parking lot up to Garibaldi Lake. The hike can feel long and is challenging, especially under the weight of your gear.
Since they're located along popular hiking trails, both Taylor Meadows and Garibaldi Lake campgrounds get really busy in the peak summer months. With so many users sharing a relatively small — not to mention ecologically fragile — space, it's important for every camper to act responsibly. That means securing food safely, so that it cannot be accessed by local wildlife, packing out every single piece of garbage that is produced, and sticking to established trails at all times.
8. Alice Lake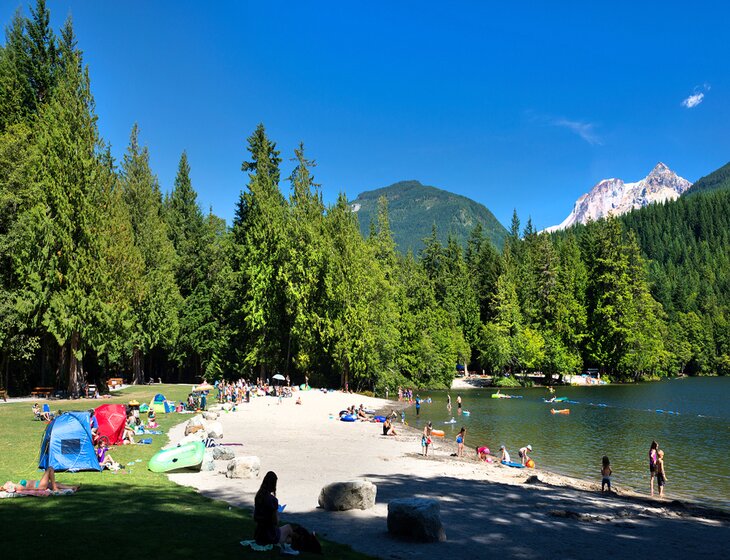 At the north end of Squamish and about 50 kilometers south of Whistler Village, Alice Lake Park is a fantastic campground for families. There are 96 drive-in campsites (55 with electrical hookups), 12 walk-in campsites, and 2 group camping sites, each of which can hold up to 40 people. All are located in a gorgeous shaded forest bordering Alice Lake, one of four lakes in the park.
There are plenty of amenities and extras at this campground, including flushing toilets, shower facilities with electrical outlets, a playground, and seasonal rentals for lake activities like paddleboarding and canoeing. Hikers will want to trek the meandering Four Lakes Trail, a loop trail that connects each of the park's lakes (Alice, Edith, Fawn, and Stump).
Reservations for campsites are highly recommended from July to September, when the park tends to fill up to capacity.
9. Squamish Valley Campground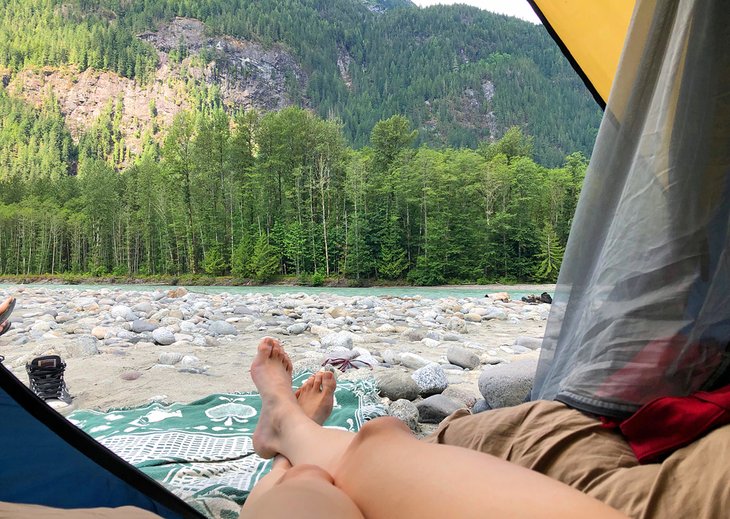 Just under an hour away from Whistler Village out in the Squamish Valley, Squamish Valley Campground is a secluded campsite for tents and RVs. This 195-acre campground is surrounded by natural beauty: it is close to a sandy beach along the Squamish River and features fantastic mountain vistas from all angles.
The camping at Squamish Valley Campground is pretty rustic: all sites are unserviced, and the only bathrooms are portable toilets. However, prices are reasonable, and you can even reserve a site for the entire summer season.
Be aware that this site is a good 20 minutes from Squamish's shops and amenities. The valley is a peaceful setting, but if you need supplies, just know that it's a bit of a drive to get them.
Official site: https://www.campsquamish.com/index.html
10. Stawamus Chief Provincial Park Campground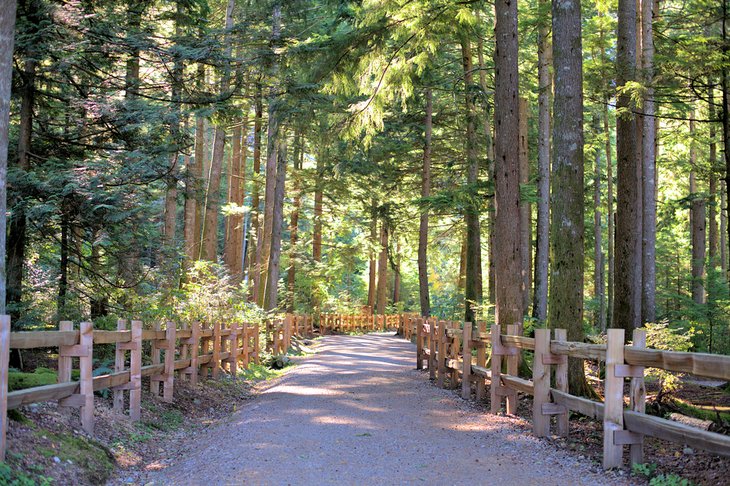 It's impossible to miss Squamish's Stawamus Chief: it's the looming granite monolith that welcomes you as you drive from Vancouver up to Squamish, drawing hikers and rock climbers from near and far.
Roughly an hour south of Whistler, the campground offers 52 car-access campsites and an additional 57 walk-in sites that are a short five-minute walk from the parking area. Unlike many other campsites on this list, the Chief campground does not permit reservations - it's first-come, first-served. Walk-in campsite users will want to note that the Chief parking lot fills up quickly in the summer, especially on weekends.
The sites are relatively small and are not suitable for RVs. Each site features a small, raised tent-pad: all tents must be pitched in this designated area, which helps protect understory vegetation. There are no campfires permitted at this campground, and the only washroom facilities are pit toilets. There is, however, a central cooking shelter, and food storage lockers are available.
11. Owl Creek Recreation Area
Located near Pemberton, the Owl Creek Recreation Area is a good spot if you are looking for a non-traditional type of BC campground — or in other words, a campground not set under towering trees.
Owl Creek campground is laid out in a former orchard, so you'll get lots of sunlight and have loads of room to roam and play games. Plus, some of the orchard's apple trees remain, so fresh fruit is on offer late in the season.
It's a small place with only 15 sites that generally doesn't get too busy. Bring your own water, or collect and treat water from either the Birkenhead or Owl River, both of which flow by the campground. Train tracks run near the campground, so noise can be a problem at times.
12. Cat Lake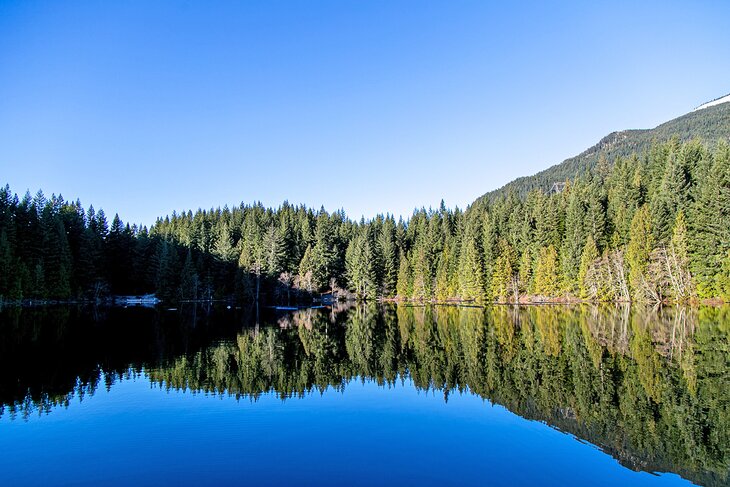 If you don't mind hauling your gear on a short walk to be able to enjoy a pristine campsite on a wonderful little lake, Cat Lake is for you. Cat Lake is unique in the fact that no vehicles are allowed on the 48 campsites, ensuring that no radios, slamming car doors, and engine noises intrude on your nature bathing.
Cat Lake is first-come, first-served and popular on warm summer weekends, so arrive early if you want to be assured of getting a spot. Each site has a fire ring and picnic table. No water is available, so bring your own or treat the water from the lake.
If you live in BC, you'll probably think the water in the lake is warm; anyone from anywhere else will probably find it pretty chilly. Nevertheless, swimming and jumping off the docks located around the shoreline is a popular pastime as is canoeing, stand up paddleboarding, and kayaking.
Don't forget to pack your mountain bikes — excellent trails are located nearby. Squamish is about 11 kilometers away.