From Vancouver to Whistler: 6 Best Ways to Get There
It couldn't be easier to go from the hustle and bustle of downtown Vancouver to the snowy slopes of Whistler — and it will typically take you less than two hours to make the pilgrimage.
Whether you're looking to swap the rain for some snow or you simply want to explore more of British Columbia's beautiful landscapes, there are several ways to get from Whistler to Vancouver. From once-in-a-lifetime, scenic adventures to private tours that let you customize your trip, we've summarized our favorite transportation methods below.
1. From Vancouver to Whistler by Seaplane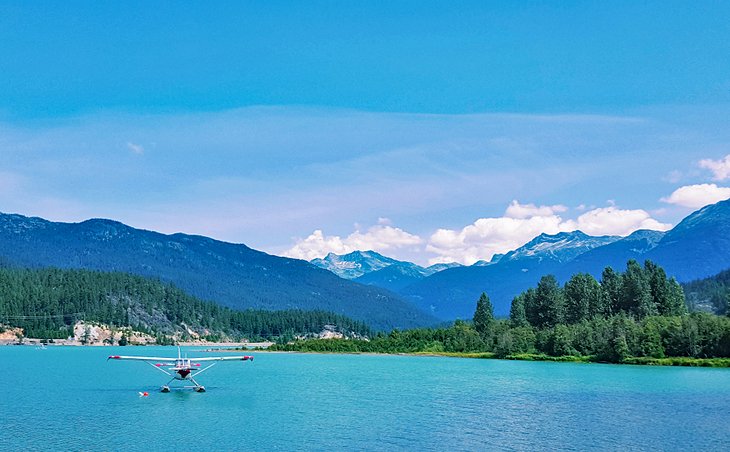 Without a doubt, the most dramatic way to experience a trip from Vancouver to Whistler is to fly in by seaplane. The excitement starts the moment you board the small plane and doesn't stop until you come to a floating stop in Whistler's Green Lake.
A Whistler Day Trip by Seaplane from Vancouver offers the opportunity to take in the Coastal Mountains from above, revealing mountain peaks and alpine lakes that you wouldn't get to see any other way. At about 35 minutes each way, the journey is short — but the memories will last a lifetime. This trip also includes a shuttle to and from Whistler Village.
Seaplane trips to Whistler are only offered from late spring to early autumn, so if you're heading up for a ski trip, then unfortunately this option isn't for you. Of all the transportation methods on this list, flying in by seaplane is the most expensive — but also the most breathtaking. In this case, the journey is just as epic as the destination itself.
The short travel times mean that you can easily make a trip out to Whistler and back to Vancouver in a single day, while still having plenty of time to explore Whistler's attractions.
2. From Vancouver to Whistler with a Small-Group Tour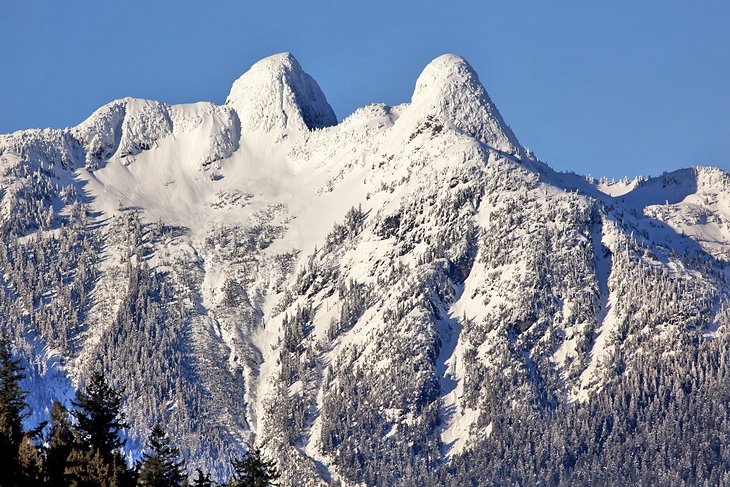 When you're short on time but eager to experience as much as possible, consider booking a guided small-group day trip up to Whistler. This is a good option for those who would rather leave the planning and logistics to the pros.
The small-group day trips include the trip up and down the Sea to Sky Highway on a comfortable coach bus, but they're more than just a way of getting from the city to the mountains. Trips include an experienced guide who will fill you in on what to look out for on the journey. The coach stops at the most picturesque spots along the route, and you have the opportunity to sign up for optional excursions and activities to enjoy while you're in Whistler.
If you've only got a day to spare but you want to see what Whistler is all about, consider booking a small-group day tour to make the most of your time.
3. From Vancouver to Whistler by Bus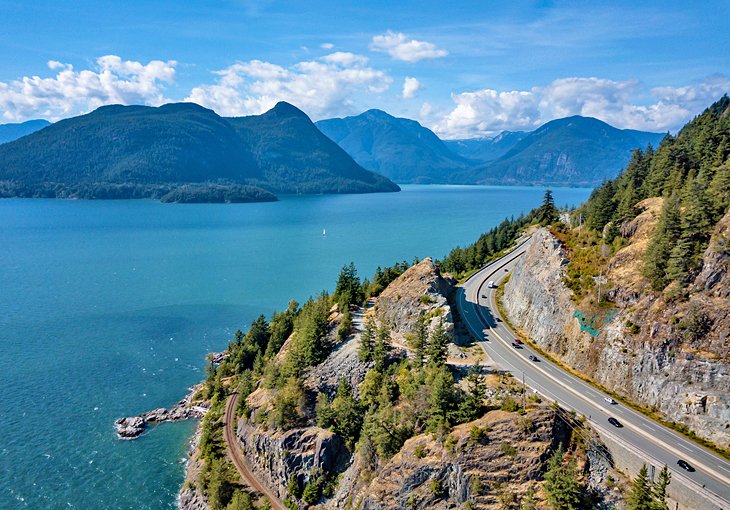 The Sea to Sky Highway, extending from West Vancouver to Whistler, is one of the most scenic trips to take in Canada. When you opt to ride the bus up to Whistler, you don't have to worry about navigating the twisting highway or possibly snowy conditions yourself — you simply get to sit back, relax, and take in the sights.
Whether you're starting from the Vancouver International Airport or downtown Vancouver, the bus is a low-stress and easy way to get to Whistler. Roomy and comfortable, buses offer Wi-Fi access — though you're definitely going to want to put down your phone to take in the scenery on the way up.
It's generally a good idea to book your bus trip in advance to guarantee a spot, especially if you're traveling during the busy winter and summer seasons. If you can, try to board the bus early and grab a seat on the left side (or, if you're coming down from Whistler to Vancouver, on the right side), as this will offer the best views of Howe Sound along the way.
4. From Vancouver to Whistler with a Private Tour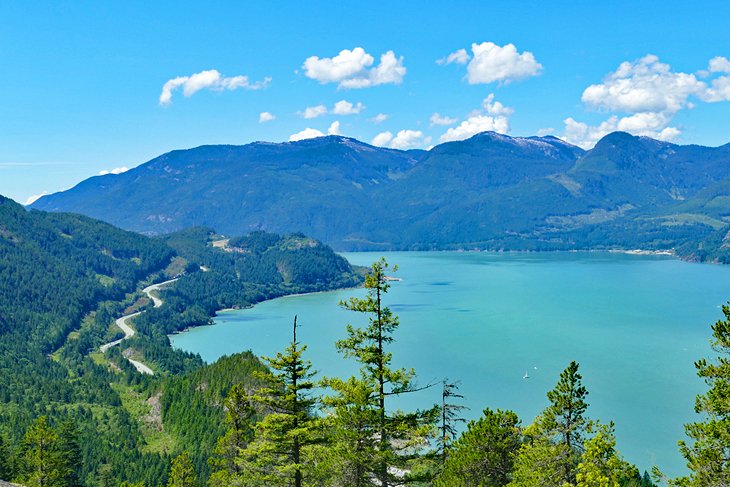 If you prefer to do things at your own speed but still want to sit back and enjoy the ride, a private tour from Vancouver to Whistler might be just what you're after.
A private tour allows you the opportunity to create a trip customized to your interests, with the convenience and benefits of having a local guide to show you the way. No need to worry about traffic, weather, or navigating the route — the driver of your private car will take care of that, while offering you the insider info you can only get on a guided tour.
A private tour is another great way to experience Whistler in a day. It costs more than a small-group day tour, but if you value flexibility and individual attention, this might be your preferred way to get from Vancouver to Whistler and back.
5. From Vancouver to Whistler by Car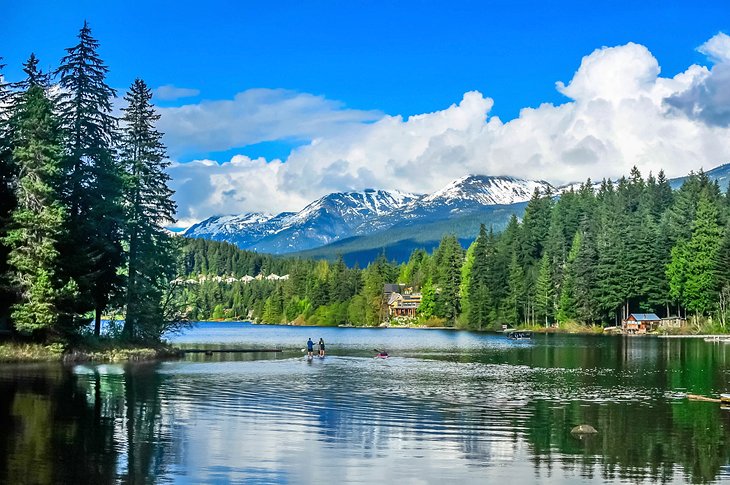 There's nothing like a good old-fashioned road trip, and many people opt to rent a car from the city to drive themselves up to Whistler along Highway 99.
The obvious advantage here is that you can do exactly what you want, when you want: you can leave when you want, make stops and detours as you see fit, and hop in your car at any time once you're in Whistler to make side trips.
However, there are some drawbacks to consider. First, if you're going to be traveling from October to April, make sure your rental car has winter tires — it's the law, and you definitely won't want to be caught without them in winter conditions.
Second, parking in Whistler can get pricey. Free parking in peak season is virtually non-existent, and finding an available spot on the weekends can be a challenge.
Finally, a lot of people find that once they're in Whistler, they don't actually need a car, especially if they are staying in Whistler Village. Everything in and around the Village is very walkable, including access to the gondolas up Whistler and Blackcomb Mountains. Most attractions that take place outside the village offer easy transportation options, so you probably won't need a car for those either.
6. From Vancouver to Whistler by Taxi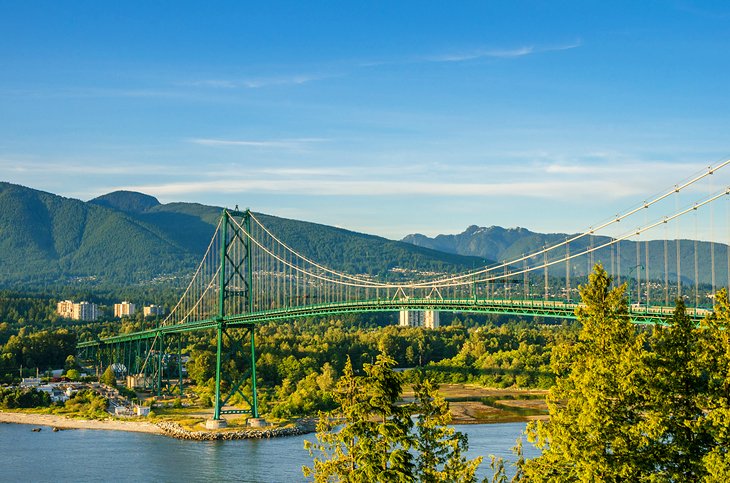 Whistler's taxi companies are generally happy to pick you up in Vancouver and take you up to Whistler, as long as you book your trip well in advance. This is a good option if your flight arrives at an unusual time that doesn't fit with the regular bus timetable, or if you're leaving from somewhere in Vancouver that isn't downtown and would prefer not to take multiple modes of transportation. If you're lugging lots of gear, the convenience of getting in a car at Point A and having someone drive you to Point B is unparalleled.
The con? Taxis can get pricey — so be prepared to pay a little extra for the convenience.