12 Best Beaches in Vancouver, BC
When it comes to Mother Nature's bounties, Vancouver seems to have hit the jackpot. Mountains dominate the horizon to the north and beyond, and the forests are green and lush year-round thanks to that infamous Vancouver rain. But many would argue that city's best natural attraction is the Pacific Ocean, and the beaches in Vancouver offer a great way to enjoy it.
No trip to Vancouver would be complete without spending a little time by the sea. A trip to the beach can be active, involving swimming or a walk along a seaside trail like the Seawall. It can just as easily be a mellow excursion: simply find a log or a bench to perch on and watch the boats and seaplanes float by.
Lifeguards are stationed at most of Vancouver's beaches from late May (Victoria Day) through early September (Labor Day), and public restrooms and changing facilities are open year-round. Most beaches also offer water wheelchairs, but they must be reserved at least 24 hours ahead of time.
Make the most of your time by the sea with our list of the best beaches in Vancouver.
1. Kitsilano Beach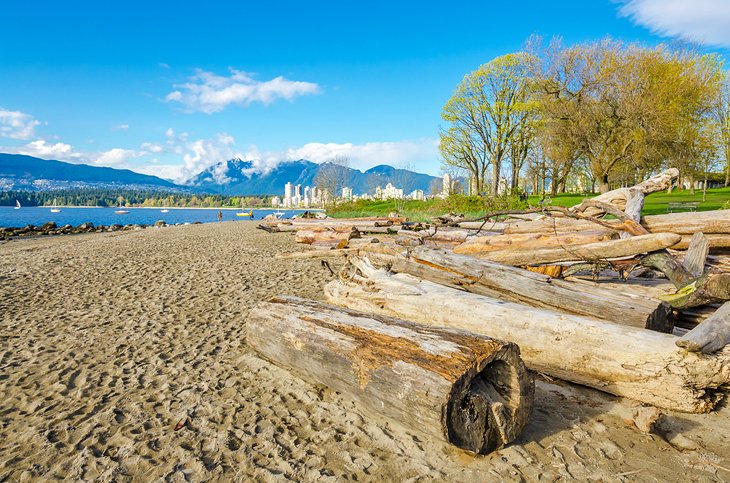 No list of Vancouver's best beaches would be complete without the legendary Kitsilano Beach, better known as "Kits Beach." Located just across from downtown Vancouver via the Burrard Street Bridge, Kits Beach embodies everything that the neighborhood of Kitsilano has to offer: an outdoorsy hub of activity that is equal parts trendy and unpretentious.
During the dog days of summer, Kitsilano Beach is the place to see and be seen. There's lots to do, from swimming laps in the outdoor saltwater pool to playing tennis, basketball, or beach volleyball. There's also a playground, on-site concessions, and a waterfront restaurant for when ice cream and snacks aren't enough.
Kitsilano Beach has a Mobi-Mat installed to just above the tide line, so that those using wheelchairs and other mobility aids can access the water easier; water wheelchairs are also available at this beach.
Your four-legged friends are also welcome here, at the designated dog beach, where dogs can happily tucker themselves out running in and out of the ocean.
With plenty of restaurants and shops just a short walk from the beach, you can squeeze in a visit to Kits Beach as part of a fuller day exploring the neighborhood, but with so much to see and do, don't be surprised if you find yourself spending a little longer here than you anticipated.
2. English Bay Beach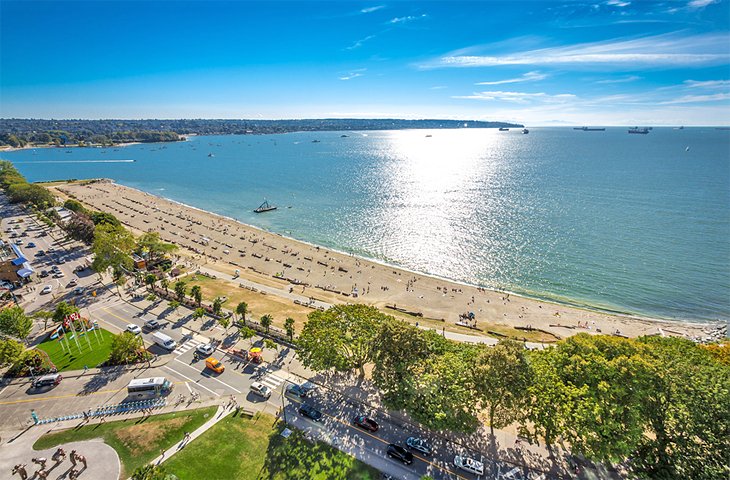 Overlooking the eponymous English Bay, English Bay Beach offers an oceanside sanctuary in the otherwise busy West End of downtown Vancouver. With Stanley Park to one side, the hustle and bustle of downtown life on the other, and the Stanley Park Seawall running right along it, English Bay Beach is a lively beach with plenty of people watching.
If you're staying downtown, English Bay Beach is one of the easiest of Vancouver's beaches to access by foot, bike, or public transit. English Bay Beach also offers Mobi-Mat access and water wheelchairs, making it accessible to nearly everyone.
On a blazing summer day, it sometimes feels like half the city is at English Bay Beach, and finding a spot to set out a towel or picnic blanket can get a little competitive. Arrive early, or be prepared to make new friends.
Beach amenities include two volleyball courts, a raft swimming platform with a slide, kayak rentals, and a kayak storage area if you've brought your own.
There are plenty of reasons to visit in the winter months, too–one in particular is the Polar Bear Swim. For many Vancouverites, this traditional dip in not-so-warm waters is the preferred way to ring in the New Year. Up for the challenge?
3. Jericho Beach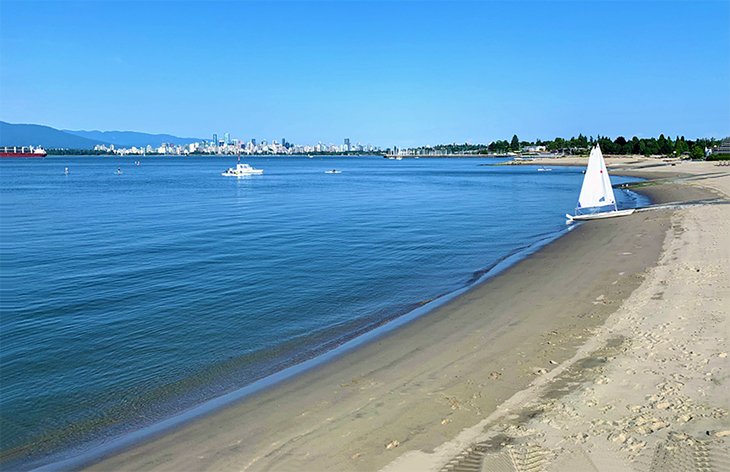 Jericho Beach is a lovely stretch of sandy oceanfront between the Kitsilano and West Point Grey neighborhoods–but it's so much more than that. It's home to some of Vancouver's posher facilities, like the members-only Royal Vancouver Yacht Club and Jericho Tennis Club, as well as tennis courts that are open to the public.
While Vancouver's beaches can be enjoyed from shore or by taking a dip in the ocean, one of the most exciting ways to experience them is to get way out in the water. Jericho Beach hosts the non-profit Jericho Sailing Centre, where anyone can access sailing, windsurfing, stand up paddleboarding, and skimboarding lessons and rentals.
The adjacent park area features a network of winding trails–the ideal place for a dog walk or trail run. Just keep your eyes on Fido–there is a considerable rabbit population in the area that might spark a spirited chase.
4. Second Beach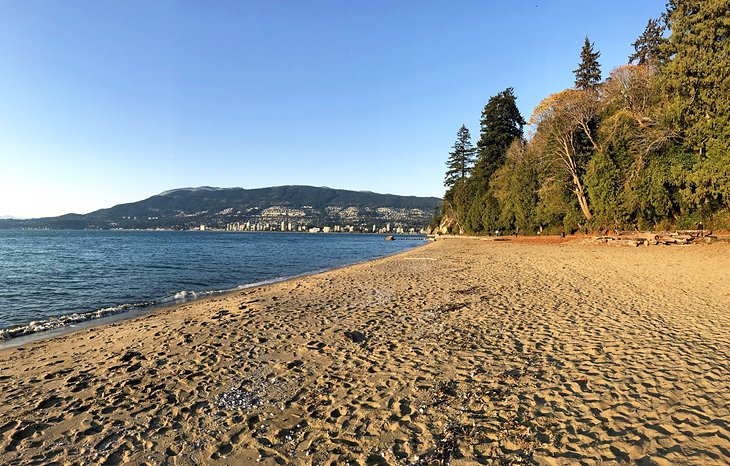 Looking for a family beach that offers something for everyone? Look no farther than Second Beach. Nestled at the south end of Stanley Park, Second Beach is surrounded by trees and overlooks English Bay and the Burrard Inlet.
There are many things that draw kids to Second Beach, from building sandcastles on the seashore to playing at the beach's two playgrounds. But the biggest attraction is undoubtedly the heated outdoor pool, and its two slides, which is open seasonally from late spring to early fall.
If you're visiting during summer vacation, keep your eyes out for the Stanley Park Summer Cinema schedule, which is when Second Beach transforms into an al fresco movie theater. The movies, projected onto a large screen right on the beach, are free–but BYO popcorn.
5. Wreck Beach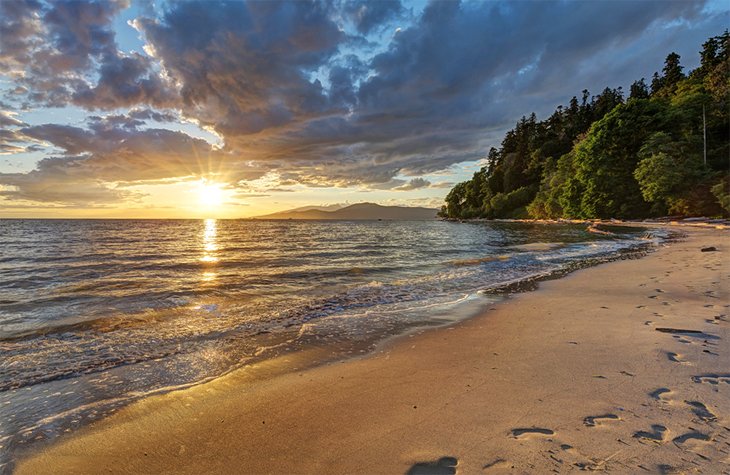 Wreck Beach is a beach quite unlike any others on this list. For one, it's the only one located at the University of British Columbia. You'll have to head all the way out to the campus to visit it, and even then, you'll still have to put in plenty of legwork to find it. The beach is tucked away at the base of a cliff, and you'll have to descend 500 steps to get here. Yes, you read that right, and no, that's not an exaggeration. Save some steam for the trip back up!
Perhaps the most noticeable difference, however, is that Wreck Beach is Vancouver's only clothing optional beach. Beachgoer, be warned!
Wreck Beach has a distinct bohemian vibe that attracts a hippy-like crowd. It's not unusual to see a group huddled around a guitar or a local artist selling their work. Something about the rugged shoreline makes this beach feel a little wilder and more secluded than many others around the city.
At low tide, a walk along Wreck Beach is a must-do. The beach goes on for quite a while and there is plenty to look at–from abandoned towers from World War II to the local flora and fauna. Be sure to watch your step, as the rocks can get rather slippery.
6. Spanish Banks Beach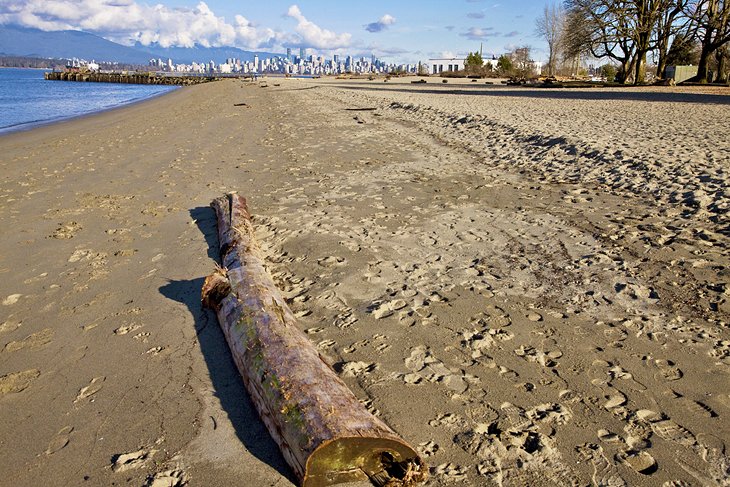 With views of the city skyline, Spanish Banks Beach is similar to Kits Beach and Jericho, but tends to be quieter due to its location in a more residential area. It's the optimal place to stake out a picnic table to host an impromptu barbecue, with unreal views over the water and of the city.
With the Seawall stretching from one end of the long beach to the other, Spanish Banks is the ideal beach for a quiet stroll, set to a spectacular backdrop of squeaking seagulls and sailboats drifting along the water.
On a clear evening, there is no better place to catch the sunset than from Spanish Banks Beach. Lay out a blanket and watch the sun sink below the horizon as the city lights flicker across the bay.
One great benefit of this beach is that parking is free, and it's a nice place to relax since it's a designated "quiet" beach with no amplified sound allowed. There's also an off-leash area for dogs, as well as eight volleyball courts.
7. Third Beach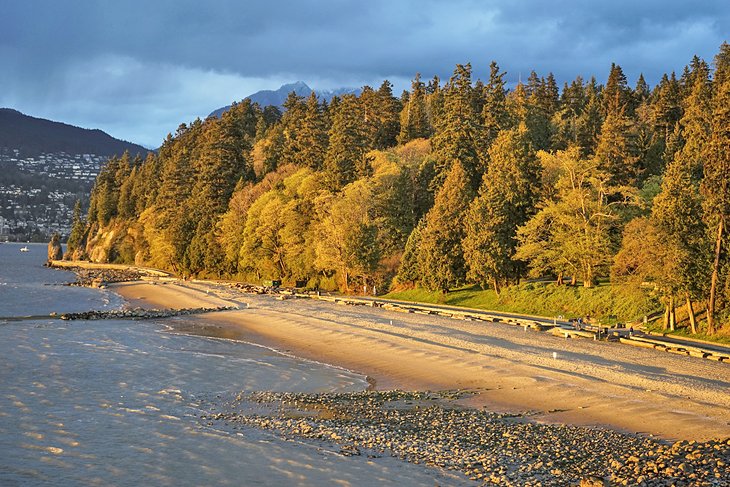 Find a piece of driftwood (which makes a handy makeshift bench) and sink your feet into the sandy shores of Third Beach in Stanley Park. Surrounded by trees behind you and the ocean before you, many beachgoers quickly forget that they're in the middle of Canada's third largest city.
If you're lapping Stanley Park's Seawall–on foot or by bike–schedule some time to pull over and enjoy Third Beach. Because it's deeper into the park and farther from the city center, the crowds tend to be sparser than nearby English Bay Beach and Second Beach. There's no better place to catch your breath.
Third Beach amenities include restrooms and changing areas and a concession stand, and visitors are permitted to use barbecues.
8. Locarno Beach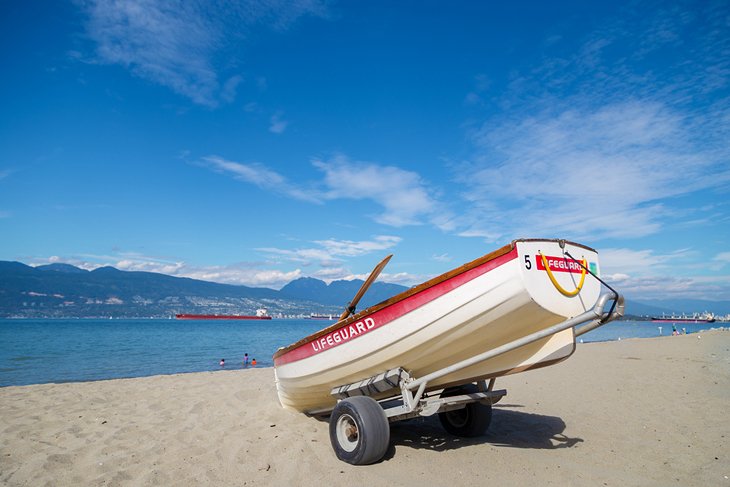 Located between Spanish Banks Beach and Jericho Beach, Locarno is a smaller beach that is perhaps lesser known than its neighbors–and, for that very reason, it is a bit of a hidden gem. It offers the same perks as other beaches nearby: epic vistas, sandy beaches, and plenty of room to go for a long walk. Whether you're looking for a place to enjoy a walk, a picnic, a game of sand volleyball, or a game of bocce, you'll find it all at Locarno Beach.
Two things it doesn't have? Crowds and noise. Locarno is designated as a quiet beach, meaning no amplified sound is allowed. Leave the boombox at home and head here to enjoy the sights, sounds, and smell of the ocean. Locarno Beach also doesn't charge for parking, making this a great choice for beachgoers on a budget.
9. Sunset Beach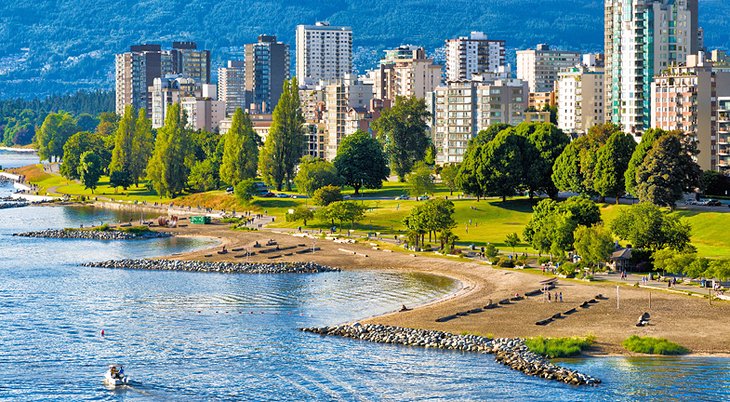 Adjacent to the Burrard Street Bridge, Sunset Beach sits on the mouth of False Creek and offers quick and easy access from downtown Vancouver.
It's also the perfect kickoff point for exploring other areas along False Creek: the Aquatic Centre Ferry Dock is a pickup/drop-off location for the colorful water taxi, a scenic way to hop among popular Vancouver destinations like Granville Island, Yaletown, and the Olympic Village.
As the name suggests, plenty of people enjoy heading to Sunset Beach to watch the day come to a close. It also fronts a highly-trafficked section of the Seawall, making it a great place to spot joggers, walkers, cyclers, and lots of cute dogs. This is another of Vancouver's designated "quiet" beaches, making it a great place for a relaxing day.
10. Ambleside Beach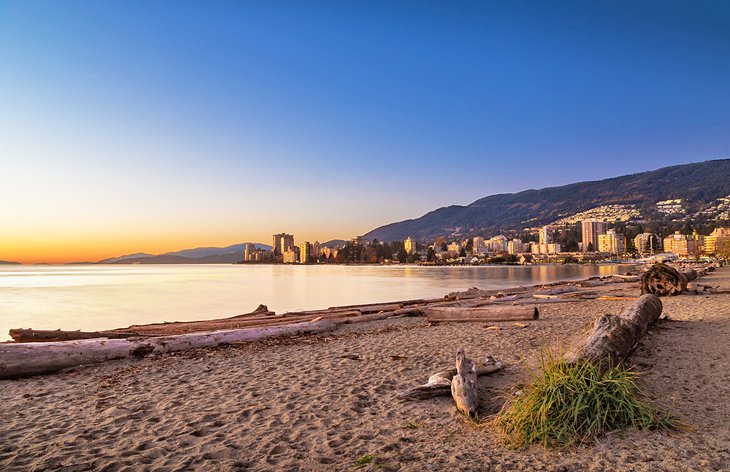 On the opposite side of Burrard Inlet, just across the Lions Gate Bridge, is a beach that–while technically not in the city of Vancouver–is too lovely to leave off this list.
Located in the District of West Vancouver, Ambleside Beach is a vibrant hub that serves as a home base for local activities and festivals. Ambleside Park features walking paths, sporting fields, a playground, tennis courts, and even a Par 3 golf course. It's a short walk from Park Royal shopping center and the shops and cafés along Marine Drive.
The trip across the bridge is a relatively easy one and is well worth the extra bit of effort. If you head to Ambleside Park, give yourself ample time to explore the beach and its surroundings. A quick stroll will lead you to Ambleside Pond, where you might catch a glimpse of the resident swans.
11. Trout Lake Beach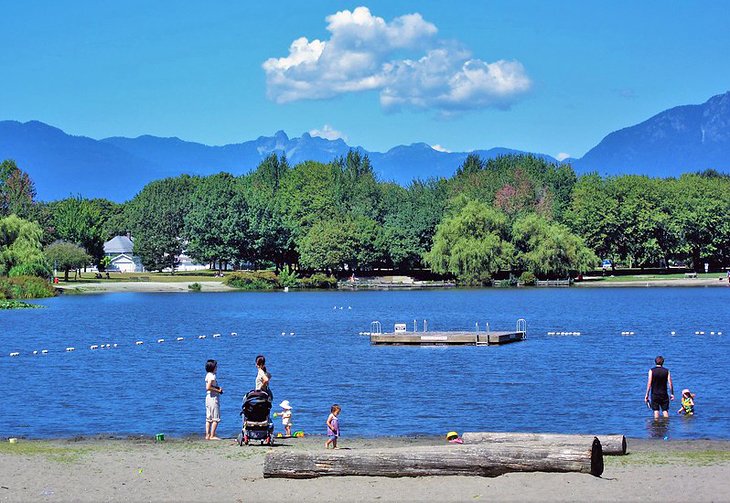 Not all of the beaches in the Vancouver area front the Pacific Ocean. Trout Lake Beach is the city's only official freshwater beach, located in the landlocked neighborhood of East Vancouver. It's a truly peaceful getaway in the middle of the city.
With picnic areas, sporting fields, playgrounds, and walking trails, the man-made Trout Lake has many of the same amenities of Vancouver's other beaches, but it boasts a few unique attributes, too, like a swimming dock. Though the water at Trout Lake is still pretty cold, many find it more swimmable than the Pacific Ocean.
Trout Lake Beach is located in a true park-like setting, nestled among plenty of trees and with a picture-perfect backdrop of mountains. There is an off-leash area for your four-footed pal, and parking here is free.
12. Dundarave Beach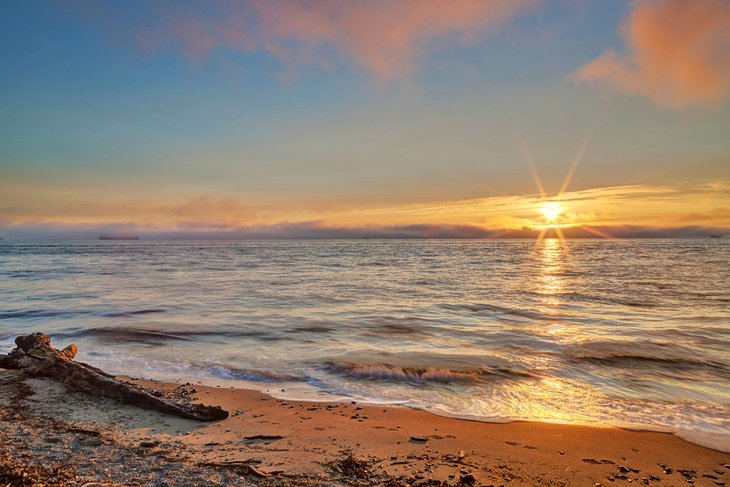 The final beach on our list is, like Ambleside Beach, technically located in the District of West Vancouver and not in Vancouver itself, but the wide rocky and sandy shoreline makes it a must-visit for any beach-lover visiting the area.
Dundarave is a true swimmer's beach, with calm waters and a swimming dock available for community use. It's a great bet for families, featuring wading pools and a playground to keep the little ones busy.
The nearby Dundarave Village is a quaint shopping area loved by locals and, given its location, often missed by tourists. Check it out for a quick bite to eat before or after you hit the beach.
Map of Beaches in Vancouver, BC
Vancouver - Climate Chart
Average minimum and maximum temperatures for Vancouver, Canada in °C
J
F
M
A
M
J
J
A
S
O
N
D

6

0

8

1

10

3

13

5

16

8

19

11

22

13

22

13

18

10

14

6

9

3

6

1

PlanetWare.com
Average monthly precipitation totals for Vancouver, Canada in mm.

150

125

109

76

61

46

36

38

64

114

170

178
More Related Articles on PlanetWare.com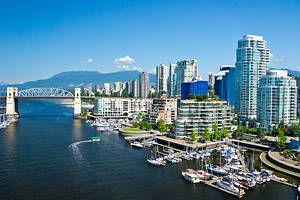 Where to Stay in Vancouver: If you are new to the city, you may want to spend a bit of time figuring out where to base yourself before selecting a hotel.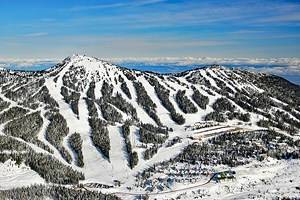 Things to Do in Vancouver: Vancouver has enough attractions to keep you busy throughout your stay, but if you want to venture a bit further afield, have a look at our list of the Best Day Trips from Vancouver. Skiers often head directly to Whistler to get their fix of skiing, but you can find several ski resorts near Vancouver, many of which offer great snow, cheaper prices, and a little different experience. For a comprehensive look at the options, ski our guide to the Best Ski Resorts near Vancouver, which does include Whistler.