From Vancouver to Victoria: 4 Best Ways to Get There
We may earn a commission from affiliate links ()
Separated by the Strait of Georgia, Vancouver and Victoria are two beautiful seaside cities that are on most visitors' "Must-See" lists. Luckily, it is relatively simple to make the trip from Vancouver to Victoria on Vancouver Island — and there are several different ways that you can hop from one city to the other, as we will explore.
The cities share a few similarities — namely very walkable downtown cores and stunning scenery from every angle — but they are vastly different in many ways.
If you're visiting Vancouver and can spare even just a day to visit Victoria, consider it time well spent. The province's capital has plenty of attractions, from the expansive Butchart Gardens to the hustle and bustle of Chinatown to an unforgettable high tea experience at the Fairmont Empress hotel.
Note: Some businesses may be temporarily closed due to recent global health and safety issues.
1. Vancouver to Victoria by Ferry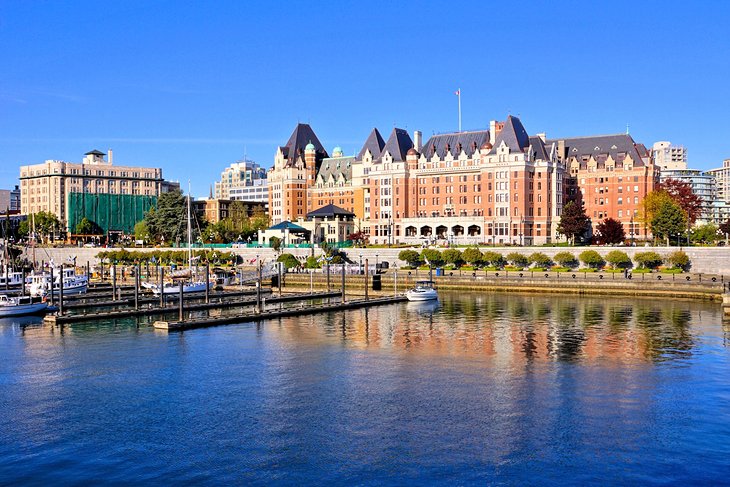 The most common way to travel from Vancouver to Victoria is to cross the Strait of Georgia on the ferry, by way of BC Ferries.
Technically, the ferry doesn't leave from Vancouver proper: you have to catch it from Tsawwassen. Of the two ferry routes that link Tsawwassen and Vancouver Island, one goes straight to Swartz Bay, which is just outside of Victoria. The trip between Tsawwassen and Swartz Bay clocks in at one hour and 35 minutes, crossing a distance of 24 nautical miles.
The other ferry from Tsawwassen goes to Duke Point in Nanaimo, which is north of Victoria on Vancouver Island. This ferry trip takes two hours, crossing 38 nautical miles. Once you're in Nanaimo, you'll have to drive down to Victoria, which takes another hour and a half.
To get from Vancouver to Tsawwassen, you can either drive, take public transit, or hail a taxi. The drive is about 45 minutes in light traffic, but expect it to take much longer if you're making the trip during after-work rush hour. The trip takes about an hour via public transit, which includes a combination of taking the SkyTrain (leaving from downtown Vancouver) and a bus. Taking a taxi is the most expensive of the three options, but can save some of the hassle of driving yourself or taking multiple trains and buses.
There are several ferry trips between Vancouver and Victoria (as well as Vancouver and Nanaimo) per day, with the exact schedule changing, depending on the day of the week and the time of year.
If you are traveling without a vehicle (i.e. if you're a "walk on"), you should generally be able to secure a space on your ferry of choice, save for exceptionally busy periods, like weekends in the summer or holidays.
If you're driving, you might want to consider making a reservation ahead of time. There is a premium charge for this and a cap on how many cars can reserve a space on the ferry. If you don't have a reservation, there is always a chance — especially in busy periods — that the ferry will fill up before you get there. If this happens, you'll have to wait at the terminal until the next sailing. Not only is it boring to hang out by your car for a few hours, but if you're on a tight schedule, this can be a logistical hassle.
Regardless of whether or not you have a reservation, make sure you arrive to the ferry terminal at least half an hour before the ferry's schedule departure time, otherwise you risk missing the boat (pun intended).
2. Vancouver to Victoria by Seaplane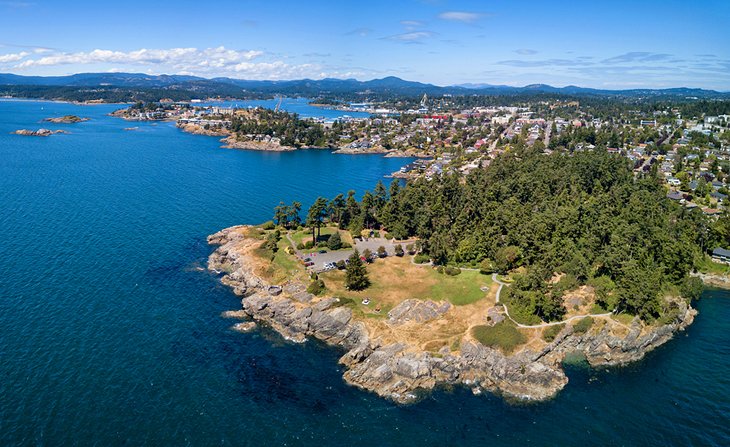 There are plenty of perks to traveling to Victoria by seaplane. First, it couldn't be more convenient: the seaplane leaves from Coal Harbour in downtown Vancouver and lands in Victoria's Inner Harbour, so when you arrive, you're already right in the action.
Second, the trip is speedy: it only takes 35 minutes to cross the Strait by air, and trust us — with everything there is to see, it will feel much faster.
The views are another advantage to taking the sea plane. As you take off, you'll get to see Vancouver in all its glory from above, then you'll pass over the Gulf Islands before swooping down over Victoria.
Planes leave every day of the week, with several departures throughout the day. It's wise to book your flight from Vancouver to Victoria on a seaplane ahead of time, as seaplanes are on the smaller side and tend to book up quickly. Also, be prepared to pay a premium — it costs more than twice as much to take the seaplane as it does to cross by ferry (with your car on deck), but the benefits might make it worthwhile to you.
3. Vancouver to Victoria by Ferry and Seaplane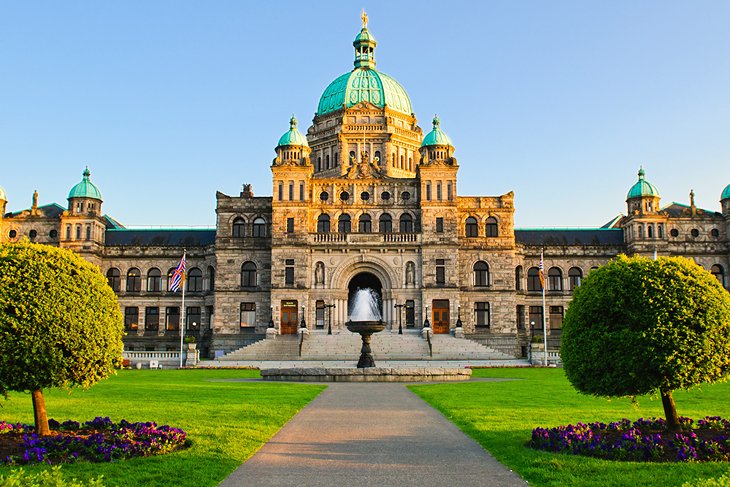 Can't decide whether you'd rather make the trip by water or by air? You can always choose to experience the best of both worlds by taking the seaplane over to the Island, then catching the ferry for the trip back.
In fact, you can book a Vancouver to Victoria by Seaplane and Ferry tour that allows you to do both in the same day, which is a great choice for those who want to get a taste of Victoria but don't have much time in their schedule to fit in a multi-day trip. The tour also includes transportation from Victoria to the ferry terminal, as well as from Tsawwassen to Vancouver, by way of coach.
4. Vancouver to Victoria by Bus Tour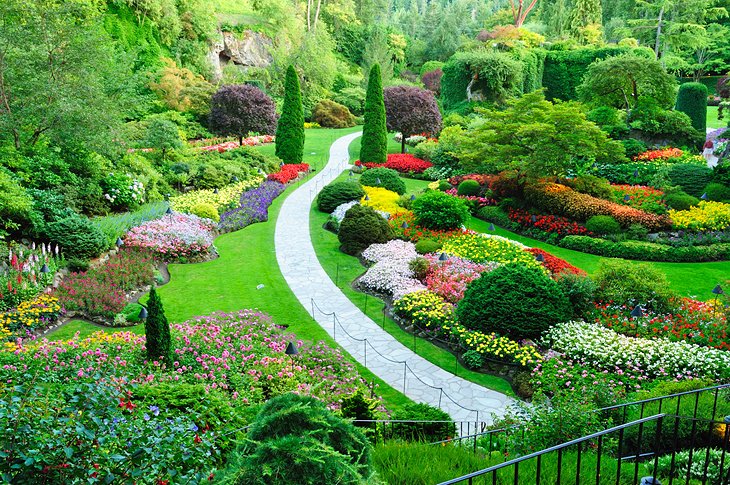 If you're eager to visit Victoria but aren't sure where to start, then a Small-Group Victoria and Butchard Gardens Day Trip from Vancouver tour might be right up your alley. These tours eliminate the need to co-ordinate all the logistics involved in traveling from Vancouver to the ferry, making reservations, and getting from Swartz Bay into Victoria — all the legwork is done for you.
All you have to do is hop on the coach in Vancouver — from here, it is smooth sailing (literally). Once the bus boards the ferry, you can head to the upper decks to take in the ocean views or grab a bite to eat. When the ferry docks on the other side, head back to the coach bus, which will take you through some of Victoria's best attractions.
Not only will the bus take you through downtown Victoria, but an all-knowing tour guide will point out key sites along the way. You'll also get a tour of the blossoming Butchart Gardens, which feature 900 plant varieties over 55 acres of gardens. The tour also includes the trip back to Vancouver, making for a very full — but memorable — day. Get a good night's sleep the night before and prepare yourself for a day that just might be the highlight of your visit.
More Related Articles on PlanetWare.com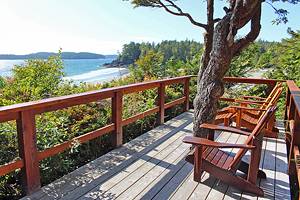 Exploring Vancouver Island: If you are looking to spend some time on Vancouver Island, you can plan some of your adventures with our guide to the top things to do on Vancouver Island. Although Victoria is the most popular destination, the island has beautiful beaches, small towns, and fabulous hiking trails that can take you through some of the area's most outstanding scenery. Another popular destination on Vancouver Island is the resort town of Tofino. This area is also known for its rugged landscape, beaches, and surfing opportunities. Even if you are visiting in the winter, come here to watch the storms roll in while you relax in one of Tofino's luxury resorts or lodges.