16 Top-Rated Things to Do in Victoria, BC
At the southern tip of Vancouver Island, Victoria is sheltered by the mountains of the Olympic Peninsula and influenced by the warm North Pacific current, creating the mildest climate in Canada. It's one of the warmest places in Canada in winter, and it's a popular tourist destination for Canadians and international travelers, with things to do year-round.
The capital of British Columbia, Victoria is a small city with a friendly small-town atmosphere. With no land connection to mainland Canada, it also has a slightly remote feel. And due to the size – a population of less than 100,000 – getting around is quick and easy, and much of the sightseeing can be done on foot.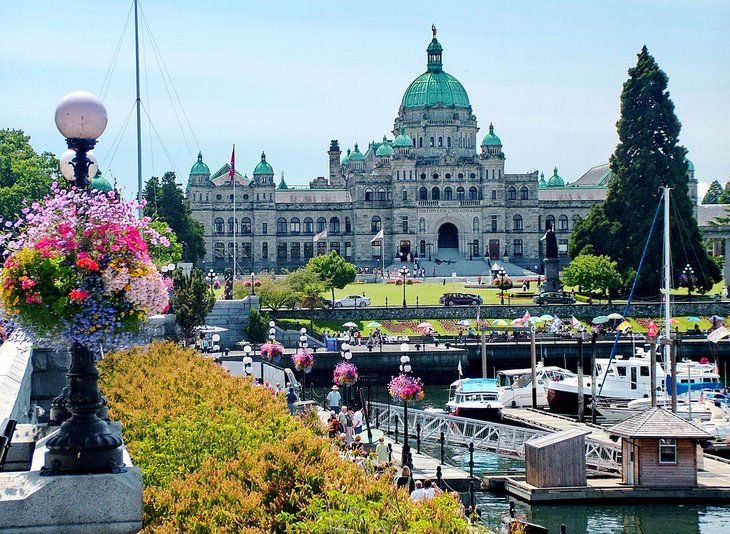 Some of the things to see include the parks and gardens, festooned with foliage and flowers throughout the year. The charming city center is set around the scenic Inner Harbour, which retains its Victorian heritage buildings and atmosphere. In the Empress Hotel, people still gather for traditional afternoon tea.
Victoria is one of the key highlights of Vancouver Island. Ferries make it an easy day trip from Vancouver, but regular flights connecting through Vancouver also make it a perfect getaway destination from anywhere in North America. It's also a great place to kick off a trip to other parts of the island.
For ideas on places to visit, see our list of the top things to do in Victoria.
1. Walk along the Inner Harbour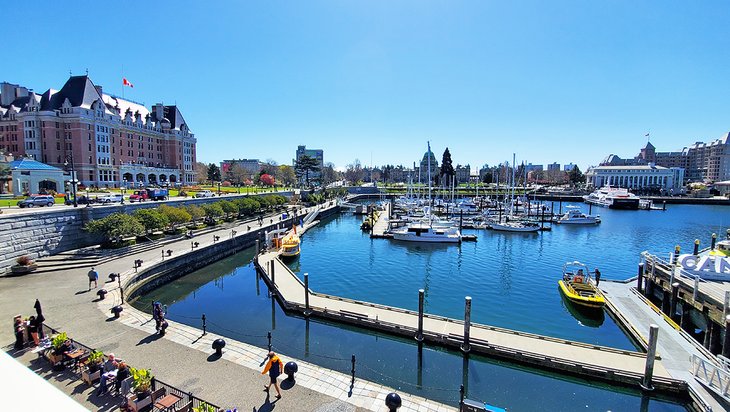 Victoria's scenic Inner Harbour is the main attraction and the best starting point for tourists. Many of the city's top sights are located either on the harbor or within easy walking distance. You can stroll along the waterfront, pass by the Empress Hotel and Parliament buildings, watch street buskers perform on sunny days, or stop in at restaurant for a bite to eat.
If you are looking for something to do in Victoria, this is a good place to come. Boat tours leave from the docks, and horse-drawn carriages ply the streets above. Festivals and other events frequently take place in this area and there is always plenty of activity.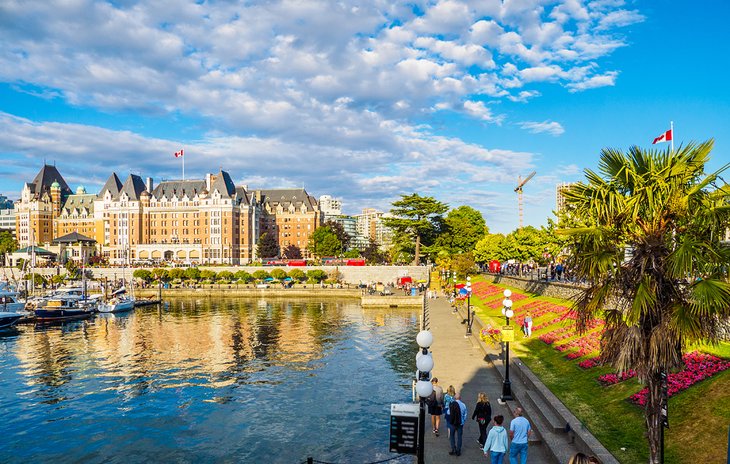 For travelers without their own vehicle, or for those who simply want to park the car for a while, staying on the harbor is the best idea. While the Fairmont Empress is the most obvious choice for location, the Delta Hotels Victoria Ocean Pointe Resort is another great option in a little less busy area.
The Inner Harbour is also where float planes land and take off, with service to Vancouver and Washington state.
2. Royal BC Museum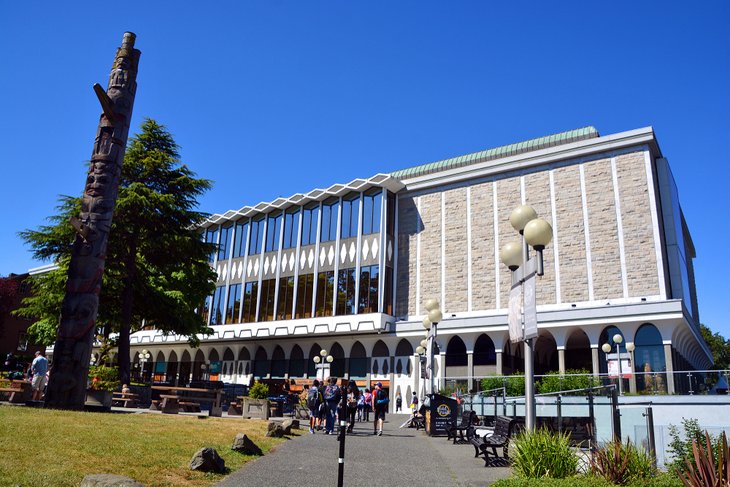 British Columbia's provincial museum and archives is one of the best museums of natural and cultural history in Canada, with many three-dimensional displays offering a feast of sights, smells, and sounds.
Walk through a rainforest, view animals on West Coast beaches and in tidal wetlands, sit among aboriginal ceremonial poles and masks, walk through a big house, and learn of First Nations people's struggles after European settlement. Other interactive features include a replica HMS Discovery - the ship that brought Captain Vancouver to these shores, and a street of shops in Old Town.
Outside, Thunderbird Park is home to traditionally carved memorial and house poles. Nearby, the small mid-19th century, Helmcken House is the oldest residence in British Columbia still standing on its original site. The house once belonged to J.S. Helmcken, a practicing doctor and local politician. He campaigned vigorously for the then British colony of Victoria and British Columbia to join the newly established confederation of Canada.
Note that big plans were in place to completely demolish and rebuild the museum starting in 2022, however, due to the massive cost the project was shelved. However, in anticipation of the project many of the displays were put into storage. The museum is slowly rebuilding the dismantled exhibits but it will be quite some time before it's back to normal.
The museum is situated midway between the Parliament Buildings and the Fairmont Empress Hotel.
Address: 675 Belleville Street, Victoria, British Columbia
Official site: http://royalbcmuseum.bc.ca/
3. The Butchart Gardens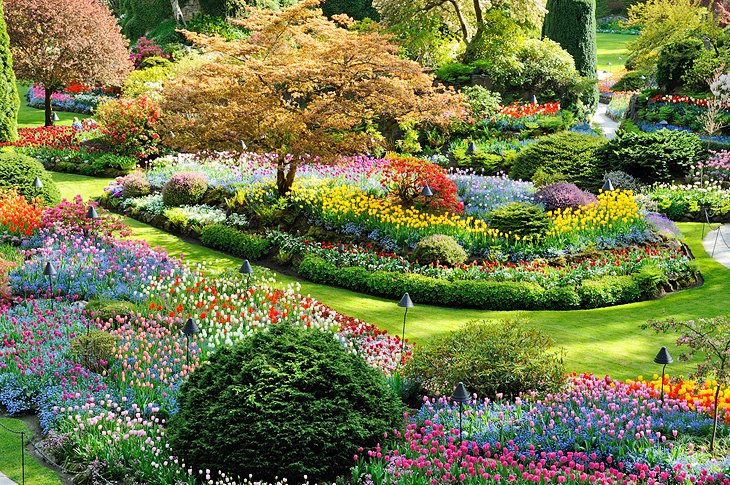 Although the garden is a short drive from downtown Victoria, it is one of the premier tourist attractions in the area and worth taking the time to see. It's also a place you can visit several times a year to see the changes throughout the seasons. Even in winter, the gardens are a lovely sight, with an outdoor skating rink and a fabulous display of lights around Christmas.
The garden was started in 1904 by Jennie Butchart, wife of a wealthy quarry owner. She laid out a fragrant garden in this abandoned limestone quarry. Flourishing, not least because of the mild climate, the gardens have since been developed into a 20-hectare horticultural tour de force without rival in Canada.
The Italian garden, rose garden, Japanese garden, and sunken garden are among the loveliest. Open spaces among the pools, fountains, and the many exotic plants are used for artistic and musical performances.
To reach The Butchart Gardens, follow Highway 17A north for 22 kilometers to Brentwood Bay on the Saanich Peninsula.
Address: 800 Benvenuto Ave, Brentwood Bay, British Columbia
Official site: http://www.butchartgardens.com/
4. Fairmont Empress Hotel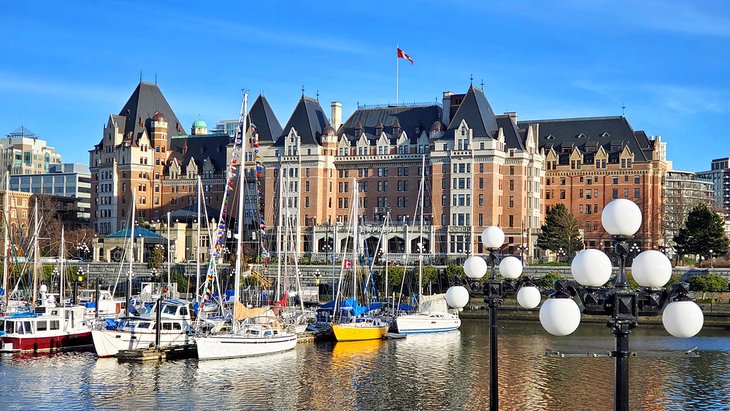 Built in 1908 for Canadian Pacific, like the Château Frontenac in Québec City, the Fairmont Empress Hotel on the Inner Harbour is one of Victoria's best-loved landmarks. This historic hotel has hosted celebrities and famous people throughout the decades, including members of the British Monarchy.
Architect Francis M. Rattenbury designed the Empress, and entering the vast lobby of this luxurious hotel is like journeying back in time to before the First World War.
Enjoying Afternoon Tea, served with great style in the Lobby Lounge, is one of the most popular things to do if you are visiting the city. Be sure to make a reservation if you want to guarantee a spot.
An extension on the north side of the Empress Hotel houses a collection of several dozen scenes in miniature at Miniature World. The models of historical events, castles, and dollhouses captivate young and old alike.
Address: 721 Government Street, Victoria
5. Parliament Buildings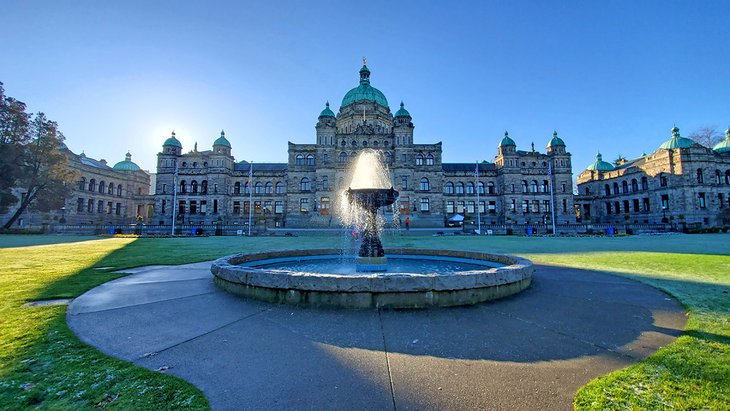 Dominating the south side of the Inner Harbour is the imposing seat of British Columbia's provincial government, the Parliament Buildings. Designed by Yorkshire architect Francis M. Rattenbury and erected in 1897, the imposing stone buildings have neat, orderly gardens and are very attractive in appearance – especially in the evening when lit by festoons of lights.
Perched high above the massive dome is a gilded statue of Captain George Vancouver (1757-98), who accomplished the first circumnavigation of Vancouver Island. Figures of famous personalities from the province embellish the façade. A large statue of Queen Victoria surveys the Inner Harbour from the terrace.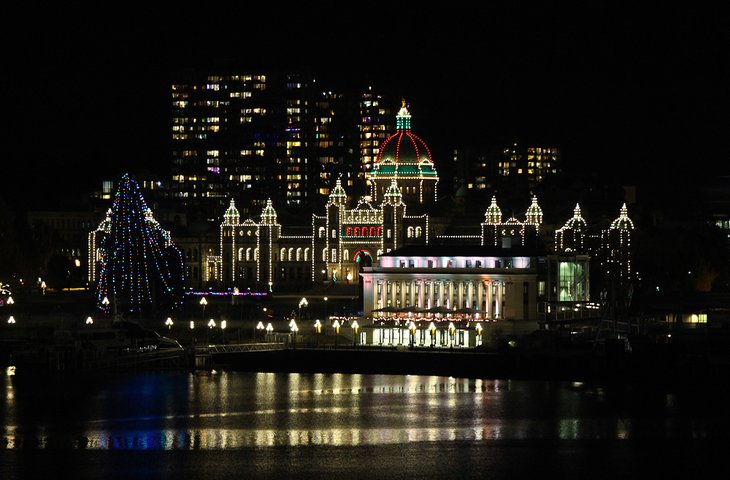 Highlights of a visit include an excellent overview of the history of British Columbia, details on the architectural design, and an education on the parliamentary system. Not to be missed are the impressive Queen Elizabeth II Golden Jubilee and Diamond Jubilee stained-glass windows. Another must see is the Memorial Rotunda, with its intricately painted walls and dome.
If parliament is sitting, members of the public are welcome to observe the session from the visitors' gallery.
If you work up an appetite while visiting, consider an elegant, yet understated breakfast or lunch at the Parliamentary Dining Room.
An alternative to touring the inside of the Parliament Buildings is a pleasant stroll around the grounds. Top sights include the Front Fountain, Knowledge Totem Pole, and the giant Sequoia Tree. In the spring and summer, stroll in behind the buildings and take in the sights and smells of the Premier's Rose Garden.
Address: 501 Belleville Street, Victoria, British Columbia
Official site: https://www.leg.bc.ca/learn-about-us/visiting-the-legislature
6. Shop or Dine at Market Square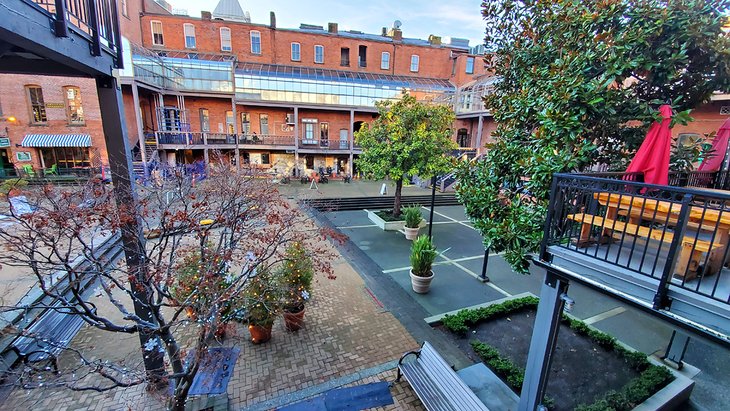 One of Victoria's most unique shopping areas is Market Square. Hidden from view from the street, the market is an open-air area behind wonderfully restored historical buildings. Patios line the multileveled area, and the sunny main square hosts a regular roster of performances.
Market Square is a mix of over 30 retailers consisting of one-of-a-kind boutiques, restaurants, and services. Wander around and pop into a few places to find local works of art, jewelry, crafts, and one of kind items. The pleasant vibe and comfortable environment will likely make you want to linger. Grabbing a bite at one of the innovative restaurants is a great way to satisfy that craving.
Market Square has three main entrances: Johnson, Pandora, and Store streets. Across Johnson Street and down a small cobblestone alley is the entrance to Il Terrazzo restaurant, one of Victoria's most enduring and popular dining establishments.
7. Wander through Cook Street Village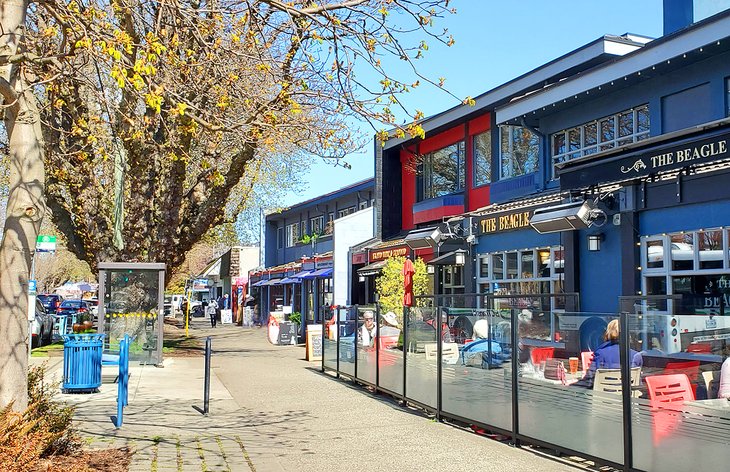 One of the trendiest areas of Victoria is Cook Street Village. Just down the street from Beacon Hill Park, this funky little area has good restaurants and nice shops. The main area is compact and runs from Oliphant Avenue for three blocks to Oscar Street.
For most of the year, restaurants have patios filled with patrons soaking up the vibe and staying busy by undertaking some serious people watching. Food trucks have their own little area complete with picnic tables under a large tree.
A very pleasant afternoon can be had by grabbing lunch on a patio, exploring the village, and then walking 10 minutes down Cook Street to the Dallas Road Waterfront Trail. This route stretches for miles, and the views across the Juan de Fuca Strait to the Olympic Mountains on a clear day are sublime.
8. Beacon Hill Park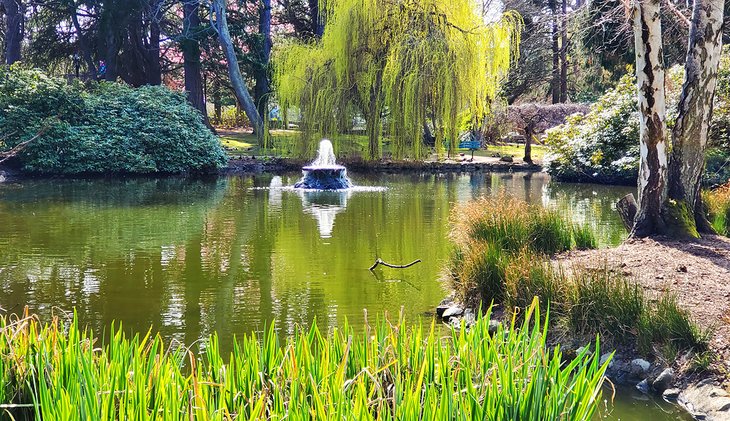 Green and well tended, Beacon Hill Park is a favorite outdoor area close to the city center. From its highest point, lovely views look across Juan de Fuca Strait to the snowy peaks of the Olympic Peninsula.
The park is home to huge trees, gardens, and ponds. Walking trails lead through the park to quiet benches and areas for peaceful relaxation. You can see a variety of wildlife here, from deer to peacocks, ducks, and occasionally even an otter. Paths also lead to high points with beautiful views out over the ocean and mountains.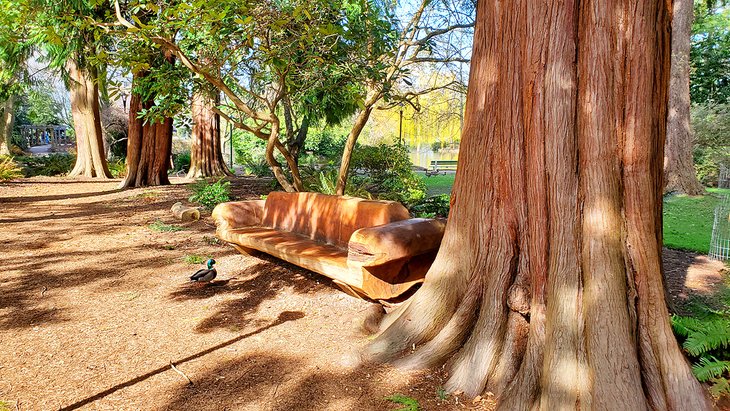 Other features in the park include recreational areas for baseball, tennis, cricket, and lawn bowling. Two water parks provide summer fun for kids.
A milestone on the southwest edge of the park, called Mile 0, marks the western end of the continent-spanning Trans-Canada Highway. Nearby is a statue of Terry Fox, who attempted to run across Canada in 1980 to raise money for cancer research.
Address: 100 Cook Street, Victoria
9. Craigdarroch Castle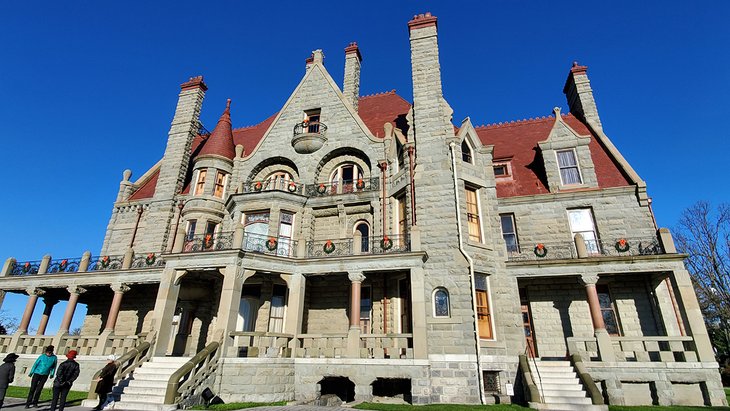 Victoria's fairy-tale mansion, Craigdarroch Castle, is considered a gem of Victorian architecture and is a National Historic Site. Immigrant Scottish entrepreneur Robert Dunsmuir, who made his fortune in coal mining, commissioned the home in the 1880s but died before his mansion was completed. Family drama around the home ensued.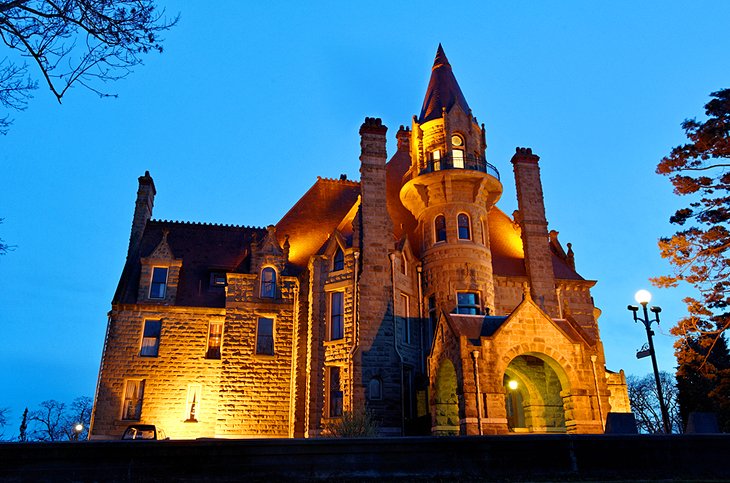 The house is situated in a particularly affluent area of Victoria. Elegant Rockland centers on Rockland Avenue, which is lined with grand heritage homes including Government House - the official residence of Her Majesty's representative in British Columbia. The house is open to the public but is not equipped with ramps or elevators.
Address: 1050 Joan Crescent, Victoria
Official site: http://thecastle.ca/
10. Hiking Trails and Scenic Areas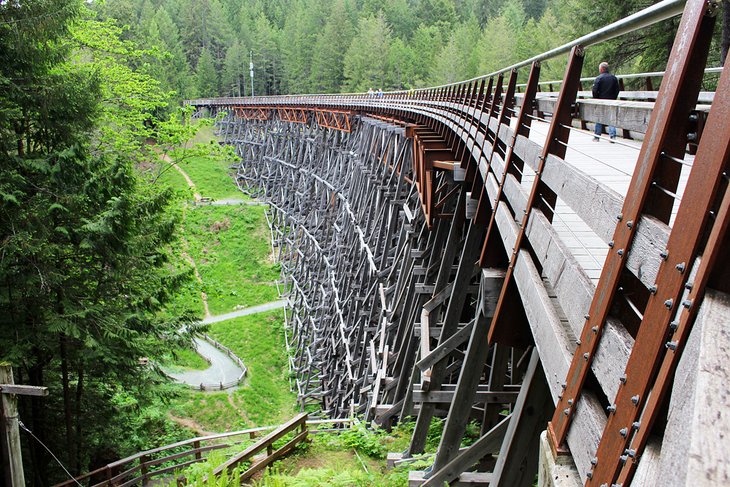 Victoria is one of the most scenic cities in Canada, and if you want to fully appreciate some of the views, head for the parks and tackle some local hiking trails. Many of these are short and can be done in a half-day or a couple of hours.
For coastal scenery, the Coastal Trail in Sooke is a wonderful seaside trail looking out to the distant mountains. The Mount Work hiking trail is another great hiking trail and good workout, leading to a highpoint with views to the Olympic Mountains and down Sanich Inlet.
For a little history, check out the Trestle Bridge Hiking Trail in Goldstream Provincial Park, and along the way, stop at Niagara Falls. Or, for something a little easier, try the Kinsol Trestle Bridge Trail, perfect for all abilities.
Read More: Best Hiking Trails on Vancouver Island
11. Fort Rodd Hill National Historic Site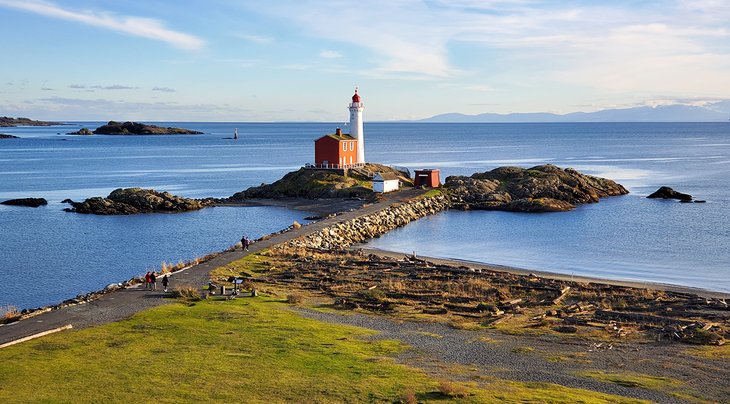 The gun batteries at Fort Rodd Hill National Historic Site, about 13 kilometers west of Victoria, used to guard the sheltered waters of Esquimalt Harbour, once a British naval base. The guns were in service from 1895 to 1956. Today, the well-preserved fortress can be visited.
Fort Rodd Hill National Historic Site is a perfect family outing when visiting Victoria. The fort has lots of interesting hideouts for kids to explore, guns to climb on, and the seashore out front usually has something interesting washed up. From the beach, walk about 10 minutes out to the point and Fisgard Lighthouse. This iconic Victoria photo spot was the first light on the west coast of Canada.
If you truly want to make your family visit an adventure, consider camping overnight at one of the fully self-contained oTENTik units.
Address: 603 Fort Rodd Hill Road, Victoria
Official site: https://www.pc.gc.ca/en/lhn-nhs/bc/fortroddhill
12. Hatley Park National Historic Site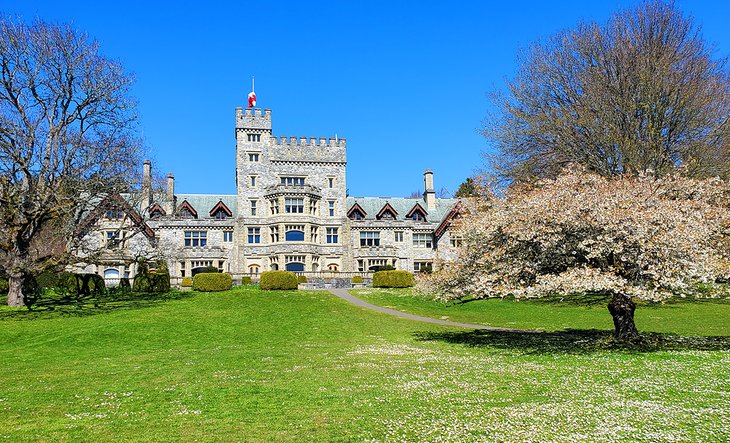 Hatley Park National Historic Site consists of Hatley Castle, built in 1908 by former British Columbia Premier and coal baron, James Dunsmuir. This Edwardian estate also showcases Japanese, Italian, and rose gardens.
The castle has also been featured in several films. Most famously, it was a filming location in the X Men movie series, as the School for Gifted Youngsters run by Professor Xavier.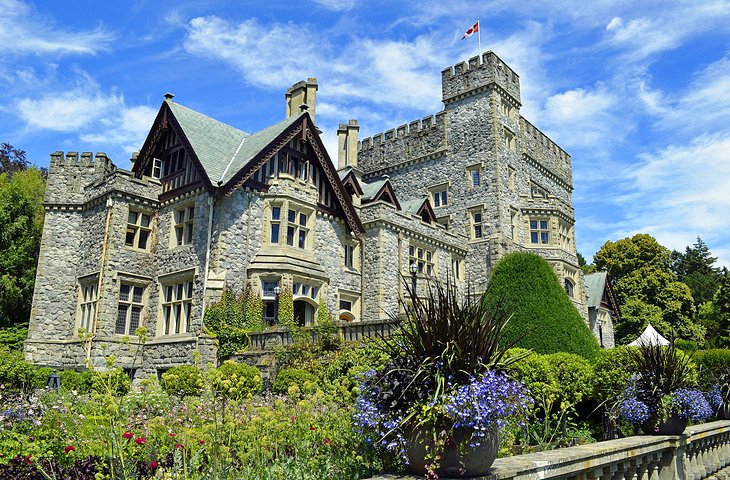 The building today houses the administrative office of Royal Roads University, but is open to the public. You can choose to walk through the gardens or take a guided tour of the castle.
Address: 2005 Sooke Road, Victoria
Official site: http://hatleypark.ca/
13. Victoria Butterfly Gardens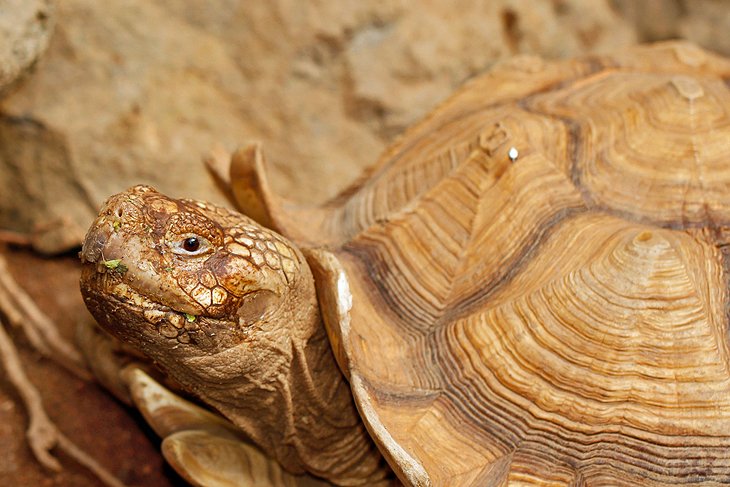 Located near Butchart Gardens, the Victoria Butterfly Gardens feature much more than just butterflies. These indoor tropical gardens house up to 75 species of exotic butterflies and moths, plus tropical birds, fish, and reptiles. In 2017, the Butterfly Gardens also opened an Insectarium.
Ducks, flamingos, parrots, tortoises, frogs, and iguanas wander around the jungle environment. This interesting facility, which incorporates waterfalls, trees, and flowers, makes for a wonderful escape on a cool winter day and is the best place to visit in Victoria for an indoor hit of nature.
Address: 1461 Benvenuto Ave, Central Saanich
Official site: http://www.butterflygardens.com/
14. Victoria Bug Zoo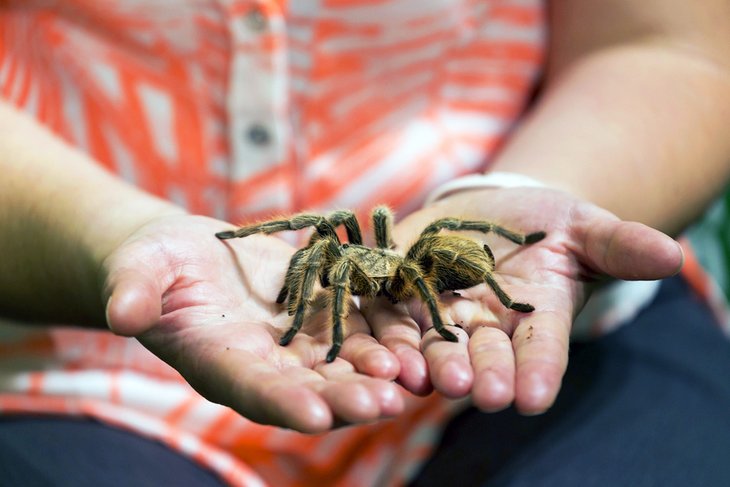 This may not be for everyone, but if you want to explore the wonderful world of bugs, or perhaps attempt to get over your fear of spiders, this is the place to visit. Enter a world of insects and spiders at the Victoria Bug Zoo.
The facility has a range of bugs from all over the world, many of which you can hold and interact with. The critter-focused attraction is located beside the Magnolia Hotel, easily walkable from Victoria's Inner Harbour.
Address: 631 Courtney Street, Victoria
Official site: http://www.victoriabugzoo.ca/
15. Chinatown and Fan Tan Alley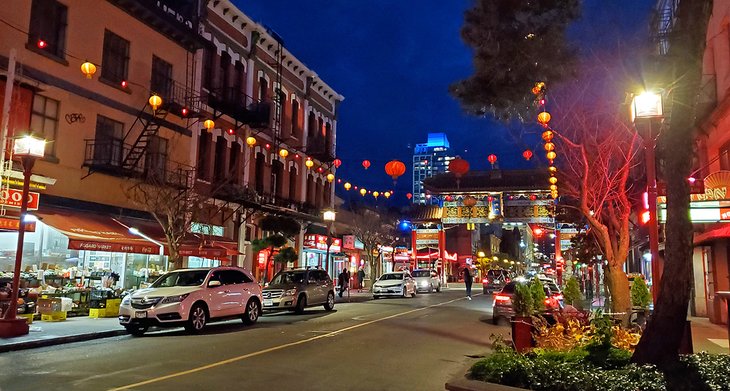 Adjoining the Old Town is Victoria's small, but nevertheless charming, Chinatown. Entered through a conspicuous gate, it occupies just two blocks close to Government Street and Fisgard Street. A century ago, 8000 people lived in the Chinese quarter. In 1971, it became a designated historic district.
One of the favorite sightseeing stops in Chinatown is the exceedingly narrow Fan Tan Alley. Located about two thirds of the way up Fisgard street as you head north to Government Street, the easy-to-miss entrance is on the right-hand side. The alley runs for a full city block from Fisgard street to Pandora street.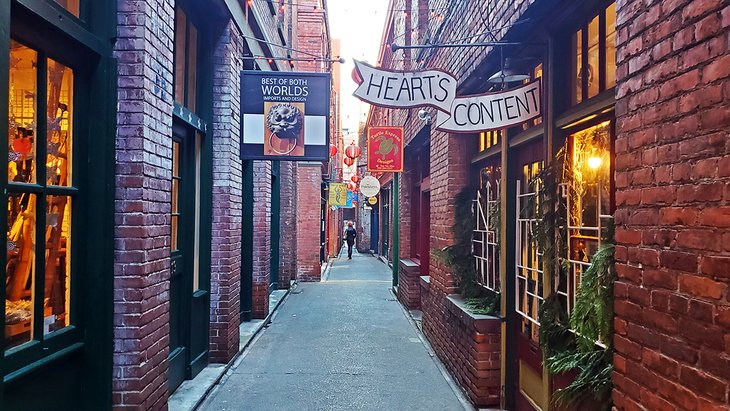 Down this little alley you'll find a treasure trove of interesting shops and restaurants. Photographers will be in their element trying to capture the ideal shot, considering the unique angles and tricky lighting.
If you head south of Chinatown, cross Store street, and turn right towards the water on Swift street, you'll find a delightful area of old buildings and restaurants with water-view patios. A short waterfront walkway runs along the seashore, and it's from here that many tour boats depart.
If you head south and turn left, you'll come to the brand new Johnson Street bridge. This futuristic, white bridge is a new addition to the Victoria waterfront and is especially beguiling at night when it's lit up in a soft blue color.
16. Maritime Museum of British Columbia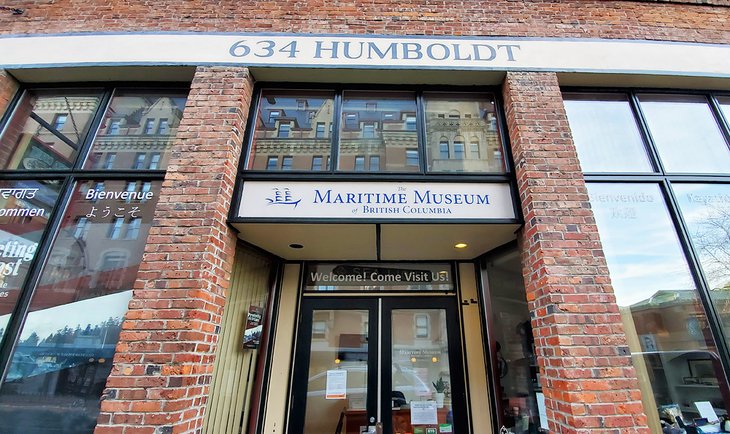 The Maritime Museum of British Columbia moved locations, and today is in a holding pattern until a new facility can be built in the next few years. Many of the 35,000 pieces are in storage, however, a small 3,000-square-foot temporary display location has some interesting things on display.
One of the exhibits is the SS Princess Sophia. Created with exquisite attention to detail, this scale model of the ship is fascinating to look at. Another fun exhibit for all members of the family is knot tying. Try your luck at creating some of the most common maritime knots - it's more difficult than you might imagine!
Address: 634 Humboldt Street, Victoria
Official site: http://mmbc.bc.ca/
Map of Things to Do in Victoria, BC
Victoria - Climate Chart
Average minimum and maximum temperatures for Victoria, Canada in °C
J
F
M
A
M
J
J
A
S
O
N
D

7

0

8

1

10

2

13

4

16

7

19

9

22

11

22

11

19

8

14

5

9

3

7

1

PlanetWare.com
Average monthly precipitation totals for Victoria, Canada in mm.

142

99

71

43

33

28

18

23

36

74

140

152

Average monthly snowfall totals for Victoria, Canada in cm.

17

8

4

0

0

0

0

0

0

0

3

15
Average minimum and maximum temperatures for Victoria, Canada in °F
J
F
M
A
M
J
J
A
S
O
N
D

43

32

47

34

50

35

55

38

61

43

66

48

71

51

71

51

66

47

57

41

48

36

44

33

PlanetWare.com
Average monthly precipitation totals for Victoria, Canada in inches.

5.6

3.9

2.8

1.7

1.3

1.1

0.7

0.9

1.4

2.9

5.5

6.0

Average monthly snowfall totals for Victoria, Canada in inches.

6.8

3.2

1.5

0

0

0

0

0

0

0

1.3

5.7