3 Best Campgrounds on Salt Spring Island, BC
Salt Spring Island is a microcosm of everything that camping tourists love about the west coast of British Columbia. It has the "wow factor" for gorgeous scenery, from forests and farms to mountains and an eclectic coastline of coves, cliffs, and beaches. Its restaurants, cafés, and bakeries appeal to sophisticated palates, although island life tends to be as casual as camping clothes.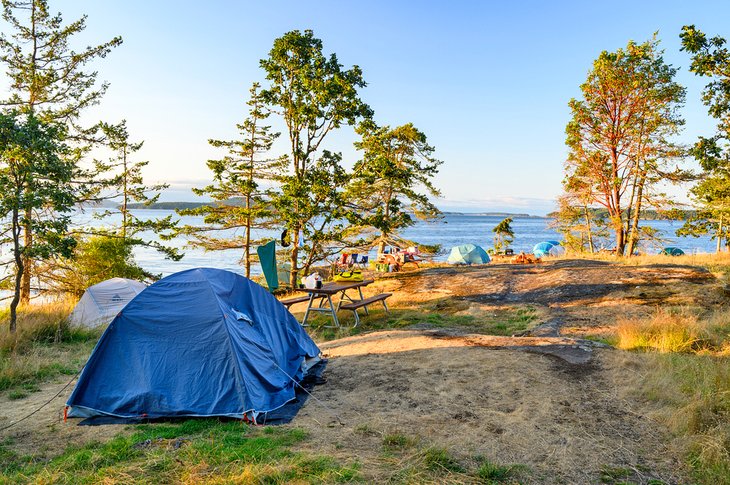 The island has narrow, winding roads that are not particularly suitable for large RVs, and with a few exceptions, camping options for motorhomes are limited. As a result, Salt Spring has considerably more choice for tenters and explorations by biking and hiking, with an expanding network of trails for avid hikers.
Twenty-seven kilometers long and 14 kilometers wide, the island can be driven from one end to the other in less than an hour. Not that you would want to. Choose from one of three campgrounds, and slow the pace to that of an islander in the off-season. The joy is in the details, from the central hub of Ganges to the charming little bohemia that greets you stepping off the ferry from Swartz Bay into the village at Fulford Harbour. We'll start our tour of the best campgrounds on Salt Spring Island from this southern point.
1. Ruckle Provincial Park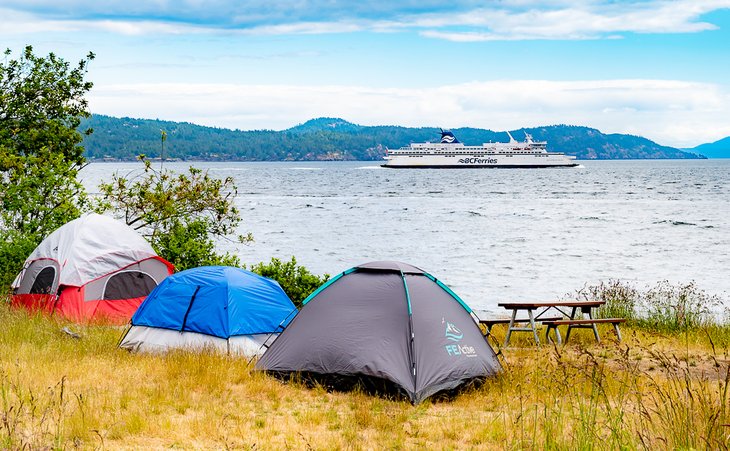 The road from the Fulford Harbour ferry to historic Ruckle Provincial Park is surely paved with all the good intentions you have as a camper eager to arrive and claim the best possible campsite. Yet this country road is also full of distractions that contribute their own value to an unusual yet satisfying camping experience.
You don't want to be in a rush as you make your entrance at Ruckle Park, a huge tract of 486 hectares that occupies the southeastern tip of Salt Spring Island. Go slow and observe as you approach the largest and perhaps most beautiful provincial campground in the Gulf Islands.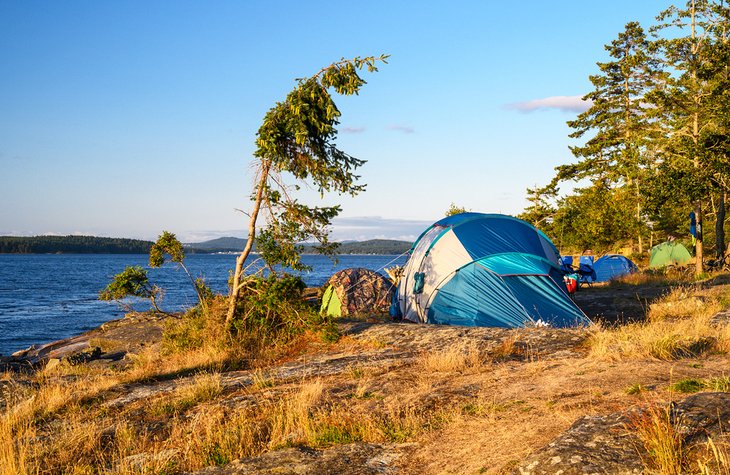 If you didn't have a lot of time for shopping before you got on the ferry, or you forgot to pick up fixings for huevos rancheros, no need to worry. En route, you'll see food trucks and no end of fruit and veggie stands where you can stock up on salad greens, farm fresh eggs, zesty preserves, and homemade cookies. Ruckle farm stand, located within the park boundary, is closest to the camping areas and is well stocked with all these items, along with fresh coffee and lemonade.
Notice the sign that reads Ruckle Heritage Farm, established 1872. That's when Irish immigrant Henry Ruckle first homesteaded this area. One hundred years later, the Ruckle family donated much of their choice land holdings to create a provincial park that has been popular with generations of families. There is still an active farm and residences, which can be seen from the road - pretty to photograph but off-limits to visitors.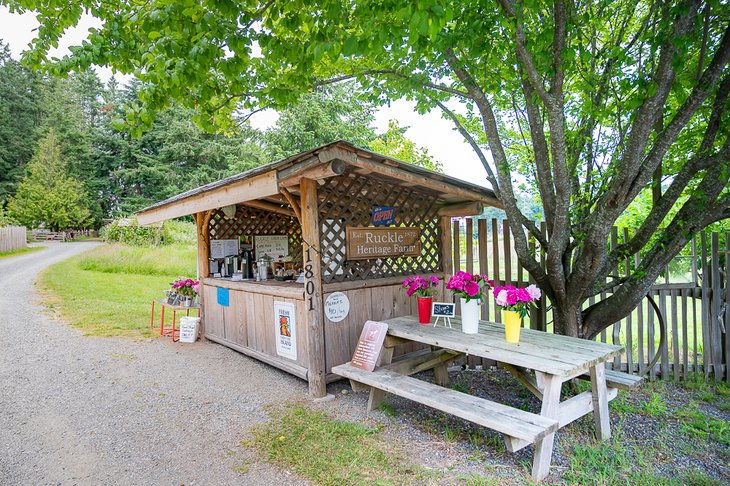 In a scene out of a pastoral painting, you'll see plenty of farm animals within the boundaries of the park. In springtime, you'll be greeted by a field full of sheep with bleating lambs. Later in the season, across the driveway from the Ruckle farm stand, reach through the fence to pat friendly goats wearing festive bandanas.
As camping season progresses, you'll want to stop for yet another distraction: blackberries! If you don't have any desire to preserve this delectable fruit into jam or jelly, chomp away on fresh berries from roadside bushes and load up at the stands.
While choosing a bouquet of flowers to brighten the table at your campsite, you might be reflecting on the good fortune that brought you to this magical place. The ferry ride from Swartz Bay (Victoria) to Fulford Harbour wasn't that long, but you feel like you're in another world. Indeed, you are. Salt Spring Island is on its own unique and wonderful wavelength, evidence of which is that all the roadside retailers you passed (and possibly stopped at) typically operate on the honor system.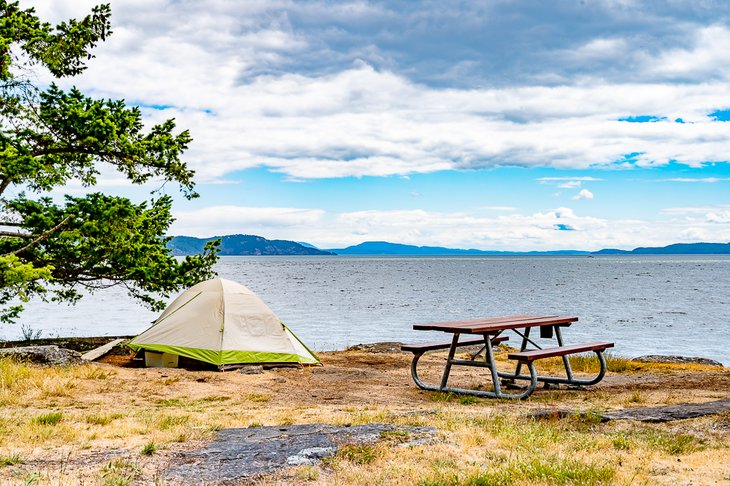 Unlike some campgrounds where RVs occupy the most scenic waterfront locations, tenters have the edge at Ruckle Park, both in number of sites and location. Most of the 78 walk-in sites are actually on the edge, perched atop rocky bluffs with commanding views of the ocean. The water is lively with the constant passage of boats - from BC Ferries to sailboats and kayakers. Seals keep an eye on things, while seagulls, eagles, and ravens contribute their voices to the general cacophony of birdsong.
Ruckle goes the extra step to enhance the camping experience for tenters by providing wheelbarrows in the parking lot. Load them up with your gear and wheel them through the forest of mature cedars, Douglas fir, and broad-leafed maples, across grassy meadows onto the oceanfront sites. No one has to compete for a view here. Some sites, such as #77 at the far end, are super scenic and private but quite a distance to haul everything needed for a short stay. Don't be a hero - use the wheelbarrow.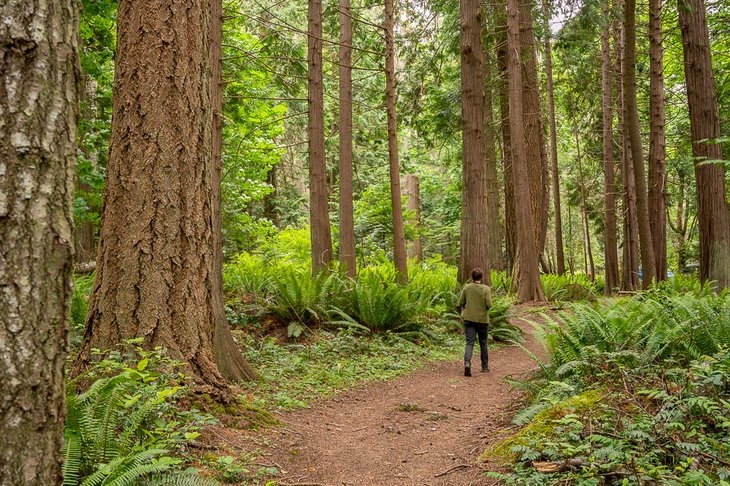 Some tent sites have a tree for shade, but many are completely exposed so be sure to bring sunscreen and perhaps an umbrella to create shade during the peak season. All sites have picnic tables and spigots for fresh water. There are abundant garbage receptacles, as well as recycling for cans and bottles. Firewood is sold, but don't be surprised if there's a fire ban during the summer, when the lack of rain turns the grass to the color of wheat and everything is tinder dry.
In addition to the walk-in sites, there are eight sites in the forest for RV campers with the same amenities as tenters - don't expect a serviced site or a dump station. Three sites are reservable for groups, and there's a day use area for day-trippers and picnickers. Look for the sign that says Beaver Point Wharf and explains how early Salt Springers paddled to Victoria for supplies.
Ruckle Park is 100 percent reservable, which is how most people get in. They set aside a few sites for drop-ins but most of them are by reservation. This is the system for BC Parks.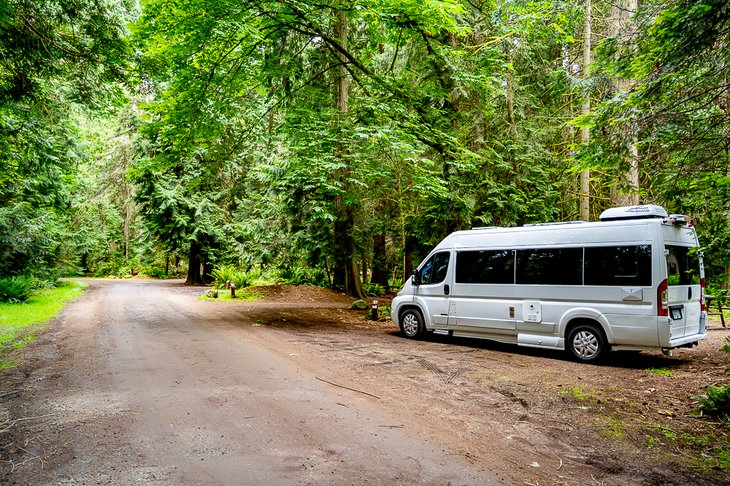 From here, you can access nature trails for a peaceful walk in the woods. Hear a scuffling on the ground? It's not a bear (there are none on the island). More likely it's a towhee, a black and orange bird that likes to dance like a chicken. You might also see a covey of California quail scooting across the wheelchair accessible path.
With seven kilometers of coastline, be on the lookout for a glimpse of river otter and mink close to shore, and orcas, sea lions, and seals farther out. Tidal pools at low tide are rich in starfish, mussels, limpets, and crabs, all of which you should not touch, especially if you have sunscreen on your hands. If you're into scuba diving, you might see a giant Pacific octopus, the largest octopus in the world. For swimming, there's a suitable cove north of the picnic area.
Official site: https://bcparks.ca/explore/parkpgs/ruckle/
2. Mowhinna Creek Campground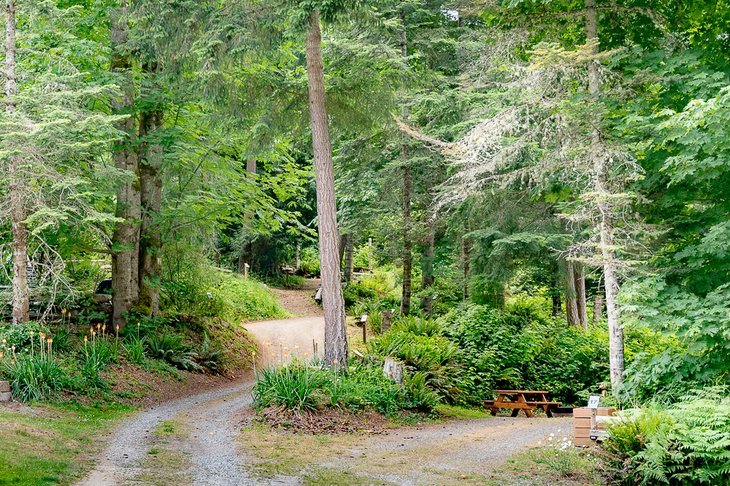 The owner of Mowhinna Creek Campground invested considerable creative thought and energy into campground design - and it shows. Many of the 50 sites, especially those created for tenters, are private enough to feel like mini-sanctuaries of woodland peace. Site #28 is so nestled away on its own, it is known as the "honeymoon suite." Walk-in sites, such as the first two located at the end of a driveway bordered by bowers of flowers, retain privacy with sunny overlooks of the campground. Hooks and cables are provided if you wish to enjoy the view from a hammock.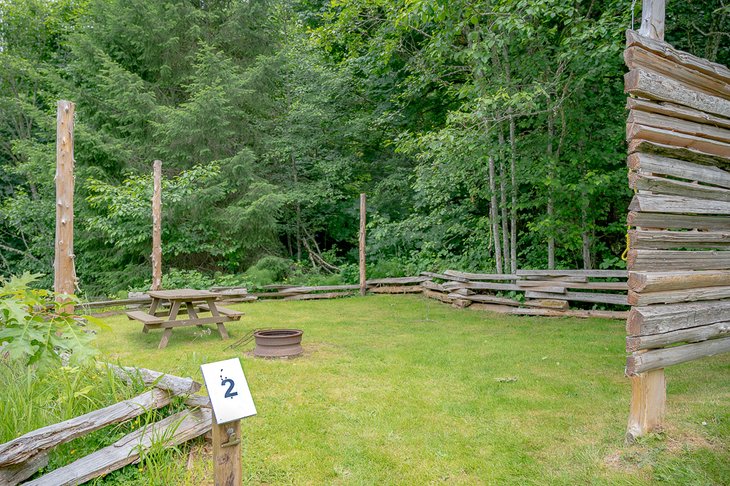 Mowhinna is carved into the hillside that flanks the southwest side of Captain Passage leading into Ganges Harbour. The terraced slope provides safe driving access into the campground and adds charm to the sunny and forested landscape.
Mowhinna is the best choice on Salt Spring for RV owners, especially if they own large rigs. Five flat sites on gravel pads offer full service (water, power, septic); 12 sites have water and electric only. One of two cottage sites has space for an RV and a tent. Tenters can choose from 18 walk-in sites and 10 drive-in sites.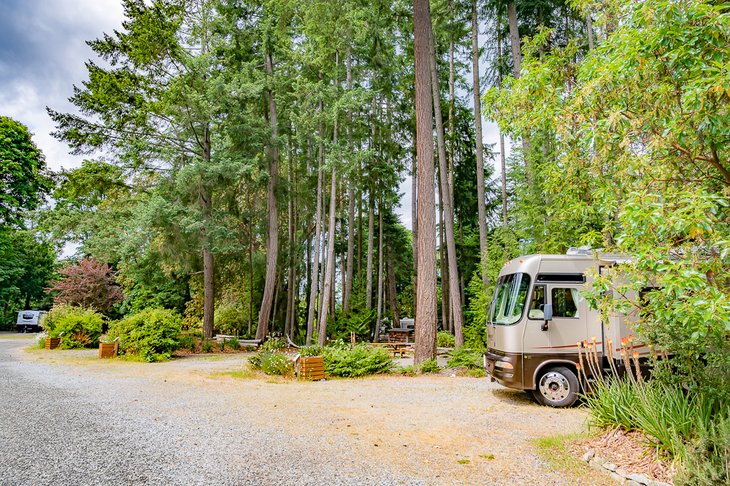 The bathhouses at Mowhinna are proudly displayed, and for good reason: The two coin-operated hot showers, five flush toilets, and sinks are absolutely immaculate. So, too, is the adjacent dishwashing station. Other amenities include Wi-Fi, a children's playground, and a recycling depot. You are welcome to bring your well-behaved pets with you.
Three day reservations are required for for holiday long weekends for all sites.
Although located next to Mowhinna Creek, the campground does not have access to a waterway. In the spring, when water levels are higher, the creek can be heard, and it's easy to forget that the thriving town of Ganges is within easy walking distance down the Fulford-Ganges Road. The Salt Spring farmer's market, operating Saturday mornings and Tuesday afternoons, is only 1.4 kilometers away.
Mount Maxwell - the most impressive landmark on the island - is a spectacular place to hike, picnic, and take panoramic pictures. It's located less than four kilometers from the campground.
Address: 515 Fulford-Ganges Road, Salt Spring Island, British Columbia
Official site: https://mowhinnacreekcampground.com/
3. Garden Faire Campground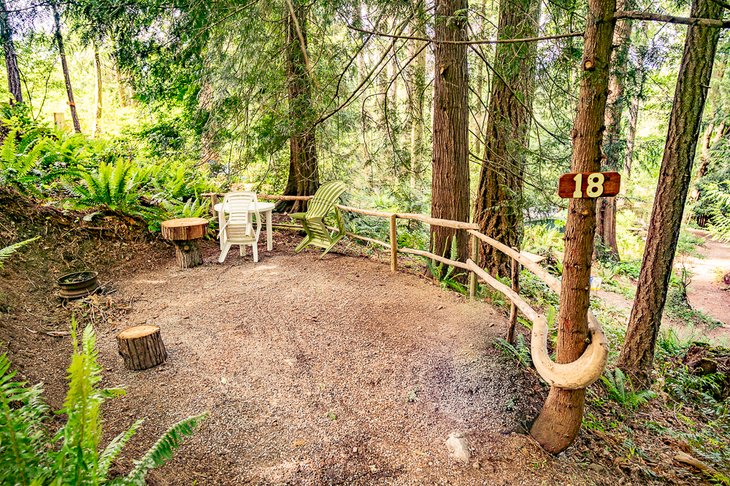 Garden Faire Campground is the sort of place that campers have described as cool, magical, and fairy-like, which is all good for people who want to camp where the action is: Downtown Ganges. Look to the base of the giant trees - reputed to have a calming effect on visitors - and you'll see why fairies come to mind.
The campground has been around for more than 20 years and is constantly upgrading and expanding, currently offering 40 campsites for people plus a few hideouts for sprites and leprechauns. Their colorfully painted doors, accessed by stepping stones of buttons and shiny objects, are all part of the whimsy that inspires the overall design. If magic is what's in the air, merrily is how you go at Salt Spring's most artfully decorated campground.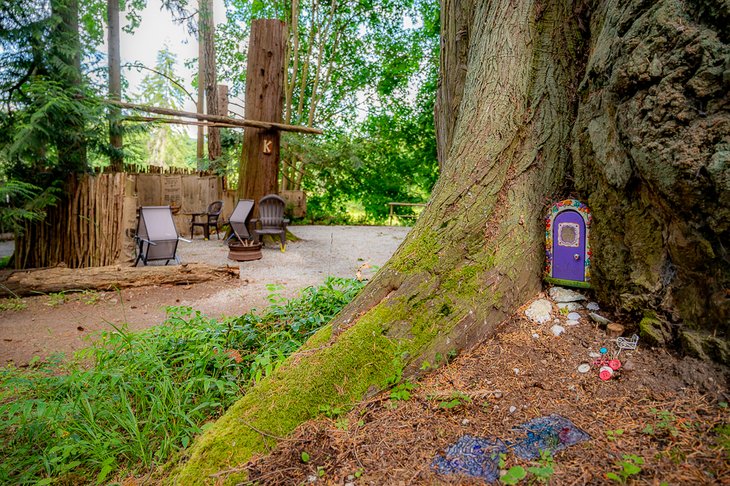 Park at the office (part gallery, part nursery) to obtain a map of the labyrinth of letters and numbers indicating the campsites. You don't have to read the sign from the road outside the gallery - "inside out upscale funk"-to know you have landed in a place where the owners march to a different drummer. There are no straight lines at this terraced campground carved into the hillside. The serpentine road leads to sites shaped like circles and swirls, underscored by the curve of an artfully chosen piece of driftwood.
Every site has its own unique décor: A round of cedar perched on a stump (to look like a toadstool), a built-in bench and a table that isn't part of any standard-issue picnic set. The privacy "fences" might be furnished with large burlap coffee bags, rough-hewn slabs of cedar, or stockade-style poles. For times when it's OK to burn wood, there are fire rings.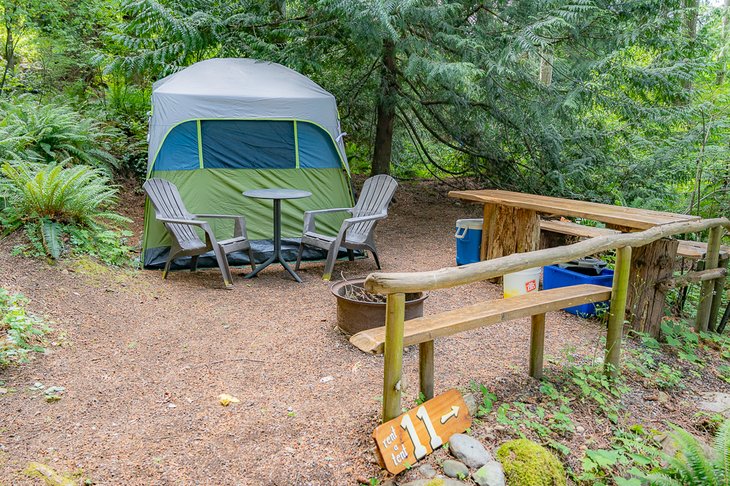 Two-thirds of the campground is for tenters, with two sites set up with tents-to-rent - just bring your own bedding. RVs no longer than 26 feet can occupy the power sites. Shower from a spigot attached to a huge tree and don't be surprised to find pit toilets in the washrooms. The best single word for facilities in this forest on the edge of town is "rustic."
Three-day reservations are required for holiday long weekends for drive-in sites.
Follow a trail in adjoining Mouat Park (a former campground), and you'll be in downtown Ganges within 10 minutes for amenities such as laundry. There's internet service in the campground, so no need to relocate for Wi-Fi.
Also close by are the Rainbow Road Indoor Pool and Rainbow Road Dog Park. No surprise, given its welcome mat to fairies, groovy Garden Faire is kid and dog friendly. Magic, the resident dog, leads the pack.
Address: 305 Rainbow Road, Salt Spring Island, British Columbia
Official site: https://www.gardenfaire.ca/
Map of Campgrounds on Salt Spring Island, BC