9 Best Places for Camping in the San Juan Islands, WA
The San Juan Islands, off the northwest coast of Washington, are a wild and wondrous place to camp and spend the night. While the entire archipelago encompasses over 170 known islands, only a few have developed campgrounds. The main three islands are San Juan Island, Orcas Island, and Lopez Island. These three also have the most visitor resources.
For those with watercraft or water taxi reservations, more remote camping is available on several smaller islands. These remote camping spots are only accessible by boat, often with mooring available.
Campgrounds on the San Juans range from seaside primitive tent sites to deluxe glamping at resorts. Something in common, however, is the wild sense of adventure synonymous with island life. Hop in a boat, hike a lush coastal trail, or try and spot some whales in the water; all camping in the San Juan Islands caters to a memorable outdoor experience.
Find your next night to remember with our list of the best places for camping in the San Juan Islands.
1. Cascade Lake Campgrounds, Moran State Park, Orcas Island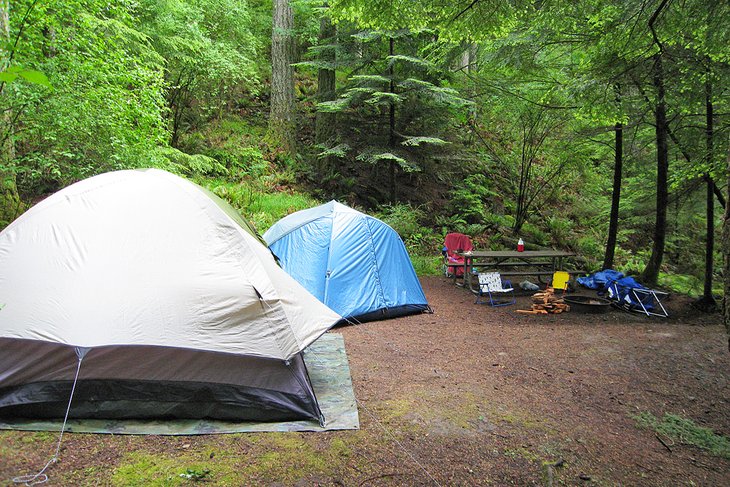 Moran State Park is the crown-jewel place to go camping in the San Juan Islands. This 5,000-plus acre state park is on the east side of Orcas Island and invites a world of exploration. Among the scenery at the state park are five freshwater lakes and Mount Constitution – the highest point of the entire archipelago.
Moran State Park has four designated campgrounds and five glamping sites operated by a concessionaire. Three of these campgrounds are near the banks of Cascade Lake near the park entrance. These three campgrounds are Northend, Midway, and Southend – totaling 118 sites available.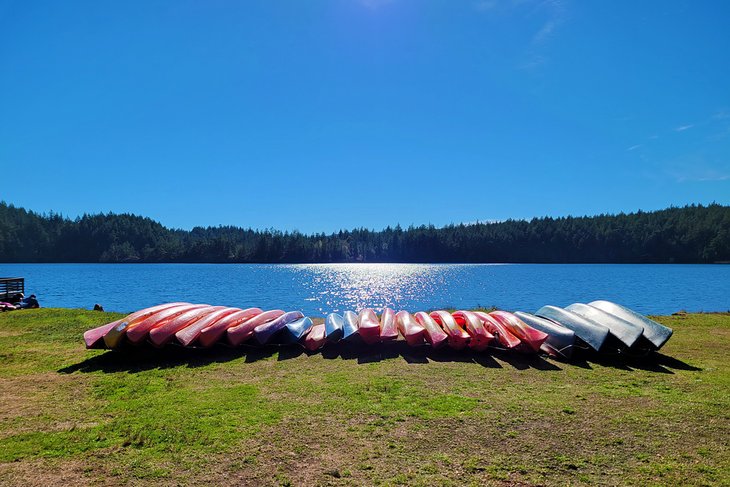 All three Cascade Lake campgrounds support tent camping and RVs, though no hookups are available. Sites are reservable ahead of time, though a few are set aside for walk-up camping. Every overnight guest has access to flushing restrooms and coin-operated showers.
All sites are within a short walk to Cascade Lake. Nearly all the sites in Southend Campground are on the water, making them the most popular to book. Approximately half the sites at Midway share this shoreline status.
Official site: https://parks.state.wa.us/547/Moran
Read More: Top-Rated Things to Do on Orcas Island
2. San Juan County Park, San Juan Island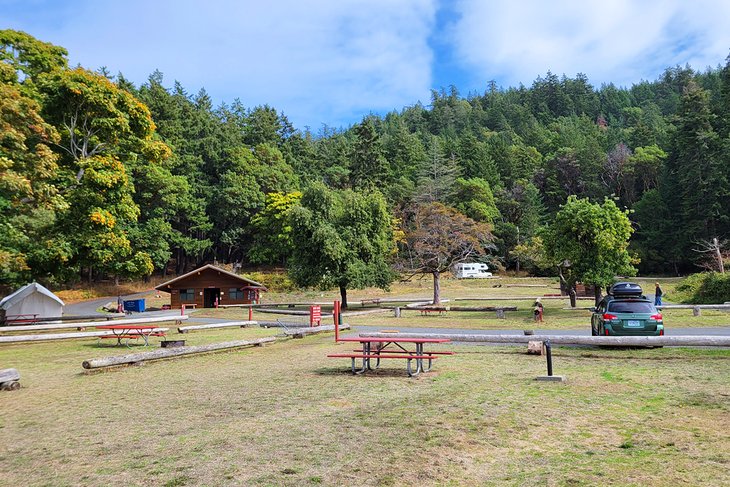 San Juan County Park is on the west side of San Juan Island, less than a three-mile drive north of the day-use Lime Kiln Point State Park. It's right on the island's edge and offers bluff views across Haro Strait. Alongside this seaside vantage point, the park also has over 30 campsites to spend the night.
Each campsite at San Juan County Park differs slightly from one another. Although no hookups are available, some campsites support RVs. The park also has "human-powered" campsites for those traveling by bicycle or non-motorized boat.
Amenities at the park include running water and flushing restrooms. No showers are available, and reservations are highly recommended during the peak visiting season (May through September).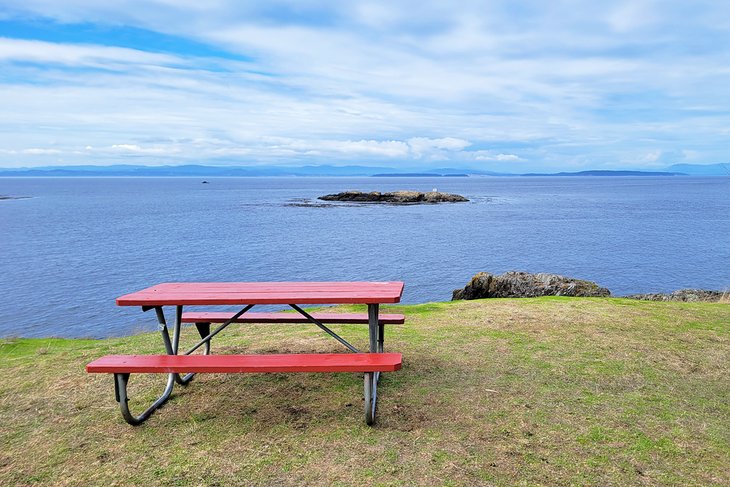 The best amenity at the park is its seaside location. The green lawn next to the campground is a postcard-perfect place to hang out or eat lunch while overlooking the water, and a boat ramp and shoreline access to Smallpox Bay enable adventures out at sea.
Official site: https://www.sanjuanco.com/Facilities/Facility/Details/San-Juan-County-Park-12
Read More: Top-Rated Things to Do in Friday Harbor
3. Spencer Spit State Park, Lopez Island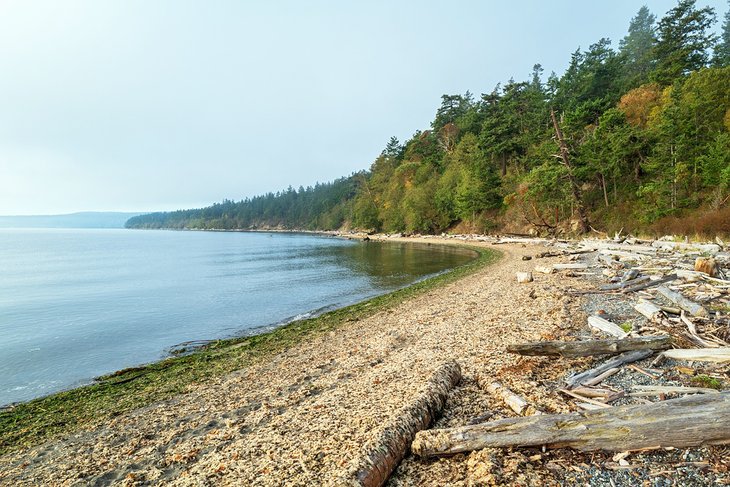 This 200-acre state park is on the northeast side of Lopez Island and is accessible by car or boat. A ride on a Washington State Ferry is required for those that want to car camp. Make the trip, though, and Spencer Spit State Park offers large and private campsites to connect with nature.
The park has 37 standard sites that cater to tent and RV campers, though no hookups are available. The park also has an assortment of hiker/biker sites and spots for those navigating the Cascadia Marine Trail. The campground is also a popular spot for larger get-togethers, with three group camps available.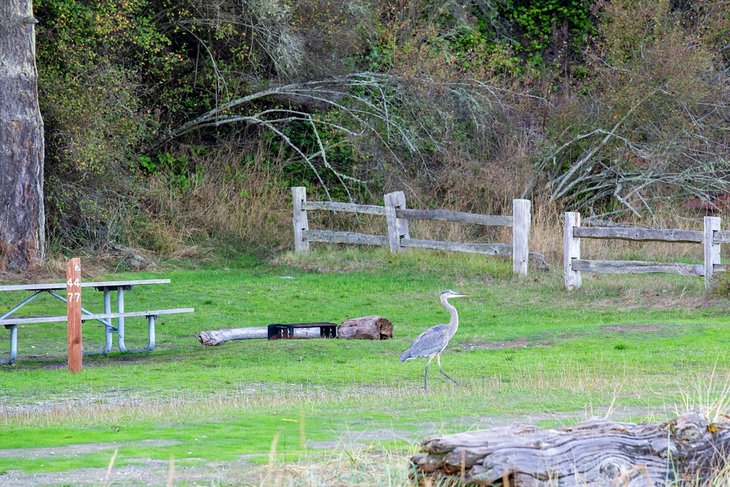 Every overnight guest has access to flushing restrooms and potable water, but no showers are available. Other amenities at the park include kayak and paddleboard rentals, covered picnic shelters, and two miles of hiking trails. The campground operates between the beginning of May and October.
4. Mountain Lake Campground, Moran State Park, Orcas Island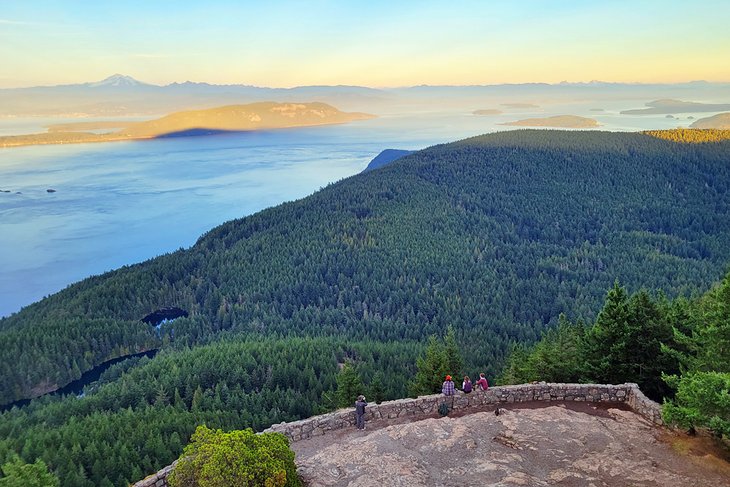 Mountain Lake is the fourth campground in Moran State Park, located one mile up the road leading to the summit of Mount Constitution. The campground's proximity to Mount Constitution, one of the best vantage points in the entire region, makes its 10 standard sites hard to secure.
Campers at Mountain Lake can make the short drive up to Mount Constitution or hop on the adjacent hiking trail that leads to the top. The campground also lends access to a spiderwebbing network of hiking trails in the park's southeast corner. And after adventuring nearby in the daylight hours, the sunset across Mountain Lake itself is a nice end to the day.
All campers at Mountain Lake have access to flushing restrooms, coin-operated showers, and picnic space. A boat dock and boat ramp are also available. Mountain Lake is also home to a large group campground, available by reservation only.
5. Obstruction Pass State Park, Orcas Island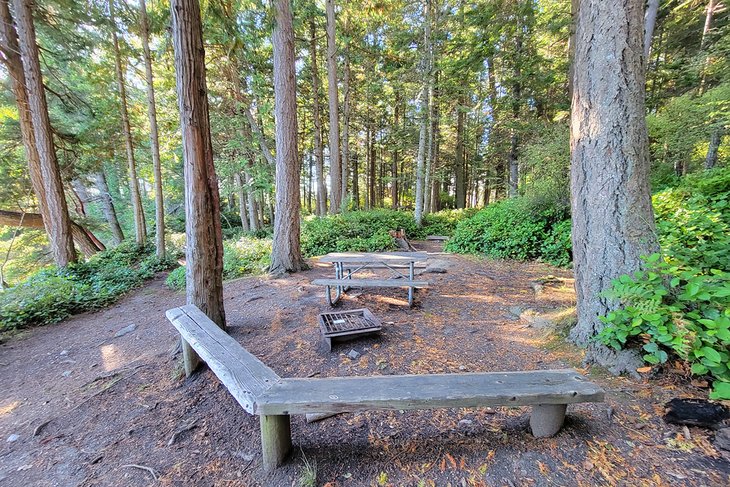 Obstruction Pass State Park provides a unique camping opportunity on the east side of Orcas Island, a few miles south of Moran State Park. Visitors looking to spend the night here must hike their camping gear approximately a half-mile down to the shoreline to find a spot.
The small hike is well worth the primitive camping experience at Obstruction Pass. All nine sites are within a stone's throw of the saltwater shoreline, which is one of the largest public pebbly expanses on Orcas Island. And come sunset, campers are privy to quite the view.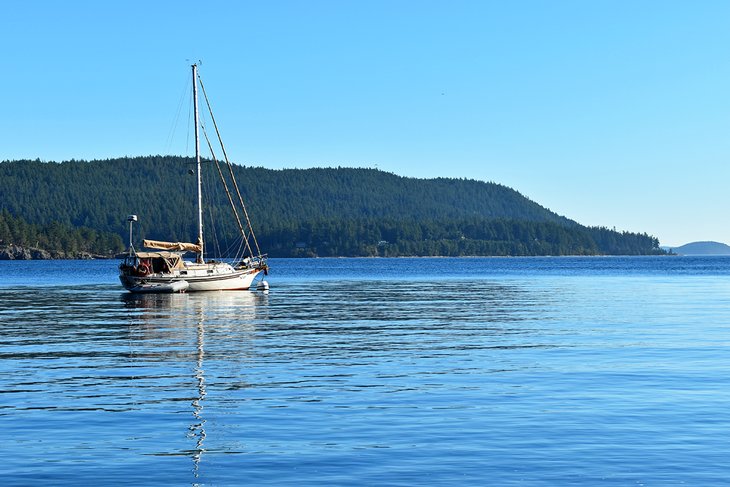 All campsites are available on a first-come, first-served basis, and users pay an overnight fee at the trailhead. Four compostable toilets are near the camping area, and campers need to bring their own water. A single site is available for those paddling on the Cascadia Marine Trail.
6. Shaw County Park, Shaw Island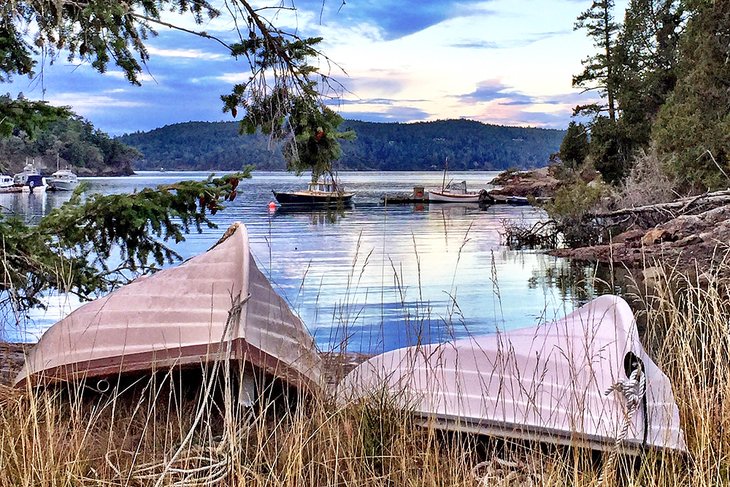 Shaw Island is the least developed San Juan Island, accessible by Washington State Ferry. The island is less than eight square miles, and its only amenities are a general store near the ferry landing and a county park with campsites. This lack of commercial entities is often the appeal for those looking to spend the night.
Shaw County Park has a dozen campsites available. One of the sites is for hikers or bicyclists, and another is for those on the Cascadia Marine Trail. The other 10 sites cater best to tent campers; they lack space for RVs. These 10 sites are reservable between March and mid-October.
No showers are available, but campers do have access to flushing toilets and potable water. Each site is also within a short walk to a cliffside view overlooking the sea, with nearby beach access.
7. Resort Campgrounds on the San Juan Islands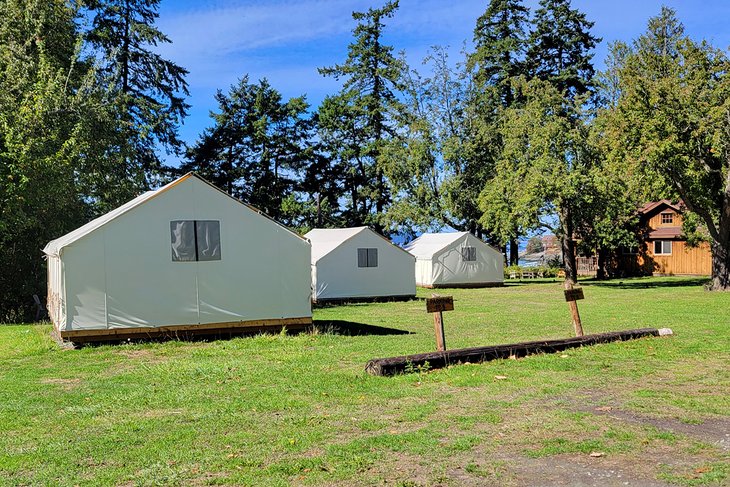 Several resorts inhabit the San Juan Islands shoreline, and a few offer unique camping opportunities. Camping at a resort generally includes more amenities, including scheduled activities, boat rentals, and dining options.
On Orcas Island, West Beach Resort is one such popular spot with a variety of overnight options. Among its camping selection are tent spaces, RV parking spots, and cabin tents. The resort also specializes in deluxe hardwood cabins. All guests have access to the resort's property and daily activities.
Doe Bay Resort is another camping option on Orcas Island. Cabins, yurts, and campsites are available, all close to the water. And all guests have access to the resort's spa and wellness activities, including outdoor soaking tubs. Other amenities include yoga classes and massage therapy.
For resort camping on San Juan Island, head to Lakedale on Roche Harbor Road, five miles from the ferry terminal. This 82-acre resort has several overnight accommodations, including lodge rooms, cabins, and yurts. They also specialize in glamping with four-person canvass tents complete with a dining table and chandelier.
8. San Juan County Fairgrounds, San Juan Island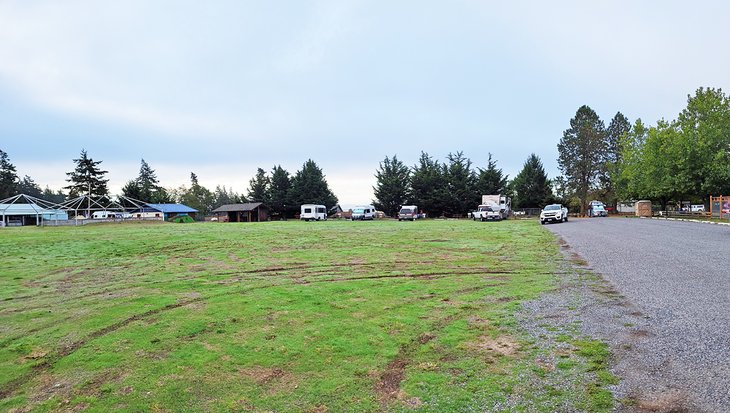 For those looking for a convenient spot to park an RV, the San Juan County Fairgrounds has eight sites available on San Juan Island. These water and electric sites are less than a mile from downtown Friday Harbor and the ferry terminal. And with only a few of these prime sites available, reservations are all but required during the summer season.
Long-term stays aren't available. Maximum stays are limited to 10 days within a 30-day period. Sewer hookups are not available, but restroom facilities are nearby. Dogs are welcome at the campground but must be on a leash when outside the RV.
9. Smaller Islands for Camping in the San Juan Islands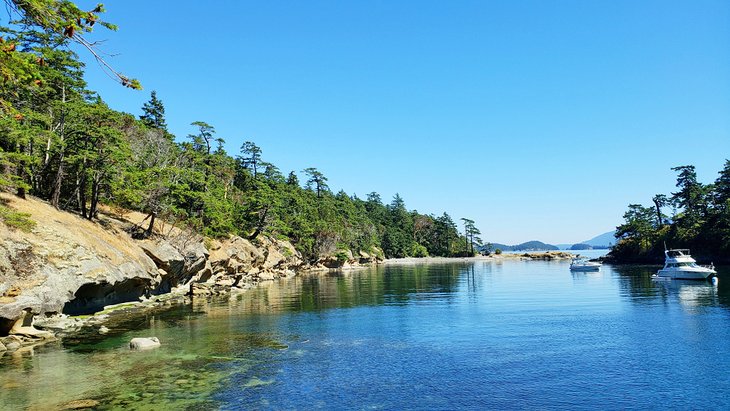 For those with a non-motorized boat, camping options expand beyond the main islands. Several of the archipelago's smaller islands offer primitive campsites with a wild touch of nature.
Due north of Eastsound Village on Orcas Island, the Sucia Islands offer one such slice of paradise only accessible by boat. It's an open-water crossing or short water taxi to reach this dense collection of islands, all of which comprise Sucia Island Marine State Park. Over 60 primitive campsites are available on a first-come, first-served basis.
Turn Island Marine State Park is another small part of the archipelago near San Juan Island. Jackson Beach is the most common launching point for this 35-acre state marine park. Twelve first-come, first-served campsites are available atop a bluff overlooking the beach.
In Rosario Strait, east of Decatur Island, James Island Marine State Park is another stunning natural space and camping option. A coveted 13 sites are available, three of which are exclusively for paddlers on the Cascadia Marine Trail. Snag any of the other 10 sites, however, and it feels like having the 581-acre island to yourself.
Hotels in the San Juan Islands
Not all San Juan visits need to be outdoors. San Juan Island, Orcas Island, and Lopez Island all have memorable hotels for spending the night. Check out some of these best hotels to book after your camping experience:
Hotels on San Juan Island:
The Island Inn at 123

West:

This chic and pet-friendly hotel is a popular choice for a contemporary stay on the island. It's a boutique hotel, just a short walk from the ferry terminal and downtown Friday Harbor. Among its assortment of rooms are Euro rooms with a shared view, "sweets" with extra space, and luxurious penthouse rooms.
Discovery

Inn:

This popular hotel on San Juan Island is a few blocks inland of the downtown district, approximately a mile from the ferry terminal. It's a family-friendly hotel known for its favorable rates and dependable accommodations.
Hotels on Orcas Island:
Pebble Cove

Farm:

With seaside cottages and suites, Pebble Cove Farm earns its reputation as the best hotel on Orcas Island. All overnight guests have access to the property's private beach, including kayak and SUP rentals. Guests also have access to the entire property, including an organic farm and animal sanctuary.
Deer Harbor

Inn:

This family-friendly hotel offers an affordable place to stay on Orcas Island, in the community of Deer Harbor. Guests have easy access to grocery stores and restaurants in the community or enjoy on-site dining at the hotel. Rooms and cottages are available.
Hotels on Lopez Island:
Edenwild Boutique

Inn:

For a luxurious experience on Lopez Island, look no further than the Edenwild Boutique Inn. This Victorian hotel oozes style and class yet sets the tone for a laid-back island stay. It's in the heart of the Lopez Village, lending easy access to the mainstay of community attractions on the island.