9 Best Campgrounds near Bellingham, WA
Bellingham, Washington is a mecca for Pacific Northwest adventure and camping. Surreal outdoor landscapes surround the city, including saltwater sunsets and startling mountain scenes. Among these adventurous environments in the far northwest corner of the state are the Chuckanut Mountains, Mount Baker, and the Salish Sea.
County parks, state parks, and Mt. Baker-Snoqualmie National Forest all have campgrounds close to Bellingham. While the amenities differ between these units, a common aspect is the feeling of waking up in a wild environment.
Another common aspect of Bellingham's best campgrounds is their popularity. Summer is a busy and adventurous time in the region, and you can expect a small challenge finding a walk-up site on the weekends. A little planning goes a long way, and state park reservations are available up to nine months in advance.
Find your next spot to spend the night with our list of the best campgrounds near Bellingham.
1. Larrabee State Park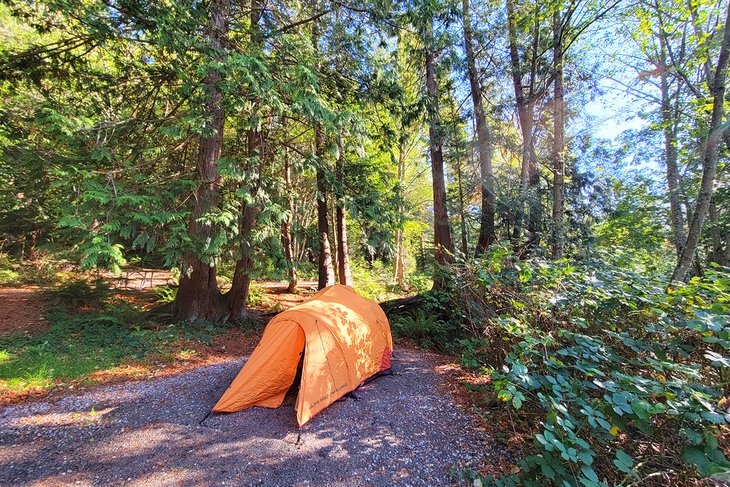 Larrabee State Park is one of the top spots to explore the seaside Chuckanut Mountains south of Bellingham. This 2,748-acre state park is accessible with a 20-minute drive from downtown, on the twisting and turning Chuckanut Drive. And as Washington's first state park, hikers and campers have frequented this stunning outdoor space for over 100 years.
The campground at Larrabee State Park is directly off Chuckanut Drive. It has 51 standard sites and 28 utility sites with sewer, electric, and water hookups. Eight primitive sites are also available that require a short walk from the parking area. All campers have access to coin-operated showers and flushing restrooms.
Several recreation opportunities stem from the campground, sandwiched between the sea and elevation. An adjacent beach trail leads to a memorable scene, and across from the campground's entrance, the hike to Fragrance Lake awards an uphill effort.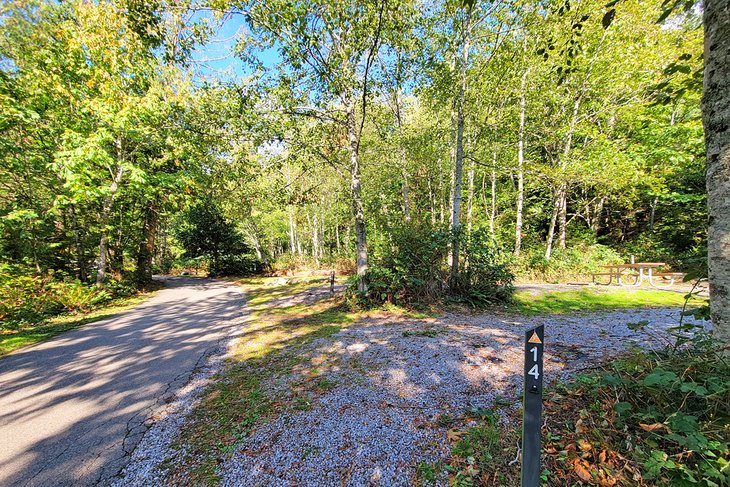 The entire state park takes a while to explore, and the rest of the Chuckanut Mountains could take up an entire season. Head north to Chuckanut Mountain Park for a network of trails, or south to Oyster Dome for one of the county's most popular sunset hikes.
Official site: https://parks.state.wa.us/536/Larrabee
2. Birch Bay State Park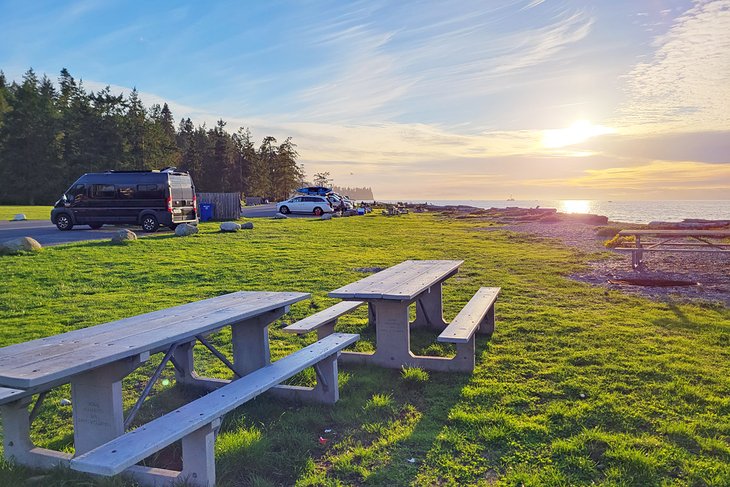 This quiet state park encompasses part of the Birch Bay shoreline, approximately six miles south of the Canadian border. It's roughly a 30-minute drive north of Bellingham, mainly on Interstate 5. Among the park's 650 acres are forest, marshland, and a sprawling shoreline.
Birch Bay has 147 standard sites and 20 partial hookup sites with water and electricity. The sites are all within three connected loops in the forest, with a short trail connecting them to the beach. The campground has eight restroom facilities spread throughout, including 18 coin-operated showers.
Be sure to head to the saltwater shoreline during a visit, particularly during sunset. The beach's westward orientation really puts some color into the sky come evening. Another area worth exploring is the Terrell Marsh in the park's southeast corner. Here, the Terrell Marsh Interpretive Trail navigates one of the few remaining saltwater and freshwater estuaries in the region.
Birch Bay doesn't see the same crowds as other state parks in the region, but it does stay busy during the summer season, especially the weekends. Reservations are available between May 15th and September 15th.
3. Silver Lake Park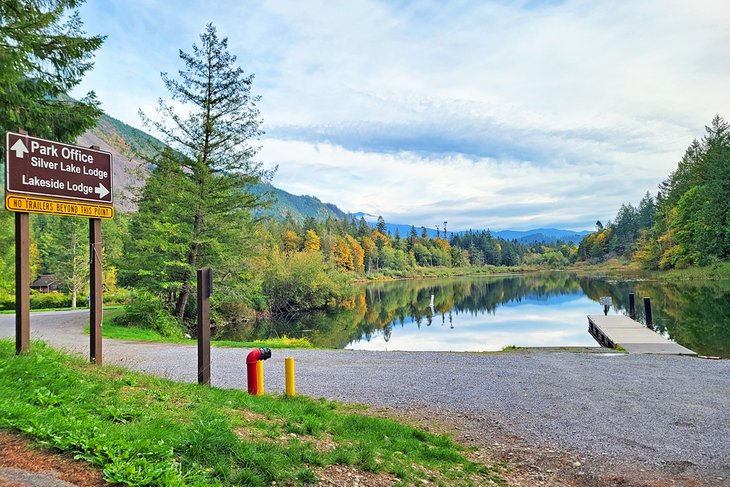 Operated by Whatcom County, Silver Lake Park has three campgrounds near the southwest shore of its namesake feature. The park is accessible from the Mount Baker Highway (State Route 542), approximately a 50-minute drive from Bellingham. This location makes it a great base camp to explore Mount Baker.
The Maple Creek and Red Mountain Campgrounds at the park cater to RVs. Nearly 75 sites are available between these two campgrounds, all with varying lengths and amperage. Currently, the Red Mountain Campground has a heated restroom facility with showers. Construction on a similar amenity in Maple Creek Campground is expected soon.
Tents are allowed at Maple Creek and Red Mountain Campgrounds, though overnight guests still pay for the cost of electricity. Instead, tent campers should try and book one of the 15 sites available at the Cedar Campground. These spacious non-electric sites are exclusively for tent campers and offer a better rate.
Silver Lake also has six lakefront cabins available for overnight stays. And unlike the campsites, which operate between mid-April and October 31st, the cabins are available year-round.
Official site: https://www.whatcomcounty.us/3517/Silver-Lake-Park
4. Douglas Fir & Silver Fir Campgrounds, Mount Baker Highway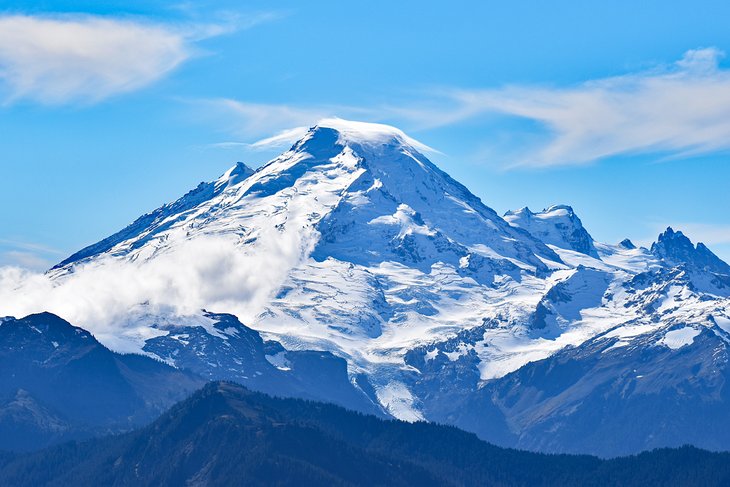 The Mount Baker Highway (State Route 542) is a major adventure outlet from Bellingham. This stunning roadway heads into Mt. Baker-Snoqualmie National Forest and ends at the aptly named Artist Point. Here, the northern flanks of Mount Baker and Mount Shuksan dominate the horizon. Artist Point is accessible from Bellingham with a 60-mile drive on Highway 542.
Two popular forest service campgrounds line the Mount Baker Highway close to Artist Point. The first, Douglas Fir Campground, is accessible from Bellingham with less than an hour's drive. The campground is next to the North Fork Nooksack River and has 29 sites close to the water. These standard sites accommodate tents and RVs, although no hookups are available.
The other campground, Silver Fir Campground, is 10 miles east on Highway 542, closer to Artist Point. This campground has 20 similar sites on the Nooksack River, a little more removed from highway noise. Overnight guests at either campground have access to vault toilets and potable water.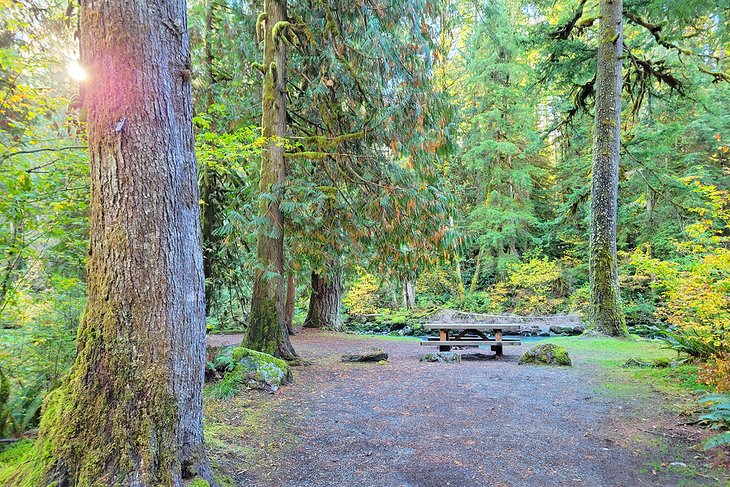 Reservations are available at Douglas Fir and Silver Fir Campgrounds and are recommended during the summer season.
Official site: https://www.fs.usda.gov/recarea/mbs/recreation/recarea/?recid=17580&actid=29
5. Primitive Camping near Bellingham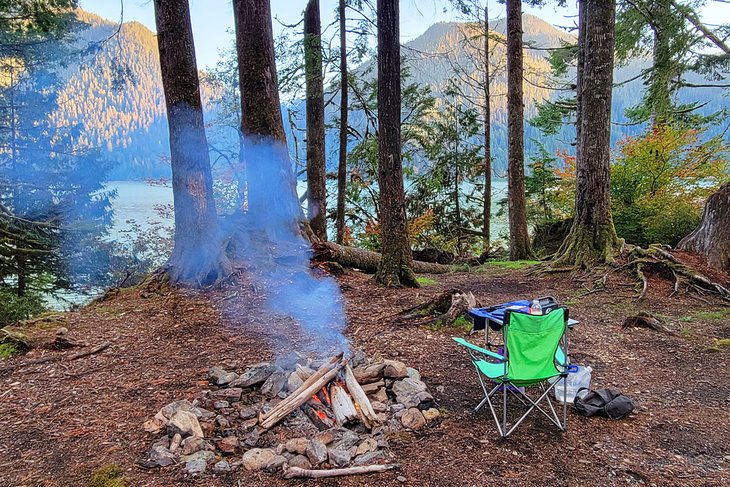 An abundance of primitive camping is available near Bellingham. Primitive camping, also known as dispersed camping, takes place in the national forest outside a developed campground. Primitive camping is typically free and has no amenities like potable water or restrooms.
From Bellingham, primitive camping takes place in Mt. Baker-Snoqualmie National Forest, east of the city. Several points of access enable this type of free overnight adventure. Two common spots to check out include Highway 542 (Mount Baker Highway) and the road that winds its way along Baker Lake's west shore.
Finding a primitive camping site typically involves pulling off from a dirt forest service road. While primitive sites aren't developed, cleared spots next to the roadway indicate where campers have spent the night before. Claim one of these already trodden sites to prevent further intrusion into the forest.
It's essential to pack in everything brought into the forest and to leave no trash behind. For more questions about primitive camping in Mt. Baker-Snoqualmie National Forest, reach out to the nearest ranger station.
6. Baker Lake Camping

Baker Lake is a beautiful nine-mile reservoir east of Bellingham within Mt. Baker-Snoqualmie National Forest. It's accessible via Highway 20, also known as the North Cascades Highway, and is approximately a 90-minute drive from the city. Several recreation opportunities line the lake, including the 14-mile Baker Lake Trail on the eastern shoreline.
For camping, head to the west side of Baker Lake. Here, several campgrounds cater to the large crowds of people that tend to show up during the summer season. Puget Sound Energy operates the largest campground at Baker Lake, Kulshan Campground, with over 100 sites available. Kulshan is also the only campground that operates year-round.
Kulshan's 100-plus sites aren't known to be the most private and are situated tightly together. For more intimate surroundings, head to one of the several Forest Service campgrounds north along the western bank. Some of these selections include Bayview, Horseshoe Cove, and Panorama Point Campgrounds.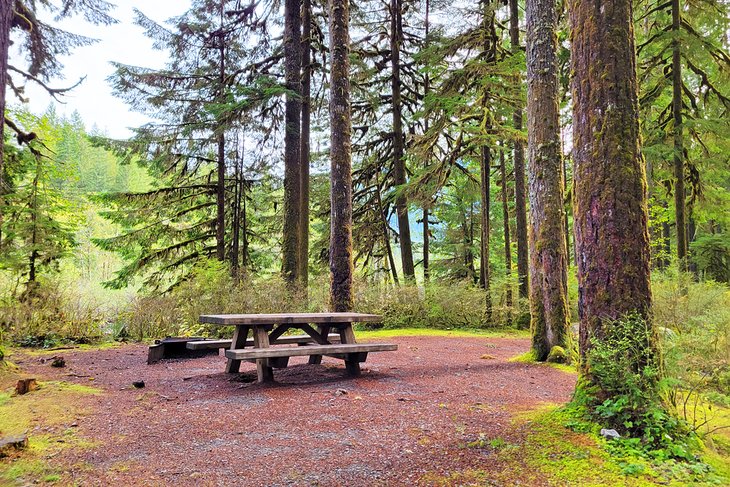 Thanks to its beautiful location and proximity to Seattle, Baker Lake is busy during the summer. There's plenty of space to spread out in the forest typically, but making reservations ahead of time ensures successful weekend travel.
7. Lighthouse Marine Park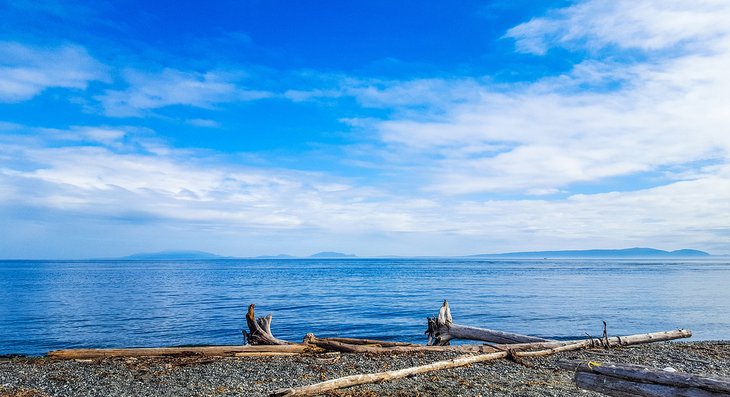 This Whatcom County Park is on Point Roberts, on the southern tip of the Tsawwassen Peninsula. The park is less than 20 miles south of Vancouver, British Columbia. It's a 50-mile drive to the park from Bellingham, including a Canadian border crossing. Alternatively, as part of the Cascadia Marine Trail, campers can also arrive at the park via boat without traveling internationally.
The 22-acre Lighthouse Marine Park has several amenities, including 30 RV sites. But the park is best known for its excellent whale watching. The park has a dominant outlook over the Strait of Georgia, where orcas commonly hunt in the water and earn their killer whale moniker. This auditorium sea-view makes Lighthouse Marine Park one of the best places to see whales from land.
RVs are best suited for the 30 campsites at Lighthouse Marine Park, though no hookups are available. For those with tents, each space has a grassy flat spot but limited privacy. All campers share a single shower house and restroom facility.
Lighthouse Marine Park also has five group campgrounds for larger get-togethers. These group camps cater to tent camping and RV drivers, with space to accommodate 25 campers each. Group campgrounds must be reserved ahead of time.
8. RV Camping in Bellingham
Bellingham has a few RV resorts with plenty of parking for those behind the wheel of a bigger rig. These spots offer full hookups and several other amenities like laundry, restaurants, and scheduled activities.
Bellingham RV Park is the first place to check out, a few miles northwest of downtown off Interstate 5. This family-owned facility offers a low daily rate for all its 56 pull-through sites. Alongside full hookups, guests also have access to a laundry room, general store, and library. Complimentary Wi-Fi is also available.
Another excellent RV option is the Lynden / Bellingham KOA, approximately a 30-minute drive north of downtown. This popular private campground offers several ways to stay, including cabins and tent spots. All overnight guests have access to the property's amenities and activities, like a swimming pool, mini-golf course, and paddleboard rentals.
9. North Cascades Camping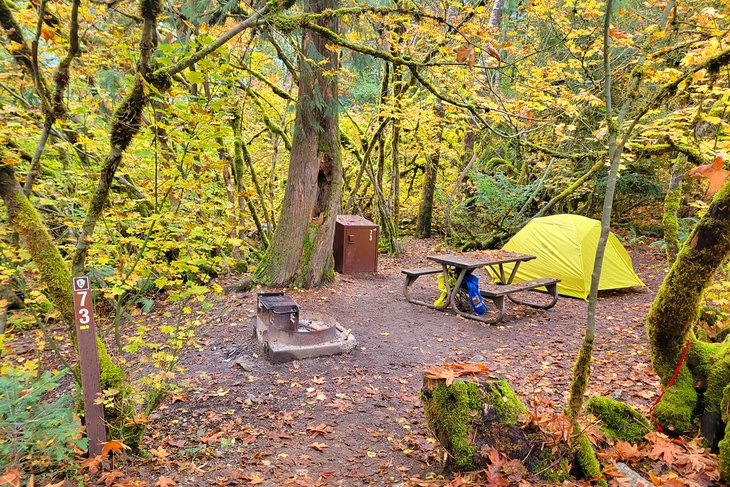 North Cascades National Park is accessible from Bellingham with less than a two-hour drive. The route follows the seasonal Highway 20, also known as the North Cascades Highway. While this proximity does enable a day trip into one of the nation's steepest national parks, the enormity of the North Cascades warrants a multi-day excursion.
The National Park Service and the U.S. Forest Service operate several campgrounds in the North Cascades. Many of these campgrounds line Highway 20 throughout the park. Typical campgrounds to aim for include Goodell Creek, Newhalem, and Colonial Creek Campgrounds. These three are some of the most popular within the park, making reservations necessary during the summer season.
Read More: Top-Rated Campgrounds at North Cascades National Park
Bellingham, WA - Climate Chart
Average minimum and maximum temperatures for Bellingham, WA in °C
J
F
M
A
M
J
J
A
S
O
N
D

8

2

9

2

12

4

14

6

17

8

20

11

23

12

23

13

19

10

15

7

11

4

8

2

PlanetWare.com
Average monthly precipitation totals for Bellingham, WA in mm.

99

80

77

68

65

48

31

35

45

76

142

121