10 Best Places for Camping at Mt. Baker, WA
Camping is the best way to experience the grandeur of Mt. Baker in far northwest Washington State. This massive stratovolcano is the largest of the North Cascades, and its snowcapped peak stands above the horizon with a startling presence.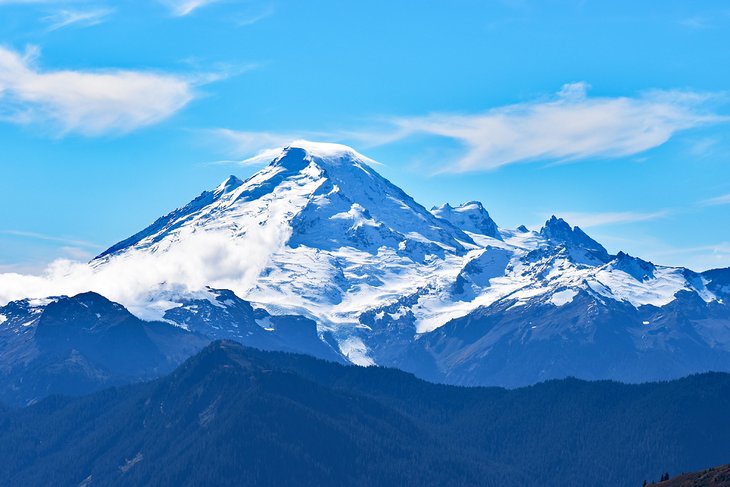 Nearly all the camping near Mount Baker occurs within Mt. Baker-Snoqualmie National Forest, surrounding the mountain. Mount Baker Highway (State Route 542) and Baker Lake Road are two main access points into the forest. Forest Service campgrounds and dispersed camping opportunities line these two main thoroughfares.
Developed Forest Service campgrounds near Mount Baker have sites available for reservation six months in advance. Booking in advance is the recommended approach if visiting during the busy summer season. Another suggested approach is to book a few extra days to marvel at Mount Baker's majesty.
Find your next Pacific Northwest overnight adventure with our list of the best places for camping near Mount Baker.
1. Silver Fir Campground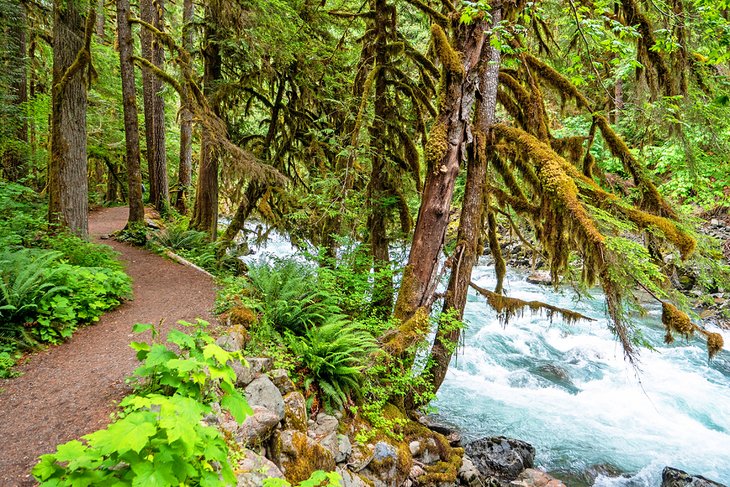 State Route 542, also known as the Mount Baker Highway, is the main access point for many Mount Baker adventures. This State Scenic Highway starts from Interstate 5 near Bellingham. It then follows the North Fork Nooksack River into Mt. Baker-Snoqualmie National Forest.
The highway ends at the aptly named Artist Point. Here, the northern flanks of Mount Baker and Mount Shuksan stand with a dominating presence. At the end of the highway, places like the Heather Meadow's Visitor Center and Mt. Baker Ski Area entice visitors throughout the year.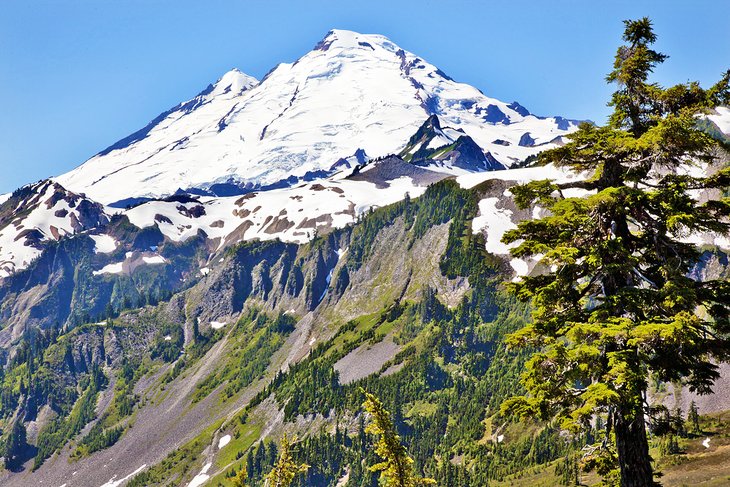 Iconic trailheads and a few designated Forest Service campgrounds line the Mount Baker Highway. Silver Fir Campground is the closest campground to Mount Baker, approximately 10 miles from Artist Point. This proximity makes it a very popular place to spend the night in the summer season.
Silver Fir Campground has 20 sites, 15 of which are reservable. No hookups are available, but the sites accommodate tents, small trailers, and camper vehicles. All overnight guests have access to drinking water and vault toilets.
Official site: https://www.fs.usda.gov/recarea/mbs/recarea/?recid=17584
2. Douglas Fir Campground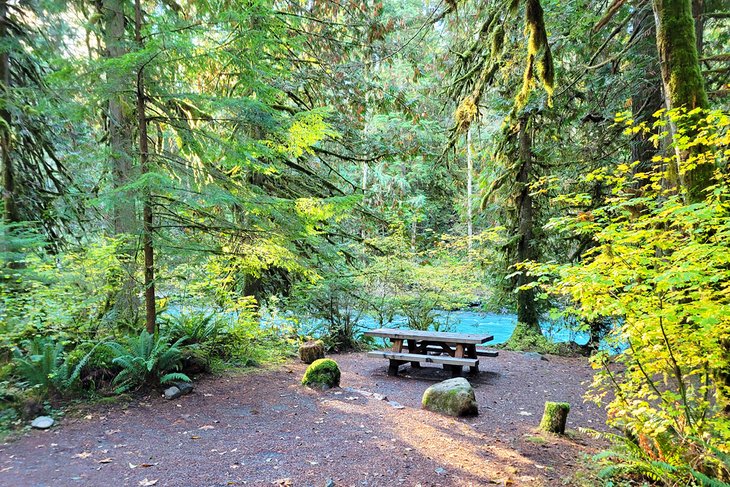 Douglas Fir is the other Forest Service campground on Mount Baker Highway (State Route 542). It's approximately 11 miles west of Silver Fir Campground, closer to the community of Glacier. If you're traveling from Bellingham, it's approximately an hour's drive.
Douglas Fir has more sites available than Silver Fir, with 30 in total, 18 of which are reservable. The campground amenities are similar, including drinking water, vault toilets, and picnic tables. A historic picnic shelter is also on-site, available for groups by reservation.
Douglas Fir Campground is also along the North Fork Nooksack River. This beautiful waterway adds a pleasant ambient noise to the campground and a scenic moving landscape to enjoy. The Nooksack is also a source of recreation, with a boat launch under the bridge next to the campground.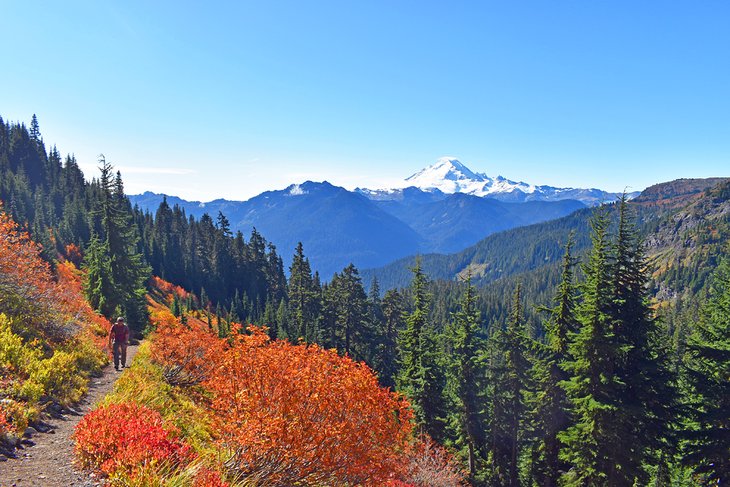 Silver Fir and Douglas Fir Campgrounds are prime campgrounds for hiking and exploring the forest. Dozens of trailheads dot the highway between and beyond both campgrounds. A few adventures to check out include Yellow Aster Butte, Hannagen Pass, and the Chain Lakes Loop.
3. Silver Lake Park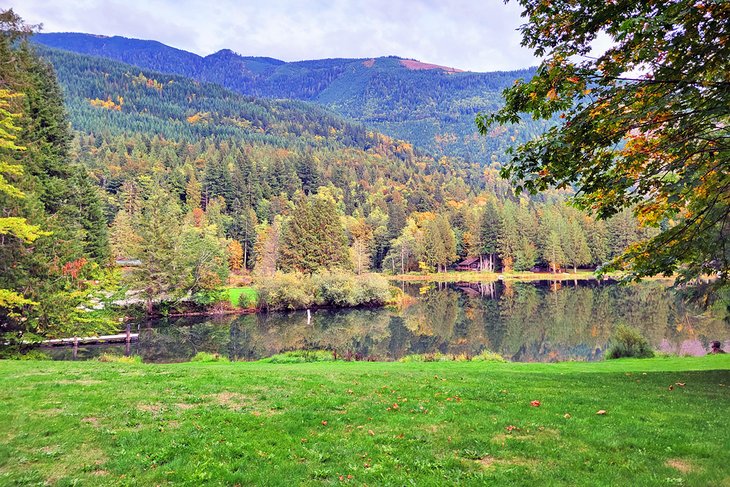 Whatcom County operates Silver Lake Park, close to the Canadian border, north of the Mount Baker Highway from the community of Maple Falls. The park and its three campgrounds make an excellent base for exploring the rest of the highway. Campers at Silver Lake arrive at Artist Point after an approximately hour's drive east.
Two of Silver Lake's campgrounds, Red Mountain and Maple Creek Campgrounds, have water and electric hookups. These sites are popular for RV drivers. Red Mountain and Maple Creek have over 70 sites total, and the majority are available for reservation.
Tents are welcome at Red Mountain and Maple Creek Campgrounds. But tent campers should first try to book a site at the park's third campground, Cedar Campground. Here, the sites are spread out and too small for RVs, and the campground offers a more affordable rate for tent camping.
Cedar Campground is also home to the park's six lakefront cabins. These rustic cabins range in size and accommodations, and some include fireplaces and lakefront decks. The largest of the cabins sleeps up to six, and unlike the park's campsites, the cabins are available year-round.
Official site: https://www.whatcomcounty.us/3517/Silver-Lake-Park
4. Primitive Camping near Mount Baker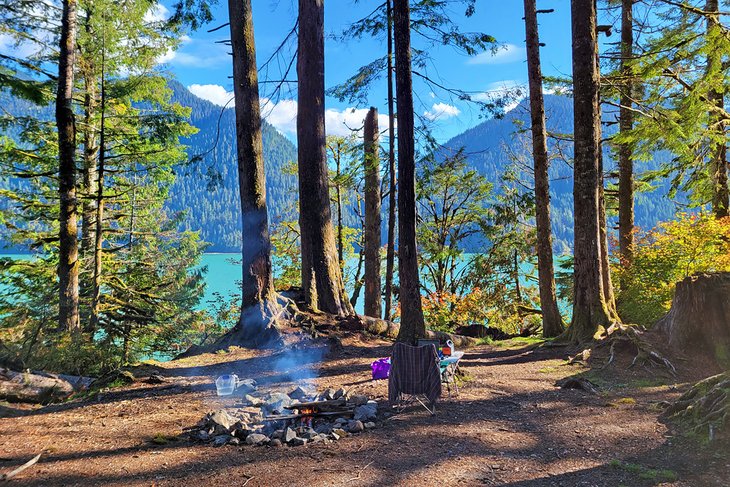 A common approach to camping near Mount Baker is primitive camping, also known as dispersed camping. This type of camping is generally free, and involves setting up camp outside a designated campground in the national forest. Dispersed camping is often done off the side of a dirt forest service road, with zero amenities available.
For primitive camping in Mt. Baker-Snoqualmie National Forest, search for an already established spot used by past campers. These spots usually include an area to pull off the road and perhaps room to pitch a tent. Stay at least 200 feet away from any lakes, rivers, or other wetlands.
A few notable areas for primitive camping near Mount Baker include the Mount Baker Highway and Baker Lake Road. Several dirt roads branch from these main mountain thoroughfares, leading to a scattering of spots to sleep in the forest.
Restrictions do apply, and campers must follow all Forest Service regulations. A few regulations include fire protocols and proper garbage disposal. Some areas of national forests don't allow primitive camping. Check with the National Forest Offices and Visitors Centers for more information.
5. Horseshoe Cove and Bayview Campgrounds, Baker Lake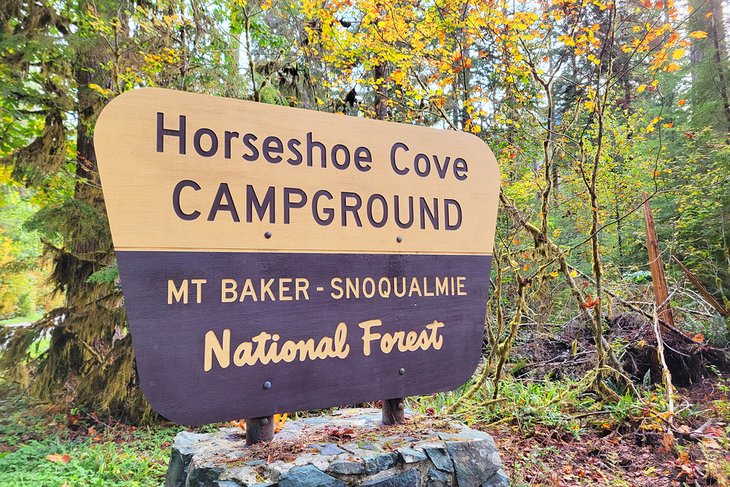 Baker Lake is a beautiful nine-mile reservoir and another adventurous area near Mount Baker. It's accessible on the west side of Highway 20, also known as the North Cascades Highway. The paved Baker Lake Road departs Highway 20 and heads north, turning into a gravel road after passing the Baker Lake Dam.
Recreation options line Baker Lake on both sides. On the east side, the 14-mile Baker Lake Trail navigates the shoreline with several backcountry campsites along the way. And on the western shore, a collection of Forest Service campgrounds offer more developed spots to spend the night.
Horseshoe Cove and Bayview are the first two Forest Service campgrounds heading north on Baker Lake Road, on the west side of the lake. They are on either side of an inlet, and both provide spots for tent camping and RVs, though no hookups are available. Vault toilets and potable water are at each campground.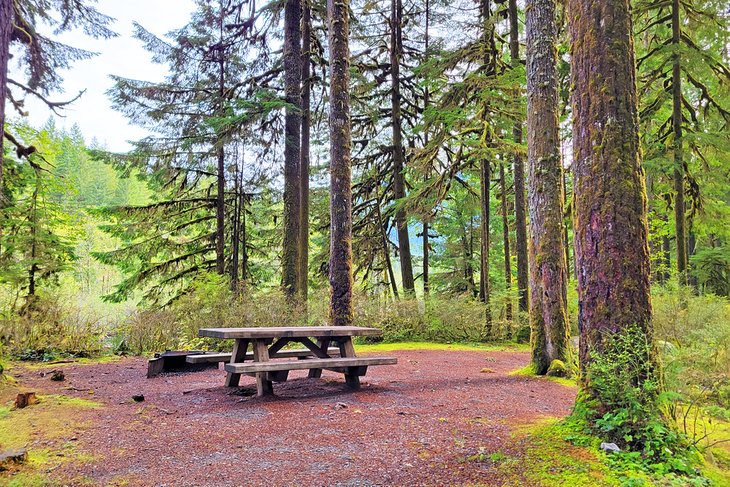 Both campgrounds are extremely popular during the summer. Horseshoe Cove has a well-used boat launch onto Baker Lake, and both campgrounds have beautiful picnic areas. Most sites at either campground are reservable up to six months in advance.
6. Panorama Point & Swift Creek Campgrounds, Baker Lake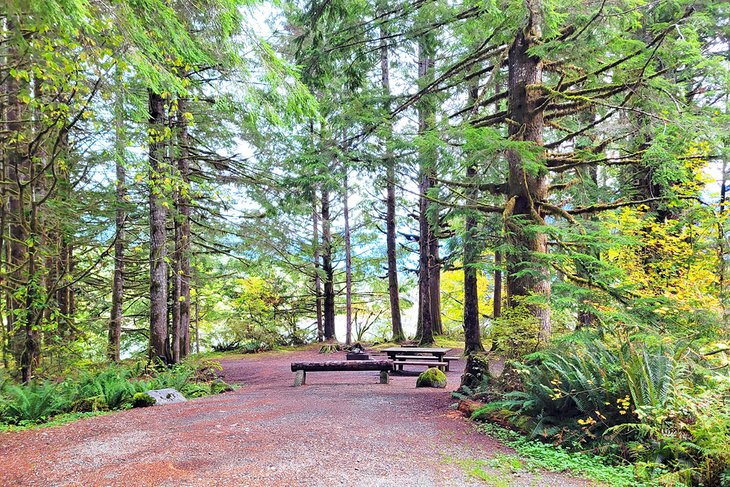 These two Forest Service campgrounds are approximately halfway along the west side of Baker Lake. They are both very popular spots for spending the night, and reservations are available for either.
Panorama Point has 15 sites available for tents or RVs, though no hookups are available. And as given by its name, many sites include incredible views over the water, including a commanding look at Mount Baker.
What really makes Panorama Point popular, though, is the adjacent gravel boat launch and parking area. There's a small day-use fee for day visitors to use the boat launch.
Swift Creek Campground is a mile up the road from Panorama Point. This site was formerly Baker Lake Resort, and the Forest Service has since refurbished the sites. Fifty campsites are available for tents and non-electric RV camping. The campground also has a boat launch and a large dock on the lake.
7. Shannon Creek Campground, Baker Lake
Shannon Creek is the northernmost campground on Baker Lake Road, approximately 23 miles from Highway 20. This drive takes a while on the winding road, but the sense of escape is worth the gravel road approach.
Shannon Creek Campground has 19 sites available, including two double sites. The sites cater to both tent and RV camping, though no hookups are available. Overnight guests and day visitors have access to drinking water and vault toilets. Each campsite also has a picnic table and fire ring.
The campground also has a popular gravel boat launch. It's a small boat launch and a small parking area near the water. During the popular Sockeye fishing season, the boat launch is only available to campers.
Other recreation abounds from the campground, including stunning views across the water. The campground operates between late May and mid-September. Reservations are available for all 19 sites on a six-month rolling basis.
8. Kulshan Campground, Baker Lake

Puget Sound Energy operates the largest campground near Baker Lake, Kulshan Campground. It's also the only campground to offer designated sites year-round. During the summer season (Memorial Day to Labor Day), Kulshan has 108 campsites with water and sewer hookups. During the off-season, these same sites are available without the hookups.
The campground has a parking-style layout with limited privacy between the sites. This close proximity makes the campground more popular with self-enclosed RVs and trailers. All overnight guests have access to portable toilets and drinking water, and all 108 campsites are available on a first-come, first-served basis.
9. Excelsior Group Campground
Excelsior Group Campground is the third Forest Service campground on Mount Baker Highway (State Route 542). It's a reservation-only campground exclusively for large get-togethers in the woods.
Two group sites are available. There's enough space for 50 people at Site A and 75 people at Site B. Each group site comes with fire pits, a picnic shelter, and picnic tables. While there's space for a few RVs, they are best suited for tents if everyone spends the night.
Visitors must drive through the first site to reach the second site. So, for the most privacy, book Site B. However, both sites provide a generous slice of nature, with the ambling North Fork Nooksack River nearby.
10. Campgrounds near Bellingham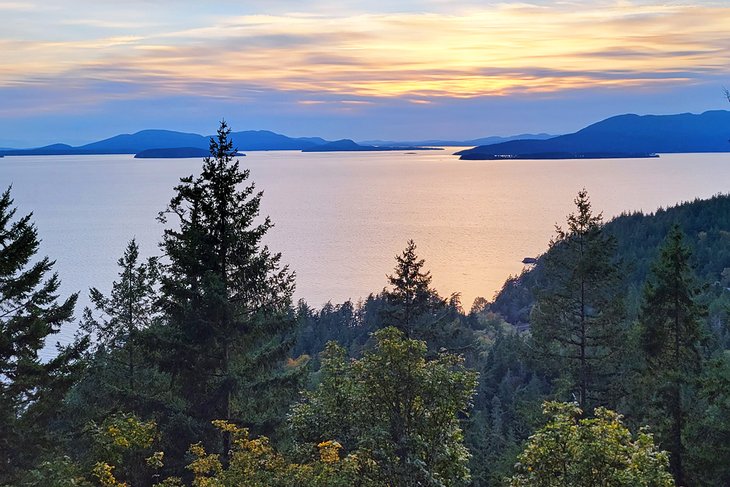 Bellingham is an adventurous city of northern Washington and a viable base camp for Mount Baker excursions. The Mount Baker Highway starts where the interstate passes through town, and residents reach Artist Point with a 90-minute drive.
Camping near Bellingham also opens the door for other adventures in the region. Places like Larrabee State Park, south of the city, dive into the world of the Chuckanut Mountains. Bellingham is also a jumping-off point for Highway 20 and North Cascades National Park.
Bellingham campgrounds also enable easy access to all the city's top attractions. If you're touring the area, places like Whatcom Falls and the SPARK Museum of Electrical Innovation are must-sees. Bellingham also has a generous selection of local restaurants to fuel up after a day of adventure.
Map of Places for Camping at Mt. Baker, WA